German footballing enthusiasts could have hardly wished for a more intriguing round the second matchday of the 2020/21 "Rück-runde". All the madness of transfer deadline day may leave some still yearning to catch up with the previous weekend's talking points. There's no shortage of riveting storylines heading into week 20.
---
League-wide Talking Points: Round 19
---
Cooling Iron
After losses to Leipzig and Augsburg, the Bundesliga's Cinderella team couldn't quite hold off Gladbach at the Stadion An der Alten Försterei. The 1-1 draw now makes it three winless matches for Urs Fischer and die Eisernen. While such a streak certainly doesn't offset all of the Köpenick club's marvelous accomplishments this year, the team has looked a bit worryingly dislodged from their identity in the last two fixtures.
Augsburg and Gladbach employed the tactic of letting the Berliners run roughshod with the ball in the early stages. Union's demonstrated knack for poaching early counterattacking goals gets negated by what appears to be a deliberate attempt to let them tire themselves out with non-pressed passing. In the opening half hour of this weekend's fixture, the Fischer 3-5-2 stretched itself to pointless burnout.
The plucky Berliners remain perhaps the strongest team in the league on set-pieces. Their tally in this one came courtesy off a excellently designed standard. More impressively, they stood toe to toe with the only team in the league as effective off corners as they. Amazing defensive work in the final minutes preserved the draw.
One still hopes that this squad can avoid a slide into mid-table mediocrity by reestablishing their brand of tight box defending. Two successive cases in which opponents beat them at their own game must be reversed. No one wishes this fabulous story to fade away. Moreover, the antidote to anonymity seems simple enough.
Fragile blocks of ice
The lower-table duel between two fairly cold clubs turned out to be a wholly foreseeable stutter-step. Werder Bremen were unable to carry any momentum over from their improbable 4-1 victory over Hertha last weekend and managed to look very feeble and frail against last place Schalke. The round's other 1-1 draw illustrated just how little confidence the two contestants operate with.
Florian Kohfeldt's Hanseaten never recovered from an early defensive shock in the first-half, allowing the Königsblauen to boss them around for the full 45 and take a 1-0 lead into the tunnel. Bremen applied modest enough pressure in the first ten minutes after the restart. Schalke responded by completely folding up and capitulating until Kevin Möhwald equalized.
The Schalke-Bremen affair was so much more than a tale of two halves. It was more of a "tale of two surrenders". A little bit of creative energy from one side caused the other to completely panic and seize up. Each team got it's turn to behave like a delicate child vulnerable to the slightest bit of adverse duress. It shapes up to be quite the long season for these two inherently unstable squads.
Slippery meets frigid
One might as well stick with a loose cold-weather-inspired theme to describe the other momentous match between relegation candidates taking place this weekend. Markus Gisdol's 1. FC Köln secured an absolutely vital three points with a 3-1 defeat of Bielefeld at the RheinEnergieStadion. Gisdol wasted no time deploying one of his newly-acquired strikers. Emmanuel Dennis spearheaded an ultra protective 3-6-1.
The Club Brugge loanee had very little impact on the match. Max Meyer also made nothing more than a meaningless time-killing appearance at 90+1. Though the Geißböcke scored three goals–their highest total all season–the tallies were fairly flukish. Marius Wolf slammed home an early rebound that came after two failed Arminia clearances and might have been better punched away by keeper Stefan Ortega.
Wolf completed a brace to put the home side up 2-0 twenty minutes later, but again the ball fortuitously fell to him after some poor marking and a random bounce. The (supposed) Kölner defensive arrangement was all over the place. Bielefeld's attackers lacked the requisite skill to take advantage of it. Total defensive meltdowns led to the teams trading goals in the second half in a match characterized by endless second-tier-level sloppiness.
---
The "Spiegel Specials": Round 19
---
Bayern-Hoffenheim (1:4, 4:1)
A perfect mirror to start things off. Hoffenheim's astounding second round 4-1 demolition of German giants constituted such an event that this writer still couldn't help enthusiastically prattling on about Sebastian Hoeneß's tactical masterclass even one full week after the fact. In hindsight, many league watchers may potentially feel embarrassed by all the lavish praise we bestowed upon the 4-2-2-2 spread. We may have been guilty of reading too much into it. This weekend's fixture confirmed that Hoeneß's preferred tactics may, in actuality, be more of a 5-3-2 glove.
Bayern's famous defeat from late September looks increasingly like it resulted from the fatigue of that week's UEFA Super Cup match. Hansi Flick's 4-2-3-1 rolled over a set of tactics markedly similar to that of the reverse fixture without much difficulty this time. Even the hitherto totally unused Marc Roca, thrown in for an emergency start in midfield after Leon Goretzka tested positive for COVID on Friday, shined like a true star next to Joshua Kimmich.
Taking Roca's performance into account, Bayern's thorough demolition of the Sinsheimers this round delivers two kinds of bad news for those still hoping for a title race this year. First, the overall form of the German giants is now indisputably top class. They've recovered from the minor slump observed prior to the holidays and in the early stages of this calendar year. Next, we've finally seen one of the summer acquisitions step his game up. Others may now follow.
The search for cracks in Bayern's elite armor does, or perhaps did, yield the legitimate point about how little Hansi Flick has used the players Hasan Salihamidzic obtained for him this autumn. It raised the question as to whether there might exist some sort of rift between coach and management. This was by no means a manufactured issue. Flick barely utilized his back-ups. When he did, he was invariably quick to give up on them. To the curiosity of many, the FCB trainer actively ran his regulars into the ground by repeatedly declining to rotate.
Does Roca's breakthrough signal that the end of this controversy is in sight?
Prognosis: Delayed team integration
Though Roca remains but one player, one shouldn't underestimate the significance of this development. Flick's hesitance to tinker did count as a shortcoming; an infectious one that surely permeated the minds of Bouna Sarr, Douglas Costa, Eric Maxim Choupo-Moting, and Tanguy Nianzou. Leroy Sané's harsh treatment didn't help either. Simply stated, Flick erred on the side of caution when it came to his new second stringers. As a result, they received too little opportunity to play themselves into form.
Flick now obtains the chance to give some of these players carte blanche. The FIFA Club World Cup draws nearer while Bayern's lead at the top of the table holds steady. The central explanation behind Flick's actions concern his need to keep the core of his team in place for the historic march to an unprecedented six-trophy-year. The pressure in the league already dissipates. Once the Club World Cup concludes, the pressure effectively disappears. With more room to experiment in a couple of weeks, it looks as if Salihamidzic's latest transfer class will get more chances and use them well.
Dortmund-Augsburg (0:2, 3:1)
Very big win for the Schwarzgelben, who avenge their round two defeat to Augsburg and keep themselves in the hunt for a top-four finish. Looking back, the Augsburg loss from September ended up defining this team's campaign. The German journalism cohorts began crying out for Lucien Favre's head when, after a convincing 3-0 defeat of league contemporaries Borussia Mönchengladbach in round one, the Swiss tactician again frustrated everyone by dropping a "gimme fixture" against an inferior opponent.
It just proved far too much to deal with for Bundesliga lovers. Favre compiled a better overall record than any Dortmund trainer since Jürgen Klopp, yet truly continued to perform atrociously against team's in the bottom fifth of the table. The head-to-head lists began appearing. Legendary German football analyst Tobias Escher pointed out that Favre had one of the worst records against relegation-threatened clubs than any other trainer of a top-four club. Others piled on.
With this bit of information at the forefront of everyone's mind, Favre's fate was effectively sealed. A few more losses to bottom table sides would spell the end. Termination came within nine rounds. As we took care to expend some extra time on last week, the BVB is currently reined by a place-holding "yes man"; one who has little license to alter much tactically. This weekends win saw interim coach Edin Terzic flex his tactical muscle somewhat.
Prognosis: Terzic still handcuffed
Somewhat. Not very much. The younger trainer rolled out the 4-1-4-1 he used in the December Pokal fixture. The rest of the changes constituted little other than the continuation of organic trends that the players have themselves been employing. This was the week that the returning Giovanni Reyna found himself officially placed on the right flank on most German tactics boards. He and Jadon Sancho have actually been working on the switch for quite some time. This writer felt comfortable making that call four rounds ago.
Thomas Delaney's fall-back to the midfield fulcrum position also felt organic, as did Julian Brandt's partnership with Marco Reus on the second attacking axis. The players read each other's play to settle into to what they felt worked for them. Such a statement is intended as a compliment considering that it ultimately produced a good result. FCA coach Heiko Herrlich assisted them a bit by ditching his more stable diamond-box for a 3-4-3, but the win was still fittingly earned.
It appears as if the foundational precept of allowing the players to finish this season without major interference remains in place. Neutrals may find this something worth rooting for. One might as well point out that it will almost surely yield more inconsistent results. Something worth rooting for can often be something not worth investing too much hope in.
---
The Burning Questions: Round 19
---
Are Wolfsburg still running hot?
Very much so. Oliver Glasner's green company team performed even better than expected in a vitally important test against Freiburg. The center-half partnership of Maxence Lacroix and John Anthony Brooks stepped it up even further. In addition to providing top notch defensive work all afternoon, the pair produced some great penetrative runs and were both involved in the opening set-piece goal. Fellow defenders Paulo Otavio and Kevin Mbabu also played well.
The much vaunted midfield duo of Maximilian Arnold and Xaver Schlager had more of an off-day, but the form dip wasn't pronounced enough warrant any serious alarm. Renato Steffen's slight regression didn't matter as Yannick Gerhardt compensated with a very nice performance to offset. The new signee even capped his day with a karmically deserved tap-in goal to conclude the 3-0 victory.
Glasner decided against using his promising 4-4-2 later on, swapping Bartosz Bialek for Wout Weghorst straight up. Given how dominant his team had become, it simply wasn't necessitous. Following their third successive shut-out victory, the German Wolves now prepare to go on a real tear with a midweek match against Schalke, a easy lay-up against Augsburg next weekend, and what should be a fantastic showdown against Gladbach.
Anything Brewing at Mainz?
Oddly enough, yes. Everything fell apart in the latter stages of the 0-2 defeat at Stuttgart. That notwithstanding, one did at least see the broad outlines of a cogent plan in Bo Svensson's tactics. This club's decision to ship out their leading goalscorer continues to perplex. At the very least, however, there exist some faint signs of team-oriented concept that the new head-coach seeks to implement.
Lineup—FSV Mainz 05—Match 19 (3-4-3)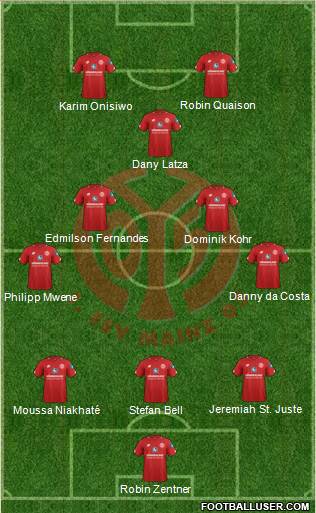 Important here, captain Danny Latza takes up a much more advanced role. He even serves as the lead striker on some builds, with Robin Quaison and Karim Onisiwo falling back like a unique pair of double false-nines. The crowded midfield trapezoidal deployment forces opponents to commit plenty of midfield turnovers while the flat back-three steps up in unison to generate fast upfield link-up play.
This arrangement demonstrated some fight and bite in the Friday night fixture. The Pfälzer, aided greatly by the many midfield pick-ups, moved the ball about in a commendably confident and courageous fashion during the opening 45. Moussa Niakhaté, Stefan Bell, and Jeremiah St. Juste kept their line and defended diligently. Onsiwo nearly equalized before the shape wilted.
There's much to be said about how well the system functioned despite an injury to Leandro Barrreiro. When Quaison went down early, Jonathan Burkhardt turned in an above average hour of relief work. Naturally, there can be little excuse for the manner in which things deteriorated after the hour mark. Moreover, Svensson's back-up attack plan proved a total flop.
Admittedly, everyone is probably sick of hearing about a new potential Mainz revival on what can only be described as "Thomas Tuchel Media Circus Week". The disproportionate amount of historical coverage this German club received over the last seven days nevertheless doesn't mean that, under the stewardship of another homegrown tactician, something interesting isn't brewing here.
Did Peter Bosz play without a striker?
Oh yes. Thankfully, help is on the way for this injury-ravaged squad. Many German football lovers definitely looked forward to the late Saturday night game. Eager anticipation gave way to confusion and pessimism as soon as the team sheets were released. With neither Lucas Alario nor Patrik Schick in his starting XI, it rapidly became clear that we were in for one of Bosz's "garbage time" games.
One had to see this to believe it.
Lineup—Bayer Leverkusen—Match 19 (3-5-2)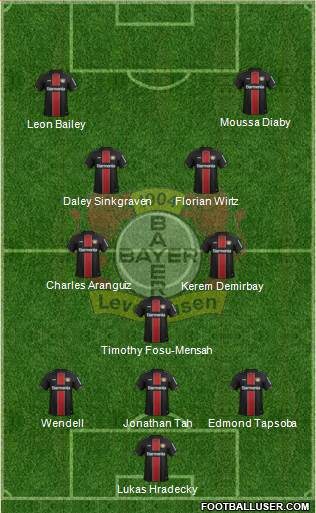 Not entirely sure what to call this, other than a complete mess of course. A constellation exhibiting some semblance of rationality might have placed Wendell in Daley Sinkgraven's position or perhaps utilized Florian Wirtz as a false-nine. The sole aspect of this system that worked, until Leipzig's Christopher Nkunku scored the winning goal that is, was Timothy Fosu-Mensah's work as the libero. Practically everything else served as a sickening joke.
The Werkself trainer essentially ceded this match and took the opportunity to test drive a few novel concepts. That's hardly an act worthy of condemnation. Bosz had the midweek Pokal fixture and the coming return of the Europa league in mind. Resting his strikers and taking care to accord the returning Charles Aranguiz a little support in midfield made sense. With little to prove here, better preparation needed to be set aside. We'll nevertheless note that the critical round two match worthy of a full tactical review turned out to be the biggest bust of this matchday.
---
Weekly Tactical Focus: The "Knockout Blow"
---
Eintracht Frankfurt head-coach Adi Hütter's unflinching grin isn't going away anytime soon. The trainer of the German Eagles basks in a radiant glow. He cheerfully showers his team with praise in the club pressers and blissfully glides about the matchday sidelines on cloud nine. No other Bundesliga head-coach traverses such a euphoric phase at the moment. The very good reason for this is that no other Bundesliga coach possesses  the type of well-cultivated system capable of striking terror in the hearts of it's opponents.
Football has far too many independent moving components for a boxing metaphor to genuinely work. A team featuring an effective lead strategy that grabs an early lead as well as a fresh set of legs capable of delivering a barrage of late goals would be akin to a heavyweight fighter with a reserve set of arms; one to steadily weaken the adversary with a series of jabs and straights, and another that specializes in a devastating over-hand haymaker to knock a wobbly foe down to the canvas.
This week we'll take a closer look at the SGE set-up that has propelled Hütter's Adler to six wins in their last seven league fixtures. As easy as this team's strategy may be to read, it remains nigh on impossible to compete against. Eintracht stand well-poised to tear through a series of much weaker squads in the month of February. They could possibly even hand Bayern München their third loss of the campaign. Hütter's men methodically dismantled Hertha this weekend at home in Germany's commercial capital.
Here's how die Adler typically line up:
Lineup—Eintracht Frankfurt—Match 19 (3-4-2-1)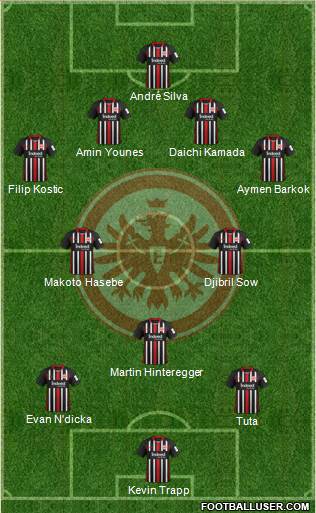 Here we see the arrangement Hütter developed for himself whilst waiting for Fredi Bobic and Bruno Hübner to procure him another striker. After the sale of Bas Dost in December, the SGE trainer stacked his second attacking axis with a double-ten scheme. He also rethought the nature of his sixes and gradually maneuvered his back-three into a more spacious pivot-structure.
How the double-ten works
As should be obvious enough in the above illustration, the basic idea is to crowd the box centrally with quick-cut triangles. Such organization carries with it the added benefit of drawing enough coverage to allow the wingers to creep forward unmolested. A very interesting aspect of this system concern's Hütter's choice of partners for Daichi Kamada.
Former German national team standout Amin Younes has put in some of his best work yet in this unnatural position. The 27-year-old ordinarily covets the space available on the wide areas of the pitch. Aymen Barkok's surprise success on the flanks led the SGE trainer to try moving the Napoli-loanee inward alongside another right-footer. Contrary to expectations, it works very well.
Another coincidental partnership in midfield
Makoto Hasebe and Djibril Sow press forward together with enough regularity for them to be labelled evenly horizontal axial partners. When the pair do work a stagger, it's generally the Japanese veteran who assumes forward distributive duties. This in itself is surprising as Hasebe's age would ostensibly render him a better candidate for the defensive chain. The veteran's move further afield, of course, has much to do with positioning him closer to protege Kamada.
As pertains to the young Swiss international Sow, one should take a moment to consider where he lay on the depth chart earlier in the season. There being little overtly defensive in his game, Sebastian Rode, Dominik Kohr, and Stefan Ilsanker all served as preferable options for a midfielder with proven track-back capabilities. The 23-year-old's evolution into a highly effective semi-sweeper counts as another one of the season's surprises.
A longer term project at the back
We'll get in a few words about the squad's new defensive mainstay, Lucas Silva "Tuta" Melo. David Abraham's retirement predictably left a significant void in the Frankfurter back-line. Hütter dropped few hints about how he might address this. A back-four flanked by Almamy Touré and Evan N'dicka stood as the safer bet. In the final analysis, Erik Durm's remarkable emergence as a solid right-wingback likely served as the deciding factor in the preservation of a back-three.
Even without Durm, Hütter has stuck with this arrangement. This testifies to the confidence he has in the rapid improvements of his 21-year-old Brazilian defender. While the recent addition still commits his fair share of errors, he's demonstrated extraordinary maturity operating in a very demanding spread-out triad. Covering for the adventurous Martin Hinteregger remains no easy task. The youngster gets a little better at compensating for the Austrian's forward runs each match. Improvement comes at a subtle, yet serviceable pace.
Hertha: Pal Dardai's first effort
The road back to stability for the disastrous project known as Hertha BSC begins with a step back into the past. One can glean a great deal of useful information from the initial lineup of a new trainer. Naturally, Pal Dardai doesn't necessarily qualify as "new". The 44-year-old never truly left the organization. He likely tracked the team's progress closely from his proximate role in the youth department. Regrettably, the debut effort didn't reflect much of an understanding of the problems facing this team.
Lineup—Hertha BSC—Match 19 (4-2-3-1)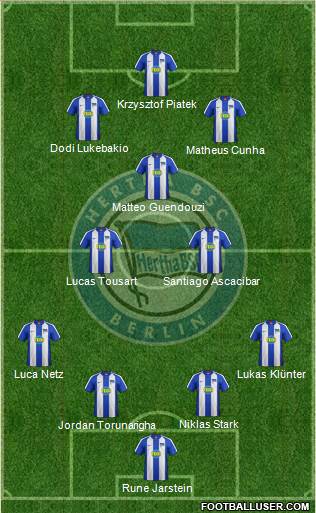 Five personnel changes conceal the fact that Dardai played it about as safe as it gets. Muscular problems kept Jhon Cordoba out of the lineup. Krzysztof Piatek thus got the nod. Recovery from injury enabled Dodi Lukebakio to be inserted back in and Santiago Ascacibar finally made it back. All of the other player swaps came behind the attack. Rune Jarstein, Jordan Torunarigha, and Lukas Klünter replaced Alexander Schwolow,  Omar Alderete, and Peter Pekarik.
The illustration aims to convey Dardai's directive to keep matters very tight and congestive. For much of the first-half, it remained difficult to ascertain just which players were supposed to be where. Ultimately, it became apparent that the top four players were instructed to maintain a highly conservative compact diamond. In his first match back, the capital city trainer played a cautious hand indeed. This met with some success.
Match Flow: 1st to 14th minute
The visiting Berliners earned the better chances in the opening ten minutes. Hinteregger had to be alert to cut out a promising long ball for Piatek in the 3rd. Matteo Guendouzi, through well-executed rotations within the diamond, broke free in the 5th. Torunarigha plowed straight through the Eintracht tens in the sixth. In the attacking third, however, Dardai's men suffered from a lack of ideas. Guendouzi, Matheus Cunha, and Dodi Lukebakio all faltered in the 7th, 8th, and 10th respectively.
As has essentially been the case since the beginning of the season, Hertha found themselves bogged down by exceptionally poor play from Lucas Tousart. The high-profile Klinsmann-era transfer routinely serves as an albatross around this team's neck. When the Frenchman supplied an obscenely bad header off a corner in the 10th, one could but wince and rue the reality that the 23-year-old just cannot seem to find his touch no matter how deeply we progress into this campaign.
Tousart's latest miscue proved a portend of things to come. Filip Kostic inserted himself into proceedings with a very nice cut-in following a beautiful switch from Hasebe. Torunarigha bailed his team out with a heroic clearance on the 11th minute break. Kostic had Silva serviced from close range. Back the other way, the Berliner fullbacks couldn't execute the counter. Luca Netz failed to cross with three open in the middle on a 12th minute charge. N'dicka easily dispossessed Klünter one minute later.
Match Flow: 14th to 28th minute
Hütter's forward axes began putting some triangles together. Younes flashed over in the 14th after a nice sequence. Stark prevented another chance in the 16th when he tackled a ball away from André Silva's feet. Dardai's team, to their credit, clogged the middle on a mostly uninterrupted SGE possession spell between the the 17th and 19th. Lukebakio actually turned in a great deal of stellar defensive work as he rapidly read the plays and adjusted his flank positioning accordingly.
Kostic finally got the better of Lukebakio on a sparkling determined run in the 20th. A few first touch passes later, N'dicka unleashed a solid strike for the fixture's first shot on goal. Keeper Jarstein parried acrobatically to preserve the 0-0 scoreline. With a bit more confidence, the SGE retained the ball for another unimpeded three-minute long stretch. Hertha nevertheless maintained their discipline and regularly intervened before matters got too dangerous.
A few fouls and stoppages produced lulls, but the action remained eminently watchable. Defensive highlights included Guendouzi's strip of Kostic in the 26th and Lukebakio's duel-win in the 27th. The actual Berliner defenders still struggled. Kamada took advantage of a ball Netz completely mismanaged in the 28th to force another crucial save out of Jarstein.
Match Flow: 28th minute to half-time
After another lull lasting roughly three minutes, Barkok completed some nice footwork on the right and deftly whipped in for Silva in the 31st. Stark recovered in time to clear away. Tuta demonstrated real class with a magnificent forward carry one minute later, but Stark once again closed ranks in time. Barkok shot well over following a gorgeous switch from Kostic in the 33rd.
Hinteregger, Hasebe, and Kamada pieced together a very nice forward sequence in the 35th. Tousart turned out to be the unlikely hero with a rare stop. N'dicka got a nice header off in the 37th. The pattern of one-way offensive traffic continued for the duration of the half, though Eintracht weren't legitimately able to break through again until Younes charged to the touchline in the 42nd.
Silva stung the palms of Jarstein in the 43rd. Sow and Barkok completely murdered the overwhelmed youngster Netz on late pushes before it was time to head into the tunnel.
Match Flow: 46th to 63rd minute
Dardai had little choice but to yank Netz after he began to precipitously tank towards the end of the first half. Maximilian Mittelstädt came on to play left-fullback in a straighforward like-for-like personnel swap. Although the Hertha head-coach kept his formation intact, one did observe a few minor changes to the shape once the match was back in full swing.
Lineup—Hertha BSC—46th minute (4-2-3-1)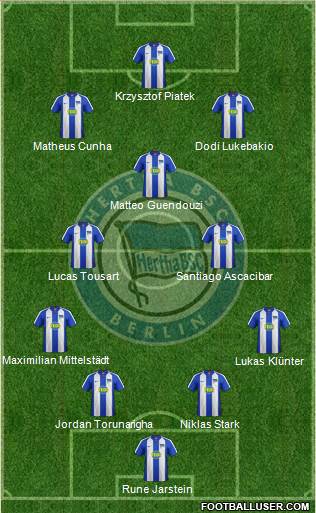 Dardai clearly gave the order for the frontward-deployed diamond to fan out a bit. Additionally, it appeared as if Lukebakio and Cunha switched sides. The first notable action came four minutes after the restart. Piatek executed an exquisite takedown in the 49th. Unfortunately, his finish off the turn wasn't quite as clean. The Polish striker also failed to notice that he had Guendouzi wide open in support.
Kamada provided the first breakthrough for the SGE in the 51st. His countryman Hasebe also cut a path in the 53rd. In both instances, a well-organized Hertha back four collapsed in at the right time to cancel out the cutbacks. Lukebakio tore up the length of the pitch in a fabulous counter in response to the latter play. Tuta stood tall with a focused interception of a ball intended for Guendouzi.
Mental fatigue proceeded to set in for both sides. Kamada and Kostic got the initial part of a promising give-and-go correct in the 56th, yet couldn't quite coordinate the ensuing cross properly. Stark attempted a bold forward carry in the 57th, but no one else broke with him. Kostic wasted an excellent win in space less than a minute later with an unimaginative short shuffle for Silva.
Kostic would also mis-hit a cross for the SGE's lone striker in the 59th and mis-fire his own effort at goal ever so slightly in the 60th. At this juncture, the match was beginning to open up considerably. To be sure, Eintracht were gaining the upper hand. The question remained: When would Hütter implement the second part of his "one-two-punch strategy"?
The Adler trainer might have preferred to see his side take the lead before pulling the trigger on the change. That's how it's supposed to work. The 3-4-2-1 sets up the opponent while the 4-4-2 knocks them down. Though it didn't quite end up shaking out that way on this day, the "knock-out" constellation arrived in the 61st minute.
Lineup—Eintracht Frankfurt—62nd minute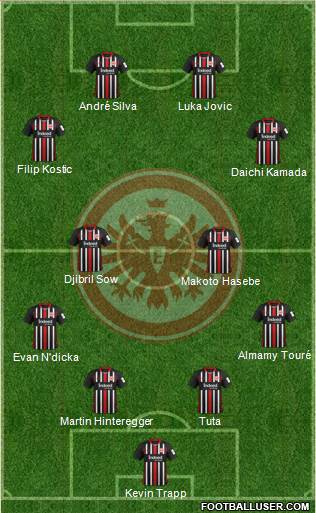 Barkok and Younes made way for Luka Jovic and Almamy Touré. Naturally, there can be many different iterations of Hütter's second-phase plan. Irrespective of who takes over on the wings, whether replacements are employed in mid-field, or indeed if Silva takes a seat, the basic re-format is three-fold. Jovic plays striker slanted opposite of Kostic. The sixes separate. Defenders re-organize into a back four.
This constitutes quite the deadly knockout blow. No other trainer in the league presides over such a devastating overhand shot straight to the cranium. One conjectures that opposing coaches tremble at the mere thought of it. How can one defend against it? Honestly, one can't. Even though none of the match's four goals had been scored yet, the outcome never seemed truly in doubt.
Match Flow: 63rd to 72nd minute
Within two minutes of the substitutions, Jovic had attracted so much coverage that Hasebe was able to link up with a totally unmarked Kamada. Jarstein only barely precluded the opening tally with a magnificent save. Hertha responded with a strong stretch between the 64th and 66th. Tousart initiated a brilliant counter with perhaps the best creative hustle he's displayed all season. A couple of minutes after that attack, Cunha cut in imposingly and, after Frankfurt botched two attempts to clear, the Brazilian laid off for Piatek nicely.
Berlin's Polish sharpshooter claimed the game's first goal with a lovely technical finish of Cunha's short shuffle. Though "Il-Pistolero" supplied  tremendously uplifting effort, one still didn't have the sense that the 1-0 lead would last long. After all, the two minutes leading up to the 66th minute opener had come very much against the run of play. Unless Dardai had some sort of magical plan in his back pocket, it appeared most unreasonable to expect his team to protect and defend the advantage for nearly a full half-hour.
As it turned out, it took less than a minute for Hütter's men to respond. Kostic immediately torched his way up the left flank and let loose an absolute belter of a cross. Silva proved equal to the in swinger, rising with impeccable timing and cooly directing the ball in with a minimal-movement header. The Hessen hosts poured on the pressure after the 67th minute equalizer. The passage of play was best exemplified by a beastly Silva shoving a rattled Jarstein out of the way on a hunt for a loose ball in the 71st.
Match Flow: 72nd minute to full-time
The remainder of the match belonged mostly to the man the Frankfurt ultras affectionately dub "Hinti". Martin Hinteregger supplied jaw-droppingly good play  on both sides of the ball. The Austrian international took out both Tousart and Piatek on a counter in the 72nd. He then calmly watched the dancing Cunha before stepping in to tackle away three minutes later. With all of the Hertha defenders scampering leftward to deal with Kostic, Hinteregger began slowly creeping up the pitch to involve himself in the offensive play.
Following some more savagely good defensive work in the 76th and 79th, "Hinti" rightfully claimed his just reward. Substitute Sebastian Rode (on for Hasebe in the 76th) did well to keep a broken set-piece alive. Dardai's Hertha suffered a complete concentration lapse as Hinteregger sailed through the ranks to meet the eventual Touré cross from the right. The visitors never recovered from the 84th minute tally that put the SGE ahead 2-1. Apart from one chance at 90+1, the sucker-punched guests produced nothing. Silva converted a penalty at 90+4 to rub salt in the wounds.
One can talk up the late-match power Hütter's current set-up packs all that one wishes. There exists no more terrifying prospect in the Bundesliga right now than Luka Jovic off the bench. While that certainly deserves to be the main talking point insofar Frankfurt is concerned, it's worth noting that team capable of deploying a freshened back four late on in matches also possesses quite the potent weapon. Should Tuta continue to improve at his pace, Eintracht shall have an even scarier top-to-bottom late-match constellation.
There are many ways to deliver the right "knockout blow". Adi Hütter remains all smiles at the moment because he knows that his current set-up leaves him with several options. He sycophantically sings the praises of his team in order to ensure that they know it too.
---
Concluding Thoughts: A vision for Hertha
---
This week's tactical focus can't escape a surfeit gushing of gushing over Frankfurt. In the interest of a tad more balance, we'll take a brief look at their opponents this week. Obviously be no quick fixes for a team suddenly hovering above the relegation playoff place by goal differential. If anything, things are set to get worse for "die alte Dame" long before they get better.
An upcoming fixture list of Bayern, Stuttgart, Leipzig, and Wolfsburg means the richer capital city club is about to fall into the relegation zone. The once unthinkable beckons. The best Dardai can do is brace for a brutal February whilst trying to build something sustainable for the easier stretches to come.
Put another way, he must design something capable of building up gradual confidence whilst taking some nasty knocks. In the service of accomplishing this, the incompatibly ambitious must take a seat in favor of the more seasoned pros. Let's rebuild with a hypothetical.
Lineup—Hertha BSC—PROJECTED (5-3-2)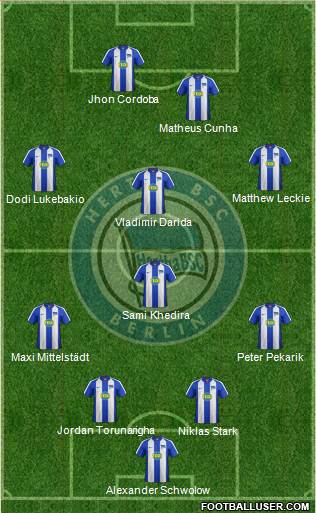 In essence, we insert healthy veterans wherever possible and give standouts Cunha and Darida their own independent axis on which to operate. Sami Khedira gets his own space as well. It's been nice to watch Tousart and Guendouzi click in their rare moments, but there's no escaping the harsh truth that they must be dropped for the time being. Despite some bright patches, they've been regrettable flops.
Hertha enthusiasts should definitely buckle up for the bumpy ride to come. If Dardai can emerge from February with a committed veteran corps, however, the time spent in the relegation race should be temporary. Let's hope he doesn't waste too much time with fruitless experiments.