Some find the coldest of all Winter months to be the least bearable. Thank goodness there's football available in the snow-blanketed Bundesrepublik!
…for a few lucky people. Alas, there is no cause for despair. The Long Winter of our Discontent shows legitimate signs of a desperately-needed thaw. More shall share in the glory that is football as early as this weekend. What better way to get hyped and psyched for the Bundesliga's next exciting chapter than to refresh with the full-color reposts of the preceding ones?
Not exactly an unfamiliar motley crew when it comes to the full-color of the round 19 tactical bulletin posted on Bulinews. Still plenty worth celebrating on a matchday featuring old and new faces alike.
---
Bundesliga Tactical Banter: Round 19
---
Slapstick in Köpenick
Union-Hoffenheim turned out to be a rather fun offering this weekend. Much of that had to do with the fact that the Stadion An der Alten Försterei is one of the very few footballing venues in the Bundesrepublik where one can still behold a significant number of live fans. Whereas most clubs allow in a paltry token 250-750 spectators (whose attempts to start cheers are frankly sad and pathetic), 3,000 were permitted through the turnstiles in East Berlin over the weekend. Those in attendance can almost give the impression of nearly double that amount. Still not great, but it's a little something.
The first half of this fixture played out like a little something out of a goofball movie. Timo Baumgartl opened the scoring in the 16th with what counted as a pretty decent header into his own net. Six minutes after that, TSG keeper Oliver Baumann shouldered in an Andreas Voglsammer effort into his own net after it bounced off the crossbar. This was initially recored as the second own-goal of the match. Perhaps in an effort to obviate confusion, the DFL scorekeepers then credited it to the Eisernen attacker. It still felt as if the opening 45 should have been played to the Benny Hill theme.
The second-half proved engaging in a more traditional sense. Baumgartl redeemed himself with an excellent stop on Andrej Kramaric. Sheraldo Becker came on late for the hosts to pump his usual extra pace into the game. Becker and Max Kruse were instrumental in setting up the suddenly red-hot Grischa Prömel for the game-winning goal twenty minutes from time. Hurrah. Union over Hoffenheim. Tradition triumphs over the treasure chest. Wonderful stuff.
Bring on the Hertha-Union Pokal match!
Underperformance in Bavaria
Well. To be fair, we probably should have expected that there would be fewer points of interest in Sunday's first kickoff once it was revealed that Filip Kostic and Kevin Trapp wouldn't be allowed to participate in Augsburg-Frankfurt. Oliver Glasner didn't really have an option to replace his super serb over on the left wing. Once this writer found out that Timothy Chandler would move over to the left to take over in the 3-6-1/3-4-2-1 and that Almamy Touré would take Chandler's place on the right wing, expectations were somewhat dimmed.
That notwithstanding, it still SGE-FCA 1-1 draw still turned out to be an unnecessarily turgid affair. The top attacking axes were unaffected. One hopes for a bit more from the Rafael Santos Barré-Jesper Lindstrøm-Daichi Kamada triumvirate. The trio did give us three flashes in the pan and one very uplifting goal. One hoped for more, perhaps because most Bundesliga lovers have been spoiled by them in recent weeks. Eintracht dropping the points after yet another goalkeeper forced to mind the net because of COVID (Diant Ramaj) also left one with a sour aftertaste.
Overperformance in East Westfalen
Before the 2021/22 German Bundesliga even kicked off, the very notion of Bielefeld-Fürth as a top-tier fixture constituted something of a running joke. Yes, this matchup feels like something that should be taking place in the lower divisions. The 2. Bundesliga gets Schalke, Bremen, Hannover, Hamburger SV, and Düsseldorf. We get this. Everybody got their cracks in about a game less than 60,000 people would be tuning into on television. That's even a high estimate taking the "captive COVID audience" factor into account.
Good on those 60,000 people if they happened to catch this four-goal thriller. The 2-2 draw had it all. More mastery from Masaya Okugawa. A great finish from promising Germany U21 international Jamie Leweling. Sweet redemption for both Havard Nielsen and German fan-favorite Gonzalo Castro. Okay maybe a little scheistiness from Robin Hack as well. That left something of a sour taste too. Can we send Hack back to the 2. Liga? Bielefeld can stay for now if he goes.
---
The "Spiegel Specials": Round 19
---
Gladbach-Leverkusen (0:4, 1-2)
The "mirrored scoreline" itself would seem to indicate that Adi Hütter's foals have come some way since their 0-4 thrashing over at the Bay Arena back in late August. Many will recall that match; one that proved an absolute disaster of a "Top-Spiel" once Leverkusen effectively knocked their guests to the canvas eight minutes in. Factoring out two penalty saves from BMG keeper Yann Sommer, this one could have honestly been just as bad.
Operating in a very tight 4-2-3-1 with second axis players Florian Wirtz, Moussa Diaby, and Karim Bellarabi pretty much controlled the flow of this weekend's encounter throughout. Sommer not only supplied the superhuman with his two spot kick saves, but also made several key saves from open play to prevent the rout.
What decent attacking football we saw from Gladbach came in brief little spurts. The burdensome confidence issues Hütter's squad carries on its collect shoulders remained apparent for many sustained phases during the affair. In particular, it took them nearly an entire half hour to snap back into the present following Robert Andrich's opening goal.
Hütter's lineup tells us a great deal.
Lineup—Gladbach—Match 19 (3-4-1-2)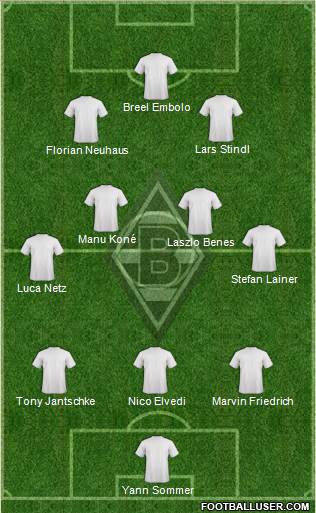 We've obtained some comment on this. Hütter explained his decision to immediately test drive new acquisition Marvin Friedrich based partly on the fact that the former 1. FC Union Berlin man just played Leverkusen last week. Additionally, there's the familiarity with Friedrich's former teammate Robert Andrich. Tony Jantschke evidently got the nod because "he performed well at center back last week."
Some other selections can find explanation in the upcoming Pokal fixture. The club's strong domestic cup run constitutes the lone bright spot in this most disappointing season. Hence, we see that Hütter did not wish to risk tiring out Joe Scally, Alassane Plea, Marcus Thuram, and perhaps even Patrick Herrmann.
Prognosis: "Everything must go!"
Naturally, the big talking point is the absence of Matthias Ginter and Denis Zakaria. The latter one of the two players confirmed to be out the door in the summer didn't even make the bench squad. The initial stated plan for Ginter notwithstanding, sporting director Max Eberl has now publicly admitted that he's considering beginning his rebuilding process now. Eberl receives plenty of offers and made no secret of his need for cash.
The prediction of this column, then, is that we will probably see both players depart before the month is out. A less certain augury involves a Marcus Thuram liquidation. The French attackers current value may be nowhere near where it should be, there isn't much sense in keeping the 24-year-old in a situation in which a demonstrated lack of motivation renders his chance of raising it slim.
Choose whatever metaphor you feel commutable with; a "yard sale", "fire sale", "going out of business sale", or even those inherently car dealership commercials that used to knock you out of your chair before television sets featured volume control. The fact is that the old models need to move off the lot. Eberl might as well slip into a pink, pin-striped suit.
Wolfsburg-Hertha (2:1, 0-0)
What can one say here? We've said some things already about the match in a separate piece here on Bulinews. This writer never held much faith in the German Wolves this year; not even when they entered the first international break. Once Florian Kohfeldt was appointed the team's new head coach, the entire concept of faith in general gave way to legitimate screams of bloodcurdling horror. Way too many SV Werder Bremen scouts for the "Americans Column" over the course of two seasons.
When it comes to the business of prognosticating sports, there is no such thing as an oracle. For that matter, some of us can't even get the past straight. This column incorrectly stated that Mark van Bommel never had a head-coaching gig before. Oops. Suppose that 18-month-stint in charge of PSV Eindhoven didn't count for whatever reason. We all make mistakes. No shame in doing so, as long as one is prepared to concede them.
The trouble with Kohfeldt remains that he keeps making the same mistakes over and over again. Doubling down on the back-three pivot run by Sebastiaan Bornauw served to once again lock the gears of the VfL attack build. Moving up the pitch, pairing Maximilian Arnold and Yannick Gerhardt as non-staggered sixes invited passivity on the halfway-line axis.
The one personnel change–Renato Steffen for Maximilian Philipp–moved Luca Waldschmidt over to a leftward slant. Brilliant. Just keep flipping your most frustrated player, Florian. Burn the pancake to a crisp rather than taking it off the grill. Jorg Schmadtke takes a similar approach with the justification for sticking with his new trainer. Turn the logic over and over and over again in a vain attempt to make a two-sided story a twelve-sided one.
Prognosis: Five matches left
It's never a good time to begin considering a three-trainer-year. Such chaos is tantamount to surrender. Furthermore, there are times in which admitting a mistake can come too early. When the next move must be carefully thought through, making a rash choice ordinarily means simply making another mistake. That's why the search for a new gaffer for the Autostädter must begin now.
When one looks at the fixture list, the end of next month seems the most appropriate cut-off date. Leipzig, Fürth, Frankfurt, Hoffenheim. and Gladbach. Quick mental arithmetic leads one to three points there. Even that isn't certain as the Fürth fixture screams "another 0-0 draw" at this point. Even Schmadtke can't defend three months without a league win. No more pancake flipping after February….apart from Kohfeldt's new job on the cooks' line.
Mainz-Bochum (0:2, 1-0)
Not quite a perfect mirror here, but Bo Svennson's Pfälzer were able to do the reversal on Thomas Reis' 1848ers. Mainzer home form continues to be excellent this season. The Rheinhessen are unbeaten in six straight fixtures at the MEWE Arena; four of which they've won; three of which they've managed not to concede a goal. Of course, just as was the case with Gladbach-Leverkusen, we've a penalty miss to factor in here.
Never a good sign when teammates can't agree on who's supposed to take the spot kick. It always catches one by surprise when it happens at this level. In this case, Bochum's "bad boy" Sebastian Polter snatched the ball from Milos Pantovic in the 32nd before proceeding to make life all too easy for FSV Mainz keeper Robin Zentner with his weak shot. Both players tried to brush off the incident in their respective post-match interviews.
There's no denying that the former 1. FC Union Berlin striker cost his team a chance to put a sliding Mainz side on the ropes. A simple mistake, however seemingly innocuous, could end up proving a turning point for Bochum's overall squad form. A re-match against Mainz beckons already on Tuesday in the Pokal. Losing to the same team twice undeniably has adverse affects on a team's psyche.
Prognosis: A Pokal Pick
It should prove a wonderfully intriguing fixture over at the Castrop. All of the mental mind games between coaches who have just faced one another usually makes for fun speculation. While it appears as if the safe money is on Mainz to turn a quick double just like they did over Bielefeld back in October, bear in mind that Svensson never really switches his tactics and will certainly feel less inclined to do so now that Moussa Niakhaté and Jeremiah St. Juste are back on the strongest iteration of the back-line.
Reis is thus presented with the opportunity to outmaneuver his rival with a few tricks of his own. This campaign cycle's "Mainz-Bochum III" has all the makings of the instant classic supplied by Bochum and Augsburg in the most recent cup round. The NRW hosts simply have to figure out who is responsible for the penalties. Reis and the rest of the crew at least know that Manuel Riemann shouldn't be on the list this time. Yeah. That spectacle has more than run its course for now.
We'll tip Mainz to take the shoot-out.
---
The Burning Questions: Round 19
---
Can one trust the Stuttgart "process"?
An American trainer runs a team operating under "American sports style" lingo. For those unfamiliar with the whole concept of a sporting "process", it's a deliberate attempt to be lousy for a few years in US sports leagues that award higher post-season draft picks to weaker teams. In lieu of the European tradition of promotion/relegation, American sports leagues strive for parity.
The notion that teams will deliberately lose in order get a more favorable chance at rebuilding their team in the offseason isn't lost on the organizers of some leagues. The American National Basketball Association put the brakes on the practice by instituting a "draft lottery" decades back. Striving to be the worst team possible doesn't guarantee one the first crack at the next superstar savior. The four worst teams must still submit to the ping-pong balls.
Naturally, we're not talking about the same "process" when it comes to the Württembergers. Pellegrino Matarazzo and Sven Mislintat are nevertheless playing around with ping-pong balls as they wait for their injuries to clear up. It's a gamble. As we've noted hundreds of times when covering this team, Matarazzo keeps the spine of his famous Catenaccio-inspired "split-stagger" in place whilst waiting for the right players to return.
The Jersey man says that it's working.
Is he correct?
Lineup—VfB Stuttgart—Match 19 (5-1-4)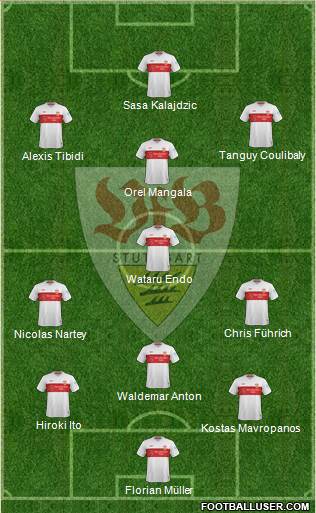 Last week's optimism wasn't unfounded. Even without Borna Sosa, service for Sasa Kalajdzic is improving. Hiroki Ito gets the hang of what was Marc Oliver Kempf's old role and captain Wataru Endo (still not up to the level we expected from the new captain this year) has stabilized the midfield link-up play along with his positioning. Tanguy Coulibaly (another slight disappointment) put in probably his best "Silas-mimic" match of the year.
There remains so much painful about watching either raw youngsters or veterans placed in odd positional assignments on this team. In the 0-2 defeat to Leipzig, Chris Führich's floundering at an unnatural station really irked. Green youngsters Alexis Tibidi and Nicolas Nartey unquestionably possess talent and even had their moments. It's still frustrating to see them thrown in on a level that they're not ready to compete at yet.
Overall, this "process" should ultimately work; just enough to get the VfB out of the relegation playoffs. Whether its basketball or football, watching a team not built to win simply grates the nerves. The Freiburg-Stuttgart match next week looks to be most interesting. Matarazzo claims that there's momentum to be carried over against a team that just got shellacked by Dortmund.
Writer doesn't think so. Freiburg may be in the mood to do some shellacking of their own. After that, it's Frankfurt and Leverkusen. Things should undoubtedly get better. As is regrettably often the case in life, they may get worse first. If this ends up not working, Matarazzo and Mislintat might find themselves considered toxic for some time by any potential new employers. One doesn't play to lose in football.
How legit is the Dortmund revival?
Apropos Dortmund's 5-1 stomping of Freiburg, what lessons can we derive here? Friday night's enthralling round 19 curtain raiser can obviously be attacked from a variety of analytical angles. We'll want to do so in order to examine all of the ramifications for the 2021/22 title race. There exist several talking points from a match that definitely had an early "lid" on it. The 3-0 BVB half-time lead practically sealed the result. What happened during the opening 45 was the most relevant
"Ups on Uphoff…Again"
Empathy for Freiburg's back-up keeper gets amped up even more from last week. From his very first shaky touch in this match, one could sense that the 28-year-old net-minder's nerves were once again at play. Alarm bells go off in one's head when an untested keeper's initial involvement in a match appears weak. Uphoff desperately needed a strong touch of the ball in order to shake off his insecurities. He didn't get one until the 27th, after Dortmund scored the opening goal.
Not to in any way diminish Julian Brandt's service on the two Thomas Meunier goals, but Uphoff wasn't assured enough to organize his ranks properly. Normally so strong on set-piece defending, the Breisgauer lacked that commanding voice from between the sticks to keep everyone in line. Uphoff dodged several more bullets after he spilled efforts (35th and 53rd). It honestly could have been much worse for the poor soul who likely sits in tatters at the moment.
Match-specific planning
Moving from Freiburg's problems to Dortmund's strengths, the BVB deserves credit for what was another strong start to the match. Marco Rose's men were tactically unchanged from last week. Just like in the previous round, the Schwarzgelben executed a clearly defined game-plan specifically designed for the opening quarter of an hour. Marco Reus led the team with neat and tidy one-touch attack builds.
The BVB captain was also often spotted back helping out defensively. Of monumental importance, he drifted toward an inverted wing position to handle the specific task of disrupting Christian Streich's fast-switching counter attack. The plan on both sides of the ball worked. One could tell relatively early on that the Breisgauer could be forced into toothless frustration.
We've not seen anywhere close to enough of this type of opponent-specific type of strategy from the BVB coaching staff this season. That fact absolutely confounds, since one knows that Rene Maric and the tactical team usually produce thick-binder packages for the team they're about to face. It seems like the players are at, at long, focused on the adversary at hand.
The proper tone was set.
That's huge.
Player-specific upswings 
This third section contains mostly good news for Dortmund enthusiasts. Julian Brandt rides high following his double-assist performance. Thomas Meunier–after an infinite series of frustrations–surely feels like he can compete in the Bundesliga for the first time. The Belgian fullback had but one lone Bundesliga tally entering the match. Now he has three. The player charged with the impossible task of replacing Achraf Hakimi will find himself bravely attempting to silence more critics over the coming weeks.
Brandt possesses the touch of a national team player once again. Meunier could be on the cusp of a Robin-Gosens-like awakening. Mahmoud Dahoud is also in the mood. On this team, it's always been a bit confusing for the 26-year-old long-ball specialist. Oftentimes one could see that Dahoud wanted to step forward, but couldn't quite figure out his moments within a squad that has most of its box-to-box running handled by Jude Bellingham. Buoyed by his goal last week, Mo was a real treat to watch in this one as he picked his spots to perfection.
Dahoud, when he wasn't turning nifty flicks and tricks on the ball, stepped forward to fire more lasers several times before ultimately getting his well-deserved goal. It is true like Uphoff again looked like total crap on the fifth Dortmund goal, but Dahoud at least one of Dahoud's deftly selected diamond-cutters had the right to go in. Dahoud, Brandt, Meunier, and brace scorer Erling Haaland all feeling like kings after this convincing win.
Things are looking great!
What could possibly go wrong?
The Haaland press scuffle
Well….there's this. Nobody needed….this. Damn. Talk about poor timing. Come Monday morning, Haaland's contention that his current club has put him under pressure to make a decision regarding his future will be the talking point in German footballing circles. The match. The performance. The players on the the upswing. All of that shall take a back-seat to the debates about whether Dortmund have mismanaged their young superstar's eventual move away from the club.
Get set to hit the fast-forward on all the DVRed football programs. All the German footballing enthusiasts who prefer to immerse themselves in football probably already skipped Sunday's "Doppel-Pass". Such a shame. The broadcast cameras caught something rare in the Signal Iduna Stands on Friday night. Club boss Hans Joachim Watzke actually came close to cracking a smile! Acki usually keeps it reliably surly.
One expects that, after this weekend's leak, that's the last time we'll see that half the season. This team has far more than a six-point-gap to overcome if they want back in the title race. For the time being, all that we can say is that they took two encouraging steps forward before taking one back. That's all fine and "Dortmund Good". As we all know, "Dortmund Good" isn't good enough.
---
Weekly Tactical Focus: Mark of a Champion
---
From the title challengers to the title favorites, it's time for a FCB-centric "focus" feature for the first time in a little while. Truthfully, if one wishes to talk Bundesliga title race, many more answers are to be found in Bayern's dominant victory than Dortmund's this weekend. A COVID stricken squad dropped points last round. Julian Nagelsmann's men were back with a vengeance this time, laying bare the quality gap that exists between a side such as themselves and 1. FC Köln.
What we have in this case study borders upon definitive proof that the German giants are in very little danger of relinquishing their crown. That may not be the sort of conclusion that excites and enthralls the league watchers out there. It is nevertheless the only real conclusion one can draw from what transpired at the RheinEnergieStadion on Saturday. A tenth consecutive title has been ordered and shipped out. Barring some radical disruption in the delivery chain, Bayern's 2021/22 championship shirts and hats won't be given away to charity.
The league leaders weren't necessarily invincible and invulnerable during their trip to the cathedral city. Steffen Baumgart's Geißböcke fluffed a significant number of opportunities to exploit FCB weaknesses and make a match out of it. Baumgart's lineup selection itself (ahead of a big Pokal fixture) also played its role in contributing to the result. A relatively easy 4-0 victory still must be viewed in the context of Nagelsmann's personnel issues. Even at far from full strength, the FCB can make it look easy with this:
Lineup—Bayern München—Match 19 (4-2-3-1)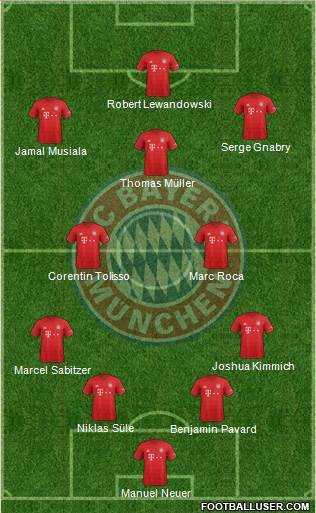 As Bayern cut themselves out of the winter break's COVID thicket, the return of captain Manuel Neuer and midfielder Corentin Tolisso helps immensely. As you can see, however, Marc Roca must still hold the midfield together while Joshua Kimmich and Marcel Sabitzer serve as the fullbacks. Not ideal, but still very capable.
Baumgart entered this match not being able to rely on Ellyes Skhiri (away at AFCON). If the Kölner trainer wanted to deploy one of his 4-1-3-2 presses, this meant putting one particular player under extra duress as an advanced sweeper. Salih Özcan was selected for this task. Baumgart also opted to save streaking Dejan Ljubicic and Kingsley Schindler for the Pokal.
Lineup—FC Köln—Match 19 (4-1-3-2)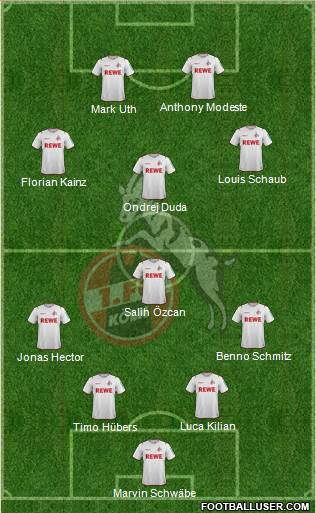 A courageously unchanged constellation certainly instructed to fearlessly take risks in playing through the Bayern press. That being said, one observes restraint in the choice of the slightly slower (yet more reliable) Benno Schmitz over Kingsley Ehizibue at right-back. Moving Mark Uth up alongside Anthony Modeste when the former could have played ten behind Modeste and Sebastian Andersson also shows that Baumgart had his mind ahead somewhat to Tuesday's visit from Hamburger SV.
As concerns Köln, the big question on everyone's mind remains how stable the central defensive ranks can be after the departures of Rafael Czichos, Sava Arangel Cestic, and (very soon) Jorge Meré. It all comes down to Luca Kilian and Timo Hübers now. Fortune sinks or swims with that pairing, or so we're inclined to believe. Both youngsters actually turned in an above average performance on this day, yet the team still lost by four goals. So it goes against an imperiously strong opponent.
Match Flow: 1st to 9th minute
Hübers got his very first chance to stand tall with a stop of Joshua Kimmich seconds after kickoff. It wasn't the cleanest of tackles, but Tobias Welz was correct in judging it legal. Ruthlessly High-tempo Bayern put three attack charges together in the opening two minutes. Köln captain Hector got his chance to put in a stop in the 2nd. It appeared that the day had gotten off to the worst possible start from makeshift FCB left-back Sabitzer in the 3rd. After failing to reach a low switch from his unnatural position, the former Leipzig captain retaliated by fouling Schmitz.
The Domstädter had their chance to calm things down on the ensuing free kick. A decent bow-arc approach upfield after the take got the hosts deep into their attacking zone. Niklas Süle eventually picked up the ball, yet gravely misjudged his forward lane on a poorly advised carry-out. Süle turned the ball over and the Westphalians appeared to have a great chance in the 4th. Unfortunately, Modeste was too far ahead of the pass into the box. It would be the first of many cases in which the Effzeh were offside.
Benjamin Pavard and Serge Gnabry cycled out of the Bayern left on the next Bayern rush in the 5th. Hector cut in to try and win a turnover for his side. It didn't quite work out how the captain envisioned as the ball ended up popping out to Lewandowski. The world's best striker, unable to react quickly enough, let the ball run away from him. Lewandowski then left us pondering if something was seriously wrong with a heinously ugly shank of something that didn't resemble either an intended cross or shot in the 6th.
Before anyone could start latching onto an embryonic narrative of Sabitzer being a flop and Lewandowski being off, however, those two actors began showing us something very different. Sabitzer did very well to block a Hübers switch in the 7th. The emergency left back followed up this nice piece of defensive work with an effective quick throw and some very sleek combo work on a Jamal Musiala led spread attack in the 8th.
Hübers eventually blocked and cleared Sabitzer's low cross towards the end of the 8th. When Florian Kainz finally took down a ball after a couple of possession changes in the 9th, the Austrian winger held onto the ball with an admirable turn-dribble in his own area. This opened up the space for a Köln attack. As nice as the approach was, Ondrej Duda ended up losing the ball just outside the box.
The consequent Bayern counterattack almost looked as if it was being played at half-speed. Knowing that they had the numbers advantage, the Bavarians slowly rolled until Müller opened up. Completely on cue, Lewandowski hit the small space that opened up as soon eyes turned toward the moving ball. Müller to Lewandowski. Need one say more? Now we had the look of a textbook Bayern day.
Match Flow: 9th to 25th minute
The 9th minute opening goal was initially falsely flagged for offside, meaning that we had to wait a couple minutes for the VAR team in the nearby Kölner Keller to confirm it. Action resumed in the 11th, with Bayern very much still on the front foot. A competent charge ended with Musiala locating Tolisso outside right in space. Hector deflected the Frenchman's effort for a corner. The set-piece delivery bounced around for a bit, with Gnabry and Pavard once again combining to keep the play alive.
In the course of time, the Effzeh scrambled the ball away. Coming straight back at right, however, it was none other than Sabitzer threading the ball back in for Gnabry in the 12th. Hübers won the direct duel with the German national team attacker and tried to spark a counter. Uth was offside this time. Several midfield possession changes in the 13th after Özcan intercepted a Pavard vertical. The next coherent sequence in the 14th saw Bayern put together another attack. Hübers intervened to turn a Gnabry cross out for a corner.
Kainz had to clear away a Musiala recycle off the subsequent corner. A panicky looking set of Kölner ranks had to clear several more balls between the 14th and 16th. Özcan attempted to break the flow by carrying the ball out in the 16th. Pavard sent him flying off his feet with a downright coldblooded tackle to toe the ball away. FCB pressure continued in a similarly malevolent fashion. Sabitzer got a chance off a long switch in the 17th. Musiala saw a shot blocked in the same minute.
Baumgart's men again tried to counter off the subsequent corner. Although the NRW manages to play past the FCB press, there wasn't much they could do past the halfway line. Uth and Louis Schaub slowed up in their approach in the 18th. By the time Kainz was picked out for the final ball on the left, the Kölner winger had been driven too wide. The entire team had to retreat backward with the ball. Not often one sees that.
Back the other way in the 19th, Kimmich made a mistake in the form of a very sloppy pass. Tolisso demonstrated how errors can be quickly repaired with a quick recovery win. A pass sequence involving Tolisso, Gnabry, Sabitzer, Müller, Musiala, and Roca proved just a bit too ornate. Bayern's Spanish midfield gem fouled his marker trying to reach Musiala's back-heel.
A foul and free-kick in Köln's favor led to nothing. Modeste lost the ball with a loose touch and Bayern were just a few centimeters of extra precision away from going up 2-0 on the next counter in the 20th. Müller's diagonal for Lewandowski didn't miss by much. Hübers had to be on guard to stop a Tolisso breakthrough in the 21st. Defensive counterpart Kilian then had to touch away another diagonal aimed at Musiala seconds later.
The Domstädter got one of their better attacks off in the 22nd. Duda had Schaub in his sights with a clever through ball. Süle nevertheless had the Slovak's eyes read all the way. Since the approach required muscling their way though the FCB axes quickly, Köln were once again vulnerable on the counter. Lewandowksi uncharacteristically missed Gnabry despite having loads of time and space.
Back the other way immediately, Modeste thought he had his team's first shot on target in the 23rd. His header of a Schaub cross didn't trouble Neuer much, but at least it would have constituted something. The offside flag ensured that it wouldn't count in the official match register. Unbelievable how many times the hosts started ahead of their lines in this fixture.
Sabitzer showed an attentive understanding of his rush on the next action in open play. The Austrian aborted and went back to Neuer in the 24th. The Bayern rearward ranks then executed a full fan-out rearward recycle to get an attack going up the right. Musiala and Lewandowski combined deftly at the end of it, halted only by a precise tackle from Hübers away.
Up the pitch went the Geißböcke again in the 25th. Hector attempted to hit Kainz with a long through, but Pavard was simply all over his mark. The Bavarians, true to the overall pattern of this phase, got the counter rolling quickly. This time Sabitzer saw his chance to punch through on his side. A fabulous run and an even better pick out of a colleague.
Sabitzer's switch to hit Tolisso wide right was stunningly gorgeous. The interplay between the Frenchman and Müller on what shall be a strong candidate for one of the goals of the season was even better. Bayern were up 2-0. The efforts of the champions merited an even more commanding lead. As it stood, the NRW hosts were still in it.
Match Flow: 25th to 33rd minute
A tension-riddled and somewhat bizarre melee interval here left everyone desperately fumbling to catch up processing the events. Sabitzer and Lewandowski were back pushing for another with some sublime touches in the 27th. Müller, Gnabry, and Musiala then dazzled with some amazing combo work in and around the box in the 28th. The sequence ended with Müller tapping in for what was a sure goal.
Somehow, Domstädter keeper Marvin Schwäbe cleared the ball off the line. It didn't seem physically possible and one wondered if goal-line technology would start match official Welz's watch buzzing any second. There ultimately wasn't enough time to wonder as Musiala was knocking on the door again in the 29th. There were then more blocked FCB efforts off a strong corner at the half hour mark.
On a rip-roaring split-second possession change in the 31st, Kainz hit Uth in the box and the cathedral city's native son appeared to have pulled a goal back. Of course, both Uth and Modeste were offside again. Of course. Following a couple minutes allocated for review, the goal was scratched off in the 33rd.
Match Flow: 33rd minute to half-time
Contrary to what one might have expected, the frenetic pace of this one did not let up. Both teams remained eager and kept it pacey. Lewandowski blew through three Kölner actors in the 34th before Schmitz managed a desperate recovery. Roca, Kimmich, and Musiala accomplished some lovely creative combo play on the 35th minute corner that followed. Schmitz went on a redeeming tear up the flanks in the 36th, but Sabitzer did a wonderful job shutting him down.
Schwäbe had to run 25 meters out to stop a long ball aimed at Müller in the 37th. Kilian had to step in to stop another Müller-Lewy combo in the 38th. After another rather laborious Kölner charge in the same minute, Bayern took advantage and rolled off another exquisite counter in the 39th. Kilian gave the ball away on the home side's next rush one minute later, and Schwäbe had to save a Lewandowski ranged effort. Schwäbe was beat in the 41st. Müller simply had too many thoughts in his head on the finish.
More fast, but error-strewn Köln builds. More Bayern counters. Müller and Gnabry had Musiala on the trail in the 43rd. A goal was precluded only by the youngster's heavy touch. The Geißböcke completely blew a 3-vs-2 breakaway in the 44th. Hector played the right ball through. Then came a poor Uth pass, followed by a poor Kainz touch, followed by (for what seemed like the 879th time) the offside flag.
Welz would have been fully justified in according four minutes of first half injury time after the two VAR stoppages. The ref settled on two. These 120 some odd seconds accorded us all the chance to watch the emblematic unbalanced exchanging of blows again. Duda had the perfect opportunity at 45+1 after Neuer mishandled Hector's cross improperly, but dragged his shot wide. At the other end, more brilliance from Müller and Sabitzer.
Schwäbe made another monster save at 45+2.
Match Flow: 46th to 57th minute 
No need to focus on the xG stats this week. The writer did duly note them down. This happens to be a case in which some old-fashioned metrics tell the tale. Bayern outshot Köln 12-2. They had earned 10 corners to Köln's one. The Westphalians could barely build a few attacks properly whilst the Bavarians unleashed devastatingly good counter waves in every last instance. Six bleeding cases of offsides from the hosts. None from the guests.
Musiala and Müller (after some more brilliance) did end up catching Lewandowski offside on in the 46th. Baumgart had clearly had a talk with his team about set-piece organization in the 47th. A good free kick got furthered on by Hector. Unfortunately, no one arrived at the far post to meet the captain's header. Three Kölner builds between the 48th and 50th looked like they were rehearsed well. They still didn't produce anything.
Bayern punched back through again in the 49th. Gnabry was in deep off a very nice switch from Roca. The German national team starter dug out a nice pullback too. Hector stuck a foot in to disrupt and Özcan stopped the second effort with his ribs. This overloaded advanced sweeper might have felt this sacrifice in vain when Lewandowski nearly scored a minute later. Schwäbe prevented the 0-3 with some sharp positional play.
One minute after that, we got one of those trademark "Howitzers from Sabitzer" in the 52nd. This may be the inaugural notation of this since the Austrian began suiting up for the FCB. The screamer was straight at Schwäbe, but it certainly stung the veteran keeper's palms. Bayern really began to look dominant next, getting in a 20-pass one-touch sequence that Kilian ultimately broke up in the 53rd.
Musiala very nearly scored what what seemed an impossible angle in the 54th. The youngster hit the post after a sublime first touch down. A completely gassed looking Özcan had to run into Gnabry to stop the next Bayern cycle in the 55th. One could soon see that whatever Baumgart told his lads about set-piece execution at the half had long faded away. The hosts wasted a good opportunity on a free-kick just outside the box in the 56th, going for the cross instead of the shot when the latter was the better option.
Match Flow: 57th to 62nd minute
We finally got some substitutions in the 57th. Ljubicic and Jan Thielmann relieved Duda and Schaub. At this juncture it really did feel as if the match was about to be put out of reach. It still proved interesting to observe whether Baumgart wished to employ like-for-likes or go for the re-format. What ultimately materialized did indeed to be a serviceable attempt at getting back into a match still within some reach.
Lineup—FC Köln—58th minute (3-2-3-2)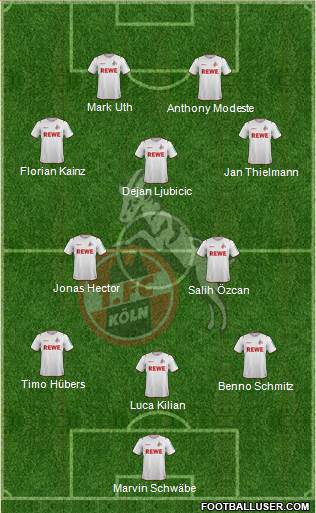 The idea here was to maneuver his best player (Hector) into a more centralized position in order to reduce errors on the build and take some pressure off the totally overmatched Özcan. A surgical solution that one should respect. Bayern had little difficulty cracking it however, as they got a chance to see the shape crystallize during the fixture's first real lull between the 58th and 60th.
It's forgivable that both teams took a collective breather. Up until this point, the overall pace had been unrelentingly quick. Although the FCB XI clearly cooled their jets during this phase, the study of the opponent's new set-up was definitely on. Scrutinized or no, the new Kölner formation ended up tripping over its own feet.
Uth picked the wrong option on a counter in the 59th. A miscommunication between Schmitz and Thielmann in the 60th killed of a faintly promising attack. Leroy Sané entered for Musiala on a like-for-like in the 61st. One had a premonition what that type of speed would bring. Köln nevertheless had one more chance to mess up before it was all over.
Hustling like a madman, Thielmann dug a pull-back for Uth out from the paint of the baseline in the 62nd. The Effzeh attacker's header whizzed past the far corner, not off the target by more than a foot. Of course, it wouldn't have counted anyway. The NRW hosts were offside for the seventh time on the day.
The backbreaking goal began with an excellent ball win from Roca. The Spanish midfielder played Sané ahead. The newly subbed on speedster rushed past everyone and made the unlock of Lewandowski look easy. Hübers finally made a fatal error on the play. After a performance bordering on the heroic, the career back-up made the simple mistake of not holding the line properly.
Match Flow: 62nd to 74th minute
That was pretty much "all she wrote" for this fixture. More Bayern dominance from the 3-0 in the 62nd all the way up through the 69th. There was one Bayern mistake (66th) during the non-stop seven-minute barrage. Otherwise, the full and official 4-0 "lid" was only prevented by more spectacular defending from Schmitz (64th), Kilian (65th), Hübers (66th, 68th), and Hector (67th). At least the defensive ranks didn't give up.
Sabitzer also saw his play for a brace smothered by everyone in the 68th. Kainz executed another nice dribble spin in the 68th and Modeste headed Kainz's cross over the bar in the 69th. Sabitzer and Süle stepped up to put a stop to a couple more Kölner charges between the 69th and 71st. Hübers even ended up hitting the crossbar off a corner at the tail end of what was a strong offensive spell from the hosts.
Alas, even if Baumgart's men had managed to pull one back, it wouldn't have altered the result of this match. While there was still a flick of impetus forward from Köln, everyone gave up on marking Sané on a 74th minute counter. As a result, the former Man City man unlocked Lewandowski in almost the same manner as he had twelve minutes prior. The match had its lid.
Match Flow: 74th minute to full-time
No shortage of clock milking thereafter. Nagelsmann sent on four additional subs to reach his full allotment. Welz made sure that there was no injury time to be played. Baumgart still kept the team pressing forward in search of a consolation. Thielmann came closest with a couple of half-chances. Good for him.
Lewandowski got the glory with his 300th Bundesliga goal upon completion of his hat trick. Manuel Neuer got a clean sheet and a nifty new flat-cap in his 300th appearance for Bayern. With two more set-ups, Thomas Müller now has an incredible 18 league assists this season. Hello? What? How about two more assists for Sané to give him 12 league scorer points on the year. That's pretty damn good too.
Yeah. With such an embarrassment of riches, the writer must report that the league leaders really aren't in a position to be caught at this particular moment in time. This team even has the back-ups to stay strong this year. Both Marc Roca and Jamal Musiala–as you can tell by the number of times their names were mentioned in this write up–turned in fabulous performances.
And the player's name perhaps mentioned more than any other? None other than Bayern's slow-to-take off summer acquisition. Marcel Sabitzer is up and running from (of all places) the left-back position. We noted last week that one would probably never see Sabitzer play in that position again. Not only did he do so, he thrived. The switch for Tolisso on the second goal likely turned the game. Excellent defensive work preserved the scoreline.
Phrew. It just looks like Bayern can't be bumped off their lofty perch. Sorry. Not with so many things that should be working out middlingly turning out to work spectacularly. Nagelsmann appears to have the midas touch for now. One stands by (and even hopes) to be proven wrong.
Thanks so much for reading! You can occasionally catch Peter goofing off while watching the lower German football divisions on twitter, @ViceytheSS.
There's also a celebration of AFCON going on all month long on Peter's irreverent fan blog. 
Twitter DMs are open for football conversations, corrections, and (if you truly insist) general abuse. 
All columns debut on Bulinews before appearing on Peter's website later in the week.