The 2020/21 "Rück-runde" officially begins! Down the stretch we go as all 18 top flight clubs play themselves in the exact same order as they did during the first-half of the season. A turning point in the campaign calls for a new commentary-heavy segment in which we assess the journey of certain clubs as they traverse this demanding year. Those who didn't catch last Sunday's release can, as always, catch up here.
---
League-Wide Talking Points: Round 18
---
Bayern's new right-back
It turned out to be quite the weekend for defenders in Germany's top flight. Gladbach's Nico Elvedi netted a brace against Borussia Dortmund, as did Mainz's Moussa Niakhaté in the upset win over Leipzig. Over at the Olympiastadion, Bremen's Ömer Toprak pulled a command performance out of nowhere. The 31-year-old led his team as a dominant pivot runner and scored a decisive goal before bowing out with injury.
Though he may not necessarily make team-of-the-week honors, one should also point out that Bayern's Niklas Süle put in his third successful shift at the right fullback position. Hansi Flick started him there again following more form struggles from Benjamin Pavard. The German national team defender produced some solid defensive work and, shockingly, proved himself more than capable of keeping up with counterpart Alphonso Davies.
True, he was playing against Schalke. The amount of range a fullback needs when stationed behind Leroy Sané should nevertheless not go unnoticed. Bayern's supposedly most glaring weakness increasingly looks as if it's not much of an exploitable shortcoming at all. Süle's success in that role serves as one of the season's oddest developments.
Frankfurts Serbian Surge
When SGE Sporting CEO pulled off the masterful move of bringing Luka Jovic back to the commerce capital, one naturally expected the form of his countryman Filip Kostic to improve. Kostic's weak form would effectively be rendered a non-issue once that powerful pair were reunited. It didn't take long. In Jovic's first match back against Schalke, Kostic to served up his old mate with two top-class assists. The Real Madrid man wasted no time reclaiming his scoring touch.
A newly invigorated Kostic looked like his old self again in the midweek fixture against Freiburg. This weekend, the 28-year-old didn't bother waiting for Jovic to come on as a sub. Kostic scored a magnificent goal, set up another, and forced Arminia defender Joakim Nilsson to knock one into his own net all before the hour mark. Frankfurt's left-flanker is back in a big way. He covered nearly every blade of grass at the Bielefelder Alm. Jovic himself scored again off the bench.
Amid all the talk of the high-flying Serbian duo, one shouldn't neglect Portuguese striker André Silva. The SGE's first-string center-forward netted another brace in die Adler's 5-1 rout of Bielefeld. Silva keeps pace with Erling Haaland in a tie for second place in the league's scoring race. Though no one seriously questioned Silva's ability, fourteen goals through 18 fixtures are much better than expected numbers.
Five of Silva's tallies may be from the penalty spot, but executing those count as well. Just ask the four Bundesliga players who missed them this weekend: Anthony Modeste, Nicolas Gonzales, Marcus Ingvartsen, and Matheus Cunha. Amazing. A great weekend for Bundesliga defenders met an atrocious one for lead attackers.
The Freiburg phenomenon
With the football coming so fast and furious, many may have missed some genuinely fun matches involving Christian Streich's Schwarzwaldverein. After coming within a whisker of woodwork of drawing Bayern last weekend, and an unfortunate carom off Kevin Schlotterbeck's backside of beating Frankfurt midweek, the Breisgauer finally resumed their winning ways with a deftly-played 2-1 defeat of Stuttgart in the Baden-Württemberg derby.
As always, it counts as a great shame that this well-coached team misses out on deserved attention every year. The deep-south Sport Club perform small miracles each season. This one is no exception. The storylines are, as ever, storybook. An Injury to midfield linchpin Baptiste Santamaria, followed immediately by one to back-up Amir Abrashi, forced the disaffected Janik Haberer back into the breach.
The 26-year-old rose to the occasion with three great performances. Woo-Yeong Jeong has also recently stepped in the fold to compensate for the losses of countryman Chang-Hoon Kwon and the talismanic Roland Sallai. Twenty-two-year-old Bosnian striker Ermedin Demirovic keeps getting better. Nils Petersen is back off the back doing his unrivaled "super-sub" thing.
A writer can only humbly request that Bundesliga watches carve out a bit of their valuable time to watch some more Freiburg fixtures. The club currently rides a great form wave and regularly furnished very entertaining football. With so many different actors getting involved, team morale soars sky high. There should be plenty more good stuff to come.
---
The "Spiegel Specials": Round 18
---
Dortmund-Gladbach (3:0, 2:4)
There can hardly be a better choice to kick-off our new segment than a compare/contrast of where Dortmund were at the beginning of the season to where they are now. Recall that Lucien Favre's 3-4-3 lit up the foals with an pulsating 3-0 victory. With teenage sensation Jude Bellingham operating on his own individually tailored axis and other phenoms Erling Haaland, Giovanni Reyna, and Jadon Sancho firing on all pistons, it looked like a new incarnation of the "wild boys" were certain to give Bayern a run for their money.
The BVB we saw completely fall apart late in the Friday fixture against Gladbach appears undeserving of a Champions League place. What happened? Injuries never help. Haaland missed rounds 10 through 13. Reyna's absence from the starting XI in the last three fixtures seriously threw them out of whack. One tends to forget that Sancho and Bellingham, in accordance with their age, will experience form dips. Mats Hummels and Marco Reus haven't done this team any favors with their post-match blame apportionments.
The elephant in the room, so to speak, remains the coaching change. In hindsight, the BVB bosses served as the architects of their own demise by terminating Favre. They promoted a young "hands-off" trainer who would basically allow the team to coach themselves. As a result, the squad continually struggles in set-piece marking. They conceded two more dead-ball goals against Gladbach this weekend; one off a free kick and another from a corner. The team also can't organize itself into consistently menacing shape without proper instruction.
The most frustrating aspect of the Schwarzgelben at this point concerns the fact that they outright quit for prolonged periods of time. One could observe this for much of the first half of both the recent Leverkusen and Gladbach fixtures. Without warning, the pressure just stops. Opponents lackadaisically dribble and pass the ball around them like lads enjoying a leisurely summer day at the park. General confidence appears to be sinking. Disturbingly, rock bottom remains a ways off.
Prognosis: Let Terzic try
This team requires a tactical shake-up. Its leaders were accorded the opportunity to coach themselves in a 4-2-3-1 and have instead descended into unhelpful interior squabbles. Say what one will about Favre's inability to get his team motivated for matches against the league's lower teams, he still maintained the tactical acumen to discern when his side would be better served to line up in a back-three.
At this point, the club has little left to lose by allowing their designated "place-holder" for Marco Rose to try his hand at some interventions. With leadership not emanating from the pitch, some impetus must come from the sidelines. A revised system must find success next week against Augsburg as the current team doesn't even appear strong enough to best future opponents Freiburg and Hoffenheim. Michael Zorz and Acki Watzke need to loosen the restrictions.
Hertha-Werder (4:1, 1:4)
Anyone for a perfect mirror? When Bruno Labbadia's side trounced Bremen 4-1 to open the season, we all spoke of an exciting "construction site" sure to yield an imposing skyscraper with just a little bit more work. Seventeen rounds later, we don't even have a noodle stand to behold. This project went completely awry. After falling 1-4 to visiting Bremen and home, the axe fell on both short-term trainer and long-time sporting director. Oops. The curse of the capital city club rolls on.
What happened here? That's actually an exceedingly difficult question to answer. Coverage of Hertha in this column always came loaded with the the subjunctive ("Konjunktive" for German speakers) this season. Virtually every weekly entry about the club contained an "if only this had happened", a "were it but for this", a "had this gone the other way", or a "if only it this broke in the opposite direction". Maddening stuff. Football fans have often lived in the subjunctive tense. Those of us who have tumbled down the xG (expected goals) rabbit hole in recent years are even getting worse.
One has to report that this weekend's fixture might have been the most ridiculous example of subjunctive football yet. Matheus Cunha, excepting his penalty miss, turned in a pretty stellar performance. He wasn't alone. Vladimir Darida, Matteo Guendouzi, and Jhon Cordoba generated their fair share of quality chances. Bremen goal-scorers Josh Sargent and Leonardo Bittencourt produced second-half wonder-goals from seemingly impossible angles. Hertha, meanwhile, couldn't finish from high-probability areas. The Berliners amassed all the chances while the Hanseaten scored all the goals. The xG of the match? Hertha 2.9, Bremen 1.2.
Prognosis: Poised for a rebound
There will be some talk of this club falling into the relegation race. Ignore it. There's simply no way that a team so stacked with talent will play consistently worse than the likes of Schalke, Mainz, Bielefeld and Bremen. Even Augsburg are set up for a fall down the table when one considers their upcoming fixture list.
Whoever takes over this team next inherits a framework of talented players who, for a confluence of reasons, haven't gelled yet. They may not learn how to properly play together this season, but the general talent level should be good enough for, say, seven more wins and three more draws. That translates to 24 more points, a season total of 41 points, and safety.
---
The Burning Questions: Round 18
---
What's missing at Leipzig?
Two things. First, a striker with swagger. Alexander Sørloth might yet discover his form, but an alternative is needed urgently. The loss of Timo Werner's 28 league goals still hasn't been addressed properly. Yussuf Poulsen's four tallies, combined with the 14 other players who have scored thus far this season for the club, constitutes an adequate enough plug of this gap. It's the main reason why they are in second-place.
The revolving center-forward placements of Emil Forsberg and Christopher Nkunku yields perhaps 8-10 goals fewer than this team needs down the stretch. One can assume that, once healthy, Justin Kluivert and Dominik Szoboszlai can chip in a bit toward bridging this. Provided that they maintain their form, Amadou Haidara, Dani Olmo, and Angelino can help too. We should still see another target striker come in before the transfer deadline.
Next, one must again broach the topic of Julian Nagelsmann's poor record against the top teams in the league. As noted last week, the young trainer has only beaten a top-third side once since taking the reins at RB 18 months ago. This may not truly count as an issue since we deal with a short tenure and many matches that were very close. An xG report popping up in multiple German footballing forums also casts doubt on whether this trend counts as anything other than random luck.
One should nevertheless label next week's showdown against Bayer Leverkusen an absolute must-win for Nagelsmann. He should prove himself capable of finishing off a near-table rival who find themselves on the ropes. As we shall go into greater detail about below, Peter Bosz's depleted squad aren't the most difficult to crack.
Does Union's latest loss presage a fall?
One certainly expected a great deal more from die Eisernen against Augsburg. A second-straight defeat cannot help but have a psychological effect on a team aware of the fact that they overachieve. Many in the Bundesrepublik certainly enjoy the season's "Cinderella story" whilst simultaneously wondering when the clock will invariably strike midnight. Upcoming fixtures against Borussia Mönchengladbach and a resurgent FSV Mainz 05 shall prove difficult.
The early defensive meltdown against the Fuggerstädter this weekend seemed to augur trouble. Union's primary strength lies in the dogged work of its collective defense. Heiko Herrlich's team completely turned the tables on the Köpenickers by allowing them upwards of 80 percent possession, then shredding through the shaky back-three with ease. The Bavarian hosts completely shut down their opponent for the final half hour.
When one thinks about it, however, Augsburg may be the one team in the league capable of beating Urs Fischer's men at their own game. The FCA diamond-box works well against a low-press defensive unit. Few other Bundesliga sides blatantly trot out low-risk against low-risk. While Union probably won't enjoy the same success in the second-half of the season as they have in the "Hin-runde", there currently exists no real evidence for a slide.
Can Schalke and Mainz catch up?
No Bundesliga team that has amassed few than 10 points in the "Hin-runde" has ever managed to avoid relegation. Entering the second half of the season, both of these clubs had seven. In order to claw their way back, there must be at least one "implosion club" above them. Thankfully, 1. FC Köln fits the bill. It was back to goalless torpor this week for the genuinely awful Geißböcke. Hoffenheim's 3-0 dismantling of the cathedral city club counts as about as effective dismantling as it gets.
After snapping a seven-match-goalless run with two tallies against Schalke midweek, Markus Gisdol's toothless XI again put up goose-eggs in the scorer column. Anthony Modeste even failed to convert a late penalty. That consolation prize might have padded the stats, but by no means could hope to obscure the fact that Gisdol does not possess the personnel to build a proper formation. Ondrej Duda and Marius Wolf, neither of whom is a natural striker, started again up top. Jonas Hector again had to work as a ten. It's desperation personified.
Unless sporting director Horst Heldt lands a striker in the next eight days, there's literally nowhere on the Kölner roster where reliable goals can originate from. Schalke and Mainz can absolutely overtake this disaster. Even Arminia should have little difficulty topping them next week.
---
Weekly Tactical Focus: A new, faint hope
---
Bundesliga lovers remain starved for a solid title race. With the field of challengers this year shaping up to be the weakest in nearly a decade, it appears that little stands in the way of Bayern's ninth consecutive Meisterschale. Before delving into this week's tactical focus, one might as well emphasize that the writer of this column–an ordinary human just like any other–may be reaching a bit. Analysis of recent developments involving Germany's green company team may constitute little other than wishful thinking.
That qualifier being explicitly conceded, we'll have a have a look at Leverkusen-Wolfsburg. Buried in one of the round's less sensational affairs, there may exist a faint glimmer of hope. A certain formational evolution could conceivably yield a late entrant to the race for the 2020/21 crown. In the round 17 column, some attention was given to a new 4-4-2 Oliver Glasner currently gravitates towards. The VfL trainer took his time working promising young Polish striker Bartosz Bialek into a two-striker set. A potent attack may be developing.
This weekend we witnessed the reformat again. Even without Bialek, the 4-4-2 exhibits great potential. Glasner's Wolves wrenched one of the league's best offensive engines in their 1-0 blanking of Bayer 04 Leverkusen. The squad certainly requires a few more pieces to bulk up and pull it all together. A few targeted acquisitions in the transfer market would be needed before one can even begin to mention the word "contenders". We'll address that as well whilst taking a detailed look.
Lineup—VfL Wolfsburg—Match 18 (4-2-3-1)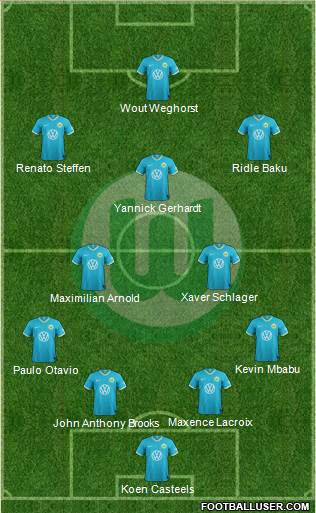 Glasner, like his predecessor in VW-twon Bruno Labbadia, favors a 4-2-3-1. Since the last time we checked in with this team in greater detail, the basic blueprint has fallen more in line with what the Austrian gaffer probably initially envisioned. Interestingly, some of the players he currently uses aren't the ones he might likely planned on deploying.
Baku finally moves forward
Early-season injuries to Kevin Mbabu and William Furtado forced the club to scramble for a new right-back on the summer transfer market. Negotiations with Mainz for Ridle Baku stalled at first. The VfL had no desire to spend upwards of €10 million on an emergency fullback. In the end, they paid the full amount. This suggests that Glasner convinced sporting director Jörg Schmadtke of his long-range plans for the German international.
Playing mostly at right-back, Baku played such a magnificent "Hin-runde" that many Bundesliga watchers consider him the league's best player at that position. As Mbabu gradually got worked back into the lineup, Glasner began moving the 22-year-old further up the field until he started serving as a genuine winger. The emerging star, hitherto a rightward slanted midfielder by trade, now looks poised to play a great "Rück-Runde" at his second new position.
Surprising strength of the back-ups
Shortly before Christmas, the club experienced a corona outbreak from which it still recovers. The cluster caused this team nowhere near the amount of headaches Hoffenheim has had to contend with, but it did lead to a bit of an ill-timed dip. Most have recovered, but Jerome Roussillon is supposed to be the left-back in the above constellation. Paulo Otavio has proven quite the pleasant surprise.
Other injuries affect what one presumes to be the preferred XI. The concept likely envisioned Josip Brekalo working the left wing, Maximilian Philipp occupying the ten-spot. Joao Victor entered the season as the direct second-stringer to Brekalo. More pleasant surprises crop up here. Renato Steffen and Yannick Gerhardt, two players the club actively sought to offload this window, contributed some fantastic play in recent weeks.
Spectacular sixes
The textbook example of a solid "double-six" system in the Bundesliga remains Gladbach. Marco Rose's system deservedly earns the bulk of the praise as his fourth midfield axis also works very well with interchangeable personnel. While Glasner's set may not be as flexible, one should note how Maximilian Arnold and Xaver Schlager are easily on par with the likes of Christoph Kramer and Florian Neuhaus. In some respects they're even stronger.
Schlager works marvelously as the forward six whilst Arnold's excellent field vision enables him to generate first-rate penetrative passes whenever he drops back. These two can stagger effectively at the drop of a hat. Since we've invested some time in this section discussing the ideal system Glasner sought to build, it should be stressed that the Schalger-Arnold pairing is a partnership the WOB head-coach has been working towards for 18 months. After an injury riddled 2019/20 campaign, he finally has this potent pair together.
Leverkusen: Straightforward or stale?
Peter Bosz's Werkself do not take a discerning tactical eye to figure out. The Dutch trainer keeps it simple with the exact same 4-1-4-1 as we've seen in previous rounds. Sticking to a system yields many practical advantages. For starters, it's enabled Bosz to attain Bundesliga and Champions League success with the minimal rotative options available to him after a slew of injuries.
Bosz has employed by far fewer substitutions than any other Bundesliga trainer. This shouldn't come as a surprise, given that his thin roster often enables him to enter fixtures with a bench squad of only six or seven players. Though Germany's red company team has been slumping in 2021, the team that pushed Bayern to the brink in round 13 still remains competitive in every match and can break games wide open.
Lineup—Bayer Leverkusen—Match 18 (4-1-4-1)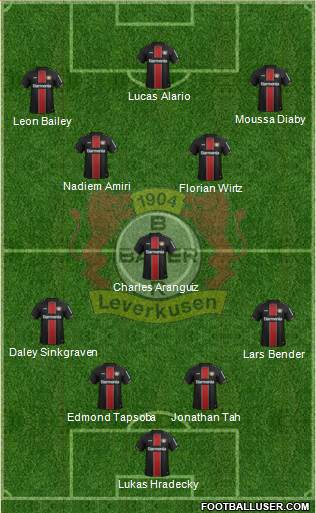 Creativity in a static formation
One doesn't have to move players around to maintain an element of unpredictability in one's attack. Bosz does frequently switch the assigning sides for flankers Leon Bailey and Moussa Diaby. On other occasions, he'll move the two tens closer together or send one of them forward to work as a short striker. Such minor moves prove sufficient when facing most opponents. Note that Werkself trainer made no adjustments against Dortmund on Tuesday and his team still managed to control most of the match.
On a good day, Diaby and Bailey supply all the creativity this constellation needs. Bosz has had plenty of success this season with what one may politely term an average collection of fullbacks thanks to the speed and ingenuity of these wingers. Of course, we must also note how vitally important teenage phenom Florian Wirtz is to the set-up's general imagination. The 17-year-old's presence or absence makes the true difference as to whether this strategy glistens or stalls.
Match Flow: 1st to 9th minute
The initial swathe of time chronicles Leverkusen's failure to cash in on an early spirit of energy and ideas. Wirtz sent in his first useful ball toward Diaby already in the 1st minute. Two minutes later, another cross found it's way past keeper Koen Casteels directly onto the goal-line. WOB defender Maxence Lacroix had to be very calm and exacting to takes three delicate touches before clearing. Counterpart John Anthony Brooks executed a similarly ice-veined clearance one minute after that.
B04's very imposing and impressive start continued. Diaby torched his way through wide right in the 6th, only just missing Nadiem Amiri on a cutback. Inside the same minute Lucas Alario hit the post and a trailing Edmond Tapsoba struck the rebound narrowly wide. Otavio and Steffen eventually put together a nice counter in the 8th, but the visiting Lower Saxons were otherwise completely tame in the opening exchanges.
Match Flow: 9th to 35th minute
Most unfortunately for Bosz's side, the fragile Lars Bender sustained a knock in the 9th and the ensuing injury break enables Wolfsburg to catch their breath. Schlager played Steffen forward after a formidable midfield ball win in the 10th. In a nice spell of end-to-end action, Brooks broke through the ranks to again kick out to Steffen in the 11th. Diaby unleashed a beautiful diagonal over to Bailey on the next counter. Mbabu and Otavio would fight the Wekself wingers to several draws between the 12th and 15th.
Bailey and Daiby attempted to work together on the right on a full-throttle press in the 16th. Glasner's XI tried to take advantage of some of the side-stacking, but couldn't find the precision on counters in the 17th, 19th, and 21st. Alario got the match's first shot-on-goal in the 21st with a second-effort close-range-tracer that forced Casteels into a difficult save. Brooks cleared out a highly dangerous cross in the 23rd. Lacroix alertly broke one up a minute later.
Leverkusen's back-builds slowed down considerably between the 24th and 28th. The squad couldn't figure out where to head after crossing the halfway line. Glasner's back-four had pretty much all the options covered. Charles Aranguiz repeatedly stopped when a survey of the options revealed that he had none. Brooks and Lacroix has little difficulty disrupting long wide balls carrying obviously inherent intentions. Both center backs even initiated almost effortless counters after easy interceptions.
Wirtz found some space out wide and forced Casteels into another save at the half-hour-mark. Bailey got a shot off in the 31st courtesy of a well-designed set-piece. The NRW-hosts kept up the pressure for a few minutes, though stalwart defending on behalf of the visiting team prevented anything too dangerous from materializing. A wicked counter initiated by Otavio in the 35th ultimately gave Glasner's XI the lead.
Match Flow: 35th minute to half-time
Wout Weghorst may have been Otavio's target, but the VfL striker extricated himself from the forward proceedings with an absolutely brilliant idea. A quick stutter enabled him to touch back for Steffen. Baku kept himself focused on a goal-ward run throughout it all. The German international knew exactly where he was headed, only halting his progress for a microsecond to attentively keep himself on-side. The headed finish was sublime.
Following Baku's goal, there were no further breakthroughs for the duration of the half. Brooks and Lacroix secured the center, cutting out the Werkself wingers at every opportunity. Diaby could do absolutely noting with a monster forward aerial win from Jonathan Tah in the 43rd. Otavio and Weghorst recorded two late shots at the death. Neither one truly troubled Lukas Hradecky.
Match Flow: 46th to 55th minute
The match saw the debut of recently acquired fullback Timothy Fosu-Mensah. Given that what feels like Lars Bender's 347th injury of the season led to an early momentum-breaking stoppage, one can make the case the the Dutch fullback probably should have featured in the starting XI. Bosz ordered the maximum extent of reordering instructions to put his team back in the match.
Lineup—Bayer Leverkusen—46th minute (4-1-4-1)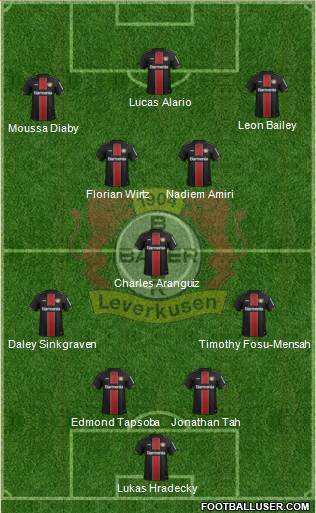 Here we see the visual representation of practically all the aforementioned internal 4-1-4-1 tricks. Bailey and Diaby can switch flanks. Wirtz and Amiri can flip sides and move in closer together. The two fullbacks can also move up an axis to press higher. Apart from a lovely arcing long switch from Fosu-Mensah to Diaby in the 52nd, this didn't produce much. Other diagonals to the French winger were poor.
Weghorst took advantage of the Bundesliga debutant in the 53rd, peeling away from Fosu-Mensah to get a not-especially-powerful header on target. Several fouls during this interval saw it dominated by dead-ball situations. As soon as the teams settled back into open play, one could ascertain that Glasner actually shifted his formation.
Lineup—VfL Wolfsburg—55th minute (4-4-2)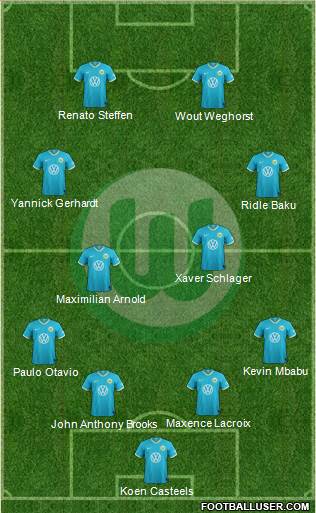 It was clear. Steffen moved up to pair horizontally with Weghosrt. Gerhardt pushed out wide to the left. Arnold and Schlager exhibited a definite stagger. Here it is; a potential trial run for a new 4-4-2 that Glasner may eventually work Bialek into. As noted at the beginning of this section, we're straying rather far into the realm of speculation with this observation. All the same, it's definitely a trend worth keeping an eye on.
Match Flow: 55th to 75th minute
Departing from the hypothetical cloud and getting back to the match at hand, the defensive properties of this arrangement deserve some space as well. Glasner's 4-4-2 completely took the sting out of Leverkusen. From his space just behind the halfway line, Arnold could efficiently monitor any of the Werkself wide-play before it developed. The wide spread of the second axis also accorded the fullbacks enough time and space to collapse inward at the right moments.
Wolfsburg began to take full control of the match. Lacroix and Brooks were able to slice up centrally in the 58th and 60th, respectively. Baku nearly got a tomahawk off in the 65th were it not for a block from Daley Sinkgraven. Schlager won most of the battles from his position. A perfect play-in from the Austrian for Weghorst in the 67th should have been the 2-0. Hradecky bailed his team out with a spectacular spread-save.
Diaby and Bailey managed some clever moves in the 71st, 72nd, and 73rd. Mbabu, Brooks, and Lacroix simply stonewalled them calmly after the tricky legwork had been completed. Bosz made a triple substitution in the 74th. He had to try something uncharacteristically radical. Karim Bellarabi, Kerem Demirbay, and Julian Baumgartlinger replaced Tah, Aranguiz, and Amiri. We'll be kind to the Leverkusen trainer and assume that there was a plan.
Lineup—Bayer Leverkusen—75th minute (3-4-3)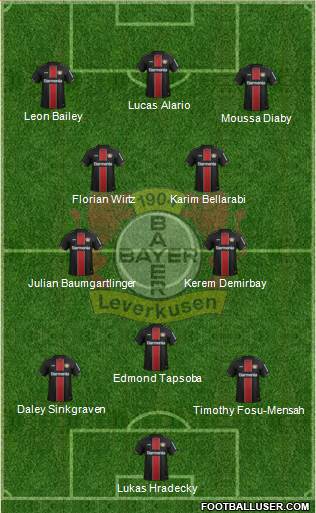 Beyond a re-format to a back-three, there may not have been any specific strategy involving the remaining seven outfielders. It looked as if Baumgartliner and Demirbay were meant to keep a line, but much of it seemed haphazardly desperate. The illustration strives to be generous. It might be the case that Bosz doesn't possess real back-up plans.
Match Flow: 75th minute to full-time
Sinkgraven stung the palms of Koen Casteels with a vicious effort in the 82nd. This was not only the lone shot-on-target in the final 15 minutes, but also the only legitimate scoring chance for Leverkusen in the entire second half. The Wolfsburg 4-4-2 ground the gears to a halt so efficiently that Bosz's XI looked as limpid as they have all season.
How much credit does the WOB formation deserve? We have mentioned the other influencing factors. Chief among these, the 4-1-4-1 only contains  a finite amount of internal tweaks to spark creativity when needed. Moreover, it's highly suspect that Bosz has some sort of alternative drawn up. One should also note that Baumgartlinger got injured shortly after being introduced. Wendell came on in the 81st to further muddy matters.
Glasner maintained the 4-4-2 throughout. Brekalo took Steffen's place in the 61st. Mbabu moved up to occupy Baku's position when the latter made way for Joshua Guilavogui in the 81st. Unfortunately, we did not get a chance to see Bialek play alongside Weghorst. The Pollack only came on at 90+4 to burn the last few seconds of injury time.
We shall have to wait and see if Glasner and his Wolves can furnish us Bundesliga lovers the authentic new hope we desperately need in the vanishing title race. It's a very faint ray of light in any case. Next weekend's fixture's could easily see Bayern München ten points clear of every last challenger. The VfL themselves face an enormous test in the form of Christian Streich's Freiburg.
There must nevertheless always be some room reserved for hope. This burgeoning 4-4-2 happens to be the best available at the moment.
---
Concluding Thoughts: Let us fix the grass
---
No, Leipzig's surprise loss to Mainz cannot, as Julian Nagelsmann would have it, be pinned on the poor pitch conditions. The young trainer demonstrated an immature streak after being out-coached by Bo Svenssion. That notwithstanding, Nagelsmann isn't entirely incorrect about the deplorable state of Bundesliga playing surfaces at this point in time. We touched upon the topic a bit when discussing Stuttgart a few rounds back.
Nagelsmann recently joked that many German football pitches are better suiting to planting potatoes than playing football on. He's right. Sometimes one wonders if one has inadvertently entered a time machine and travelled all the way back to the days of European medieval serfdom. The few club volunteers allowed in to check for divots before the match might as well be harvesting turnips with their pitch-forks. It's sad.
The reasons for the many sloppy surfaces are twofold. The lack of a "Winter-pause" means that the pitches see far more action than they ordinarily would at this time of year. The sod freezes in the frigid German cold and gets torn up in large ice-block sized clumps by the studs of the footballers. The problem can't be easily remedied as club have furloughed portions of their groundskeeping staff due to COVID and only a very limited number, if any, volunteers are allowed in.
A modest proposal. How difficult can it be to organize some socially-distanced sod laying? Rapid corona-tests at the gate, masking requirements throughout the process, and a strict commitment for each volunteer to remain in their own quadrant should be easy enough to execute. Stuttgart spent €150,000 on professional sod laying when a legion of volunteers could have cut that cost in half.
The pandemic tragically keeps Bundesliga devotees from volunteering for their beloved local institutions. That's what the exiled diehards miss the most. Surely some club execs can put into motion a few plans for preserving that most important aspect of fandom. Keep the Geisterspiele and let a few ultras into the stadium to help out.