A midweek "Englischer Woche" officially brings the 2020/21 German Bundesliga to its halfway point. There's plenty of football to catch up on for those who might not have caught the hot-sheet. We've got the repost here as the campaign prepares to flip over to the "Rück-runde".
---
League-Wide Talking Points: Round 17
---
Bundesrepublik Tabloid Time
What to do with a flaccid football match devoid of talking points? Borussia Mönchengladbach's 1-0 win over Werder Bremen furnished the very definition on boring football. Hanseaten trainer Florian Kohfeldt continues to build tactical constructs that station as many as eight outfield players at or behind the halfway line. This week's version looked like a 6-2-2. Ugh.
We can discuss the Werder coach's novel, if not depressing, attempt to use wingbacks whose sole assignment appears to be horizontally knocking the ball out into touch. One could also bring up the fact that Kohlfeldt almost actively suppresses the most offensively creative actors in his team. With Yuya Osaka and Milot Rashica already tossed from the starting XI, he's also dropped Leonardo Bittencourt recently.
Any coverage of the victors begins with a player not even on the pitch this round. The German press must know. Did Breel Embolo flee the Essen police? Did he climb out of the window of an illegally private party and run across the roof to back to his friend's house? Admittedly, this writer wouldn't mind the story being true. Everyone could use a bit of humanising hilarity at this point. The club doesn't seem in the mood to sanction Embolo even if it is true. Let's have a harmless laugh.
The "back-up" plan
Should this scheme to elicit a much-deserved chuckle falter, we've always the case of Keven Schlotterbeck to, so to speak, "fall-back upon". In the event that anyone missed it, the SC Freiburg centre-half directed in one of the most awkward own-goals one is ever likely to see straight off his own rear-end. One shudders to think what must be going through the 23-year-old's mind this eve as he contemplates the 2-2 draw.
The incident easily qualifies as the strangest thing to happen at an Eintracht-Freiburg encounter since David Abraham knocked down Christian Streich with a wrestle-mania-inspired clothesline. Wait a second. That only happened just year, didn't it? These two South German clubs seem to have a penchant for odd, discomfiting stuff. Having revisited that episode, it suddenly makes sense why Abraham decided to retire after round 16 instead of after the official end of the Hinrunde. This writer confesses he missed that one.
One a slightly more serious note, Freiburg look to be a very solid football team in spite of the fact that their five-game winning- streak has suddenly turned into a two-match winless-run. Much as was the case this weekend with Nils Petersen's ill-fated strike off the post against Bayern, the Breisgauer simply fell victim to some freakishly bad luck. By contrast, the Champions have luck firmly back on their side.
Bayern's worst enemy
Themselves. One cannot emphasise this enough. Only the giants can pull off the spectacular trick of tripping over their own feet. Misses from Joshua Kimmich, Serge Gnabry, Thomas Müller and Robert Lewandowski in the first half of the 1-0 win at Augsburg verged on the bizarre. The team hasn't lost its ability to dominate matches. Hansi Flick's FCB simply seems to have temporarily misplaced their killer instinct for finishing weak opponents off.
Any team with a shred more competence than the perpetually disappointing Fuggerstädter would have made them pay over the course of their uninspired second half. Daniel Caligiuri's miss of a sitter. Alfred Finnbogason's missed penalty. All the miscues in stoppage time. With Manuel Neuer's long-delayed Oliver Kahn-tying clean sheet in the bag and Schalke up next, it's reasonable to assume that Bayern have traversed their mid-season slump largely unscathed, at least in the league.
It was German footballing magazine Kicker who posed the usual semi-rhetorical question as to whether any time can stand in Bayern's way this year. With the field of challengers looking exceptionally weak this time (plenty more on that below), Kicker supplied the correct answer in a subsequent print edition. Bayern is capable of beating Bayern. That's about all.
Positives from Bialek
Way in the round 12 column, we touched upon some breakout play from young VfL Wolfsburg striker Bartosz Bialek. The 19-year-old Polish international–a very fine summer acquisition–reeled off some truly impressive late scoring opportunities against opponents Bayern that week. This round he netted his second Bundesliga goal in his side's 2-0 defeat of Mainz. Unlike the Bayern fixture, Oliver Glasner's men were able to reformat into a 4-4-2 quickly and efficiently.
A 4-4-2 that features both Boalek and Wout Weghorst can't help but have enormous ramifications for the second half of the Bundesliga campaign. Such a deadly pairing could lead to Germany's green company team storming up the table; perhaps even pushing into the title race. This constitutes some much-needed good news for German football fans. In a year during which no one else capable of mounting a serious challenge to the mighty Bavarians, we might behold a new Dark Horse.
The new (forecast) 4-4-2 also has affects the relegation race. Bialek's emergence virtually guarantees Daniel Ginczek's departure. It counts as a big surprise that another Bundesliga club hasn't snatched up the veteran already. All relegation-threatened teams were linked with him at the beginning of the window. With the Schalke deal having fallen apart, it's up to Köln, Mainz, and potentially even Bielefeld to chase the window's biggest prize.
All of those teams desperately need attacking reinforcements. This should prove most interesting.
Wondrously confounding football
Two huge surprises in the relegation race illustrate that one can never hope to have football truly figured out. The undisputed worst offense in the league exploded for three goals as Bielefeld blanked Stuttgart 3-0. The mere fact that 1. FC Köln have anyone on the roster capable of scoring one goal, let alone two, comes as a shock. For anyone interested in a fun factoid, Rafael Czichos and Jan Thielmann scored the first Kölner league goals since round 11.
Arminia's unexpected victory had a bit to do with Stuttgart complications in building a proper attack off the wings. The Silas Wamanigituka suspension obviously loomed large. Borna Sosa never looked comfortable alternating with axial partners Tanguy Coulibaly and Philipp Förster. A VfB own-goal doesn't take anything away from the sweet offensive moves from Ritsu Doan, Fabian Klos, and Jacob Barrett Laursen. Look forward to seeing more from that trio if they can sustain it.
As for die Geißböcke, the victory truly owed much to a concerted defensive effort. One can't hope for much more from Markus Gisdol's makeshift 5-3-2 that hasn't featured a natural striker for an entire half of a season. The goals from a midfielder and defender mean that the lone striker featuring on this team (Sebastian Andersson) has still only scored one goal from open play all season. To give one an idea of how desperate the Geißböcke head-coach has become, he started Jonas Hector in the attacking ten-spot in this one.
---
The Burning Questions: Round 17
---
Are Hertha's ambitions finished?
In a word, yes. Eight losses in the first 17 games of the season. Three fixtures without a scoring a goal. A missed penalty. Endless communicative breakdowns on the pitch. Matheus Cunha and Matteo Guendouzi bickering like a couple of self-serving individualists on the tunnel escalator. It can no longer be denied. Michael Preetz's €250 million European challenge club must be adjudged a ghastly failure.
While the potential that die alte Dame may gets sucked into the relegation race seems virtually impossible, one must declare their hopes to contest the European places effectively dead. It would take a small miracle for them to make up all the ground lost. Tuesday's performance served as an emblematic summary of the first half of the season: Too many individual stars going for glory. No coherent cohesiveness as a team. It reminds one of those mega-million Real Madrid disjoints from the early aughts.
Trainer Bruno Labbadia threw every ounce of purchased talent at opponents Hoffenheim this round. Jhon Cordoba and Krzysztof Piatek started up front together in a two-striker set. Directly behind them, Cunha occupied the ten spot. The spry Brazilian was tasked with running a 5-3-2 midfield diamond composed of Vladimir Darida, Guendouzi, and Lucas Tousart at the bottom of the key.
Quite the fragile piece of glass this diamond turned out to be. Cunha and Guendouzi couldn't agree, either on or off the pitch, who was meant to be running the show. Tousart shirked his responsibilities and disappeared into the adjacent rearward defensive ranks. After some decent play in the first half, everything fell apart after the team lost its ability to truly compete for ball-wins on the midfield axes.
This column has both pointed out the dangerous warning signs and given great attention to the flickers of life put on display by this ambitious club. Germans cannot turn away from the umpteenth intriguing Hertha experiment. Unlike other countries, we've never had a truly globally-recognised club for our country's capital city. At present, it looks fairly certain that we'll have to continue to wait. No more "false dawns". This incarnation won't rise about mid-table.
Is Dortmund self-coached?
Trainer Edin Terzic continues to deny that he operates as a hands-off "yes man". Of course he does. It's embarrassing to serve as an inactive placeholder; someone brought in merely to steady the ship absent any explicit permission to give it any direction. One genuinely feels for the 38-year-old native Westphalian. He deserves some license to leave a personalized imprint on a club he holds strong feelings for. Alas, the evidence before our eyes does not lie.
Lineup—Borussia Dortmund—Match 17 (4-2-3-1)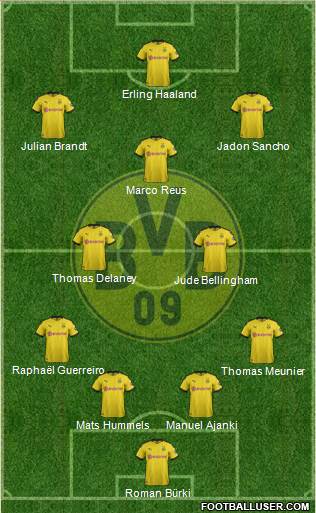 Look familiar? Forgive yourself if you happen to be experiencing "double deja vu". Terzic has lined the team up in this exact 4-2-3-1 in the seven matches he's been in charge. Moreover, this is essentially a carbon copy of Bayern's self-coached constellation. Some players can and do make organic adjustments. The hand of the coach remains conspicuously absent.
Fed up with Lucien Favre's oscillations between and back-three and back-four (not to mention all the fuss over his keeper rotations involving Marwen Hitz), the BVB bosses made a conscious decision. They would no longer entrust Champions League qualification to a tinkerer. The alternate strategy directly placed faith in the team. Their inherent talent would prove sufficient for a fourth place finish.
One can argue that this move was sensible enough. Favre's horrible record against teams at the bottom of the table did place UCL qualification in jeopardy. A highly talented squad, freed from the shackles of a coach who intervened excessively, should absolutely be able to coach itself to a place in the top four. In all likelihood, they will be able to do so.
Let there be no doubt, however, that Terzic doesn't maintain the privilege of interceding with major tactical ploys. The rookie coach can wildly gesticulate and shout commands from the sidelines all that he wishes. Club bosses have no issues with him playing the motivator. What they shall not tolerate, unless they opt to shift the central directive, involves any overt attempts by Terzic to take ownership. That's not his job.
The decision to award this team to an unknown through the end of the season carries with it certain conditions. More importantly, it constitutes a reorganisation of priorities. This club no longer expects a robust run at the title this season. Bundesliga fans shouldn't expect one either. Naturally, the possibility remains that the team could still click and go on a tear. From the BVB's perspective, this would be a nice surprise. It is by no means a concrete objective.
---
Weekly Tactical Focus: Short of a Storybook
---
An exceptionally riveting high-intensity match managed to just break the opposite way that many German football fans were hoping. RB Leipzig vs. FC Union Berlin counted as quite the story in its own right. The Bundesliga's two youngest footballing clubs, both from the country's East, met on the 55th anniversary of Union's founding. Practically all German observers pulled for die Eisernen.
This campaign's surprise team remained undefeated against sides in the in the top of the table. Leipzig, meanwhile, still hadn't recorded a defeat against a club occupying a place in the top eight. What a story it would have made had these trends continued. Julian Nagelsmann's rote Bullen ultimately ended up prevailing by the thinest of margins. Urs Fischer's XI put forth magnificent fight only to come up just short.
Thanks to their first win against a higher quality opponent all year, the German Red Bulls rise to second place in the table. Only they stand within quick striking distance of Bayern; four points off top spot. It's thus only fitting that we accord them the additional attention associated with our tactical focus segment. Note that the current close challenger won't necessarily be receiving glowing reviews for this very tight match.
Halfway through the season, Nagelsmann continues to search for answers in the quest to replace Timo Werner. As usual, we saw something very avant garde from the always inventive young trainer.
Lineup—RB Leipzig—Match 17 (3-5-2)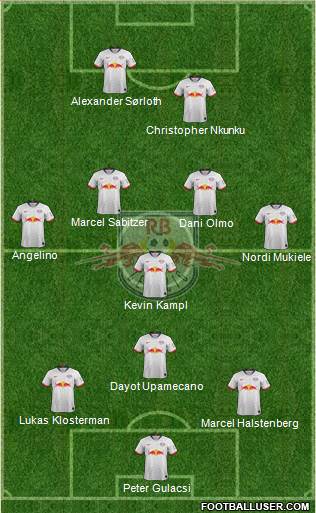 Personnel rotations being of the utmost importance during the tight turnaround weeks, we'll make direct note of the three squad changes. Christopher Nkunku, Alexander Sørloth, and Lukas Klostermann replaced Amadou Haidara, Emil Forsberg, and Willi Orban in the starting XI.
A short-striker supported nine
Though he has made 15 appearances, summer acquisition Sørloth made just his second league start. Even before the formation settled, the team sheet conveyed its own bold statement. After weeks of toying with winger Forsberg as both a true and false nine, Nagelsmann went with a traditional centre-forward. The mere act of doing so hints that the 33-year-old knows that this has become an urgent matter.
In order to give the hitherto inconsistent Norwegian the best possible fighting chance, the coach installed Nkunku as a built-in support mechanism. The 23-year-old Frenchman actually played a very strong second half in the weekend fixture against Wolfsburg. Capable of playing lead striker himself, Nknuku's instructions here concentrated on feeding Sørloth centrally.
Assigning Kampl is own axis
While this certainly isn't the first time that Nagelsmann opted to pull partners Kevin Kampl and Marcel Sabitzer apart, the Slovenian's role as driver has evolved in a fascinating way this season. One could immediately tell by the number of touches the 30-year-old vet racked up in the opening minutes, that his coach drew up a plan in which he would be the primary driver. A veteran in such strong form deserves a broad swathe of territory to work unperturbed.
The further moving back of Kampl over the course of the season is both a response to his incredible maturation into a real terrier on both sides of the ball and a tactic that corresponds to specific circumstances. Naglesmann often uses Kampl back when he faces sides, like this one, that live for the counterattack. It's also a useful deployment whenever his attacking axis forces him to move back his wingers.
The rear-axis "power chain"
Leipzig have limped and they have slumped through this campaign. Timo Werner's departure remains the primary reason for this. One must nevertheless mention that injuries to German national team fullbacks Marcel Halstenberg and Lukas Klostermann haven't helped matters either. Above one can see the back-three Nagelsmann requires if he's to have some hope of winning the league.
Dayot Upamecano's blistering speed and immense strength on the ball render him the perfect pivot runner. The Frenchman can operate at his best when a pair possessing some chemistry can close ranks quickly behind him. Moreover, the versatile skills of his defensive partners means that this axis can stretch and flatten out almost immediately. One finally saw it work beautifully in this one; the first time Klostermann and Halstenberg started together since round four.
Fischer's set-up
Union's trainer also lined up his side in a 3-5-2; albeit one much more traditional and easily comprehensible. It counts as something of a pity that we're only delving in-depth into Urs Fischer's tactical acumen for the first time this season. Though the column frequently calls attention to how well the 54-year-old Swiss wizard has handled injuries, there's simply been too little time to explore how he does it.
On Wednesday, one could witness a very intelligent roll-out.
Lineup—Union Berlin—Match 17 (3-5-2)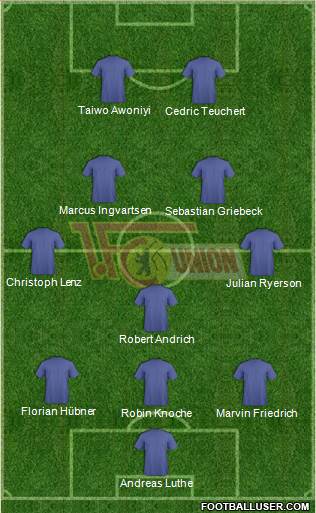 Union's coach also employed three changes to the side that beat Leverkusen in the previous round. The injured Sheraldo Becker needed to be replaced while Fischer opted to rest Grischa Prömmel and Christopher Trimmel. Julian Ryerson, Sebastian Griesbeck, and Cedric Teuchert served as replacements.
Andrich guards the last line
Veteran Robert Andrich remained so close to the back-three that one could have just as easily labelled the arrangement a back-four. Given that the wingbacks are expected to initially retreat back when the squad wins the ball, one can also fairly describe this type of constellation as a back-five or even back six.
A personnel move with which Fischer took some risk involved the use of Julian Ryerson as the right wingback. The 23-year-old Norwegian has had difficulty switching on offensive/defensive flips this year. It might have been a a better idea to simply start Trimmel in this match, or perhaps move Lenz to the right and giving Niko Gießelmann the go.
Built for the counter
Fischer knew precisely what he was facing in this fixture. Accordingly, he built a very strong defensive spread constellation capable of picking off balls and initiating quick transitions back the other way. Marcus Ingvartsen and Griesbeck worked very closely together. Strikers Techert and Taiwo Awoniyi operated mere meters apart.
The top two axis were squeezed so tightly together so as to facilitate quality improvisation whenever the Leipzig builds could be cut out. Any one of these four actors could break forward with support at any given moment. To the frustration of watchers who hoped Union could complete the upset, it came agonisingly close to working on a few occasions.
Union sadly lost some important breaks on this particular day.
Match Flow: 1st to 15th minute
The early exchanges unfolded exactly as both coaches probably hoped. A robust Leipzig possession scheme made its presence felt whilst a disciplined Berlin side gained confidence by repeatedly shutting their Saxon hosts out of the box. Kampl racked up an insane amount of touches on the early drives. Union keeper Andreas Luthe got a soft warm-up on a Sabitzer distance cutter in the 6th.
Opportunities fell to the Union counter soon enough. Klostermann and Halstenberg kept themselves in perfect sync, however. They both stepped up to force Teuchert offside on a breakaway in the 8th. After Sabitzer, Nkunku, and Sørloth got foiled on a centralised attack, Awoniyi burst free on promising counter as well. The disciplined Leipzig line kept their nerve and managed to catch him going early too.
One sensed that the Iron Armada, fortunate to have had those two early chances fall their way, might not get too many more looks at goal. Indeed, Nagelsmann's crew got less careless in relinquishing possession over the next four minutes. Union disrupted a few Sabitzer pivots back for Kampl, but the Slovene proved himself capable of shielding the ball better.
A stunning sequence in the 14th minute saw Union execute a gorgeous passing cycle buried deep in their own half. Pinned down near their right corner flag, six players round-robin one-touched their way out of danger and engineered an upfield press. A wayward shot from Teuchert came at the end of it. The FCU striker might have had a look to see Awoniyi open by his side.
Match Flow: 15th to 32nd minute
Union generated plenty in the opening 15 minutes. The hosting Saxons slowed matters down as best they could thereafter; focused on slow possession builds. The centralised nature of the Leipzig attack bordered on the ridiculously obvious at times. Kampl led a charge in the 16th, clearly looking for no one else but Sørloth. The basic pattern repeated. Find the tall target striker.
Sørloth touched back for Nkunku in the 17th, who in turn worked it back for Kampl. The Slovene again tried his best to locate the Norwegian striker on the run he started after the rearward flick. Union kept five defenders in the box to stop Sørloth in his tracks. Angelino tried to work the left flank in the 19th. The Spaniard could only lay off for Nkunku, who was again forced backward.
This time Sabitzer attempted to service Sørloth, but it was well out of reach. Nkunku and Sabitzer combined similarly again in the 22nd. It wasn't terribly difficult for the visitors to stymie the hosts straight up the gut. Irritation spilled over for Nkunku in the 23rd, when he flagrantly clogged an Union player after missing the touch on a central give-and-go.
Efforts to carve out space on the flanks led nowhere. The defensive work of die Eisernen was nothing short of exemplary. A chaser sent in for Nordi Mukiele in the right corner immediately got cleared. Griesbeck easily crunched out Angelino in the 25th. Four players ensured there would be no hope for Sabitzer's cross in from the left in the 26th.
Mukiele did well to take a launcher off his shoulder in the 27th, but Lenz ensured that he couldn't get it to Dani Olmo. As the half-hour mark approached in this enrapturing affair, Union saw two more blitz chances inside of a minute. Upamecano lost the ball and Teuchert only missed out on a wide-open chance courtesy of a poor first touch. Awoniyi was through on a far better touch seconds later, but this time Upamecano was on hand to tackle away.
Match Flow: 32nd minute to half-time
An inevitable lull ensued after both sides tacitly conceded that they had already expended a full match's worth of energy. After a neat Mukiele trick in the 32nd, four minutes worth of limp midfield stalemate reigned until Sabitzer and Angelino pirouetted through on the left. Sørloth did send Nkunku through for the game's best chance in the 37th, but a divot on the pitch led to the Frenchman skying the perfect chance way over.
After Halstenberg failed to pick out a colleague with a pair of fancy flicks and Olmo completely sabotaged himself with a horrid first touch inside the box, Awoniyi wasted a phenomenal ball-win during a furry of activity between the 39th and 41st. Teuchert would fail to find the touch yet again on a promising play in the 43rd. At long last it was time to head into the locker room. Watching a fixture proceeding at such high intensity left even the armchair observers exhausted.
Match Flow: 46th to 61st minute
Neither coach dared make any personnel or tactical changes at the restart. Fischer's men were, truthfully, in the midst of doing an outstanding job. Nagelsmann, who looked completely dejected on camera in the midst of a conversation with his sporting director, couldn't be expected to do much. His team followed the match plan and even produced some creative individual play. There appeared no way through from any point on the pitch.
Union simply out-boxed and out-hustled them. The first half statistics were telling indeed. Leipzig were awarded only one free kick and two corners. Perhaps most shockingly, the German Red Bulls only got five crosses off, none of which connected. Their opponents shut down every facet of their game. Nagelsmann couldn't tell them to abandon the plan of aiming for Sørloth. They already tried that to no avail.
It did become apparent that the Leipzig trainer ordered his back-three to spread out a bit more. This opened up matters a bit, with the Berliners first benefitting with a nice, clean build in the 51st. The Saxons then played their way out of pressure much more elegantly int the 53rd. In their one legitimate miscommunication of the game, Klostermann and Halstenberg got in one another's way on an Nkunku free-kick in the 57th.
Changes were now imminent. This would be one of those matches decided by the right tweak. Substitutes filtered to the touchline. When Sørloth completely mistimed his header and whiffed embarrassingly off a Mukiele cross in the 58th, one felt certain that Yussuf Poulsen would be the one to replace the ineffective forward. Perhaps Tyler Adams or Justin Kluivert would come on for the mistake-prone Nkunku.
Nagelsmann made a very curious move. Midfield driver Kevin Kampl got the hook. Forsberg strode onto the pitch for the lone change. Naturally, this left one wondering what the RB trainer intended to do with Sørloth. His plan obviously took a few minutes to manifest itself. When it did it almost made a writer wish to stick straws in his hair.
Lineup—RB Leipzig—61st minute (3-6-1)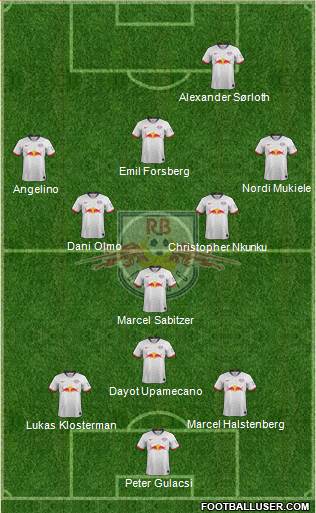 Sabitzer sliding back into Kampl's role was easy enough to foresee. Likewise, Forsberg serving as the new short striker didn't surprise What ended up transpiring with Sørloth remains difficult to describe. The Norwegian didn't just shuffle over to accommodate a right-footed ten. It looked more of a case of him being thrown out of the constellation altogether; almost as if his coach had ordered him out of the action without ordering him off the pitch.
Fischer implemented a double substitution. Both strikers left the pitch. Marius Bülter and freshly acquired winger Leon Dajaku took over for Awoniyi and Teuchert. Such a swap could only mean that the Berliner gaffer wished to re-format to a back-four, yet he hadn't brought on any fullbacks. He also found himself suddenly bereft of central attacker. Another switch would complete the tactical reformat later.
This was as far as it would go for the moment:
Lineup—Union Berlin—61st minute (4-3-3)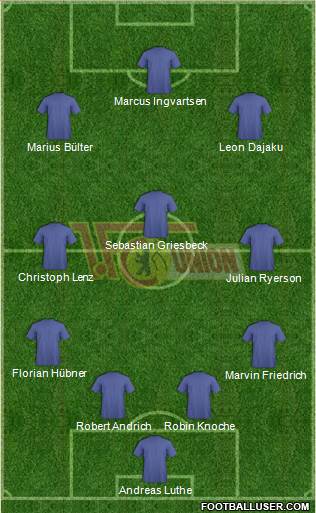 To be sure, a very good idea. Ingvarsten could work the central target role just fine and two fresh wingers might tear apart the fixture's under-utilised flanks. Fischer went for the jugular and it could have easily worked. One would be hard pressed not to love the notion of bringing Dajaku with the best chance of any outfielder to win the match. Of course, altering the spatial arrangement of the fixture so radically carried many risks with it.
Match Flow: 61st to 70th minute 
Forsberg promptly found his way forward to make himself involved in every Leipzig attack. After both sides took a few minutes to adjust to the reconfigurations, Halstenberg had the Swede through for his first major chance in the 65th. Union's best counter chance came in the 67th, with Dajaku only just missing Ingvartsen on a splendid cross. Sabitzer fired off one of his trademark lasers off a tight turn in the 68th.
Sabitzer, Olmo, and Nkunku would all combine during the 70th minute sequence that led to the game's only goal. The forward press was actually about as central as it gets. The substitute turned the same tired plan in use the whole match long into the winner with a bit of magic. Forsberg took two perfect touches before firing home on an acrobatic turn. Suddenly, Nagelsmann looked like an absolute genius.
Match Flow: 70th minute to full-time 
Six substitutions over the final twenty minutes broke any hope this match had of retaining any sort of flow. Constant interruptions down the stretch. Fischer didn't get his fullback on until the 76th. By that time, his team were piecing together some good movement. Dajaku in particular put in a stellar performance. Nagelsmann stopped the momentum with a 77th minute sub.
Fischer threw on two more players in the 81st for a last ditch effort at a randomised fresh-legged rush. The team couldn't find enough coherence to locate Ingvartsen up top. Bülter launched a shot with some real pop at 90+2 and Ryerson came close to turning in the rebound. Sørloth, who remained on until the full time whistle, completely disappeared from play save a horrible finish in the 82nd.
As much of a clever tactician as Nagelsmann may appear coming out of this one, this match appeared to demonstrate some of his persistent squad problems more than anything else. Additionally, the myriad of instances in which this fixture could have swung the other way render it a lucky escape for the Bundesliga's current second-place team.
German football fans didn't get their storybook ending this round. As the Hinrunde officially draws to a close, it seems unlikely that there may too many storylines insofar as the 2020/21 title race is concerned. The closest challengers barely eked out their first victory against a top eight side halfway through the season.
Leipzig. Leverkusen. Gladbach. Outside chances for Wolfsburg and Dortmund. Any one of these clubs could still hit a hot streak. At the end of the day, however, we must reiterate a truth already stated multiple times in this column. The only real team standing in the way of a ninth Bayern title remain Bayern themselves.
---
Concluding Thoughts: How to handle Hübner
---
Before wrapping things up for the week, there remains a bit of unpleasant news concerning Union Berlin. As of this column's writing, Eisernen players Florian Hübner and Cedric Teuchert are the subject of an investigation by the DFB's control committee for alleged racist abuse of Leverkusen's Nadiem Amiri in a fixture last Friday.
The pair deny using a racial epitaph to insult their fellow German, but Amiri's reaction to their taunts near the end of the match clearly indicate that they disparaging enough to rile him deep. The most prevalent story revolves around them referring to his Afghan heritage, throwing in a couple of expletives as adverbial modifiers.
At issue here, we have football's extraordinary responsibility to hold itself to the highest of standards when it comes to zero tolerance for xenophobic language. No one truly wishes play the role of "thought police", but the global game cannot deny that its unrivaled cultural melting pot of players makes racism more prevalent. As a result, players need some protection from it.
These days, the technology certainly exists to monitor every word uttered on the pitch. Regrettably, it may not be too long until professionals are all individually miked-up for matches and all of their words parsed through. No one could possibly look favorably upon such a scenario, but incidents such as this invariably draw us closer.
Perhaps there is a less draconian solution. Namely, one could press the players to work it out amongst themselves. If Amiri's statements after the match are to be believed, this has even already happened. If the player claims that it is over, then let it be over. This constituted an internal dispute between German players and an apology came quickly thereafter. There's no need for further investigation in this instance.
It still might be a decent idea to mike-up players for UCL matches and international qualifiers, but only if other avenues have been exhausted.