As the 2022/23 German Bundesliga reached its midpoint, Joshua Kimmich led the comprehensive recap column with a message for all of us.
He was neither hearing nor having any of it; certainly not after scoring what many of us deemed to be the "Goal of the Season". A dramatic late equalizer may not have solved Bayern's issues or even rid Kimmich of the bitter after-taste of the disastrous World Cup.
It nevertheless secured a vital point in the midst of – what was later revealed – to be a title-race in which every last tally counted. There were no shortage of smiles to be had at this point…..
….though signs of what lay on the horizon were certainly also apparent.
---
Bundesliga Tactical Banter: Round 17
---
So much for Schalke!
Well. That should just about be it for the Bundesliga's last-placed team. After delivering some surprisingly brave play against Eintracht Frankfurt over the weekend, the hapless Köngisblauen completely folded against the vastly superior RB Leipzig in this round's curtain-raiser. That's more in line with what we expected from a club destined to go straight back down again. An endless chain of errors at the back. Zero marking in the box. A huge gaping hole on the weak left-hand-side of the constellation. No presence in the attacking third. A paltry 0.45 xG.
One can take a few positives from the 1-6 defeat in the form of specific identification of the problem areas. We know precisely which players are a lousy fit for this level. Henning Matriciani – the makeshift centerback – has been responsible for nearly all the nine goals conceded by Schalke thus far since play resumed. New signing Jere Uronen looks to be total junk. Jordan Larsson absolutely cannot be allowed to drive the attack as a ten anymore. Captain Danny Latzka (mercifully injured) needs to remain off the pitch. New lead-striker Michael Frey can't work up front alone.
There remain some bright spots. Moreover, help is on the way. A new quality centerback heads to Gelsenkirchen to hopefully work alongside Sepp van den Berg once the Dutchman returns from injury. Acting sporting director Peter Knäbel pulled off a major accomplishment by finally wresting winger Tim Skarke away from 1. FC Union Berlin. A second striker shouldn't be long in forthcoming. Reinforcements get set to arrive; albeit likely far too late to make much of a difference. Knäbel undoubtably dragged a set of languid legs through this latest crisis.
A player who earned a lot of deserved attention in the previous tactics bulletin – Soichiro Kozuki – scored his first Bundesliga goal. Another late bloomer from the reserves – 28-year-old Andreas Ivan – also looked good in relief. Soon to extend Dominick Drexler can really help the team out. One can absolutely envision a few of the emergent building blocks on this team thriving in the 2. Bundesliga next season. Relegation may even be the better route for the squad in its current form. Maybe Knäbel seeks to prepare the club for that, just as he did in the spring of 2021.
A "Stumbling Spitzenspiel"
Yes, Bundesliga apologists have to explain why the highly anticipated duel between Eintracht Frankfurt and SC Freiburg ended up being something of an attrition laced 1-1 dud. The hotly-hyped SGE offense completely disappeared until Randal Kolo Muani scored the opening goal in the 41st minute. Freiburg, meanwhile, couldn't find their way past Eintracht back-up keeper Diant Ramaj; forced to fill in for Kevin Trapp on short notice. After Matthias Ginter scored the equalizer in the 47th, play lagged in the second half until Frankfurt once again decided to wake up again just before the whistle.
No, it wasn't a great game. Do note that all of this had to do with the fact that SCF trainer Christian Streich picked the right set of tactics to rebound from the 0-6 shellacking in Wolfsburg over the weekend. New introductions Lukas Kübler, Philipp Lienhart, and Lucas Höler worked in a reset 3-4-3. Höler played a very active role as a buttressing attacker in his long-awaited first start of the campaign. Captain Christian Günter atoned for his many errors in the previous match with a great performance at left wingback. Ginter too absolved himself with some great work.
From both a visual and statistical perspective, the Breisgauer should have taken all three points. Oliver Glasner's Adlerträger frequently looked as if they had their head elsewhere; perhaps thinking ahead to the monster match against Bayern on Saturday evening. For the sake of German football in general, we all hope that the Rhein-Main squad will be up to the task in the "Top-Spiel". They've looked surprisingly lousy in their first two games back. Streich's men also didn't necessarily recommend themselves for the top-four with this outing.
---
The "Burning Questions": Round 17
---
Should we even take Hertha seriously?
This writer certainly wouldn't recommend it. This team has proven as bad as most of us German football watchers expected coming out of the winter break. Alarm bells rang out loud and clear for many of us watching them overachieve in the winter preparation test fixtures. Sandro Schwarz's crew achieved some big-confidence boosting results against absolute creampuff sides that club management scheduled them for. Honestly. What is the purpose of playing exhibition games against fourth and fifth tier pro-am American sides?
On the topic of club management, the transfer window just completed by chief personnel executive Fredi Bobic and his team would earn some serious plaudits if Bobic were running a club so far in crisis that it was actually facing liquidation. Hertha aren't that bad off. While we may not know many details regarding this new "777 investor consortium", it simply cannot be the case that Bobic had to slash payroll like a business nearly unable to cut the checks and only invest a measly €500,000 in one new player. This seems way overdone.
Schwarz himself seems to have completely forgotten the tactical formula that once left him on the cusp of success. This squad needs to be set up in a 4-4-2, irrespective of whether Schwarz finds himself (predictably, of course) short on strikers. The columnist honestly doesn't care if Schwarz has to use Myziane Maolida or Marco Richter up top, or even rush Jessic Ngankam into the XI. Dodi Lukebakio and Wilfried Kanga are well past the point of showing themselves to be even semi-reliable.
Sigh. After horrible performance against Bochum over the weekend, Schwarz kept the 4-2-3-1. All actors on the back-line, who all performed immeasurably poorly, kept their place in the lineup. The wholly ineffective deep double-six setup of Lucas Tousart and Ivan Sunjic also remained in place. Goal-scorer Suat Serdar got the nod over Jean-Paul Boëtius at ten. At least that made sense. Kudos to Lukebakio for ceding an insipid handball penalty on his return. Wonderfully dumb.
Lineup—Hertha BSC—Match 17 (4-2-3-1)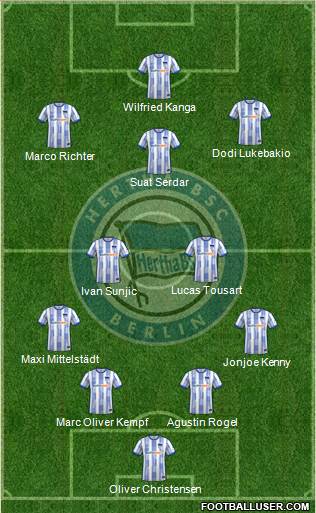 As we were just covering in greater depth in the most recent tactical bulletin, VfL Wolfsburg are undoubtably the Bundesliga's hottest team at the moment. The fact that Paulo Otavio had to miss out on this one due to accumulated yellow cards and Felix Nmecha had to take a seat with a minor injury didn't really shift our expectations for this didn't really shift our exceptions. The red-hot Micky van de Ven could easily fill in at left-back and Mattias Svanberg retained enough squad experience to stand in for the team's joint leading scorer in the same tactical set-up.
A bloodbath we expected. A bloodbath we got. This isn't Bradenton, Florida dearest capital-city brethren. This is the Bundesliga! Not even the pocketed six set-up could hold for long. Patrick Wimmer took just three minutes longer to score against this mess than he did against Freiburg. The visiting German Wolves exercised a bit of mercy by pumping the brakes before dutifully putting it well out of reach long before the end of the opening 45. Everyone in blue/white pinstripes was awful.
Did it get any better after the half?
Lineup—Hertha BSC—46th minute (4-4-2)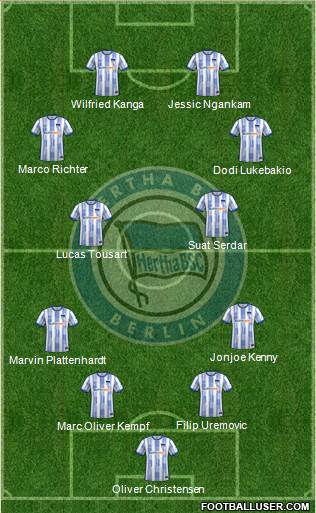 A bit. Schwarz pulled the trigger on the triple substitution and the tactics he should have began with long after it was too late. Tousart was permitted to step forward and work alongside Serdar on a slight split-stagger. The pair involved themselves intensely in the midfield duels, to the point that the team didn't look so embarrassing in possession. Lukebakio, Ngankam, and Filip Uremovic got looks in.
Alas, all that was really required Niko Kovac's Autostädter was a little space to get the counter rolling. Ridle Baku scored yet again. So-called "replacement" Svanberg bagged a brace of assists. Even Bartol Franjic (seriously) got involved off the VfL bench. That's how bad Hertha are this year. They're decidedly worse than the last four years.
This brings us to…..
The state of the "February Promise"
Ahem. Those new to the column may not be familiar with the concept. Every year, Germans place at least one phone call to their Hertha-supporting friends in the capital to assure them that they won't get relegated this season. It's a tradition. Something happens to be quite different this time around. For starters, it's not February yet. Next, there is no problem. This team, as it stands, is very likely going down.
Thanks to some some sad randomness from the Bundesliga scheduling computers, we've already got the nascent Union-Hertha "Stadtderby" coming up this weekend. Hertha weren't at all ready for it back in round one. "Die alte Dame" find themselves even less so now. Expect another bloodbath. The team doesn't have the quality to score goals. Pretend that Stevan Jovetic and Florian Niederlechner will remain healthy if you must.
It's not happening.
Should Dortmund line up in a back-three?
Something of a tangential question here as the BVB's 2-1 win over Mainz got the writer thinking about this specific systemic issue. In spite of the desperate pleas of many of us who watched the understaffed midfield leak goals left and right in the Augsburg encounter, Edin Terzic again lined his team up in a similar 4-1-4-1. This time Emré Can took on the holding midfielder role. Salih Özcan moved up to pair alongside Julian Brandt in the eight pairing with Jude Bellingham suspended.
What we witnessed from die Schwarzgelben actually amounted to a woefully inadequate match on both sides of the ball. The defensive ranks moved far too slowly to get play started. Bo Svensson's Pfälzer had no problems coming to grips with the BVB build. Though there were some finishing errors from the likes of Youssoufa Moukoko and Karim Adeyemi, the real story here had to be the amount of passing errors out of the back that left the top axis attackers with little chance. Thankfully, Gio Reyna once again came to the rescue off the bench.
A potential solution? Why not line up Raphaël Guerreiro and Julian Ryerson as advanced wingbacks whilst Niklas Süle, Nico Schlotterbeck, and Mats Hummels take care of safety first in a suppressed chain? Terzic might have gone this route tonight had Hummels not been carrying a light injury. If we've learned one thing about new BVB full Julian Ryerson – who once again scored and blew a defensive assignment in this one – it's that the Norwegian remains the same player from his Union days.
While Ryerson isn't exactly Achraf Hakimi, such an arrangement could bring Dortmund back to some of their better performances under the Lucien Favre regime. So many of the BVB top two axis attackers, like Brandt, Adeyemi and Donyell Malen, could work better as centralized supporters. Jude Bellingham deserves his own solo axis We don't very often engage in "thought experiments" in this column, but it has sometimes been prudent to present a projected lineup in the interest of seeing what might potentially work.
Here are the writer's thoughts:
Lineup—Borussia Dortmund—PROJECTED (3-4-3)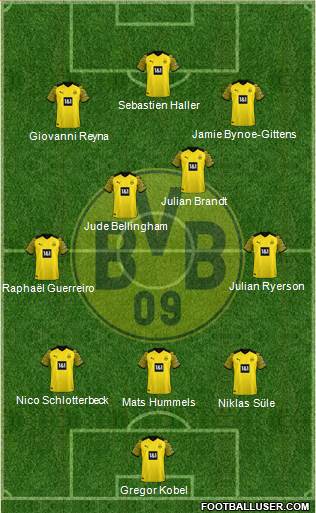 Protection everywhere. Creative impulses forward built-in. Two midfield support players who like to roam given solo support slants in line with the sides they like to favor. The columnist happens to think it could feasibly work rather well, which might be one reason we never see it. Oh well. Tacticians can always dream a kind hypothetical dream.
What does Leverkusen look like with Wirtz back?
Simply stated, it looks like a 4-2-3-1.
Lineup—Leverkusen—Match 17 (4-2-3-1)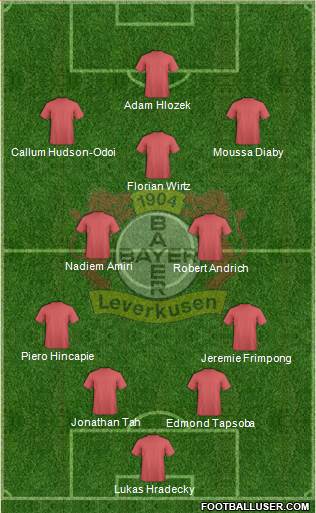 Well, well, well. What were we just saying? Xabi Alonso truly has no plans to stick to whatever zany tactical arrangements he had been using in Wirtz's absence. Mitchel Bakker and Amine Adli – both of whom scored goals in Leverkusen's victory some four days prior – had to take a seat on the bench. Jeremie Frimpong's career as a Bayer winger suddenly came to an abrupt end. Exequiel Palacios was no longer needed.
All must make way for "Prince Flo".
In truth, this set-up did prove a little too static at times. Opponents VfL Bochum often accomplished optimal superiority despite the fact that head-coach Thomas Letsch had to run an ad-hoc midfield with Erhan Masovic and Anthony Losilla providing extra protection in Ivan Ordets' absence. A little less hard luck for returning attacker Takuma "Jaguar" Asano and Bochum could have actually won this game.
In the final analysis, it matters not. Edmond Tapsoba was able to end the "Leverkusen Penalty Spot Curse" with an early conversion in the 8th. Wirtz notched an assist on the 2-0 eight minutes after the restart. The formation played itself into form near the end of the match. In what counts as a significant victory for die Werkself, there was only one horribly embarrassing mistake at the back over the course of the game.
Top four?
It's still possible.
How did Union come back again?
Somewhat disappointingly, we didn't see Urs Fischer test drive his new 4-4-2/4-2-2-2 yet again. That was likely due to the fact that the Union trainer knew that – despite Saturday night's debacle in Köln – Bremen gaffer Ole Werner would still line up his charges in a 3-5-2. Fischer thus stuck with his own tried and tested 3-5-2. Kevin Behrens did earn the start over struggling American "Jordan" this time. It worked almost to perfection. Behrens truly delivered right from the start.
Behrens nearly scored inside of six minutes. Bremen were able to take the lead against the run of play thanks to the fact that Marvin Ducksch was determined to get his set-pieces right this time. Behrens then pounced on an error from goal-scorer Amos Pieper to set up Janik Haberer's equalizer. The former Bremen academy man then scored what proved to be the game-winner shortly after the re-start with an emphatic headed finish. Whatever his ultimate system, Fischer surely has form surgery in Behrens.
Another important takeaway from the 2-1 win that sent Union Berlin back into second place has to be the fact that Behrens' winner was set up via a corner from the newly acquired Josip Juranovic, whom Fischer immediately trusted as a set-piece taker. Juranovic shapes up to be quite the catch for FCU manager Oliver Ruhnert and the club front office. Ruhnert and the team may be closing in on another big name signing soon. Many of us who thought die Eisernen would fall down the table are seriously rethinking our predictions.
After they demolish Hertha this weekend, perhaps they can start thinking top-four.
How fares Labbadia's project?
It fares about the same. The new VfB Stuttgart trainer began with the same 4-1-4-1 as in the previous round. Another draw for the Württembergers this time around as they split the difference with a 2-2 result against Hoffenheim. The Swabians played about as mediocre a first half as they did on Saturday against Mainz. To be fair, the attacking flow of the squad found itself impeded by an early injury to Tiago Tomas. Naouirou Ahamada – undoubtably distracted by a rumored move to the Premiership – was all over the map.
The young Frenchman gifted Hoffenheim the opening goal with a botched clearance in the 11th. Ahamada then nearly scored the equalizer himself in first-half injury time before actually setting up the 1-1 with a sleek assist for Serhou Guirassy at 45+6. The team's midfield linchpin completed a brace of assists with another set-up of Wataru Endo's 2-1 in the 77th, then proceeded to get thrown off the pitch on double yellows for running into the stands to celebrate. This move sunk his team. Hoffenheim used the man-advantage to great avail before finally scoring the equalizer.
Truly something to witness a match revolve so much around one player. We shall find out soon enough how the squad copes with Ahamada's absence in the next fixture against Leipzig on Friday night. Labbadia's "construction site" (to use the German term) just got its scaffolding knocked down. Chris Führich, a much less dynamic player, shall likely receive the task of mimicking and mirroring what the Stuttgart trainer expects from the fulcrum of his two basic tactical sets. We'll learn a lot about this side's relegation prospects in a few short hours.
Are Gladbach poised to slide?
One fears to say, yes. Daniel Farke's foals looked very anemic in their 0-1 loss to Augsburg. This despite the fact that talismanic striker Marcus Thuram started up top and played the full 90 minutes. The Frenchman barely got 30 touches in and didn't register a shot on target. Farke did have to do without attacker Jonas Hofmann on short notice, but wingers Alassane Plea and Nathan Ngoumou summarily failed to service their center forward. Just like last in the previous match, Christoph Kramer, Julian Weigl, and Manu Koné did a most unconvincing job running the midfield.
Opponents Augsburg narrowly saw one goal disallowed for offside and could have easily rushed out to a 2-0 lead in the opening 45. One shouldn't discount the fact that the totally re-tooled Fuggerstädter count as a tough challenge, particularly with this young Belgian midfielder Arne Engels taking the league by storm. One still doesn't see a way forward for the BMG unless Farke completely rebuilds his system. This could lead to adjustment problems, even against some of the weak opponents the Gladbach trainer has coming up.
---
Weekly Tactical Focus: Köln and the vicious heart
---
Man, what a match we have to cover this week! The columnist confesses that – in selecting Bayern-Köln for this round's "focus section – he fully anticipated getting another fixture with an early "lid". Köln's demolition of SV Werder Bremen on Saturday evening ultimately proved little beyond the fact that the Hanseaten entered the contest fully unprepared to begin playing on the Bundesliga level again. Surely they wouldn't survive a true test against the German giants?
Survive they did. Thrive they did. Steffen Baumgart's Geißböcke, via a fearless high press, beat back Bayern ruthlessly during the opening 45. Julian Nagelsmann's Bavarians delivered by far the worst first half that they ever had played under their current head-coach. Although the record champions fought back valiantly to earn a deserved draw by the end of the night, there remain plenty of worrying trends to discuss insofar as the FCB is concerned. Naturally, that's wonderful news for the title race.
This contest also furnished us with plenty of tactical intrigue. It would be fair to say that Baumgart successfully confused Nagelsmann and outmaneuvered the supposed "young genius" at just about every turn. New personnel issues also crop up for the FCB trainer. Joshua Kimmich's all-important first goal of the new calendar year may have partially solved one of Nagelsmann's problems, but the Serge Gnabry snafu means that a gaffer not all that much older than his players has another issue to deal with.
Full-time xG (Bayern–1.49, Köln–0.78) didn't come close to doing this electrifying affair justice. Furthermore, this happened to be one of those cases in which the metric had very little pertinence to the overall story of the match. What we witnessed here held more for the football purists within each of us. This was definitely one of those "off to the park" watches. Many will have succumbed to the urge to lace up the boots after viewing. Just fabulous football; the type that drives you to get your own touches in.
Lineup—Bayern München—Match 17 (4-2-3-1)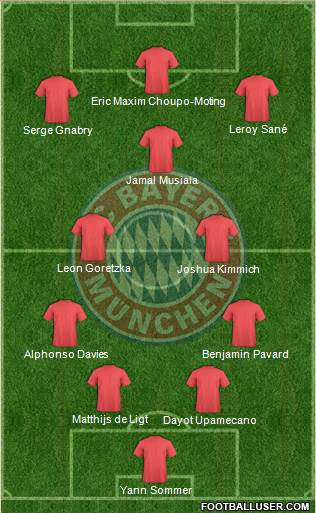 The exact same personnel and tactics as in the Leipzig match.
Two reasons why it's not yet working terribly well:
Choupo's deep drops
There are some notable disadvantages to the manner in which Nagelsmann has been drilling the Bundesliga's great "Renaissance Man". Eric Maxim Choupo-Moting remains primarily a central target actor. While the striker's willingness to drop excessively deep to affect the play remains both admirable and occasionally effective, one can also see how his absence in the box frequently leads the FCB approach to fizzle out.
The primary issue here is one of speed. Numerous instances in this fixture saw Choupo contribute to Bayern drives with his work farther back in midfield, but there's no denying that the 33-year-old doesn't possess the legs to then catch up to the attack. A team like this, with so much pace on the flanks, then stumbles directly back into the "paint the corner"/"nimble the edges" trap outside the area. 
Musiala's rigidity
The next point isn't something that German football enthusiasts may be prepared to admit to themselves just yet. The column nevertheless believes that its time has come. Our beloved phenom hasn't looked like himself in his first two starts coming out of the winter break. Jamal Musiala – whom one shouldn't forget is still only 19-years-of-age – looks a tad lost in his newly cemented starting role. Perhaps there's some pressure in his head.
It might also be the case that Nagelsmann has been pushing him to operate as a more conventional ten. In any event, we've seen Thomas Müller come off the bench to function as a more fluid "space-interpreter" in both of Bayern's matches thus far. The g emphasizes that the reasons for Musiala's little mini-slump remain unclear and he doesn't advocate benching the teenage talent just yet.
Baumgart's game plan
Different observers may have seen different things here.
Lineup—FC Köln—Match 17 (4-1-3-2)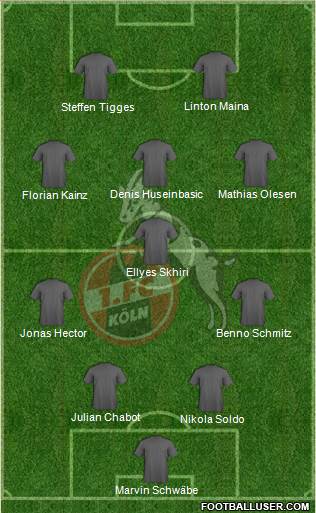 The chronicler concedes that there may be some controversy with regard to the particular nature of this shape assessment. There was, in point of fact, rather a lot going on with Köln's shape during the first-half. Sometimes Linton Maina operated as a clear winger. Maina and Florian Kainz rotated flanks quite a lot. Denis Huseinbasic and Mathias Olesen tucked underneath Ellyes Skhiri frequently. Maybe there wasn't even a "game plan", per se.
Why the column calls it this way
The most important facet of Köln's tone-setting in the opening 45, as intimated above, concerned the rapacious press that the Effzeh gaffer sent Bayern's way. Truly impressive this was. Whatever it actually was that Baumgart told his lads to execute in the early stages, one could clearly divine an organized three-man midfield press designed to step up in unison. Kainz, Huseinbasic, and Olesen often did this.
Baumgart's 4-1-3-2 is one of his reliable go-tos. He calls for it whenever there's a need to stand tall against a more talented team. Admittedly, it hasn't always worked in the Conference League this year. During some of the latter stages of league play last November, there were also some abject failures. Kudos to the Köln trainer for taking the risk again here as it most assuredly worked.
Match Flow: 1st to 4th minute
Maina and Steffen Tigges ran the first Kölner attack up the right straight away. Matthijs de Ligt was able, with some unexpected difficulty, to quash the first charge. Maina got a bit too excited on the second Effzeh charge in the 2nd, ultimately committing an offensive foul on Dayot Upamecano. De Ligt and Upamecano both looked a little rattled on the subsequent FCB build. Both turned the ball over to the rampantly high-pressing Ellyes Skhiri before securing the ball back.
A pair of Kölner throw-ins on the right in the 3rd further illustrated how caught-unawares Bayern were. Benno Schmitz employed the long-throw in an attempt to hit Tigges on the first try. Gnabry couldn't manage to supply an effective clearance. The result was another Schmitz long-throw in Olsen's direction. Alphonso Davies had to scamper away for a corner after the Dane took a decent touch down. The visiting Rhinelanders would obtain the shock 1-0 from this set-piece.
Julian Chabot rose higher than Upamecano to meet Kainz's service. The Hanau-native and former Eintracht Frankfurt academy man extended beautifully over to a wide-open Skhiri on crashing in at the left far post. Köln's Tunisian rising star remained ice-cold with the easy finish. All fell silent in the Allianz Arena as Yann Sommer went over to pick the ball out of the back of the net. Even if it was extremely early, one had to say that this lead felt deserved.
Match Flow: 4th to 14th minute
Bayern encountered significant problems mustering up a response. Odd to see the German giants make only tiny pinpricks against a determined, yet still overmatched, side. Benjamin Pavard turned the ball over on the FCB right once we got rolling again towards the end of the 5th. Di Ligt nearly gifted the guests another goal in the 6th. Huseinbasic picked up the ball in midfield before Davies recovered to tackle away. The Kölner press immediately at up the ball again and Upamecano had to bee alert to diffuse a Schmitz cross into the box.
Not-dialed-in Bayern then had to deal with another Schmitz throw in. This time de Ligt got the ball away easily. Davies, Choupo, Pavard, and Sané got the first real FCB upfield charge rolling on the half-right in the 7th. The attack petered out well short of the danger area. Davies was forced to retreat after finding no targets in the box with Choupo still behind. Kainz picked the ball of the Canadian and Pavard ended up fouling to stop the Köln counter.
Leon Goretzka intercepted Schmitz's vertical after the quick free-kick, turning the ball over himself on a run full of poor touches. Davies eventually got his toe around the loose leather, only to see his pocket picked by the venomous Huseinbasic in the 8th. Musiala had to track back to bail his teammates out. Bayern really appeared to be in shambles. Davies again looked weak on a left-ward cycle near the end of the 8th. The Canadian had to pass back to Upamecano, who in turn went straight back to Sommer.
Pavard got hassled off the ball by Kainz on the Bayern left in the 9th. The German U21 international ended up earning Köln another throw-in. Effzeh skipper Jonas Hector hit Maina quickly. Maina had Tigges set up in the box. Unfortunately, the Domstädter striker got caught in a tangle of legs. The scene nevertheless remained never with Maina rushing back in. Maina sent a dangerous square back in the direction of both Tigges and Huseinbasic. Sommer took advantage of the inaccuracy of Maina's impulse hit to scrape up.
Bayern crawled up the right via throw-ins in the 10th. Choupo got a solid touch in off Musiala's second throw. Pavard and Sané cycled a ball around to Goretzka. The sequence would end with Goretzka furthering out wide back for Sané. The German national team winger's finish from about 20 meters out went well wide on the left. Kainz tried to run a quick counter down the Kölner left in the 11th. Pavard and Goretzka managed to close ranks in time. Upamecano put the brakes on Kainz again after some midfield mayhem less than a minute later.
A brief stoppage came in the 12th when match official Tobias Stieler caught Huseinbasic throwing an errant elbow to Goretzka's head in a midfield aerial duel. Huseinbasic was booked for the action and Goretzka required a brief treatment break. Bayern put together their first decent charge of the day once play resumed in the 13th Davies, Gnabry, and Sané executed some crisp passes. Pavard came in on the right overlap to send in a cross for Choupo. Köln's Nikola Soldo – in for the ill Timo Hübers – won the aerial duel.
Bayern got another dangerous drive off in the 14th. After a calm bow-arc out of the back, Davies shook off Huseinbasic on the second attempted dribble and switched over for Sané. A clean rightward cycle ultimately saw Sané work the ball out to Goretzka in space. Goretzka spotted Gnabry in an almost perfect position out on the half-left. Gnabry had a serviceable go from close range. Köln net-minder Marvin Schwäbe had it read all the way, however, and made himself large to stop the shot.
Match Flow: 14th minute to half-time
This most certainly needed to be the time when Bayern steadily built up momentum and turned the screws. Köln deserve immense credit for not allowing this to happen. Instead of riding some of the impetus they had built up in the ten minutes since the goal, the hosting Bavarians only proved dangerous in fits-and-starts. The duration of the half followed no real pattern; no offensive rhythm for the heavily favored side. Nagelsmann's crew barely had enough time on the ball to get into any sort of groove.
Kimmich stepped forward to deliver a lovely long diagonal ball into the box in the 15th. Schwäbe had a tricky track to collect before the lurking Gnabry, but managed to get there ahead of the FCB attacker. Bayern, perhaps falsely, decided to kill off the 16th with two full bow-arcs at the back. Soldo eventually intervened to break it up. Choupo dropped exceedingly deep to try and influence the next FCB build in the 17th. Gnabry and Davies then took the ball up the field.
Musiala tried to tap back for the onrushing Choupo, who was arriving as fast as he could. Gnabry and the forward pressing de Ligt got in the way. the latter ended up committing an offensive foul on Maina. Köln kept hold of the ball through the 18th and most of the 19th via some nice work from Schmitz and Huseinbasic. Goretzka finally got Bayern going back the other way towards the end of the second minute. A very strong switch from Goretzka to Sané right central nearly produced something.
Sané still couldn't find anyone available after three check-touches. An attempt to reach Gnabry proved too early. Both Pavard and Davies had to retreat on their respective flanks in the 20th. There was zero space available. Pavard did get past Hector in the 21st. The Frenchman earned his side a corner with a quality cross Soldo did well to clear. Maina beat de Ligt to the ball on Kimmich's quick service. A bit of fanciness from Musiala on the half right was dealt with deftly by Soldo's defensive partner Chabot.
Another Choupo deep drop in the 23rd yielded some space for Sané on the Bayern right. Sané stalled on the dribble, but got the ball over for the criss-crossing Davies, who in turn threaded in a nice pass for Gnabry. Bayern's controversial "fashion week" representative again failed to find the finish. A poor hit went well past the far right post. Pavard messed up what had been a fine rightward triangulation int he 24th by making it too easy for Soldo to disrupt. Musiala found himself unable to wriggle past Olesen and Cabot in the same minute.
Yet another Choupo deep drop in the 25th gave Kimmich, Pavard, Sané, and Musiala a chance to try and cycle up central. The space remained too tight and Köln nearly rattled off a venomous counter. De Ligt and Upamecano proved equal to it, however. After a slow roll build, a Kimmich diagonal towards midfield partner Goretzka in the 26th didn't work because Goretzka was well offside. Upamecano and de Ligt carried long in the 27th to eventually put Gnabry through. Maina stopped the sequence with some excellent defensive work.
Pavard and Sané found a way through on the FCB right in the 28th. Upamecano strode forward again to play in Goretzka. Soldo blocked Goretzka's treacherous effort out for a corner. Kimmich's service took some propitious bounces and the Kölner counter was on. Maina and Kainz blew past the stumbling Sané. Kainz threw in an absolutely sumptuous ball for the surprisingly advanced Skhiri. Sommer prevented the ravenous Skhiri from securing a brace with a magnificent 29th-minute stop from point-blank range. Huseinbasic didn't do well enough with the rebound.
De Ligt's block of Huseinbasic's follow-up effort squirted out to Schmitz. Via Skhiri, the ball went sailing into the box again. By this time, Pavard had tracked back into position to clear away. Bayern understandably tried to calm things down at the half-hour-mark. Pavard, Upamecano, and the scattered Musiala still looked shaky against the Köln press. Hector and Kainz nearly initiated counters in the 30th and 31st. Kainz nearly had Tigges through on the second one, but failed with a rather poor pass.
Sané and Kimmich cycled up the FCB right again in the 32nd. Pavard trailed the sequence well. The French fullback still couldn't work in a cross. Twice he was blocked. Goretzka also couldn't find a way into the box amid all the Effzeh bodies. Musiala ended up fouling Olesen out of frustration in the 33rd. Choupo went for the deep drop again in the 34th. The play ended in Sané overcooking a pass for Gnabry. Bayern clearly weren't sure how they wished to progress forward.
Choupo tried to break forward as a true center forward in the 35th. Chabot boxed the FCB striker out and shepherded the ball out for a goal-kick. Kainz and Huseinbasic took just a bit too long on the attempted 36th-minute counter. Kimmich and Upamecano eventually diffused. Hector incredibly kept after the ball and earned a corner against Sané in the 37th. A visible angry Sané began lambasting his teammates for all the defensive lapses. Kainz's 37th minute service went through Huseinbasic and Schmitz before Upamecano cleared out for another corner.
Kainz and Hector went for a short corner in the 38th. Maina and Huseinbasic both saw efforts blocked. One could tell that Sané's criticism had some merit to it as no FCB actor seemed to want to tackle. Once Bayern got control of the ball back, Upamecano gave it straight away. Kainz burst into the area once again past Upamecano and Pavard. The underdog guests could have easily doubled their advantage were it not for poor hits from Tigges and Huseinbasic at the end of the 39th-minute run.
Faltering creativity from Bayern in the 40th. Another Choupo rearward drop. Another blocked Pavard cross. The play did result in a 41st-minute FCB corner. Sané, via Goretzka, found himself blocked. Davies had to scamper back to stop another Kainz-led counter. Gnabry got stymied on the attempted punch back before Kimmich sent an embarrassingly bad switch out of bounds. Kimmich's attempt to run a drive in the 43rd eventually led to Musiala and Sané finding no space. Davies tried to play through for Choupo, but it was once again Soldo clearing out.
The resultant 44th-minute Bayern corner did produce some danger. Kimmich went straight over to Pavard from the flag. The Frenchman tried one of his patented first-time tri-cycle "laser shots". Schwäbe had to parry at full stretch. Goretzka had the perfect placement to head the rebound in, but headed over instead. Köln skillfully killed off the lone minute of injury time Stieler deemed necessary. Whew! Could this match possibly get any crazier?
Match Flow: 46th to 68th minute
As it turned out, yes! Both coaches elected to go for double substitutions at the break. Nagelsmann called upon Ryan Gravenberch and Kingsley Coman to replace Gnabry and Goretzka. We would later learn that Gnabry's subbing off came from performance reasons stemming from the attacker's irksome unannounced trip to Paris. Nagelsmann had issued a warning about this at a pre-match presser, indicating that he would be watching Gnabry closely. Goretzka, it was later revealed, was kept off as a precautionary measure against a concussion.
Despite the fact cameras caught Nagelsmann furiously scribbling down what one assumes were some tactical notes near the end of the first half, there was no major discernible tactical change from the FCB trainer. Sané switched to the left to allow Coman to work the right. That's it. Perhaps Nagelsmann merely wanted to test out some fresh legs on what he, along with many off the rest of us, weren't exactly sure Baumgart was doing. The Köln gaffer quite shrewdly remained one step ahead of his counterpart by ditching the 4-1-3-2 and reformatting into a 4-2-3-1.
Baumgart's changes led to a re-format.
Lineup—FC Köln—46th minute (4-2-3-1)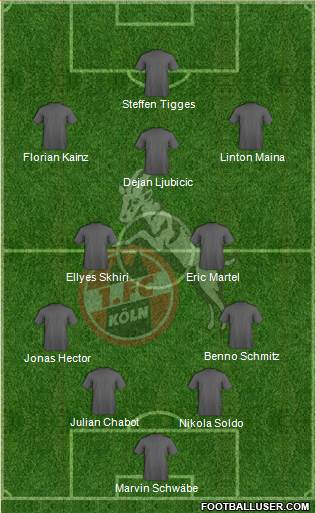 With Dejan Ljubicic and Eric Martel relieving Huseinbasic and Olesen, Baumgart skillfully got some more experienced players on the pitch. The somewhat green youngsters had completed a job they could take pride in. Additionally, the 4-2-3-1 mirror constituted something of a throw-down against Nagelsmann. Baumgart might have assumed that Nagelsmann would try one of his multi-staggered conflagrations. Baumgart could preserve the lead with something simple; the precise initial system the FCB trainer was trying to run.
Coman immediately ran up the right seconds after the restart. Soldo took care of the newly introduced attacker's charge. Maina then booted the ball out of the zone to no one in particular with an "icing clearance". The next Bayern build took some time. Upamecano, Musiala, and Choupo weren't able to work the ball back out to Coman on the right until the 48th. Coman's cross missed all the actors in the box, but de Ligt took a chance from 25 meters out once the ball bounced back out central. Schwäbe had to deflect the rocket effort over the crossbar.
De Ligt served as the target on the subsequent corner, not being able to reach the ball with his head this time. Musiala decided it was time for some fancy footwork on the next FCB drive in the 49th. The young German phenom danced past three on the half-left before laying off for the encroaching Gravenberch. Bayern's newly introduced Dutch midfielder popped off a powerful effort that just grazed past the far right post. Musiala couldn't manage quite as well in the 50th. Kainz took the ball off him and railed off a nice counter.
Upamecano was back in position in time to stop Kainz's cross for Tigges. Köln finally started to get their basic build going in the next two minutes. Die Geißböcke went up Hector's side on the left. The 51st and 52nd were mostly eaten up by a series of throw-ins. Hector eventually knocked a poor ball out for a goal kick. Martel stopped the main FCB charge at the end of the second minute. A Mainz-led counter then fizzled out. Newcomers Coman and Gravenberch led a nice FCB sequence in the 53rd. Davies and Kimmich also got involved to lay off for Pavard.
The Frenchman could only manage a weak effort that went straight at Schwäbe. The Köln keeper had to work much harder on the next Bayern chance. Musiala and Choupo executed a much more effective center left cycle. Coman floated over to the side to pick up the ball, shake of two Kölner markers, and pile-drive an effort headed straight for the top right corner. Schwäbe made an incredible diving save. Not much imagination from the Bavarians on the next approach in the 55th. An Upamecano vertical for Choupo failed.
After some (perhaps purposefully) slow Köln cycles on the left and some plodding Kimmich-Coman triangles on the same side in the 56th and 57th, the only thing of note that occurred before Baumgart made his next subs was a decent Kimmich through ball that Musiala fouled up with some woeful touches. Two more Kölner changes (Davie Selke and Kingsley Schindler for Tigges and Kainz) took us through the 58th. Die Geißböcke remained in their 4-2-3-1.
Musiala nearly atoned for his earlier mistake with a nice latch-on to a Gravenberch through in the 59th. Schmitz intervened just in time. Coman worked a cross-switch in before the minute was out. The ball simply wouldn't fall for Sane. It was again Coman trying from the right in the 60th after Davies hit him on the flank. Soldo messed up the initial clearance, but Schindler and Chabot ultimately got the ball away. Gravenberch had a chance to break in on the half-left after an advantage play in the 61st.
The Dutchman regrettably couldn't pick from his many options. Sané finally received the ball, but couldn't reach Choupo central. Coman crashed in with pace on the right and tried to sent a low square back in Choupo's direction. Chabot cleared away for a corner. Chabot and Skhiri disrupted Kimmich's 62nd minute service for de Ligt. Schmitz ran back the other way on a counter. Martel was unsuccessful in getting a shot off at the end of the sequence.
Davies his own counter as we entered the 63rd. Coman ended up receiving the ball on the right again, sending a cross well over Choupo's head. We got a brief reprieve to the frantic end-to-end action when Martel fouled Sané in the 64th and Nagelsmann's lads took their time setting up the free-kick. Kimmich and Sané tried a little trickery just outside the area on the 65th-minute dead ball. Sloppy execution meant that Sané's ground ball in Kimmich's direction was easily handled by the Köln rear-guard.
An uninspired FCB drive in the 66th concluded with Pavard seeing another cross blocked. Maina tried to spring Selke on the counter. The new signing – in what perhaps may prove a worrying portend – was too slow and out-of-sorts to make it happen. Köln got another chance after Upamecano lost the ball. Maina and Skhiri pressed forward with the Tunisian heading all the way to the goal-line. An attempted Skhiri cutback for Selke was cleared out by Upamecano for a corner.
With Kainz off the pitch, Maina assumed responsibility for the 67th-minute service. Coman made easy work of it. Bayern's next approach sloppily sent the ball out into touch. This enabled Thomas Müller, focused and intent on the sidelines, to check in for Jamal Musiala in the 68th. Even though this could have been construed as a straight swap, it was at this point that we would behold Nagelsmann's big tactical switch.
Match Flow: 68th minute to 90th minute
Somewhat surprising not to see Nagelsmann order something like this sooner. After all, Musiala could have just as easily slid into Müller's position in what would quicker crystallize as a "six-seven-eight" step-stone constellation. Ordinarily, football trainers tend to order such tactical shifts before the intended subs come on. After a careful rewind-review, the columnist can't say that Nagelsmann did this.
Lineup—Bayern München—69th minute (4-3-3)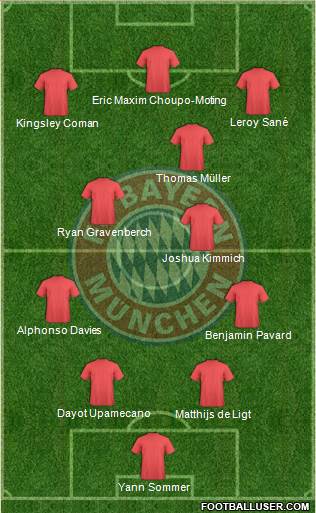 Conceivably, Nagelsmann may have wished to keep some semblance of the surprise element on his side. Coman and Sané quickly switched flanks in what was surely an ordered move to shake things up a bit. Both Sané and Coman were over on the left working together on the first approach in the 69th. Sané found his effort blocked, but Davies quickly got the ball back out to Coman working right.
Choupo missed out on the spectacular bicycle-kick finish trying to meet Coman's cross. Davies again collected, this time tackled off the ball by Chabot. A corner resulted. Hector headed Kimmich's 70th-minute service away. Coman burst through on the left one minute later, deftly using Müller as a hold up player for the return ball. The FCB French attacker fired his final finish well over.
Baumgart sent on his final sub – Tim Lemperle for Maina – in the 71st. One could tell from the coach's sideline instructions that he didn't order any sort of change in the basic shape. Baumgart's hand gesticulations called for compact, disciplined, and conservative play from his 4-2-3-1. With virtually everyone in black back in the 72nd and 73rd, Bayern stood no chance of finding a way through on their next three approaches.
Müller and Grafenberg eventually got something going in the 74th after a long carry from Upamecano and advanced involvement from Davies. De Ligt and Kimmich crashed in on the left to try and work a cross back to Müller. The German legend couldn't latch onto Kimmich's return ball. Pavard and Davies exchanged some stylish switches in the 75th in full advantage of the space Köln accorded them.
It nevertheless didn't lead to a way forward. A compact Köln allowed the fullbacks to switch. Everyone else, meanwhile, couldn't find a lane to break through. Sané at least tried, and one could see him lecturing his colleagues again for not following his lead. Davies did peel off a forward run in the 76th after some nice deep work from Choupo. The Canadian took too many touches outside the box and lost the ball.
Choupo – now working a bit more effectively on the deep drops – put Gravenberch through on the half left in the 77th. The Dutchman's fine dribble nevertheless ended once he broke into the box and encountered too many bodies. Gravenberch tried again on the next wave in the 78th and encountered similar problems. Coman broke over to the right again in the 79th, crossing for Choupo.
Choupo's head-on found its way over to Müller, who did force Schwäbe into a fine save. Schindler cleared away Kimmich's service on the subsequent 80th-minute corner. Time was running short. Everyone in red needed to pour forward now. A "kitchen sink" drive in the 81st left Bayern exposed on the counter. Skhiri sent nearly sent Ljubicic on his way unopposed. Upamecano saved the day with an expert recovery run.
Mathys Tel entered for Davies in the 82nd. The Bavarians kept the shape with Tel taking Sané's place on the right. Sané moved back over to the left ahead of Coman, who would serve as whatever passes for a fullback on a full-throated offensive press. Sané couldn't get on the same page with Kimmich after the positional switch on the first charge after the change.
Coman switched out wide for Tel in the 83rd. Pavard arrived to pick up and try and work in a cross. Lemperle blocked what felt like the Frenchman's 400th blocked cross of the night. After a Martel midfield foul, Bayern tried a quick free-kick in the 83rd. Schindler blocked Coman's cross from the left. Some quality ball movement from virtually all the FCB actors in the 84th put Tel through, but the youngster tripped up on the shot.
Pavard tried a follow up cross which Schwäbe collected easily. Lemperle again handled Tel in the 85th. When Skhiri took the ball off Tel in the 86th, the teenage talent took a bit of a dive outside of the area right. Referee Stieler waved the idea away and told Tel to get up. Coman tried again with a cross from the left in the 87th. Soldo cleared away the service. Hector blocked Gravenberch's follow-up.
It appeared as if Kimmich had finally released Choupo in the 87th. The German-Cameroonian proved to be offside. Tel attempted to reach Choupo again central in the 88th. Soldo had it covered. A Ljubicic counter went nowhere thanks to more poor touches from Selke. Tel ran then straight into five Köln defenders in the box in the 89th.
We were literally less than a minute from the end of normal time when Kimmich supplied the stunning equalizer. The afflicted German national team midfield maestro, who publicly vowed that he would shake up the World Cup blues and become more of a goal-scoring threat this season, just went ahead and said, "enough".
In a move reminiscent of how Erling Haaland once told this very writer, "F*** you and the story you're attempting to write about this match", Kimmich nonchalantly nailed in a bending biter from 30 meters out. What an absolutely dazzling finish it was. Kimmich cupped his hand to his ear afterward in blatant signal to all those who dared to doubt him recently.
Sweet gracious non-existent God!
Match Flow: 90th minute to full-time
Köln obviously had to contend with a dagger straight through their hearts. It came as no surprise to see Bayern dominate the (refreshingly) mere three minutes of added time. Kimmich actually ended up clearing out Köln's lone semi-chance on a free-kick at 90+1. Chabot put the brakes on Coman at 90+2. Sané fired over at 90+3. Stieler then brought this fabulous affair to a punctual conclusion.
As noted above, the xG in this match isn't particularly relevant. It is of some interest that Bayern, for all of their dominance and possession only achieved a 1.49 chance creation metric. That could have folded very well into the story of Bayern again slipping into a phase of poor offensive production. However, as also noted just above, Kimmich told us chroniclers to "f*** off" with our story.
The profound statement from the German footballer with one of the biggest chips on his shoulder instead likely heralds another period of dominance from the record champions. Now that this crucial puzzle piece is up-and-running, the mighty Bavarians are about probably about to go on a roll. Nagelsmann can also, presumably, derive some crucial lessons from this.
Müller's (albeit slightly) better play should see the German footballer who has historically had the most chips on his shoulder start as the roving ten in the next match. Choupo's deep drops will become less frequent. Coman gets to play ahead of Gnabry. Gravenberch and Tel made a strong case for, if not starting themselves, being inserted into proceedings early when things aren't going well.
Everyone should absolutely tune in for the big match on Saturday between Frankfurt and Bayern, but let it be known that (just like in round one), we could possibly get a blow-out. A confident Kimmich supplied a extra cheeky finish in that 6-1 romp. Uh-oh. The end of the title race may be coming sooner than we think.
Not good news.
At least we have Köln to thank for a great one here.
Thanks so much for reading! You can catch the the release of all Peter's columns on twitter, @Peter.Vicey
Twitter DMs are open for football conversations, corrections, and (if you truly insist) general abuse. 
All columns debut on Bulinews before appearing on Peter's website as the season progresses.