The 2022/23 German Bundesliga returned from the unprecedented Winter World Cup break two rounds shy of its halfway point. Much like the players, this columnist found himself brimming with pent up energy. Plenty of unexpected results to discuss in this edition of the comprehensive recap column.
Not exactly the greatest round for Freiburg enthusiasts.
Yikes. A rough result to digest, particularly when one considers how the race for the Champions' League ended up shaking out when the table was finalized.
As it turned out, however, Wolfsburg wouldn't be commemorating a European berth on the last day of the season either. The trends that we saw emerge in this round failed to hold.
Lots of football left to be played, Niko.
---
Bundesliga Tactical Banter: Round 16
---
Badass Bochum
The lead section of this first column of 2023 belongs to the very same club that led it off last November. Relegation favorites VfL Bochum are now on a three-game-winning streak after completing a convincing 3-1 win over Hertha BSC over on the Castroper Straße. As Thomas Letsch's troops continue to gel, the Revier's 1848ers increasingly become the darlings of German footballing circles. Many of us currently tip them to stay up easily. There are good reasons for this. They have a set system. They have plenty of quality. Most importantly, they're poised to get even better.
Letsch's 4-1-4-1 exhibits excellent functionality. Newly re-signed skipper Anthony Losilla drives the play from his pincer pocket. Bundesliga veterans Philipp Förster and Kevin Stöger provide skillful support for the attack as a buttressing pair of double-eights. Lead-striker Philipp Hofmann receives plenty of support from both them and a rotating cast of talented wingers that includes Takuma Asano, Gerrit Holtmann, Jordi Osei-Tutu, Patrick Osterhage, Christopher Antwi-Adjei, and (former lead-striker) Simon Zoller. The back-line – at long last – is reliable and stable.
It all worked to perfection this weekend against (admittedly) a very bad and disorganized Hertha side. Hofmann bagged a brace. Förster collected a pair of assists. Schlotterbeck – the real missing link along that back-four – scored his first-ever Bundesliga goal. The scoreline could have been much higher as Hofmann narrowly missed a hat trick and Asano came very close to scoring off the bench. Asano and Holtmann weren't even in the starting XI this time. They've further contributions to make, as does the new eight Pierre Kunde Malong and new striker sub Moritz Broschinski.
We've talked about what potential this team possesses multiple times at great length in this column. Even when matters appeared hopeless after the early season losing streak, the column held that this team could stabilize. The havoc on the back-line following Armel Bella Kotchap's departure basically made the squad look much worse than they truly were. Now that the back-four is more organized, striker Hofmann is finding his feet, and the same set of tactics used by previous trainer Thomas Reis crystallizes well, things are truly looking up.
A healthy Jacek Goralski can make a big difference too.
Schalke's surprise play
Lots to talk about as we move over to another blue-clad team considered strong relegation candidates. Few are tipping Schalke to avoid the drop this year and Saturday's result did zilch to help the Königsblauen climb up out of last place. Schalke's actual performance against Frankfurt nevertheless threw us for a loop. The Bundesliga "tail light" ended up topping the mighty SGE in terms of xG. We've suddenly something unexpected to think about. Eintracht trainer Oliver Glasner said that he often liked what he saw from Schalke more than what he saw from his own team. Hmmm.
Is there really something brewing in Gelsenkirchen? Thomas Reis' 4-2-3-1 definitely had a lot to offer. Former captain Danny Latza – given the armband once again by Reis – ran a very effective midfield split-stagger just ahead of young talent Tom Krauß. Jordan Larsson seemed to have answered the call with a serviceable performance from the ten-slot. Marius Bülter, as usual, was very effective on the left attacking flank. We then come to the big "elephant in the room". Namely, Japanese talent Soichiro Kozuki. The 22-year-old had a monster game on the right flank.
Kozuki very nearly had more scoring opportunities than one could count. The Japanese youth international's promotion to the Schalke senior side constituted big news in Germany over the winter break. Many of us chalked this up to the fact that German footballing journalists and fans alike maintain an overblown sense of pride regarding what a vast breeding ground the Bundesliga has become for Samurai prospects. Naturally, there also wasn't much going on in the Bundesrepublik during the break. We essentially figured some scribes were starved for a story.
After what we witnessed this weekend, however, there can be no more stuffing Kozuki in the blind spot. The somewhat late bloomer who lit up the Regionaliga for S04 II appears the real deal. With Bülter already solid on the left, Reis undoubtedly possesses two quality wingers. Once some injuries clear up (Sepp van den Berg, Thomas Ouwejan, Rodrigo Zalazar and Niklas Tauer), things could get slightly better. One shouldn't mistake this for an endorsement. Without a good striker, die Knappen are still surely going down. One might still raise their projected points total a tad.
Cracking the Leverkusen code
As we left it, Xabi Alonso's (successful one might add) attempts to get die Werkself rolling came via some perplexingly weird tactics that the columnist had difficulty making sense out of. In spite of the fact that the long break left him with other options and time to experiment, Xabi went with more-or-less the same thing in this round's capper against Borussia Mönchengladbach. Robert Andrich returned to take over for Kerem Demirbay and Odilon Kossounou replaced Jonathan Tah in the 3-4-3.
It actually worked remarkably well in a fairly one-sided affair at Borussia Park. Andrich pulled back a bit in order to initiate quick counters, mostly aimed at a deep dropping Adam Hlozek. The Czech striker by no means worked a false-nine-role, but was able to execute a number of straightforward counters and collect a pair of assists. Amine Adli and Mitchel Bakker also had great games, though much of that had to do with the heavy BMG focus on Jeremie Frimpong and Moussa Diaby on the B04 right.
It should be noted that Gladbach were especially poor from an ideas standpoint. With Nathan Ngoumou standing in for the injured Marcus Thuram, attack builds succumbed to plodding hesitation. Christoph Kramer, Julian Weigl, and Manu Koné seemed to take an eternity triangulating about looking for gaps that were long closed by the time they decided on a path. Substitute Lars Stindl's late brace gave the clash a very flattering 2-3 scoreline from the perspective of the hosts.
To sum up, then. We now know how Xabi's tactics are supposed to work and how they can work, albeit against a team with very little to offer creatively after a brief opening spurt. Of course, all that we know about Leverkusen's current tactical set-up goes out the window with the fact that Florian Wirtz (as a sub) celebrated his return. Xabi surely has something very different in mind with the German phenom back in the mix. One conjectures that this was the last time we saw the old temporary template.
---
The "Burning Questions": Round 16
---
Why did Bayern sputter?
One should first emphasize that it remains far too early to draw any definitive lessons from the FCB's lackluster 1-1 draw with Leipzig on Friday night. While Nagelsmann's crew certainly didn't deliver the type of performance one expects from a Championship-caliber side, one can also expect that the league-leaders will steadily improve as they accrue more match practice after the long break. That notwithstanding, there were a few worrying trends discernible within a squad that didn't even crack the 1.0 xG mark over 90 minutes.
Apart from a few very short encouraging spells during the first-half, the Bavarians didn't truly resemble much of a coherent side at all. Jamal Musiala and Eric Maxim Choupo-Moting turned in some halfway decent work whilst the rest of the XI got consistently beaten on a position-for-position basis. Bayern generated no chances except for Serge Gnabry's deflection off the crossbar in the 9th and Choupo-Moting's goal in the 37th. Fairly static tactics from the FCB trainer to start.
Lineup—Bayern München—Match 16 (4-2-3-1)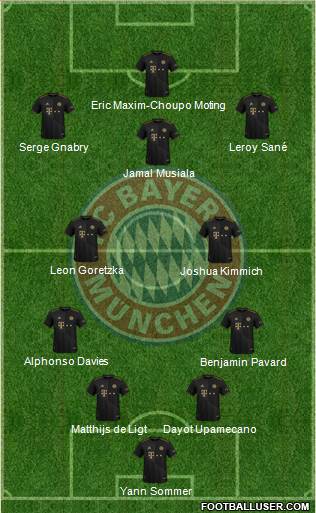 A physical and intense duel between the teams that concluded the first phase of the season on red-hot streaks was to be expected. What did surprise a bit was the manner in which a pair of players struggling with the after-affects of a disappointing World Cup really dragged their feet after a long-layoff. Football apparently remains quite psychological for the likes of Joshua Kimmich and Benjamin Pavard.
"Nagelsmann the Psychologist"
Watching Joshua Kimmich complete an astounding number of turnovers during the opening 45, one couldn't help think back to the German national team midfielder's post-match interview after the team's group-stage elimination was confirmed. Something isn't quite right with Kimmich. He shies away from forward runs, takes slow and tentative touches on his possessional turnarounds, and occasionally doesn't even raise his head on the charge.
Directly behind Kimmich, we have the famously dispirited Frenchman occupying Kimmich's former position. Pavard also sprint up his flank anywhere near as much as expected. It came as a real surprise to see Bayern not attack Leipzig's (slightly) weaker left throughout the match. The defending champs favored that side only slightly. Much of this had to do with the fact that Pavard, like Kimmich, appeared downcast and summarily failed to up his pace.
Before moving any further, the Leipzig midfield deserves credit too. Future Bayern midfielder Konrad Laimer and his Austrian compatriot Xaver Schlager (in scintillating form for club prior to the break) broke up play marvelously. RB's ÖFB midfield duo didn't make it easy for Pavard or Kimmich to do their jobs. Nagelsmann still has a very specific task ahead of him. Namely, getting the spirit of these two players up. The FCB trainer assumes a counselor's responsibility.
"Nagelsmann the Tactician"
We'll also wish to draw some attention to Nagelsmann's big tactical shift in the latter stage of the match. Kimmich (who even acknowledged that it was his error that led to Leipzig's equalizer) and Pavard stayed on whilst Musiala got the hook. Kingsley Coman entered for the young German phenom and we beheld multiple staggers from the young head-coach known for his avant-garde tactics.
Lineup—Bayern München—69th minute (3-4-3)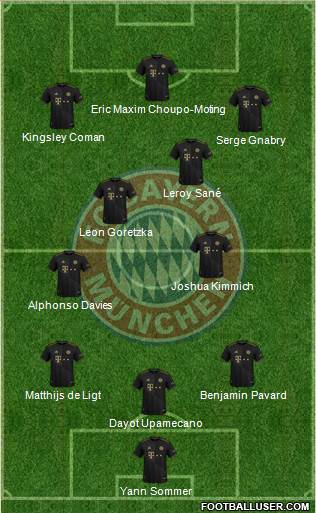 Perhaps a bit too easy for Leipzig to predict and absorb. One knew that Sané would move central as the primary playmaker outside the box, Davies would move up to midfield and Kimmich/Goretzka would pull apart in their usual fashion. It counts as something standard from Nagelsmann late in matches. It also leads to over-crowding and the trademark "paint the corner" trap Bayern have been susceptible to outside the area this season.
A familiar scene.
Predicting the next fixtures
Prior to what happened last night in the cathedral city, one would have considered Köln nothing more than mincemeat for the mighty FCB on Tuesday evening. After witnessing what Steffen Baumgart's Effzeh are capable of…..well….one rather still thinks along the same lines. Saturday evening's result (addressed below) more closely related to what Bremen couldn't do as opposed to what Köln could. Nagelsmann's charges should have no problems humbling die Geißböcke.
Next Saturday's Bayern-Frankfurt fixture definitely counts as one to circle. Following some respective sluggish starts, both teams should be at their peak powers just in time for a massive match with huge ramifications for the title race. The columnist's early prediction holds that the RheinMain Eagles will take a huge bite out of Bayern's lead at the top. There's good news for all as we officially enter the "Rück-runde". The bad news then concerns the fact that Bayern receive the same soft schedule that allowed them to get off to such a good start earlier this year.
Wolfsburg, Bochum, and probably even Gladbach and Union should likely pose little problems for the title-holders. It's very possible that the "Mesiterschale-Rennen" might be all seen up by the time we wrap up the month of February. Note that all of this remains contingent on Nagelsmann earning his paycheck in the dual roles of psychologist and tactician. The young trainer must pass both these tests with flying colors in order to deliver the league's most talented and expensive side its lofty goals. The squad isn't deep at all, meaning margins for error are razor-thin.
How did Union come back?
Very interesting stuff here. Easily the most intriguing facet of the extended winter preparation campaign (for the football-starved German tactics-nerds of the Bundesrepublik in any event) concerned the goings on in FCU trainer Urs Fischer's training camp. Union's Swiss trainer quite literally never deviated from the same tactical system he's been using over the past two years until just recently. With the team finishing up 2022 on a very poor run of form, Fischer finally decided it was time to take action.
The normal 3-5-2 "double stack" got ditched in favor of a potential-laden, yet also inherently flawed, 4-4-2. Union won all six of their December/January test fixtures, but we were all curious to know how the new set-up would stack up against higher-level opposition. At first it appeared as if we wouldn't get an answer. Fischer surprisingly deployed the old 3-5-2 at the start. Even more surprisingly, he gave slumping striker "Jordan" Siebatcheu Pefok the start.
This proved ineffective. As dominant as die Eisernen were against visiting Hoffenheim over the course of the first hour, Jordan's miss from the penalty spot coupled with Ihlas Bebou's opening goal meant that they trailed 0-1. Moreover, the team's work on the ball remained easy enough for the compact TSG defense to stop and the creativity of the attacking waves steadily declined. Fischer had seen enough by the hour-mark. Kevin Behrens and Paul Seguin relieved Jordan and Genki Haraguchi.
Lineup—Union Berlin—64th minute (4-2-2-2)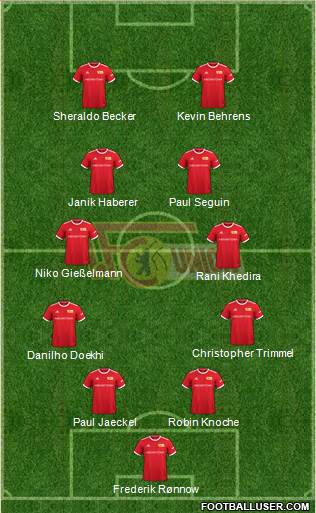 Still something of a surprise. The inward slants of Seguin and Janik Haberer meant that one had to label this a 4-2-2-2. It took approximately ten minutes for this constellation to get into gear. Once it did, the combined pressure of four forward runners and two ambitious, buccaneering fullbacks overwhelmed the Kraichgauer. Danilo Doekhi netted the equalizer off a Christopher Trimmel corner in the 73rd. Niko Gießelmann did a splendid job earning the set-piece just prior.
Doekhi's second tally, which also came courtesy of a Trimmel assist, looked a tad offsides. One could cite the TSG unlucky there. The third goal in Union's 3-1 victory, courtesy of a combination from substitutes Levin Öztunali and Jamie Leweling, arrived at the death after the issue had been settled and everyone had pulled back. These developments notwithstanding, the xG (Union 2.48, Hoffenheim 0.97) confirms that the final scoreline wasn't flattering. The Köpenicker hosts earned this one.
Some truly impressive play from Trimmel and Gießelmann throughout. Behrens was also an absolute beast off the bench. He played an important role in two of the three tallies. The persuasiveness of Fischer's new concoction is not to be underestimated. Those of us whom predicted that Union would fade away quickly during this second phase of the season must now engage in a hard rethink. Incredibly, the league's "Cinderella Story" might have some more prolonged magic in store for us.
Anything of interest in Stuttgart?
Nothing like assessing a new coach's tactics! One of German football's last active-serving "Feuerwehrmänner" (an experienced coach brought in to "put out the fire" by helping a team escape relegation) faces a stern test here. Bruno Labbadia, following the retirement of Friedhelm Funkel, is now the de-facto Bundesliga "Fireman". Can he succeed in helping Stuttgart in his much-vaunted return to Swabia? We all awaited his initial set of VfB tactics with bated breath.
Lineup—VfB Stuttgart—Match 16 (5-4-1)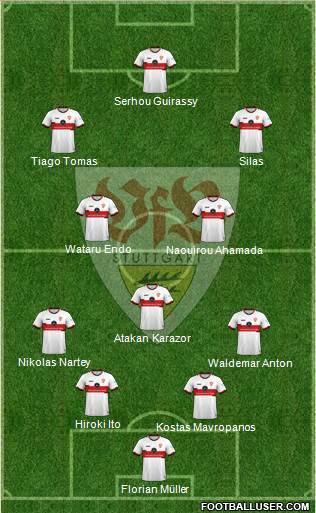 ….and they generally sucked. Admittedly, the presence of the injured Borna Sosa on the left-hand side could have rendered this a significantly menacing 4-3-3. As it stood with young Danish plug-in Nikolas Nartey, Atakan Karazor had to hang back to help out defensively throughout the opening 45. The gaps between the back-five and the top three rows gave opponents FSV Mainz 05 too much time to remain organized against the charge.
The two sides traded first-half goals on one VfB swarm in the box in the 36th and a Mainz penalty kick four minutes later. A 1-1 halftime scoreline seemed well out of place for a game that featured fairly sloppy and uninspired play from both sides. Things picked up after the restart in large part due to a clever tactical shift from Labbadia. The seasoned German trainer kept the same personnel on the pitch, yet re-ordered everyone into something more cogent.
Lineup—VfB Stuttgart—46th minute (3-4-3)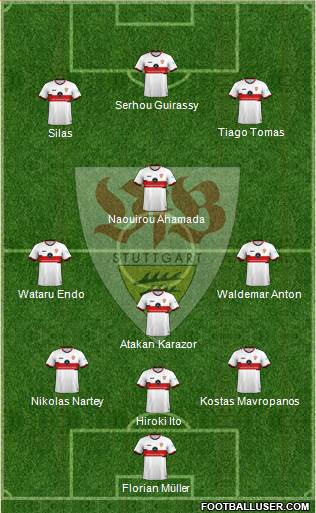 Silas flipped flank slants while captain Wataru Endo and makeshift right-back Waldemar Anton moved up into clear wingback roles. This actually constituted a nice little surgical solution to the problems with the upfield axial gaps. Silas, Tiago Tomas, and Serhou Guirassy all got early opportunities in the first eight minutes after the re-start. We would later see Josha Vagnoman relieve Nartey and take Anton's place. This generated more encouraging attack work from open play.
Of course, the scoreline remained the same until the full-time whistle. Despite the fact that the Swabians often appeared more fluid in attack, true danger in the area remained scarce. The major issue of extremely poor finishing from this extremely young and wild bunch also persists. One cannot in good conscience augur that we'll be seeing good football from this squad anytime soon. Labbadia himself said he only expects improvement in "four to five weeks". Yikes. It's clear that points won't come easy here.
Perhaps, just like last year, it shall come down to the final matchday.
Were Dortmund convincing?
Largely so. On the attack anyway. The seven-goal affair at Signal Iduna on Sunday took wild and crazy turns towards the end of both 45s. Sweeping end-to-action actually left neither team looking totally convincing from a defensive standpoint. Die Schwarzgelben dominated Augsburg from an xG standpoint (3.27 to 1.93), but displayed a woefully soft midfield underbelly. This was a direct result of BVB trainer Edin Terzic's skewed 4-1-4-1. Doubtful we'll be seeing the likes of this again:
Lineup—Borussia Dortmund—Match 16 (4-1-4-1)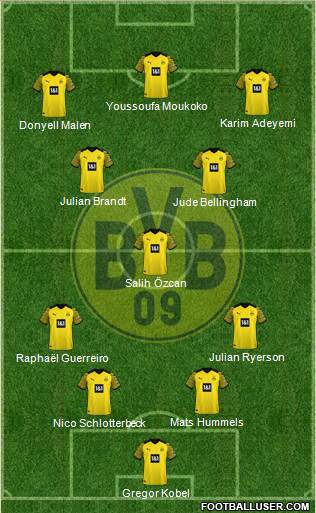 So much space for the likes of Augsburg to take advantage of here. Assuming it was Terzic's general strategy to end matters early, his lads might have accomplished this with better early finishing from Youssoufa Moukoko, Karim Adeyemi, Donyell Malen, and newcomer Julian Ryerson. Mats Hummels also had a game, on both sides of the ball, that left many wishing retirement arrives at the end of the season. Botched defending and numerous missed offensive chances from our former national team hero.
The columnist feels that the most important lesson to glean from this odd goal-fest has to be that Salih Özcan had way too much ground to cover here. This is the type of set-up that enabled Augsburg (a field hospital of a team at this point) to run ragged all over the middle third. All of the FCA's new additions looked like world-beaters against this. As impressive as the recent Fuggerstädter transfer class happens to be, the likes of Arne Engels, David Colina, Irvin Colina, Kelvin Yeboah surely can't be this good this quickly. 
Obviously very encouraging to see the likes of Giovanni Reyna and Jamie Bynoe-Gittens perform so well off the bench. Sebastien Haller had his moments as well. The squad doesn't lack for talented attackers. For the love of all that is holy, however, one compels Terzic to deploy a double-six set-up in the coming fixtures against Mainz and Leverkusen. The defensive corps simply isn't built to absorb all that Özcan can't handle. More than anything, this XI needs a safety net.
What the hell happened in Köln?
Whew! A tactics-centric column honestly can't contribute much to the absolute mess that was Saturday evening's "Cathedral city massacre". The 7-1 shellacking delivered by Köln over Bremen, in all honesty, barely qualified as a football match. The post-match comments from all the Bremen actors associated with this debacle pretty much summed it up. Bremen looked as if they were still in training camp. To add to the shock, Köln trainer Steffen Baumgart literally told his opponents precisely how he planned to approach the match. No limit to the craziness.
The hosting Rhinelanders received their first goal thanks to the fact that SV striker Marvin Ducksch completely miffed up Bremen's opening set-piece-design. To behold something like that at this level is simply inexplicable. A squad's initial set-piece design, particularly after such a long break, is usually something a trainer has spent long hours drilling his team on the pitch. Ducksch then did it again barely five minutes later on the second Köln goal. Again, inexplicable. No muscle memory on something that was likely practiced dozens of times.
Once Mitchell Weiser gifted the hosts the 3-0 in the 21st, it was pretty much all over. When Ellyes Skhiri attained the 4-0 at the half-hour-mark, Köln held an insurmountable lead despite having racked up just 1.21 xG. Both teams began committing endless errors after that. Neither side could keep its head in the game for very different reasons. Not really any lessons one can glean from this one for either team moving forward, apart from the fact that SV trainer Ole Werner needs to cancel all rest days for his players, of course.
Extra reps for all Hanseaten on the grounds in the coming weeks.
---
Weekly Tactical Focus: Deconstructing the "would be" Challengers
---
Our first "tactical focus" section of the new calendar year unfortunately features an early "lid". Entering the weekend, Freiburg-Wolfsburg simply had a "can't resist" feel to it. Two sides who happened to be in rollicking form just prior to the international break got set to square off in a contest that had much to teach us. Among the many intriguing storylines German football lovers absolutely had to check in on, the question as to whether SC Freiburg could really hope to contend for the title this year took precedence.
A common saying in German footballing circles holds that "early season Freiburg overachieving" remains as reliable as death and taxes. Virtually every year, we must address the matter. The writer himself recalls at what point it came time to give up on the romantic notion that the Breisgauer might move up to the status of a top-four side. It came a little later than usual last season. After what transpired this weekend, it looks to be the case that it comes a little early this time. Oops. Doubly sad that it had to come against a non-50+1 side whom the SCF recently handled well.
Freiburg had suffered only three league defeats to acceptable challengers Bayern, Dortmund, and Leipzig. Christian Striech's men also completed an undefeated 2022/23 Europa League Group stage round and spent the winter break second place in the Bundesliga table. Streich's squad had what many in German footballing circles considered to be the best winter preparation phase. Given that they were facing a talented team that concluded 2022 on a nine-game unbeaten run, something had to give this weekend.
One expected something to give, but not necessarily something to be given totally away. The bottom fell out of Freiburg's game rather quickly in this stern test. Though there are some positives to emphasize and a few excuses to cite, the news about the Breisgauer top-four prospects isn't terribly great. The southern BaWü club got manhandled by a team much more likely to take their place in the UCL race. As for the (already quixotic) title prospects of the SCF, one might as well declare those dead. Period.
Full time xG first:
xG Wolfsburg–3.12, xG Freiburg–0.96
Not totally reflective of the 6-0 scoreline, but one certainly expected better.
Lineup—VfL Wolfsburg—Match 16 (4-1-4-1)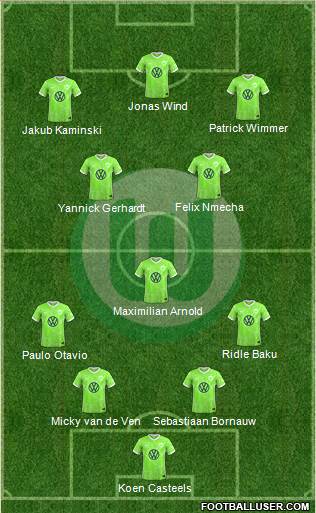 From the turmoil of the early days of the season, VfL trainer Niko Kovac has effectively stumbled upon a self-selecting XI. This basic 4-1-4-1 has been in force throughout WOB's strong run in the previous eight rounds of the campaign. While there exists some personnel rotations (Omar Marmoush, Lukas Nmecha, and occasionally Mathias Svanberg) on the top two axes, the heart of the formation underneath stays static.
Squad captain Maximilian Arnold runs the show as an extremely competent midfield "flight director". The somewhat unexpected emergence of Felix Nmecha, coupled with an excellent resurgence via a clear role for veteran Yannick Gerhardt, lends the attack plenty of support. The central defensive pairing of Micky van de Ven (who unpredictably displaced Maxence Lacroix) and Sebastiaan Bornauw) keeps things tight at the back.
Form surges from fullbacks Ridle Baku and Paulo Otavio have a lot to do with this team's recent success. Working directly ahead of the fullbacks, two young wingers who always lorded over marvelous potential presently come into their own. Jakub Kaminski has been on a red-hot run since mid October. Patrick Wimmer, on the one-year-anniversary of his famous rabona-assist, had a very special day indeed.
Lineup—SC Freiburg—Match 16 (4-2-3-1)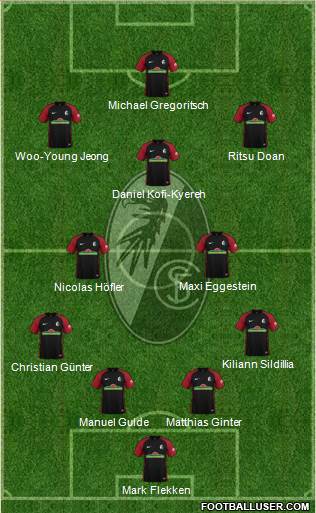 Three things to cover here.
The ray of hope
The primary reason why so many German football watchers maintained such optimism about Freiburg heading into this restart concerned the very inspiring play of former St. Pauli attacker Daniel-Kofi Kyereh. The German-Ghanian turned in a genuinely impressive camp as Streich's new regular ten. Kyereh actually played rather well in this one and there one can divine some flashes of the potential of Streich's tactics.
The biggest weakness
Optimism about top-four hopes aside, few (if anyone) considered Freiburg title-contenders. The primary reason for this concerns the weakness of the midfield double-six pairing of Nicolas Höfler and Maximilian Eggestein. The former is notorious for making heinous mistakes in the most important of matches whilst the latter often struggles to involve himself properly in the link-up play. Here we have the SCF Achilles heel.
The excuse
Before getting into the details of the match itself, it needs to be emphasized that the absence of Vincenzo Grifo profoundly influenced this result. The Italo-German had to withdraw on short notice due to illness. Streich lost his set-piece wizard and primary supplier of useful crosses into the box. With Grifo on the left in place of Woo-Yeong Jeong, we might be discussing a different result.
Captain Christian Günter regrettably couldn't fill Grifo's boots in dead-ball situations. As a result, the Bundesliga's most effective team on set-pieces didn't pack the necessarily punch. One can naturally label that a "half-excuse" as Günter should have been properly drilled as the second choice and carried more than enough experience to be up to the task.
Match Flow: 1st to 3rd minute
We hadn't even played 60 seconds before Freiburg had to reckon with a disastrous start. On Wolfsburg's second charge of the game, Jonas Wind executed a super-slick hold-up in deep midfield. The Dane turned on for Gerhardt, who in turn furthered for Kaminski. Wimmer bolted forward into the box central, touching perfectly past the split CB pairing of Günter and Ginter. With impeccable nerve, the WOB Austrian pike-finished with the top of his boot past Flekken from about 13 meters out.
Match Flow: 3rd to 17th minute
The chronicler isn't sure we've ever had such a short section this space before. In any event, we were rolling again after a couple of minutes of celebratory time. One could tell that Freiburg had some adjustments to make on the build. This wasn't merely due to the early goal, but the fact that Manuel Gulde had to fill in at the back for the ailing Philipp Lienhart. Baku had no problems diffusing a Gulde-Höfler cycle up the half-left in the 3rd.
Baku switched back over to Otavio and the Brazilian fullback pushed up the WOB left in the 4th. Wind saw an effort blocked after Otavio squared and Gerhardt sent the round into Flekken's arms. The SCF keeper attempted to restart quickly through Doan on the right. Van de Ven stood tall at the end of an uninspired sequence. At the other end, Kiliann Sildillia put the brakes on a quick 5th-minute Otavio counter.
Sildillia's switch for Günter connected before the SCF captain ran straight into Baku at the end of the 5th, Wolfsburg took the opportunity to calm things down with some slow rolls and bow-arcs throughout the 6th. No real forward momentum until Nmecha sent a long launch towards Flekken in the 7th. The Breisgauer net-minder sat on the ball for a long time whilst his defensive line failed to fan out before him.
Eventually, Eggestein and Doan took responsibility for the ball. Doan executed a nice turn and Sildillia earned a throw-in within striking distance of the box. The French fullback went for the long throw, but Michael Gregoritsch ended up taking it down from an offside position in the 8th. All these little intangibles made clear that Freiburg weren't in the game yet. To their credit, they would get into gear over the next ten minutes.
A more thoughtful build through Günter on the left nearly concluded with Kyereh finding some space in the box. The new SCF starter couldn't get a clean touch on the ball, however, and Baku recovered in time to tackle away in the 9th. The hosting Autosdtädter then again deliberately calmed things down with bow-arcs throughout the 10th. Doan did try a lane run at the end of the minute. Van de Ven again stood on point.
Some slow wide-lateral play from the VfL in the 11th gave the Freiburg defense easier assignments. Ginter cleared away a Wimmer cross easily. The WOB Austrian then could only get a weak centralized effort in on Flekken after Bornauw and Kaminski worked the ball back to him. Otavio ate up a Sildillia long-launch in the 12th. Doan also couldn't find a way through in the same minute.
A much more inventive Freiburg attack sequence in the 13th ended with Koen Casteels grabbing Günter's whipped in diagonal. Gulde, Eggestein, Doan, Sildillia, and Kyereh then put together the first coherent looking SCF charge in the 14th. Arnold tackled away from Kyereh in the box, yet couldn't get the ball completely away. Wind was forced to foul Höfler about 25 meters out to the right.
Freiburg had their first free-kick. Kyereh chipped the 15th minute service out wide to Gregoritsch. After the SCF Austrian's shot was blocked, Doan sent the rebound into Casteels' arms. A quick charge through Wimmer, then Otavio got snuffed out and Doan picked up the ball for a quick counter. A nice passing cycle involving Doan, Günter, Jeong, Höfler, and Kyereh saw the ball return to Doan for a stinging 16th-minute effort.
Van de Ven – another WOB actor practically spotless on this day – did very well to clear Doan's shot out for a corner. This very strong passage of time for the visitors would conclude with another close call. Gregoritsch headed Günter's service from the left onto Höfler. The Freiburg midfielder drop-kicked a first-time finish towards Casteels. The VfL keeper had to be perfect to parry away for another corner.
Match Flow: 17th to 28th minute 
Casteels had no real difficulty getting underneath the second corner as Günter's 18th-minute service was exceedingly poor. Freiburg lamentably couldn't build upon the strength they displayed in the above phase, though they still weren't playing bad football, per se. Doan, Kyereh and the forward running Ginter and Sildillia worked a ball forward to Gregortisch in the 19th with van de Ven again serving as the stopping point.
The Dutch center-halve sent Arnold ahead on a quick counter. Günter impeded Arnold's progress in the "duel of the captains". Günter then worked with Jeong, Höfler, and Kyereh to cycle up the SCF left in the 20th. In Grifo's absence, Günter again had to be the one to send the ultimate cross into the box. Bornauw intervened in the nick of time to scrape the ball away from Doan's head.
There was an extended injury timeout after the play as, away from the ball, Wimmer had accidentally run into his own teammate Nmecha. We resumed with an SCF drop ball in the 22nd. Eggestein and Doan combined forward on the right. Otavio took the latter down and match official Felix Zwayer reached into his book for the first time. Otavio's booking leaves him suspended for Wolfsburg's next match against Hertha.
Günter's 23rd-minute free-kick service proved mediocre, but van de Ven still dealt with it reasonably well. After some pinball off the short clearance, Gregoritsch had the opportunity to shoot. Casteels saw it all the way. Knowing that they needed to take the edge of the match, the Lower Saxon hosts then burnt through the 24th with non-advancing bow arcs. Baku and van de Ven tried nothing other than long-launches in the 25th.
A very slow SCF crawl up their right – featuring two throw-ins – served to take further flow out of proceedings. Eggestein and Doan kept lurching over to take the ball out into touch. Baku and Gerhardt do nevertheless deserve some credit for keeping the coverage tight. Some midfield back-and-forth and a brief injury timeout for Arnold ate up the 27th. Wolfsburg doubled their advantage in the next minute.
A very poor pass out of the back from Flekken got pounced on by Kaminski. Arnold then received the ball via Gerhardt on the left and whipped in a magnificent cross for Wimmer. The WOB Austrian added shook off the flailing Günter just inside the box central an added a masterful assist to his already masterful opening minute goal with a cheeky flick over for Wind. The Dane had an easy close-range finish to head home.
2-0 to the hosts.
Match Flow: 28th to 37th minute
Freiburg's very best chance to muster up a response came immediately after the second tally. The SCF XI did their utmost to make a game out of it with a determined drive after play restarted. Jeong, Eggestein, and Gregoritisch executed a nifty and inventive cycle up the left in the 29th. Gregoritsch stepped forward and the end of it and cut back for Kyereh. The big winner of Freiburg's prep campaign only just missed wide right.
VfL skipper Arnold would admit afterwards that his side dodged a bullet in this moment. This constituted a potentially important turning point in the match. Had Kyereh managed to pull a goal back – as he was in excellent position to do so – Streich's men would have received an enormously significant confidence boost. Instead, it was Wolfsburg marching back the other way in search of the "kill shot".
Otavio's cross in for Wimmer at the half-hour-mark came in too high. Arnold got cut out on a central charge by Jeong one minute later. Arnold then tracked back to cancel out a pair of SCF builds in the 31st. Jeong, in frustration, fouled Arnold in the second instance. Ginter cleared away a ball intended for Wimmer after Baku and Nmecha worked a cycle off the quick free-kick.
Wind, Kaminski, Nmecha, and Otavio ran the next WOB charge up the left in the 32nd. Flekken collected a soft square from Otavio near the touchline and attempted to spark a counter. Eggestein and Höfler worked the ball upfield for Jeong with Gregoritsch dropping back to affect. Jeong eventually had to retreat. Freiburg could accomplish little apart from back bow-arcs in the 33rd.
Doan and Kyereh finally stepped forward in the 34th. A Kyereh cross from the right took a deflection, enabling Baku to collect. Baku sent the ball over to Arnold and, after a concentrated dribble, Arnold put Wimmer through on the half-right with a vertical. Wimmer sliced through and unleashed a powerful shot that would have been worthy of a brace. Flekken parried on the stretch and Wind just missed the headed rebound.
Buoyed by that sequence perhaps, van de Ven, Otavio and Wind ran a very nice cycle up the WOB left in the 35th. Wind got cutdown by Gulde for a 36th-minute free-kick. Though Arnold couldn't do much with it, Otavio already had Sildillia picked off seconds after Freiburg regained possession. A quick rank cycle through Baku and Gerhardt led to a foul from Höfler. There would be another WOB free-kick in the 37th.
Arnold worked this one (of course) over to Wimmer. Jeong blocked the initial effort but van de Ven picked up the rebound. After all-too-easily dancing around Eggestein, van de Ven worked in a cross for Wind. Something of a lucky deflection delivered the ball to Wind one step ahead of Gulde. The Dane again had an easy close-range finish past Flekken. Freiburg were in real trouble now.
3-0 to the hosts.
Match Flow: 37th minute to half-time
Full-tilt damage control mode for Striech's lads as they now had to get into the tunnel without conceding another goal. Gulde lost the ball amidst a hungry press of neon green shirts in the 38th. Ginter, Günter, and Sildillia all had to close ranks to bail their teammate out. No one in black dared to dribble forward in the 39th, so Flekken simply booted out a desperate vertical. Van de Ven returned the favor with a first-time hit.
Sildillia managed to get forward at the end of the 40th, but Baku was in the box to repel the young French fullback's cross for Gregoritsch. Otavio handled Günter's 41st minute corner service readily enough. Van de Ven took the ball off Eggestein's feetn the attempted run back in. When Kyereh tried to whip in a diagonal at the very end of the minute, it was again van de Ven heroically winning the aerial duel against Gulde.
After a brief treatment break for van de Ven – who took a knock on the challenge – Wolfsburg were overwhelming Freiburg with a quick-strike drive down the right in the 42nd. Baku shrugged off weak pressure from Günter and Gulde and could have done better than shuffle off for Nmecha, who retreated. Some heavy midfield duels carried on through the 43rd.
There was some danger from Freiburg in the 44th when, after a Sildillia throw, Gregoritsch furthered for Jeong. The South Korean chested down well enough on the left side of the area, but screwed his effort on goal well wide. Wolfsburg punched back immediately via Otavio, Kaminski, and Wind. Luckily for Freiburg, Doan and Kyereh were back to help out defensively.
Following one last forward gasp involving Kyereh and Jeong in the 45th, Streich's men tried to run down the clock with slow rolls through the first two minutes of injury time. Wolfsburg did their own clock milking at 45+2 after Gulde fouled Wind in midfield. Wind took some treatment and Arnold took his time setting up the free-kick. Referee Zwayer decided that he had seen enough.
Half-time xG:
xG Wolfsburg–1.16, xG Freiburg–0.29
Not the most relevant this time.
Match Flow: 46th to 56th minute
When it became apparent that Streich wouldn't be employing any personnel changes at the half, it simultaneously became apparent that the SCF gaffer was probably prepared to concede this one. A packed "English Week" awaits. Freiburg have Frankfurt on Wednesday and Augsburg next Saturday. There thus seemed little point in wearing everyone down with a tactical shift of any sort. This match begged for a "lid".
It would not be long in forthcoming. The BaWü visitors barely looked motivated on their first two drives. Doan, Gregortisch, and Eggestein cycled slowly up the right in the 46th. Gerhardt caught them flatfooted to touch away. Gulde and Ginter passed between themselves in a brain-dead fashion in what was the only highlight of the 47th. Another slow crawl up the right via throw-ins commenced in the 48th.
Doan tried some trickery off the second throw. The Japanese international managed to peel away from Otavio and Gerhardt before Casteels rushed over to quash Doan's dribble. Casteels then sent Baku down the right with Nmecha in tow. Nmecha's vertical for Wind was a touch to long and Flekken collected. Nmecha got another chance to set up Wimmer in the 49th, but was a tad too casual outside the box.
Arnold required treatment in the 50th after getting his studs stuck in the turf on a no-contact play. It took a couple of minutes for play to resume. Flekken sought to hit Gregoritsch with a hopeful upfield hit in the 52nd. The SCF Austrian was well offside. It truly wasn't looking as if the guests could get much going. Bornauw, Nmecha, and Baku took their time setting up the next WOB charge in the 53rd.
Baku finally sprang forward in the 54th. Jeong – looking gassed by this point – tugged on the German international's tricot for a tactical foul that earned him a booking. The wheels threatened to come off for Freiburg and the "lid" drew nearer. With some purposeful play out of the back in the 55th, Wolfsburg got their fourth goal. Wimmer was again involved.
The WOB Austrian turned on the jets from midfield, locating Wind just inside the area on the half-right. Wind checked twice to shake off Gulde and then passed to Nmecha. The younger Nmecha brother also checked brilliantly to throw Ginter and Günter off. Gerhardt – an apt recipient – got his name on the scoresheet with a cool finish from the half-left. Great team stuff.
Game over.
Match Flow: 56th minute to full-time
It literally could not have gone better for Wolfsburg down the stretch. All this team's major players surely ooze with confidence after this. Ridle Baku was able to net the fifth goal some ten minutes from time thanks to a pair of subs who desperately needed to get some skin in the game themselves. The undeniable transfer flop Luca Waldschmidt – heavily linked with a transfer out – was involved in both tallies, against his former club no less.
Waldschmidt unlocked American prospect Kevin Paredes on the left ahead of the 80th-minute 5-0. Paredes himself furnished an absolutely gorgeous cross over to Baku; a lovely piece of skill that will merit further coverage in the next installment of this writer's "Americans in the Bundesliga" column. Hopefully, the Virginia native can keep his form on the upswing over the course of the next week.
Waldschmidt also grabbed the ball immediately to convert a penalty at 90+6 for the 6-0 after van de Ven was hauled down in the box. Paredes, again, was the supplier just prior to Yannick Keitel cutting van de Ven down. There genuinely were no positives from Freiburg beyond some mildly promising play from Kyereh at the beginning. Keitel, Lienhart, and Lucas Höler all looked awful off the bench.
Since we devoted much of the introductory section and post-lineup thoughts to Freiburg, we can wrap up by focusing a bit more on Germany's green company team. As mentioned above, this result counts as a potential critical juncture in the race for the top-four. To the chagrin of the more romantically-inclined German football lovers out there, it looks to be the case that Wolfsburg (or possibly Leverkusen) will take that spot.
Way back at the beginning of the season, this was actually the prediction. The two German "company clubs" (non 50+1 entities) retain a certain financial advantage over the rest of the field. Accordingly, they entered the campaign with stronger rosters. Even if these rosters weren't pieced together into winning squads just yet, the depth of talent meant that, after many hiccups, Leverkusen and Wolfsburg could recover.
We can almost surely say that this has happened now in the German Autostadt. Like it or not, everyone is clicking. Van de Ven, Baku, Wind, Gerhardt, Nmecha, Kaminski, Otavio, and Arnold. It's all there. Marmoush, Svanberg, Lacroix, and (now) Paredes and Waldschmidt off the bench. It's an embarrassment of riches. Why is this club stubbornly holding onto the likes of Josip Brekalo and Joshua Guilavogui?
One might of noticed that we neglected one name in the previous paragraph's laundry list. Namely, that of the team's newest red-hot commodity. After sitting out the early stages of the season with the prolonged after-effects of a concussion, former Bielefeld rabona-hero Patrick Wimmer has arrived on the scene for his new club; sporting a protective cushioning hair-do for his skull no less.
Sigh. An embarrassment of riches indeed.
Wolfsburg are on the march.
Freiburg are provincially headed down.
Thanks so much for reading! You can catch the the release of all Peter's columns on twitter, @PeterVicey
Twitter DMs are open for football conversations, corrections, and (if you truly insist) general abuse. 
All columns debut on Bulinews before appearing on Peter's website as the season progresses.