If there was one primary takeaway from the final round of German Bundesliga action prior to the largely unwelcome World Cup break, it could have been that (in an also unwelcome development for German football lovers) RB Leipzig trainer Marco Rose had his eyes wide open.
The tactics column certainly contained its fair share of qualms in selecting Leipzig-Bremen as the "focus feature" after results didn't exactly conform to the wishes of the German footballing soul.
The stands in the Hanseatic City State filtered out rather quickly after full-time. Interest in football across the Bundesrepublik actually didn't rise much for the duration of the calendar year, even if a certain Werder Bremen actor did his very best to help us get psyched once again. A shame that, despite his very best efforts, "Lücke" didn't bring the joy back……this time.
---
Bundesliga Tactical Banter: Round 15
---
Back-to-back wins for Bochum
We'll lead this column with the same team as we did in the most recent installment. Thomas Letsch and the team we've been frequently emphasizing has been underestimated must find themselves annoyed at the fact that league play has to break off now. After a confidence-building performance against Dortmund last weekend, the Ruhrpott's 1848ers grabbed six points in four days with wins over Mainz and Augsburg. Bochum's two 1-0 victories also saw Christopher Antwi-Adjei score back-to-back top-flight goals for the first time in his career.
Assessing this squad's prospects in what shall be a very distant future proves hard, but the thought of Anwti-Adjei working the flanks opposite a very talented Jordi Osei-Tutu, or perhaps a healthy Gerrit Holtmann, leaves one feeling optimistic. Another stalwart performance from Kevin Stöger and Philipp Hofmann's steady improvement in his first year as a top-tier striker also makes it seem as if one of the smaller Revierklubs can smash everyone's expectations and survive their tough second year in the first footballing division. They have the right components.
It should nevertheless be noted that the xG of Saturday's encounter (Augsburg 2.53, Bochum 0.84) remained totally incongruent with the result. Enrico Maaßen's Bavarian Swabians had to contend with two early injuries that knocked out captain Jeffery Gouweleeuw and midfield linchpin Carlos Gruezo. Mërgim Berisha – who probably shouldn't have been starting in the first place – had issues focusing and missed a (albeit softly awarded) penalty. Augsburg may now be winless in seven, but aren't necessarily an awful team either.
When it comes to determining whether the FCA have truly been dragged down into the relegation fight, the coming World Cup break also screws up the calculus. Long-term injured defenders Reece Oxford and Felix Uduokhai made their comebacks this week. Niklas Dorsch, André Hahn, and  Raphael Framberger shall return along with league play in January. Less than three years removed from the 2020 COVID hiatus, we have another unconventional season split into two unequal halves. A prolonged interruption changes so very much.
Köln quality control
We'll move over to another match with an askew xG figure, (Köln 2.18, Hertha 2.06). Steffen Baumgart's cathedral city side concluded the calendar year on a five-match winless-run and suffered their third straight defeat with a 0-2 loss to Hertha. The main talking point emerging from this one concerns three big missed Kölner chances to equalize during a ten-minute span early in the first half. We'll likely be talking about Sargis Adamyan's epic fluff of a sitter from less than three meters out for quite some time to come. Crazy stuff at this level. Absolute madness.
Giving the likes of Bochum and Augsburg sunnier forecasts in the coming relegation fight naturally begs the question as to which team can truly fear being hauled down into the relegation pack. Some may be surprised to learn that die Geißböcke actually fit this bill. All the hype surrounding Baumgart's cult "method-acting" personality obscures the fact that this squad's attack revolves around rotating cast of "C-Level" attackers. Adamyan, Linton Maina, Steffen Tigges and Florian Dietz just aren't top level quality.
One had these concerns at the beginning of the season even before Anthony Modeste left. Such concerns could have been allayed if Modeste stayed, Mark Uth didn't appear to be battling career-ending injuries, or Sebastian Andersson opted not to basically recuse himself from this team's future. It's simply time to face facts for this overachieving side. The 2019/20 promotion club, who narrowly escaped going back down in 2020/21, may be headed for the drop again. Baumgart's constant personnel/tactical rotations begin to smack of desperation.
Ahem.
Do we even need to mention that bringing in Davie Selke won't fix this?
Musiala's endless magic
No one really expected much from the final "Top-Spiel" of the year. Bayern-Schalke to round out Saturday night under the lights? The Bundesliga computer that generates fixture schedules based on random numbers furnished us with this dud, just as it sprung the Hertha-Union crosstown rivalry on us in round one. Thanks a bundle, computer. As the old German saying goes, a smart horse only jumps as high as it needs to when clearing hurdles. Bayern took their desired three points. Most stars, understandably enough, then played not to get injured.
We'll credit Schalke with showing their hometown crowd some fighting spirit throughout most of the 90 minutes. While Dominick Drexler was something of a bust in his eagerly anticipated start in the ten slot, the oft-mentioned midfield duo of Alex Kral and Tom Krauß did their bit in courageously going after midfield balls. Keeper Alexander Schwolow turned in one of his better performances, making several key saves to keep the scoreline low. Marius Bülter continues to impress on that left flank. The back-line can, at times, really look like a tight crew.
At the end of the day, there was no real stopping a fearless youngster who definitely didn't care if he got injured or not. At 19-years-of-age, Jamal Musiala operates with the blessings of a youthful mind unhindered by fears from the past and worries over the future. Two sublime assists from the half-German, half-English phenom set to take the world by storm when a larger audience gets a look at him. The slick back-heel to set up Serge Gnabry on Bayern's opening goal shows what marvelous instincts he has. One looks forward to so much more.
The showdown that wasn't
Big anticlimax over at the Europa Park Stadion to conclude this final round of league play. No German football lover will catch themselves complaining about a Vincenzo Grifo hat trick. Though opinions on the matter may be more diverse, few Bundesliga enthusiasts are of a mind to criticize match official Deniz Aytekin. Hell, with Manuel Gräfe forced into retirement, Aytekin counts as our elder statesman ref. The problem with both Aytekin and Grifo in the Freiburg-Union fixture is that they both intervened too early.
The last thing anyone in the Bundesrepublik wanted for Christmas was more handball penalty discussions. Kind of takes the buzz off of "Carnival Kickoff" weekend as well. Very odd to see an experienced ref like Aytekin make such a controversial early call. To the ref's immense credit, he did try and give Union a chance to pull themselves back in it from the spot after Freiburg went up 2-0 in the 6th. Robin Knoche's failed conversion pretty much sealed even before Urs Fischer's men got reduced to ten-men in the 19th and Grifo put the SCF up 3-0.
And so it came to pass that there was little to glean from a matchup that could have told us a lot about the outside title chances of the Breisgauer and die Eisernen. Pretty much all we learned in this final week concerns the fact that both of these teams can buckle under the pressure fairly easily. We actually knew that already. Additional confirmation, particularly for the hapless romantic silly hearts among us, might have been spared. Oh well. Sei's drum.
---
The Burning Questions: Round 15
---
Did Leverkusen's Tactics start making sense?
Kind of. Sort of. There was certainly far less head-scratching involved than during the midweek fixture. We'll generously label what Xabi Alonso put together as a 3-4-3, though there were lots of potentially intentional rotations on the top axis. Overall, it seemed as if die Werkself operated with a cautious and subdued game-plan. This makes some sense in the context of the pre-match "nervousness" the team's trainer admitted at his post-match presser.
Xabi wished to play its safe.
Lineup—Bayer Leverkusen—Match 15 (3-4-3)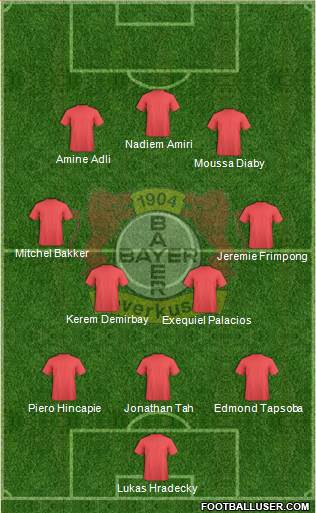 Working against an ultra conservative Stuttgart 5-4-1, most of the squad's counter attempts fizzled out before they could produce anything dangerous during the first half. Not unlike on Wednesday, the team had trouble staying aggressive on the ball. Coordination issues up front also led to lots of sloppiness in transition. In truth, it took Bayer time to really find their feet in the second 45 as well. They woke up with approximately twenty minutes to go.
Possible tells of staggers
Nadiem Amiri's positioning obviously proved difficult to figure out. The 26-year-old, having never (to the writer's recollection) been deployed as a lead striker before in his career, had to have something worked out for him by his coach. It appears as if Xabi thought out some kind of semi-cycle press with Jeremie Frimpong. The World-Cup-bound Dutch international often popped up in the center. Frimpong's non-World-Cup bound Dutch colleague Mitchel Bakker frequently slid over to the right to compensate.
Kerem Demirbay and Exequiel Palacios – together working as the defensive solution for suspended sweeper Robert Andrich – mostly functioned as axially chained sixes. Whenever some of the above-mentioned moves took place, however, Palacios folded in underneath Demirbay. It stands somewhat likely that Xabi ordered this as a means of shoring up his defense. The back-three remained, without much doubt at all, completely flat. That made perfect sense given the current confidence levels of the starting trio.
Later adjustments
Xabi saved four of his five substitutions for time killing purposes near the end. The only potentially meaningful change saw Adam Hlozek enter for Amiri at the hour-mark. Once this occurred, all of the rotations ceased and the formation crystallized in the precise manner shown in the graphic above. Within ten minutes, the team began functioning with a more coherent sense of flow. Keeping it simpler certainly helped, although Stuttgart's frayed shape also contributed.
Leverkusen's 2023 prospects
Following Xabi's strategic moves in the coming calendar year should end up being on of the most fun aspects of the "Rück-runde". The rookie trainer has demonstrated a proclivity towards the very complicated in his first job with a club's senior team. Was this born out of necessity or is the Spanish legend an unabashed "tinkerer"?
It shall prove interesting to see how he handles matters with actors such as Florian Wirtz, Patrik Schick, and Sardar Azmoun back. Simon Rolfes and the recently retired Rudi Völler built this roster as if they were coaching the team themselves. A clear depth chart at all positions renders the squad built with the European football midweek rotations in mind.
It stands to reason that Xabi will be expected to adhere to a more regular system and rotate in accordance with the intentions of the front office. Too much tinkering, combined with poor results, could end up costing him the gig before the season is out. A straightforward path should yield stellar results. Going off the rails could lead to a three-trainer year.
There's some interesting developments on the horizon in any case.
One can hardly wait to see how it turns out.
Who should have won the SGE-FSV slugfest?
According to the xG (Mainz 2.23, Frankfurt 1.64), Bo Svensson's Rheinhessen deserved to take all three points from this 1-1 draw. Eintracht keeper Kevin Trapp made several key saves, particularly in the early going against a spry Jonathan Burkardt who looked absolutely determined to turn his current form swoon around. Very nice to see the Germany U21 captain demonstrate that kind of grit out of the gate. Burkardt's DFB Junior teammate Anton Stach was fantastic as well as was former Frankfurt man Dominik Kohr.
It ultimately took some serious bludgeoning from both Burkardt and his former famous striking partner Karim Onisiwo to get a goal past Trapp. The 1-0 halftime lead felt fully justified. One could tell from the nature of some of the misses from SGE World-Cup-bound players Mario Götze and Jesper Lindstrøm that the Pfälzer hosts were the team with their heads more in the game. Stefan Bell proved the one exception of course, but one could grant the defender some leeway after his long injury layoff.
One still needed to see more focus and commitment from Svensson's side if they truly wanted to capture a victory against Germany's most absurdly dangerous team outside the record champions. Trapp was barely tested in the second half apart from one effort from Leandro Barreiro. One can't really hope to cling to a 1-0 lead against Frankfurt. One can easily guess what will eventually happen with Randal Kolo Muani lurking around. Bam. It happened. 1-1 draw a fair result.
Did Didier Deschamps really have no room for the SGE sensation?
Expect some talk about this.
Was Wolfsburg's win lucky?
In most every respect. Hosting Hoffenheim maintained the xG advantage throughout Saturday's contest. Niko Kovac's Wolves, with Omar Marmoush filling in at center-forward after Jonas Wind had to bow out after a very impressive performance on Tuesday, proceeded to lose Marmoush to a collision-induced injury before a quarter-of-an-hour had been played. Felix Nmecha worked as the emergency lead striker in Marmoush's stead.
Already a little thin on experience on the right flank with Kilian Fischer starting, die Wölfe proceeded to get pounded by Angelino down the TSG left for the entire first half. Wolfsburg could produce no danger from open play. Their unsorted midfield lost virtually every midfield duel. After Christoph Baumgartner, Georgino Rutter, Andrej Kramaric, and Robert Skov all spurned early chances, Baumgartner finally gave the Kraichgauer a well-deserved lead three minutes from halftime.
Then the most improbable thing occurred. Ozan Kabak – ordinarily the most reliable player on André Breitenreiter's squad – turned the equalizer into his own net before the team could get down the tunnel. The Sinsheimers dominated the second half as well. VfL keeper Koen Casteels kept them from regaining the lead. Wolfsburg again managed almost nothing until Angelino – in what was his only real lapse of the match lost out to Ridle Baku on the 2-1.
Yeah. Not every day that Germans find sympathy for Hoffenheim.
It still happens on occasion.
Are Dortmund's title hopes over?
Errrm….recall that Edin Terzic's ability to build up a rapport with this team was once falsely discounted during the 2020/21 campaign. The Erling Haaland factor obviously doesn't exist this time, but the team should return a different beast in 2023 provided Sebastien Haller's recovery proceeds apace. It also constitutes good news that Marco Reus, Mats Hummels, and (don't forget) Jamie Bynoe-Gittens get to remain with the club for an extended period. Reus and the young Englishman need the rehab.
What happened on Friday night against Gladbach, as already spelled out so clearly in the match report appearing on this site, was just a complete defensive meltdown. Mats Hummels, so clearly upset with his World Cup snub, turned in an absolute nightmare. Nico Schlotterbeck had his fair share of blackouts as well during what felt like 437 second-half chances for Glabbach's Marcus Thuram. The recently impeccable likely starting German national team right-back Niklas Süle experienced an ill-timed off-night.
Not a great deal of this remains relevant for the second half of the season. The same applies to whatever happens to the BVB German national team representatives down on the Peninsula. Sure they may come back in a foul mood. In all honesty, most Germans expect them back rather early, meaning that there should be plenty of time for them to (as Julian Brandt put it) "flick the switch". It's all immaterial at the end  of the day.
What is, then, relevant?
Six losses three matchdays before the "Rück-runde".
Yeah. Bayern won't drop that many points.
Sorry. The answer is "yes".
---
Weekly Tactical Focus: An inconvenient rise
---
Entering the weekend, many German football lovers maintained some curiosity about RB Leipzig's 12-match unbeaten-run. That statement should quickly be qualified with another. Our curiosity dovetailed with hope that it would come to an end. No Bundesliga diehard pulled for Leipzig to emerge victorious against SV Werder Bremen. We naturally wished to see Ole Werner's "Traditionsklub" knock off the plastic team. A brace for new German national team striker Niclas Füllkrug wouldn't have been a half-bad added bonus either.
Alas, reality rarely conforms to fantasy. Marco Rose's German Red Bulls proved far too much for Werner's Hanseaten to handle. No fairy tale ending to the calendar year for us on this day. All throughout the SV-RB fixture, one could fairly say that the colossal gap in talent between these two squads remained apparent. It's simply so very difficult to compete against die roten Bullen with their endless reservoir of high value players. Much as Werner's crew did try, they couldn't overcome the fact that they were overmatched.
Even if the soon-to-depart Oliver Mintzlaff did a lousy job balancing this roster, the recent performance of the team does regrettably prove that throwing an awful lot of blind money at a problem can end up rectifying the situation. Rose earns some specific praise this week for the way he handled this particular fixture tactically. It goes without saying, however, that anyone in charge of training this team needn't think too terribly hard about how to organize this embarrassment of riches. The club's current gaffer still deserves credit and the win was deserved.
Full-time xG:
xG Leipzig–1.88, xG Bremen–0.67
Onwards to Rose's tactics:
Lineup—RB Leipzig—Match 15 (5-1-4)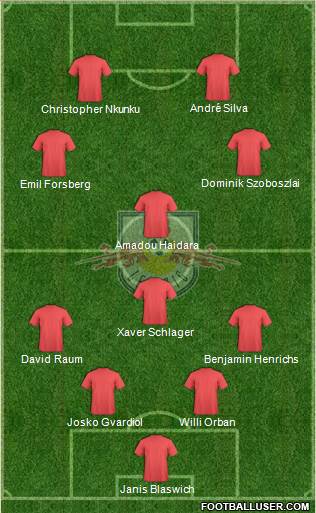 Compensating for some recent losses in the defensive corps, Rose reorganized his team out of the 4-2-2-2 we drew up last weekend. Freiburg were bested in the midweek matchup by roughly the same formation. It actually proved a highly intriguing surprise to see what unfolded here. All those with eyes on the overhead witnessed something very interesting from the RB gaffer.
Horizontal pairing for the two strikers
The columnist stands convinced that Christopher Nkunku didn't work as a service striker this time. The Bundesliga's leading goal-scorer kept horizontal synchronization with André Silva throughout, even when Rose made his late-match adjustment aimed at preserving the 2-1 lead. One hasn't seen the two attackers work on an even plane in quite some time. It can be reasoned that Rose wished to get Silva a league goal.
In this respect, he succeeded. The Portuguese striker netted just his second league tally of that campaign in this one. One probably saw the former Eintracht Frankfurt dynamo receive more scoring chances in this match than in any other Bundesliga fixture all year. A clear two-striker set greatly aids a more traditional target man such as Silva. Most of his deployments with Timo Werner have pushed him out too wide.
The key to Schlager's placement
This should unequivocally be the most important takeaway from the match. Xaver Schlager – who scored the other RB goal – played an absolute beast of a match. The Austrian covered so much ground. His name pops up in practically every paragraph. The Austrian's form as of conforms to the absolute highest of footballing standards. Rose, in stark contrast to Domenico Tedesco, knows how to best utilize this player.
Schlager helped run most of the play out of the back because Josko Gvardiol (wearing a mask after suffering a broken nose against Freiburg) couldn't operate with his full peripheral vision. It counted as a very intelligent move to place Schlager on a vertical axis pairing with Amadou Haidara. Both Haidara and Emil Forsberg initially had problems adjusting to their teammate's rampant running, but did ultimately adapt.
The Bremen build
Ole Werner's team obviously had their work cut out for them from the beginning. An opponent so lightning quick in transition constituted a formidable foe even before taking the surprise "X-factor" of Schlager into account. After employing some radical alterations against Bayern midweek, Werner might have preferred to slip straight back into his regular set of tactics. Unfortunately, some absences prevented this.
The budding young talent Ilia Gruev had to pass on short notice due to illness. Milos Veljkovic also had Achilles problems. As a result, the SV gaffer battened down the hatches a bit with a more restrained formation designed to lend additional defensive support. It's not exactly clear why Werner opted to take major risks against Bayern and not Leipzig. One can quibble with this a tad.
Lineup—Werder Bremen—Match 15 (4-3-1-2)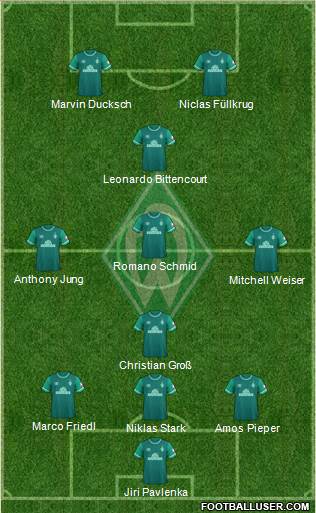 Not quite the return to normal tactics. Under more familiar circumstances, Romano Schmid would have worked alongside Leonardo Bittencourt as a buttressing attacker. Schmid turned in an regrettably quiet performance from a position that required more defensive responsibility from him. Mitchell Weiser and Antony Jung, despite having clearer service lanes to cut towards the strikers, also had difficulty making the best use of their extra space.
A great deal of choppiness notwithstanding, the hosting Hanseaten looked comfortable in possession for some stretches. One occasionally beheld the optimal passing potential of the constellation. While Weiser, Schmid, Bittencourt, and Anthony Jung all ultimately underperformed everyone in the back-four routinely fed them in the manner intended. The defensive corps also put in some marvelous work considering the circumstances.
Christian Groß' first top-flight goal – a joy for Bundesliga lovers to watch – should have a buoying effect on this largely solid squad that will (barring something most unforeseen) likely not slip back to the relegation pack this season. Plenty of good news for Bremen. Plenty of good news for the German national team as well after what was a decent performance from Niclas Füllkrug as well. The 29-year-old certainly didn't look like a man carrying multiple injuries.
"Fülle" nearly helped this team to another spectacular late comeback.
Match Flow: 1st to 13th minute
The visiting Saxons couldn't do much other than retreat on their first two rightward charges in the 1st. Marco Friedl cleaned up a useless Henrichs vertical at the end of the 1st and swung it out to the SV right via a bow-arc through Niklas Stark and Amos Pieper. Weiser switched the point of attack back over to Marvin Ducksch and the SV striker saw a square cleared out of the box in the 2nd. Schlager ran the first of many excellent builds out from his deep position in the 3rd. Friedl eventually put the brakes on a right cycle through Haidara and Szoboszlai.
Groß then sent Bittencourt through on a quick-vertical counter. Gvardiol supplied the initial stop. Benjamin Henrichs cleared went Weiser plucked the ball off Forsberg and tried to send a diagonal in. Forsberg did better on the next RB attack in the 4th. The Swede charged up into the area and attempted the give-and-go with Nkunku. Stark tackled away for a corner. Nothing much came of Szoboszlai's 5th-minute-service, but Leipzig kept possession through the 6th. Pieper eventually cleared a David Raum cross out for another corner.
Raum struck the set-piece this time. Forsberg couldn't get a handle on it and Szoboszlai ended up flashing over. Schmid lost the ball on Bremen's 7th-minute build. Szoboszlai switched out wide left before Stark and Pieper broke up the intended cycle of Nkunku, Forsberg, and Haidara. Groß had Haidara handled central in the 8th. Schlager and Gvardiol took care of the back bow-arc recycles through the 8th. Schlager finally broke through on the left in the 9th and played Silva in. The Portuguese striker went out wide for Henrichs, who was held up by Friedl.
Effectively total control from Leipzig in the 10th and 11th. Weiser had to employ a late challenge to stop Raum in the first minute. Willi Orban, Gvardiol, and Szoboszlai kept control of the ball in the latter minute without any real ideas about how to press forward. With the ball returned to the back line after Szoboszlai again failed to find any gaps in the 12th, Orban, Gvardiol, and Haidara recycled endlessly for the duration of the minute. An Orban long carry in the 13th initially ended with Jung.
The Bremen wingback nevertheless lost the ball and opening goal came within seconds. Haidara cleverly played the ball up to Forsberg. The Swede went on a pacey dribble into the box on the half left. Forsberg spotted Silva tailing him on the overlap. After taking a few touches to ensure that he drew maximum coverage from the SV defensive ranks, Forsberg laid off for a wide-open Silva to his left. With everyone in green focused on Forsberg and Nlkunku, Silva was wide-open and merely had to slide home.
1-0 to the guests.
Match Flow: 13th to 22nd minute
Rose's men could comfortably hit the cruise-control switch after securing an early lead. Forward RB play lacked a certain something, but the Hanseaten deserve immense credit for standing tall defensively. By the end of this phase, the hosts managed to create an excellent scoring chance of their own. Schlager handled a couple of more serviceable RB rushes in the 14th. Groß and Friedl were able to stop the first two. SV keeper Jiri Pavlenka had a clear sight line in the 15th and rushed out to stop Nkunku.
Pavlenka followed up his excellent piece of net-minding with a howler seconds later. The SV backstop shanked a clearance of an Orban vertical. Szoboszlai latched on and ran to the edge of the penalty area on the right in the 16th. Jung took the Hungarian out with a hip-check at the that didn't look legal at all. Match official Dr. Matthias Jöllenbeck waved Szoboszlai's appeals away, perhaps thinking that the RB winger went down too easily. Groß was whistled for a foul on Szoboszlai one minute later.
After the 17th-minute free-kick went, back Weiser wasn't whistled for a suspicious tackle on Nkunku. At the other end, Jöllenbeck didn't see fit to blow the whistle when Raum took out Weiser's counter run. Odd stuff as these were pretty clear fouls at both ends. Jöllenbeck finally had to intervene when Raum unleashed Nkunku on the left in the 18th and Bittencourt took the Frenchman out. The ref had a backlog of grievances to deal with at this point. It naturally took some time for the doc too deal with the swarm of players who mobbed him.
After tempers were calmed, Raum's 19th-minute was (rather acrobatically) cleared out of the area by Stark. Gvardiol, Orban, Schlager, and Henrichs bow-arced around with the ball through the 20th until Schlager found a lane for Nkunku on the left via Haidara at the end of the minute. Friedl tracked across to tackle away. Matters got very intense in the midfield during the 21st. Haidara got the first booking of the match for throwing an elbow on Bittencourt during the last of many aerial duels.
More calming words from Dr. Jöllenbeck were needed before Ducksch could take Bremen's free kick in the 22nd. Pieper took down the ball cleverly and, after a deflection, the ball fell to Füllkrug wide open about five meters out central. The new German national team striker unfortunately couldn't adjust to deflection in time. Füllkrug's effort went in the wrong direction. Weiser sent the rebound over following some RB defender pinball. Though the offside flag was raised, replays confirmed the goal would have counted.
Match Flow: 22nd minute to half-time
It would be more than fair to say that play was balanced for the duration of the half. Both sides got their looks in. Leipzig tried on both flanks before the 22nd was out, with both Nkunku and Szoboszlai being forced to retreat from their respective sides. Schmid picked up a midfield ball  in the 23rd and made some nice moves forward before being dispossessed by Forsberg. Bittencourt took the Swede out on his attempted counter. Weiser, in turn, fouled Nkunku after Gvardiol's 24th-minute quick free-kick.
Szoboszlai took the 25th-minute dead-ball. Stark rose high to clear. After some more possession changes, Weiser, Pieper, and Bittencourt got a decent SV right-ward cycle going in the 26th. Bittencourt saw a square into the box cleared by Orban. Leipzig's Hungarian defender then took care of Weiser's attempt to send a diagonal back in. Nkunku slowed up the ensuing RB counter to wait for more support. The ball went back to the RB ranks. Schlager finally hit Silva with a vertical in the 27th.
Stark fouled Silva on the open play sequence, but then beat Nkunku legitimately off the quick free-kick. The Bremer defensive took their time with an elegant slow-roll build in the 28th. Weiser, Schmid, and Bittencourt then unleashed a sweeping attack on the right when the moment was right. The sequence ended with Bittencourt attempting to square for Ducksch again. Orban read the pass superbly and calmly took the ball away from the SV striker.
A quick RB counter first went awry when Szoboszlai popped a shot off his colleague Nkunku. Henrichs and Szoboszlai still managed to keep the play alive. After a neat one-two, Henrichs ran the byline and cutback for Nkunku. The Frenchman's effort at the beginning of the 29th whizzed just past the post. Exclusively midfield traffic took place through the 29th and 30th. At least there were some incredible crushing tackles from Gvardiol and Stark.
An exceedingly high Bremen offensive press in the 31st ld to a wicked Leipzig counter. Silva picked a ball off Schmid. Both Forsberg and Schlager took the ball on wide overlaps. Pieper and Stark had to hustle back quickly. The pair somehow found a way to close ranks back for a corner. While Raum's quick corner service was repelled, Forsberg and Raum kept the ball close to the left edge of the area. There not being any gaps to exploit, the ball did find its way back to Schlager at the end of it all.
Schalger and the back-line kept it comfortable with recycles through much of the 32nd. After some time, Weiser stepped forward to take a ball off Schlager and drew a foul from the Austrian. Ducksch's 33rd-minute service was easily cleared by Orban. The Bremen back-line busied themselves with their own recycles through the 34th. A Friedl vertical found no penetration. Ducksch dropped deep to try and affect play at one point, but was easily bumped off the ball by Nkunku.
An RB charge in the 35th featured a very nice vertical from Schlager to Silva on the right. Stark executed an amazing tackle on Nkunku after Silva squared for his striking partner. A shame that the challenge didn't enter the record as Silva had started offside. Weiser hit Ducksch with a nice switch in the 36th. The Bremen striker tried a quick layoff for Bittencourt, who drew a foul from Szoboszlai. Ducksch sent in a decent service on the ensuing free-kick. Haidara proved equal to it with a quality clearance.
Ducksch tried again with a cross in from the left. This open-play service came in too low for anyone in green to reach. Orban incurred a cut on his eye amid all this and it took the RB medical staff most of the 37th to get him off. The Hanseatic hosts got another treacherous charge going in the 38th when Stark picked off a Haidara pass. Friedl carried all the way up on the left. Jung trailed and cut into the box. Füllkrug's flick on of Friedl's service met Jung at a workable angle. Henrichs, intentionally or not, deflected the ball into Janis Blaswich's arms.
Bremen were able to get off another attack with the man advantage before Orban returned from the sidelines with a turban in the 39th. A nice leftward cycle ended with Ducksch overhitting a long switch for Weiser. Ducksch encountered more problems with his accuracy on a free-kick from the right following a Raum foul on Weiser in the 40th. Raum actually ended up being the big beneficially after the service ricochetted off Bittencourt. Friedl halted Raum's couner with a questionable challenge. Jöllenbeck allowed play to continue.
Whilst the RB sidelines erupted in protest, Bremen got their own counter off in the 41st. Ducksch, working from the half-right, touched onto Füllkrug in the box. Füllkrug chipped over to the encroaching Jung, who in turn sent in a low cross. Jung presumably thought either Füllkrug or Ducksch would be back in time to receive. Neither one was. Gvardiol turned the ball out for a throw. Jöllenbeck took a moment to book an RB assistant for his protests.
The Hanseatic hosts got another great chance in off the subsequent throw-in. Pieper and Weiser neatly worked the ball to Bittencourt. The Leipzig native rattled off a powerful shot from close range on the half left after shrewdly shaking off both Schlager and Orban. Blaswich had to employ a sprawling save to keep it out. Were it not for some sharp play from RB's reserve keeper, the equalizer would have been scored right then and there.
Leipzig responded by keeping possession for the remaining three minutes of the half. There were no attempts to head forward amid several stoppages. Jöllenbeck was within his rights to tack on a few minutes of stoppage time, but opted not to with so many protests lodged from during the opening 45. One could hardly fault him for doing so. Half-time xG revealed that we had a tight contest on our hands. In point of fact, it was as tight as it gets.
Half-time xG:
xG Leipzig–0.41, xG Bremen–0.41
Evens-stephens.
Match Flow: 46th to 57th minute 
Without changes we continued. Weiser and Bittencourt initially put in some genuinely hard work on the right in the 46th and 47th. Orban and Gvardiol proved equal to it, however, and the SV attack could find no way through. Orban sparked a quick counter at the end of the second sequence and Silva was reached on the right via Schlager and Haidara. The Portuguese striker got held up by Stark. Szoboszlai got an effort off after Henrichs kept play alive. Friedl turned it away for a corner.
Szoboszlai's 48th minute service was headed over by Orban. Neither side could get their touches sorted out in the 49th, with both Henrichs and Weiser botching rushes up their respective flanks. Pieper eventually collected at the end of the 49th and Bremen bow-arced around the back to keep possession through the 50th. Some forward notions ended with Schmid and Weiser sending a pair of diagonals into the box that Blaswich had no problems collecting. After a brief period of drowsiness, Leipzig began to wake up.
Schlager sent Silva through in the 51st. Raum joined on the overlap and sent in a good cross that Stark blocked out. Schlager continued his impressive game by draw-drag touching outside the box after the half clearance until he could spot Szoboszlai open wide right. The Hungarian attacker hit a streaking Nkunku on his second stab at getting the ball into the box. The Frenchman sent a shot just wide of the right post. Bremen again took their time on the next build.
After some back-passing, Groß tried to unlock Bittencourt with a vertical in the 52nd. Schlager bumped the veteran off the ball. A nice switch from Weiser out to Jung in the 53rd saw Bittencourt get some more space central after a quick pass from Schmid in the 53rd. Füllkrug served as the final target central. Schlager was once again on hand to dispossess. The ball remained in midfield throughout most of the 54th. Friedl didn't have to much trouble stopping a weak Forsberg diagonal for Nkmunku at the end of the minute.
Leipzig went left, right, and back with the ball in the 55th. The ever-passionate Weiser stood up as the one SV actor who fought for the ball. Forsberg ended up fouling the former Leverkusen man after Weiser took the ball off him. Jöllenbeck deemed the action worthy of a booking for the Swede. Ducksch's 56th minute was met by Orban, who also did a fabulous job repelling a follow-up diagonal from Schmid. A most unexpected equalizer would come off the ensuing throw-in, however.
Schmid hit Groß cleverly after the throw and the 33-year-old did a fine job circling around Henrichs and Haidara to maneuver himself in a position to shoot from the left corner of the penalty area. The improvised effort looked ambitious to put it generously and the rock solid Orban found himself significantly unlucky to see the ball deflect off the tip of his boot. In any case, Blaswich was left without a chance to stop Groß' first ever Bundesliga goal. An event a very long time in the making for the Bremen native.
Parity restored.
Match Flow: 57th to 71st minute
Rose's men immediately ratcheted up the pressure in the hopes of restoring their lead. Forsberg went on a long dribble in the 58th, forcing a foul out of Jung. Bremen defended the ensuing Szoboszlai free-kick resolutely, but Henrichs eventually got a hold of one of the half-clearances and dips into the penalty area with some swagger in the 59th. Both Pieper and Friedl had to leap in order to block a pair of efforts from the German right back.
Jung eventually collected and hit Weiser with a nice switch. Szoboszlai fouled the SV wingback, atoning for his infraction by clearing Ducksch's subsequent 60th-minute free-kick. Schlager ran the next RB charge skillfully with some nice spread possession along the back line in the 61st. Schmid briefly interrupted the spell, as did Weiser. Jöllenbeck had to stop play when Weiser and Silva bumped chests after jousting after a loose ball. Henrichs and Jung collided once play resumed in the 62nd and we got another break.
Matters got rolling again with a Friedl free-kick in the 63rd. Schlager out-muscled intended target Bittencourt. Schlager quickly forwarded for Szoboszlai and the counter was on. Pieper tripped Szoboszlai up, yet Jöllenbeck allowed play to continue. The RB offensive press pounced on the ball regardless. Haidara, Schlager and Forsberg keep the play alive. Leipzig gained a free-kick in a promising position when Friedl took out Schlager in the 64th. Nkunku bent the 65th-minute service into the rafters.
Friedl required some treatment following an aerial collision in the 66th. The Hanseaten couldn't make much out of back-builds in the 67th and 68th. Some clearly weary legs in the back-four, most especially Friedl, couldn't keep the passing crisp. Once RB finally wrestled the ball back, some fast feet from Forsberg and a quick square from Nkunku saw Szoboszlai through on the right in the 69th. Henrichs arrived on the overlap and tried to hit Nkunku with a low-drilled cross. It remained just out of the Frenchman's reach.
Henrichs went for the switch out to Raum on the next RB charge in the 70th. The German national team's starting left-back worked the ball up the pitch together with Forsberg and Silva on a very sleek cycle. Silva spotted Schlager pushing in on the half-left. What followed truly counted as incredible goal. Schlager remained on his feet even as the pesky Pieper kept his hands around the Austrian's shoulder whilst trying to clip him out with his boots.
The only thing stronger than the hold-off was the finish.
What a tally from the match's best player!
Match Flow: 71st to 81st minute
Knowing Bremen as we do, a late-match comeback push wasn't a question of if, but when. Werner possesses his match-plan for such an occasion while his players possess the unshakable confidence that they can always compete right up until the very end. Werner even had a double-change prepared on the sidelines just prior to Schlager scoring. Nicolai Rapp and Jens Stage took advantage of the goal celebrations to check in for Groß and Bittencourt.
Emil Forsberg's number was also up with the fourth official. The Swede had to wait for Bremen to complete their change before (slowly) strolling off for Dani Olmo in the 72nd. Olmo on the pitch for Leipzig. Rapp and Stage as the Hanseatic reinforcements. The massive quality gap fully manifested. Still, one should never discount Bremen until the full-time whistle. While Werner's ranks reorganized themselves somewhat, a pair of SV charges ran through Weiser in the 73rd. Haidara had Weiser well marked.
Nkunku sliced through the somewhat discordant Bremen ranks in the 74th. The league's leading goalscorer hesitated a bit too long after breaking into the box central, but Szoboszlai was on hand to hit the ball first-time after Pieper toured away. Pavlenka saved the Hungarian's worthy effort to preserve the scoreline. Silva then sent the rebound over. Bremen ended up barely dodging the 1-3 bullet. One minute later, the hosts had a great chance to equalize.
Weiser, Schmid, and Stage worked the ball over to Füllkrug on the half right in the 75th. The Bremen striker supplied his attacking partner with a fantastic cross. Ducksch sadly furnished a rather tame header that Blaswich could fall down to collect. Blaswich took his time setting up the free kick so that Kevin Kampl in the 76th. Stage and Jung ran a semi-threatening sortie down the SV left in the 77th. Intended target Füllkrug couldn't get the final cross under control.
After Blaswich took the ball away from Pieper, an RB counter up the middle saw Stark collide with Nkunku in the 78th. Play continued whilst the Frenchman remained down. An exceptional SV drive in the 79th put Stage through on the half-right. The Dane tried to reach Rapp with an acrobatic scissor kick. Gvardiol intervened with a wayward header that Blaswich had to react quickly to reach. The RB keeper somehow got there and we got a chance to check on Nkunku and sort a few things out.
Lineup—RB Leipzig—80th minute (4-4-2)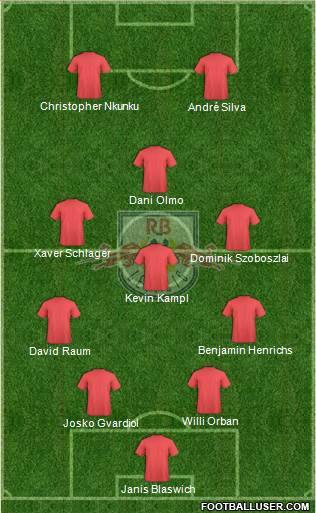 Basically, Rose wished to condense the midfield into a tight diamond with, keeping plenty of separation between the tightly chained middle axes and the strikers. This was accomplished with a pair of staggered subs, both of whom formed the crux of the midfield vertical axis. An ingenious idea if one may say so. The fresh-legged Kampl handled defense while Olmo stood ready to run the counter.
Werner got his next sub on during the break in the action in the 80th. Attacker Niklas Schmidt replaced defender Pieper. Clearly, this would lead to a radical change in the shape, though it remained clear that we wouldn't see the usual 3-3-2-2. Rapp had been settling in rearwards while Stage and Schmid fanned out to buttressing positions.
The ploy would work thusly:
Lineup—Werder Bremen—81st minute (3-2-3-2)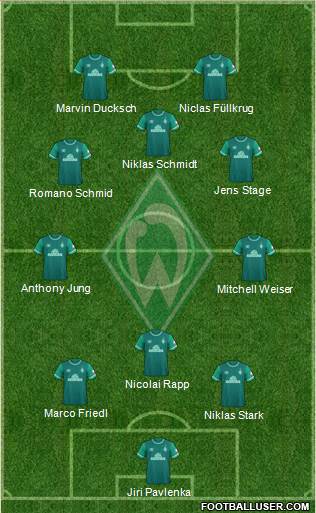 Also a pretty damned good idea. All that remained was to put Oliver Burke on for a four-attacker push in the waning moments. Werner would get to this later. First, there was another stoppage (booking) for a Stark foul on Nkunku in the 81st. Neither team seemed to have any qualms about letting Nkunku take his time getting up as both sides needed to marshal energy.
Match Flow: 81st minute to full-time
The Hanseaten allowed the ball to circulate amongst the RB ranks a bit after Szoboszlai's 82nd-minute free-kick went straight back. The Saxons ultimately opted to for forward via Kampl and Henrichs on the right in the 83rd. Nkunku got off a shot from close range that might have taken a slight deflection off Stark. A goal-kick was ruled in any case.
Rose ensured that it wouldn't be taken quickly, burning off the 84th with a double switch. Yussuf Poulsen and Marcel Halstenberg entered for Silva and Szoobszlai. An SV attack up the left run by Jung faltered in the 85th when Kampl feigned a challenged and the Bremen wingback stumbled. Friedl moved forward and was still able to work in a cross for Füllkrug at the beginning of the 86th.
Füllkrug's header went well wide on the left. Burke and Eren Dinkci quickly checked in for Schmid and Jung to round out the 86th. All the red shirts back in the box ensured that the hosts had little to no options on slow approach plays in the 87th and 88th. RB even managed to lurk dangerously on the counter, with both Nkunku and Poulsen just being missed by long balls on a pair of cases.
Nkunku did get a ball at the end of the 88th. Olmo received a chance after some nice work by Kampl on the half right. Schmidt saved his side with a monster tackle on the Spaniard. The subsequent SV counter sent Stage through, but the Dane couldn't pull the trigger on his shot in time to find a good angle against Blaswich. Instead, Stage went for the thread-in to Füllkrug.
Blaswich easily held the 89th-minute header. Halstenberg impeded Füllkrug on the next SV charge in the 90th. Through five minutes of injury time, Bremen pressed hard with great urgency. Leipzig defended harder. It was none other than Schlager who cleared a Burke cutback after Dincki sent the Scotsman to the byline at 90+1. Orban cleared a quality Burke square at 90+2.
Orban cleared another quality ball from Weiser in the same minute, and then (in all seriousness) cleared Weiser again at 90+3. Exhausted by their full power play, Bremen couldn't come up with any good ideas in the final two minutes of stoppage time. Rose's crew were able to run off a few seconds with a free-kick awarded late as well.
Whew!
Full-time xG:
xG Leipzig–1.88, xG Bremen–0.67
Good from the spry underdogs. Just not good enough against a faster and more talented team with better reserves off the bench. The – from the German football lover's perspective – "Inconvenient Rise" is complete. Freiburg had the decency to ensure that Leipzig won't spend the winter break in second-place. It's nevertheless something of a downer to contemplate that a 13-match-unbeaten places a non-50+1 side as the best poised contenders to challenge for the title when we resume.
Apropos depressing facts, Dortmund fans must truly be ready to give up and stick straws in their hair at this point. How intolerably said is it that their former coach leads the rise of his new team while their current (reinstated trainer) catches flak for getting his tactics just wrong enough to drop points at precisely the wrong time. BVB enthusiasts could have surely done without this conclusion to the calendar year. Is it too late to at least organize another one of those copycat Union Berlin Christmas concerts at Signal Iduna to lift everyone's spirits?
If there is a hopeful note to wrap this year's column up on, we can at least look forward to more matches like the one discussed here when the saga of Europe's greatest football league gets going again in January. Intense affairs full of tactical intrigue remain the norm in German football. The writer will gladly entertain, yet calmly ignore, any opinions to the contrary. We shall convene again, against the backdrop of football's most colorful fan scene, to witness more such thrilling contests once this Qatar business is finished.
The World Cup may be the greatest collective show on earth, but the best football still belongs to the Bundesrepublik.
Thanks so much for reading! You can occasionally catch Peter goofing off while watching non-Bundesliga football on twitter, @ViceytheSS.
Twitter DMs are open for football conversations, corrections, and (if you truly insist) general abuse. 
All columns debut on Bulinews before appearing on Peter's website as the season progresses.