Ahead of a New Year and the 2021/22 Bundesliga "Rück-Runde", we've some catch up work to do here on the profile website; three Bulinews tactical columns to be precise. Picking up where we left off with the full-colors, we'll begin with the Round 15 tactical bulletin. Two rounds prior to the Hertha loss, this was actually the matchdayt that the BVB truly fell their play for the title slip through their fingers.
Frustration sometimes manifests itself in the most complete way. It's not merely a missed chance on the pitch. The reality of the table hits the heart with thunderous pang.
Even the young. The fact that one has one's whole life and future ahead of them means nothing. Pain forces one into the present; a most unpleasant moment to be sometimes.
---
Bundesliga Tactical Banter: Round 15
---
Streich's Complaint
Possibly unmerited crankiness seems an apt enough theme for our initial section. Freiburg-Hoffenheim seems an apt enough place to start. We've all manner of officiating grievances to get through this round. Sigh. As if last week wasn't enough. There's even got some more controversy involving Dortmund to get to in the third section. Double sigh. Freiburg's last second defeat to Hoffenheim brings us to match official Frank Willenborg; a 17-year-veteran of German football reffing who awarded the TSG an injury time set-piece that swung the match in favor of a 2-1 Sinsheimer victory.
Even for an unabashed Freiburg sympathizer, Christian Streich's claim that the 42-year-old's decisions near the end decided the affair itself seems a stretch. Willenborg allowed an advantage play when Hoffenheim's Kevin Vogt tugged at Lucas Höler's jersey at 90+3. When the SC couldn't make anything out of it, the Kraichgauer were awarded a free-kick at the other end following a weak challenge by Janik Haberer on Sebastian Rudy. The free-kick led to a corner, which in turn led to David Raum servicing Chris Richards for the game-winning goal at 90+5.
Höler and captain Christian Günter were booked for dissent. Streich proclaimed Willenborg's interpretation of the tackles near the end an "incomprehensible absurdity". While one can find some merit in this case, the rules clearly stipulate that an advantage-play negates a subsequent free-kick unless the case is particularly egregious. The Breisgau hosts missed their advantage opportunity along with many others. Vincenzo Grifo failed to convert a penalty in the 62nd. Günter and Kevin Schade wasted several clear chances.
Discipline in the Freiburg ranks broke down in the final ten minutes. Keeper Mark Flekken had to bail the team out. Streich remains most respected trainer in the top flight by most German football enthusiasts. Moreover. Hoffenheim moving ahead of Freiburg for the final top four slot has us all feeling cranky. The case for an SCF win/draw on this day nevertheless appears pretty specious. The better team–spurned on by consistently top-level performances from Richards, David Raum, and Munus Dabbur won this time.
Svensson's Prickliness
Heading over to Munich now, FSV Mainz trainer Bo Svensson conducted a rather curious post-match press conference during which he lashed out at reporters for not asking him about an officiating controversy. The Rheinhessen themselves lost 1-2 to Germany's record champions at the Allianz. After fielding multiple questions on the result, the Danish head-coach broached the topic of a penalty call his side didn't get. With the full force of a girlfriend peeved about the fact that no one noticed her new haircut, Svensson then frothed over.
The Nullfünfter gaffer literally said, "Are you really not going to ask me about the penalty?". In a nod to last week, Svensson then grumbled, "If you were Dortmund reporters, you would have asked." The incident in question occurred during the 19th minute. Dayot Upamecano–still in shaky form as of late–clipped Jae-Sung Lee in the penalty area. The VAR team in the Kölner Keller did take another look at the scene, but, for whatever reason, match official Benjamin Cortus didn't take another look.
Svensson's case is even more spurious than the one covered above. Mainz put up an admirable fight. The marking gaps opening up in the penalty area late-on in the match nevertheless practically invited Bayern to score. The strategy for dealing with Julian Nagelsmann's high-press 3-4-2-1 requires very tight and compact lane management for a full 90 minutes. The Pfälzer guests only kept their shape for roughly 70 such minutes. Not good enough. Mainz also got their opening goal shortly after the scene. That's the reason no one asked Svensson about it.
The stress and strain of what is commonly referred to as the Bundesliga's "pre-Holiday Blitz phase" leaves everyone feeling irritable. A fresh set of COVID regulations and the third "Geisterspiele Era" certainly don't help either. When it comes to the topic of Bundesliga officiating, the writer can also report that practically every last German football lover is still pissy over the forced retirement of Manuel Gräfe last summer. The DFB forced our favorite–and arguable best–referee into the rocking chair at the age of 48. We all remain cranky over that.
Fischer cries foul
And, to round out this section, we'll cover Union Berlin head-coach Urs Fischer's assessment of Havard Nielsen's foul on Kevin Behrens in Sunday's SpVgg Greuther Fürth loss. Good lord, everyone's in a cranky mood! Is it not possible that, when playing a team as historically bad as Fürth, it might be incumbent on your team to figure out a way of scoring a goal. The FCU trainer insisted that Havard Nielsen very impolitely pushed Kevin Behrens aside in the run up to scoring the lone goal in Fürth's 1-0 victory.
Yes, yes. So very rude of the Norwegian to jostle for body position. Very impolite. It's almost as if football were a contact sport or something! Doesn't everyone realize that we're not sitting down for tea? Just when one thought it was safe to congratulate Fürth on their first home Bundesliga win ever (they never won at home in their only other season in the top flight), we've got to talk about the officiating. Fischer took care to stress that he felt his team was "inefficient" in front of goal. "Inefficient"? When one can't score against Fürth, that's called "insufficient".
Oh well. We'll congratulate the Kleeblätter on their historic first ever home win in the top division. Surely this victory meant a great deal to all of the…er…none of the fans that were allowed in to see it. This poor, poor club! They can't even have a few supporters around to commemorate what might be their only win all season. That's maybe the real reason everyone's cranky. Union's Thursday Conference League elimination also doesn't help. Now Max Kruse is getting cranky about the team's strategy. Uh-oh. That's never a good sign.
---
The Burning Questions: Round 15
---
Can Korkut's Hertha actually work?
Hmmm. Well, Germans don't necessarily wish to get the hopes of our capital city brethren up for the 13,465th "false dawn". Arminia Bielefeld also hardly counts as a solid measuring stick. Just about anyone can stomp that "Graue Maus" at this point. The thing of it is, oddly enough, that "die alte Dame" looked stable in an evolving system for the first time since Bruno Labbadia had them working in a regular 4-2-3-1 back in March 2020.
After some 18 months, there's at least a discernible attempt to build something. Like most Berlin construction sites, we can expect that there will be delays and endless set-backs. At least ground has been broken and some fresh gravel laid. Plenty of potholes left to smooth out, but we're getting somewhere.
Lineup—Hertha BSC—Match 15 (4-4-2)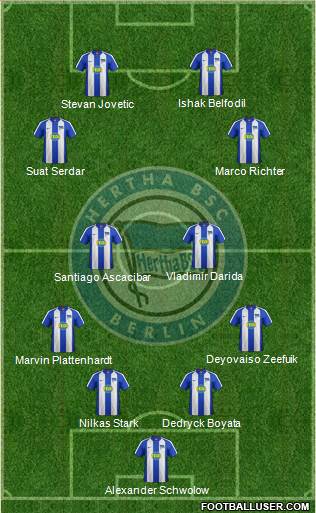 An even more rigid and less fluid 4-4-2 than last week. One immediately recognized quality upgrades (Niklas Stark, Suat Serdar, and Deyovaiso Zeefuik for Jordan Torunarigha, Peter Pekarik, and Myziane Maolida) on the team sheet. It still came as quite the surprise to see the squad perform so well so early in such a predictably stiff constellation.
The striking tandem
Somehow this works. Scarcely believable as it is, one finds oneself commending Ishak Belfodil for a second consecutive strong match. The Algerian striker recorded an assist for the second straight week. Here we have a player who's career appeared to be all but finished. The 29-year-old defies expectations by sharing a great intuitive understanding with 32-year-old Stevan Jovetic.
The pair didn't combine for an actual mention on the scoresheet until the 53rd. The tally happened to be very well deserved as the two of them executed slick position tricks all match long. The much maligned Davie Selke re-opening his Hertha account with a goal off the bench also counts as immensely good news. Now there's another option.
With the attacking department in the Hertha roster waking up, Fredi Bobic and the administrative team can play their cards right with respect to Krzysztof Piatek in the coming transfer window. The Polish attacker may ultimately prove an asset to the team. Other solid options nevertheless mean that the front office neither needs to be desperate in seeking a new striker nor too eager to sell Piatek at his depressed market value. A big help all of this is.
Suat Serdar on the wings
Again, very surprising how well this worked. The former Schalke and German national team midfielder usually operates in central midfield and very often plays deep. One can describe Suat Serdar as an embryonic Emré Can clone with just a tad more forward impetus. On this day, he really lit it up out wide. The 24-year-old had three great chances inside the opening quarter of an hour.
Bobic & Co. utterly failed to shore up many positions during the mot recent transfer window, but the lack of options on the left-flank probably hurt them more than anything else. Jovetic did well when asked to deputize there. Marco Richter had his moments too. It's undeniable that these two are better at their more familiar positions. Serdar's performance constitutes a most welcome piece of news.
Prince can (maybe) contribute something
A couple of weeks ago we really let the middle Boateng brother have it. This sentimental summer signing turned out to be a total bust. Lothar Matthäus' keen eye for decline appeared spot on. At least Sami Khedira made some positive contributions to this team at the tail end of his career last spring. At the very least, then coach Pal Dardai could insert him as a late-match safety pin in defensive midfield.
Thus far, the contributions of the Prince have consisted of what amounts to "jack" and "squat". Whereas Khedira occupied a "field-read" position capable of influencing a match late-on, Boateng (when healthy) comes of the bench to serve as a slow and soft buttressing attacker that influences nothing. In the last two matches, however, he has shown some faint signs of improvement.
About twenty of so touches saw him act calmly and rationally on the ball. Passing pick-outs were fairly sharp and he flew into a couple of challenges with some spirit. Admittedly, a slight uptick in form still leaves the Prince far from where this team needs him to be. And yet, there's something at work. One can tell that Korkut at least formulates an idea for how to use his regular 70th minute sub.
Prince doesn't need to make a huge contribution to this team in order to assist them in getting to a stable place in mid-table. Some late holding work will prove sufficient. What we've seen from Belfodil, Jovetic, and Serdar means that the Charlottenburgers can get ahead in matches. A solid closer could then help this team get a reliable foundational match plan. It is possible.
Where do Wolfsburg go from here?
Before getting to the future, we must first take a look back. The problem concerns the fact that we did try to warn everyone. Man, did we ever try to warn everyone!! All of the warning signs were obvious enough for everyone to observe. Even amid Florian Kohfeldt's early winning streak, we didn't hesitate to call it as we saw it. The former SV Werder Bremen trainer–followed closely by this writer for well over two years–has never been a leader capable of providing his players with a coherent strategy.
Here we go yet again discussing these blasted useless triple changes. Kohfeldt threw on Dodi Lukebakio, Ridle Baku (both of whom probably should have started) as well as Felix Nmecha in the 66th. Yet again, this total re-organization left everyone confused. The Wolves found themselves chasing the ball and chasing the game like amateurs. All of this against a Stuttgart side that collectively remains in horrible form.  No excuses. The squad has no ideas going forward and seems to have forgotten how to even enter challenges properly.
Kohfeldt's appointment felt both rushed and forced. One could say the same thing about the manner in which the 39-year-old trainer handles his in-match personnel changes. He routinely throws hastily assembled rubbish against the wall and hopes that it sticks. It reminds one of that non-footballing friend of yours who shamelessly pretends to know what he/she is doing with some 60th minute "tactical changes" during a round of Playstation FIFA on the console.
As extreme as it sounds, Wolfsburg may actually be headed for the relegation race. Many Germans tipped as such at the beginning of the season. Mark van Bommel inspired little confidence when it came to building sturdy constellational player axes. In this regard, Kohfeldt is even worse. Jörg Schmadtke now has no good options. A three-trainer season–tantamount to surrender–must be avoided at all costs. One never wishes to switch footballing philosophies thrice in one campaign. The wholly problem, however, is that Kohfeldt doesn't have much of a footballing philosophy to begin with.
Where do Leipzig go from here?
Another fair question. Here one beholds a different trainer appointment that feels both rushed and forced. Domenico Tedesco's appointment left plenty of German football enthusiasts cringing. Although the former Schalke 04 trainer partially rehabilitated his image with a brief Russian stint, the quick swoop for the German-Italian head-coach seemed a half-baked reach out for a recognizable name. Once upon a time, Tedesco enjoyed some respect in the Bundesrepublik's footballing circles. His second season with Schalke ate up that cache pretty quick.
Not much to report on tactically from Tedesco's first match in charge of the German Red Bulls. The 36-year-old stuck with the same basic formation Jesse Marsch had been using, though it certainly looked more like the 3-4-3 aspired to by the previous head-coach. Of course, the squad was massively aided by the return of Willi Orban and Mohamed Simakan. This allowed wingbacks Angelino and Benjamin Henrichs to avoid falling back into the protective back-five set up seen in recent weeks. Josko Gvardiol could also make his forward moves count.
The hosting Saxons grabbed control of the match early and never really relinquished the reins. Harmless Gladbach didn't truly challenge them. After André Silva scored the second goal in the 33rd, Adi Hütter's foals played like a shellshocked team. The 2-0 lead absolutely should have been increased. BMG keeper Yann Sommer (during the instances in which he was on in this one) presented the third goal, as did his crossbar. The remaining three goals in the 4-1 RB victory all came after the 88th minute.
A misleading scoreline. Leipzig definitely deserved the win. As was the case when Gladbach lost 1-4 away at Köln two rounds back, however, the late pile-on makes the winning team look far more clinical in front of goal than they actually were. It remains the contention of this column that there shall be more Leipzig stumbles over the course of the season. The team still suffers from the gutting Bayern gave the roster/coaching staff during the offseason. In terms of points, a top four finish remains within striking distance.
In terms of long-term prospects, it looks nearly impossible.
This side isn't even top-seven material yet.
Did Köln play all that badly?
Not at all, actually. A well-constructed 4-4-2 from Steffen Baumgart performed well in the intense Friday night home fixture against Augsburg. Salih Özcan once again ran the midfield serviceably. Everyone wearing cathedral city white went gallantly into the trench duels on Özcan's watch. Even though die Geißböcke couldn't find the back of the net in the 0-2 defeat, one could fairly say that they played a idea-driven form of football. Consistent pressuring yielded plenty of chances stopped by FCA keeper Rafal Gikiewicz. Set-pieces were designed well, even if execution was lacking.
The two-striker-set of Anthony Modeste and Sebastian Andersson continues to carry a great deal of potential. The Swede clearly improves gradually on a week-to-week basis. Augsburg's first goal came courtesy of a bad giveaway from Dejan Ljubicic, who himself didn't have a poor match on the whole. Niklas Dorsch's second simply counted as an unstoppable sensation. Köln did just fine. For a team thought to belong to the relegation race pack, they're doing exceptionally well.
When it comes to the midweek set of fixtures, Baumgart's side look a safe bet to get back on track against Wolfsburg. One can also tip Augsburg for an upset win over Leipzig. FCA trainer Marcus Weinzierl's new 4-1-3-2 press with Dorsch working as a solo-six carries with it plenty of its own potential. This happens to be a constellation that Leipzig are ill-equipped to deal with. A second-Schalke-season Tedesco flop on Wednesday might be in the cards. There's the column's big "hot take".
How about that SGE?
Yeah! That was something. Five unanswered goals against Leverkusen from five different goal-scorers! Much like Freiburg last week against Gladbach, the German Eagles spread the wealth around in Sunday's capper. A Patrik Schick brace stood no chance against this splendid team effort. The work leading up to Jesper Lindstrøm's equalizer at the half-hour-mark was simply textbook team-touch football out of the back. Martin Hinteregger, Rafael Santos Borré, Djibril Sow, Lindstrøm. Bam. 2-2.
More pinpoint services from Filip Kostic. More fabulous footwork for the suddenly on-fire Sow. Glasner's system does, contrary to quite a bit of popular criticism, come together. The writer toyed with the idea of giving it a draw up. In the end, it didn't make sense as it is basically the same 3-6-1 he's been using for weeks. Give the man some plaudits. After radically shifting his tactics around in the opening weeks, he picked something and stuck with it through thick and thin.
Two personnel rotations (Hinteregger and Danny da Costa for Makoto Hasebe and Timothy Chander) were made ahead of the big "Englischer Woche". Jesper Lindstrøm over Jens Petter Hauge just counts as a return. This still feels a little light. We shall see how Glasner's tired Eintracht do against Gladbach and Mainz before the Hin-runde closes out. The writer forgoes the draw-up and buries the praise in mid-column fully expecting at least one bad loss in the final two rounds.
---
Weekly Tactical Focus: The Yellow-Brick Albatross
---
Entering the weekend, the most eagerly anticipated match (at least from a German's perspective) had to be Bochum-Dortmund. One of the "Mini Revierderbys"–as the Ruhrpott rivalries outside Schalke-Dortmund are known–happens to be the only real rivalry in the Bundesrepublik's top-flight trackers have left. We all looked forward to the atmospherics of this one, verifiably quite strong despite the fact that the Castrop was limited to half-capacity. The 1848er crowd absolutely delivered. Actors on the pitch did so as well and we got a great football match.
Of course, all of us Bundesliga watchers had our eyes on this match for another reason. After last week's loss, Dortmund had the misfortune of facing a surging Bochum side that stood a very good chance of beating them. Scheduling very much worked against the BVB here. A draining loss to Bayern. A needlessly enervating midweek dead rubber in the Champions' League. All of this ahead of a trip to some fierce rivals in fierce form, desperate to knock off their near neighbors following 11 years out of the top flight.
It was such that some of us were declaring the title race dead as far back as round 13. Dortmund were only behind Bayern by one solitary point in the table. This in itself seemed way out of line with the way the two squads had been performing this campaign. All it would truly take was a pair of losses to sink Schwarzgelben hopes. Zero points against Bayern being almost a given, a second goose-egg seemed to beckon in the form of Bochum. Thomas Reis' VfL are a completely different team from the one Bayern spanked in round five. Rotten luck for the BVB that they had to face them in form.
As expected, the match ended in dropped points for the nearest title challengers. Marco Rose's era of "feast or famine" finally came to a close and Dortmund drew their first match of the 2021/22 campaign. Bayern, meanwhile, won and opened up a six-point gap at the top. Yikes. We might see Rose's BVB (Fürth and Hertha) close the gap a bit against Bayern (Stuttgart and Wolfsburg) in the final two rounds before the half-way break. They'll still be the clear and obvious second-placed team at the end of the Hin-Runde. Not looking good. This result marks a turning point.
So what happened this weekend in Nordrhein-Westfalen? Simply stated, the better constructed roster ensured that Dortmund couldn't escape with all three points. This isn't a match for flashing up the xG stats (roughly two to one in favor for Dortmund if anyone's curious). Instead, we've got a classic tale of well-procured veterans with clear roles over performing in a big game. That's Bochum. On the other side, we see the weakness of a poorly built, improperly balanced roster falters because a bunch of overpriced singings who lack confidence.
That's the Dortmund story….every…damned…year.
Lineup—Borussia Dortmund—Match 15 (4-2-3-1)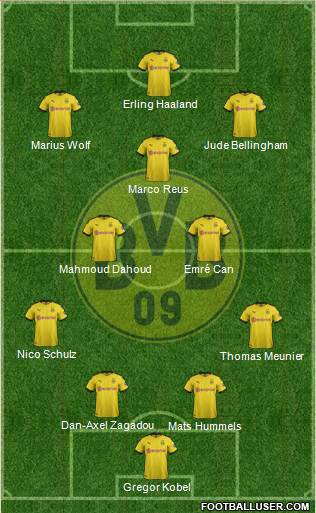 Rene Maric and Alexander Zickler filled in for the suspended Marco Rose this week. As we noted last week, those happen to be very competent assistant coaches. Unfortunately, they were very much hamstrung by injury problems. The Raphaël Guerreiro setback surely stung more than anything else, though the Manuel Akanji loss didn't help much either.
With the whole left thrown out of what–and not for the first or last time this year either–the safest thing to do was try to keep the basic shape from last week. What can one do when Thorgan Hazard (returning from more injury problems), Youssoufa Moukoko (out for weeks) Donyell Malen (sick), Ansgar Knauff (weak form), Reinier (underutilized, unhappy, and weak form), and Felix Passlack (underutilized and weak from aren't available?
Schulz, Wolf, and Zagadou
We certainly don't wish to give the impression that we're laying into this makeshift trio on the left. On the contrary, all three performed well under a difficult set of circumstances. Dortmund can count themselves lucky that Dan-Axel Zagadou has been able to jump back into the lineup and deliver solid football on such short notice. In this respect, the BVB have dodged a bullet.
There are nevertheless many bullets headed the BVB way. Marius Wolf isn't on his natural side or even the position (right fullback) where he can be the most stealthily effective. The constantly loaned out 26-year-old only narrowly avoided getting loaned out again this term. He's unfamiliar with his colleagues and it often shows. There have been some standout performances, but Wolf has mostly been just a shade above average.
Regarding Nico Schulz, we talked a bit last week about how obviously shaken and confidence deprived the one-time national team player looks. To be fair, he's had a lot to deal with in the last two-and-a-half years. Part of Dortmund's exorbitantly expensive summer 2019/20 transfer class, the fullback this club once paid €25 million for has proved a complete flop.
No more DFB call-ups for the oft-injured a visibly shaken flanker now worth an estimated €7 million. Incidentally, two other members of that famed 2019/20 summer transfer class (Julian Brandt and Thorgan Hazard) can't be properly classified as flops. Both of their market values have nevertheless taken a nosedive. Brandt has actually lost half his market value.
For what feels like the thousandth time, one has to call Michael Zorc out for improperly balancing this squad. He spends on general ideas rather than specific needs. Somehow people find themselves surprised when the puzzle pieces don't fit together. How Zorc thought it proper to enter the season with only Passlack, Schulz, and Marcel Schmelzer available to back-up Guerreiro is beyond many football watchers.
Other deficiencies on Zorc's roster include defensive midfield and both attacking flanks. Donyell Malen, a natural center forward, was never an acceptable replacement for a rotating winger like Jadon Sancho. Alas, we must stop here before the column descends into a full-fledged diatribe. Shall we have a look at a more sensibly constructed team?
Lineup—VfL Bochum—Match 15 (5-4-1)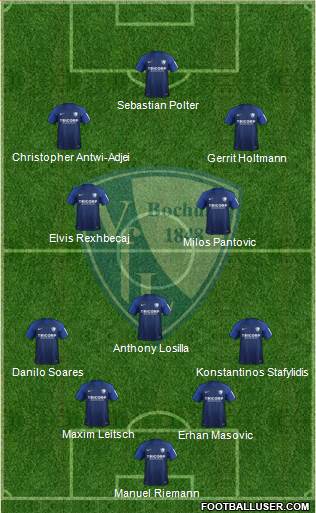 Thomas Reis has the right actors for this basic foundational constellation he's been using since the team began picking up momentum around week eight. Call it a 5-4-1, 4-5-1, 4-1-4-1. Any way you'd like it, really. It's flexible. An observer generally chooses the designation that best conveys manner in which it functions. This week the space between sweeper Anthony Losilla and the two eights made it look more like a straight 5-4-1.
Losilla and Soares
Been some time since we drew it up for Bochum. Not to suggest that the team's improbable rising up the table has been ignored by any means. If you'd care to comb back through all the columns, you'll find their exploits covered in detail every week. The 1848ers have been the main focal point of the sections covering their fixtures.
Hopefully, we've been giving this team proper justice. A deliberate effort has been made to give shout outs to the players who might be unfamiliar even to some German top flight enthusiasts. Anthony Losilla and Danilio Soares perhaps haven't gotten enough attention. The fact that they both rotated to and from the sweeper position in this case at least provides an excuse.
The Brazilian Soares came through a Austrian youth academy in his teenage years and has been playing for German clubs ever since. Some may remember him from FC Ingolstadt's brief appearance in the Oberhaus or perhaps the failed stint with Hoffenheim. In any event, one of the most German Brazilians anyone is likely to meet played a huge role in Bochum's 2. Liga Championship run last season and the turnaround last year.
The French born Losilla came over to the Bundesrepublik in 2012 and hasn't left since. Following two years at Dresden, he switched to Bochum and quickly rose to become the team's midfield linchpin and captain. An unexpected burst of offensive power from the 35-year-old Losilla and 34-year-old Robert Tesche last year propelled Bochum into the first division.
We were all just a tad concerned as to how Losilla and Tesche would work in the elite class prior to the start of the season. After some experimentation, Reis' solution appears to be a light rotation with Soares and either Tesche or Losilla. In most instances, a veteran guards the back-line, but gets the pressure taken off them with a fullback rotation. Neat trick.
Holtmann and Polter
These are the more familiar names; or the ones that should be in any event. Holtmann–the most German Filipino anyone is likely to meet–is actually a very talented speedster who can slice and dice his way through defensive ranks, albeit only on days when he's apparently feeling it. Many may recall him from his previous spell with Mainz.
Polter, whom most will recall leaving 1. FC Union Berlin under a horrible cloud during the early days of the COVID Era, has almost single-handedly saved this team's season. Simon Zoller's brutal ACL tear left the squad without their league striker until (in the best case scenario) the final phase of the season. The 1848ers would be absolutely nowhere without Polter's six goals.
Polter got kicked off of Union's squad for refusing to take a pay-cut after the March 2020 global lockdown. Many haven't forgiven him for that, though the citizens of Bochum probably find him worthy of a pay-raise at this point. One of this summer transfer window's most critical signings carries this team on the scoresheet.
Match Flow: 1st to 16th minute
We had our dead stretches without action in this one and there were a few in the opening quarter of an hour. Wolf won a decent ball in the 1st, but the impromptu winger's switch proved far too long for Jude Bellingham. Mats Hummels tried to telegraph in a long quarterback ball for Erling Haaland in the 2nd. It never looked like working. A corner resulting from it was played short by Mahmoud Dahoud to Wolf. The former Köln loanee's former Köln teammate Elvis Rexhbecaj had no trouble clearing.
Marco Reus found himself dispossessed on the next open-play sequence and a quick counter to Holtmann met its end with a good stop from Zagadou. Back the other way, a delicious turn from Bellingham in the 3rd ultimately got the ball to Haaland. Bochum closed ranks to scamper away the rush, then defended well on a pair of corners. Schulz and Wolf got a little something going on the left in the lead-up the latter one. Schulz unfortunately couldn't get the ball back in on the first service. Konstantinos Stafylidis beat Thomas Meunier on the second.
A long VfL build in the 6th ended with a failed attempt to hit Rexhbecaj central in the 6th. Can then tried for Haaland again with another hopeful long ball in the 7th. Rexhbecaj took care of the defensive work this time. Lots of possession changes during a prolonged lull between the 8th and 9th. Losilla stopped a pair of BVB builds during that phase. Wolf finally broke through again in the 10th. Schulz was as good as useless on the overlap.
After Schulz ran the wrong route on the next Dortmund charge in the 11th, another lull lasted all the way to the 14th. Bochum did extremely well during this three minute phase. Though the hosts weren't producing any exciting offensive action, they won almost all of the midfield duels. Rose's men were gradually getting beaten back on direct challenges. Even if the VfL were gracious enough to keep turning the ball over to their guests, they kept winning it back.
Holtmann finally got around Schulz in the 14th. To his credit, the BVB's emergency left back recovered this time and even picked out a nice pass after the cut-out. A fairly big blunder on behalf of VfL keeper Manuel Riemann led to the match's first legitimate attempt on goal from either side. Riemann failed to push clear with both Bellingham and Haaland lurking!
Perhaps taken a bit aback by their luck, the Dortmund's dynamite duo could only manage awkward touches to Reus. The Dortmund captain then awkwardly passed to no one himself. Riemann's blushes were spared. Perhaps Dortmund's as well as a Haaland foul in the tangle possibly rendered this clumsy workaround as an unofficial dead play in the record.
Match Flow: 16th to 24th minute
We got a lively phase next. The match opened up quickly following that first chance. Soares and Losilla did an excellent job on the left-cycle link-up play in the 17th. A switch across to Stafylidis nevertheless resulted in a poor takedown and giveaway. Reus charged back the other way and played Haaland through on the left. The Norwegian super-striker then crossed for a wide-open Bellingham. Riemann immediately got a chance to atone for his mistake. He did so with a terrific palm-away of a thunderous right-footed effort.
The 19th minute corner, already Dortmund's fourth of the match, also resulted in nothing. Dahoud's service went above everyone's head. Riemann collected easily. Soon thereafter, however, Bochum turned the ball over again. Bellingham tore up the right and tried to square for Haaland. Reus got a knee on the ball after the lead-striker misses. Riemann kept his wits about him and saw the deflected effort all the way. This time, the 1848er net-minder got a quick counter rolling via Christopher Antwi-Adjei. Zagadou missed the first challenge, but recovered in time send the VfL attacker wide.
Multiple Dortmund approaches between the 20th and 22nd tried just about everything. Bochum remained compact in the box, intercepting a series of whip-ins that came from seemingly all sides and angles. The hosts pushed their advantage in direct aerial duels to nearly 80 percent whilst never clearing far enough upfield to stop another BVB recycle and rush. Just as quickly as it opened up, the match tended back towards a stall as this pattern repeated.
Wolf tried to punch though on the right on a clearly designed flank rotation in the 22nd. Rexhbecaj, Antwi-Ajdei, and Milos Pantovic executed a nice combo about a minute later, with Zagadou, Hummels, and Meunier all closing down the space just in time. There would then be another calm down. The BVB defense line opted to pass the ball laterally among themselves until they could figure out a better plan of attack.
Match Flow: 24th minute to half-time. 
Eventually, Schulz opted to be the one to go forward. The former Nationalmannschaft fullback accelerated well and fought through Masovic easily in the 25th. His attempted cutback for Haaland nevertheless proved way too early to be useful. Haaland couldn't sort his feet out before getting blocked. A nice leave from Reus on the the play got wasted. The only thing capable of stopping another nice dribbling turn from Bellingham one minute later was a foul and cut out.
Polter headed another harmless corner away in the 27th, but Can and Hummels pushed the attempted counter back. Bellingham fought his way past three in the midfield on the next BVB charge in the 28th. He executing another delicious dribbling turn and back-heeled to Haaland, who touched down the service deftly and ripped another shot on goal. Riemann saw it early enough to reach and hold with his stretch dive. Stafylidis released Antwi-Adjei on the next counter. The play ended in a 29th minute shot on target; Gregor Kobel's first involvement in the game.
In the very same minute, Hummels broke the lines with a nice out swinger to Schulz. The left-back again couldn't get the cutback quite right. Bochum traffic ate the ball up. A couple of minutes of slow-roll football wouldn't end until Polter got loose in the 31st. Zagadou–finally displaying his first signs of rust deep into his second start–mistimed the tackle and fouled in the follow up. Dortmund kicked the ball out into touch for a treatment break.
Polter shook off the studs to his ankle and restarted the match in the late 32nd. The BVB soon recovered the ball, trying again to unlock the left in the 33rd. Schulz's very poor pass got intercepted. Zagadou, Reus, and Wolf bypassed Schulz to cycle out in the 35th. They eventually had little choice but to send the ball Schulz's way and Holtmann bested him fairly. Schulz lost his cool and threw an elbow. Things got a little heated for a second.
Match official Matthias Jöllenbeck stepped in a dissolved the situation without reaching into the book. After a brief intervention, play resumed. Dortmund tried again on Meunier's side in the 37th. The cross from the Belgian right-back came in too high and too deep to reach anyone. A quick vertical for Holtmann on the Bochum right proved too long to reach the VfL attacker.
More good moves from Bellingham in the 38th. The English phenom sidestepped with sublime ease before shuffling off to Reus, but the BVB captain saw his effort blocked. The initial counter ended up being harmless enough. Holtmann didn't really have anyone to aim for with a rearward cross from the touchline. Kobel thus strode out leisurely to collect.
Kobel might have gotten just a bit too comfortable on that grab. He did something unequivocally boneheaded on the next VfL counter. Deciding far to late to run out and make a challenge on Antwi-Adjei on the left, Kobel came in really late on a sweep challenge just inside the box. It was about as clear a penalty as one sees in football. Polter stepped forward to convert in the 40th for the 1-0 lead.
Dortmund were completely dismayed and dejected at falling behind. The collective slumps of the shoulder shone through in some ridiculously poor midfield builds over the next five minutes. Rarely, if every, does a team's body language exhibit such shockingly bad posture. With eyes to the ground, the BVB passed laterally and backward for five full minutes.
Jöllenbeck forwent time and blew immediately at the 45th.
Match Flow: 46th to 59th minute
Dortmund emerged from the cabin unchanged both tactically and personnel-wise. The Schwarzgelben still got off to a flying start that deserved a goal. A pity that we've more officiating controversies to discuss at the end of this passage. Hummels and Can pushed Meunier clear on the right and a the Belgian sent in a gorgeous cross to be met by the in-crashing Schulz at the far post. No fault at all with the left back's finish this time. Maxim Leitsch cleared one meter in front of the line with Riemann beaten.
A few seconds later the BVB's third row had the ball back into the box. Haaland saw a shot deflected out for a corner. Again, the VfL couldn't clear the danger and the visitors got in their next major chance in towards the end of the 48th. Reus maneuvered his way into the penalty area right. With a quick shimmy, he fired off an effort that Riemann could only get fingertips to. The ball floated toward goal with an insane amount of top-spin. Masovic managed to get to it first and cleared with a header just before Haaland arrived.
The determined guests kept the pressure on. After a pair of stoppages, the next opportunity came in the 51st. Haaland took a midfield ball from Bellingham down beautifully and twisted impressively for a quick spin around shot. Everything about the acrobatics was sensational. His laces nevertheless got too far underneath the ball and the effort soared over the bar. Reus and Bellingham combined well some sixty seconds. Bochum box presence was still robust enough to block the Englishman.
The hosting Westpahalians still couldn't get the ball out of their own half. Dortmund kept generating chances. Zagadou headed a corner over in the 52nd and Can saw a decent effort blocked in the 53rd. Bochum had an opportunity to calm things down a bit when Bellingham got caught offside in the 54th. Unfortunately, they turned the ball right back over again and the ball was in the ball was in the back of their net in the very same minute. It appeared as if Marius Wolf had scored his first goal back in black-and-yellow since 2018.
Alas, no. Bellingham didn't get back onside after another blocked effort landed with Haaland. The Norwegian's header forward for Reus, oh so beautifully touched onto Wolf with his back to goal, wouldn't result in Wolf's sniped finish counting. Bellingham was adjudged to have screened Riemann from his offside position. Uh-oh. Expect some more conspiracy theories to start cropping up again after this weekend. Who is this writer, kidding? They're probably already up. He just hasn't seen them yet.
In any event, Jöllenbeck caught hell from the Dortmund players after his VAR-suggested review led to the goal being waved off. Schulz got booked immediately for interfering with the ref's trot over to the video screen. A booking for Mats Hummels shortly thereafter might have been excessive. After all, the BVB actors had a right to know if Jöllenbeck called off the goal over the offside position or a false handball call against Reus in the lead-up. They didn't get it and Hummels let that spill over into the next call from open play after the game resumed in the 58th.
Match Flow: 59th to 67th minute
Unsurprisingly, there was quite a bit of turf diving and complaining amidst several attempted foul draws immediately thereafter. Footballers always do this when they think the ref might be in danger of losing control of the match. Nothing much other than stoppages between the 58th and 61st. Dortmund finally got one in a dangerous area in the 61st. Dahoud supplied perhaps his one good service of the match. Haaland executed another brilliant touchdown, but sent his effort nearly two meters wide right.
Reus sent Wolf through on the left on the next BVB rush less than a minute later. Riemann decided to rush out and, as a result, made the winger's ultimate effort seem a bit more dangerous than it might otherwise have been. Dortmund very much still had pace and ideas about them, though. Reus was up forward in space again in the 63rd following a free-kick. Riemann found himself totally beaten. This time Danilo Soares joined colleague Leitsch as the second Bochum player to clear off the line.
Fully energized and without the slightest hint of frustration, the Schwarzgelben ensured that there would be no break for under-bombardment Bochum. The next chance came in the 65th. Meunier's defected cross was inadvertently headed in the direction of the goal-line. Masovic managed to get it off the path with his knee cap. Hummels couldn't quite get the timing of his header correct on the subsequent corner. Everyone watched with a gasp as it bounced harmlessly off to the right.
Thomas Reis knew full well that the only way to stop Dortmund's momentum would be to stagger a pair of subs on. The VfL Bochum trainer had been trying to do so for some time, but the quick set-piece takes from the BVB kept his players by the fourth official. At long last, they were able to check in after the awarded goal kick in the 66th. By this time, Maric and Zickler had a pair of players they wanted to get on too.
Match Flow: 67th to 79th minute
Like-for-likes on the Bochum refreshers, though one could tell that it was part of a larger reorganization to take place later. The more defensive minded Herbert Bockhorn took over for Holtmann on the right flank while Silvere Ganvoula replaced lead-striker Polter. Maric and Zickler went straight for the formation shift, pulling Dahoud and Wolf for Brandt and Hazard.
Lineup—Borussia Dortmund—69th minute (4-4-2)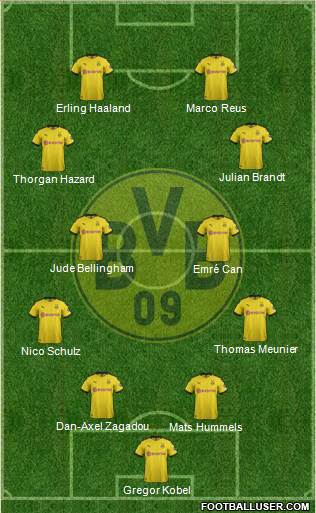 Another 4-4-2 re-format almost exactly like the one we saw last week. Perfectly predictable and perfectly logical. With fresh forces on the flanks and Reus moving up, expectations were high amongst the observers. Everyone took a couple of minutes to shift around. The hosting Westphalians took advantage of this to crowd the middle a stop a pair of Dormtund bow-arc builds, finally intercepting Schulz for another counter in the 71st.
Atwi-Adjei tried to send Bockhorn through with a piercing vertical. Brandt's first involvement was actually a slick piece of defending with the tip of his boot to stymie the attack. Dortmund could only manage to win a corner (73rd) and a free kick (74th) on their next two rushes. Neither one amounted to anything and the hosts drew some fresh air in their lungs on the stoppages.
The BVB drew another free kick in the 75th. Reus' service was not without danger, but Losilla proved equal to it. The defensive linchpin headed away for another corner. This one too came to nothing. Hazard thought he had Meunier clear on the overlap on the next piece of meaningful forward action in the 77th. The Belgian was in fact offside.
This was suddenly not looking good for Dortmund at all. We got still another Dortmund corner in the 78th. Bellingham left for Meunier, who could do nothing more than see another shot blocked. This led to the fourth corner in four minutes. Can rose to force a header directly into Riemann's arms on that one. One could feel the energy sapping with each new dead ball whistle.
Match Flow: 79th minute 85th minute
Reis pulled the trigger on his third sub in the 79th. One could see that Antwi-Adjei were gradually falling back while Rexhbecaj pulled in central. It thus came as no surprise to see a back-six settle in as soon as Robert Tesche entered for Pantovic. Christian Gamboa then followed on for Antwi-Adjei in the 80th.
Maximum protection from Reis seemed sure. It just about looked like game, set, and match when this crystallized:
Lineup—VfL Bochum—81st minute (6-3-1)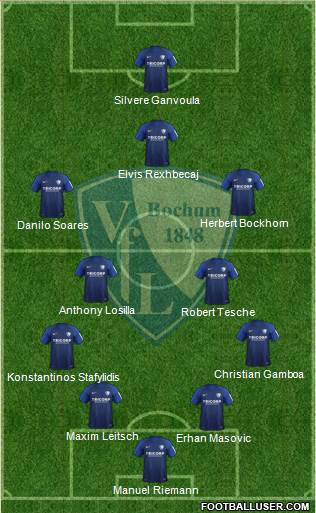 It might have been. Dortmund faced absolutely no way through. Bellingham forced his way his way through with some more individual brilliance in the 82nd. Seeing a wall of blue in front of him, however, he had little choice but to fire a distance effort that Riemann had plenty of time to see. Bellingham got a much better chance in the 83rd. Gamboa flicked a Meunier cross directly to his feet. The shot whizzed agonizingly close past the far post.
The BVB sent everyone forward and Haaland dazzled us all with his amazing assist on Brandt's equalizer two minutes later. Captain Reus hit Haaland in a non existent space. The Norwegian Wunderkind went ahead and created space for himself with some slick touch tricks. Even more stunningly, he had the presence of mind too see Brandt coming into the perfect position at the far post. The finish was all too easy.
Match Flow: 85th minute to full-time
The visiting Westphalians had managed to pull a draw out of nothing. Could there be a sensational comeback victory in it as well? Nope, as this one ended with fizzles. Haaland followed his sensational assist with a poor passing decision in the 86th. Another BVB corner in the 87th. Bellingham got blocked in twice in the 30-second-span before and after the last totally uninspiring set-piece.
Brandt followed up his neat finish with a poor control touch in the 90th. Haaland was again the set-up-man. Again, it was a questionable decision. Six minutes of injury time actually saw three quality counters from Bochum (90+1, 90+2, and 90+4). Zagadou had to employ a tactical foul to stop the last one. The closest BVB got to engineering something came via a hopeful ball well ahead of Bellingham at 90+5.
Haaland didn't grouse, curse, or scowl after the full-time whistle blew. He handled what likely means the end of his final Bundesliga title chase with some class, immediately removing his tricot for a swap and heading over to the traveling fan section for a bow and a hand. He'll chase titles over on the Isle next year. That should be treated as a fact. No sense believing anything different.
The BVB will pocket as much as €200 million from the sale. Best if they're prepared to spent wisely on keeping the club's depth this time. Sadly, a lot of the fully anticipated profits from the Jadon Sancho had to be used to offset COVID revenue losses. We all hope those will be a thing of the past soon.
Maybe, in light of all the evaporated market value from the 2019/20 window, Dortmund got lucky that they weren't permitted to spend like drunken sailors this time. Maybe the January 2020 transfer window that brought Haaland to Nordrhein-Westfalen in the first place contains the real lesson.
Was it really necessary to sell off Paco Alcacer in that same window? Sure, the player lodged the request. Sometimes one needs to stick to one's guns and keep a back-up option in place. Perhaps collecting back-up options needs to become something of a priority for this club.
That's always their problem. No Plan B.
Thanks so much for reading! You can occasionally catch Peter goofing off while watching the lower German football divisions on twitter, @ViceytheSS.
Twitter DMs are open for football conversations, corrections, and (if you truly insist) general abuse. 
All columns debut on Bulinews before appearing on Peter's website later in the week.