Ouch. Yet another Dortmund debacle to discuss when it came time to assess the 2022/23 German Bundesliga's penultimate round before the World Cup break.
A long face from the long and slender Englishman ahead of what shapes up to be a long season in BVB colors. Smiles and points became scarce for die Schwarzgelben during a final packed "Englisher Woche" that might of well destroyed their slender title hopes.
Credit is due to Germany's green company team for the manner in which they finished off the calendar year. That notwithstanding, German football lovers didn't exactly get the images they craved during the November 2020 "Englischer Woche". Could have done without a sad portend involving German national team defenders ahead of the World Championship.
Yikes! We would see that very same images in different (intolerably sad) colors within a couple of weeks.
Not good times!
---
Bundesliga Tactical Banter: Round 14
---
Bochum answer the call
In accordance with the wishes expressed at the end of the previous column, VfL Bochum managed to make an important statement with regard to their place in the relegation race. Thomas Letsch's Westphalians earned their third home win of the season with a 2-1 topping of Borussia Mönchengladbach. As a result, they've pulled themselves up to ten points. Always a pleasure to watch Bochum win at home. An even greater pleasure to wash out the unpleasant aftertaste of the last time these two teams met at the Vonovia Ruhrstadion. No beer mug throwing incident this time!
We'll naturally have to mention that Gladbach were without their two first-choice keepers. When Tobias Sippel, who finally put together a good game his last time out, succumbed to injury, 20-year-old Jan Olschowsky had to strap on the boots to make his Bundesliga debut. Though Tony Jantscke counted as an emergency deployment over the weekend, it was still a shame for the foals to lose him as he had performed very well in central defense. Nico Elvedi was pretty torrid in his return. The whole BMG back-four continues to look out of sorts amid all these forced rotations.
Credit remains due to the 1848ers, who were absolutely spectacular in the opening quarter-of-an-hour. Philipp Hofmann, Simon Zoller, and Christopher Antwi-Adjei combined brilliantly on the opening goal after some highly inventive early play from everyone on the team. When it came time to drop back and defend, the hosts took care of business in a disciplined fashion. Zoller and Ivan Ordets came close with later opportunities. The xG of the match (VfL 2.09, BMG 1.04) stood in almost perfect order with the final scoreline. And, yes, VAR correctly ruled Gladbach's late equalizer out.
This one was deserved.
Stuttgart leave it late again
Down in Germany's souther Württemberger Autostadt, VfB Stuttgart were able to delight their hometown fans with their second consecutive last-minute victory at the Mercedes Benz Arena. Some serious late drama as Konstantinos Mavropanos headed home the late winner at 90+8. Some continued interesting tactical goings-on in Swabia too as VfB interim trainer Michael Wimmer tried out the third novel constellation of his short tenure. Missing Chris Führich because of muscular issues, Wimmer ditched his 4-4-2 and tried out a 4-3-3 with Tiago Tomas and Silas serving as wingers behind Serhou Guirassy.
The attacking potential of this set-up manifested itself immediately. Tomas, who continues to heat up, put Guirassy through for the opening goal inside of three minutes. Surprisingly enough, splitting Wataru Endo and Naouirou Ahamada from their six pairing didn't adversely affect the play of either actor. Both were able to keep the home side in possession and the midfield play optically sound throughout the game. Lilian Egloff and Hiroki Ito might have played better (and finished some chances), but were largely solid. Overall, this felt like a well deserved victory for Wimmer's crew.
As for Hertha – unchanged in both tactics and personnel from the weekend close call with Bayern – what else can one really say? The potential of up-ticking actors can only be lauded so many times. Jonjoe Kenny did a wonderful job setting up Dodi Lukebakio's equalizer. Lucas Tousart had his moments in making the Hertha transition game look competent enough. Wilfried Kanga and Chidera Ejuke both fashioned chances off the bench. Same old story. The fact remains that this team needs to start picking up points. A winter spent in the relegation playoff place beckons for "die alte Dame".
"Symptoms of improvement" don't count in the table.
The Schalke Shocker
It has happened. Many of us have been proven wrong. Thomas Reis' Königsblauen not only earned a point before the World Cup break, they even took all three against FSV Mainz 05 with a disciplined 1-0 victory. The keys to the unexpected success of die Knappen? How about old-school tactics and consistency from a trainer who believed in his crew. Reis sent the same XI onto the field in the same formation that fought so valiantly over the weekend. Let the players be and they can sometimes fix it themselves.
Bo Svensson's Rheinhessen did bring their fair share of problems as well. Danny da Costa and Edimilson Fernandes both had defensive blackouts. The striking tandem of Marcus Ingvartsen and Karim Onisiwo waited far too long for services instead of stopping deep to affect the play themselves. Jonathan Burkardt, once subbed on, supplied some horribly weak finishes late. The Germany U21 captain missed at least three chances when all his team needed was one to equalize.
One might as well congratulate the Ruhrpott relegation candidates for the unexpected result anyway. Reis' crew definitely won't be gathering any joy against Bayern in a couple of days' time. It's still going to be a long winter break down at the bottom of the table and an almost impossible fight back in 2023. Nice matches from wingers Kenan Karaman and Marius Bülter. Florent Mollet also did well in the ten slot. All Germans like to see Simon Terodde score in the top-flight. We won't deny that.
The Two "Goal-fests"
Not to give short shrift two of the thrilling contests as part of the final simultaneous set of 20:30 kickoffs, but there isn't all that much to glean from Eintracht Frankfurt's 4-2 win over Hoffenheim or Union Berlin's 2-2 draw with Augsburg. The big news out of the latter match is that FCU trainer Urs Fischer reacted to the 0-5 defeat of Leverkusen by benching American striker Jordan and captain Christopher Trimmel. The regular Eisernen tactics, naturally, remained the same.
Union were considerably unlucky not to have grabbed all three points after they looked the far better side during a world first half in which all four goals were scored. Kevin Behrens slid right into Jordan's role easily as did Trimmel's replacement Niko Gießelmann. Both players hit the aluminum frame during a dominant Union second half. The hosting Köpenickers were essentially the only team playing down the stretch and most assuredly deserved all three points.
As for Frankfurt-Hoffenheim….wow. Having lavished praise on the likes of Mario Götze, Jesper Lindstrøm, and Daichi Kamada so many times in this column, is there really a need to do so again? All were excellent. All, save Götze despite being involved in two of the four SGE goals, got their names on the scoresheet. The Frankfurt attacking corps toyed with their Sinsheimer guests all night long. They played around them as if they were playing a team of a different age level.
Why, oh why, must there be a World Cup break for this team?
---
The "Burning Questions": Round 14
---
Why did Bremen get pounded?
In principle, the story could be as simple as Bayern plowing down a newly promoted 2. Bundesliga side. There's plenty from the 6-1 demolition that could lead one to such a simple conclusion. One can be forgiven for taking nothing more than that and moving on. On the other hand, Bremen's solid start to this campaign shouldn't be so easily swept under the rug. SV trainer Ole Werner – one of the Bundesliga gaffers who generally doesn't engage in tactical tinkering at all – tried something different against the record champions.
It proved disastrous.
Very bad tinkering indeed.
Lineup—Werder Bremen—Match 14 (5-3-2)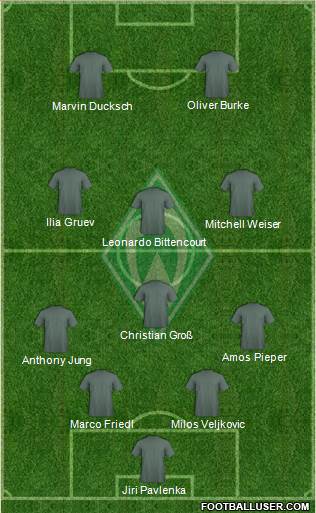 The idea here revolved around radically altering the build-up play. Mitchell Weiser and the young Ilia Gruev, both of whom had been in fantastic form as of late, were deployed farther afield than they had been all season. Leonardo Bittencourt and Christian Groß' respective assignments on a vertical chain involved absorbing the Bayern press whilst Gruev and Weiser fanned out. Quick verticals toward the striking tandem counted as their only real hope.
As Anthony Jung's early ball loss illustrated, it might have been a significantly better idea to keep Gruev back at not sacrifice the offensive potential of Romano Schmid. Weiser did a wonderful job setting up Jung's equalizer off a quick throw, but then went quiet as he had consistent difficulty sorting his positioning out. The former Leverkusen man struggled to sync his forward passes for Oliver Burke and Marvin Ducksch all night long.
One can respect Werner for trying this out and clearly ordering his men to advance forward as a unit throughout the entire match. The Hanseaten never truly lacked courage and conviction until the final ten minute or so. Of course, one can also make the case that there was surely a better opponent to try this out against. The gaps at the back were so inviting that it's somewhat surprising that the FCB didn't score ten or more goals.
Yikes.
What can we learn from Freiburg's defeat?
Not a pleasant topic for German football lovers, this one. How fitting that all three draw-ups in our midweek recap feature teams draped in black. Freiburg's loss to Leipzig, foreseeable as it may have been, leaves us in mourning. Most of us barely had a chance to grieve for Union after Sunday's debacle. Now the Breisgauer have fallen too and the two would-be cinderella stories can't both very well win when they square off this Sunday.
Sad. Either Freiburg or Union, possibly both, will be cut adrift from Bayern over the World Cup break.  The Bundesrepublik's favorite cult-trainer, knowing that he would face a stern test in the form of Leipzig's 11-match-unbeaten run, did something rather un Christian-Steich-like. Namely, he radically altered his tactics to semi-mirror what RB trainer Marco Rose presented over the weekend. Rose just rotated in a couple players while Streich now-towed to him.,
Lineup—SC Freiburg—Match 14 (3-3-2-2)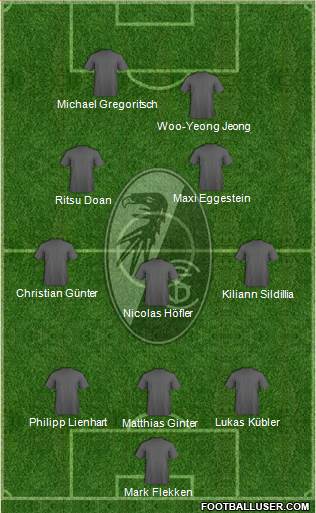 This never really came close to working. The sole reason the Saxons couldn't close it out early came from the fact that André Silva and Christopher Nkunku couldn't finish their first-half chances. The Leipzig short-passing game ran circles around Nicolas Höfler, whom had been overperfomring as of late and was well overdue for a poor match. Maxi Eggestein had real difficulty adjusting to his role high up. SCF skipper Christian Günter turned in his worst performance in recent memory. So rare to see the captain falter.
The German Red Bulls struck the post twice in the first half. Nkunku struck the crossbar early in the second. The two lighting-quick goals in the 54th and 56th would have been quickly followed by a third were it not for Mark Flekken's heroics. Lukas Kübler pulled one back on what was Freiburg's first real chance of the game in the 66th. Of course, it was Höfler who had to be responsible for the penalty that put the game to bed. Odd that Streich trusted him with a solo axis after all these years.
xG?
xG Leipzig–4.29, xG Freibjurg–0.15
Oh, the humanity.
Best to move straight on from this one.
How crazy are Leverkusen's tactics getting?
Pretty damn crazy one should point out. We only vaguely alluded to Xabi Alonso's "Schizo" 4-1-3-2 in the weekend column, in large part because the writer wasn't quite sure if that was even the proper classification for it. The Spanish trainer of Germany's red company team had die Werkself lined up that could have passed for a 4-4-2, a 4-3-3, or a mad 4-3-1-1-1 step-stone. Against Köln, matters for…er…well not all that much clearer.
Lineup—Bayer Leverkusen—Match 14 (4-3-3)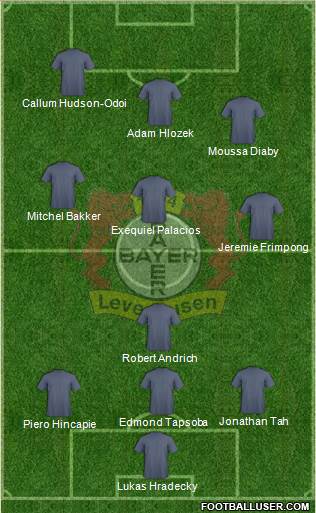 It's incredibly weird. The back-line makes sense. Robert Andrich has clearly moved back to bolt ahead of the shaky defense as a sweeper. Alonso also rotates his central defenders too; a wise enough move considering the likes of Odilon Kossounou, Edmond Tapsoba, and Jonathan Tah need to slowly re-cultivate the confidence they've lost over the intervening years.
Things get complicated when we move up to the midfield. Jeremie Frimpong and Mitchel Bakker are clearly working some sort of stagger, yet it's very difficult to make heads-or-tails out of it. Against Union, it looked as if Frimpong occupied the advance position. In the most recent fixture against Köln, the writer had no clue where Bakker, Frimpong, and Exequiel Palacios were supposed to be.
There's yet another stagger on the top axis. Adam Hlozek – still deputizing for the injured Patrik Schick – had something akin to a false-nine role against die Eisernen. Against die Geißböcke, Callum Hudson-Odoi and Moussa Diaby both appeared as if that could have been their charge. Honestly, in all his years as a tactics-nerd, this columnist has never seen anything like this.
Postmodern seems to have hit ultra-contemporary over the head.
The triple change
The graphic above constitutes little more than a best guess. to add still more confusion to all of this, it might be the case that none of this comes anywhere close to what Xabi intended. Understandably dissatisfied with the fact that his side didn't produce anything offensively during the opening hour, the new B04 gaffer pulled the trigger on a triple substitution in the 59th.
Nadiem Amiri, Amine Adli, and Odilon Kossounou came on for Hlozek, Palacios, and Tah. How quaint it would be if the basic foundational shape made made more sense afterwards. Sigh. It didn't. What on earth is one supposed to do when more staggers keep popping up on the overhead?
Lineup—Bayer Leverkusen—60th minute (4-4-2)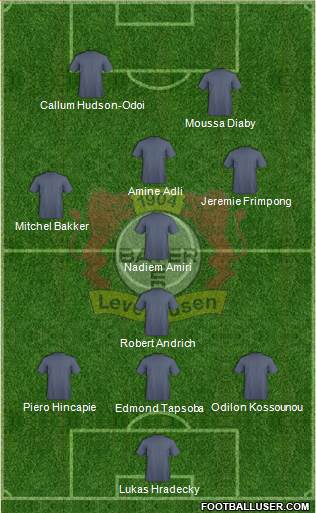 Err….maybe? There really didn't appear to be any sort of clear target-man in this approach. Amiri could have well been the ten, just as Adli could have been intended for the wing. One thing that was potentially impressive about it concerned the fact that – for a few moments at least – Bakker, Adli, Frimpong, and Amiri seem to have been executing some sort of synchronized rotation. If something like that is going on, there may be a method to all this madness.
Lessons from Leverkusen's second straight win
We'll need to note that, xG-wise, die Werkself did maintain a 1.49 to 1.14 advantage. The 2-1 result nevertheless remained somewhat flattering from the observer's perspective. Leverkusen's play was pretty limp for much of this match and Alonso's men were far too passive against the ball. One disadvantage of all these staggers and rotations is that it can really be difficult to keep the press organized and coherent.
Amiri's free-kick equalizer took a generous deflection in off Kingsley Schindler. Diaby and Frimpong didn't need set positions to run over Köln's defense on what proved the game-winner. Lukas Hradecky also kept Köln out of the net with several fine saves and Steffen Tigges struck the crossbar late. This Rhein-derby (which the column always wishes to remind readers isn't really a fierce rivalry) could have swung differently.
This weekend's fixture against Stuttgart should prove a tough test for Xabi's XI. It's not at all clear that this team is on a legitimate roll; no more than it's clear precisely what the new trainer is aiming for on the pitch. Lessons remain few and far between here. So much needs to be still sorted out. About all one can say for certain is that the back-line has at least gleaned some stability and identity back.
---
Weekly Tactical Focus: Analyzing the latest BVB stumble
---
The weekend column practically set up this round's curtain-raiser as the match to circle heading into the midweek fixtures. Inquiring German football minds simply needed to know. After three consecutive victories, and five matches unbeaten on-the-trot, how real are Germany's perpetual also-rans? Can we really start believing in Dortmund this time? Are the Schwarzgelben truly on the verge of an awakening? How would Terzic's Westphalians stack up against a Bundesliga team itself on a hot streak?
Well. We didn't exactly receive a definitive answer to those questions here. Wolfsburg-Dortmund proved an immensely entertaining encounter that, despite the result, had a lot of positives for both sides. In this week's analysis, there's no shortage of positives to report upon insofar as the BVB are concerned. We'll talk a lot about which players – including and most especially German national team defenders Mats Hummels, Nico Schlotterbeck, and Niklas Süle – did below.
What regrettably cannot be denied when it comes to this club, however, concerns the fact that five losses this early in a campaign leaves us with some fairly adverse consequences for the title race that shall resume with the new calendar year. It appears as if there's already too much ground to make up. Dortmund fall too far behind before the Hin-runde is even close to be completed. They'll like have to run the table once league play resumes.
That's the bad news. Perhaps we can at least emphasize that, some poignant criticisms of Terzic's tactical and personnel decisions notwithstanding, Dortmund didn't exactly phone it in against a side that hadn't beaten them since 2015. Under previous coaching regimes, this would be precisely the sort of match that the BVB actors would not take seriously enough. German football lovers might recall the, possibly apocryphal, tale of Acki Watzke standing at a stadium urinal claiming that his club's performance as "good enough for soft opposition.
That didn't happen here.
Full-time xG:
xG Wolfsburg–2.82, xG Dortmund–1.76
We've a match without a real "lid" to discuss this time.
They fought.
Lineup—VfL Wolfsburg—Match 14 (5-4-1)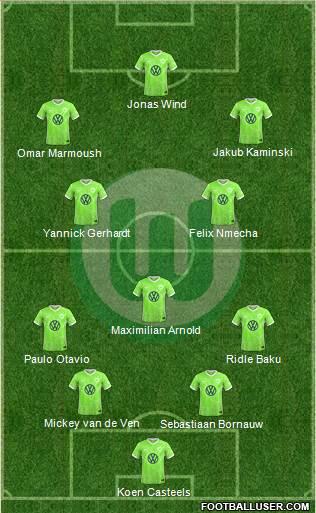 Fairly straightforward stuff here. We've been talking about the manner in which Kovac has been adhering to a system that works for him for several weeks. After an early stage to the season spent desperately trying to throw something to the wall and hope that it stuck, the former Eintracht Frankfurt and FC Bayern München gaffer made it clear that he aimed for stability in the form of the same XI week-to-week.
The mere desire to trust roughly the same personnel in the same constellation initially translated to a 4-4-2 with Luca Waldschmidt and Lukas Nmecha up top in a double-striker set. Josip Brekalo and Mattias Svanberg worked the wings. Bartol Franjic paired alongside skipper Maximilian Arnold in midfield. Thankfully, Kovac switched to the current system after the international break and made tweaks.
The VfL's impressive run (now wight games unbeaten on-the-trot) has just about everything to do with this set-up; something that seems a bit obvious in hindsight. The broken nature of the link-up-play screamed for someone with Arnold's experience to handle builds from his own solo axis. Without the captain's presence, far too many passing errors precluded this squad from creating any danger up front.
Kovac, with the benefit of some more time with his team, eventually came to see how things were meant to be put together from the bottom-up. The WOB head-coach also benefitted from some unforeseen from surges from a trio of players. Few would have guessed that Felix Nmecha, Yannick Gerhardt, and Ridle Baku would suddenly rise. One should at least credit Kovac for noticing this before most of us did. 
Lineup—Borussia Dortmund—Match 14 (4-1-4-1)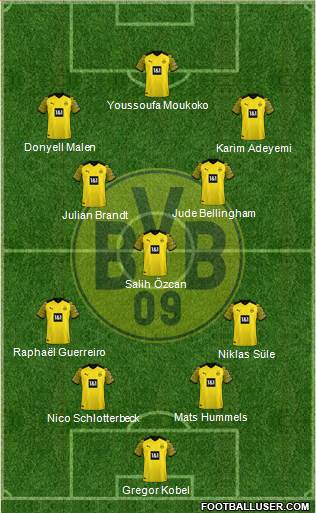 One's knee-jerk reaction after watching Dortmund yet again fail to turn some promising tailwinds into consistent momentum involves, of course, questioning the team's mentality and (as per usual) grousing that the BVB shall never produce consistency. This round's analysis won't bash in such a fashion. In general, die Schwarzgelben didn't play a poor game. We will zero in on a pair minor coaching criticisms.
The change of shape
Contrasting this 4-1-4-1 with the one we saw just three days' prior, it's clear that the BVB trainer wanted his wingers in a higher deployed position. Julian Brandt and Jude Bellingham moved back to help Özcan out. Ostensibly, this stemmed from both Özcan's comparatively troublesome performance in the previous fixture and the need to mirror Wolfsburg's midfield set-up more closely. Not a bad idea at all.
While Özcan certainly benefitted from the extra help and no one in yellow could be said to have turned in a wretched game, the time it took for the team to adjust to this shift proved fatal. As Mats Hummels himself put it in his post-match interview, the opening five minutes enabled the Lower Saxon hosts to seize the initiative. Sometimes that's all it takes. A decent recovery from the guests just wasn't good enough.
Two personnel critiques 
The column wishes to first draw attention to the one personnel change Terzic employed from Saturday's win. Giovanni Reyna was rotated out in favor of Karim Adeyemi. Though the stated ambition to take things slowly with the American phenom after his injury-plagued campaign last year remains logical, it's worth questioning how much longer the 19-year-old needs to be treated with kid gloves. Perhaps the time has come.
The columnist will reiterate that he didn't think anyone on Dortmund played terribly, but Adeyemi didn't constitute an upgrade over Reyna at all. the German international's first-half proved a total flop and, despite involving himself more positively after the restart, one should also question Terzic's decision to leave him on the pitch. Reyna could have, and very likely should have, come on at the half.
The second critique acknowledges that Niklas Süle's recent liftoff since returning to the right-back role leaves Terzic in a precarious position. As evidenced by the number of times the team switched out to Süle wide right in this one, the BVB trainer has an excellent starting right fullback. At the other end opposite Süle, Raphaël Guerreiro remains the natural choice to start when healthy.
Unfortunately, this leaves no room for Thorgan Hazard; a player doing exceptionally well as a fullback (and even better out of the back left) in Guerreiro's absence. Phrew. Not to suggest that Terzic's personnel choices are anywhere near easy. One can nevertheless discern that a few slightly different choices could have made the difference here. Hazard might have also come on for Adeyemi at the half.
The margins were that close.
Match Flow: 1st to 6th minute 
Match official Bastian Dingert didn't exactly get proceedings off to the fairest start. Adeyemi intercepted a ball from Arnold and, after a one-two with Bellingham, was off to the races in the 1st. Arnold crashed into Adeyemi clumsily while trying to contest Bellingham's return aerial ball. Dingert whistled when Arnold crashed down to the turf, negating a BVB counter. Wolfsburg then calmly took control of possession, hanging onto the ball through all of the 2nd and much of the 3rd.
Following a couple of bow arcs, Jakub Kaminski and Jonas Wind got things rolling up the WOB right. Kaminski burst into space after a sleek-give-and-go with Wind. The Pollack's cutback in Wind's direction was then cleverly left by the Dane. Omar Marmoush latched on with a powerful first-time hit that Gregor Kobel did very well to beat away for a corner. Felix Nmecha headed Arnold's 4th minute service on target. This time Kobel could easily collect.
Kobel sat on the ball for a time surveying his options. The Wolfsburg press preyed upon the hesitancy and immediately got the ball back once the BVB keeper played out. Baku and Mickey van de Ven both carried forward in the 5th to no avail. By the end of the minute, however, die Wölfe were once again making inroads up the right. Kaminski and Wind combined again deftly. Kaminski sent in another cross, which Bellingham had to deflect out for a corner.
Some hard luck for Dortmund on the ensuing set-piece. Nico Schlotterbeck, rising high to contest an intrepid duel with Sebastiaan Bornauw, inadvertently flicked the ball on to the waiting van de Ven at the far post. The WOB's Dutch center back – whom had his fair share of problems earlier this season – glanced home for his first goal in the colors of his new team. Bornauw could have just as easily been credited with the assist as it was he who forced the German defender into the deflection.
1-0 to the hosts.
Match Flow: 6th to 23rd minute
The NRW guests appeared a little rattled in the immediate aftermath. Schlotterbeck bucked up with a brave carry in the 7th, but saw his diagonal easily dealt with by the waiting Arnold. Malen dropped very deep to try and win the ball back in the same minute. Neither he nor Guerreiro could ultimately hold onto the ball. Wind and Arnold created some trouble back the other way off a Baku throw-in in the 8th, with the latter sending in a return through just a tad too tight. Süle intercepted.
Süle found his way past the hard WOB press on his third go. Brandt and Malen found their way up the BVB left after Süle switched. Bornauw was back waiting to clear away Malen's cross. Despite the fact that Bornauw couldn't clear very far, Dortmund couldn't really get the ideas to come together on the edge of the area. Youssoufa Moukoko central against four central in the 9th didn't work. Neither did Süle out wide right on a play from Hummels or a busted Brandt, Süle, Adeyemi cycle.
The BVB nevertheless earned a corner for their efforts. Schlotterbeck headed Brandt's 10th-minute service over. Schlotterbeck was able to stop the next WOB charge. Özcan, Malen, and Guerreiro cycled up the left in the 11th. With Schlotterbeck and Adeyemi coming up to help, Süle eventually worked in a cross for Malen, who furthered for Moukoko. The German phenom, distracted by the fact that the ball deflected off of Baku's resting arm, couldn't find the right finish.
Another Brandt-Malen-Moukoko cross in the same minute ended when a trailing Guerreiro lost the ball. Wolfsburg were back on the march in the 12th. Bellingham picked up a square intended for Marmoush. The BVB Englishman's own counter was then cancelled out by Marmoush on the track back. Marmoush pumped the brakes on his own counter as he noticed that the support wasn't there. The Egyptian international shuffled off to Nmecha, who was happy to slow matters down with some careful circle touches at the beginning of the 13th.
Paulo Otavio came up to collect from Nmecha, ultimately turning the ball back over to Dortmund with a misplaced pass. Nmecha remained tenacious and got the ball back. The Germany U21 international's 14th-minute cross for Marmoush in the area came close to connecting. Hummels, with a great deal of difficulty, was finally able to clear after some pinball inside the box. Wolfsburg still picked up the clearance and, via Baku and Kaminski, charged up the right again. Guerreiro supplied a quality stop.
Brandt and Malen saw their 15th minute combo busted up by Kaminski. Malen still clawed the ball away from Kaminski and sent it back to Özcan for a reset. Some nice switches and an elegant dribble from Bellingham in the 16th provided optical pleasure without producing any penetration. Bornauw, Wind, and Gerhardt ran a decent WOB counter on the half-right in the 17th. Süle stopped and tried to play Adeyemi through for his own counter. The sequence ended in Adeyemi committing an offensive foul.
Schlotterbeck, Malen, and Brandt could only cycle backwards at the end of the 17th. A gorgeous Hummels switch for Malen in the 18th also counted for naught when the BVB Dutchman's cross missed Moukoko and diverted off Octavio's arm. There were again appeals for a handball. Just as was the case with the earlier incident involving Baku, Dingert waved them away immediately. In both instances, the ball hit the WOB defender's resting arm.
Hummels and Malen found themselves frustrated on a somewhat-too-intricate attempt to play in Bellingham at the end of the minute. The Westphalian's nevertheless got their act together on the next rush to generate a worthy chance. Another glittering switch from Schlotterbevck out to Süle initially produced nothing when Brandt lost out on the shuffle-in. Bellingham kept his eyes focused on van de Ven, however, and picked off the pass out of the back.
The BVB Englishman expertly linked up with the onrushing Guerreiro and Dortmund's Portuguese left back sent in a superb cross in for Malen. WOB keeper Koen Casteels saved an almost certain goal off Malen's stretch-leg finish in the 19th. An absolutely sublime team passing sequence from the guests followed in the 20th. Seven of the ten BVB outfielders worked the ball around. Süle finally claimed it in plenty of space on the righty. Bornauw somehow managed to block Süle's cross in.
In a clear sign that momentum was shifting in favor of the NRW guests, the hosts received their second heart-in-throat moment in as many minutes in the 21st. Bellingham made the next charge happen with some fancy footwork. After the Englishman was blocked central, Malen popped off a stinger from the half-left. Casteels got his reaction sorted out just in time to deflect and Bornauw scampered away for a throw. Malen would flash off with a less tenacious effort off said throw.
An egregious passing error from Bornauw led to another BVB chance in the 22nd. Bellingham had to work less hard to pick off the Belgian this time. Van de ven bailed out his defensive colleague with a crucial tackle away from Moukoko after Bellingham furthered for him on the half-left. Wind helped out to clear Brandt's service on the ensuing corner out. The result was another corner in the 23rd. Brandt swung out to Malen this time. Bellingham's return vertical was regrettably past him and everyone else.
Match Flow: 23rd minute to half-time
Quite the treat football lovers got in this one as we witnessed plenty of end-to-end action right up until the half-time whistle. The Lower Saxon hosts furnished the right reaction to the BVB surge that had been steadily building since their opening goal. A quick throw-in in the 24th gave Kovac's men their best chance since the tally. Marmoush cut inside on the half-left with blistering pace. The Egyptian international's own quick feet meant he kept his eye on the ball rather than look up for teammates joining him on the break.
It was such that Marmoush forced Kobel into a tight-angle, yet certainly not easy, save when Kaminski was wide open on the trail. A quick BVB counter fizzled out when Adeyemi failed to shuffle out to a well-marked Brandt. Marmoush got another WOB counter rolling in the 25th. The Wolfsburg attacker did much better to pick out Wind this time. Luckily for Dortmund, Hummels halted the Dane with one of his better tackles of the evening. A long launch back the other way from the German defender was easily collected by Casteels.
Adeyemi's press against Casteels led to a nervy moment. After the WOB net minder cleared, the Westphalians were able to maintain possession through the 26th. Some calmer builds involving Hummels, Süle, and a deep-dropping Brandt found their way to Özcan. Attempts by Özan to play out to Guerreiro and Bellingham still went nowhere. Gerhardt interrupted in the 26th while Bornauw broke up play in the 27th. At least the brief lull allowed some of us to catch our breath.
Malen showed some decent creatively with a twisting and turning run in the 28th. Everything went well until the BVB Dutchman played a final ball well beyond Moukoko. Die Wölfe went for a bow arc build in the 29th. Baku and Wind got some promising touches on attempted forward play in before being forced to retreat on the right. Gerhardt and Marmoush had better luck on the left at the half-hour-mark. Gerhardt's eventual cross was a little behind Wind, however, and the Dane headed over whilst falling backwards to meet it.
Baku stepped forward to pick up after a Marmoush ball loss in the 31st and unleashed Wind again. This time the Dane was wide open with most of Dortmund's rear-guard overcommitted. Süle executed a goal-saving-tackle as the last man standing. More danger resulted from the subsequent corner. Kobel fisted away Arnold's 32nd minute corner, but only as far away as Baku. The resurgent German international sent the ball back in for Wind, who in turn slipped in Kaminski. Guerreiro saved his beaten keeper by clearing off the line.
A pair of counters from both sides in the 32nd and 33rd kept this affair's insanely accelerated tempo. Dingert declined to whistle when both Adeyemi and Marmoush were brought down at the end of their squad's respective charges. Fair-play on the ref for letting the actors play. Dingert did intervene when he felt that Adeyemi had committed an offensive foul in the 34th and we finally got a stoppage. The next WOB rush in the 35th featured a nice glide-by from Marmoush and a good central cycle from Arnold and Nmecha. The latter played beyond Kaminski.
Moukoko dropped deep to get something going for his own team in the 36th. Bornauw bumped the weekend's star off the ball. Marmoush then drew a free-kick not long after Wolfsburg regained possession. Three BVB players closed down Gerhardt after an uninventive 37th minute back-play. Marmoush took a 38th-minute throw-in too quickly. The ball sailed over Gerhardt and Dortmund reset on a slow-build. Nmecha eventually dispossessed Hummels on a 39th-minute carry-out.
Thanks to a high-press from Schlotterbeck, Dortmund were able to get the ball back upfield quickly again. Bellingham, Süle, and Adeyemi did well to put though Malen on the right. A serviceable cross from the Dutchman still wasn't all that easy to adjust to for Brandt in the box. Brandt ended up up tracking it beautifully on the back-pedal and sent a header in that just barely went over the top left corner of the goal. Back the other way in the 40th, Marmoush, Nmecha, and Baku cycled excellently on a drive. Marmoush's finish missed the post by millimeters.
Baku and Nmecha combined brightly again on a rightward cycle in the 41st, this time joined by Kaminski. Bellingham ultimately broke it up and, via Brandt, put Moukoko into the box on a quick counter. Bornauw and Otavio were back to block. The spinning ball nevertheless landed with the trailing Bellingham and van de Ven had to be on point to block the second effort and clear. Dortmund had Süle through on the right again in the 42nd. Otavio rescued his side again with a scamper out for a corner.
Süle would get another chance off Brandt's 43rd-minute out swinger service. The former FCB big man took the ball down with a splendid touch. The finish, wide of the right-post, might have been better. A respectable BVB build in the 44th got cut short when Bellingham turned the ball over after a quick free-kick. Bellingham recovered in time to redeem himself with a stop of the streaking Marmoush down the left. Dortmund attacks in the 45th and 45+1 twice went over Süle on the right. Gerhardt proved equal to Süle on both occasions.
Süle would get another chance before we hit 45+2. Nmecha committed a silly foul on Özcan after initially repelling a broken charge from Moukoko and Malen. Terzic's Schwarzgelben took the free-kick quickly. It turned out to be a nice design as well. Schlotterbeck inventively played back for Guerreiro. The Portuguese left-back's slightly deflected cross landed on Süle's boot. Süle's direct shot struck the post, then touched off Nmecha for a corner.
As if all this wasn't enough, Süle would get another chance on the last play of the half at 45+2. Brandt's service went directly to him. Süle unfortunately headed straight into Nmecha's stomach. Brief appeals for a handball, the third such BVB grievance of the half, were quickly quieted by the replay. There remained much to think on as the teams headed into the tunnel. The intense first half – not to mention all the full lateral switches – surely left chroniclers other than this one exhausted and slightly crosseyed.
Half-time xG:
xG Wolfsburg–1.72, xG Dortmund–1.46
Well-reflective of what we all witnessed.
Match Flow: 46th to 72nd minute
In the midst of this packed "Englischer Woche", there were no changes from either head-coach at the break. As noted above, this writer thinks Terzic should have at least considered bringing either Reyna or Hazard on for the second 45. We wouldn't see them until much later, lamentably when most of the rest of the team had run out of steam. To the credit of both sides, the overall level-of-play remained energetic, industrious, and creative for much of this phase. That's no small feat considering how intense the first-half was.
Dortmund began on the front foot. Hummels, Özcan, Malen triangulated up left in the 46th. When that ran into too many neon-green tricots, Özcan hit Süle with another brilliant switch. . Malen could find  found no way through on the return ball in the 47th, but did earn a corner off Arnold. Brandt's service proved too poor to make anything out of. Özcan lost the ball from the second ranks and Marmoush nearly broke through on a counter. The Egyptian dallied an bit too long on the ball and Özcan recovered.
Bellingham, Guerreiro and Süle went up the left in the 48th, nearly unleashing Moukoko. VfL skipper Arnold cleaned Moukoko's clock with a fair sweeping challenge. The next WOB charge in the 49th ran through Wind central. The Dane was fouled by Özcan. Nothing came off a high Nmecha service beyond everyone. Arnold did well defensively again in the 50th, outrunning Brandt for a long vertical on the left. Arnold would foul Bellingham illegally after being dispossessed seconds later. A quick free-kick from Schlotterbeck got the ball out to Süle again via Özcan.
Süle dug another corner out of the play and Brandt's 51st-minute service was significantly better this time. Bornauw ended up blocking Adeyemi. Nmecha had to foul Bellingham after a quick-throw from Süle. A decent dead-ball design in the 52nd put through Malen near the byline. The BVB Dutchman's cutback was nevertheless cut out. Baku narrowly missed a quick counter link-up with Wind. Malen got his toe around the ball again before the minute was out. Schlotterbeck, Brandt, and Bellingham worked out to Süle.
Süle provided Casteels with an easy catch at the beginning of the 53rd. More pressure from Dortmund before the minute was out. Özcan, Bellingham, Guerreiro, Brandt, Hummels, Malen, and Süle were all involved in a lovely sequence that ultimately freed up Adeyemi in space. Marmoush was forced into the the tactical foul in the 54th. Dingert rightly booked the Egyptian. Guerreiro took the 55th-minute free kick on the right edge of the area following a fake out from Brandt. Casteels took no chances with Guerreiro's tracer, even if it was going over.
Casteels had to intervene again on the ensuing corner he conceded. Schlotterbeck took down Brandt's service deftly and touched over to Malen. The Dutchmanman bent it back over to the right for Moukoko. The WOB net-minder had to sprawl to keep the German phenom's close-range effort out. Dortmund would work it back in the area via Guerreiro, Adeyemi, Hummels, and Malen in the 56th. Bellingham's clever attempt to finish on the turn got blocked by Van de Ven.
A 57th-minute charge with Süle on the right ended with the veteran German defender not finding enough support in the box. Everyone was simply too tired to catch up. Otavio forced the ball out into touch and Kovac sent his first sub on. Patrick Wimmer replaced Marmoush on a like-for-like. Wimmer was almost involved seconds after his 58th-minute introduction. Wind did an excellent job holding a ball up deep, just missing the Austrian with his vertical.
The German Wolves charged up the right again in the 59th following a first-rate ball win from Baku. Wind received the ball just inside the area, having a quick go himself despite the fact that a trailing Gerhardt was wide open on the left. The Dane earned a corner in any case. Moukoko cleared Wimmer's 60th minute service away, then took the ball off Wimmer in a direct duel seconds later. Unfortunately, Guerreiro then lost the ball after a switch left.
Baku's cross into the box didn't miss the lurking Nmecha by much. Gerhardt still picked up the ball and, via Kaminski, got the ball back over to Wind. The Dane's stinging effort from nine meters out on the half-right stung Gregor Kobel's palms something fierce. The BVB keeper could only deflect out for a corner. The 61st-minute service would have to wait while Reyna finally checked in for Adeyemi. Wind flicked Arnold's in swinger on for Nmecha. Kobel had to make another strong parry. Kaminski's follow up was blocked.
Bellingham, Reyna, and Süle ran a quick counter back the other way in the 62nd. Otavio ended up tripping the BVB Englishman up and there were some never moments after Bellingham came down hard on his shoulder. Dingert still considered the challenge legal. An extended treatment break broke off action until we resumed with a goal-kick in the 64th. The Lower Saxon hosts didn't take too many chances on their next two attacks. Van de ven, Bornauw, and Otavio all shielded and retreated.
Hummels ultimately picked up a win in the 65th. Schlotterbeck ran forward along with him. Van de ven eventually tackled away from Moukoko expertly on a play that, sadly, wouldn't count as the BVB striker was offside. Bellingham and Süle got the team forward again in the 66th. Süle attempted a quick one-two with Reyna. The American teenager sent the ball well past his teammate and out for a goal-kick. A brisk drive from the hosts involving both Otavio and Baku sent Nmecha in before the minute was out.
Nmecha nearly threaded Wimmer through perfectly. Hummels prevented the scoring chance with a vital tackle away out for a corner. Süle cleared Arnold's 67th minute service easily. After taking the ball of Guerreiro in the 68th, Kaminski and Arnold also just missed out on a link-up with Wimmer in a dangerous position. An Özcan foul on the play did lead to a free-kick. Bornauw headed Arnold's service onto the roof of the net. Terzic had two subs waiting to check in.
A couple of intricate BVB charges in the 69th and 70th proved a mite too intricate for anything apart from possession corner painting around the box. Reyna, Hummels, and Süle attained some penetration on the right on the latter sortie. A cutback for Schlotterbeck ended with a poor finish well over the bar. Hazard and Anthony Modeste came on for Süle and Malen in the 71st. Another questionable call from Terzic as these had been two of his more driven and determined players.
Match Flow: 72nd minute to full-time 
One certainly can't accuse Dortmund of quitting on this contest. Efforts to equalize remained largely robust, even if there were some lulls caused by noticeable energy dips. The set of tactics Terzic switched his men to was a familiar one. We tactics-heads quickly recognized the re-format as the one the BVB trainer utilized in the famous late comeback against Bayern in round nine. Unfortunately, the comeback strategy didn't work this time.
Lineup—Borussia Dortmund—72nd minute (4-1-3-2)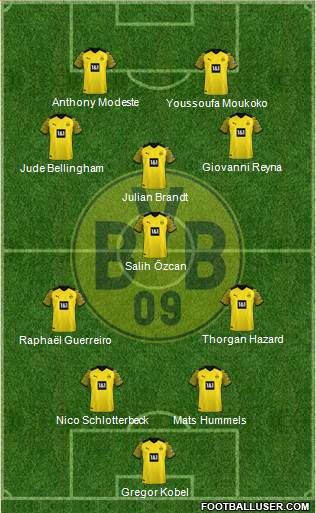 Everyone pressed high immediately. Hazard was able to recover a Bellingham ball loss and lay off for Hummels in the 72nd. Wimmer initially cleared, but Hummels got another chance when he was fouled by Gerhardt. Hummels took the free-kick quickly. Reyna played Hazard in on the right overlap. Hazard's worthy cross only just missed Modeste's head. A slower build involving Hummels, Reyna, and Hazard on the right in the 73rd was stopped with better marking.
Dortmund tried down Reyna's side again in the 74th via a quality switch from Schlotterbeck. The American was taken off the ball by Wimmer. Bornauw and Nmecha got Kamninski up the field quickly before Schlotterbeck could recover. The Pollack had only the keeper to beat, yet still fired well wide. The next BVB push went through Hummels, Reyna, and Hazard again in the 75th. Hazard couldn't keep the ball from going over the byline before cutting back for Guerreiro.
Lukas Nmecha entered for Wind in the 75th. The first attempt to link up with the older Nmecha brother ended in an offside call. Dingert didn't care for the manner in which Lukas disrespected the whistle and the 23-year-old was promptly booked in the 76th. Mostly midfield mayhem over the next four minutes. There were several fouls and stoppages as the two teams largely neutralized one another in the center of the park. Bellingham was among three BVB actors to commit a frustration foul.
Baku held Modeste well in check when Dortmund finally got a ball back into the box in the 79th. There honestly was no real rhythm to the BVB charges over those three minutes. Reyna frequently retreated while Hummels and Schlotterbeck found themselves stymied on long carries. Schlotterbeck fired well wide again in the 80th. Terzic turned to senior team debutant Marco Pasalic as relief for Özcan in the 81st. Definitely not a capitulatory move, though it could be interpreted in such a way.
Dortmund simply couldn't get it together on their 81st-minute-build. Schlotterbeck and Hazard both ended turning the ball over. Bellingham did manage to put Moukoko through in the 82nd. A fluttering distance shot, deflected off Modeste, went out for a corner. Hummels then headed Brandt's quick service well wide. Otavio separated Pasalic from the ball easily enough in the 83rd. Wimmer had Moukoko handled after a through ball from Schlotterbeck in the 84th.
The hosts milked much of the 85th and 86th via a foul committed on Nmecha by Hummels. After going back on the set-piece, Baku and Gerhardt took their time with the approach. Baku ultimately opted for Nmecha in the box even though Otavio was open. A Brandt-led counter, through Bellingham, reached Reyna in the 87th. The American tried to go through three WOB markers in the penalty area and got squeezed out. A Brandt follow up was blocked.
Mathias Svanber and Jerome Roussillon obviously took their sweet time coming on for Felix Nmecha and Kaminski in the 88th and 89th. Moukoko got caught offside on a BVB rush as we entered injury time. Casteels went down on the play and we didn't resume until 90+1. Wolfsburg's second goal came as soon as we did. Brandt lost the ball. Wimmer broke into the right side of the area. A simple swuare for Lukas Nmecha. A simple tap in.
2-0
Game over, even if there was a bit of BVB trickery in the box at 90+6
To bookend.
Full-time xG:
xG Wolfsburg–2.82, xG Dortmund–1.76
The critiques of Terzic can only go so far in this case. With Gladbach coming up this Friday on a tight turnaround, it might have been wise to rotate Reyna out. Not introducing changes at the half can be attributed to factors such as keeping some faith in an XI that performed well during the opening 45, not inducing panic with a radical overhaul, or even the stress associated with this unprecedented packed schedule forced upon Bundesliga trainers by the unconventional (and partially unwelcome) World Cup break.
There remains much football to be played and, given how we have no idea how many players from Bayern and other potential title contenders will come back from the coming competition carrying injuries or form slumps associated with the workload, it's far too premature to make any definitive statement about the state of the title-race. If Bayern happen to open up a nine-point gap over their most well financed rivals this weekend, on the other hand, this missed opportunity may mark a significant point in Dortmund's season.
Three points absolutely must be secured against Gladbach on Friday night. Period, We'll all be hoping that Dortmund can at least keep pace and beat back the early echoes of the death knell. The only thing worse that being forced to take a prolonged break so early in our beloved Bundesliga saga would be the knowledge that, when the season resumes, it might already be over. That would definitely break some German hearts.
Thanks so much for reading! You can occasionally catch Peter goofing off while watching non-Bundesliga football on twitter, @ViceytheSS.
Twitter DMs are open for football conversations, corrections, and (if you truly insist) general abuse. 
All columns debut on Bulinews before appearing on Peter's website as the season progresses.