We may not officially be at the half-way point of the season just, but the turn of the calendar year still constitutes a turning point of sorts. With 2020's final edition of this column long since filed, we'll re-post here for those with a little extra time over the Christmastide break.
---
League-wide Talking Points: Round 13
---
Wolves scrap for the points
The Bundesrepublik's final league fixture of 2020 might have been a higher-scoring affair were Oliver Glasner and Germany's green company team forced into a contingency plan. Shortly before the highly anticipated duel with VfB Stuttgart, starters Maximilian Arnold and Jerome Roussillon tested positive for COVID. At the behest of local contact tracers, Maximilian Philipp, Xaver Schlager, and Tim Siersleben also entered domestic quarantine. Glasner threw together an exigent XI featuring five new starters.
Newly returned saptain Joshua Guilavogui paired cold with Yannick Gerhardt in defensive midfield. Renato Steffen also had to come in raw off of injury. Youngster Bartosz Bialek played ten behind Wout Weghorst, with Josip Brekalo switching over to the right to make room for Steffen. Paulo Otavio started at left-back, with Ridle Baku taking back over for Kevin Mbabu to at least give the defensive ranks some familiarity.
This ad-hoc arrangement decidedly outplayed one of Pellegrino Matarazzo's best XIs. The VfB Stuttgart trainer had Daniel Didavi and Orel Mangala back in the starting lineup. He also gave Tanguy Coulibaly a chance to work as Silas Wamangituka's axial partner. A much more creative Wolfsburg side controlled the offensive flow throughout the first half. They then displayed admirable defensive discipline in holding off a tenacious forward thrust in the second.
Brekalo's knew little about his deflected game-winning goal. Glasner's hastily assembled crew still knew how to play proper football. The German Wölfe occupy fourth-place after a very hard-fought win and stand a realistic chance of getting back to Europe's premier club tournament for the first time in six years.
Gladbach can't concentrate
Those who haven't yet reviewed the video of Marcus Thuram's face-to-face with Stefan Posch need to do so. Obviously, most football fans will want to skip it. Thuram is such a likable player. It's inexplicable to see such a celebrated talent behave in such a fashion. A footballer who has brought so much joy to Germans in his year-and-a-half in the Bundesrepublik appears to have just lost it in one sad moment. Not pleasant to watch. A healthy dose of Thuram highlight reels afterward is recommended.
All one wanted to do after the unfortunate event was move on and resume enjoying the match. Hoffenheim's comeback victory rendered this difficult task nearly impossible. Had Gladbach not been reduced to ten men, chances were fairly good that they would have recaptured the lead. Lars Stindl and Breel Embolo were working in good opportunities. Thuram actually looked very good buttressed directly by a resurgent Valentino Lazaro.
Lazaro seemed a bit shaken afterward, as did the rest of the squad. No one picked up Ryan Sessegnon in the lead-up to the go-ahead goal. The foals are now winless in six matches on the trot. Thuram will be suspended for a minimum of six matches whilst Marco Rose's fan-favorites sit six points away from next season's European places. The Rose-to-Dortmund rumors will also definitely not cease. A precipitous dive seems a distinct possibility.
A brief respite for Frankfurt
Adi Hütter's Adler ended a winless run of nine games in Bavaria with a victory over Augsburg. Though one shouldn't underestimate the importance of a desperately needed league victory heading into the Christmastide break, very little about the performance suggested that this team is looking any better. A loose 3-6-1 played pretty haplessly, especially in the final third. Filip Kostic, who continues to look uncomfortable buried in a wing-back role, missed three gilt-edged chances early on.
Twenty-one-year old Brazilian "Tuta" replaced David Abraham on the back line. There were many mistakes from both him and his forward wingback Erik Durm. Djibril Sow and Sebastian Rode just didn't work as advanced sixes. Moreover, Amin Younes and Aymen Barkok couldn't quite figure out how they were supposed to operate on the flanks. The system that places Kostic and Durm behind them only seems to create more confusion.
In the end, die Adler got extremely lucky to get a lead on a silly Augsburg own-goal. Substitute Stefan Ilsanker added a second minutes from time to make the result appear more convincing than it was. Fellow substitute Steven Zuber, who should perhaps be starting, deserves most of the credit for it as he supplied the perfect pass.
Something remains strikingly suspicious when it comes to this team. Hütter claims to be looking for solutions, yet continually fails to test out new ideas each week.
Leipzig spurns a chance on impulse
Die roten Bullen were unquestionably the better team in this round's 0-0 draw with Köln. Based on the estimated xG of the match, they could have won by three or four goals. Were it not for some great net-minded from hometown keeper Timo Horn, Julian Nagelsmann's side might have contested for the top spot. Just as was the case at the turn of the previous calendar year, they would have claimed a trivial title ("Weinachtsmeister" as opposed to "Herbstmeister") that counts for nothing, yet does make for a symbolic victory.
Something of interest regarding Nagelsmann's tactics concerns his use of Marcel Sabitzer as a straight left-winger in the first half. The Austrian almost never plays up that high. When the deployment did not produce the desired results, he moved Angelino all the way up to first the attacking axis to fill the spot. We even saw the shape bend into a highly familiar looking 4-2-2-2 for the first time since the 2019/20 campaign.
The use of these two players so high up has everything to do with the current injured reserve list. If Christopher Nkunku, Justin Kluivert, or Hee Chan-Hwang were available, the 33-year-old trainer would have plenty of options to use on the wings. Given the frequent 4-2-2-2 re-formats, however, it almost felt as if team and trainer were intuitively trying to conjure up something long gone; almost as if the spirit of Timo Werner would somehow possess Sabitzer or Angelino as they moved in to work with either Yussuf Poulsen or Alexander Sørloth.
Odd. Sometimes instinct rules when everything else has been exhausted.
---
The Burning Questions: Round 13
---
Is it time to write off Dortmund?
No, not at all. Mats Hummels has every right to vituperate his team for conceding two set-piece goals. It was bleeding amateur hour as the Schwarzgelben fell to 1. FC Union Berlin at the Stadion An der Alten Försterei for the second successive year. As ineptly bush-league as the loss feels, one must take into account how common such breakdowns are when heavy scheduling prevents teams from holding three weekly training sessions. It's an especially common phenomenon for young teams such as the BVB.
Young players may have the set-piece marking plans in their head, but they don't retain the muscle memory to implement them without the requisite amount of practice time. This can obviously affect veterans to a lesser extent as well. Dead ball situations need to be drilled. It's as simple as that. Some will laugh at caretaker coach Edin Terzic for saying that the best way to avoid conceding set-piece goals is not to concede the chances in the first place. He's still right. That's reasonable instruction coming from a trainer who hasn't even had a full session with his team yet.
We'll find out soon enough if the team is in the wrong hands. Terzic has to address the turnovers in midfield and crack down on this squad's languid tendency to employ as many as a dozen useless lateral passes before they mount an attack. For the sake of brevity, we'll label those two issues as the most pressing. Addressing that is doable even for a novice. It also works to the team's advantage that four goals conceded off corners has already cost them two matches. We've a long enough road to travel this season and the problems of the Köln and Union matches should not recur.
Are Hertha in crisis?
Excellent question. After careful consideration of the 1-4 drubbing in Breisgau, the answer still tends toward the negative. Do note that such an assessment comes from an admitted "Lucien Favre Apologist". Any reader should take into account that the many "recovering" Favre-defenders may now habitually leap to another historically successful head-coach whom we've been studying for far too many years to condemn. Hence, the era of the "Bruno Labbadia Apologists" commences.
In Sunday's encounter at the Schwarzwald-Stadion, Labbadia appeared to get it wrong from the start. The 4-5-1 spread anchored by Niklas Start was far too disorganized to succeed. Christian Streich's team had little difficulty making the most of the huge gaps gifted them between Matteo Guendouzi and Vladamir Darida. The Hertha coach evidently did his job in the locker room, however, as the Berliners competently showed how it was supposed to work early in the second half.
After the Javairo Dilrosun replaced the shockingly ineffective Matheus Cunha, the two wide attackers produced an equalizer in the 52nd. Dilrosun then hit the woodwork and Krzysztof Piatek didn't miss by much in the furious phase that followed. Jordan Torunarigha's defensive error, as rare an occurrence as Cunha's giveaway in the first half, led to the second Freiburg goal and the team just couldn't cobble together the confidence thereafter to stop the floodgates from being flung open.
Alas, the new breed of "Labbadia Apologists" can chalk this loss up to some bad luck. A couple of highly-skilled players who simply had what should be infrequent "off days". The match might have swung the other way; or so we are prepared to believe. The former Hamburg, Stuttgart, and Wolfsburg head coach still stands with his back against the wall. One single solitary humiliation will silence us defenders for good.
Will Schalke reach the Tasmania record?
With two more matches to go, it looks to be unavoidable. Hertha and Hoffenheim await as their next league opponents. Huub Stevens can probably lead them to an uplifting victory against SSV Ulm in the upcoming Pokal fixture. That means precious little unless one or two players on this side can play their way into serviceable form. Even then, it's not as if die Königsblauen were able to carry some drive over from their victory in the domestic cup earlier this year.
One cannot find a way to put it delicately. Saturday's performance was horrid. Stevens tried to use Hamza Mendyl on the left flank and it turned out to be a disaster. The squad couldn't keep anything resembling a coherent shape after the Omar Mascarell injury. Benito Raman, perhaps the only actor mildly threatening to cross the threshold of a form burst, proved a complete dud. In terms of the search for a lead striker, there appears nowhere else to turn. To rush Mark Uth back after his concussion would be irresponsible.
It remains possible that die Knappen can still avoid breaking the Tasmania record as their third upcoming opponent, Eintracht Frankfurt, could be beatable. No matter. Tying the record would serve as an ignominious enough achievement. That's permanent infamy; never to be forgotten. Surviving the drop this season wouldn't even matter in such a context.
---
Weekly Tactical Focus: …And then there were none
---
Game, set, and match. FCB of Germany reclaim top spot in the league heading into the Christmas break. Less than three days after taking out one of the league's two remaining undefeated teams, Hans Dieter Flick and his Jungs delivered a stunning knockout blow to the other. The weekend's marquee proved an absolute cracker of match until roughly the final quarter of an hour. Football of the highest intensity left one on the edge of one's seat until the title challengers simply ran out of gas.
In the end, it's difficult to argue that the German giants didn't deserve the lucky deflection that enabled them to capture all three points. The sad fact of the matter remains that Peter Bosz and die Werkself didn't provide the type of sustained effort worthy of true title contenders. Germany's red company team certainly supplied their fair share of breathtaking intelligence and skill. An important takeaway from this match is that the squad isn't deep enough to maintain the level over the full 90 minutes; at least not at this moment in time.
As we've noted multiple times before, Flick may not be the most exacting tactician. He doesn't need to be. The excess of talent he presides over enables him to attain results without engaging in copious amounts of tinkering. Injuries and fatigue may stall the Bavarian engine at times, but it doesn't take much to shake it back into high gear.
Interestingly enough, Flick even managed to employ some neat tactical tricks in the final two rounds of 2020. It's not necessarily fair to label his moves ingenious. Such a classification would be more appropriate for a coach who extracts better performances out of a smaller talent pool. The moves were nevertheless very resourceful and it would be correct to state that Flick outmaneuvered Bosz here.
Lineup—Bayern München—Match 13 (4-1-4-1)
Just as was the case midweek, plenty of intrigue accompanied the release of the team sheet. The XI players listed did not fit together in an easily conceivable manner. When the positions became apparent, some solid strategies emerged.
Prelude to a mirror
Flick definitely wasn't bluffing when he openly announced his intention to start Niklas Süle at right-back for the second consecutive match. As odd as the initial deployment seemed, it struck one as being even stranger that the Bayern trainer would publicly commit to doing it again. To place one's least mobile defender out wide was weird enough. To do so against the team with the fastest wingers in the league practically constituted an invitation for Bosz to unleash full fury up the flanks.
Perhaps we witnessed a clever ploy. Most likely not. Coaches generally retain far too much respect for those whom they consider equal colleagues to apply such "mind games". It's more realistic to think of Süle's Wednesday deployment as a practical audition. Flick shifted his pieces into place ahead of this crucial match. Knowing he would face a 4-1-4-1, he gave one of his strongest tackles a chance to practice his recovery pace on the wing. It worked.
Guarding the high press
A trend few grow tired of broaching concerns Bayern's recent tendency to concede the first goal every match. Entering this fixture, the streak stood at six fixtures running. The Bavarians continually run the risk of getting caught out by sending their center-halves, and their "sweeper keeper", very high up. Opponents find Bayern's high press to be readily exploitable in the early going. Leverkusen were no different. Die Werkself even succeeded in extending this stat to seven consecutive games by opening the scoring.
While the factoid is ultimately meaningless (Bayern didn't end up losing any of the seven encounters), it's interesting to note that Flick did make a deft attempt to address this by moving David Alaba into defensive midfield. The FCB trainer tried many different variants to compensate for Joshua Kimmich's absence on his middles axes. As we shall discuss shortly, this one certainly had its issues. Overall, however, it does provide the best protection of Flick's preferred system utilized thus far.
Fire-to-fire
The team-sheet revealed one tantalizing match-up containing no inherent mystery. Alphonso Davies' inclusion in the starting XI meant that football fans were in for a real treat. The "Bavarian roadrunner" would be pitted against fellow speedster Leon Bailey. While it may not have been initially possible to figure out just where Alaba or Lucas Hernandez would settle, there could be no doubt that an epic battle was about to unfold.
Little else to add at this juncture other than to reverently note that it did not disappoint.
The Evolution of Leverkusen
A few organic changes have transpired since the last Leverkusen draw-up in this column. None of it has anything to do with deliberate actions on the trainer's behalf. Bailey and Moussa Diaby play a little wider whilst Nadiem Amiri and Florian Wirtz, both having played themselves into confident form, move closer within earshot of one another. The latter development influences the former.
Some more interesting details crop up when one considers where this XI stood near the beginning of the campaign.
Lineup—Bayer Leverkusen—Match 13 (4-1-4-1)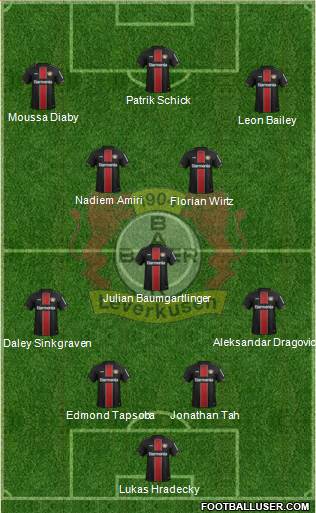 Schick now a true striker thanks to Wirtz and Amiri
Some early-season shielding saw the Czech international pocketed in the interest of easing his integration. One expected that the subsequent injury would prolong this assimilation process, especially when Lucas Alario plugged into the default system so well. At this point, it looks as if both center-forwards work as target men; to excellent effect one might add. The primary reason for this appears to be the above-mentioned manner in which Wirtz and Amiri have gelled.
The pair of young German internationals constantly flip and shout, running a highly unpredictable centralized attack characterized by quick touches and intelligent layoffs. This gives Schick and the wingers far more space to operate in. Bosz's Europa League rotations see the defenders, and sometimes the wingers, replaced midweek. To the extent possible, however, he keeps this increasingly lethal partnership together.
The placements on the graphic aim to furnish the best possible visual illustration of how the lightning quick transition game works. Bearing the image of Wirtz and Amiri crashing inward with one-twos in mind, visualize how a midfield ball win by Julian Baumgartliner or either of the fullbacks can immediately yield five or six excellent options for the last ball in the final third.
Nowhere near full strength
Since the topic of Leverkusen's Europa League success has been touched upon, we might as well throw in a few words about personnel. Die Werkself thrive despite the fact that Bosz works with his second, third, or even fourth choice players at times. Sven Bender and the only-just-returned Edmond Tapsoba were the preferred center-back pairing. Bosz wanted Santiago Arias, and later Lars Bender, at right back.
Moving into the midfield, Charles Aranguiz was supposed to be the fulcrum responsible for quick upfield transition play. Exequiel Palacios has barely featured at all thanks to injury. Paulinho still hasn't played a single minute. Despite three notably significant absences in midfield, Bayer still execute an accelerated attack that can span the length of the field in mere seconds. It's quite impressive.
It remains true that Bayern exhibited demonstrable superiority in this fixture. One must still qualify that statement with the note that the defeated side has a lot of potential currently sidelined. Furthermore, the bulk of the Kai Havertz transfer money hasn't even been spent yet. Bosz and Rudi Völler will land at least one big signing during the coming transfer window. Some may argue that this result knocks the club out of the "title-contender" category. That can change quickly once a healthier roster gets properly augmented.
Match Flow: 1st to 17th minute
Both sides spent the bulk of the opening five minutes sorting their positioning out. That didn't mean that the initial exchanges lacked tempo. Bayern were through quickly already in the 1st. Alexsandar Dragovic poked away a free ball on what would be the first of many incredible full-slide tackles to avert the early danger. On the opposite flank, Daley Singraven put in some tremendous work to stop Kingsley Coman in the 6th.
Die Werkself worked in some nice diagonals, the most promising of which nearly unlocked Wirtz in the 8th. The teenager barely missed the right touch. Around the 9th, Leverkusen began shifting the forward traffic over to their right. They would attack Bayern's paciest asset directly. Numerous duels between Leon Bailey and Alphonso Davies yielded plenty of excitement. The two speed demons still effectively proved equal to one another.
Bayern's high line remained in full force; out there for the taking if the hosts could find the right chip ball over the top. The first one of these, in the 13th, left Bayern scrambling backwards and eventually resulted in a crucial corner. Bosz's men played a short set-piece out of the top pages of their playbook. Bailey kicked out to Amiri, who took a few seconds to pick out the right cross. Schick's brilliant first-time trike finish was absolutely gorgeous.
Few goals this season will prove equal to Schick's radiant technique. The Bayern marking was nevertheless suspect. It was not entirely confidence inspiring to watch them fail to defend a corner play Leverkusen had used many times this season. Even if the midweek round cuts into the prep sessions, one can't get beat on one of a team's obvious bread-and-butter play like that.
Wirtz should of doubled the advantage two minutes later. He found himself most unfortunate to have a perfectly weighted diagonal squirm out from underneath him with only the keeper to beat. With the momentum of the match threatening to bury his side, Thomas Müller engineered the first genuine Bayern counterpunch with a dazzling individual run back the other way in the 17th. In other words, Müller did what he's liable to do when his team requires a spark.
Match Flow: 17th to 34th minute
Dragovic again had to be alert to cut out the pass at the tail end of Müller's sensational run. The FCB dispensed with the notion of passing builds and emulated the play of their emotional captain. Schick very nearly took advantage of this at the other end. A midfield dispossession led to a quick counterattack. Two diagonals and a spine-tingling Wirtz layoff later, Schick had the 2-0 on his boot just outside the danger area in the 19th.
Immediately back the other way after the chance dissolved, Davies scorched down the left and had a trailing Alaba perfectly set-up on the cutback in the 20th. Unfortunately, the Austrian botched both his first and second touch. No one would get the chance to catch their breath during this wildly intense oscillating portion of the match. Diaby was already taking on Süle and the other end in the 22nd, with the converted Bayern fullback only just managing to cut out his shooting angle.
Wirtz led the transition over to the other end in the 24th as surely more than one minute-by-minute writer's head proceeded to explode. A 16-touch-passing sequence from die Werkself left one crosseyed. It was definitely some of the most intelligent and elegant football observed all season. Bayern continued to forgo the passing game entirely and rely on scintillating individual counters. Robert Lewandowski peeled off one in the 25th. Serge Gnaby got his turn in the 27th.
In the blink off an eye, Leverkusen got Gnabry's blocked shot all the way back upfield to Schick. The Bayer striker appeared to have the Bayern press sprung in the 27th when he punched through for another finish. A delayed raised flag indicated offside. To be perfectly candid, the replay looked inconclusive. No body part of Schick looked to be past the defenders. Fortunately for Jerome Boateng and Lucas Hernandez, the match official trusted to word of the booth officials and opted not to check himself. The score remained 1-0 on a call that honestly could have gone either way.
More brilliance from the hosts kept Bayern on the back foot. In the 30th, another multi-touch passing sequence involving Amiri, Diaby, and Schick put the previous one to shame. Two back-heels within the chain were simply breathtaking. Again, it was Wirtz initiating the play with all the savvy of ten-year-veteran. Bayern looked to be up to their necks as their NRW-hosts continually showed them up. Coman inadvertently came to their rescue in the 32nd when he went down with injury.
Match Flow: 34th minute to half-time
Leroy Sané came on for Coman. Regrettably, some of the encouraging manifestations from the midweek fixture did not carry over. This summer's star transfer didn't play particularly well. The break in the action nevertheless afforded Bayern a chance to regroup. Alaba got a grip on his assignment and started to get a better handle on Baumgartlinger in midfield. This allowed Corentin Tolisso to be in a better position to defend the over-the-top chip balls. Tolisso did a marvelous job stopping his countryman Diaby after the Bayer winger breezed past everyone else in the 35th.
Sané showed some good control on the ensuing counterattack, ultimately not pulling the trigger on a cross into the box when he needed to. After a couple minutes of stalemate, Amiri found his way past Süle in the 38th to ensure that the end-to-end action was only briefly interrupted. Sané got another chance to make something happen one minute later. This time he executed a nice drag dribble and even niftier fake shot before selecting the wrong pass at the end of his run.
Jonathan Tah collected Sané's stray service and immediately threaded through for Bailey for another thrilling tear. There simply wasn't going to be a lull in this one. Bailey and Davies again fought to a draw in the 40th. The ebb-and-flow on diametrically opposite flanks continued well into the 43rd. One couldn't really tell where the momentum lay as the ball teetered from one end of the pitch to the other. Then, in an almost identical occurrence to what happened to Wolfsburg on Wednesday, Lewandowski equalized.
Süle and Sané did an admirable job getting the ball out wide to Müller on the right. The cross into the box was simple. Tah and keeper Lukas Hradecky made it way too easily for the footballer of the year. Both fluffed their lines and Lewandowski headed in with ease. First-half injury time stretched a full six minutes. The visitors kept the pressure up and came very close to heading into the tunnel with the lead.
Lewandowski powered a double chance into a wall of defenders off a free kick at 45+2. Tapsoba had to be spectacularly precise with his tackling to turn away Gnabry and then Müller one minute later. Süle just missed with a header at 45+5 and the German giants got off another double chance at 45+6.
Match Flow: 46th to 61st minute
These indefatigable teams continued to put on quite the show. Bayern aimed to turn the screws by replicating their midweek game-plan. Hradecky atoned for his earlier mistake with a formidable intercept of a Müller square for Lewandowski in the first minute after the restart. Wirtz shepherded his team through with a very slick first time pass in the 47th. Bayern eventually intercepted and ran a counter. Somehow, Sinkgraven managed to shut it down despite being outnumbered three-to-one.
Diaby promptly led a counter to the counter once Sinkgraven toed away. Ridiculously great action just refused to abate with each side racking up three respective breakaways before we reached the the 51st minute. Finally, in the 53rd, a mental lapse. Schick and Diaby couldn't figure out how to they wanted to set up a leftward cycle. This constituted the first sign that the players had reached their intellectual limit with respect to ideas.
After the miscommunication, Bayern began to take control. Alaba's defensive midfield presence got stronger as he won a few more midfield balls. Davies started getting the upper hand on his counterpart and slip through. An insanely good slide tackle from Dragovic bailed out die Werkself in the 54th. Tah, out-muscled by Lewandowski, had to tackle away perfectly twice less than a minute later during an in-box flurry.
Gnabry joined Davies in starting to out-leg his markers. Leverkusen were clearly fraying. Wirtz swept past Alaba to give the Werkself another chance in the 57th, but Amiri couldn't retain the ball. Süle got the better of a noticeably slower Diaby in the 58th. Baumgartlinger too had trouble winning a second ball in the 60th.
Match Flow: 61st to 70th minute
Both trainers readied subs whilst the overall tempo cooled off. The fixture remaining engrossing, though it was obviously being played at a much slower clip. Another decent B04 passing sequence led to another lovely back heel from Schick. This time no one could catch up to it. Bailey seemed to run out of steam on what must have been his 30th sprint up the sidelines.
Bayern put together a nice chance in the 65th, with Tapsoba saving his team yet again with a vital tackle. Hradecky also had to contribute with an amazing save in the 67th. In between those two opportunities, Wirtz, Diaby, and Schick just couldn't find the creativity to get through in the 66th.
One knew the match would be decided by the subs. Bolstered by the deeper bench, Hansi Flick could out-plot Peter Bosz easily enough.
Lineup—Bayern München—70th minute (3-4-3)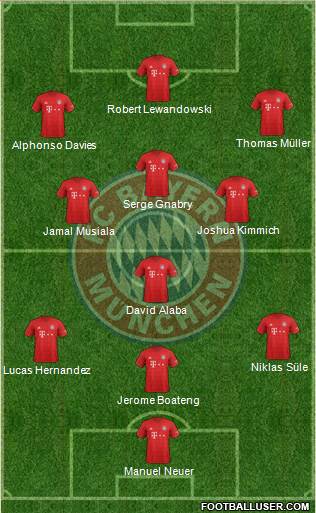 Sané and Tolisso exited in favor of Jamal Musiala and Joshua Kimmich. Watching Kimmich come on a mere four rounds after his debilitating knee injury counted as quite the sight. It's a modern medical miracle that he's back playing so soon. With the pulse of his team back, Flick presides over many dangerous configurations.
Match Flow: 71st to 75th minute
The one he selected wasn't difficult to discern. Alaba didn't budge from his midfield position. Süle, Boateng, and Hernandez immediately formed a line-of-three at the back. As soon as one saw that, it became obvious what was coming. Davies would move all the way up into attack. That's his natural position anyway. He only filled in at left-back last year after Süle's injury forced Alaba inside.
Bosz had four minutes to observe this and come up with some sort of response. Granted, options on his depleted bench were rather thin. He still might have done better than he did. Davies completely toasted Bailey in the 72nd. Tapsoba couldn't catch up with Musiala in the 73rd and had to take him out. Tah gave the ball away twice during this interval.
Lineup—Bayer Leverkusen—75th minute (4-2-3-1)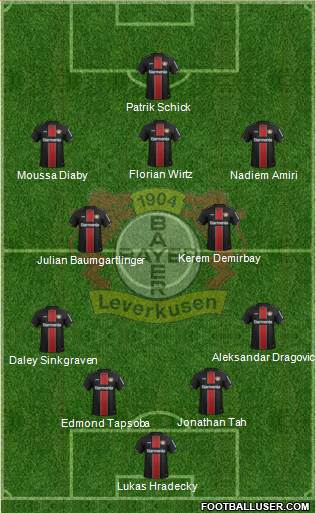 Bailey made way for Kerem Demirbay. That's it. The lines on the second and third axis became rigidly horizontal. The plan was clearly to play for a draw. Fair enough, but more than one sub was needed to carry this out. It may have been the case that Bosz wished to maintain the illusion that his squad still maintained enough fight to play for the win or even give the heart-and-soul players out on the pitch the chance to determine their own fate.
In any event, there's no excuse for not bringing on fresh center-backs in a fixture allowing five subs. Tah was tanking badly and the decision to leave him on the pitch would prove fatal. At the very least he could have introduced another defensive-minded player like Tin Jedvaj or Mitchell Weiser.
Match Flow: 75th minute to full-time
Pretty much all Bayern for the remaining quarter of an hour, though action was rather limited on both sides. The keepers often traded long punts; a telltale sign that the felt their respective teams didn't have any juice left. Musiala did hit the post in the 79th after a solid attacking sequence.
The visitors kept slow possession with a couple of caveats. When they did get the ball, the level of play from die Werkself was fairly choppy. Amiri found no takers on his 84th minute run and no one met Diaby's wavy cross off his weaker foot in the 90th.
Lewandowski's winner at 90+3 counted as a cruel heart-breaker. Tah's ball loss to Kimmich was inexcusable, but the FCB striker's effort still deflected in off of Tapsoba. The Burkinabé defender otherwise played a fantastic match. The last-second bounce was most undeserved.
And so it is that Bayern reclaim top spot in the table. The better and deeper team won. The criticism Bosz earns in this round doesn't mean terribly much in the grand scheme of things, however. A fresher and healthier squad should be capable of getting back on track against Frankfurt in less than two weeks time.
Germany's red company team also gets a chance to re-tool with transfers before we even reach the mid-point of the season.
---
Concluding Thoughts: Assessing Predictions–Part II
---
In the second part of our retrospective look back at earlier predictions, it's time to examine how the league table looked to shake out after three rounds had been played and the transfer market closed. This also gives us a chance to mention the one fixture not covered explicitly in the above passages. SV Werder Bremen's 1-0 win over FSV Mainz 05 was a positively wretched game of football, the one saving grace of which was Werder's halt of their recent slide.
As noted in the Wednesday column, predictions are no fun if they are proven correct. Sports fans crave the unexpected. Many thanks to Florian Kohfeldt & Co. for disproving the forecast state of the relegation race. Other surprises include, in a reiteration of those seen before, the dips of Gladbach, Frankfurt, Dortmund and Hertha. Of course, the big prediction that turned out to be wrong was Hoffenheim.
The corona-insanity really hit the Kraichgauer hard. In a delightful additional twist, Sebastian Hoeneß still kept them sailing through the Europa League. The Sinsheimers thus completely defied both their league and club competition prognosis.
Table Projection #2 (10/9/20)
FC Bayern München
Borussia Dortmund
TSG 1899 Hoffenheim
Borussia Mönchengladbach


---

RasenBallSport Leipzig
Bayer 04 Leverkusen
Hertha BSC


---

Eintracht Frankfurt
FC Augsburg
VfL Wolfsburg
SC Freiburg
FC Union Berlin
VfB Stuttgart
FC Köln
FC Schalke 04


---

SV Werder Bremen


---

Arminia Bielefeld
FSV Mainz 05