A fairly big weekend for a certain German teenage phenom in the first round of the Bundesliga's pre-World Cup "Blitz Phase".
A brace in the opening 45 minutes officially ensured that Youssoufa Moukoko would earn a call up to the German national team's senior squad. Regrettably, our promising young lad would be debuting in a tournament that..well..how…shall we say?
…wasn't exactly a welcome addition to the German football lover's docket. Note that the club ultras had called for boycotts before. A confluence of reasons (weather, timing, gas-cuts, pandemic, and…some sincere politics…meant that many of us ended up following through with it this time.
It just happened. Thankfully, we'll be getting our Bundesliga back soon.
---
Bundesliga Tactical Banter: Round 13
---
The Wolfsburg Equation
For the second consecutive week, we'll be leading with Germany's green company team. Niko Kovac's VfL Wolfsburg are now unbeaten in seven on-the-trot. The 3-0 win over Mainz leaves no doubt as to the efficacy of the gaffer's new 4-1-4-1/5-4-1. All of the same actors we mentioned last week continue to thrive. Felix Nmecha's fine run-of-form carries on with another assist. Squad captain Maximilian Arnold delivered another beast of a game and netted a fabulous set-piece goal. German fan-favorite Ridle Baku keeps up his renaissance with his second goal in as many matches. Patrick Wimmer also got off the mark in style.
Anticipation builds ahead of the big BVB-WOB showdown on Tuesday. Are the Lower Saxons really on an unstoppable roll? Should we wish to discuss "equations", we'll naturally have to include the xG of this most recent match as well. Mainz actually edged out their guests on Saturday 1.04 to 0.88. Marcus Ingvartsen – back in the starting XI – came very close to extending his scoring run to six straight matches with an excellent chance early in the first-half. VfL keeper Koen Casteels remained resolute against both Ingvartsen and Dominik Kohr, who also hit the post in the opening 45.
All three of Wolfsburg's goals were top-class. Moreover, the organized and disciplined defensive ranks (under Arnold's leadership and Casteels' splendor) came away with what was certainly a deserved clean sheet. We may nevertheless be looking at a team, as we have in the past with Wolfsburg, built on more sand that structure. Mark van Bommel rattled off impressive unbeaten runs last year. So too did Florian Kohfeldt. The first real test since Union Berlin in round seven awaits in two days' time. Essentially everyone on this team – even the once suspect center backs -are in blazing form. That could also mean many are overdue for a crap match.
Another Glasner Masterclass
Eintracht Frankfurt constitute more of a team for whom the current form-run truly can't be questioned. Squad skipper Sebastian Rode is more than justified in drawing parallels to the film industry. Former VfL Wolfsburg trainer Oliver Glasner maintains his fair share of effusive devotees in German footballing circles for good reason. The SGE gaffer knows when to undertake radical alterations to his tactics and, more importantly, when to make surgical targeted tweaks. The same basic constellation that began serving him well some weeks back, and was later refined, endures as an unstoppable force.
When discussing the Eintracht 5-4-1, one must keep emphasizing how well Kristijan Jakic and Eric Junior Dina Ebimbe are doing playing out of their natural positions. The undisputed man-of-the-match in Frankfurt's 2-1 comeback win over Augsburg, Ansgar Knauff, also thrives in a wingback role not familiar to him at all prior to this season. Glasner made the perfect change at the half in subbing Knauff on for the ineffective Luca Pellegrini. Knauff's game-winning-goal was nothing short of breathtaking. The Germany U21 international cleverly and calmly let the ball fall for him on an un-rushed and immaculate finish.
It's worth noting that Knauff's 2-1 in the 62nd came off cunning set-piece design. A short-corner from Mario Götze accorded Knauff the requisite space to make it happen. Jakic, who was also involved in the first goal, supplied the deft layoff. Glasner's well-drilled set-piece playbook. Another great match from Both Jakic and Ebimbe. Some legitimate wizardry from Knauff on dead-balls and in open play in what's been the sixth novel position for him this year. Indeed, there really isn't much negative to report insofar as this team is concerned. The Rhein-Main could easily take six more points with them in the World Cup break.
The "Reis Fight"
Though there remains nowhere near enough tangible evidence to cancel the prediction that Schalke will fail to pick up a single point before the World Cup break hits, one can at least commend the Königsblauen for making a game out of it against Bremen in Saturday evening's "Top-Spiel". The new S04 gaffer wisely kept his system from last week in place, merely swapping out Simon Terodde in for Sebastian Polter in the lead-striker slot and sending Tobias Mohr on for the long-term-injured Thomas Ouwejan. As a result of this choice to keep things stable, Alex Kral and Tom Krauß played a good game as midfield axial partners.
Consistency with respect to that pairing is something we've been calling for in this column for a long time. It paid off early. Krauß was instrumental in helping set up early chances for Marius Bülter and Kenan Karaman while Kral even had an early goal chalked off. As a team, Schalke showed courage, high-pressing, and plenty of innovative offensive play in the opening quarter-of-an-hour. Terodde found himself unlucky to see a quality header hit the post near the end of the first-half. Many (albeit sometimes weak) missed opportunities near the end of the second 45 enabled die Knappen to at least keep pace with Bremen xG-wise, 1.17 to 1.28.
For the first time all season – even in the team's lone victory that ironically sealed the end of Reis' tenure in charge of Bochum – we witnessed a bit of collaborative effort and identity from this team. Reis' men simply ran into one of the league's better defensive squads, back at full-strength on the rear axes with Niklas Stark, Milos Veljkovic, and skipper Marco Friedl flooding the box. Endless blocked shots from that trio. The likes of Romano Schmid, Mitchell Weiser, and (incredible budding talent ) Ilia Gruev also had better answers in terms of set-up work. That trio, together with the returning Leonardo Bittencourt, have Bremen back to full strength on both sides of the ball.
Fall of die Eisernen
Well. Can't say we weren't expecting this at some point. Entering this round, league leaders 1. FC Union Berlin had scored a mere 21 goals in league play. Such production numbers can't compete with the 38 that Germany's record champions sent into the back of the net. Union maintained their hold on first-place in large part because they had only conceded nine goals against. After the 5-0 drubbing by Leverkusen on Sunday, they've still only scored 21 and have let in 14. We expected this. The Köpenickers couldn't sustain with grinding 1-0 victories.
As to what went wrong, one can still commend Urs Fischer's troops for largely playing a flawless first half. The FCU defensive game-plan functioned about as effectively as it has in any other match this season. The reliable 3-5-2 "double stack" absorbed Leverkusen pressure in precisely the manner in which it has always been intended. Fischer will still want to have a word or two with his wingbacks about the non-functionality of the counter. That's been a recurrent problem with this team this season. Sometimes, they don't want the ball.
Robert Andrich's opening goal shortly after the restart was a tad flukish. One can't fault truly fault the set-piece defending. Unfortunately, two errors from back-up keeper Lennart Grill enabled die Werkself to rush out to a 3-0 lead. A team like Union isn't built to come back from that. Then the floodgates were open and it became a field day for a schizoid Bayer 4-1-3-2 that even Xabi Alonso likely didn't think would work. It did here because Union quit. Oh well. It was fun while it lasted. Bayern back at the top of the Bundesliga. Ho-hum.
0.2 xG from Union. That just doesn't work.
At least the Christmas Concert is back!
---
The "Burning Questions": Round 13
---
How close did Hertha come against Bayern?
Lots of intriguing stuff to discuss from the round's big surprise. Sandro Schwarz's Hertheraner held their own against the German giants, playing a second-half mostly on an even keel with the defending champs. For starters, one could make the case that the hosting capital city side might have had a good chance to win this one were it not for a gem of a performance from returning German national team living legend Manuel Neuer.
The FCB-DFB keeper, after missing out on a great deal of action, had his own statement to make ahead of the coming World Cup. He definitely did so in the form of saves against Davie Selke, Marco Richter, and Dodi Lukebakio. The 35-year-old "sweeper-keeper" also fearlessly charged out of his box to abrogate many a Hertha rush. Controlled touches away from the Berliner forwards stopped many promising counters before they could produce any real danger.
For large stretches of the first-half, Schwarz's charges proved to be more energetic and determined. The Hertha trainer's basic tactical package – an attempt to keep the previous 4-4-2 loosely in place without injured short-striker Stevan Jovetic – asked many questions of the mighty FCB. Posing questions to such an über-talented squad can, naturally, still be akin to poking a very angry and restless bear. Schwarz's calls were nevertheless solid.
Lineup—Hertha BSC—Match 13 (4-4-2)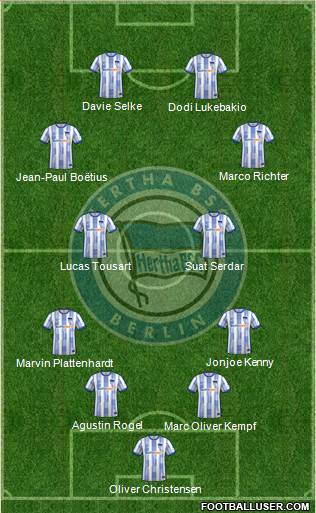 Many things worked here. Lukebakio, surprisingly enough, benefitted from the space afforded him by Selke's presence. Richter's sneaky deployment on the right aught Bayern's overcommitted fullbacks off-guard during the early going. Jonjoe Kenny had one of his better performances, sneaking in himself nicely on both the over-and-underlaps.
What still didn't work
Bearing in mind that Lucas Tousart and Suat Serdar were pitted against one of the best six-tandems in the world in the form of Joshua Kimmich and Leon Goretzka, we must again return to the matter of this midfield being nowhere near good enough for this level. Far too many ball losses and stray passes from Serdar, who hasn't had a decent game in weeks and needs to be benched. Tousart's confusion continues.
The Frenchman needs either a reliable partner or the freedom to run his own solo axis. Apropos confusion and slumps, Marvin Plattenhardt keeps leaving his fellow defenders in the lurk. Agustin Rogel and Marc Oliver Kempf had to bail the skipper out on multiple occasions. It's not exactly excusable to miss so many marks against a team like Bayern.
After an exhausting first-half at the end of which four goals were scored inside of eight minutes, energy levels on both sides remained fairly subdued. Schwarz's men should have unquestionably taken a few more risks, particularly after the BSC trainer sent Wilfried Kanga, Chidera Ejuke, and Maximilian Mittelstädt on for another 4-3-3 re-format.
Nagelsmann's bolt-down
That being noted, they were facing this.
Lineup—FC Bayern München—65th minute (4-5-1)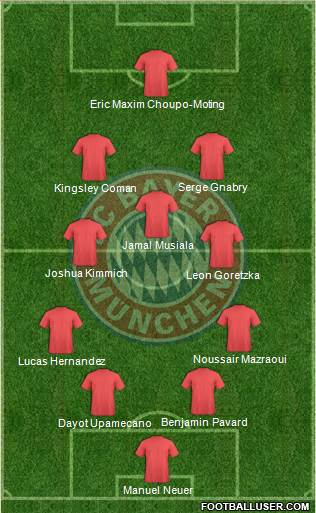 What the? Say hello to the Bayern "low-block". Definitely wasn't expecting to see anything like this. Those of us with eyes on the tactical cam could scarcely believe what we were witnessing. Julian Nagelsmann directly ordered some of the fastest attacking weapons in all of world football into a deliberate midfield clog.
Whatever one wishes to think about this, it did work. At times near the end of the encounter, the Charlottenburgers got the full complement of their numbers into the penalty area. Nothing dangerous emerged as the FCB trainer had his lads on full lockdown. A fair enough call. The enervated Bayern XI lacked clarity in their initial attempts to attain the 4-2.
Securing the result remained an acceptable priority after a tiring opening 45 at the start of what promises to draining "English Week" renders this decision from Nagelsmann acceptable. Had he tried something like this in a regular week or in the Champions' League, the German press would have grilled him. As it stands, it should soon be forgotten.
What's the status of Leipzig and Hoffenheim?
It's been far too long since we checked in with Marco Rose's German Red Bulls, or, for that matter, the TSG contingent of Sinsheim. As the two sides squared off this weekend in the fixture Germans pejoratively refer to as "El Plastico", it seemed an apt time to look in on both with draw-ups. As it turns out, the two clubs are headed in complete opposite directions.
RB's form can no longer be ignored. Rose has guided the Saxons to an incredible 11-match-unbeaten-run. Although it remains true that it doesn't take all that much personnel prowess to get the squad rotations of such an expensive roster right, let's also remember that we've seen Jesse Marsch and Domenico Tedesco do precisely that over the last 12 months.
Lineup—RB Leipzig—Match 13 (4-2-2-2)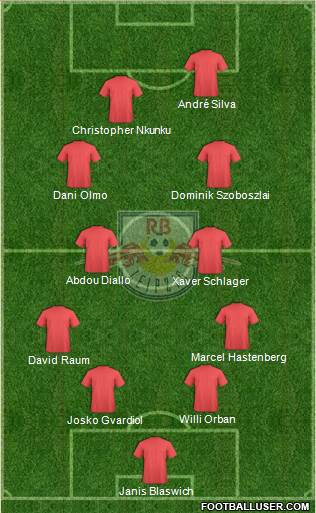 No Timo Werner? No problem really with Dani Olmo fit enough to start his first fixture since matchday 5. The Spaniard once labeled by this column as "the perfect ten" can honestly start anywhere along this team's forward line. Of the three Leipzig goals in this 3-1 victory, the second tally in the 57th minute proved most instructive of how much this team has to offer up front.
Hoffenheim had pulled back an equalizer early in the first half via a Georginio Rutter conversion of a gorgeous Angelino cross in the 50th. The hosting Kraichgauer couldn't enjoy parity for long, however, as Olmo sent in a brilliant stunner off a Dominik Szoboszlai switch a few minutes later. What followed counted as one of the best team goals of the season.
TSG keeper Oliver Baumann somehow palmed the ball away from the right-hand corner, but couldn't stop André Silva from crossing the rebound to Christopher Nkunku, lurking from the perfect position in Rose's selected short-striker lane for him. Wow. Game, set, and match right there. Olmo would later hammer home a radiant finish into the top corner from distance for the 3-1 in the 69th.
Leipzig: An irritating prognosis
Much as it may displease German football lovers, it looks likely that a die Roten Bullen will probably collect six points against our favored tradition clubs Freiburg and Bremen before league play concludes. A potential weakness concerns the soft play of the novel midfield tandem of Xaver Schlager and About Diallo, the latter of which was out of position. That's hardly an issue as Kevin Kampl is fit and can slot back with Schlager.
Marcel Halstenberg actually did rather well in his unfamiliar right-back position, meaning that Mohamed Simakan's potential continued absence isn't really as issue. The same applies to Josko Gvardiol's dip. The Croat should be capable of rectifying it himself, but Diallo can always step in for him in any case. David Raum remains far off his best form, but has been steadily improving. There simply aren't enough weaknesses to exploit here.
That's the bad news.
Hoffenheim: A more alluring prognosis
Bundesliga diehards should appreciate this one more. André Breitenreiter's team have gone three fixtures without a win. Apart from the double over woefully wretched Schalke in the round 10/Pokal week, the Kraichgauer haven't produced a genuinely serviceable game of football since the 4-1 defeat of Mainz in round seven. Breitenreiter, who may be in danger of losing his job over the break, rather curiously still has them in the same increasingly ineffective system as well.
Lineup—TSG Hoffenheim—Match 13 (3-3-2-2)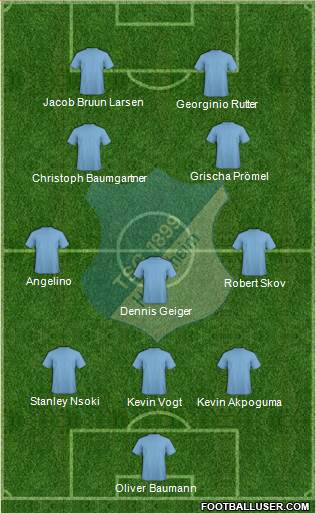 Only a couple of subtle organic shifts to talk about here. Angelino and Robert Skov press a bit higher. Christoph Baumgartner and Grischa Prömel scoot in a bit closer. With Ihlas Bebous and Munus Dabbur out, Breitenreiter has had difficulties figuring out who can serve on the top axis in the double striker set. Last week, he tried Baumgartner up alongside Jacob Bruun Larsen. Two non-strikers leading the line while Dennis Geiger took over in buttressing support while Sebastian Rudy ran the midfield. It flopped.
In principle, the solution should entail placing Andrej Kramaric across from Rutter. For whatever reason, Breitenreiter hasn't done this. He opted not to do so this week despite the fact that Prömel's injury (devastating for this team) accorded him the opportunity to do so. Kramaric never moved up. The TSG trainer even went with young German Kosovar Fisnik Asllani as a late choice at forward. Interesting, yet not entirely logical. In this state, this team looks in no shape to pick up points against Frankfurt and Wolfsburg. Breitenreiter could be done.
That's the better news.
What tripped Stuttgart up?
The Swabians ran into a bit of a pothole in the form of Gladbach one week after they appeared quite confident and secure in interim trainer Michael Wimmer's new set of tactics. The West Prussian foals snapped their own losing skid and put the brakes on Stuttgart's momentum with as 3-1 victory over the VfB in Friday night's curtain-raiser. Wimmer stuck with his new 4-4-2, making three smart personnel decisions with his changes. Kostas Mavropanos back in central defense. Pascal Stenzel filling in at right-back. Tiago Tomas playing on the wing from the start.
By all accounts, this constellation performed very well. The xG in this tight affair at Borussia Park (Gladbach 1.22, Stuttgart 1.14) remained razor-thin. Borna Sosa played extremely well from his more traditional fullback position. Tomas did an outstanding job whenever he could break into the area. Naouirou Ahamada, Chris Führich, and captain Wataru Endo all turned in excellent performances. Tomas and Serhou Guirassy unfortunately met their match in the form of BMG keeper Tobias Sippel, who shook off several bad games to produce a gem.
In the final analysis, the Friday night encounter was simply one of those games that could have broke either way. Alassane Plea's genius set up two of Gladbach's goals. Jonas Hofmann's brilliant control touch and finish on the early goal could not be stopped. Stuttgart found themselves close to the equalizer so many times before Patrick Herrmann netted the 3-1 capper at the death. Naturally, we'll have to mention the Ramy Bensebaini-Waldemar Anton incident. Was it a red card? Probably. That crucial decision in the 17th influenced a lot.
Stuttgart can still maintain hope of picking up points against relegation zone rivals Hertha BSC and Bayer 04 Leverkusen before the World Cup break hits. Wimmer, who has admitted that he is angling for the trainer job on a permanent basis, can still make a very convincing case for himself. The BaWü crew count as one of the most interesting teams to keep an eye on tactically on the final two matchdays of 2022. Pieces of the puzzle maneuver themselves into place and several key actors heat up. This could be a lot of fun.
Any joy in Freiburg-Köln?
Plenty of joy for Freiburg enthusiasts who got to watch Christian Streich's Breisgauer begin the match completely shot out of a cannon. The southern Badeners looked fresh and eager following an XXL rotation from Streich following the Europa League dead-rubber on Thursday. One empathetically wished that Steffen Baumgart had the same luxury. As one might have expected after all the grueling affairs of the past two weeks, die Geißböcke looked flat and dead-tired. No real chance for them here.
Some wonderful saves from Köln keeper Marvin Schwäbe kept this Sunday's capper competitive far longer than it should have been. Florian Kainz, Ellyes Skhiri, and Linton Maina just didn't have the focus left to capitalize on Freiburg's errors, which would have ordinarily made this a higher-scoring contest. Schwäbe's counterpart Mark Flekken actually played a horrible match. So many passing mistake's out of the back render Flekken's clean-sheet one of the ugliest zeroes one is ever likely to see.
Hence, in summation, not a lot of fun. Köln slip down further than they should be. Freiburg and Union maintain top-four places, but continue to look like teams that won't be capable of challenging Bayern in the long-term. It might prove to be a shaky finish for the Breisgauer if they play like this against in the final two fixtures against Leipzig and Union themselves. At this point, it's impossible to see anyone but Bayern topping the table at the beginning of 2023.
---
Weekly Tactical Focus: "Kleines Revierderby" Fun
---
When choosing Dortmund-Bochum for the tactical focus piece at near the same point in the season last year, this writer remarked that German football enthusiasts would take their "Revierderby fun" where they can find it. Schalke not being in the top-flight at the time meant that a rivalry of greater significance ages ago constituted our best chance to watch NRW antagonists and their famously enjoyable fan bases duke it out. Schalke being where they are now means…..well….it means we should get used to circling this matchup ahead of the weekend.
Both versions of Dortmund-Bochum actually ended up delivering last season. The 1-1 draw just before the holiday break furnished plenty of intrigue. The 4-3 VfL victory in round 32, through which Bochum dramatically clinched class preservation in front of their hometown fans, served as an absolute thriller. Perhaps we can look forward to many more years of cracking fixtures between these two clubs, provided Bochum themselves don't get relegated alongside Schalke this year. There's a little something hopeful to report on that front.
Full-time xG:
xG Dortmund–1.53, xG Bochum–0.81
Not something in line with a 3-0 victory. Edin Terzic's Schwarzgelben converted their chances clinically. The visiting 1848ers ran across their fair share of bad luck. As noted several times in this column, Bochum possess far more potential than one might expect to be associated with a relegation-threatened-side. Thomas Letsch's game kept this one intriguing for a long time.
We've much to discuss in this one, despite the fact that the second half wasn't terribly entertaining and there was an early "lid". Close calls on both ends of the pitch. Some more officiating controversies. As should be obvious from this week's picture, a new hero for both the BVB and the German national team. Youssoufa Moukoko receives a great deal of respect this week, but so too do many Bochum actors.
We'll go ahead and settle in for what was a fine afternoon of football over at Signal Iduna Park. Before getting to said football, a special thanks to the Dortmund ultras for a marvelous "Boycott Qatar" choreo just prior to kickoff. Of course Germans will watch their national team in the coming tournament. Some will also travel too the Arabian peninsula to support them in person.
We still have our views. Namely, that this tournament needs to get over with as soon as possible so that we may get back to "football as it's meant to be". After the unconventional winter break passes, do return to the Bundesliga for the most devoted and engaged fan-scene on the planet. Our message calls for no more corrupt regimes to be awarded the World Cup. The future must be different.
Lineup—Borussia Dortmund—Match 13 (4-1-4-1)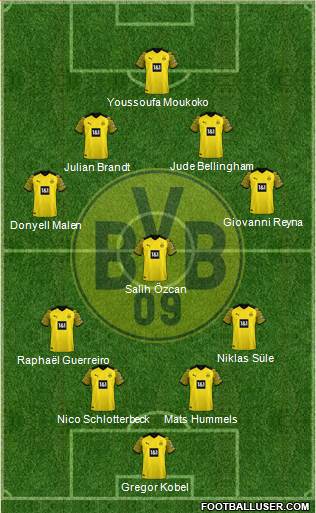 Plaudits are due for Terzic for this selection. The BVB trainer arrived at the excellent idea to take Julian Brandt off his centralized ten-slot and move Jude Bellingham up alongside him. As this set-up began to crystallize, one couldn't help but grin widely. Terzic wanted to end this one as quickly as possible and he put together a highly intelligent strategy for doing so. It came close to working.
The idea to move Donyell Malen back – possibly born out of some recent events – and fix him on non-rotative axis with Giovanni Reyna did produce some less than stellar results. Forward play sometimes got a little sloppy and there were many instances during which the flank builds lost focus. Defending on the wings gifted Bochum too many chances. Salih Özcan also looked a little lost on his solo axis.
Overall, however, this counted as a convincing enough performance from die Schwarzgelben. The back-line compensated for some of the confusion ahead of them, with Mats Hummels and Nico Schlotterbeck in particular looking exceptional on both sides of the ball. The praise flows for the BVB opponents as well, to whom we now turn.
Lineup—VfL Bochum—Match 13 (4-2-3-1)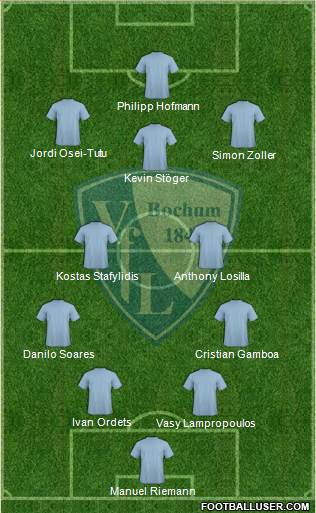 Letsch has basically been rolling with a 4-2-3-1 since taking over at Bochum, sometimes switching to a 4-4-2 later in matches with Philipp Hofmann pairing with either Simon Zoller or Silvere Ganvoula later in matches. There have been plenty of personnel rotations along the wings, something unfortunately compounded by Gerrit Holtmann's inability to remain fit. The issue of over-rotation due to injuries plagues the back-line as well.
Some interesting calls from the VfL gaffer here, benching both Christopher Antwi-Adjei and Philipp Förster in favor of Jordi Osei-Tutu and Konstantinos Stafylidis. Osei-Tutu produced a memorable match and one wonders if the attack could have been more menacing or, at the very least, more balanced with Antwi-Adjei working opposite him in Zoller's slot. Stöger – despite having a convincing game – might have also benefitted from some help from Förster.
In any event, this held up functionally for about as long as one could reasonably hope for. The BVB goals came courtesy of individual moments of magic, not from the structure of the constellation being worn down. The "lid" that accompanies this match appeared to stem from a mutual decision from both squads to allow the result to stand and conserve energy for the week ahead. Long before we got there, however, we were treated to an intense and intriguing football match.
Match Flow: 1st to 8th minute
Wild slugfest football in midfield through the first two minutes. Brandt and Niklas Süle both couldn't hold onto the ball against the Bochum press in the 1st and 2nd. Osei-Tutu managed to latch onto a ball at the end of the 2nd, but wasn't joined by any support. The young Englishman eventually laid back for Stafylidis, who gave the ball away on a poor switch. Osei-Tutu impressively kept at, hassling the BVB line away from a bow-arc build on the ensuing approach.
Cristian Gamboa, Hofmann, and Zoller attempted to cycle in rightwards in the 3rd. The BVB center-halves easily took care of the attack once it got into the box. Anthony Losilla could only touch out for a goal-kick. After playing back to Gregor Kobel twice in the 4th, Dortmund finally managed to get going up their left with a Schlotterbeck carry and some triangulation from Malen and Raphaël Guerreiro. Ivan Ordets ultimately stopped Malen with a rough tangle tackle.
Guerreiro's subsequent 5th-minute free-kick was well dealt with by the VfL defensive ranks. Özcan and Süle kept the play alive, yet saw both services back into the box cleared. Brandt and Guerreiro charged up the left on the next BVB rush in the 6th. Moukoko received a ball that was slightly ahead of him, however, and Ordets was able to bump the German phnom off the ball. Again, Dortmund tried with Brandt on the half-left in the 7th. Reyna rushed over in support.
The American's touch forward for Malen was cleared by Vasilios Lampropoulos. Süle, again in that makeshift right fullback role we may see Hansi Flick use him in soon, marched up the right in the 8th. Despite being forced back, the former Bayern man picked out Guerreiro with a nice full lateral switch. Guerreiro touched over to Brandt, who couldn't get past Ordets. The first piece of individual brilliance from Moukoko commenced.
Moukoko simply picked Ordets clean on the half-right. After taking a few deft steps center, the 17-year-old aligned his foot for a powerful shot. Manuel Riemann, admittedly, wasn't in his best position after his teammate lost the ball. The VfL keeper nevertheless stood no chance against the dip that Moukoko placed on his shot. A beautiful sight to watch the teenager's effort sail over Riemann and sink perfectly in just underneath the crossbar.
1-0 to the hosts.
Match Flow: 9th to 12th minute
This affair could have very well had it's "lid" after what transpired over the next two minutes. Terzic's strategy proceeding according to plan meant that Dortmund remained eager to close it out immediately. A heavy rightward cycle involving Reyna, Özcan, and Süle in the 9th failed as the trio were just a bit too excited with their touches. A similar scene on the left in the 10th didn't work, but Malen was at least able to get the ball back to Kobel.
Kobel went for the long-launch in the 11th. A half-clearance from Lampropoulos landed with Brandt. With help from Malen, Brandt cycled around to keep the play alive. Brandt sent the ball back to Malen in the box. The Dutchman tried to finish on the turn, in the process getting caught by Lampropoulos. Match official Tobias Stieler immediately pointed to the spot. The Ruhr guests were suddenly in a deep hole indeed.
Without so much as a mild objection from his teammates, Gio Reyna strode to the spot to take the penalty. The "American Dream's" got another chance to keep blazing his comeback trail. A confident finish from Gio featured a couple of spindly stutter-steps and a calm, soft finish past Riemann on the left. The 19-year-old's celebration (a little flap dance) might have been a bit cheesy, but we all enjoyed watching it.
2-0 to the hosts.
Match Flow: 12th to 27th minute
With Dortmund's teenage sensations both on the scoresheet and Bochum surely crestfallen at conceding their league-record 9th penalty of the season, one worried that this was well and truly over before it even began. Thankfully, the NRW guests were gracious enough to show us some fight. Losilla, Stafylidis, and Danilo Soares kept in calm on a slow-roll build towards the end of the 13th. Eventually, Stafylidis crept forward and, via Stöger, sent a useful ball in Hofmann's direction. Schlotterbeck shut it down.
Osei-Tutu tried to break in the 14th. After initially getting beaten, Süle drifted over to handle the Englishman's service into the box from the VfL left. Osei-Tutu then got whistled down for offside on another attempt. Soares handled the next VfL build in the 15th. Bellingham took advantage of the fact that the Brazilian spent too much time on the ball and dispossessed. Bellingham seemed to have second thoughts on a quick counter without support, however, and slowed down.
A very nice BVB attacking sequence in the 16th saw Süle, Moukoko, Malen, and Guerreiro all get touches on the ball. Astutely watching the play develop, Reyna crashed in on the trail. Though the American's first touch got away from him, Reyna recovered and executed a quick give-and-go with Brandt. Gamboa couldn't cope and ended up fouling Reyna. Brandt regrettably couldn't make much of the 17th-minute free-kick just outside the left edge of the area.
Losilla cleared Brandt's initial flat service. Brandt then touched the second effort out for a goal-kick. After a couple of full bow-arcs, Malen dropped deep for a nice hold-up from a central position. The Dutchman located Süle streaking down the right in the 18th. Osei-Tutu scampered back to try and stop the German national team defender. Thanks to some desperate defending from a VfL attacker, Süle only won a corner.
Reyna's 19th-minute service was rather easily repelled. Kobel eventually collected and tried to send Reyna, via Bellingham, down the right again before the minute was out. Osei-Tutu, to his immense credit, was back helping on the mark again. The VfL Englishman won the ball and sent Stöger back the other way on a counter. Özcan fouled. A long free-kick cross from Stöger in the 20th was expertly dealt with by Schlotterbeck.
Another, somewhat inelegant BVB charge down the right involving Reyna, Süle and the criss-crossing Brandt got halted by Soares at the end of the 20th. This particular sortie counted as one of those awkward rushes up the flanks mentioned in the introductory paragraphs. There was another such botched drive win the 21st that ended up with Moukoko failing on a tough hold-up. Hofmann showed the youngster how it's done with a better control touch back the other way in the 22nd.
Bochum's counter remained too slow. Stöger ultimately found no way through. Losilla initiated the next VfL charge in the 23rd with a quality win against Özcan in midfield. Stöger again served as the pincer target. The former Mainz man again couldn't pick out anyone on his flanked lanes. Schlotterbeck stepped forward to defuse the situation. Letsch's men took the subsequent throw-in too quickly. Hofmann headed into a box without a single blue shirt in it.
Dortmund took no chances with their next build. The BVB back bow-arced it around until they could think of something. Hummels finally opted for a forward carry in the 24th. This merely resulted in Hummels committing an offensive foul against Soares. Osei-Tutu punched through after a quick free-kick. Reyna boxed out the VfL Englishman decently enough to shepherd the ball out for a corner. Bochum manufactured some danger off the 25th-minute service.
The ball eventually found its way to Zoller after some pinball involving Hofmann and Süle. Zoller went for the spectacular overhead bicycle kick  from about six meters out on the half-right. The attempt at the sensational soared over the crossbar. Bochum were still gaining in confidence. Osei-Tutu nearly punched through on the VfL left again in the 26th. Reyna and Süle forced him to play back to Soares, but the guests were able to maintain possession throughout the entire minute against a lax BVB press.
The ball circulated all through the VfL ranks in the 27th. Fullbacks Gamboa and Soares couldn't figure out the right idea off multiple bow-arcs. Soares eventually seized the initiative and, at least until the rules kicked in, to have registered one of the best assists of the season. Soares unleashed a dazzling diagonal lob in Hofmann's direction. The former KSC striker proved equal to the service with a perfect touch down and incredible second-touch loft past the onrushing Kobel.
The ball found the back of the net.
1-2 for the guests?
Match Flow: 27th to 44th minute
Not quite. The linesman suspected that Hofmann was offside and the VAR team had to have another look. Replays confirmed that the Bochum lead-striker was a half-a-stride-ahead. The absolute correct call. It still remained a shame that such a superb goal had to be chalked off. The decision being a relatively easy one meant that we were back playing by the 28th. Dortmund spent that entire minute pinned back left by a murderous VfL press.
The BVB back-line finally got the ball over to Süle on the right in the 29th. Soares poked away from him and Dortmund couldn't get out of their own half again until the half-hour-mark. Malen threaded through for Brandt on the BVB left in the 30th. Losilla had to resort to a foul as Brandt crept in close to the area. Brandt's 31st-minute service reached no one apart from Ordets, who nearly turned the ball into his own net. Hummels then stopped a quick-counter attempt by Osei-Tutu.
Dortmund couldn't handle their next few approaches very well at all. Reyna and Süle found themselves playing back to Kobel in the 32nd. The BVB net-minder himself had no idea how to proceed after the second play-back, simply sitting on the ball for what seemed like an eternity. Ordets collected a very poor centralized BVB charge in the 33rd. Osei-Tuta, active again on the counter, saw his square into the box cleared by Schlotterbeck.
Schlotterbeck carried up on the next approach after hassling the ball away from Hofmann. Reyna, after being fouled by Losilla, took a quick free kick directly into Soares' face. Stieler opted to take a moment to talk to everyone. Malen worked the ball back to Reyna after the official free-kick in the 34th with a really nice hold and through. The American nevertheless found his progress impeded by a hard, yet fair, sliding challenge from Soares.
Stöger rose high to clear the subsequent 35th-minute corner. Süle and Reyna tried to get through on the 36th. Soares and Stafylidis had it handled on plays that only produced a pair of throw ins. Bellingham had to retreat despite a nice diagonal in the 37th. Malen then lost the ball after the BVB Englishman's attempted shuffle. Brandt was lucky that, after he too employed some clumsy touches, Stafylidis resorted to a foul.
The 38th-minute free-kick design from Terzic's playbook wasn't bad. Reyna ultimately received the ball following a Schlotterbeck switch on the right-hand-side of the box. The American made a little too much out of an Ordets challenge for Stieler's liking. The ref waved away appeals for a potential penalty. Terzic's men at least didn't waste any time putting their next attack together.
As the chance to kill the game off right before the half approached, Bellingham raced forward again in the 39th. Reyna kept the ball moving with a nice flicked-on header for Moukoko. Reyna popped up again on the right-side of the area following a sleek one-two with Brandt. A goalmouth cross for the onrushing Bellingham was just a bit overcooked. The American was offside anyway.
The guest took their own risks back the other way in the 40th. The consistently lively Osei-Tutu cut inside off the right flank, stopped only by an inch-perfect Schlotterbeck slide challenge away for a corner. Lampropoulos met Stöger's 41st-minute service perfectly. Bochum were denied a goal only by virtue of the fact that Hummels headed it away from the empty net one meter ahead of the goal-line.
Bochum came close on the second corner awarded in the same minute. Kobel fisted away Stöger's service before it could reach Hofmann this time. Malen unleashed Reyna on the BVB counter and we arrived at one of the strangest scenes in the match. Soares tried to pull back out of a challenge against the wide-open Reyna in the box. Stieler initially pointed to a spot for a penalty in the 42nd.
The VAR team compelled Stieler to take another look, however, and it would be the case that Bochum did not end up conceding their 10th penalty of the season. The reversal remained highly subjective. Though Soares did clearly try to pull out of the tackle, it didn't appear as if Reyna invited the contact. Soares was late. Reyna couldn't stop his movement. Odd.
In any event, Stieler changed his on-pitch ruling. The underdogs had an unexpected lifeline, provided they could get in the tunnel with the scoreline as it was. Regrettably for them, this didn't happen. Even though the VAR check took two minutes, no additional time was tacked on. As it turned out, Bochum couldn't hang on.
Match Flow: 44th minute to half-time
Zoller, whom one could question as a selection as a winger, miffed up a promising VfL drive in the 44th. The natural striker had space to finish on the turn in the box after Osei-Tutu whipped in a ball for him, yet opted to touch back for Stafylidis for whatever reason. Stafylidis lost the ball and Ordets had to be on hand to halt a BVB counter involving Malen, Brandt, and Süle in the 45th.
Bochum didn't show much urgency on their next build, but were eventually able to get a useful ball in Hofmann's direction via Stöger at 45+1. Schlotterbeck cleaned up and launched forward. After Schlotterbeck's totally unintentional vertical got chested on by Reyna and slightly deflected by Soares.
The ball landed with Moukoko, who credited his coach after the match for telling him Riemann was often off his line. The VfL keeper deserves some blushes for wandering about in no-man's-land at 45+2. Moukoko also deserves full credit for unflinchingly lobbing a beautiful effort over Riemann from 30 meters out directly into the far corner.
Bravo Moukouko. A brace for the German phenom and a 3-0 lead.
Half-time xG:
xG Drotmund–0.80, xG Bochum–0.11
Hmmm.
A real shame the plot-points don't count on the disallowed Hofmann goal.
Match Flow: 46th to 66th minute
No personnel changes from either trainer at the half. There would also by, so far as the author could tell, no tactical shifts from Letsch or Terzic for the duration of the affair. Once the subs started pouring on in the 66th, all the replacements basically served as like-for-likes. Letsch's idea seemed to be to allow those who began the match approximately 20 minutes to get back in it. Terzic was of a similar mind. A little time to increase or protect the lead for his starters.
Poor Bochum came agonizingly close to getting themselves back in it shortly after the restart. After some Süle-Reyna cycles went nowhere in the 46th, Stöger played Osei-Tutu in brilliantly. The VfL Englishman did well with his chance. Only the slightest of touches from Kobel deflected his effort off the post! Gamboa and Soares got a little too desperate with more long balls aimed at Osei-Tutu in the 48th. Dortmund controlled play with back laterals in the 49th.
A decent VfL build in the 50th ended with Stöger caught offside on a Zoller through ball. Stöger broke through on the VfL left in the 51st and earned his side a free-kick in a promising position when Özcan fouled him. Stöger sadly sent his service directly into a two-man ball. Bellingham cleared a subsequent throw-in and Hummels took care of a resultant corner, both in the 52nd. Brandt narrowly missed Malen in the box on a quick BVB counter.
Dortmund pressed down on the match to take some tempo out of it in the 53rd and 54th. Not much of note in those two minutes apart from quality control touches from Reyna and Malen. Osei-Tutu finally picked a ball off at the end of the second minute. Apparently, Stieler thought Brandt stopped the VfL winger legally. Gamboa was ruled not to have blocked Bellingham legally on the ensuing BVB counter. Gamboa got booked and die Schwarzgelben got a free-kick.
Brandt, in what isn't exactly a common occurrence for him, did extremely well with the 55th-minute dead-ball. The effort from Brandt bent past the wall and literally shaved Riemann's far post. Excellent piece of technical skill from the 26-year-old there. One minute later, Moukoko missed an absolute sitter after some magic from Bellingham and Malen. The German phenom had a historic hat-trick on his boot in the 57th, yet somehow screwed up his easiest opportunity from about 12 meters out.
Signs of capitulation began to emerge from Bochum. The VfL press backed off in the 58th and the BVB actors kept possession turning playful tricks through the hour-mark. Osei-Tutu tried one last time in the 60th. It took both Hummels and Özcan to close ranks against him. Özcan's boot in was ruled illicit and the VfL got a free-kick out of it. Hummels' thumped away Stöger's delicate service.
Despite the fact that Özcan had to leave the pitch for treatment of a bloody nose, Letsch's men didn't appear too interested in making something out of their man advantage. Brandt, Malen, and Schlotterbeck ran away with an easy counter in the 61st. Stöger got spooked by the Dortmund press and sent a distance effort well over in the 62nd. Dortmund then held the ball through the 64th until Özcan returned.
About the best last chance for the 1848ers came when Hummels misjudged a defensive header away in the box at the end of the 64th. Drenched in sweat, Hofmann was simply too gassed to latch onto it. Kobel only had to take a few steps to shield the ball out of bounds. Whilst Kobel took his time setting up the goal-kick, Terzic readied a triple change.
Match Flow: 66th minute to full-time
That's about all the football we got out of this one. Subs. Interruptions. Almost exclusive laissez-faire action. The result was decided. No one wished to risk injury at the beginning of the packed "English Week". As if to underscore how easy it is for players to get injured even when they're barely trying, Anthony Losilla and Raphaël Guerreiro actually both got hurt by members of their own medical staff during a completely ridiculous scene in the 72nd. 
No, that's actually not a joke. Losilla got his head stomped by a Bochum medic who slipped on his way to help him. Shortly before this, a BVB medic slipped and brought Guerreiro down via a tumble with Hummels and Schlotterbeck. Err…was there some reason why neither team outfitted their corpsmen with cleats? The answer to such a question really is beyond the scope of this column. We might as well just move on and bookend with full-time xG:
xG Dortmund–1.53, xG Bochum–0.81
The springtime edition of Bochum-Dortmund carries with it the potential to be a fun affair. Letsch can take quite a bit from the performance of Osei-Tutu; by far his best player on the pitch. The writer shall reiterate the Antwi-Ajei (or preferably a healthy Holtmann) should start opposite of the VfL Englishman with Stöger functioning as a natural ten. Hofmann showed again what talent he has on the disallowed goal. The defensive line shows signs of beginning to gel. For the "nth" time, Bochum aren't that bad of a team.
Shifting over to Dortmund, the question on everyone's mind over the course of the week shall remain whether Moukoko's recent rise will earn him a place on Hansi Flick's World Cup roster. This column predicts that the answer will be "yes", though it's worth emphasizing that this performance didn't constitute the "grand awakening" we've all been waiting for. The 17-year-old committed some mistakes and missed a big chance. He has some way to go yet. Luckily, he's also got plenty of time.
As for whether Moukoko will start in the coming competition, that's highly doubtful. This writer can recall when some were asking whether the WunderKind could begin leading Dortmund two autumns ago. Such talk was even more ludicrous then. A 15-year-old spearheading a Bundesliga attack? Have some of us completely lost our minds? Does no one recall what it felt like to be a teenager? Anyone who assumes that they had matters even remotely together at that age is simply lying to themselves.
There's all this talk of how mature players like Moukoko are on the pitch. We hear the same thing about his English teammate Jude Bellingham. How advanced both players are in terms of their game remains undeniable, but if one looks closer one can see that Youssoufa still makes a lot of mistakes. That's less the case with Bellingham, but one can still see that he's just a boy when taking some of his body language and post-match-comments into account.
One can hopefully look forward to many years of Moukoko representing the glorious Bundesrepublik with his amazing skill set. Hopefully. Injuries can always strike again. Development can be stunted for one reason or another. One hopes for it all to come to fruition regardless, just as one hopes for more "Revierderby" fun between these two teams. Please, Bochum. Don't get relegated along with Schalke. What sort of NRW clash can we look forward to if that happens?
Don't leave, 1848ers.
Thanks so much for reading! You can occasionally catch Peter goofing off while watching non-Bundesliga football on twitter, @ViceytheSS.
Twitter DMs are open for football conversations, corrections, and (if you truly insist) general abuse. 
All columns debut on Bulinews before appearing on Peter's website as the season progresses.