Nothing quite like midweek football in the Bundesrepublik! Writers and players alike have their fair share of extra work to get through; not that we would have it any other way. Those perhaps to pre-occupied to catch this Wednesday's post can catch up here.
---
League-wide Talking Points: Round 12
---
The top two contenders roll on
With Dortmund's status as a title contender put on indefinite hold after the coaching change, the two next best challengers to Bayern's uninterrupted eight-year-reign both kept pace with three-point hauls; albeit in radically different fashions. Julian Nagelsmann's Leipzig finally appeared burdened by lethargy against his old club Hoffenheim. Sebastian Hoeneß's Kraichgauer racked up the near-misses until it was such time for Angelino to come through with another one of his obligatory magical assists.
While die roten Bullen eked out a 1-0 victory, Peter Bosz's Werkself steamrolled Köln 4-0 to complete another rout in which they showed few discernible weaknesses. Last-minute replacement, and heretofore disowned, Mitchell Weiser opened up the scoring eight minutes in with a phenomenal finish. This time it was Moussa Diaby's turn to scorch anyone in his path, first with a goal, then an assist of Patrik Schick later on. To add insult to injury, phenom Florian Wirtz capped the match against his youth academy club with his second slick-trick goal in as many games.
In this week's concluding commentary section, we'll take a look at how some of the predictions made way back at the beginning of the campaign turned out to be dead wrong. For now it's worth noting that both Leipzig and Leverkusen were tipped to regress this season. Such a pleasant surprise to see them mounting, admittedly early, title challenges.
Matarazzo wins the round's best tactical battle
A highly-anticipated re-match of the 2018/19 relegation playoff didn't disappoint. Stuttgart and FC Union Berlin may have split the difference with a 2-2 draw, but it was the VfB trainer who came out on top in terms of the in-game modifications. VfB trainer Pellegrino Matarazzo began with another well-thought out 3-4-3, deftly switching to an innovative 4-3-3 at the break. An interesting aspect of his two personnel changes at the half–Daniel Didavi and Tanguy Coulibaly for Matteo Klimowicz and Borna Sosa–saw striker Nicolas Gonzalez move behind Coulibaly on the left wing. Wataru Endo moved to right back this time.
The Swabians, in a very familiar constellation, generated some very creative attacking sequences during a largely uninterrupted spell of possession between the 46th and 76th. For a full half-hour, it proved a genuine treat to watch the returning Didavi and the ever-masterful Silas Wamangituka work the point of attack from a whole range of different positions. Unlucky not to have scored two or perhaps even three goals during the spell, Stuttgart actually fell behind 0-2 in the 77th after a Taiwo Awoniyi goal. Matarazzo calmly executed his final phase plan by introducing Philipp Klement and Sasa Kalajdzic three minutes later.
All of the trainer's subs factored into the two late goals. Kalajdzic grabbed a brace with assists from Klement and Didavi. The first goal resulted from a well-rehearsed set piece while the other looked like a combo Didavi and the Austrian striker had been ironing out on the training pitch. One can hardly wait for the next time these two teams meet in the second half of the campaign. A match one would have tapped as a relegation fight may turn out to be a battle for the last Europa League place. Both of these clubs benefit from stellar management. Union masterfully navigated the latest transfer window while  VfB sporting director Thomas Hitzlsperger absolutely made the right move bringing Matarazzo in at the midpoint of last season.
When Hitzlsperger unexpectedly dumped trainer Tim Walter in December of 2019 despite the fact that Stuttgart occupied second place in Bundesliga Two, few thought he had made the correct decision. The choice is now almost universally lauded as it becomes increasingly evident that he snatched up a very sharp coach.
T-minus three to the Tasmania record
Schalke managed to look completely harmless again in their 0-2 loss to SC Freiburg. Roland Sallai's second goal in particular showed just how dismal the Königsblauen can be. No one came anywhere near Vincenzo Grifo as he waltzed unmolested into the danger area and had all the time in the world to serve up the Hungarian striker. Manuel Baum's rapidly runs out of straws to grasp at. Amine Harit proved completely ineffective in his return to the lineup. Rabbi Matondo and Ahmed Kutucu showed not even the slightest flicker of potential in their reinstatements.
The remaining live representatives of the since dissolved Neuköllner club SC 1900 Tasmania Berlin seem to think that their record of a 31-game-winless Bundesliga streak now stands in serious jeopardy. The NRW-miners need only three more matches to tie the once-thought-to-be unbreakable record. No one seriously conceived of the possibility that, in modern times, a squad could be so bad as to approach the time when pro-am teams were still occasionally competing in the Bundesliga.
Perhaps it won't come to that. Schalke can surely beat Bielefeld on Saturday, no? Most German fans would actually feel sorry to see Tasmania's lone historical claim to fame be erased anyway. Should Baum's men lose or draw against Arminia, tying the record may be a foregone conclusion unless they can beat either Hertha or Hoffenheim in the next two rounds.
Fuggerstädter somehow in 9th place
Bielefeld themselves put in a decent defensive effort against Augsburg and even enjoyed the better share of scoring chances in their 0-1 loss at the old Alm. Ritsu Doan shook off his form dip over the weekend. He got his team going early with a nice effort on target and a scintillating little solo dribble. His team nevertheless failed to respond to the impetus over the remaining three quarters of the match. Stefan Ortega looked wobbly at the back and Fabian Klos floundered repeatedly in the final third.
None of that is to suggest that Augsburg deserved all three points. In fact, Heiko Herrlich's Bavarians were pretty wretched throughout. Marco Richter turned out to be a total bust in his first start of the season and Michael Gregortisch continued to fail to revive any of his early season promise. Tobias Strobl didn't do well in the ten-spot at all. Herrlich's "diamond box" truly begins to grate the nerves.
Somehow, Daniel Caligiuri managed to bail his side out again with a late set-up of Jeffrey Gouweleeuw. The Dutch captain's finish certainly wasn't anything terribly special, helped in via an unfortunate deflection off defender Nathan de Medina. The Eastern Westphalians deserved better. Seeing as how the result places Augsburg in 9th place despite the fact that the Fuggerstädter haven't played a decent game of football since round six, an unsatisfying conclusion leaves one feeling that the Bundesliga deserves better than them too.
Searching for answers amid the Berliner Fog
Bruno Labbadia's team sheet looked sufficiently menacing. Moreover, shortly after kick-off at the Olympiastadion, his Hertha settled into savvy 4-3-3 ostensibly capable of nimble and skillful play. Matheus Cunha, Javairo Dilrosun, and Krzysztof Piatek kept a horizontal attacking line to form a threatening attacking trident. Lucas Tousart and Niklas Stark folded in to make way for swift fullback Deyovaisio Zeefuik up the right flank.
In theory it should have worked. In practice, it didn't. A Mainzer back-three nailed the center shut. The forward-deployed Berliner strikers found themselves limited to low-percentage distance efforts and endless clearances of crosses and diagonals. Over the course of 90 minutes, die alte Dame failed to produce even one noteworthy scoring chance. The capital city hosts were horrible on the build and even worse on the counter.
At the end of a very underwhelming 0-0 draw, a Rheinhessen lineup that didn't even feature Jean-Philippe Mateta in the starting XI engineered four quality scoring chances to Hertha's none. Dodi Lukebakio and Maximilian Mittelstädt, two talented players who absolutely should have made an impact off the bench in the 61st, stumbled around lost.
This curious fixture doesn't lead clear-cut conclusions. Labbadia has the players. Apart from the fact that Mittelstädt should be starting over Marvin Plattenhardt, he also appears to have his tactics spot-on. The execution repeatedly falters as this team continues to underachieve. Solutions elude. It reminds one of the dense fog that descends upon the Charlottenburg district during this time of year. One can't make out the path.
---
The Burning Questions: Round 12
---
Should Adi Hütter be on the chopping block?
After the blown lead extended Frankfurt's winless run to nine games, it's certainly legitimate to pose this question. We discussed the SGE's blatant deficiencies in great depth in the previous column. Hütter himself admitted that he needed to employ serious foundational changes in order to shake up his side. Alas, we saw the same formation and same basic idea against Gladbach this round. Even before the improbable late comeback, it wasn't nearly good enough.
Lineup—Eintracht Frankfurt—Match 12 (3-4-2-1)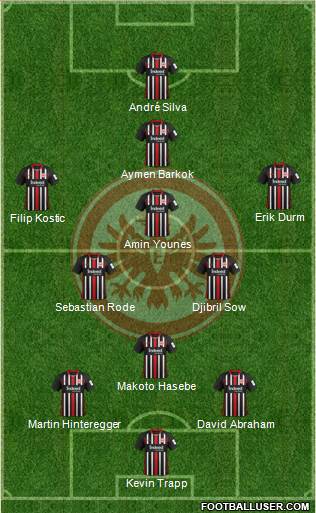 Four new players. Same exact problems. The shape aspires to be a 3-4-2-1, but can't manage to pull it off. Filip Kostic and Erik Durm don't get into advanced enough positions to press ahead of the ten. Amin Younes and Aymen Barkok, like Daichi Kamada and Djibril Sow in the preceding round, aren't fanning out behind the striker in symmetrical positions.
Hütter toys with illogical adjustments. Kamada should work as a ten if Makoto Hasebe runs pivot. Aymen Barkok and Amin Younes should serve as straight wingers if both are to start. Burying Kostic so far deep fails to make any sense. It's likewise nothing more than a shot in the dark to try partnering  Sow with Sebastian Rode. Either Dominik Kohr or Stefan Ilsanker need to share the six role if the back-three featured a forward fulcrum.
As spectacular a match as Barkok turned in, he needed to be subbed off. Defending a two-goal lead, Hütter didn't begin to adjust to a defensive re-format until the 71st. David Abraham's sending off in the 81st was unquestionably poor refereeing, but the Eintracht trainer's decision to leave the Moroccan on led to the penalty that brought Gladbach back into the match.
Hütter's decision to bring on established players as time-killing subs in the final minutes was also a poor choice. In such cases, one needs to introduce lesser used players who actually wish to be on the pitch. Both Kamada and Danny da Costa weren't interested in playing in the final three minutes. Both were culpable, through being completely switched off, in the lead up to the equalizing goal.
Die Adler stall in mid-table as a result of the fact that Hütter appears to have misplaced his "coaching 101" manual. By all accounts, this should be a team within striking distance of reclaiming its European place. Their trainer must present an organized and coherent strategy soon.
What impression does Terzic's new BVB make?
Ah yes. The matter on everyone's mind. The Lucien Favre era at Dortmund, fairly or not, was defined by the general perception of the fans that the Swiss trainer played an antiquated brand of football. Frequent losses to teams in the bottom half of the table were marked by possession schemes that seemed plodding and slow. The popular notion held that Favre didn't construct aggressive enough tactics when facing weaker opponents.
As one might imagine, some of these accusations were based in reality. Other times, criticisms stemmed from the patently lazy logic that an older coach remained wedded to outdated strategies. In any event, we did get a good look at how Edin Terzic plans to put his stamp on Germany's second-richest club.
Lineup—Borussia Dortmund—Match 12 (4-1-4-1)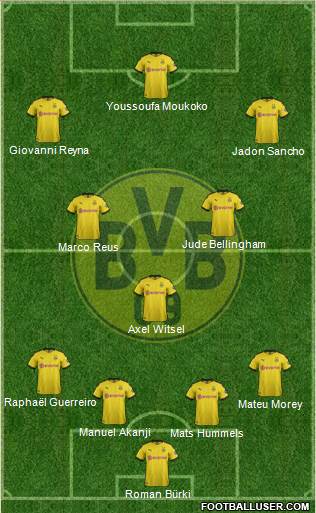 One personnel change sees Youssoufa Moukoko replace Emré Can. A simple enough act of "fan service". While one can certainly observe changes when contrasting this set-up with that of Favre's last match, the constellation itself actually constitutes little more than a carbon copy of the system leading to Leverkusen's recent successes. Terzic debuted with a straightforward emulation of the league-leaders at the time of kick-off; a safe bet on a tight-turnaround.
One can find little fault with this approach. It's nevertheless doubtful that we'll see something like it again. Peter Bosz's scheme finds so much success because the more creative players in central midfield control distribution for "speed demons" Leon Bailey and Moussa Diaby on the flanks. Giovanni Reyna and Jadon Sancho serve as the creative crux of die Schwarzgelben, making it somewhat irrational to deploy them so wide on the second attacking axis.
A deliberate attempt to produce more exciting quick transition football manifests. That is Terzic's primary task. It shall prove most interesting to see what he devises in the coming weeks in pursuit of this objective. A possible forthcoming development may see Emré Can take over the libero position, with Axel Witsel and Jude Bellingham given solo-axial deployments directly ahead.
---
Weekly Tactical Focus: …and then there was one
---
As soon as the 11th round concluded, German football lovers knew that we were in for quite the pulsating seven days. Two Bundesliga clubs emerged undefeated through the first eleven match days. As it so happened, both were what we term our "company teams": Volkswagen's Wolfsburg and Bayer Pharmaceutical's Leverkusen. Even more intriguingly, league-favorites FC Bayern München were set to square off against both sides in the final two league rounds of 2020.
Indeed. One could have hardly written a better script. A listing Bayern struggling with both its shape and ideas had to dig deep in order to vanquish two unscathed opponents and reclaim their place at the top of the table. It's precisely the sort of storyline fans in the Bundesrepublik would have wished for come Christmastide. We entered this round poised to learn quite a lot from Wolfsburg vs. Bayern. We've much to learn still when the second part of this story unfolds on Saturday night.
Likely no one will dispute the fact that Bayern have looked physically and intellectually exhausted in their last five league fixtures. They conceded the first goal in each match. Even though they never ended up losing any of the games, the German giants are not a team one is accustomed to watching have to play from behind so regularly. Visible cracks in the armor were there for all to see.
In this round's marquee matchup, they managed to concede the first goal yet again. The comeback also took significantly longer to materialize than in the previous encounters. Of course, the inevitable still ended up transpiring. A team so strong at front, back, and middle eventually outmuscled an opponent that couldn't compete on a mark-for-mark battle. We'll break it down with a eye toward the relevant lessons heading into the next test.
Lineup—Bayern München—Match 12 (5-4-1)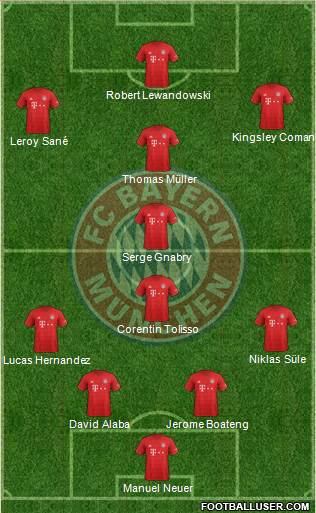 Missing midfield linchpins Joshua Kimmich and Leon Goretzka, Hansi Flick built a set-up behind the half-way line that, while certainly populated, wasn't explicitly designed to be protective. Throughout this entire phase of Bayern mediocrity, it's interesting to note that Flick has relinquished his high-press once. The 55-year-old remains comfortable with the large gaps conveyed in the illustration above. He will not risk allowing his team to take their foot off the gas pedal.
Niklas Süle at right-back?
Difficult to believe, but very much true. When the team sheets came in, one noted that there could be no other place for him. Early action confirmed that he was assigned a wide full-back role. The deployment could be related to any number of reasons. The FCB trainer may still be concerned about the shakiness of Bouna Sarr, or perhaps he fancied Süle's chances against the predictably less active VfL left of Josip Brekalo and Jerome Roussillon.
It could also mean nothing; just a standard squad rotation to save Benjamin Pavard for a weekend start while keeping Sarr and Chris Richards as potentialities for Peter Bosz to prepare for. In any event, as we shall see, Süle did remarkably well in this assignment.
Leroy Sané debuts left
Though both the slumping summer acquisition and Kingsley Coman would begin rotating heavily toward the end of the first half and eventually switch back to their more natural sides, Sané definitely began on the left. Here one can more confidently assert that Flick wished to accomplish something. Namely, he has to get Sané finding a more confident groove.
Results were more mixed in the beginning, but the 24-year-old did eventually settle in to supply a steadier supply of sparkle as the match wore on. This appeared to be an important tune-up fixture for him; easily the far better of the two full-90-minute-fixtures he's played in competitive matches this season. An form upswing could be on the way.
Glasner sticks with what works
Definitely no subtle trickery afoot at the other end of the pitch. The VfL trainer has his best XI and doesn't care who knows it.
Lineup—VfL Wolfsburg—Match 12 (4-2-3-1)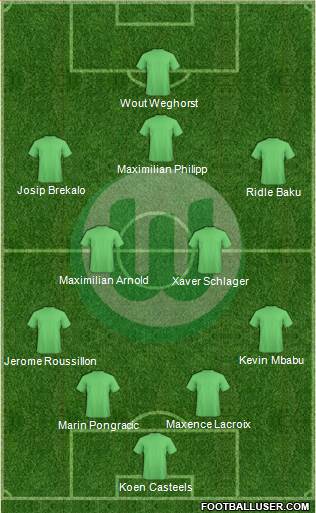 There's no need for even a faint midfield stagger when Maximilian Arnold is available. Note that this constitutes Ridle Baku's second midfield mission for his new club. To no one's surprise, Glasner ordered his players to direct the bulk of their early attention to the explosive partnership developing between Baku and the returning Kevin Mbabu.
We're likely to hear a great deal more from that pair before this season is out.
Match Flow: 1st to 15th minute
The Lower Saxon guests definitely showed the upper hand in the opening quarter of an hour. Bayern spawned the first chance of the match in the 4th. Serge Gnabry rocked back for Sané, who took way too many touches to mangle a wonderful chance in front of goal with the ball directly at his feet. To make matters worse, an uncomfortable looking Süle lost his first two aerial challenges to Wout Weghorst.
Glasner's men hit the gaps with reckless abandon. Arnold stretched out long balls to Mbabu twice in the opening few exchanges. The opening goal actually originated on Roussillon's side, but Baku and Mbabu were still involved. The French left-back hit Baku with a brilliant switch. The former Mainz midfielder then cut back for his trailing partner. A inch-perfect cross from Mbabu found Maximilian Philipp, who finished first-time on the volley. Sané blew his coverage inside the box.
Action continued along the Wolfsburg right. Arnold found Mbabu on the overlap again in the 7th and a third time in the 9th. The FCB found themselves mostly bereft of ideas in possession, epitomized by a failed charge, also in the 9th, in which the only thought emerging was to get Robert Lewandowski the ball well outside the 18 and see if he could plow his way through.
Coman did put in some decent work in the 11th, with Müller heading his service just wide. Otherwise, the Wolves controlled both flanks and monopolized most of the pitch's width. Arnold located Weghorst with an over-the-top upfield ball. An accurate cross for Brekalo then led to a technical curler that didn't miss by much. Bayern could only play head tennis outside their own box.
Match Flow: 15th to 36th minute 
The pockets of space in front of Bayern's back four stood simply too large. Coman was able to break up a WOB break with a nice midfield ball win around the quarter of an hour mark. This forced Marin Pongracic into a tactical foul, thereby slowing proceedings down a tad. Bayern began to get stronger defensively. The two center-backs played the offside trap to catch Weghorst in the 16th.
Sané won a couple of his battles against Mbabu in important momentum-shifting moments. The FCB got Lewandowski through in the 17th. Maxence Lacroix fortunately fell down at the right moment to block a sure goal from the Polish super striker. Sané broke through with an incredible blistering run in the 18th. This time Gnabry was unlucky to be blocked and the rebound ricocheted back Lewandowski before any support could develop around him.
Sané got involved again in the 20th with an inventive flick in that might have found either Gnabry or Lewandowski. The former Man City star steadily played his way into the match on both sides of the ball. He might have taken one touch too many in the 23rd, but it still took both Pongracic and Mbabu to shut him down. He fought Mbabu to a draw in the 25th.
On their first rotative shift in the 26th, Coman punched through on Sané's lane. It took a very precise sliding tackle by Pongracic to stop him. Matters settled down for a largely uninterrupted five-minute-lull thereafter. Neither side could figure a way out of the midfield. Philipp tried again off the volley in the 29th, but David Alaba was alert enough this time to deflect wide.
The German Wolves got some things going between the 31st and 34th. Maxence Lacroix and Philipp tried sprints. Süle frankly did an amazing job tracking back to tackle away. He demonstrated remarkable pace, particularly on Philipp's tear in the 31st. A strong slide tackle on the big man's behalf cancelled out Roussillon a couple of minutes later. Alaba delivered another great defensive deflection, this time of Brekalo in the 36th.
Match Flow: 36th minute to half-time 
Many broken plays and a series along with a seemingly endless series of throw-ins marred a rather languid march into the locker rooms. Both sides played some pretty poor football characterized by loads of rearward touches. Lucas Hernandez did prove himself equal to a nice bit of skill from Baku in the 40th. Otherwise, matters remained quiet until the stroke of half-time.
Sané squandered a nice chance in the 44th, taking a shot himself when Gnabry was open but a few yards away. Sané still demonstrated some fine confidence in having a go and the distance effort wasn't all that bad. The equalizer came out of nowhere at 45+1. Corentin Tolisso, in what felt like his first touch of the game, unlocked Gnabry.
Coman, operating on Sané's side in what what their second discernible deliberate rotative shift, bent in a perfect ball for Lewandowski at the far right post. The soon-to-be world footballer of the year barely had to budge to finish easily. 1-1 with nary a second to spare.
Match Flow: 46th to 50th minute 
Without changes the contest resumed. Both sides more or less picked up where they left off. Philipp tried for a third time to force a sensational effort in off the volley in the 47th. That wasn't going to be nearly good enough against Bayern. A Sané through ball instigated the sequence leading to the go-ahead goal. The most intriguing player of the match put Müller through on the right in the 50th.
Four Wolfsburg players had to crash over to Müller's side to attend to him. They won the ball back, only to clear directly to a pressing Jerome Boateng. The Bayern center back then had no problem locating Lewandowski wide-open central. Something about having the King of the Golden Cannon sting the team so quickly on either side of the half, understandably, knocked the wind out of the Wolves.
Match Flow: 50th to 70th minute 
Obviously, but would take time for the VfL to re-group from that one-two punch. Glasner probably should have readied his changes immediately. Another beautiful ball from Coman only missed a sliding Gnabry at the far right post by centimeters in the 53rd. Following the success of that sequence, it looked as if Coman and Sané opted to switch sides permanently.
Arnold won the ball in a promising position in the 57th. He then did very well to locate Mbabu on the overlap. Unfortunately, by that time the Swiss right-back was visibly tiring. He could find neither the speed nor the focus to get a well-weighted cross into the box. Süle also had Brekalo completely shut down by that point.
The Wolves couldn't find a way through at any angle. Flick clearly had his men triple-teaming Baku. With Mbabu out of gas, that was all that was needed. Coman set up Gnabry for an obscenely good blazing run in the 67th. Gnabry then returned for him, with only a monster Pongracic block precluding the two-goal advantage.
Both coaches employed double substitutions in the 69th. Flick took off Gnabry and Tolisso for two midfielders.
Lineup—Bayern München—71st minute (4-2-3-1)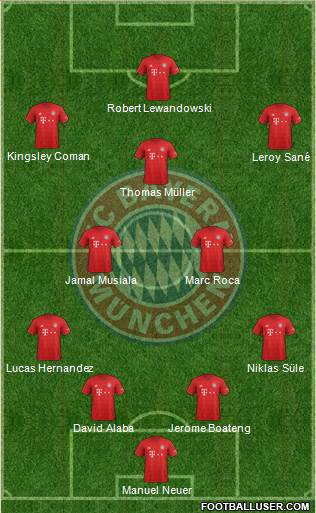 Well played by the FCB trainer. His two subs took up positions ahead of the defensive lines, filling in as double sixes as so as to allow the German giants to immediately re-organize into their "self-coached" 4-2-3-1. The choice to pair the two youngsters together was also inspired. Jamal Musiala and Marc Roca, as it turns out, feature a nice complementary skill set. We might see them pair together again like this again soon.
Match Flow: 70th to 80th minute 
Glasner's substitutions were a little less deft. Joao Victor and young striker Bartosz Bialek relieved Baku and Brekalo. Mbabu stayed on even though he was beginning to fray. Glasner earns applause for giving the 19-year-old striker a shot over safer veteran pick Daniel Ginczek. Very laudable to see the VfL trainer give an eager young Polish prospect to make his own statement against Lewandowski. Gotta love the move.
One drawback of the ploy, however, saw the Wolves take seemingly forever to re-format into the 4-4-2 Glasner intended. Bayern's fresh-legged sixes didn't allow them a chance to catch their breath and actually get into shape on a legitimate charge. Roca cut out most of the midfield balls and Bialek couldn't find a way past the midfield.
Arnold tried a few more balls over the top, but Neuer kept coming out to claim them. The German national team legend knew exactly what his opponents were trying to do. Through brave rushes out of his own net, Neuer repeatedly disrupted their attempts to get their positions set. By the 75th, Bayern were  creating attacking waves with quick counters and leisurely played full lateral switches.
Pongracic went down injured in the 78th, allowing Glasner's men a stoppage to catch their breath and finally form the 4-4-2.
Lineup—VfL Wolfsburg—80th minute (4-42)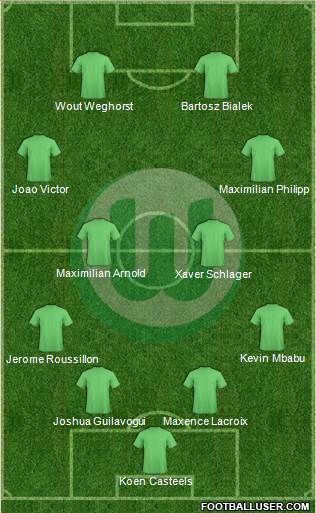 Once Victor had some time to rove around the left side of the 18 in the 79th, the tanker finally got turned in the right direction.
Match Flow: 80th minute to full-time
It proved a rather exciting finish. Bialek got two efforts off in the 84th and 85th, both of which necessitated world-class saves from Neuer. Germany's #1 officially broke out of his own recent form slump with the acrobatic parries and very cheeky attack instigation well outside of his penalty area in the 89th. Sané came oh so close to earning a much deserved tally on the ensuing sequence, only just failing to sort twist his feet correctly to receive Lewandowski's back-heel.
All of this amounts to bad news for Leverkusen as they prepare for their own showdown with the record champions on Saturday night. Bayern hobble through on occasions, justifiably enervated from the recent weeks of non-stop play. That notwithstanding, a team that remains–as noted at the beginning of this section–strong at the back front and middle doesn't need to be firing on all cylinders to capture all three points.
Sané played his best match of the year thus far. Coman continues to shine on a form surge that shows no signs of abating. Süle put together a much-needed match in which he got a chance to synchronize his timing. Lewandowski got back into gear with another multi-goal match. Then, of course, there's the late heroics from Neuer. History confirms that if he feels superhuman, nothing will stop him from playing as such.
---
Concluding Thoughts: Assessing Predictions–Part I
---
With only one round remaining until a brief holiday respite from league play, it's time to take a look back at how Bundesliga football defied the prognostications earlier in the year. We'll divide this humbling section into two parts, first taking a look at how much the initial table projection got it incorrect in the very first edition of the Tactics Talk Column, then confute the auguries made just after the transfer window closed.
Being proven dead wrong a sports' fans saving grace; perhaps less so if one happened to wager money on certain outcome. For those who simply revel in following the action, it's the thrill of the unexpected that keeps one coming back. What sort of predictable hell would football, or life for that matter, be if all conformed to one's expectations?
Union Berlin, VfB Stuttgart and VfL Wolfsburg all pulled off great surprises with their strong showings. Frankfurt and Hertha, as they tend to do sometimes, frittered away all most of their pre-season promise. Gladbach saved their better performances for the 2020/21 Champions League Group of Death. Good for them.
The tip for the relegation race, sadly, wasn't that far off. Bremen's defiance of the grim initial outlook still counts as a plus.
Table Projection #1–(9/20/20)
FC Bayern München
Borussia Dortmund
Bayer 04 Leverkusen
Borussia Mönchengladbach


---

RasenBallSport Leipzig
Hertha BSC
TSG 1899 Hoffenheim


---

Eintracht Frankfurt
VfB Stuttgart
FC Augsburg
1. FC Köln
VfL Wolfsburg
Arminia Bielefeld
SC Freiburg
1. FC Union Berlin


---

FC Schalke 04


---

SV Werder Bremen
FSV Mainz 05