Has it been a little while since we engaged in some of Vicey's patented "Breisgauer Reveling"?
No worries. The round 11 recap proved an apt opportunity to catch up! Truly a beautiful spectacle of football from both participants in this tie. Ole Werner's SV Werder Bremen put in a heroic defensive effort after a little Austrian vs. Austrian action in the penalty area left them shorthanded early.
Michael Gregoritsch emerged as the victor after this particular duel with countryman Marco Friedl. Gregoritsch and a certain Italian from Pforzheim came out winners on this particular day. Since Vincenzo Grifo gets the feature card, one might as well show Gregoritsch a little more love.
Kind of cool how the club and country colors rhyme like a couplet in this instance.
---
Bundesliga Tactical Banter: Round 11
---
Back aboard the BVB rollercoaster
Here we go again with this. The team that, we mustn't forget, supplied us with aberrant routs on several occasions en-route to a second-place finish last year again leave us thinking that they can destroy any given team on any given day. The latest version of Dortmund-Stuttgart proved the quintessential "no contest football match". A brief response from Michael Wimmer's Swabians after Jude Bellingham scored the opening goal in the 2nd. That was it. Once Niklas Süle (as part of a incredible overall match on both sides of the ball) added the second in the 13th, it was all over.
Probing Dortmund's 5-0 victory for lessons begins with just how bad Stuttgart are. The VfB had been punching above their weight under their caretaker trainer in the last two fixtures, obviously aided by the fact that Bochum and Bielefeld weren't exactly challenging opponents themselves. Tactically speaking, one can't really say if Wimmer's return to the same constellation that succeeded against Bochum last week might have held up this time. It never really got a chance. Everything fell apart too quickly. Even when the BVB took their foot off the gas, the Suttgarter ranks remained too discombobulated to do much with the extra space.
BVB trainer Terzic's own tactics were somewhat interesting. In a 4-2-3-1, Karim Adeyemi and Giovanni Reyna worked as wide inverted wingers behind Youssoufa Moukoko. Julian Brandt functioned as what one could describe (for lack of a better term) as a "false ten". Bellingham stepped forward from his supposed six-slot partnership with Salih Özcan to drive play as the real ten whilst Brandt folded back to bait out some coverage. This worked wonders thanks to the fact that Bellingham remains such an amazing footballer and the Stuttgart back-three were naive enough to follow Brandt.
Not much to take out of this result apart from that.
Back down the Gladbach slope
BMG trainer Daniel Farke may not think his team is wildly inconsistent. Those of us with eyes connected to proper cognitive areas of our brain obviously disagree. The foals got picked apart at home yet again. The second match discussed in this week's column also essentially qualifies as a "no contest". Farke's men got completely and thoroughly picked apart by an SGE side clicking easily in the exact same tactics as last week's league encounter. Gladbach's back-four were ripped to shreds on both Jesper Lindstrøm first-half goals. Set-piece defending on Dina Ebimbe's tally off a corner in the 29th was atrocious.
Eintracht Frankfurt's commanding 3-0 halftime lead felt both deserved and insurmountable. Then West Prussian hosts could not stop committing errors at the back. As brilliant as the likes of Lindstrøm, Mario Götze, and Randal Kolo Muani have been as of late, the SGE attacking trio didn't have to work terribly hard to find ways around Joe Scally, Marvin Friedrich, Nico Elvedi, and Ramy Bensebaini. Manu Koné's terrible game in midfield wasn't much of a help either. An endless series of turnovers kept gifting Frankfurt the ball. Man, do Gladbach ever miss Ko Itakura. They haven't been the same since the Japanese defensive stalwart bowed out with injury.
By contrast, the Hessians played a largely mistake-free game. Evan N'dicka and Kristijan Jakic lost focus late, enabling Marcus Thuram to pull a goal back and Farke's side to pull the overall xG stats (1.37 to Frankfurt's 1.80) towards more level football. Such full-time stats, not to mention the final scoreline, shouldn't fool anyone. This 3-1 result constituted another ruthless romp not dissimilar to Dortmund's drubbing of Stuttgart. Gladbach fall down from the sky in much the same way the overhead camera dropped off the guide rope late in this one. Farke presides over a shattered, shaken, and disorganized rabble. Putting the pieces back together won't be easy.
Back down to earth for Union
Well. It was bound to happen eventually. Germany's record champions won big. German football's "cinderella championship candidate" dropped their second match of the league campaign. With roughly one-third of the 2022/23 Bundesliga completed, the table begins to correct itself. Union Berlin's lead at the top is shaved down to one point. Urs Fischer's Eisernen found themselves bested by a secretly "not so bad team" capable of standing toe-to-toe with them physically. Kudos to Bochum on their second win of the season; one that moves them out of last place.
VfL sixes Anthony Losilla and Kevin Stöger truly fought hard for those second balls in midfield. Philip Förster–working as a sort of flexible eight/six in Thomas Letsch's 4-2-3-1, also did a marvelous job keeping Union from establishing any sort of attacking rhythm. This trio broke up play exceptionally. The league leaders were effectively beaten at their own game in the 1-2 loss at the Ruhrstadion. The exceptionally strong performances from the Bundesliga journeymen Stöger, Förster, and (to an extent) Christopher Antwi-Adjei also showed that a club like this can play Union's transfer market personnel game well too.
Aren't Union meant to be the geniuses who always sign the right grizzled vets who have been passed around the league? Two can play at that game. Naturally, we'd be remiss if we didn't mention that former Bochum hero Milos Pantovic came on early in this one and played well against his former club. Perhaps it's not quite time to write off the FCU strategy yet. The xG in this one stood on an even-keel with both sides hovering around 1.0. It was just one of those matches in which the link-up play behind Jordan and Sheraldo Becker totally got choked out by some very determined vets. Many will try to replicate this tactic. It won't always succeed.
---
The "Burning Questions": Round 11
---
How are Mainz heating up?
A trend picked up on couple of weeks ago blossoms wonderfully. Bo Svensson's Rheinhessen are really on a roll now after Friday night's thumping victory over Köln extended their unbeaten run to four matches on-the-trot. One can obviously make the case that Luca Kilian's sending off on double yellows in the 28th rendered most of the eventual onslaught moot.
This column invites the reader to consider how effective Mainz were initially.
Lineup—FSV Mainz 05—Match 11 (3-3-2-2)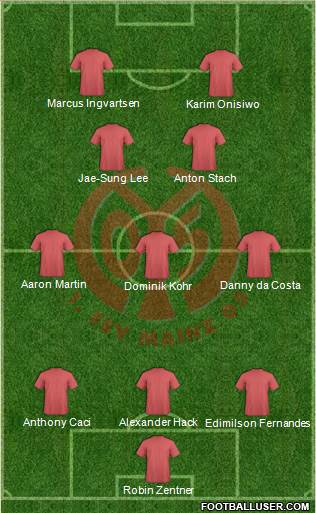 Svensson put his Nullfünfter back running his preferred 3-3-2-2. Anton Stach returned to the more attack-minded role the Mainzer trainer thought out for him at the beginning of the season. Dominik Kohr, after doing a fine job leading the defensive line last week, moved up to his regular role as the midfield string-puller. Despite the fact that two pieces (Silvan Widmer at right wingback and Stefan Bell in Edimilson Fernandes' slot) remain out of place, this set-up came to the match shot out of a cannon.
Jae-Sung Lee struck the post already in the 2nd minute. Karim Onisiwo exhibited blistering pace, forcing Kilian into that early foul and nearly doubling the advantage twice after Marcus Ingvartsen converted from the spot to give the Nullfünfter their early lead. Onisiwo drew the second foul from Kilian shortly before the half-hour-mark. While it's certainly true that much of what happened afterward owed a lot to the numerical disadvantage, the Pfälzer hosts practically earned the right to pummel their guests in full.
Another spectacular game from World Cup candidate Anton Stach. Ingvartsen, Danny da Costa, and Anthony Caci are doing so well in their placeholder roles that one wonders if Maxim Leitsch and Jonathan Burkardt will get their starting roles back. Captain Silvan Widmer will surely have to supplant da Costa eventually, but the old "Johnny-si-wo" striking tandem may well be a thing of the past, irrespective of the fact that the Germany U21 captain did well off the bench.
A good team; one that the columnist should note he had a slight intuition could compete for the European spaces when assessing their prospects in the pre-season. The forthcoming schedule isn't the kindest. One hardly expects them to prevail over Bayern and Eintracht. Wins against Wolfsburg and Schalke could nevertheless still be achievable. Six more points heading into the break. That could prove sufficient for a hold of sixth place.
Are Nagelsmann's new tactics sustainable?
Straight over to Mainz's opponents for next week, what else can we really say. Julian Nagelsmann and Eric-Maxim Choupo Moting essentially said it all in their post-match interview. The reason Choupo has been thriving as of late is precisely because he isn't been drilled as a classic target forward in the FCB training sessions. Bayern have him working prepping goals as much as they have him focusing on finishing.
The main instructive example from this match came on the former Schalke man's goal in the 38th. Anyone who hasn't checked out how Choupo instigated the tally himself should review the highlights. Wonderful stuff. German footballing enthusiasts couldn't be happier for the Hamburg native who once (we must admit) was once the butt of transfer jokes. So nice to see him experiencing a revival.
Bayern completely dominated Nagelsmann's former club Hoffenheim in this weekend's 2-0 victory. The low score-line disguised an xG ratio 3:1. André Breitenreiter's Kraichgauer not only never looked like they were never going to score outside two chances late in the first-half, but also barely looked like a team at all against a very well organized and practiced set-up.
Lineup—FC Bayern München—Match 11 (4-1-4-1)
Honestly not much negative to report from this apart from–as the xG implies–a great many misses on chances that should have been buried. Probably the only player on the pitch this observer had any concern for was, interestingly enough, the scorer of the opening goal Jamal Musiala. Germany's wildly popular phenom did miss some great scoring opportunities and made a few too many wince-inducing passing decisions.
That comparatively minuscule piece of criticism, to which one could add that Leon Goretzka lurked back to his "muscle memory position" alongside Kimmich one too many times, isn't nearly enough to forecast any sort of downturn for this side ahead of the World Cup break. Barring something very much unforeseen, they should spend the winter in first place. One hopes for a pleasant surprise in this regard, but it looks as if the "mini crisis" has in large part passed.
Did Xabi stumble upon something?
Germany's red company team continue to fumble for any positive threads on which to cling. If one can look past the embarrassment of yet another penalty miss in this round's 2-2 draw with VfL Wolfsburg, there were some beneficial trends to identify. Moussa Diaby atoned for his miss from the spot with a nice finish. Jeremie Frimpong played another strong match. Adam Hlozek, filling in for the injured Patrik Schick, did a surprisingly good job leading the 3-4-3 on short notice.
Playing against Wolfsburg's improved defensive line is by no means easy. VfL skipper Maximilian Arnold has come into fantastic form as of late and, in aid of fledgling colleagues like Mickey van de Ven and Sebastiaan Bornauw, has settled into a "lord protector" role of sorts in a tight-trap back-five. Leverkusen scored two goals in spite of this and were a bit unlucky to concede an own-goal and go behind on a soft penalty.
In addition to all of that, Xabi's late match tactics had a certain something.
Lineup—Bayer Leverkusen—71st minute (5-4-1)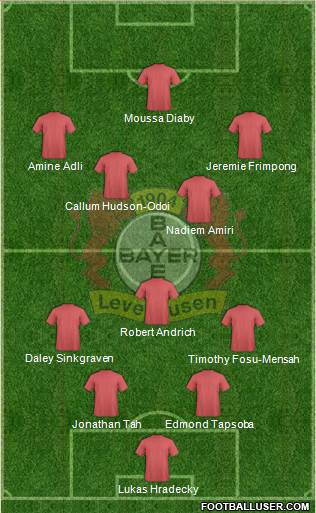 Robert Andrich can lead his own flexible back-five on a good day. Nadiem Amiri, who did well on set-pieces, worked the stagger with Callum Hudson-Odoi rather well. Timothy Fosu-Mensah, when healthy, can take over that right-back role and make Frimpong a permanent winger. Daley Sinkgraven set up the equalizer.
One should concede that die Werkself exerted dominance in this odd, possibly improvised, constellation during the final 20 minutes. Xabi could potentially have something to utilize in the quest to build up some momentum heading into the World Cup break. Just a few points remain all that are needed. Tiny little victories. Once Florian Wirtz returns in 2023, many problems will begin to solve themselves.
What happened in Augsburg?
Some harsh luck for the Fuggerstädter in front of their hometown crowd. Before getting to the actual nuts-and-bolts of this crazy six-goal affair, it's surely worthwhile to weigh in on the specific incident that ended up turning the encounter on its head. Augsburg were cruising to a 3-0 victory before Iago's sending off allowed the visiting Saxons a way back into the match. Marco Rose's RB scored three unanswered in the final 24 minutes, included two in second-half injury time. Very "Bremen-esque", but still very likely without a man advantage.
Did Iago's actions merit a sending off? We've a tricky answer to this "question within a burning question". The columnist will opine that, upon review, there truly wasn't much in the Brazilian's lunge at Xaver Schlager. The reaction from Schlager constituted an obvious and unacceptable embellishment. If one cares to take a look at the replay, the Austrian goes down without contact. That being said, however, one can certainly understand referee Robert Schröder's decision to see the menacing posture in the charge and eject Iago.
Treating the match official's decision as an acceptable one regrettably means Iago ultimately threw an awful lot of good work from his team out the window. Augsburg were absolutely magnificent in this one up until that point. Enrico Maaßen's FCA absolutely deserved all three points here. The coach's 4-4-2 has truly grown by leaps and bounds. It's even better than it was some weeks ago now that Florian Niederlechner has moved up to a tight axial pairing with Mërgim Berisha and Ruben Vargas has taken flight on the right-flank opposite Ermedin Demirovic.
A fabulous game from all of the FCA offensive actors. The manner in which the attack engine function impresses. Vargas often pulls wide with just enough time on the ball to allow three strikers to crash into the box. Maaßen's makeshift right-back Mads Pedersen can pull this off too, enabling more targets to creep in. Everything was going right. Ermedin Demirovic got a redemption goal against the club he famously fluffed that penalty against last spring. Potential future German national team call-up Berisha found himself in the midst of a beastly performance.
As we entered the 70th minute, the combined force of a very dangerous attack and a well-organized defense gave Augsburg a tremendous 1.90 to 0.57 xG advantage over their much higher profile opponents. The Bavarian Swabians had the Saxons knocked down and tranquilized. Everything about the FCA exploits were superior, including and most especially the intricately thought-out set-piece designs. Then came the sending off. Then came the coverage mistake on André Silva's goal.
After that, Nkunku's immaculate bend around the free-kick wall in the 89th and Tomas Koubek's touch error on Hugo Novoa's 90th minute equalizer. Damn. It wasn't merely a case of Iago wasting a hitherto near-perfect match portfolio. Most of Maaßen's players also did nearly everything right in defense of the lead down the stretch. All of that got washed away as well. Double damn. This remains one of those matches in which the final scoreline obscures so very much. Damn, damn, damn.
Are Schalke getting relegated again?
Phrew. It's getting to be that time. One seriously cannot begin to see where the spark is going to come from; not with the season reaching its one-third point. The Königsblauen weren't compelling at all in their trip to Berlin. S04 interim trainer Matthias Kreutzer's stab at a 3-3-2-2 fell completely flat. The caretaker coach showed zero awareness for the problems Alex Kral and Tom Krauß experienced in the previous league match, favoring them with an even more difficult non-axially paired assignment this time. They were awful.
So many endemic problems. Another howler from Alexander Schwolow. An attack so devoid of an identity that it relied upon a Hertha lapse off a throw to get a totally undeserved equalizer. Defensive meltdowns left and right when Wilfried Kanga slipped through for the winner two minutes from time. Need we really mention that die Knappen stand virtually no chance of picking up points against Freiburg, Bremen, Mainz, and Bayern before the World Cup break hits? In their current state, this team couldn't pick up points against Wuppertal.
Yeah. This is pretty damn bad. About as bad as it was around this stage two years ago. Six points through 15 rounds may have a familiar ring to it. In point of fact, the David Wagner/Manuel Baum/Christian Groß monstrosity actually had seven points after 15 rounds in the 2020/21 campaign. FSV Mainz 05 were able to escape the drop that year despite heading into that round below Schalke on six points, but that's largely because they made the excellent decision to sack current S04 sporting director Rouven Schröder.
Not looking good for Schröder's plan.
Think we'll have to answer this question with a hard "yes".
---
Weekly Tactical Focus: "Stretching with Streich"
---
For better or worse, it's going to be one of this column's patented "Christian Streich" days. The temptation to look in on Freiburg in a "focus section" for the first time this season was simply too great entering the weekend. The same applied to the need to give another very well-coached team the extra level of scrutiny for the first time since round three. Streich's Breisgauer and Ole Werner's Hanseaten deserve their fair share of the deep-dives in this season's analysis. The manner in which the two coaches bring out the best in their talents stirs the heart of many a German football fan.
The eventual result that emerged from the Europa Park Stadion may prove only of interest to the helpless "tactics-heads" who get their eccentric kicks out of watching squad's execute quality team football. That should be noted right up top. Bremen skipper Marco Friedl's 14th minute straight red card completely altered the tenor of this encounter. While the man-advantage didn't necessarily mean that the result would be a forgone conclusion, it did mean that both trainers would have to rely upon carefully devised tactics in order to adjust to the shift. As it turned out, we witnessed brilliant execution from both sides after the change. This one remained worth it.
Streich's men put together consistently gorgeous football on the approach play. This writer honestly can't recall a fixture in which the attacking lanes were so evenly balanced. In the process of racking up an 82 percent pass quota, Freiburg's players hit all four lanes evenly with beautiful bow-arcs and switches. Absolutely sublime. At the other end, Bremen's defending also counted as top class. Werner's crew held their shape in textbook fashion, keeping the SCF from capitalizing on the numerical superiority for a full 50 minutes!
In the eyes of the column at least, Werner established himself as a trainer extremely well-versed in the nuance of footballing tactics. The SVW gaffer made some excellent calls. Even if his final risky reorganization ended up costing him the match, one cannot really fault him for it. A tip of the cap to Bremen's coached. Streich nevertheless earns a removal of the cap and a deeply respectful bow. Such a well-coached game!
The Freiburg XI ultimately picked apart their shorthanded opponents with a perfect re-format that enabled them to stretch Bremen perfectly. Some masterclass this was from everyone's favorite top-flight trainer. The on-pitch actors demonstrated to the full extent what it's like to be almost immaculately drilled in approach play. They also showed the requisite respect for their coach in following his lead after the break.
Lineup—SC Freiburg—Match 11 (3-4-3)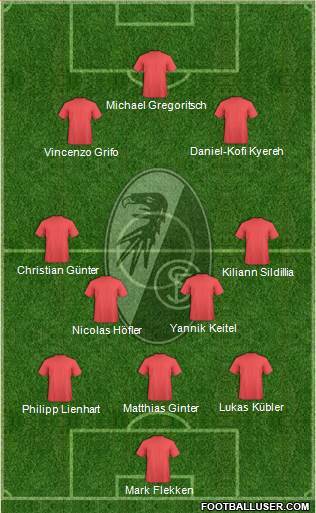 Of monumental interest here, this is only the second time this season that Streich has lined up his team in a back-three. This system hasn't been used since the round five victory over Leverkusen. The SCF trainer utilized the higher-octane constellation (and a later back-four reformat) to out-tactic Gerardo Seoane then and expertly did the same thing here. The players clearly understood precisely what was expected from them in both structures.
After catching some flak for not rotating his squad at all in the recent Europa League weeks, Streich employed heavy rotations during the most recent Pokal round. Streich deployed seven fresh players against FC St. Pauli on Wednesday. Philipp Lienhart, Daniel-Kofi Kyereh, Kiliann Sildillia, Vincenzo Grifo, Nicolas Höfler and Michael Gregoritsch were among those who received a much-needed rest; one that clearly benefitted all of them.
The squad maintained a fresh feel to their play throughout this match. The ideas just kept flowing among the SCF ranks. Everyone literally turned in a high quality performance. In the case of the Bremen personnel, reviews actually aren't all that less rave. Absences meant that Ilia Gruev and Anthony Jung already had to play out of position even before the Friedl red. They generally did well in these assignments and everyone pulled together decently in the "emergency drawback".
Lineup—SV Werder Bremen—Match 11 (4-2-2-2)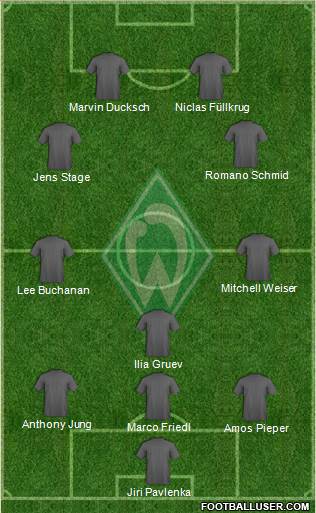 Should one wish to contrast this with the last draw-up for the Hanseaten in this column, one can see that Werner's basic system remains in place. Despite the fact that Werder are on a bit of a downward trend recently, this remains a highly effective constellation attacking-wise. Bremen entered the weekend second only to Bayern and Frankfurt in total league goals scored.
As Niclas Füllkrug so aptly pointed out in his post-match interview, some recent availability interruptions have tripped this team up. Marvin Ducksch displayed some rust after his midweek suspension. Leonardo Bitttencourt and Niklas Schmidt would be the preferred choices to operate at Jens Stage's buttressing slot. Lee Buchanan or perhaps even Jung himself could fill Stage's role, but are needed elsewhere for now.
Of course, the most significant losses come along the back-line. Christian Groß and Milos Velkjovic are the preferred players to serve as the bolt-lock sweeper. It happens to make a huge difference that both of these back-four fulcrums are out. Niklas Stark's foot contusion also leaves the central defensive rear axis depleted. Friedl's red and some of the persistent errors from Gruev had a lot to do with these losses.
Match Flow: 1st to 14th minute
A very intense opening quarter-of-an-hour saw the BaWü hosts gain a slight edge. Most of the opening minute went to a treatment break for Yannick Keitel after the local Freiburg lad took a ball straight to the chin. After multiple possession changes, SCF skipper Christian Günter calmed things down a bit and led a calm Freiburg build. Kiliann Sildillia (active and impressive out) eventually forwarded a ball that Jiri Pavlenka had no trouble collecting in the 2nd. Füllkrug and Ducksch couldn't get on the same page on a SV charge in the 3rd.
Günter ran an inspired counter off the play in the same minute, eventually seeing his cross cleared by the compact Bremen ranks in the box. Freiburg's next press in the 4th featured diagonals in from both Kyereh and Lukas Kübler. Friedl and Jung were able to clear their respective lines. Freiburg kept the pressure on off a throw-in in the 5th. Lienhart sent a final effort wide. Grifo and Günter cycled through on the left in the 6th, with Friedl ultimately doing a fine job boxing out Keitel.
Grifo and Günter polished off another nice combo following a Jung ball loss in the 7th. Amos Pieper stay focused and intercepted Günter's attempted square. Mitchell Weiser won what the columnist is convinced was Bremen's first major midfield duel in the 8th, yet couldn't reach Ducksch with a vertical that proved far too long. Some basic issues with the build-up prevented Werder from getting a rush rolling in the 9th. Füllkrug inadvertently ran into Lienhart and the latter required a brief treatment break.
A full SV bow-arc had to go back to Pavlenka after we got going again in the 10th. Two more retreats from Bremen in the 11th as Werner's men found no way through. Weiser couldn't figure a way past Günter. Pieper eventually carried forward, only to see his final square intercepted by Ginter. Freiburg's German national team defender also headed a Schmid long-ball back to Flekken. The SCF net-minder also easily collected a Buchanan whipsaw diagonal in the 12th.
A very nice cycle-drive from Kübler and Sildillia in the 13th. Gruev stood tall as the SCF approached the box. An attempted counter from the young Bulgarian nevertheless went nowhere against the quickly retreating Freiburg ranks. Keitel and Höfler came out the better after multiple midfield possession changes in the 13th and 14th. It was at the beginning of the 14th that Sildillia hit Gregoritsch with a sharp slip pass. Friedl put the brakes on his Austrian compatriot when the SCF striker had no one left to beat.
Penalty. Red card. Match altered.
Match Flow: 14th minute to half-time
With respect to Bastian Dankert's decision to rule Friedl guilty of a goal-scoring opportunity, note that there can be some controversy. Gregoritsch went to ground easily and even admitted as much in his post-match interview. Furthermore, Pieper might have conceivably been able to track back in time to cover the SCF's streaking striker. The column will take the stance that Pieper's potential coverage constitutes a pretty hefty hypothetical. Therefore, the decision was correct.
For Werner's crew, there wasn't much of a choice but to batten down the hatches. We've little choice but to place the rest of the opening 45 in a single segment. Traffic flowed solely in one direction for the duration of the half. That isn't to suggest that the repeating patterns didn't have a great deal to offer football diehards. Indeed, lovers of the beautiful game had much to appreciate during this passage. Freiburg strung together exquisite attacks whilst Bremen defended like champs.
Werner's "emergency reformat":
Lineup—SV Werder Bremen—15th minute (5-2-2)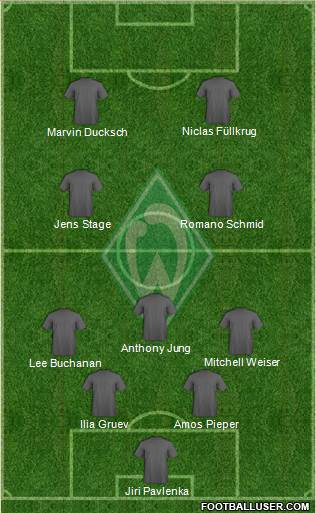 As Füllkrug also happened to aptly point out in his post-match interview, this left the Hanseaten at the mercy of long-balls and luck. Werner still earns plaudits for making all the right moves here. Freiburg had great difficulty exploiting the lanes with each gap so skillfully plugged. Jung and Gruev would have their issues later on once wear-and-tear set in, but were largely solid in their physically draining assignments. Weiser probably constituted the weakest link in what was generally an "off" match for him.
Action resumed in the 16th. Grifo took the free-kick awarded at the spot of the foul. Surprisingly, the expert dead-ball taker sent the delivery straight into the Bremen wall. Grifo atoned for the poor initial hit by threading in a beautiful ball for Sildillia on the second go. Freiburg's talented young Frenchman should have scored the 1-0. Instead, he misinterpreted his time and space and sent the ball wide. Werder calmly took charge of possession in the next two minutes.
Weiser's ambitious carry in the 17th went nowhere thanks to Günter, Höfler, and Lienhart. Keitel had trouble handling a nice Sildillia switch on the ensuing Freiburg counter and Bremen got another chance to build in the 18th. Pieper and Gruev strode forward for an earnest push, yet eventually pushed back. A very pretty Freiburg attacking sequence in the 19th ended with Günter sending in a lovely cross for Sildillia. Buchanan saved the day with a put-out that came within millimeters of being an own-goal. Incredible composure from the English youngster.
Two corners in the 20th resulted from the play. A Ginter header barely got deflected over on the first and Pavlenka barely got a desperate palm on the second. The Bresigauer hosts would get another chance off the ensuing 21st-minute throw in. After Grifo couldn't quite contort his body into a shooting position, Gregortisch sent a ball up in the air for Höfler. The SCF central midfielder regrettably headed directly into Pavlenka's waiting arms. A 22nd-minute SV counter got cut-short when Füllkrug went down and required treatment.
Füllkrug's light dust up with Keitel gave Bremen a free-kick when we resumed in the 23rd. Pieper did an excellent job taking down the service, yet couldn't really come up with much of a finish to trouble Flekken. Freiburg were charging back the other way before the minute was out. Gregoritsch had difficulty getting the right touch on a fabulous diagonal intended for him. The hosts maintained possession throughout the 24th and 25th via some radiant and dazzling one-touch-football.
One watched with delight as teasing passes circulated among the encroaching Freiburg ranks. Grifo, Keitel, Kyereh, Höfler, and Sildillia produced some particular bright touches during this period. There would nevertheless be no dangerous incursions into the box until the 26th. Sildillia worked a great ball in. Kyereh went with the cheeky leave for Gregoritsch on a play that nearly yielded a spectacular goal. The Austrian unfortunately wasn't quite prepared for it and the chance went begging.
A brief treatment break for Jens Stage in the 27th allowed the hard-running SV defenders a chance to breathe. More aesthetically pleasing quick-pass football from Freiburg over the next two minutes. Lienhart, Sildillia, Günter, and Grifo found forward progress halted after nice moves in the 28th and 29th. All the nice dribbles and bow-arcs finally culminated in Kyereh getting what was a pretty soft effort on target just shy of the half-hour-mark. An unbefitting end to the balanced and beautiful SCF charges.
Long verticals from Stage and Weiser in the 30th remained far out of the reach of Füllkrug and Ducksch. Freiburg cycled around the box again in the 31st with Günter, Höfler, Lienhart, and Grifo. The alert SV makeshift defensive ranks got stuck in and eventually sent Romano Schmid up the pitch on a wheelaway counter. The young Austrian talent had enough speed to push past the SCF back-three. There simply wasn't enough in the tank to line up an angled finish. Schmid sent the ball wide.
The continued calm approach play from Freiburg in the 32nd concluded with Pavlenka stepping ahead of a Ginter cross intended for Gregoritsch. The SV sparked a quick counter and earned another free-kick when Lienhart had to haul down Stage. Duscksch's 33rd-minute sailed past everyone. Stage then fouled Höfler on the retaliatory charge. An interesting set-piece design in the 34th involving Grifo, Günter, and Kübler ended with Pavlenka scooping up.
As the basic pattern of slow-roll SCF builds and desperate SV long launches repeated, Schmid and Füllkrug couldn't catch up to long balls intended for them in the 34th and 35th. Kübler sent in a final ball into the danger area in the 36th. Weiser, in his only real quality action of the game, cleared away. Sildillia, Grifo, Keitel and Günter all put in some excellent work on the ball in the 37th. The hosts could only claw a 38th minute corner out of proceedings. Gruev got a step on Kyereh to head away.
Sildillia's brilliance knew no bounds on the next SCF rush. After showcasing some fancy footwork, the Frenchman sent a smash cut-back right across the face of goal for Ginter in the 39th. The German national team defender arrived just a half-stride too late to meet it. Another link-up counter from Bremen led to another free-kick in the 40th. Ducksch's service wasn't ideal. Pieper's header was worse and went well wide.
Freiburg's delightfully handsome approach play carried on in the 41st. Lienhart joined the rush on the left this time before Gruev and Jung side-straddled away. Kyereh split left in the 42nd on a nifty move. Pieper joined Jung on the rank-closing to cancel out that one. A foul from Höfler on Schmid during the ensuing counter gave Bremen another free-kick.
The 43rd-minute design wasn't bad at all. A give-and-go involving Füllkrug nevertheless got interrupted by Lienhart. Buchanan made another stupendous save on a Grifo cutback win the 44th. The SV ranks kept it tight and organized on the subsequent corner. Gruev and Weiser took care of Grifo's run in the 45th. Günter, Kyereh, Gregoritsch, fed Keitel through the 45th.
Neither Keitel's finish nor a quick counter involving Gruev and Weiser at 45+1 were good enough. The first half ended with Buchanan stumbling into the counter behind on the overlap and screwing up a cross for Ducksch. With everything settling into a repeating pattern, one eagerly awaited what sort of changes would be coming from both head-coaches at the break.
Half-time xG:
xG Freiburg–0.88, xG Bremen–0.4
Naturally, Streich would be the likelier man to alter something.
Match Flow: 46th to 56th minute
Werner decided not to employ any further changes at the half. This made reasonable enough sense. Most of the young lads had shouldered their burden more than adequately. Moreover, the SV trainer didn't really have any options off the bench anyway. The only natural defender in his dugout remained 17-year-old call-up Fabio Chiarodia, who was undoubtedly leggy and jittery after making his professional debut in the Pokal midweek.
Streich went with a targeted change well-aimed at stretching this miserly Bremen defense out past its limit. Ritsu Doan came on for Yannick Keitel on what one could immediately tell would herald a major constellation shift. The Japanese international ordinarily operates on the right slant; the position Sildillia had been so productive on. Something interesting was certainly about to happen. What crystalized proved an intriguing little piece of tactical work.
Lineup—SC Freiburg—46th minute (4-3-3)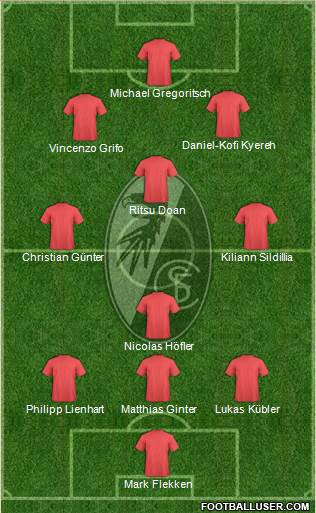 Very smart. By mirroring Höfler to Gruev's position, Streich added a critical piece of strength to the midfield press. The new SCF attack could forgo the, admittedly charming slow-rolls and get up the field quicker. All of the clicking actors remained in their proper places. Doan NOT being used on a predictable right-slant leant a certain unpredictability to the charge and allowed Grifo and Kyereh to rotate at will.
The second 45 got off to a less-than-exciting start. Sildiliia tried to do too much on his own down the right and got beaten back by Buchanan. Back-to-back injury time-outs ate up the 47th and 48th. Schmid and Lienhart needed treatment after a collision in the first minute. Füllkrug, having drawn a foul off Sildillia, required some time to recover from the Frenchman's elbow to the face.
Schmid took the dead-ball service once we got going again in the 49th. Stage sent his reception wide. The sides traded long balls before Ginter went down after catching a knee to the crotch in the 50th. We had another stoppage and another free-kick. Grifo's 51st minute service was well defended and Freiburg were back to square one building from the back.
Grifo and Günter tried an unimaginative penetration in the box in the 52nd that Stage easily cleared. Kyereh was blocked in the same minute after Grifo and Günter tried it again. All the way back defending, Ducksch halted Doan in the box one minute later. A mistake from Sildillia enabled Füllkrug to punch through at the end of the 53rd. Bremen would get their best chance of the match off the subsequent corner.
Pieper headed Ducksch's 54th-minute service over to Füllkrug and the ball fell back to Jung when Füllkrug couldn't bring it under his command. Jung wasted an excellent close-range chance by flashing the finish over. That's genuinely how close shorthanded Bremen came to grabbing the sensational lead. Two minutes later, however, they would be behind as expected.
Grifo led bow-arcs from the SCF in the 54th. Gregortisch got swarmed in the penalty area once Günter worked a ball into him in the 55th. Doan, Grifo, and Günter still kept the play going with a tight triangle outside the box left. Sildillia eventually crept in on the right and keep control with a few deft touches before switching over to Grifo.
With electric pace, Grifo snapped a first touch past the lumbering Weiser and smashed a grinder right across the face-of-goal for the inrushing Kübler. A very nice first-time finish from Kübler just inside the 18 right left Pavlenka with no chance. The cut-across strike bulged the back-left corner. The hosts finally had their 1-0 lead in the 56th.
Match Flow: 56th to 76th minute
Freiburg stayed on it and did their utmost to increase the lead. The next 20 minutes belonged almost exclusively to the goal-scoring team. Sterich's tactics began to work a little more as intended. Werner, in what was absolutely the right call, stuck with his formation and trusted them to keep the damage minimal until such time as a late-match-push could be organized. Schmid began by killing some time with a stall-counter in the 57th.
Freiburg bow-arced around for much of the 58th. Jung would ultimately repel a Ginter diagonal in the 58th and the SV ranks scattered a desperate clearance away. Doan, having received a nice ball from Griffon in the 59th, executed a nifty give-and-go with Gregoritsch in the 59th. The Japanese international powered in a tomahawk after getting the return ball that forced Pavlenka into a full-stretch parry to keep it out of the top corner.
Sildillia had a bit of magic to work dribbling-wise once the rebound squirted back out to him, but ended up touching a ball past his own ability to chase. Things got a little heated at the hour-mark when Kyereh hit Ducksch with a high boot. Füllkrug protested to referee Dankert immediately about the nature of the challenge and received a yellow for dissent. Ducksch's 61st-minute free-kick service got wiped as Pieper was offside.
Kübler hit Doan on a nicely crafted SCF charge in the 62nd. Grifo darted in to receive a layoff from the roving Japanese attacker and forced Pavlenka into another save with a solid effort. Pavlenka kick-started a counter, on which Füllkrug and Ducksch failed to find the coordination. Gregoritsch unleashed Doan on another quick counter in line with Streich's tactical intentions. The SV defense managed to catch up when Doan opted to Sildillia on the overlap instead of going in himself in the 63rd.
Doan was caught offside in the 64th, but one could tell that Werner's ranks were fraying under the substitute's movements. Ginter put Doan through again in the 65th. Grifo and Günter were totally free to do their cycle thing on the half left. Lienhart rushed in to serve as the final target, unfortunately sending a high effort so bad it looked like it might fly out of the stadium. Werner went for a modest fresh-up in the 66th, seeing Felix Agu on for the tired and ineffective Weiser.
In the very same minute, the game should have been sewn up. A horrible giveaway from the gassed Gruev went straight to Gregoritsch directly in front of Pavelnka. For the second time in the match, the SCF's Austrian striker had a goal on a platter. Gregoritsch somehow made a hash of a perfect chance and Pavlenka toed away for a corner. Günter sent the 67th-minute-service in Lienhart's direction. The Austrian defender missed by a narrower margin this time, but still couldn't help heading wide.
An Agu-led charge up the left in the 68th got stopped before it could get started. Another rush involving Pieper was easily read. More great work from Doan just outside the box in the 69th saw Grifo get another chance inside left. Freiburg's famous Italian was denied a goal courtesy of a slight deflection. Kyereh flashed over after two failed Werder clearances on the ensuing 70th minute corner. Gregoritsch found himself blocked and Sildillia sent another effort wide after another bad Gruev giveaway in the 71st.
Schmid at least managed to send Agu through at the end of a careful SV build in the 72nd. The Hanseatic guests got a corner out of it. Höfler had to bail his side out with a diving header clear after a strong Ducksch service in the 73rd. Ducksch ended up colliding with teammate Gruev  on an attempt to receive a work back in from Agu and there was an extended treatment break. The Werder striker finally made it to the sidelines in the 75th. Play resumed with Oliver Burke and Eren Dinkci waiting to check in.
Werner clearly took his time considering whether to take Ducksch off. One could tell that subbing off the attacker wasn't part of the original plan. With a temporary two-man-advantage, Doan ran roughshod over the Werder defensive ranks in the 76th. A shuffle out to Grifo didn't count as the best idea. The Italian international was covered well and predictably blocked. Burke and Dincki checked in for Schmid and Stage at the end of the minute.
Match Flow: 76th to 80th minute
It certainly came as a surprise to see Ducksch carry on. Werner likely didn't wish to reopen any recently closed rifts with his ruffled attacker. It also Fair enough. The last-ditch ploy to perhaps salvage a draw took shape without delay. The new constellation opened up plenty of space for Freiburg to capitalize on. At this juncture, however, the SV gaffer didn't really have a choice.
Lineup—SV Werder Bremen—77th minute (4-1-1-3)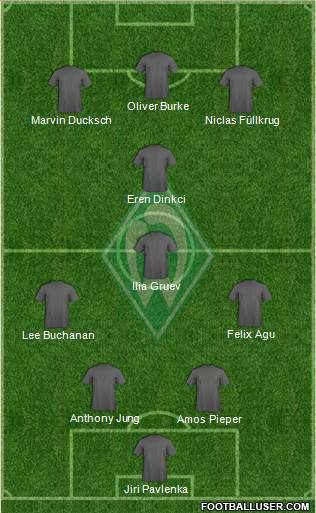 The completely driven Grifo sailed through the left pocket and had another pop in the 77th. The shot went just wide. Jung, Pieper, and Buchanan eventually got the ball away from Doan in the 78th. Agu nevertheless lost his bearings and hacked down Grifo in the box after the Italian beat him inside right in the 79th. Dankert mistakenly awarded Buchanan the yellow for the foul. Grifo made no mistake from the spot and took his coveted goal.
2-0. Game over.
Match Flow: 80th minute to full-time
The columnist had no qualms about declaring a "lid" here. Bremen could be forgiven for giving up a b it after this sucker punch. Nothing else from Bremen down the stretch. Grifo tried hard to get another goal and was twice blocked. Doan continued to work extremely hard himself and came within a few millimeters of claiming a thoroughly deserved goal in the 84th. That sequence remains worth checking out for anyone interested in seeing how beautiful Freiburg can be on forward play.
The SCF padded their full-time stats a tad:
xG Freiburg–3.62, xG Bremen–0.55
Misleading stats to say the least. Those figures aren't reflective of how close it remained throughout a very long stretch during which the Hanseaten were shorthanded. What we have here, in conclusion, definitely constitutes a tactical coup from Streich. Additionally, we all witnessed astounding potential from this Freiburg side when they find themselves feeling confident, crisp, and trusting of each other. This, combined with Union's loss this weekend, may make the Breisgauer the better pick for the surprise top-four-finish.
Yes, yes. Do note that the columnist made the same incorrect prediction in the exact same round last year. One should never fear admitting that, after getting it dead wrong once, the possibility of repeating it looms large again. Something that the writer did learn by going for the deep dive with this fixture as opposed to some of the more glamorous options available this weekend is that he absolutely can't wait to check in with both of these teams again further down the line. Two superb trainers here; ones that bring out the best in their players.
That's the bottom line.
Thanks so much for reading! You can occasionally catch Peter goofing off while watching non-Bundesliga football on twitter, @ViceytheSS.
Twitter DMs are open for football conversations, corrections, and (if you truly insist) general abuse. 
All columns debut on Bulinews before appearing on Peter's website as the season progresses.