The full-color journey up to the 2022/23 German Bundesliga "present tense" begins with the three tactical preview pieces initially posted during the first week of August over at Bulinews. The very first edition of the long-running "Tactics Talk" Column of the new season tacitly augured that Bayern, Dortmund, Leipzig, Leverkusen, and Wolfsburg would be occupying the top five places.
As always, what a pleasure it is to be proven wrong! The world of sports, on its best days, furnishes the unparalleled thrill of the unexpected. Heading into our first international break of the season, we've got 1. FC Union Berlin, Dortmund, Freiburg, and Hoffenheim occupying the top-four places. Bayern, in the midst of a four-game-winless run, lie in fifth.
Anyone potentially prepared for a German version of the 2015/16 Leicester City Fairy Tale? Perhaps a bit too early to be talking about who to cast in Urs Fischer's role in the film. The story comes a bit too late for the dearly departed Bruno Ganz anyway. Maybe Moritz Bleibtreu could pull it off with just the right makeup job and some effective dialogue coaching.
---
Introduction: "The Top Five"
---
Last year we released a piece covering the strongest trio of clubs in our first preview section entering the new Bundesliga season. In essence, the "Big Three" remains unchanged. Bayern, Dortmund, and Leipzig should be in line to secure the first three Champions' League places this year. German football's two "company teams" (Leverkusen and Wolfsburg) pose the most serious challenge to this triumvirate based on the strength and depth of their respective rosters.
There already exist some signs that we may be in for a few pleasant surprises after Leverkusen unexpectedly dropped their opening round Pokal fixture and Wolfsburg barely escaped in their trip to Jena. Obviously, German footballing enthusiasts would like nothing more than to see one their other European representatives (Eintracht Frankfurt, SC Freiburg, 1. FC Union Berlin, or 1. FC Köln) make the jump up to a top four finish this year.
The prospects of all of those teams will be covered in the next installment when we discuss the middle-of-the-pack. Initial scouts and all of the thought experiments associated therewith yield the conclusion that this quintet are effectively the ones to beat. The writer will emphasize again how much Bundesliga lovers hope that this assessment proves incorrect. Three non-50+1 clubs in the top five isn't something we'd particularly love to see come the end of the season.
---
FC Bayern München
---
Call it a force of habit after an uninterrupted decade of dominance, but the record champions absolutely must be considered the favorites to retain their crown. Few, if any, are tipping anyone else. Oddly enough, there even seems to be a strain of sympathetic curiosity surrounding Bayern this year. The clubs new leadership structure–overseen by the ever sympathetic German footballing legend Oliver Kahn–responded to what many of us considered the distasteful manner in which Robert Lewandowski whined about his predicament with a blockbuster transfer window that greatly benefits German football in general.
The messy divorce that ended Lewandoski's twelve-year-era in German football proved something we all anticipated and were ultimately relieved to see finalized. In our view, his posture seemed needlessly selfish. The Polish superstar brushed off the league and culture that allowed him to thrive as nothing more than an impediment to his own personal aims. For an ultra-rich professional athlete to speak of "something dying inside him" almost counts as a personal affront to supporters who must grapple with the travails and tragedies of "real life".
He is gone. Good riddance, many say. In the meantime, one of the sport's best athletes has chosen to come over to the Bundesliga in the prime of his career. That's actually rather unusual. While there are some historical parallels to the Sadio Mané signing (Luca Toni, Arjen Robin, Franck Ribery), the Senegalese international may be the highest profile football to opt for our league ever. We're all very excited. Lewy can stay gone..
Lineup—Bayern München—DFL Supercup (4-4-2)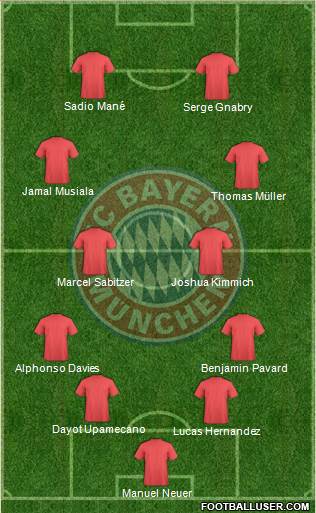 Not a great deal to glean from Saturday's DFL Supercup victory. We'll most certainly see something different in Friday's season opener. In point of fact, we'll be seeing varied tactics all year from the avant gardé young guru throughout the course of this season. Just like in years past, we'll find ourselves talking about Julian Nagelsmann's tactics frequently in this column. The 35-year-old maintains his fair share of tactical "fever dreams". Thanks to the players Kahn and Salihamidzic have procured for him this offseason, he has the tools to carry them out as well.
The Saturday selection may serve as something of a signal as to which players the club are interesting in offloading. Rumors that the higher ups are interested in getting rid of some extra defenders or possibly even trimming the surfeit of midfielders persist. Benjamin Pavard and (after many error-riddled performances last season) Dayot Upamecano could be on the block. At this point, most of us tacitly assume that Matthijs de Ligt and Lucas Herandez constitute the preferred center back pairing. Beyond that, a lot remains to be determined.
Notes from camp, Bayern
Bayern's pre-season exhibitions took place, as they often did pre-pandemic, as part of a marketing-based U.S. tour. We don't have much to go on beyond the D.C. United half-speed scrimmage and the thunderstorm-interrupted Man City test match at Lambeau Field. In all candor, neither one of these public relations expos count for anything. The Supercup–generally considered to be an exhibition by most German football fans–essentially falls into the same category.
Nagelsmann neither has nor needs a "best XI" at this juncture. He's hardly a "best XI" coach in the first place. Heavy experimentation shall continue for the rest of the month as the trainer and club management feel out which actors they can cut loose in order to recoup some of their minus-€60 million transfer budget from this summer. A slow or awkward start from the title favorites won't concern anyone really. Even if the FCB finishes August out of the top-four, they should still be considered favorites to take the league.
---
Borussia Dortmund
---
Hoping to break the mighty Bayern's decade-long hold on the title, die Schwarzgelben have reinstated the more player-friendly and tactics-light head-coach who led the BVB to a stunning 2020/21 late-season table-climb comeback and the 2021 DFB Pokal victory. Edin Terzic moves down from his cushy front office appointment and back to the sidelines to take the reins from Marco Rose. Dortmund have completed their own blockbuster summer transfer window and were tipped by a few as title favorites; at least prior to Sebastien Haller's recent diagnosis.
For those who have made the mistake of tipping Dortmund over the past ten years (and that basically includes all of us), seeing is believing when it comes to this club. There hasn't been a seriously competitive title race in the Bundesliga since the 2018/19 campaign. For all the hype surrounding the high profile acquisitions brought in this summer, we're yet again discussing a roster ill-prepared to cope should multiple injury bugs strike it this year. As always, plenty of intrigue regarding Dortmund. Hope, diluted by time, is a different matter.
Lineup—Borussia Dortmund—DFB Pokal (4-2-1-3)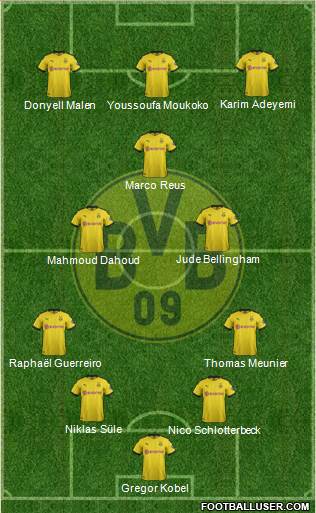 The relative ease with which the BVB dispatched Pokal opponents 1860 München offers some encouragement. The team turned in a sovereign, dominant, and above all highly mature performance. Terzic's tactics contained an ambitious front three effectively operating on an even keel. Youssoufa Moukoko occasionally dipped back into a false-nine-role. The Dortmund front-three and captain, with captain Reus operating skillfully behind them, remained top-notch from start to finish.
Genuinely great games from new acquisitions Karim Adeyemi and Nico Schlotterbeck. Terzic even has some matters to give extra thought to with respect to some of the "placeholder players" in this lineup. Mahmoud Dahoud (presumably holding short-term for Salih Özcan) and fullbacks Raphaël Guerreiro and Thomas Meunier (presumably holding longer term for Tom Rothe and Mateu Morey) also played well.
Terzic's central task concerns capturing the flashes of brilliance we witnessed from some of the core players in this team last year and integrating the newcomers into a squad that can consistently capture points. In this respect, one could tentatively conclude that the new head-coach is on schedule. We'll discover a great deal more in the coming weeks.
Notes from camp, Dortmund
There may be no need to find an external solution for the Haller problem. Moukoko served as Terzic's lead striker in virtually all the preparation matches and performed reasonably well throughout. Malen and Adeyemi have worked in the role adequately when called upon. Anyone who had a chance to catch some of Dortmund's pre-season also know that the Jamie Bynoe-Gittens hype deserves to be amplified further.
Probably the biggest reveal from Dortmund camp concerns the lack of a back-three we tactical observers were keeping an eye out for. The BVB trainer only used the triple-chain of Schlotterbeck, Niklas Süle, and Mats Hummels once (in a 0-2 loss) to Villareal. Sadly, appears to count as proof positive that Hummels' form has reached a permanent state of decline. A steady back-four utilizing the same players deployed in the Pokal seems a safe bet over the next month.
---
RasenBallSport Leipzig
---
Any attempt to forecast the fortunes of the reigning Pokal Champions proves near impossible with so many ingoing and outgoing transfers still hanging in the air. The dust very much needs to settle around all of these moving components before one can seriously take stock of what Domenico Tedesco possesses this year. For example, Timo Werner's potential return to the Bundesliga could turn the entire table calculus on its head. The German Red Bulls might be considered title contenders should that move go through.
The Saxons appear slated for a top-four-finish in any case. To the infinite chagrin of Germans who don't particularly care for this team, one must convey the exact same story as last year. Too much talent. A roster capable of weathering injuries thanks to the fact that it's deep in all areas. The rumored ins and outs merely leave the question as to whether this team can challenge Bayern unanswered. A Champions' League spot seems a forgone conclusion when measuring the squad against the rest of the league.
Lineup—RB Leipzig—DFL Supercup (3-4-3)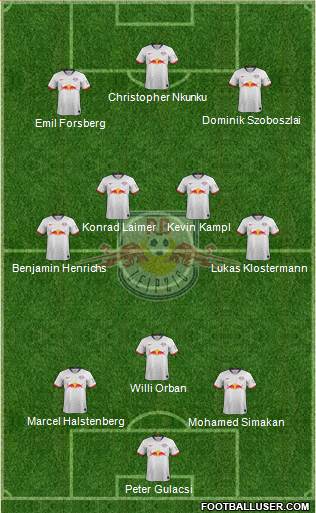 Tedesco's wingbacks ended up functioning rather poorly in the recent Supercup loss. One encounters something of moot point there as David Raum is on the way to take over on the left while Benjamin Henrichs switches over to his preferred right-hand side. The RB attacking trident had its moments of rotative confusion early on, with Forsberg notably struggling to figure his placement out. That too doesn't matter as the Swede likely won't start that high when he does get the starting XI nod.
One had the feeling that Tedesco opted to present something of a relic from last year in his teams final pre-season warm-up. Christopher Nkunku and André Silva may start up top together in the head-coach's preferred location. Raum's acquisition likely also presages a reversion to a back-four that also includes Henrichs, Willi Orban, Mohamed Simakan. This will free up Dani Olmo to function as the ten behind the two forwards. Pretty damn devastating look when one thinks about it.
Notes from camp, Leipzig
Leipzig's preparation did feature a conceivably humiliating 0-5 defeat to Liverpool along with a largely meaningless win over Southampton in which Tedesco put forth on a couple of his regulars. The label "work in progress" applies to this side after they parted company with long-term regulars like Tyler Adams and Nordi Mukiele this offseason. We might witness some early stumbles from this crew.
As last season aptly reminded us, however, there's always room for late table climbers in the Bundesliga. A reasonable assessment of how long it shall take for Tedesco to figure out what he wants in the league holds that the RB trainer will have his favored XI in place within three to four weeks after the transfer window closes.It would count as a big surprise to see this team out of the top four at the World Cup break.
---
Bayer 04 Leverkusen
---
No question that there shall be much larger expectations placed on head-coach Gerardo Seoane this year. The return to the Champions' League was understandably greeted with a decidedly "ho-hum" attitude by a talented group who (correctly) felt they had underachieved throughout last season. Last summer's massive spending spree yielded a team that arguably needed time to coalesce. There are no such excuses now. A weak preparation phase and yesterday's early DFB Pokal elimination have some suddenly questioning whether Seoane is the right man for the job.
On paper, Germany's red company team possesses a roster capable enough of both retaining their top-four table status and competing this year in Europe. Injuries must clear up a bit before die Werkself can operate as dangerously as they'd like offensively. Amine Adli and Karim Bellarabi will give them a much needed boost in the short-term. Assuming that Florian Wirtz can pick up where he left off prior to his major injury, we'll have a completely different team to asses after the World Cup break. One shouldn't consider them title contenders in any case.
Lineup—Bayer Leverkusen—DFB Pokal (4-2-3-1)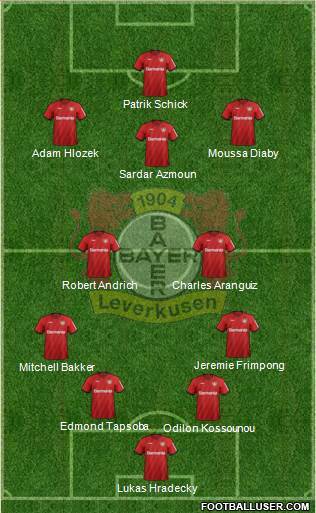 We have the above-mentioned DFB Pokal defeat to digest. Apart from the obvious problem that die Werkself defending about as poorly as one could expect, Seoane made some questionable personnel decisions. Selecting Odilon Kossounou over Jonathan Tah in central defense and the disaffected Charles Arnaguiz over Kerem Demirbay in the double-six set-up played a role in the early meltdown.
One also wonders about the merits of deploying Czech anchoring midfielder Adam Hlozek (or Moussa Diaby for that matter) on inwardly pulled attacking flank positions. Plenty of scoring chances for Bayer during this match that the xG suggests they could have won. The attack nevertheless lacked fluidity and coherence amid a surplus of dubious builds.
Sardar Azmoun might have been the best player on the pitch during the opening 45. It was thus surprising to see Seoane yank the Iranian for Paulinho, move Hlozek over to the ten-spot, and try to make things work in the exact same 4-2-3-1. The team seemed to handle possession even worse during the second half, not to mention spend too much time trying to draw fouls and arguing with the ref.
Notes from camp, Leverkusen
Seoane's men didn't lose any matches in their pre-season phase, yet didn't exactly impress either. The dual striker set of Azmoun and Patrik Schick oftentimes looked forced and clumsy. Schick remains the type of target-forward best suited to operate as a lone lead striker. The very gifted Azmoun possesses too much raw talent to be pushed out of the XI, however. Seoane must discover a way to make this all work.
The many different ways in which the Leverkusen attack can be organized means that the Swiss trainer runs the risk of getting lost in the weeds as he attempts to figure it out. This squad requires a masterful tactician. Seoane happens to be more of a "team spirit" oriented coach. Newly elevated B04 sporting CEO Simon Rolfes might have a tough decision to make earlier than he might like.
---
VfL Wolfsburg
---
Some might find it questionable that we've opted to place Wolfsburg in the top six. The writer questioned himself more than a few times, especially following a rather tepid 1-0 victory in the Pokal yesterday. One must remind oneself that–despite his sometimes frustratingly haughty nature–Niko Kovac remains a competent tactical practitioner. The 50-year-old Wedding-native once took Eintracht Frankfurt to Pokal glory.
It's tempting to remember instead his failed stint at Bayern, at which he committed the sacrilege of mismanaging Thomas Müller, instead. That more recent memory should be scrubbed. Kovac was absolutely the wrong coach for the German giants at the time. Here, working with an über-talented squad that can work wonders if pieced together properly, he can have a big impact. What one observed in the Pokal surely proved interesting.
Lineup—VfL Wolfsburg—DFB Pokal (4-4-2)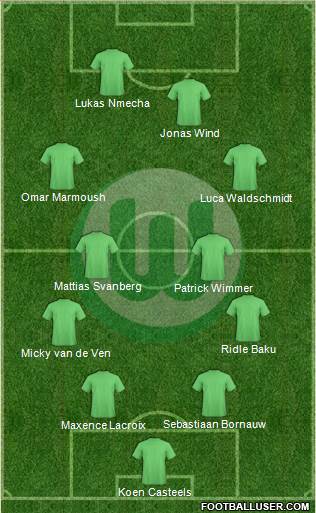 …..and by interesting the writer means a fascinating puzzle for all those "tactics heads" out there. Missing newly appointed captain Maximilian Arnold, Kovac opted to turn to Patrick Wimmer in midfield. Amid Wimmer's wild box-to-box play, it took some time to figure out that Kovac had Jonas Wind slated as a short-striker. Once Josip Brekalo relieved Luca Waldschmidt at the half, Marmoush switched over to the other flank and Wimmer pushed up to form a more menacing 4-3-3.
Reports emerged after the match that a small contingent of discontented traveling VfL supporters accosted the team after the match after what they considered a flat performance. The Wolfsburg brass have since played down the incident, insisting that the few fans involved have been easily identified and that no one was hurt. In terms of the often arduous play of Kovac's XI in the fixture, this observer still saw plenty of potential in their play. Probable starters Brekalo, Jakub Kaminski, and Bartol Franjic actually looked quite good off the bench.
Notes from camp, Wolfsburg
Germany's green company team completed a very busy set of five preseason test matches, winning three of them in a convincing fashion. Club management did well to give Kovac ample opportunity to test drive most every player on his roster in the preparation campaign. The head-coach needed to figure out which actors on this bloated 33-man-roster to cut loose. At present, the VfL trainer has 28 outfield players. At least five should be sold, loaned, or demoted to the juniors.
We'll thus witness a lot more experimentation from Kovac in the weeks to come. Tactics-heads will want to keep an closer eye on this team above all others. The columnist's faith that Kovac can put together something capable of mounting a challenge for the top four may have something to do with the fact that this team's last two trainers (Mark van Bommel and Florian Kohfeldt) mucked up matters so badly that just about anyone can take this vastly improved roster up to a fitting level this year. We shall find out soon enough in any case.
The writer sends friendly greetings to all Bundesliga fans out there ahead of another fantastic season! You can occasionally catch Peter on goofing off while watching non-Bundesliga football on twitter, @ViceytheSS.
Twitter DMs are open for football conversations, corrections, and (if you truly insist) general abuse. 
All columns debut on Bulinews before appearing on Peter's website later in the week.