The full-color journey up to the 2022/23 German Bundesliga "present tense" rolls on with the final tactical preview piece initially posted during the first week of August over at Bulinews. When attempting to forecast the "bottom six", Gladbach, Augsburg, Bochum, Stuttgart, Bremen, and Schalke served as the picks in the pre-season column.
New BMG trainer Daniel Farke has every reason to gleefully smile in this prognosticator's face. His foals are in sixth place at the league's first international break. So much for that prediction. Moreover, one of the more highly rated teams coming out of camp has implied and finds itself in a full-fledged crisis.
Oops on Bochum. It's a long way back for this particular relegation candidate, whom many in German footballing circles aren't convinced have a much hope under their new administrative apparatus. We shall see. It remains early yet…and there's plenty of bad in the Bundesliga this season.
---
Introduction: "The Bottom Six"
---
Our final tactical preview section takes a look at what, we assume, will constitute the relegation race. Four of the foreseeable subjects (Bochum, Augsburg, and the two newly promoted teams) are here. So too are a pair of clubs whose placement some may vehemently disagree with. Stuttgart and Gladbach could conceivably play strong seasons. The column looks at them more skeptically and explains why.
Our "Relegation Race" column last year did get it very wrong with respect to both Bochum and Köln. As anyone and everyone who's written sports prognostications knows, there's no greater joy than being hit with surprises. Here's hoping for many of them this season. Having already released our "Top Five" and "Middle Seven" pieces, it's time to take a look at the final six.
---
Borussia Mönchengladbach
---
The West Prussian foals face a critical transition year following the departure of key actors such as Breel Embolo and Matthias Ginter. Revenue shortfalls stemming from the pandemic already placed this club in a precarious position at the beginning of last season. It certainly didn't help that previous sporting director Max Eberl leveraged what cash reserves were available on matters like the Adi Hütter reel-in. The ultimate flop that was the Hütter coaching regime, Eberl's abrupt resignation, and the somewhat humiliating refusal of Lucien Favre to associate himself with this organization leave many wondering if the BMG can remain stable enough to remain afloat.
Talent-wise, the roster reads like a mid-tale Bundesliga club. New trainer Daniel Farke must still find a way to fashion an identity for this team if they hope to survive what happens to be one of the stronger top-tier fields we've seen over the last five seasons. A large club such as this one remains far from immune to the pressures of the relegation race. League watchers have indeed seen Gladbach go down thrice in the last 25 years. If the promoted sides snatch some points away from them early, a downward spiral beckons.
Former BVB II head-coach Farke hasn't coached a Bundesliga side before. What we do know about his tenure at Norwich City suggests that he can have difficulty keeping a locker room together. Moreover, some of the long losing streaks over on the Isle don't speak well for his ability to manage team crises. Naturally, we're speculating quite a bit here. A positive preparation campaign and an 8-1 romp over fifth-tier side SV Oberachern in the Pokal might supply this side with the confidence it needs to get the league campaign started on the right foot.
Lineup—Gladbach—DFB Pokal (4-2-3-1)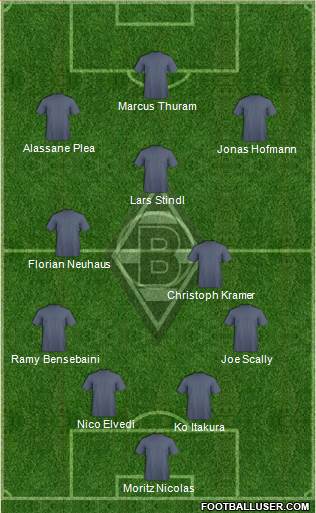 The foals demolished what one needs to emphasize was a fifth-tier German footballing side with a set of tactics sometimes referred to as a "six-seven-eight" stepping stone comprised of three former German internationals. Lars Stifle, Florian Neuhaus, and Christoph Kramer remained tightly bunched together in the midfield until Marcus Thram's hat trick sealed the result and Stindl could more comfortably operate as a traditional ten.
One sees this particular sort of tactics more frequently in English football. A wide midfield "split-stagger" finds compensation in the manner in which the ten drops back to assist the midfielders on deeper builds. The three players responsible for handling approach player out of the middle of the park sometimes settle into a scalene triangle. Scouting this one, it was manifestly obvious where Farke has been working these past years.
Notes from camp, Gladbach
So, everything worked well enough on Sunday over at Freiburg's old Dreisam stadium. In preseason fixtures during which the foals have scored either none or just one goal on five occasions, matters haven't been as convincing. Stindl's injury in the cup victory also brings with it very bad augurs for the start of the season. Top quality attackers such as Thuram and current German national team member Jonas Hofmann might find themselves deprived of service.
Farke built his entire preparation campaign around Stindl and has no real replacement for his midfield general. As intimated above, the early schedule isn't exactly kind to this team. Schalke and Bremen–whom one expects to punch above their weight in the initial weeks–can make a huge statement by taking points off this wobbly side. Reinforcements are needed practically all over the pitch here and sporting director Roland Virkus doesn't possess the money to procure them. All signs point to a shaky start.
---
FC Augsburg
---
The Fuggerstädter find themselves in the relegation conversation literally every year. For 11 consecutive seasons, they've managed to wriggle their way of drop, usually through a late-season head-coaching change that enables them to keep their heads just above water. Last year proved the exception to the rule, with Markus Weinzierl resigning as soon as the campaign wrapped up rather than attempting to repair the rift that had developed between him and FCA sporting director Stefan Reuter.
After what has been generally regarding as the weakest head-coaching appointment of the offseason, expectations for the Bavarian Swabians this year remain low. This despite the fact that Reuter has put together a vigorous summer transfer window. Landing Ermedin Demirovic in a striker swap with Freiburg counted as a coup. Acquiring Elvish Rexhbecaj from Wolfsburg and to augment the midfield and Maximilian Bauer from Bochum to shore up the defense will surely yield future benefits.
In time, something above average could emerge.
Lineup—FC Augsburg—DFB Pokal (3-4-3)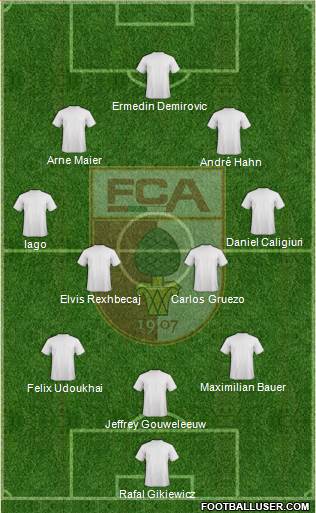 After a sluggish start in the Pokal, Maaßen's charges rallied to obtain a 4-0 victory over fourth-tier-side BW Lohnen. One had the sense that the three newcomers inserted directly into the starting XI weren't quite ready for prime time yet. The team in general didn't appear well-prepared to run Maaßen's transition-geared set of tactics. The squad produced little in the first-half worth noting. No one really woke up until Arne Maier's set-piece goal in the 51st.
Substitutes Frederick Jensen and Florian Niederlechner handled the next two goals before Maurice Malone added a fourth late in a somewhat flukish fashion. A high scoreline notwithstanding, the FCA didn't leave the impression of a crew authoritatively off the mark. The type of football this squad wishes to play remains uncertain. Counterpressing, forward ideas, and tempo looked substandard throughout. No one in the starting XI attacked the spaces with any vim.
Notes from camp, Augsburg
Maaßen's FCA won only one of their five pre-season fixtures. The trainer's tactics, particularly at the back, were all over the map. He tried using Carlos Greuzo as a bolt-lock sweeper, pulling wingbacks (who probably shouldn't be wingbacks) Daniel Caligiuri and Iago into an ultra-protective back-five, and constantly tinkering with captain Jeffrey Gouweleeuw's pivot in the center of the back-three.One genuinely fails to see how they'll handle Freiburg on the weekend.
The coming campaign could get off to a disastrous start and snowball thereafter. Injuries to Niklas Dorsch, Reece Oxford, and Ruben Vargas hurt the squad in all areas. Maaßen also has to handle a bit of a logjam for the front three positions. The roster boasts far too many center-forwards. An inexperienced head-coach thus has a careful tightrope to tread in order to keep them all reasonably content with their playing time. All of this doesn't necessarily render Augsburg a sure-fire relegation candidate, but they will most definitely be involved in the race.
---
VfL Bochum
---
The old adage that the second year in a top flight footballing division proves infinitely more challenging than the first naturally didn't become an adage just by chance. These Westphalians have their work cut out for them in this season's much tougher division. The biggest challenge Thomas Reis and the 1848ers face comes from they're very small squad size. A 26-man man roster happens to be a dangerously low stock for the Bundesliga. A few injuries could throw them completely out of whack. One needs to keep a watchful eye on which players go down here.
Sebastian Schinzierlorz and the Bochum administrative team have actually done a highly admirable job of plugging the squad gaps created by this summer's departures. They've done it on a tight budget too, snatching up actors of first division quality like Kevin Stöger, Jacek Goralski, Saidy Janko, Jannes Horn, and Philipp Hofmann on free transfers. Acquiring Philipp Förster from Stuttgart at a bargain basement price also counts as a smart move. There's more good news. For whatever it's worth, Bochum turned in one of the best performances of the Pokal weekend.
Lineup—VfL Bochum—DFB Pokal (4-2-3-1)
While other Bundesliga sides struggled to get out of first-gear during their "soft opener", Bochum (with four summer additions in the starting XI no less) had the look and feel of a team already comfortable in their own skin. Reis' men played in an orderly and controlled fashion against FC Victoria Berlin for the full 90 minutes. The returning Simon Zoller looks to have fully recovered from the nasty injury that destroyed his previous campaign. German fan-favorite Gerrit "Typhoon" Holtmann led many exiting attack charges with his pace.
Another player with another fan ascribed nickname really appears in confident form. Takuma "Jaguar" Asano covered a lot of ground working as a ten, an anchoring midfield attacker, and then later as a winger when Reis shifted to a 4-3-3 to pile on towards the end of the first half. Förster, Janko, Patrick Osterhage, and even (after a mistake riddled preparation campaign) Erhan Masovic were strong in relief. Surprisingly enough, Bochum emerged from Pokal weekend as one of the league's most well-adjusted squads.
Notes from camp, Bochum
A lot of 4-1-4-1, 4-2-3-1, 4-3-3 rejiggering from Reis during what was a very busy prep phase. Club management organized nine test matches for this team. The 1848ers won five, lost two, and drew two. Defensive meltdowns in the lost matches against Paderborn and Spain's Athletic Club did demonstrate that the squad encounters issues stemming from the departure of Armel Bella-Kotchap.
Reis has test driven various center-halve duos, with the eventual pair the gaffer aspires to likely being the newly-acquired Ivan Ordets and veteran Vasilios Lampropoulus. On the topic of something Reis aspires to tactically with a new acquisition, a double six midfield set-up comprised of Anthony Losilla and Jacek Goralski seems to be in the cards. This club does have solid plans for the big "second year".
---
VfB Stuttgart
---
It looks to be another long season for those of us tasked with following the Swabians closely. Obviously, much depends on the transfer fates of lead striker Sasa Kalajdzic and brilliant "assist-meister" Borna Sosa. A serious injury to Kalajdzic and the slow recovery pace of "Silas" left trainer Pellegrino Matarazzo unable to implement the specific brand of football that delivered him success during the first half of the 2020/21 campaign. More injuries and some maddeningly hokey tactics meant that the VfB only narrowly avoided the relegation playoffs on the final matchday.
With Kalajdzic and Sosa again having problems with injuries during the pre-season, Matarazzo has again been forced to turn to some of his younger players to fill the XI. Often times, the lack of finishing quality from them has been on display. Though the Württembergers didn't lost any of their exhibition fixtures, so much of this team's inexperience manifests itself whenever one observes them. That was most definitely the case in the Pokal.
Lineup—VfB Stuttgart—DFB Pokal (3-3-2-2)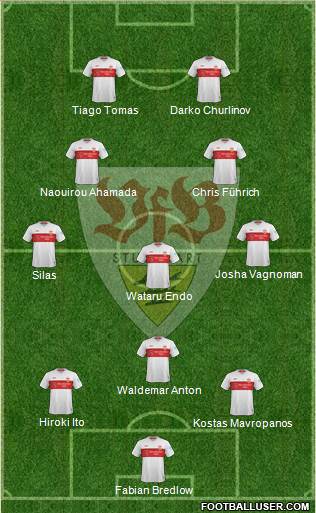 Matarazzo has been channeling his inner Bo Svensson (or perhaps Urs Fischer) with this spread constellation throughout the preparation phase. Nothing truly wrong with it in principle, though Silas isn't his best on his unnatural left side and captain Wataru Endo seems a little overcrowded and a bit too deep to properly affect play. In the team's 1-0 eke-out win against Dynamo Dresden, it took an exceedingly long time for this to start working coherently.
Tiago Tomas continues to impress with his nifty footwork, yet the promising young Portuguese attacker also continues to hit the post more often than he finds the back of the net. Naouirou Ahamada and Darko Churlinov missed chances too. Enzo Millot and the newly acquired Juan Jose Perea betrayed their lack of experience with poor finishing off the bench. Were it not for some heroic defending (and a tactical foul from Pascal Stenzel), the VfB might have dropped their opening competitive match.
Notes from camp, Stuttgart
As noted above, Stuttgart won all of their preseason exhibition fixtures. When Kalajdzic is in the squad, they're actually rather good. An interesting note about Kalajdzic concerns the fact that Matarazzo has gotten in the habit of using the towering Austrian as part of a two-striker-set with Tomas. Opponents can't seem to cope with this duel threat. The amount of coverage Kalajdzic draws really enhances Tomas' game.
Provided that sporting director Sven Mislintat is able to keep Kalajdzic away from all of the other clubs hunting him, there exists the potential that this squad could operate comfortably above the relegation fray. The fact that Mislintat is already stacking up this already way too bloated roster with new attacking additions nevertheless makes it seem as if he's preparing to cash in. The columnist's opinion on that matter holds that such a move would really send this team off the rails….again.
---
SV Werder Bremen
---
Proponents of German football breathed a collective sigh of relief when both Bremen and Schalke pushed their way back up to the top flight at the end of last season. We obviously want larger, tradition-based clubs in the first division at a time when global broadcasting deals make our brand more accessible to larger audiences. A league with the likes of Bielefeld and Fürth in it might be entertaining enough for us, but there was some lamenting last year about the fact that these smaller clubs would draw such smaller audiences that broadcast giants might consider dropping the Bundesliga altogether.
The story of Bremen's rapid rise mostly centers around sporting director Frank Baumann's decision to hire the right trainer at the right time. Ole Werner accomplished marvels with this club after he took over last November. The gaffer who nearly led Holstein Kiel to the first footballing division turned around the fortunes of a side still mostly comprised of players who were active in the 2020/21 relegation campaign. Six such players started on Monday in the Pokal.
Lineup—Werder Bremen—DFB Pokal (4-2-2-2)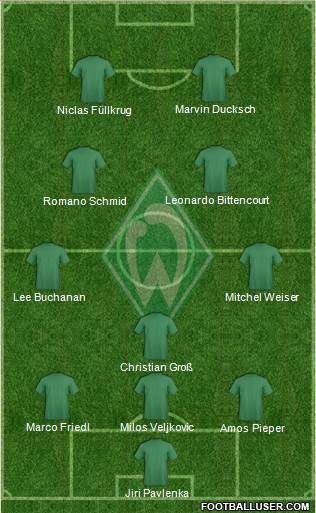 One can immediately tell that the Niclas Füllkrug-Marvin Ducksch partnership will cause Bundesliga defenses problems. True, the production numbers won't rival what the two forwards were able to accomplish in the 2. Liga. Furthermore, no league watchers find themselves capable of trusting that Füllkrug can remain healthy for an entire season at this point. It's nevertheless fair to say that the paring had an above average outing against Cottbus. On both the top two axes, the ideas are certainly there.
Lee Buchanan and Mitchell Weiser occasionally work a deliberate "split stagger" on the approach play, lending this offense a quick transition game and some interesting flair up the right-hand side. The latter got forward to score a goal late in Monday's victory. What transpired late on had much to do with the fact that Werner began introducing third-stringers and the team began to have difficulty keeping their shape. Overall, a fairly encouraging start from this squad.
Notes from camp, Bremen
A basically sound preparation campaign saw the Hanseaten rack up plenty of goals on the exhibition pitch while manager Baumann methodically addressed the needs of the club heading into their first season back in the top flight. In stark contrast to last year, when the SV's main administrator earned ridicule for his almost naive-sounding procrastination, Baumann did extremely well, particularly in bolstering the defensive ranks with the likes of Niklas Stark and Amos Pieper early.
As evidenced by Christian Groß' use as a bolt-lock-sweeper above, there remain issues at the back. Werner felt the need to address this late in camp after the team conceded 11 goals in their first five exhibition fixtures. Even as a placeholder solution, the Groß deployment appears to work decently. If one were asked whether Schalke or Bremen have the better chance of avoiding the relegation fray this year, the Green-Whites seem the stronger side.
---
FC Schalke 04
---
Interestingly, the story of Schalke's 2. Bundesliga championship this year nearly constitutes the inverse of Bremen's. S04 sporting director Rouven Schröder didn't build a team around the existing Bundesliga actors. Quite the contrary. The former Mainz manager deliberately  threw everyone associated with the relegation year off the roster via loans. Everything here is new. The offloaded talent wasn't even considered for this year's team. Instead, liquidation of the returning players served as a top priority this offseason.
Of course, this strategy elicits a question. Namely, can a side purposefully structured to compete at the lower level compete in the top division? The answer lies in the moves Schröder has made in the summer transfer window. The club boss procured himself a new lead striker in Sebastian Polter, a new first choice keeper in Alexander Schwolow, a new starting right-back in Cedric Brunner, and an exciting new X-Factors in the form of Alex Kral and Tom Krauß.
We have a squad that Bundesliga lovers have been itching to take a look at.
Lineup—Schalke 04—DFB Pokal (4-1-4-1)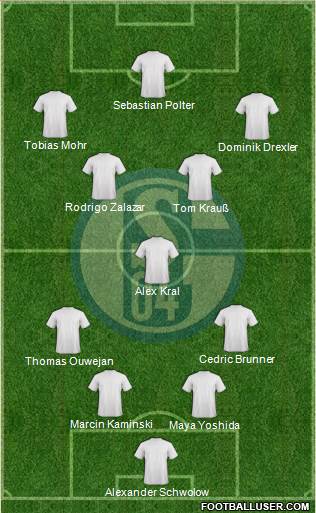 What we witnessed against fourth-tier side Bremer SV (not to be confused with SV Werder Bremen) on Sunday worked to perfection. Former Eintracht Frankfurt attacker Rodrigo Zalazar scored inside of two minutes. Former Köln winger Dominik Drexler completed a brace with barely a half-hour-played. The Königsblauen could have easily been up 5-0 at the half had Polter not missed a penalty. Total dominance from die Knappen in the eventual 5-0 rout.
Two other players with Bundesliga experience–Marcin Kaminski and Brunner–turned in sharp performances. Taking into account the big differences in the level of play between these two divisions, Schröder has at least put together a group that stands a fighting chance. The upgrades came in all the right places. As well as players like Simon Terodde, Marius Bülter, Victor Palsson, and Florian Flick played down below, Schröder made the proper and gutsy call in getting his roster ready for the new challenge.
Notes from camp, Schalke
Thus far we haven't spoken about the somewhat controversial appointment of new head-coach Frank Kramer. Those of us tasked with tracking the first division can't help but great that choice with a shudder. Whilst in charge of over the past 18 months, the former German youth coach frequently made an absolute hash out of his tactics and is widely regarded to have wasted a potential-laden squad gifted him by DSC sporting director Samir Arabi.
Kramer's constellations during the pre-season matches have shown little consistency and were often confusing. Attempts to build around players like Latza, Terodde, and Bülter led to losses against Twente and even SV Meppen. In an important test fixture against Augsburg, Kramer lined everyone as narrow as his irritating trademark bit of facial hair. Schalke proved a very frustrating watch on that day.
Odd to see Schröder make so many outstanding personnel choices whilst getting his coaching choice so wrong. After cycling through five trainers in the last relegation campaign, the absolute last thing this club needs is another early changing of the guard during the early phases of their return season. Something like that nevertheless seems likely if the team can't forge an identity out of the gate.
The writer sends friendly greetings to all Bundesliga fans out there ahead of another fantastic season! You can occasionally catch Peter goofing off while watching non-Bundesliga football on twitter, @ViceytheSS.
Twitter DMs are open for football conversations, corrections, and (if you truly insist) general abuse. 
All columns debut on Bulinews before appearing on Peter's website later in the week.