Quite a lot to discuss after a very busy weekend for Americans plying their trade in Germany's top footballing flight. The latest hot-sheet over at Bulinews covered all the action in meticulous detail. Not exactly the greatest set of grades ever doled out. There's nevertheless good news in the form of one talented returning actor.
Our weekly scouting column returns with quite the hefty installment this time. Seven graded sections assess the work of American actors active in Germany's top footballing flight following quite the busy weekend. Six players and–what is now–the Bundesliga's lone American trainer are scored. Just like last week, it was decided not to rate RB Leipzig trainer Jesse Marsch as he did not lead his team from the sidelines.
In the COVID-Era, coaches are said to still phone in personnel decisions from their quarantine quarters. As anyone who has played football knows, this can't be considered true coaching. A trainer that shouts instructions from the touchline, orders tactical switches via visual signals, and adds extra instruction during breaks cannot do so remotely. Hence, Marsch's final match isn't scored.
We have only one "A-Level" performer on what was generally a rough week for our set of subjects. As it turns out, Chris Richards delivered a very worthy performance in his return to the Hoffenheim starting XI. John Anthony Brooks, Tyler Adams, Joe Scally and Timothy Tillman still receive higher marks than they did in the German press. Timothy Chandler and Stuttgart head-coach Pellegrino Matarazzo come in lower than in other sources.
---
Chris Richards, TSG 1899 Hoffenheim
---
Minutes played = 90/90, Positions played = CB
Grade = A
The Alabama native's German press marks were unfairly low this week. Richards, returning to one of Sebastian Hoeneß' specific system formations  for his first start since round nine, turned in the type of performance that should keep him in the XI. That, at least, is the position of this column. In the course of amassing a recorded 94 touches and absolutely running his heart out, this American won all but three of his direct duels. Additionally–through some absolute monster stops near the end of the Frankfurt match, the 21-year-old directly ensured that his team secured their fifth consecutive home victory.
The only potential reason that this writer can think of for Richards' lower grades in German sources concerns the fact that he sent 14 passes stray. It's a high number. Given that the USMNT starter played 71 passes in the first place, it's a mite harsh to dock him for an 80 percent rate. Some errors–a missed marking on Rafael Santos Borré during a 7th minute set-piece, a loss on a double-team in the 9th, two late first-half giveaways (44th, 45th), and a couple of unfocused waywards in the 74th/75th–were sporadic and not entirely worthy of a weigh-down.
While it is true that Richards didn't look terribly good on both Frankfurt goals, neither tally could be said to be his fault. He pulled away from the pack on Borré's opener in the 15th, but that was because it was clearly his job to guard the far post and possibly clear off the line. Richards was the man-marking Gonçalo Paciencia when the SGE's burgeoning super-sub pulled back the second goal in the 72nd. The columnist will still back the American on that play as there wasn't really much he could do against Paciencia's slick first touch and finishing technique.
The very best of Richards' stops on the day came in the 49th, (on Filip Kostic), the 52nd (on fellow American Timothy Chandler), the 55th (great dispossession of Jesper Lindstrøm), the 76th/77th (two great wins in the air over the above-mentioned Paciencia), and the 82nd (a vital cut-out of a Kostic cross headed straight for a lurking Borré). It's totally inconceivable that the TSG would have earned three points on this day without this American. Hoeneß will surely stick with the specific constellation that includes Richards through the winter break.
Those inclined can find more examples of Richards' trademark calm work on the ball in the 4th, 6th, 21st, 24th, 35th, 39th, 41st, 58th, 65th, 78th, and at 90+2. This ice-veined youngster very rarely gets flustered. The best duel wins/clearances came in the 8th, 13th, 14th, 31st, 34th, 42nd, 45th, 69th, 70th, and 80th. True to form, he was very good going forward as well. Examples come in the 23rd, 35th, and 57th. The American was involved in the 20-touch- sequence leading up to Dennis Geiger's beautiful goal in the 24th. He also executed a ultra-sleek offensive give-and-go with former FCB II teammate Angelo Stiller in the 68th.
Richards isn't the type to give up, even after his ball losses. A great case study in this can be found in the 84th. The American twice loses out to Kostic, but still stays with Frankfurt's danger man until he forces a poor cross out of him. Truly great to see this particular USMNT prospect back in a Bundesliga XI again. Even sweeter to watch give it his all until the final whistle. It's been a few weeks, so do forgive a humble columnist for giving Richards so much profuse attention. He's just that great of a player to watch!
---
John Anthony Brooks, VfL Wolfsburg
---
Minutes played = 45/90, Positions played = CB
Grade = B-
A mini-rant in the tactics column questions VfL trainer Florian Kohfeldt's judgment not only in pulling Brooks at the half, but Ridle Baku and Maximilian Arnold as well. The Berliner wasn't performing poorly at all. Neither of the early Mainz goals had anything to do with this American. In point of fact, his passing was spot on. There are solid verticals, diagonals, and horizontals on display in the 9th, 10th, 19th, 23rd, 42nd, and 44th. A pair of bad strays (14th, 32nd) and a missed header (12th) didn't trouble this observer much.
There appeared to be nothing majorly wrong with the American's defensive tracking. After a couple of early lapses whilst the whole team stood rattled (6th and 8th), Brooks recovered to keep the opponent under wraps in the 10th, 17th, 18th, 31st, and 41st. Important clearances came in the 13th, 18th, and  20th. There was also a great aerial win and he made several nice enterprising runs forward (16th, 23rd, 29th), all with excellent dribbling technique.
The sub off surely confused others too. Brooks shook off a few shaky moments at the beginning to–along with the rest of the team–gradually grab a hold of the game. Kohfeldt's radical triple-sub at half-time then torpedoed the squad's chance of adding ideas to their rhythm. Approach play looked to be consistent enough. The starting actors should have been left on to build their muscle memory. Sigh. Such a shame that Kohfeldt runs this team now.
---
Tyler Adams, RasenBallSport Leipzig
---
Minutes played = 90/90, Positions played = CM
Grade = C+
In what would prove the final match of the Jesse Marsch regime, the RB New Yorker was consistently one of the stronger players on the pitch. That isn't to suggest that anyone in an RB tricot turned in an acceptable performance. It's easy to see why the club chose this particular moment to pull the plug on Marsch, even if if the columnist in general continues to opine that it was a mistake.
Hosts Union Berlin failed to put away many counterattacking chances on which Leipzig left themselves totally unprotected. The xG figures (FCU 3.5, RBL 0.7) convey how bad a blowout this could have been. Furthermore, the team's play in the final 15 minutes of Friday's fixture was collectively appalling. Our American subject here, too, tanked very hard in that last quarter of an hour.
Tactically speaking, the German Red Bulls came out looking quite flat. It might have been the case that Marsch and staff ordered a 3-4-3. What ended up crystallizing nevertheless looked nothing like one. We'll have to call this a soft and reserved 5-2-3 irrespective of what the coaching unit had in mind. In Willi Orban's absence, flat axial chains with a focus on attacks up the Angelino left could have conceivably been the plan as well.
Lineup—RB Leipzig—Match 14 (5-2-3)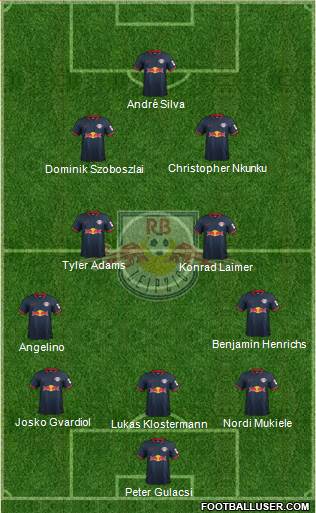 A grand total of 86 recorded touches for the USMNT captain on this day. A more revealing statistic about how much Adams was involved on the right is 67 passes recorded by this observer. The 22-year-old seemed pretty anxious to get the ball off his boot, largely in a positive way. He only sent four passes wayward. There were periods during this encounter during which the American really impressed.
The first ten minutes certainly wasn't one of those passages. Adams spent a lot of time chasing balls and didn't get his first touch in until the 6th. The American was in no way at fault during Taiwo Awoniyi's opening goal. Falling behind still affected him, as evidenced by a pair of missed collects in the 8th and 9th. He was once again back in the game by the 11th; actually the only RB player properly positioned to defend another Awoniyi counter.
The RB New Yorker was involved positively in the sequence that led to Christopher Nkunku's equalizer in the 13th and the duration of his opening 45 was fairly strong. Many rearward touches, unsatisfying as they might have been, were intelligent and necessary. Examples can be found in the 16th, 28th, and 36th. One solitary major mistake came in the 31st.
Plenty of instances in which the RB leftward cycle-out got completely stuck (15th, 24th, and 42nd) weren't his fault. Adams provided some of the brighter offensive sparks (26th, 40th) and also saved his team on several occasions with vitally important clearances/aerial wins (25th, 26th, 34th, 36th). Overall, a very good half for this American.
Those interested can find some genuinely spectacular play from Adams during the first 20 minutes of the second half. His nimble footed touches and tracking work was top notch. A shame that the American and Dominik Szoboszlai couldn't quite get coordinated in the 47th. The New Yorker did supply both Szoboszlai and André Silva quality feeds in the 55th.
Always near the action on both sides of the ball, Adams' best tracking work came in the 49th, 50th, 52nd, 53rd, 56th, 60th, and 61st. Obvious exhaustion set in thereafter and the American began letting too many plays get past him. Leipzig advances in general got frustratingly bad. Sometimes, as many as five actors would stop just outside the box. One can always spot a team in crisis whenever everyone loses the will to go forward at the same time.
This happened in the 66th, 67th, 73rd, 77th, and 85th. No one possessed the novelty or indeed courage to put themselves in a target position. Union dared Leipzig to play through them. No one answered the call. By 87th, Adams barely had the strength left to complete short passes. A slow, tired, and plodding finish constituted an unfortunate finish to what was still an above average day.
---
Joe Scally, Borussia Mönchengladbach
---
Minutes played = 90/90, Positions played = LWB, RWB
Grade = C-
If readers of this column haven't had a chance to check it out already, the Bulinews Editor-in-chief had a chance to speak with one of the Bundesliga's fastest rising stars for an exclusive interview. There's actually a second part of the interview due to be released this week and we plan on interviewing more U.S. internationals in the coming weeks. German football remains perhaps the most important proving ground for the future stars of the USMNT; the strongest team ever which shall most certainly do deep into the World Cup knockouts next year.
Anyways, how on earth does one score Scally after Freiburg's 6-0 demolition of Gladbach in this round's Sunday capper? This constitutes a nearly impossible task! After Freiburg rushed out to a 5-0 (!!) lead in the 25th minute, what followed didn't technically even qualify as a football match. When matters degenerate to a leisurely Sunday-in-the-park kick about, whatever skills a player shows are essentially immaterial. It would be like grading a test match.
We'll nevertheless provide some substance on Scally's (and Gladbach's) nightmare day. The CFG New Yorker was indeed the last man on Maximilian Eggestein's opening 2nd minute goal. Our American subject looked very weak there, though one can hardly fault him for not quite being in the game yet so early. Scally's marking on Kevin Schade on the second SCF goal in the 5th made one grimace. The young German international laid into the US international very hard. Scally, not using his body at all, got shamefully outmuscled.
The remaining Freiburg goals all came from dead-ball set plays. Scally wasn't at fault for any of them. In point of fact, head-coach Adi Hütter placed the 18-year-old in charge of ensuring that matters devolve into something much worse. A 28th minute double substitution saw Breel Embolo and Patrick Herrmann replace Alassane Plea and Stefan Lainer. The young American moved over to the right.
Lineup—Gladbach—29th minute (3-4-3)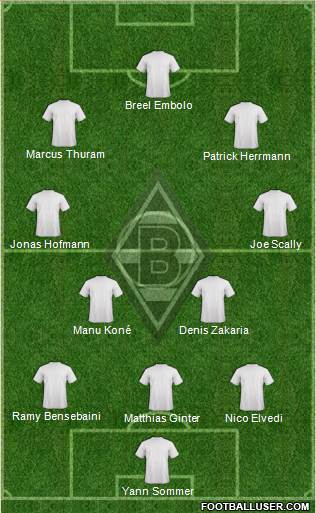 Hütter placed Scally directly into the line of fire, charging him with putting a stop to the pure havoc Christian Günter and Vincenzo Grifo wreaked on the Gladbach right. The youngster rose to the occasion admirably. A competent and professional performance, admittedly helped by the fact that Freiburg took their foot of the gas, prevented things from getting worse.
Scally's grade gets pulled up significantly by this fact. Not much that happened from the half-hour mark ends up being relevant in this case. Free-form exhibition level football doesn't really count. That being said, we won't place him anywhere near failing in this one. The Long Island native did what he could.
---
Timothy Tillman, SpVgg Greuther Fürth
---
Minutes played = 90/90, Positions played = AM/RW
Grade = D+
The main problem with Fürth continues to be total incompetence in defending the counter. Not at all unlike last week, the league's last place team kept it competitive and came agonizingly close to pulling themselves back into the match before getting undone on a counter. Mistakes accumulated. A knock-on effect of errors then led to a cascade of goals. To this team's credit, they appear to approach each match with fresh vigor.
We'll talk again about how a sensible set of tactics–with a promising German-American occupying an important place–once again failed to prevent a humiliating embarrassment. It all comes down to a combination of normal risk-taking trade-offs and total amateurish lapses kill this poor team off. The idea wasn't bacd.
Lineup—SpVgg Greuther Fürth—Match 14 (5-2-3)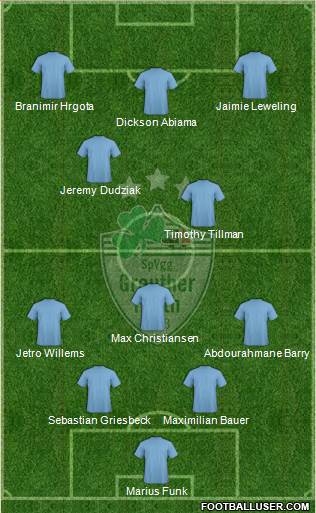 The risks inherent in this should be obvious enough. Some may wonder why a team like Fürth is set-up in such a manner. The simple enough answer concerns the fact that the roster was deliberately built this way. Sporting director Rachid Azzouzi, in re-stocking his ranks for the top-flight this summer, built what would actually be an almost perfect squad for the German second division. One can get away with such an offensive tilt on that level.
When it comes to Germany's footballing "Oberhaus", however, it's no surprise that thus surfeit of attacking quality gets frequently shredded on the counter; often after a very competent attack made the lads look like they belong in this top flight. Sigh. This happened to poor Timothy Tillman for the second week in a row.
This American's day got off to a rather heinous start. After a pair of duel losses and a rather uninspiring free kick, Tillman caught an elbow to the face from Exequiel Palacios on a 5th minute aerial duel. He needed treatment for a gash that opened up just above his eye. Multiple field-vision related errors (10th, 11th, 15th, 20th, 22nd) followed for the completely legitimate reason that he had problems seeing and was understandably rattled.
Tillman seemed to get his wits back about him around the 26th. He at least began calling for the ball. Whether or not he possessed the wherewithal to hang onto it proved more of a mixed bag. Ball losses in the 28th and 37th were wince-inducing. On other occasions, (32nd, 34th, 35th, 45th, and 45+1), he fought well and held the ball up sharply.
One could tell that Tillman still needed to get into the dressing room in order to reset. He looked pretty bad running around like a decapitated chicken in the 35th, 40th, and 43rd. After miffing up his first post-restart touch in the 47th, he handled his touches neatly in the 48th and peeled off a nice run in the 50th. The pass on the latter instance remained pretty poor.
The Nürnberg native felt in the mood to have a go at goal in the 51st (blocked) and call for the ball again in the 54th (ignored by teammates). A crucial defensive cut-out in the 57th spared his colleagues the humiliation they ultimately couldn't avoid. One had to like his forward work in the 63rd, 64th, and 68th. The last sequence saw him get a whiff at goal. Unfortunately, it also spawned the counter that sparked the three Schick goals in nine minutes.
Two minutes before Schick officially recorded his hat trick, Tillman's body language was that of a shattered soul. Edmond Tapsoba climbed all over his slumped shoulders during an aerial duel in the 72nd. Head coach Stefan Leitl left him on to run the full 90. Neither the American nor his teammates were up to much in the final phase. Tillman ran the high pivot on a soft press that allowed the B04 defensive line to pass around unchallenged.
Passing, general skill on the ball, and even the willingness to seek out involvement weren't terrible on the day. Believe it or not, this wasn't the type of overtly terrible performance that would lead to an automatic benching under normal circumstances. As we all know, circumstances are hardly normal at the SpVgg. No telling if Tillman will feature in the next XI. Leitl must keep trying shake-ups until some assemblage gains traction/confidence.
---
Timothy Chandler, Eintracht Frankfurt
---
Minutes played = 83/90, Positions played = RW 
Grade = D
The USMNT emeritus actor remains active in Oliver Glasner's now standard 3-6-1. The current SGE trainer has arrived at that point at which he's comfortable keeping the same personnel in the exact same formation, precisely as he did with Wolfsburg for eight consecutive fixtures late last winter. For Timmy fans, it's a treat to see the 31-year-old play as a winger twice a week. Though Chandler clearly exhibits signs that he's well past his prime, there are always invariably moments illustrative of what he still has left to offer us.
Against Hoffenheim in Sinsheim this past Saturday, those moments came in the 4th (impressive double challenge win), the 13th (very crafty touches forward), the 28th (nice chip forward) at 45+1 (another double win replete with trick touches to keep a cycle alive), and the 56th (intrepid drive forward and deep run to receive the return ball). Unfortunately, that's about the extent of it. After a relatively strong start to the play, there were way too many direct losses/stray passes (40th, 43rd, 47th, 52nd, and 64th).
Chandler can still win the occasional aerial battle convincingly and holds the ball up about as well as he ever did. Pressing remains far less consistent than it used to before before that knee injury that sidelined him for nearly a year. For example, one can watch him totally lose track of the play and lay off on all action in his vicinity between the 31st and 39th. He picked it up again for the final five minutes of the first half to finish the opening 45 very strongly. One still longs for the days when he could keep it up over the course of the entire match.
The final half hour was particularly bad. He totally lost sight of Kostic on what could have been a useful give-and-go in the 51st. Timmy simply wasn't quick enough to reach a switch aimed at him in the 62nd. He painted around the box on a dribble with no ideas in the 71st and flashed well over on a shot he had no business taking in the 76th. Not a fun day for Timmy fans at all. There will be better ones. The good news remains that he does still possess the basic tools to remain competitive at this level.
---
Pellegrino Matarazzo, VfB Stuttgart
---
Matches = 1, Result = D
Grade = F
As touched upon in the tactics bulletin, Stuttgart-Hertha counted as a barely watchable football match. One very rarely says that about a fixture that features four goals. Boring, sloppy, and generally turgid football from the depleted Swabians. The first two Stuttgart goals came courtesy of appalling egregious positional errors from Hertha. Matarazzo's men then summarily failed to put the game to bed with their lack of finishing quality.
With deep regret, one must concede that the days of pillorying the league's one remaining American trainer aren't over. The columnist maintains that, with the squad's injuries clearing up, better times remain in sight. For the time being, what flourishing talent the team has continues to be thoroughly misused.
Lineup—VfB Stuttgart—Match 14 (3-4-3)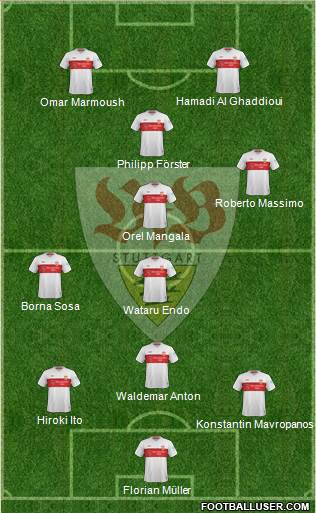 Kudos to Omar Marmoush and Philipp Förster for finishing off their chances well. Apart from that, it can't be said that anyone really had a good game. Wataru Endo was statically stationed far too back to make much of a difference. Roberto Massimo seemed to have no audacity when it came to entering forward duels. Returnees Orel Mangala and Hamadi Al Ghaddioui looked totally lost.
There's a new French kid by the name of Alexis Tibidi that Matarazzo has been test driving recently in the position that Massimo is essentially keeping warm for Silas. It's nice to see the 18-year-old being given a shot. The teenager isn't bad at taking shots either. He nevertheless generally delivers about one decent effort per game before retreating to more passive play.
Stuttgart allowed a vastly inferior Hertha side back into this game with tired and lethargic play. The team improved a tad in the final ten minutes, but were still mostly running haphazardly improvised routes that didn't appear connected. The American trainer himself criticized his crew for "going their own way" and "having no clarity in the attack".
These very true observations notwithstanding, a lot of this falls back to the gaffer. Matarazzo's totally disjointed formations, built specifically for players who are not fit at this time, leave his actors with little chance. It's no coincidence at all that they're "going their own way" when their routes aren't tailored to suit their strengths. We must give the New Jersey native failing marks again.
Anyone curious as to whether there's any chance that both of the Bundesliga's American head-coaches will get sacked this season should know that sporting director Sven Mislintat did guarantee Matarazzo's position through the end of the campaign before we even got started this year. For whatever it's worth, word has been given. That doesn't mean that the coach has 100 percent protection, but one can likely assume that he's safe.
Thanks so much for reading! You can occasionally catch Peter goofing off while watching the lower German football divisions on twitter, @ViceytheSS.
Twitter DMs are open for football conversations, corrections, and (if you truly insist) general abuse. 
All columns debut on Bulinews before appearing on Peter's website later in the week.