A rather large discrepancy this week. An independent assessment of the work of Tyler Adams in the six-goal Bayern thriller sees him get very different marks than many football watchers have accorded him. Subjective performance assessments obviously merit explanations, and one will find no shortage of them here. Anyone who didn't get a chance to catch the hot sheet can leisurely get back up to speed here.
Five US Internationals join the Bundesliga's American trainer in earning graded sections this week. An additional actor slowly makes his way back to meaningful Bundesliga action. Chris Richards of FC Bayern München did come on for the final seven minutes of his club's fixture. Signs point to him getting another league start at right-fullback soon.
---
Tyler Adams, RasenBallSport Leipzig
---
Minutes played = 90/90, Positions played = ADM
Grade = A
As the weekend grades get filed on all the major German footballing websites, we have an enormous disparity between this assessment of this particular player and that of others. Subjective discrepancies always exist, but it remains rare that gaps are this yawning. The writer will nevertheless stand by it.
Of some importance here, we witnessed Adams play his third different position for the third consecutive week. Trainer Julian Nagelsmann used him as a right-fullback in round eight, and then a complemented midfield six in round nine.
On this occasion, the New Yorker got his own axis–along with quite the hefty assignment–against German giants Bayern München.
Lineup—RB Leipzig—Match Ten (4-3-3)
Another subject worth broaching concerns who precisely Adams was tasked with marking. As the lone holding defensive midfield anchor, he had to closely track the movements of wingers Leroy Sané and Kingsley Coman. The 22-year-old got doused with even more responsibility after the Javi Martinez injury. Thomas Müller and Jamal Musiala were suddenly part of his patch.
Many write-ups of Adams mention his most valuable asset: spectacular field vision. On his best days, this American can read plays developing before him with a maturity and advanced development players a decade older than him can't. Sufficient visual evidence of this exists in the fixture's opening quarter of an hour. The first remarkable forward tackle comes in the 17th.
If one studies the sequence leading to Christopher Nkunku's 19th minute opening goal closely, one can see that it is Adams who actually initiates the play. An audacious defensive sprawl in the 24th unfortunately didn't lead to an interception, yet still constituted a fine acrobatic effort. Three great touches between the 25th and 26th were absolutely splendid. He even fought Robert Lewandowski to a draw on an aerial 50-50 in the 27th.
At the half hour mark, Adams pressured Coman very well on a rush. He then proceeded to do a great job staying with both David Alaba and Jamal Musiala over the course of the play. The American's teammates ultimately let him down by allowing Bayern to equalize, but his play remains rock solid.
More great defensive focus from Adams can be seen during a brilliant stretch between the 36th and 40th. Bayern genuinely struggled to get their game established with him standing by to cut out balls in the middle. A great win in the 42nd exemplifies the work put in.
Emil Forsberg's goal three minutes after the restart also starts with a move by the American. In the 54th, he opted to go on an offensive run himself. Just a slight hint of hesitation allowed Niklas Süle enough time to recover. On the other side of the ball, he continued to track Bayern attacks especially well. There are numerous examples between the 60th and 68th.
It is true that Adams dipped a bit in the final twenty minutes of the match. He was understandably exhausted after all of his hard work. Somehow, Nagelsmann managed to get it wrong despite the five-substitution allowance. The American definitely deserved a better-timed exit.
The late decline could be one reason why other German journalists marked him lower. This analysis simply can't countenance it. Too much strong work gets ignored if one skims over Adams' best, and certainly most determined, performance since round four.
---
Giovanni Reyna, Borussia Dortmund
---
Minutes played = 90/90, Positions played = LW, SS
Grade = A-
We shall all get a chance to collectively see what Gio Reyna is truly made of in the coming weeks. No facet of his skill set stands in doubt. The subject of interest concerns his ability to intellectually absorb what shall be mind-bending tactics cooked up by Lucien Favre in Erling Haaland's absence. We'll witness a varied assortment of constructs; all of which shall rely up the young American phenom to take up some sort of leadership role.
The early results augur well. After putting in some stalwart work as a false-nine midweek, he produced a wonder-goal in the league encounter against Frankfurt. The teenager easily served as the BVB's best player on the pitch in round ten.
Lineup—Borussia Dortmund—Match Ten (3-4-2-1)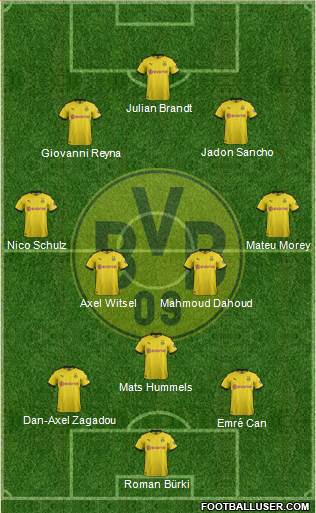 A very wide shape that nearly had all the bases covered. This time Favre utilized Julian Brandt as a true forwardly-deployed striker. Reyna had his fair share of problems adjusting to this, evidenced by hesitation on sprints into the attacking third in the 2nd and 6th. He could have done better than allowing Nico Schulz to take up the overlap in the 11th.
Favre gave the signal to pocket Brandt around the 17th. Reyna took this as an invitation to shoot, though he could have done much better than the weak effort directed at Kevin Trapp. The American's axial counterpart actually played a fairly good match as well. Jadon Sancho looked lively on the right following the Brandt shift. Accordingly, Reyna disappeared from the run of play for a little over a quarter of an hour.
Back on the ball in the 36th, observers witnessed a prelude to the goal he would eventually score. Reyna cut inward from the left flank and tried a little shake-and-bake before unleashing a powerful shot. In this instance he didn't unburden himself of the coverage well enough to properly focus his effort on the right area. The effort got blocked.
Perhaps the primary reason that Favre, initially at least, used Brandt as a traditional center-forward relates to the fact that he sought to retain a straightforward placeholder position ready for Youssoufa Moukoko. The Wunderkind came on at the break, replacing Mahmoud Dahoud. Brandt moved back to partner with Axel Witsel whilst the shape remained unchanged.
Reyna impressively tried to get his fellow young gun involved, nearly sending him through in the 49th and just missing him with a great lofted ball in the 55th. The American appeared so intent on locating Moukoko that he wasn't prepared to receive the ball at his own feet in the 54th.
After the 56th "dream goal", Reyna would get off another distance in the 65th and again come close to threading Moukoko through in the 68th. After finding himself on the receiving end of a hard-target foul in the 73rd, he should have picked himself up in time to take the ensuing free-kick.
The American's last significant involvement came in the 80th, when a momentary lapse in concentration precluded him from keeping the onside line. Such a play can easily be forgiven considering how much energy he invested in leading his team in this encounter.
---
Josh Sargent, SV Werder Bremen
---
Minutes played = 60/90, Positions played = LW, RW
Grade = C+
One certainly liked the hustle on display from the Missourian this round. By switching flanks very often on the charges, this American did his level best to impel his team forward during the hard midfield slog against Stuttgart. Touches, passing, and challenges all fall in the just-above-average range.
Sargent's trainer didn't exactly have the most advantageous role drawn up for him on this particular day.
Lineup—SV Werder Bremen—Match Ten (4-3-3)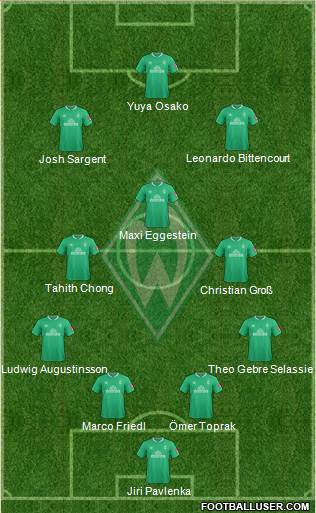 Certainly not the most sensible solution to Florian Kohfeldt's midfield issues, though the young coach is to be commended for his bravery. Halfway decent idea. Downright ugly in practice. The placement of Tahiti Chong so far back facilitated confusion in the Hanseaten ranks. Midfield players often couldn't figure out what the plan or who the target was on builds.
From the onset one could see that teammates had some difficulty locating Sargent. He still began the match full of energy, chasing down Borna Sosa in the 4th, setting up a chance for Yuya Osako in the 5th, and executing a lovely ball shield in the 7th. He tended right for much of the opening half hour, but popped up enough on the left to infer that his basic placement was that of a fluid winger.
Sargent's best offensive work came on a chip forward in the 16th. Marking of Sosa yielded the bulk of his defensive involvement, the pinnacle of which was an aerial win in the 33rd. One minute before first-half injury time he completed a brilliant run forward. Regrettably, none of his colleagues picked up on the play enough to find him.
Though the Bremen offensive engine never really got into gear, the American put in some commendable work on the counter during his final ten minutes before getting subbed off. Better precision was nevertheless needed when he missed an Osako clip-over (53rd) and couldn't work through a ball for Leonardo Bittencourt (54th).
It served as something of a surprise to see Kohfeldt take him off in the 59th. Given Sargent's demonstrated capacity to turn in solid work as a short-striker, it would have made sense for the coach to slot him in behind Davie Selke. We may see something akin to this against Leipzig next weekend. Should be a good match.
---
John Anthony Brooks, VfL Wolfsburg
---
Minutes played = 90/90, Positions played = CB
Grade = C
Not unlike last week, it was another day of extremes for the Berlin-born US international. In the writer's count, the 27-year-old garnered well over 100 touches, completed over 90 percent of his passes, and won over half of his duels. The best aerial win came in the 11th. Anyone still not convinced that this American isn't one of the best center-backs in the league should check out his towering header away in the 16th. The finest example of him leading his team across the halfway line on a back build comes in the 38th.
Brooks may be a victim of his own success in that his new status leaves one expecting a bit more from him in key situations. One minute prior to the defensive header noted above, he jumped a second too early to meet a Maximilian Arnold corner in the 15th. The play still demonstrates what an absolute beastly physical presence he has become in one of football's most important aspects. A leap in the 61st constitutes another instance in which his timing was a smidgen off.
There's no nice way of noting that he was actually guilty of ball watching on both Kölner goals. Again, one wishes to emphasize that the tallies were not the direct fault of some monumentally egregious positional failures. The evidence is nevertheless clear for all to see. He lost track of Elvis Rexhbecaj in both cases. A most unfortunate reality to report upon. His starting XI spot shouldn't be in danger, by Oliver Glasner will likely sit him during one of the three upcoming fixtures after this.
---
Pellegrino Matarazzo, VfB Stuttgart
---
Grade = D-
The tactics column contains a segment conveying that the American trainer put forward his least creative, or at the very least stiffest, constellation of the young campaign. While it may have proven a mental respite of sorts for those tactical code crackers who can spend an entire afternoon trying to figure out what the 41-year-old aims to accomplish, it simply wasn't good enough for Bundesliga football.
Here's the visual representation:
Lineup—VfB Stuttgart—Match Ten (4-2-3-1)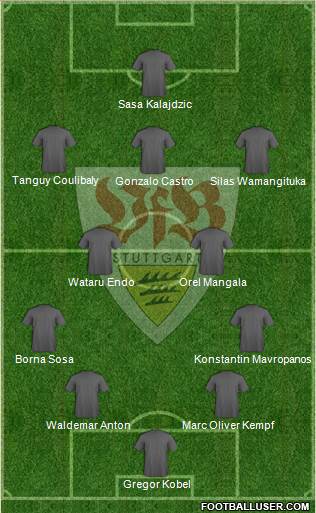 The second attacking-axis kept a rigid horizontal line on most drives. Silas Wamangituka and Borna Sosa roamed around a bit spontaneously. Everyone else mostly stayed put. Most disappointingly, Wataru Endo locked down and didn't cover much ground.
It's no exaggeration to note that one saw absolutely nothing from this constellation throughout the entire first half. No genuine offensive chances. Zero impetus forward. A sense that even the very notions of ideas weren't beginning to germinate.
The lone half-time adjustment saw Pascal Stenzel come on for Konstantinos Mavropanos on a like-for-like. Sosa stepped up his game after the re-start. It nevertheless appeared a case of individualized motivation. The overall quality-of-play remained exceedingly poor.
Philipp Klement and Phillip Förster came on for Sasa Kalajdzic and Gonzalo Castro in the 54th. What loosely resembled a 4-4-2 reformat produced a couple of lightweight punches, but nothing especially noteworthy.
To score a trainer just above failing for a fixture in which he secured all three points seems a bit harsh. In the larger context of the season, the win is all that truly matters. Poor tactics remain poor tactics. Should the Swabians hit a rut, a matchday like this may be quite relevant.
---
Matthew Hoppe, FC Schalke 04
---
Minutes played = 26/90, Positions played = LW, CF
Grade = F
It's not entirely clear that we'll hear much more from a youngster Manuel Baum has criminally thrust into the first team far too soon. One genuinely feels for the 19-year-old. To debut on such a poor team with practically no warning translates to an enormous hit to his confidence; possibly one that will affect him throughout his entire career. Mismanagement of youth talent never proves palatable to watch.
Hoppe and his team receive extended coverage in the tactics column this week. Here, painful as it might be, we'll re-iterate the basics. Hoppe fell directly into a set-piece coverage trap in his first action after the introduction. Within a couple of minutes, he lost a vital aerial duel with Julian Baumgartlinger on the play that essentially ended the match.
The youngster looked totally destroyed on his remaining six touches and couldn't summon up the courage to engage in even one more ground challenge for a ball. Sometimes a great deal of assessment-driven football writing stems from observing body language. The Californian appeared crestfallen; almost as if he was prepared to turn in his boots for good after he took them off.
One obviously cannot literally get into a player's head. Moreover, today's teenage professionals are ostensibly groomed to not take on pitch matters as personal as a normal adolescent would. The outlook still seems bleak for a young footballer who's developmental path has been woefully mismanaged.