Fewer actors in this week's "Americans" scouting column over at Bulinews. That actually doesn't mean that it's a shorter one. A surfeit of relevant action ensured that the length came in just under normal standards. The Timothy Tillman Train prepares to depart the station this Winter. Care to hop aboard? Good times ahead!
Our scouting column this week only contains five graded sections. It's still a relatively long one with much to discuss regarding the performance of four American footballers and one of the league's trainers. The news is largely good, with no one falling below "C-Level" this week.
Neither Tyler Adams nor Chris Richards started. Both USMNT regulars did make brief appearances off the bench. Adams was nevertheless a non-factor in 17 minutes for Leipzig. Adams played a whole 28 minutes for Sebastian Hoeneß' Sinsheimers, yet had no impact on a game long since decided.
The decision not to mark RB trainer Jesse Marsch even though the American presumably had some influence on his team from COVID quarantine relates to the fact that the Saxons looked to be predominantly influenced by co-trainer Achim Beierlorzer. The unique manner in which Leipzig lined up made it appear as if Marsch simply opted to delegate fully to his assistant coach.
---
Timothy Tillman, SpVgg Greuther Fürth
---
Minutes played = 79/90, Positions played = LM, RM
Grade = A-
And here he is. The 22-year-old whom we've been giving a great deal of coverage to thus far this season on Bulinews had a spectacular day. We've been calling for him in the starting XI for quite some time, most recently last week. The elder Tillman brother now has his first Bundesliga goal to add to his three assists after a fine performance.
Timothy actually took four shots on target during the Hoffenheim-Fürth goal-festival on Saturday. He assisted on a further three efforts, connected with all but three of his passes, and won all but one of his duels. He could have conceivably done even better Fürth head-coach Stefan Leitl gotten his tactics right.
Lineup—Greuther Fürth—Match 13 (4-4-2)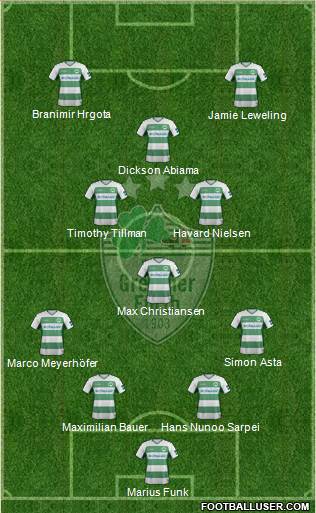 A couple of things we'll need to mention here. Firstly, the dynamism and technique exhibited by both Tillmann and Jamie Leweling means that these two youngsters should probably start on the same side. Although Tillmann, Dickson Abiama, and Havard Nielsen rotated heavily, the American spent far too much wasted time on the left.
The deployment of Abiama and Nielsen (both center forwards) themselves brings us to the second point. For whatever reason, Tillmann and fellow German-American Julian Green never seem to be deployed at the same time. The argument that they are two similar players goes straight out of the window when one sees two lead strikers working the lower attack axes with Tillman. It makes no sense beyond the fact that both tend to take set-pieces. They could alternate.
With those points noted, we"l take a look at Tillman's day. After a disheartening initial six minutes during which this columnist could only lament the fact that this American wasn't working directly behind Leweling, Tillman peeled off an astoundingly good run and shot on target in the 7th. The four-touch sequence was exquisite.
After a well taken corner and some very deft positioning just behind the Fürth attack rushes, our American subject here pulled off an absolutely breathtaking triple trick sequence on the ball in the 11th. There was then a gorgeous takedown and individual win against Diadie Samaessekou in the 13th and a lovely work in for Nielsen in the 16th.
Tillman was the primary reason why Fürth were beating Hoffenheim in most of the duels–and indeed besting them in much of the fixture's early going–before the tide ultimately turned. Tillmann had the task of marking the celebrated Georginio Rutter in the first half; something he did quite well. Tillman didn't get enough credit his work there. He also didn't get an assist credit on Leweling's opening 22nd minute goal, even though the American won the ball to start the sequence.
The ten-minute interval between the 22nd and 32nd did feature some questionable passes along with the one badly lost duel of the afternoon. Tillman more than compensated for this brief dip with splendid work on the overlap and that cheeky little finish that ended up striking the post in the 32nd. As luck would have for the luckless Kleeblätter, Hoffenheim ended up scoring the equalizer on that play's counter.
There's more good footwork on display before the initial 45 was out, though he picked his steps one stride wrong in the 34th and 38th. Again, he bounced back with that brilliant work on Fürth's equalizer seconds after the restart. Tillman's work was immaculate from start to finish on that play. He won the ball, dished off to Branimir Hrgota at precisely the right moment, then rounded his markers to be in the perfect position for the finish.
Clearly moving over to the right thereafter, Tillman showed why he should be working behind Leweling with good moves in the 48th and 53rd. A pity his teammates weren't looking for him in the 54th and 56th as he was wide open. There's not much positive to report about Tillman's performance after the 57th. He and the rest of the team were pretty slack after Rutter's goal saw Hoffenheim re-take the lead.
Much as one would like to, Tillman can't receive perfect marks this week. There are far too many instances of him barely moving during his final 22 minutes on the pitch. He doesn't get docked too hard for that, of course. The way this match went off the rails accorded everyone an excuse to conserve some energy. We should see this American back moving at top speed in the starting XI. Green too? C'mon, Leitl. Is there truly anything left to lose at this point?
---
Joe Scally, Borussia Mönchengladbach
---
Minutes played = 81/90, Positions played = LWB, LW
Grade = B+
We've essentially got Scally's every last move catalogued in the focus section of this week's tactical bulletin. This may have not been a day full of glistening highlights for the CFG New Yorker, but he was nevertheless well above average. That applies to the foals as a whole. A 1-4 scoreline doesn't come anywhere near close enough to conveying how even a match the Rhineland derby was. Were in not for Florian Neuhaus' wayward pass, we'd likely be discussing a draw or even a BMG win.
The American teenager got in fewer touches (53) on the day than one has come to expect of him. What action he did see on forward rushes (7th, 13th, 44th 50th, 52nd 61st, 67th, and 68th) remains well worth a look. There's also excellent defending on display in the 12th, 20th, 45+1 and 62nd. Some German sources have Scally a little lower, presumably because Florian Kainz and Dejan Ljubicic got passed him on a few occasions and there were some poor clearances near the end of his shift.
With clearance cases like the 73rd in mind, this column will drop this American off "A-level" on the day by the smallest of margins. Another respectable performance from this highly talented youngster on what (one shouldn't forget) is his unnatural side. Adi Hütter has asked something novel tactically of Scally many thus far in this young season. The Long Island native always comes through.
---
John Anthony Brooks, VfL Wolfsburg
---
Minutes played = 90/90, Positions played = CB
Grade = B-
A day of extremes for the Berliner, who continues to take an active role in new Wolfsburg trainer Florian Kohfeldt's new 3-4-3. Brooks got some bad reviews and low grades in the German press this week. All of it comes down to a rather humiliating scene near the end of the match when the American lost track of Erling Haaland. We might as well get that out of the way first. In the 80th, Brooks very foolishly let the Norwegian sneak in behind him and then totally missed the defensive header away on Julian Brandt's service.
So there was that. It's not really excusable. Brooks seemed to have no real sense of the dangerous force on the pitch. A costly error that cost his overall stronger team the game. One could have definitely done without that. A significant amount of good work nevertheless gets erased if one chooses just to focus on that one play and the instances shortly thereafter (83rd, 86th, 87th) during which an understandably sullen Brooks committed further errors. As we've discussed, the German Wolves were superior to Dortmund for long stretches in this match.
The top notch full lateral switches for Ridle Baku were once again on display this week. One can find them in the 2nd, 40th, 53rd and 67th. There were also some very clever work-ins for Wout Weghorst (17th, 52nd, 66th) and generally good verticals for Dodi Lukebakio/Luca Waldschmidt/Lukas Nmecha (15th, 20th, 59th, 63rd, 65th, 70th, and 71st). Weghorst's goal at the very beginning of the match doesn't happen without Brooks starting the play. The American center halve came within a whisker of scoring himself in the 61st. One can watch him execute a lovely high win less than a minute later.
Monster defensive stops came in the 1st, 5th (twice in this minute actually), 11th, 12th, 42nd and 76th. Strong aways were also completed in the 22nd, 31st, 65th, and 72nd. Not all of his clearance headers were well selected. He might have done better to take the ball down in the 29th and 51st. Clearances in the 23rd and 36th left something to be desired too. Some other factors pulling his grade down include bad defensive losses (9th, 16th, 41st, 43rd) and a recorded 11 stray passes on the day.
After a "B-Level" day, there is something of concern creeping up in this American's game. As intimated above, the Berliner tends towards over-reliance on his towering headers away. They're certainly very aesthetically pleasing, but often have the function of giving the ball straight back to the opponent. Brooks should probably work on take-down clearances a bit more on the training pitch. Consistency also lists a bit. Sandwiched in-between these two overall strong league performances, we have a total bust of a night in the Champions' League.
Hopefully the 28-year-old can halt this dip via some extra time off this week.
---
Timothy Chandler, Eintracht Frankfurt
---
Minutes played = 90/90, Positions played = RW
Grade = C
We've got Oliver Glasner's opening roll out on display in the tactics column. There's also some faint praise contained therein for what appeared an overall energetic and creatively driven performance from Eintracht Frankfurt. Some facets of the attack come together, albeit at an unhurried pace. The new group of outfielders slowly find their groove, though most of the team's approach play still revolves around Filip Kostic. The one-dimensional nature of the SGE offense means that subtle hints of improvement in other areas are about all that one can hope for.
Timothy Chandler's right-hand side can still be quite the lonely place. The "USMNT Emeritus" saw long periods of inactivity on Sunday against FC Union Berlin. It was nevertheless a much better day for the 31-year-old when compared to last week. Timmy racked up a surprising 54 touches on the underutilized SGE right. More solid base stats include 31 passes played and 16 direct duels, well over half of which he won. The best wins came in the 3rd, 9th, 28th, and 56th.
The big highlight of the day came early. In the 7th, he did extremely well to intercept a ball in midfield and then proceeded to unleash Rafael Santos Borré with a sharp vertical. Regrettably, the Columbian striker found himself just offside. Otherwise, Timmy would have recorded an assist. There were a couple of other solid interceptions (44th, 90+1) and some vital clearances (2nd, 64th, and 73rd) that proved important in his side's win. The best passes came in the 42nd, 55th, 80th, 86th, 88th, and 90th).
A considerable amount of solid work in the final stretch pulls Chandler's grade up. Were it not for the final twenty minutes, this American might find himself on "D-Level". There were instances in which he didn't press especially aggressively (13th, 18th, 36th, 47th, 51st, and 70th) along with some bad ball losses (32nd, 33rd, and 81st). He got pulled out of position way too easily in the 58th and 72nd. Offensively, there was a hard luck slip in the box in the 40th and a very poor headed finish–followed by a ball loss–in the 59th.
Chandler's side often looked totally out of sorts on their cycling (11th, 12th, 15th, 67th, 76th, 77th). Naturally, it's not fully appropriate to pin too much blame on the American for this. The fact that he looked a bit lost and devoid of ideas was more directly related to the team's overall unfamiliarly with each other. Many of Timmy's throw-ins (42nd, 46th, and 74th) exhibited some good ideas. He also completed some well-picked-out whip-in/chip-ins during the late strong phase. One in the 84th was particularly good.
A straight average day for one of Germany's favorite US internationals. Incidentally, one can watch Union's Sheraldo Becker give him a flagrant push to the ground at 90+4. How on earth the FCU attacker didn't get suspended for this egregious case of unsportsmanlike conduct is beyond this writer. Timmy took it like a champ and got straight back up. This is actually somewhat important as the team may not have had time to score the winning goal if the American hadn't done so.
---
Pellegrino Matarazzo, VfB Stuttgart (Trainer)
---
Matches = 1 , Result = W
Grade = C-
After an extremely hard fought win on Friday night, the days when we can stop harping on Pellegrino Matarazzo and his "place-holder" constellations are finally in sight. As noted in several other articles covering the Bundesliga's 13th matchday, Stuttgart's 2-1 win over Mainz wasn't exactly the fairest of results. The American trainer got away with a fortunate snag of three points this time.
A second look at the VfB's movements revealed that, in fact, Matarazzo's initial tactics were slightly tweaked from the round 12 encounter against Dortmund. With Omar Marmoush back in the lineup, the American gaffer moved things around a tad.
Lineup—VfB Stuttgart—Match 13 (3-5-2)
In hindsight, a little different than last time. Philipp Förster dropped back to a service striker role. Roberto Massimo moved up to stretch the "split-stagger" on the flanks. These changes were aimed (as we shall see below) at giving the shape some muscle memory in preparation for Silas' reintroduction. That's both fine and fair.
One still can't say that the tweak produced much of anything. Mainz's Jae-Sung Lee danced around this fairly easily. Had Jonathan Burkardt and Karim Onisiwo been a bit braver with their runs into the box, the visiting Rheinhessen could have put the game beyond reach much earlier. A Hiroki Ito wonder-goal and an exceptional piece of creativity from Borna Sosa put the Swabians ahead despite a paltry xG.
The link-up play behind Marmoush didn't work out at all. Förster and Massimo were appallingly bad at interpreting space in support of their lead striker, who in turn did an exceedingly poor job of getting himself into position. The attack remained choppy throughout. This naturally may be of no real relevance going forward, as:
Lineup—VfB Stuttgart—85th minute (5-4-1)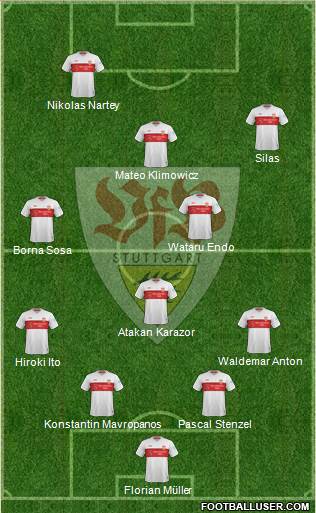 Yes, he's back. Thank heavens. Our first look at a formation with "Silas" in eight long months looks pretty sensible. Quite a bit involving Matarazzo's tactics can be forgiven and forgotten by sheer virtue of the fact that a proven performer is now present and properly placed. This is very nice, right down to the added protection of a back-four and the use of Atakan Karazor as an anchoring defensive midfielder.
One can get a sense of the potential something like this offers simply by considering the quality that moves up ahead of the halfway line. Sosa and Wataru Endo can get much more accomplished from such assignments. Additionally, the amount of coverage that Silas (the name he shall henceforth be referred to by) draws will greatly enhance the performance of whoever the short striker is.
The columnist fully expects to write more glowing reviews of this American trainer's tactics in the near future. The weeks of the "Mathe-magician" appearing at the bottom of the column should be over by the next installment. That's the hope, at least.
Thanks so much for reading! You can occasionally catch Peter goofing off while watching the lower German football divisions on twitter, @ViceytheSS.
Twitter DMs are open for football conversations, corrections, and (if you truly insist) general abuse. 
All columns debut on Bulinews before appearing on Peter's website later in the week