A significantly shorter edition for the "Americans" column in Week 12. Literally less than one week after the news couldn't have been better for Gio Reyna enthusiasts, some very different sides of the young phenom began to crop up. Perhaps a dark harbinger of things to come? Don't forget that we're still dealing with a malleable young man here. There remain several different trajectories in which this career can go.
The latest installment of our "deep-scout" column contains three sections, two of which are graded. Joe Scally and Jordan Pefok squared off against one another in Sunday's Gladbach-Union matchup. Gio Reyna put in some late relief work during Dortmund's 2-1 win over Frankfurt. Though the BVB phenom didn't see enough action to merit a grade, we'll still discuss some of the relevant aspects of his time on the pitch.
Regrettable news fro Kevin Paredes of VfL Wolfsburg following his first-ever Bundesliga start last week. The Virginia native sustained a calf injury and was unable to make Niko Kovac's bench squad in the latest Bundesliga round. At present, there isn't any additional information as to whether the 19-year-old will be back on the pitch before the World Cup break.
---
Jordan Siebatcheu, 1. FC Unin Berlin
---
Minutes played = 59/90, Positions played = CF
Grade = C-
Opinions on Jordan's short, and unquestionably ineffective, shift against Borussia Mönchengladbach on Sunday are varied in German press sources. Some papers have the 26-year-old at or close to failing after his second consecutive week as a non-factor in Union's attack. This is understandable up to a point. The job of a lead-striker centers around scoring goals. Not only did this American fail to score for the fifth consecutive Bundesliga round, he also didn't register a single shot or assisted shot.
There's also his atrocious marking in the box during Gladbach's opening goal in the 33rd; easily the biggest wince-inducing piece of defending from the entire weekend. Yikes. Slips and direct duel losses from this American in the 8th, 15th, 43rd, 44th, and 46th weren't pleasant to watch either. Tracking him after the restart proved infuriating. Jordan didn't get a single touch on the ball in for the entire 13 minutes he was on the pitch in the second half. Double yikes.
Still, there were bright spots. One can check out some nice aerial wins/flick-ons in the 1st, 12th, and 21st. A very sleek spin, turn, and charge can be found in the 5th and a clever touch off Nico Elvedi to win a corner is on display in the 13th. A inspired take down and ball shield came in the 16th. These details may have escaped those who dismissed Jordan's latest performance as an outright failure. This column nevertheless takes them into account and accords the striker slightly below average marks on the day.
---
Joe Scally, Borussia Mönchengladbach
---
Minutes played = 90/90, Positions played = RB
Grade = D+
Both Scally and his team continue to slump. As discussed briefly in this week's tactics column, BMG trainer Daniel Farke sought to replicate VfL Bochum's success against 1. Union Berlin by devising a set of tactics that would match the league leaders measure-for-measure in midfield. Our American subject here didn't respond especially well to the re-format.
Lineup—Borussia Mönchengladbach—Match 12 (4-3-3)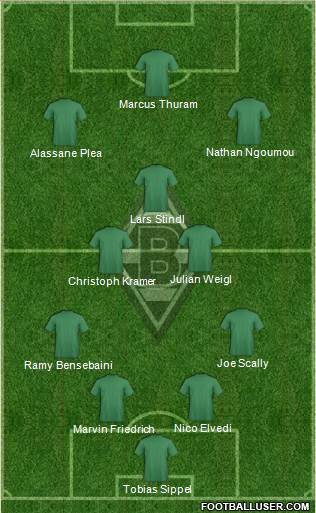 The CFG New Yorker got his fair share of touches, 67 in the writer's count, yet didn't manage to be much of a factor in the match. The clogged midfield made it difficult for Scally to find a way forward. Furthermore, he couldn't really find a way to coordinate with squad newcomer Nathan Ngoumou. Busted cycles, out-of-sync give-and-gos, and all manner of passing errors occurred in the 8th, 14th, 15th, 40th, 48th, 56th, 65th, and 75th.
Scally had trouble catching up on the triangles in many of these instances. There's also a plethora of poor stray passes contained within them. The Columnist recorded 15 wayward passes on the day; far too many for a fullback on this level. When the Long Island native did get forward, crosses into the box (44th, 49th, 86th) weren't anywhere near on target. Switches out of the back, clearances,  and throw-ins (1st, 3rd, 20th, 41st, 55th, 60th) weren't very good either.
Scally's defensive performance remained fairly mixed. Some solid marks (4th, 26th, 68th) were outweighed easily by lost tracks in the 6th, 9th, 25th, 53rd, 54th, 67th (twice), 84th, 88th, and at 90+2. It is important to note that Scally wasn't directly at fault for either of Union's goals. In point of fact, he spared his team blushes with a vital block on Janik Haberer shot in the 7th and some very important well-executed clearances in the 22nd, 58th, 61st, 86th, and at 90+4.
Those interested can find an exceptionally strong spell from Scally between the 29th and 39th. This ten-minute span began with an incredible aerial win in the box in the 29th. A sensational diving header away comes in the 34th and there's another strong clearance in the 38th. Some quality work on the ball going forward can be found between the 35th and 37th. Other cases in which our subject here looked a bit better on the ball took place in the 10th, 53rd, 62nd, and 80th.
Unfortunately, on balance, it's another "D-Level" week for Scally.
---
Giovanni Reyna, Borussia Dortmund
---
Minutes played = 29/90, Positions played = RW/LW
Grade = N/A
It's not entirely fair to assign Gio a grade for less than a half-hour spent in a "late-match" holding pattern. BVB trainer Edin Terzic made no effort to disguise that he was parking the bus in order to secure three points late against Frankfurt. Reyna's task on this day didn't involve forward progress. He and the rest of die Schwarzgelben just needed to manage the rest of the game.
Without "driver" Julian Brandt, it looked like this:
Lineup—Borussia Dortmund—62nd minute (4-5-1)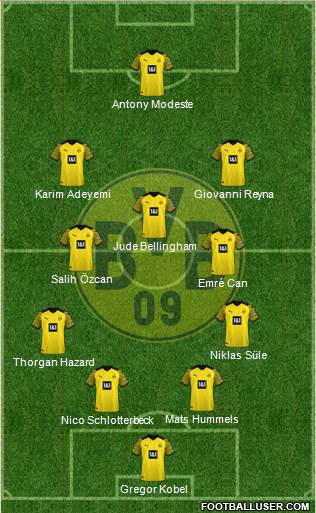 Whether or not our American subject here answered that charge in a sportsmanlike fashion is actually questionable. The teenager got into several tussles with Eintracht's Eric Junior Dina Ebimbe. Both players were guilty of some egregious fouls on one another. The SGE man, for whatever it's worth, got things started with a hard shove on Gio in the 77th.
Reyna eventually retaliated with three thoroughly cheap challenges on his counterpart, two of which came during scuffles in second-half injury time. Gio got booked by match official Sascha Stegemann at 90+4 for accumulated fouls. He just as easily could have been sent off. Amid all of this, his play was rather poor.
Apart from a nice touch pass and dogged pursuit of a loose ball in the 73rd, a good pickup in the 87th, and an important defensive block at 90+1, everything else was sloppy and clumsy. Actions in the 62nd, 64th, 71st, 77th, 83rd, 85th, and 89th confirm this. Fair enough. The American wasn't sent on for finesse this time.
In accordance with his task, he disrupted proceedings.
Thanks so much for reading! You can occasionally catch Peter goofing off while watching non-Bundesliga football on twitter, @ViceytheSS.
Twitter DMs are open for football conversations, corrections, and (if you truly insist) general abuse. 
All columns debut on Bulinews before appearing on Peter's website as the season progresses.