As we continue to take a full-color look back at this year's "Americans in the Bundesliga" deep-scout column over on Bulinews, the next re-post covers what was a fairly light round for American actors. This particular installment nevertheless featured some fun scouts for USMNT veteran J.A. Brooks and USMNT emeritus player Timmy Chandler. A significantly shorter column still made for an enjoyable write-up.
We've but four-graded sections to discuss this week as many of our actors didn't feature in the 2021/22 Bundesliga's 32nd round. Very much to the surprise of this columnist, George Bello didn't start for Bielefeld despite a strong showing last week. Bello did look rather spry in 18 minutes of late relief for the "Teutoburgs", yet didn't anywhere near enough touches to merit a graded section.
There's some interesting news regarding USMNT captain Tyler Adams. The country's skipper was utilized by RB Leipzig head-coach Domenico Tedesco in last Thursday's Europa League fixture. Adams was then rotated out for the Monday night match at Gladbach. Interesting to see that the RB New Yorker appears to have been promoted to the top-team XI by his German trainer.
Joe Scally and Ricardo Pepi–the two remaining healthy American footballers of the Bundesliga–remained on the bench for their respective sides this week. Pepi wasn't utilized at all by FCA head-coach Markus Wienzierl in the loss to Köln while Adi Hütter threw the CFG New Yorker in as a time-killing sub against Leipzig at 90+3. Adams didn't even make a meaningless appearance against Gladbach.
---
John Anthony Brooks, VfL Wolfsburg
---
Minutes played = 90/90, Positions played = CB
Grade = A-
The Berliner scored his first goal of the season (and sixth overall in the colors of the club he's about to leave) while also earning "man-of-the-match" honors in Wolfsburg's 1-1 draw with Stuttgart on Saturday. Very satisfying to see one of the Bundesliga's most underrated players (or so this column perpetually screams) complete a solid advertisement for himself as he prepares to enter free agency.
The match itself proved anything but satisfying. As discussed in the tactics bulletin, both trainers supplied their own form of dreadfully ineffective tactics. Yikes. Only Florian Kohfeldt could take the winning formula that allowed his side to dismember Mainz and mercilessly screw it up to the point that he neutered his own attack.
Oh Boy. Here we go:
Lineup—VfL Wolfsburg—Match 32 (4-5-1)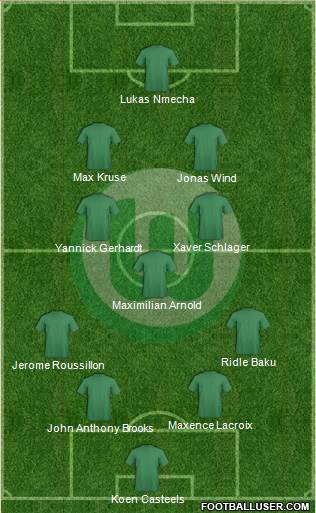 Such crowding on the three axes beneath Lukas Nmecha. Understandably there needed to be some compensation for the loss of Sebastiaan Bornauw's presence, but this definitely fell into the category of overkill. At least, despite the fact that no one associated with the attack did particularly well, our subject here had a great day.
One can find Brooks' fine headed goal in the 13th. As is often the case, one can find him making spectacular use of that big, bald cranium of his that seems perfectly designed to head a football all throughout the match. There are fantastic aerial wins headers away on display in the 2nd, 15th (twice), 35th, 37th, 56th, 65th, 67th, 82nd, 85th, and 90+3.
Note that this actually wasn't Brooks' best day in the air. All the glamour aside, he looked uncharacteristically week on aerial contestations in the 5th, 10th, 29th, 73rd, and 90th. There were also plenty of lapses on ground challenges (16th, 19th, 30th, 39th, 42nd, 43rd, 54th, 58th, and 81st) that pulled his overall duel rate down to a shockingly low 30 percent.
This American still put in his fair share of solid defensive work in the box (3rd, 8th, 51st, 71st, 79th, 90+1, and 90+4) and looked sharp enough on the ball (6th, 10th, 18th, 23rd, 45+1, 46th, 55th, 76th) when passing out of the back. A couple poor passing decisions (23rd, 44th) and the fact that he might have picked up Chris Führich on the Stuttgart equalizer mean that there's no chance he can get perfect marks on the day.
Regardless, he absolutely deserves to remain on "A-Level.
---
Timothy Chandler, Eintracht Frankfurt
---
Minutes played = 90/90, Positions played = RW, LW
Grade = B
SGE trainer Oliver Glasner freely admitted that Monday's league fixture away at Leverkusen didn't mean much to the club in the grand-scheme of things.  The real focus remained on capturing glory in Thursday's Europa League semi-final second leg. Accordingly, we got a lineup fully in line with the real priorities. Some in German footballing circles have taken to calling it the "capitulation constellation".
That wasn't necessarily a big disappointment for fans of one of the most popular USMNT emeritus players. We got a chance to see "Timmy" for a full 90 minutes. One could clearly divine that the 32-year-old veteran lacked the fitness to go the full 90 over the course of the match. Chandler looked good and gassed on many occasions. The Frankfurt native still did pretty well, all things considered.
In point of fact, a highly significant factor to consider concerns Chandler's dual assignments on the day. Glasner's first-half tactics (in all their capitulatory glory) are already on display in the weekend recap column. As part of the triple change that saw Tuta, Jens Petter Hauge, and Filip Kostic come off at the half, our American subject here actually had to move over to the left and fill Kostic's role.
Lineup—Eintracht Frankfurt—46th minute (3-6-1)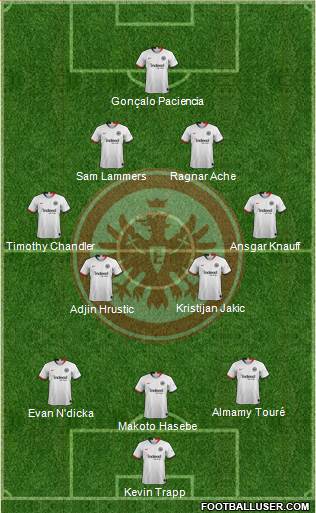 Quite the task, even if the initial 3-4-3 underwent some consolidation to take some of the pressure off Chandler. Timmy pulled off a gorgeous switch in the 46th, took a corner well in the 62nd, and ran some offensive cycles well in the 48th, 59th, 62nd, 64th, 66th, 87th, 88th, and 89th. Do note that he went totally unchallenged in the last three cycle instances as both teams gave almost no effort in a match long-since decided.
An active day on both flanks (71 recorded touches) invariably produced some bad mistakes. The observer rooting for him could have done without ball losses in the 4th, 12th, 24th, 37th, 81st, and 83rd. Weak clearances in the 33rd, 57th, 71st, and 81st left something to be desired, as did weak attempts to cross into the box occurring in the 35th and 62nd.
A couple of bad stray passes (15th, 22nd, 43rd, and 58th) doubtless weighed down his grade in the German press. Upon reflection, however, this column happens to think that Chandler got a bit unfairly docketed for some awful team intervals (16th through 21st, 25th through 29th, and a good bit of the last 20 minutes) during which no one besides him was really trying.
Timmy occasionally looked slow on the attack trail and had some difficulty taking down what were (after all) pretty poor switches sent in his direction. The whole squad was nevertheless implicit in this stuff. The USMNT emeritus actor delivered some of the brighter spots on the day. Great duel wins came in the 2nd, 8th, 39th, 44th, 45th, 74th, and 83rd. In the 10th, one can watch him execute a fabulous slide tackle.
Once one factors out the above-mentioned slump phases, Chandler only sent six passes stray. He had some really good forward ideas on passes completed in the 5th, 9th, 34th, 54th, and 86th. Call it a case of lower expectations, desperate bias, or both, but this writer has no problems marking Timmy at "B-Level" on the day.
---
Timothy Tillman, SpVgg Greuther Fürth
---
Minutes played = 90/90, Positions played = DM, RM
Grade = C+
The Middle Franconians shook off the relegation blues to surprisingly outplay Union Berlin last Friday night at the Stadion An der Alten Försterei. A morale victory for the Kleeblätter would have been very much deserved as they were genuinely superior to their hosts in every last respect. One of our American heritage players–given a contract extension earlier this week–had himself a long overdue good game along with the rest of the team.
Fearless tactics from SpVgg head-coach Stefan Leitl.
Lineup—Greuther Fürth—Match 32 (3-4-3)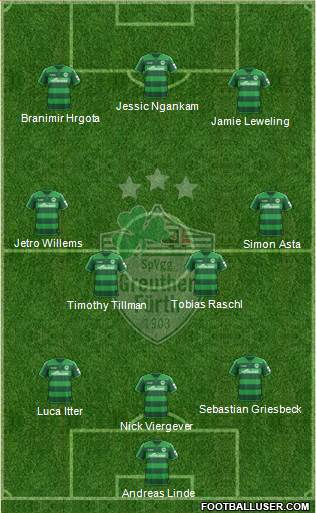 Even though he was operating deep in a clear defensive midfield position, the elder Tillman brother got forward enough to assist two shots on target. There's some very nice touches, passes, and ball hold-ups to be seen in the 2nd, 3rd, 10th, 18th, 21st, 27th, 43rd, 48th, 61st, 65th, 78th, and 81st. Our subject here didn't exactly accept the assignment of a "midfield metronome". He moved forward on the press a lot.
Tillman's best work near the end of the first half and the start of the second. He showcased some nice moves dancing in and around the box in the 44th, 50th, and 53rd. Winning well over half of his direct duels, there's plenty of evidence of strong work on and against the ball available in the 34th, 36th, 45+1, 48th, 60th, 62nd, 69th, 82nd, 89th. One can watch him dazzle a tad with a first-time pull of a ball out of midair in the 86th.
Some shortcomings keep him off "B-Level", though he remained above average on the night. Missing challenges in the 9th, 17th, 19th, 34th, 38th, 56th, 58th, and 71st demonstrated that he was prone to lapses in concentration. He also sent nine passes stray on the day, with the worst ones coming in the 35th and 46th. Three ball losses between the 67th and 70th during one of those dips.
Set-piece services? Aye. Not much good to report there. A corner in the 55th was okay. Otherwise, he lifted the ball above everybody on poor free-kicks/corners in the 3rd, 39th, and 54th. One must dock him for that as the missed opportunities arguably cost his team the chance at a win.
And why didn't Fürth win?
Lineup—Greuther Fürth—74th minute (5-3-2)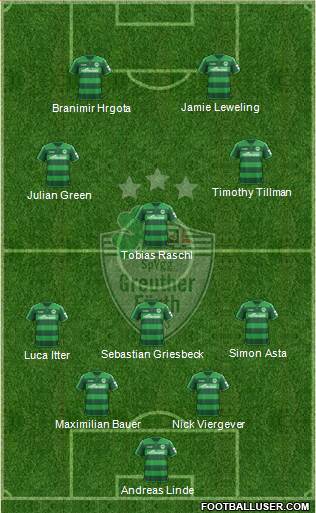 If only Leitl had gotten this re-format off sooner. The double mistake passing out of the back from keeper Andreas Linde and defender Nick Viergever would not have occurred within this extra layer of protection. The forfeit of the points nevertheless doesn't merely belong to that duo. Leitl should have clamped down earlier.
As one can see in the graphic about, Tillman's fellow German American Julian Green got a run-out in the final quarter of an hour. The columnist recorded a mere four touches, none of which was even remotely noteworthy, for Tillman's long-term teammate. Nothing doing at all for Green one week removed from his failing marks.
---
Pellegrino Matarazzo, VfB Stuttgart
---
Matches = 1, Result = D
Grade = D
When it comes to discussing Stuttgart, it becomes increasingly unlikely to think of any scenario under which this club can avoid relegation. They should be able to hold the promotion-relegation playoff spot, but the squad remains so poor that one doesn't see how they can compete with any of the potential 2. Bundesliga opponents.
Sad. We began the season with two American head-coaches in Germany's top footballing flight. To think back on those exciting days invites hurt. Soon there will be none. The risks taken by the Württembergers this year have all blown up in their face. This includes sticking with their trainer. The Swabians stand locked in a footballing philosophy that just doesn't work.
What one assumed to be the American gaffer's basic plan is drawn up in the tactics column. We also noted there that Erik Thommy kept lurching left; to the point that the shape looked like a misshaped, partially severed ear. Matarazzo eventually brought some order to the formation. It was better, yet still not very good.
Lineup—VfB Stuttgart—58th minute (4-2-4)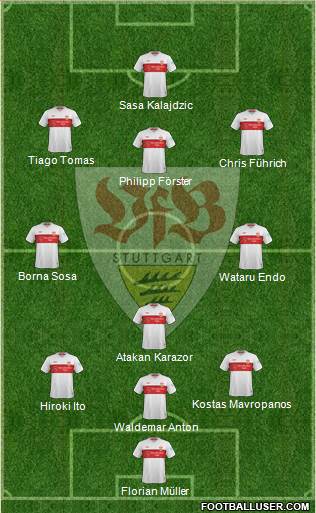 A diamond back-four imbued the back ranks with some stability. The attack gained some momentum with Chris Führich (scorer of the equalizer) accorded some space to operate via Philipp Förster's hard work. At the end of the day, one could say that the point was deserved. Unfortunately, one point isn't sufficient in the club's current situation. Not even close.
Stuttgart square off against Bayern this weekend. Hertha trainer Felix Magath didn't need to issue a challenge to the German giants. The FCB shall crush this team irrespective of whatever mind-games Magath wishes to play. Matarazzo faces serious squad problems as captain Wataru Endo as assist-mister Borna Sosa face yellow-card accumulation suspensions in the final match. So too do Förster and Orel Mangala.
Stuttgart conclude the season against the Bundesliga's current hottest team, 1. FC Köln. They could lose both of their final matches. Matarazzo's men may only be spared automatic relegation by virtue of the fact that Bielefeld are so bad. The playoffs constitute the best path, and (as noted above) one wouldn't place safe money on this team holding up over two legs.
So very sad. So long "Bundesliga American Trainer Era".
We hardly knew ye.
Thanks so much for reading!
You can occasionally catch Peter on twitter, @ViceytheSS.
Twitter DMs are open for football conversations, corrections, and (if you truly insist) general abuse. 
All columns debut on Bulinews before appearing on Peter's website later in the week.