Ricardo Pepi. Justin Che. Kevin Parades. George Bello. Wow! For those keeping track, that's four new US internationals picked up by German football during this January transfer window. Not a bad time at all to be the author of deep-scout column on "Americans in the Bundesliga". Before the basic structure of our column shifts drastically, here's the full-color re-post of the latest installment posted up on Bulinews.
Our weekly check-in with the American footballing actors of Germany's top footballing flight features only seven graded sections this week. The column stands a tad shorter than usual after Joe Scally and Tyler Adams both got a chance to take a break from starting XI duties coming off the Pokal week. Adams put in only 35 minutes of relief action, but still gets a grade. Scally naturally does not with four minutes of inconsequential pitch time at the end.
We've no real prime performer to report on this week. The American players, along with most other Bundesliga professionals, displayed visible signs of fatigue last weekend. After examining their work with all due care and diligence, however, we're pleased to report on all the minutiae of their club form in our our usual fashion. With new actors such as Justin Che and Kevin Paredes on the way, readers can expect much larger editions of this column in the near future.
---
Tyler Adams, RasenBallSport Leipzig
---
Minutes played = 35/90, Position played = CM 
Grade = B
Leipzig trainer Domenico Tedesco gave the USMNT captain a much deserved break from the starting XI following a very enervating Pokal week. The RB New Yorker entered the Wolfsburg fixture as part of a triple change that also saw Dani Olmo and Lukas Klostermann come on in the 55th. Obviously, all of us tactics-heads were very eager to discover how it would shake out.
Lineup—RB Leipzig—Match 20 (3-4-3)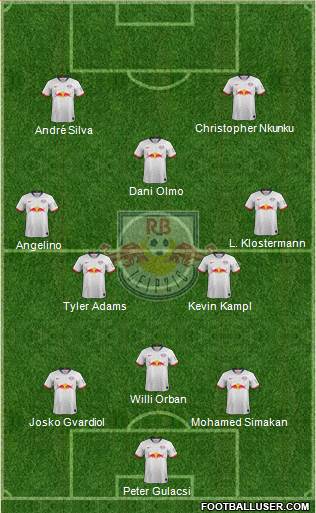 Not necessarily as deep as you'd like to see Adams (or indeed several other Leipzig actors) play. It still eventually got the job done. For our subject here, the brief relief shift featured it's ups and downs. Tyler committed two bad fouls in the 61st and 70th. He also got rightfully booked for a totally egregious one on USMNT teammate John Anthony Brooks in the 82nd.
Most of the action following Leipzig's second goal in the 84th concerned only meaningless touches as the Saxon hosts played keep-away in killing the game off. That doesn't mean that there wasn't plenty of meaningful activity from Adams on this day. He reeled off an amazing long-range effort in 57th to kick of the sequence that led to the disallowed goal. There's also no shortage of great passing (56th, 63rd, 67th, 71st, and 80th) on display in this shift.
Operating as far back as he was, Adams dealt with his inherent defensive duties marvelously. Great stops and wins came in the 57th, 70th, 77th, and 78th. A play that left this writer completely breathless occurred in the 59th. VfL sub Maximilian Philipp danced around the area left before shuffling off for Yannick Gerhardt. The USMNT captain cut out the best Wolfsburg charge of the game with an sturdily slick back heel away.
Deciding whether or not to grade Adams at all for this short shift took some thought. In the final analysis, the RB New Yorker simply deserved an above average grade for coming off the bench to help his team clinch victory. It's unlikely that Tedesco's men would have secured all three points without Adams' contribution; Hence, we have our leader of one of the less spectacular packs.
---
Timothy Tillman, SpVgg Greuther Fürth
---
Minutes played = 85/90, Position played = LM
Grade = B-
In commemoration of what was only Fürth's second win of the season, we opted to give the last-placed Kleeblätter a draw up in this week's tactics column. To reiterate the most important point raised there, Stefan Leitl's crew are performing much better in a midfield diamond that has presumably tightened up as originally anticipated. The elder Tillman brother quietly put in another strong shift for a team few consider worth paying attention to. As always, we're pleased to give Timothy's work recognition in this space.
Many highlights in 2-1 victory over Mainz. This German-American was very much involved in the sequences leading up to both SpVgg goals in the 12th and 66th. The former case actually proved an excellent example of a lovely team goal whereas Tillman can claim greater credit for the latter. The initial pass came from him. One can find splendid examples of strong play from this subject on long dribbles in 5th, 9th, 10th, 22nd, 34th and 49th. Defensively, the best wins/tap backs came in the 3rd, 14th, 20th, 32nd, 39th, and 78th.
The writer will concede that some of these listed situations count as subjective interpretations. German press sources generally assign Tillman a lower grade, ostensibly based on the fact that he ended up losing the ball at the end of some of those carries. Moreover, some of the wins were second effort recoveries. Depending on how an appraiser views such events, the final mark can often oscillate wildly. A few plays subjectively determined to be marked negative include ambiguous sequences in the 17th, 24th, 25th, 37th, 65th and 72nd.
We discussed Tillman's very important role as one of the team's primary set-piece takers a bit last week. There were again plenty of chances to watch the Nürnberg native showcase his honed ball service skills in this round. Some fairly good ones–replete with his trademark refined take–are on display in the 16th, 59th, and 70th. All these examples happen to be corners. Leitl made the curious decision to have Jetro Willems hit the free kicks on this day. We've some opinionated words on that in the tactics column as well.
Poorer corner services from Tillman also came in the 8th, 52nd, and 71st. The chronicler takes the position that some really great passing work (2nd, 24th, 45+1, 69th, 74th, 77th, 79th, and 82nd goes a long way toward offsetting some of this American's shortcomings on this day. He sent only three passes stray. We should be hearing more from this largely in-form actor in the coming two rounds against Wolfsburg and Hertha. Fürth in general might have a few surprises for us in store. As emphasized in the tactics column, however, it remains doubtful that the squad can sustain their projected coming surge.
---
John Anthony Brooks, VfL Wolfsburg
---
Minutes played = 90/90, Position played = CB
Grade = B-
Florian Kohfeldt's much-maligned "Autostädter" managed to eventually play their way into the game against a Leipzig side on which several key starters were rested. That in itself really isn't saying much. The German Red Bulls clearly held back when playing a team they had no reason to fear. Moreover, it took an eternity for confidence-deprived Wolfsburg to come out of their shell. The slightly-altered 3-4-3 (drawn up in the tactics bulletin) stumbled and bumbled quite a bit before finally resembling a real football formation.
That being openly stated, one wishes to credit Brooks with a strong finish to his fixture this week. The Berliner showed some fortitude in turning yet another nightmarish start around. After some genuinely depressing early ball tracking errors (2nd, 3rd, 9th 15th, and 39th), bad duel losses (13th, 14th, 18th, and 36th) and embarrassingly listless free-kick takes (23rd and 27th), he proved adept at getting his game back on track. It was not looking good when Leipzig's Hugo Novoa (of all people) left him looking like an amateur, but it got better.
Initially rattled along with the rest of the team, Brooks settled his nerves via a series of calm collects (22nd, 29th, 41st, and 45+2) and more attentively threaded forward passes (16th, 24th, 37th, and 45+3). He gradually got a better hold on Novoa, stopping him once getting accustomed to the young Spaniards dummies in the 28th and 42nd. Before it came time to head into the tunnel, our subject here even came close to latching onto an Arnold free-kick in the box at 45+4.
This American's second half featured significantly better play. More calm and professional work on the ball is on display in the 49th, 63rd, 72nd, and 89th. There's also some monster defensive wins in the 51st, 57th, 61st, 69th, 73rd, 74th, 81st, 88th, and at 90+3. The play that all J.A. enthusiasts will absolutely want to check out came in the 71st. Thundering forward with confidence, the USMNT veteran plowed through the RB ranks to put the breaks on a dangerous rush all by himself. One hasn't seen that level of spirit from this actor in quite some time.
Brooks arguably should have done much better on all three Leipzig goals (including the disallowed one). His marking on RB substitute Dani Olmo just prior to the 76th minute tally stood very slack. Getting left stranded on the 2 vs.1 in the 84th was less his fault. Sufficient positive moves (53rd, 55th, 56th, 82nd, 87th, and 90+1) preclude the Berliner's grade from getting dragged down too much. On the whole, the performance counts as an uptick; a desperately needed one for both player and team.
---
Chris Richards, TSG 1899 Hoffenheim
---
Minutes played = 90/90, Position played = CB
Grade = C-
There's already tons of detailed content available on Richards' day in the tactics column. Even though the Alabama native mostly held his own amidst the tough defensive assignment of marking Erling Haaland, Marco Reus, and Donyell Malen, this column isn't terribly impressed with all of the recovery tackles. There were far too many initial mistakes from the FC Dallas man on his initial slant marks. Richards simple made life far too difficult for himself with a horrible first challenge rate.
Cherry-picking just a few individual examples (7th, 60th, 73rd) will probably suffice to lend those interested a summary of the 21-year-old's performance. As insanely active an actor as he was against the BVB, Richards committed far more basic errors than he usually does. By no means was it a disaster. A slightly below average grade takes the many positives into account. On balance, however, it seems fair to label this a dip when compared to the youngster's recent form. Our subject here remained far from his best.
---
Ricardo Pepi, FC Augsburg
---
Minutes played = 57/90, Position played, = CF
Grade = D+
We again don't have a great deal of activity to discuss insofar as the Bundesliga's newest and most intriguing American addition. Those hoping for confirmation of "Pepi Liftoff" must wait a little longer. The columnist only recorded 23 touches on the day.
To simply score Pepi poorly, however, wouldn't be very fair to the Texcan teenager. Pepi wasn't set up terribly well to succeed. FCA trainer Markus Weinzierl's tactics in the 1-5 stomping at the hands of Leverkusen were strange enough to describe. 
They were even weirder to observe.
Lineup—FC Augsburg—Match 20 (4-4-2)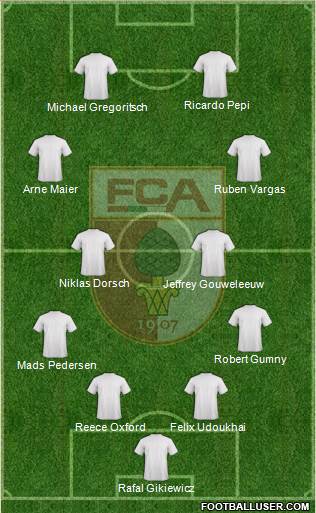 Interesting personnel selections here. Captain and central defender jeffery Gouweleeuw moved into midfield while Arne Maier swung out to the wing. The formation also seemed a bit more skewed than the graphic might indicate. At times it looked as Ruben Vargas was the only true winger, operating far out wide whilst Maier tended more towards the midfield.
This would definitely be in keeping with last week's thesis that Weinzierl's tactics are basically by, for, and about Pepi. Now that we've unequivocally seen that this constellation came nowhere near working, it's safe to assume that we won't see it again. Instances in which the Texan stood no chance of getting a ball delivered to him in a useful position came in the 17th, 22nd, 24th, 35th, and 47th.
The particular case of the 24th minute proves illustrative of how bad the Fuggerstädter were on this day. Pepi made the proper lane cut and was wide open on the right. The ball being stuck to the feet of all the wrong actors on the left side nevertheless meant that the FCA ended up passing the ball directly into the path of the opponent. This ultimately resulted in Leverkusen's second goal.
Taking a step back from the team dynamics, one can watch Pepi execute some individual moments of brilliance on an aerial win (18th), long solo drag dribble and pass (26th), a very incisive cross (49th), and even a fine pullback and reposition on his second and final shot on target (53rd). The shot he would record one minute prior to being subbed off ultimately ended up being as tame as his 6th minute header into the arms of B04 keeper Lukas Hradecky.
Though he did win the 6th minute aerial duel culminating in the first shot, this American's physical jostling left a lot to be desired. He also mistimed got bumped off the ball badly in the 2nd, totally mistimed a challenge in the 3rd, and needed to stay on his feet in the 5th. Failure to assert himself early remains relevant as he would go long stretches without seeing the ball at all. A striker like Pepi won't begin to reach his potential until he starts making the most of the limited action he gets.
More opportunities came toward the end of a largely uneventful first half. This American proceeded to completely miss Moussa Diaby on the press in the 37th, sent a desperate touch out of bounds one minute later, and chase the ball aimlessly without much of an effort to insert a boot in the 40th. These events surely played a role in Weinzierl's decision to pull him just 11 minutes after the restart. Pepi's very limited action in the second 45–catalogued above–was largely good.
One still cannot say it was a particularly good day for the Texan. Touch, passing, and physicality all appeared substandard. Naturally, had one of his teammates located him on the sharp runs listed in the second paragraph after the draw up, much of these other factors might have been forgotten. Pepi truly did get let down by his team several times. One merely wishes to note that our subject here has much to work on with regard to his own personal game too.
---
Pellegrino Matarazzo, VfB Stuttgart (Trainer)
---
Matches = 1, Result, = L
Grade = D+
Another week in which the Swabians have some cause to feel hard done by. Freiburg's 2-0 victory wasn't necessarily reflective of the effort put forth by Matarazzo's men. Surprisingly enough, one witnessed the latest ad-hoc tactical arrangement exert dominance in the opening quarter of an hour.
Lineup—VfB Stuttgart—Match 20 (3-4-2-1)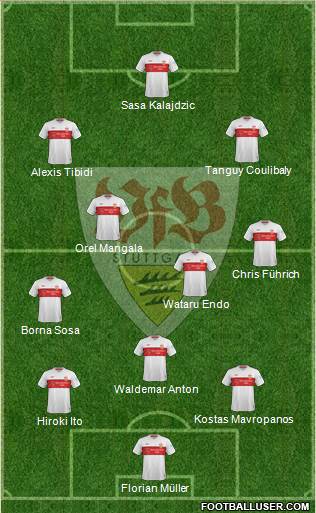 Both Wataru Endo and Borna Sosa benefitted from the dual split-staggers. In terms of the scoring opportunities, Alexis Tibidi ended up becoming the beneficiary one the highlight real. More organized movement upfield led the ball to the 18-year-old's boot. Amid all of the chaos surrounding this squad, the American trainer can at least boast that he's plucked a gem in the young French Cameroonian.
A rather harsh turn of events saw Freiburg open the scoring via an unfortunate Stuttgart own-goal in the 37th, just seconds after referee Tobias Stieler opted to revoke a VfB penalty that would have most likely see them go up 1-0. Freiburg's second also came against the run of play and the decent xG figure the hosts had racked up.
It remains immensely difficult to hold sympathy for Matarazzo and company after they've failed to register a goal in five consecutive fixtures. The fact that, for the second consecutive week, hard work from the VfB XI didn't translate into a goal matters not so much. This team and its gaffer must shoulder responsibility for finding their own way out of this crisis.
The faltering of Matarazzo's late-match adjustments also merit a mention. Silas entered for Tibidi in the 66th, shifting placeholder Tanguy Coulibaly over to the right. No potency to this designed late-match push. One can't tolerate excuses for that. The team needed to be better drilled in that setup. As evidenced by the limp final 25 minutes, they hadn't practiced at all. Very choppy football from this crew down the stretch.
---
Timothy Chandler, Eintracht Frankfurt
---
Minutes played = 74/90, Position played = RW
Grade = D
With Filip Kostic back, it was back to the standard tactical formula for Oliver Glasner. Regrettably for our USMNT emeritus actor, Timmy played much better last week in his unnatural position. Much about Chandler's performance last Friday night against Bielefeld suggests that he's on his way out of the SGE XI. In the world of footballing fandom, it's never fun to observe one of one's favorite horses inch closer to the glue factory. All the same, when one observes a player no longer fast enough to collect balls he needs to (13th, 35th, 39th, 42nd, and 44th) one senses that the time is nigh.
Timmy might have been better served to be subbed off at half in this one. Glasner left him on either because the SGE trainer thought he had no better options or because this American did show some flashes during a strong phase in the opening 45. There were some nice direct duel wins, all followed up by solid forward passes in the 26th, 31st, and 34th. In the opinion of the writer, this didn't exact offset a plethora of other wince-inducing moments.
Passing decisions in the 2nd and 3rd were very poor. Late offensive trail work (with a badly skewed effort over) in the 4th left one feeling that Chandler was culpable in the team's sloppy start. Eintracht would not overcome this untidiness in the remaining 86 minutes. They got blanked 0-2 by Arminia despite racking up an xG of 2.8. Chandler was among those that lost track of Patrick Wimmer on the DSC's opening 5th minute goal. Timmy even slipped in the box as Wimmer skipped past him, watching this match-defining moment from his knees.
After some fair-to-middling work (7th, 8th, 14th), our American subject here proceeded to tank. More sloppy passing and positioning on display in the 21st, 22nd, 34th, and 39th. A great header on (37th) and some good rotation movement on rushes (45+1, 46th, 48th, 53rd) aren't enough to pull up his grade much. He was once again too slow in the 63rd and 68th shortly before getting yanked. Final stats on the day include 16 recorded stray passes, two very poor shots, and only one (26th) convincing duel win. Ansgar Knauff gets his opportunity to audition for Chandler's position next. Timmy fans, like this one, hope for better days.
Thanks so much for reading! You can occasionally catch Peter goofing off while watching the lower German football divisions on twitter, @ViceytheSS.
There's also a celebration of AFCON going on all month long on Peter's irreverent fan blog. 
Twitter DMs are open for football conversations, corrections, and (if you truly insist) general abuse. 
All columns debut on Bulinews before appearing on Peter's website later in the week.