Returning for its fourth season (and third on Bulinews), the first edition of this year's "Americans in the Bundesliga" deep-scout column took a look at all the American actors with the potential of making an impact during the 2022/23 Bundesliga campaign. Though there were only three graded sections in this initial piece, the non-active players from round one were given treatment as well.
The 2022/23 version of our "Americans in the Bundesliga" column takes a look at those subjects active on the Bundesliga's first matchday while also briefly covering at the American players currently serving on Bundesliga rosters. After high profile departures such as Tyler Adams (Leeds), Chris Richards (Crystal Palace), and John Anthony Brooks (still a free agent at this point), this year's deep-scout feature has a much shorter field to work with than the one ahead of last season.
We will nevertheless be on hand to observe which U.S. affiliated players emerge out of the woodwork over the course of the season. As always, our analysis deals with all footballers with some American heritage active in Germany's top footballing flight. We also cover the weekly status of any active American Bundesliga head-coach. For the time being, Pellegrino Matarazzo of VfB Stuttgart remains the lone U.S. gaffer.
---
Jordan Siebatcheau, 1. FC Union Berlin
---
Minutes played = 78/90, Positions played = CF
Grade = A
All Bundesliga lovers really looked forward to scouting last season's leading scorer in the Swiss league as the season approached. This towering 26-year-old effectively met all of our loftiest expectations against Hertha on Saturday. What an absolute treat it is to have Siebatcheu on our beat! The nine-times capped American netted a beauty in his Bundesliga debut, also dropping plenty of hints that he'll be furnishing us with breathtaking highlights all year long.
When it comes to Union head-coach Urs Fischer's tactics, we've already covered how the Swiss trainer utilizes plug-ins to a system he's been wedded to for some three years in one of our preview sections. Naturally, when different players enter the constellation, there exists some organic nuance as the regular actors adjust to different styles of play. Siebatcheu's game differs from that of predecessor Taiwo Awoniyi in that the American spends far more time in the middle as a classic target forward.
The Union blueprint nevertheless remains the same:
Lineup—Union Berlin—Match One (3-5-2)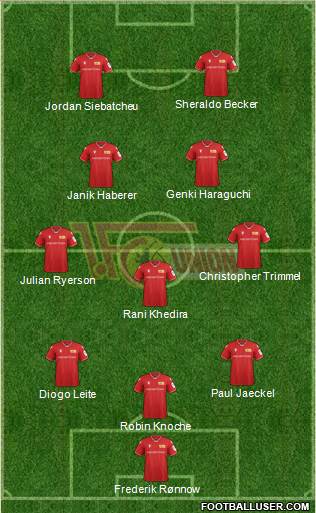 Note that striking partner Sheraldo Becker breaks to the sides far more often than the American does on attack charges. Siebatcheu, for the most part, remains in his lane. That isn't to suggest that he can't put in some great work in on the ball deep. Very skillful hold-ups and dribbles can be found in the 2nd, 16th, 24th, 47th, 49th, and 57th.
Siebatcheu's 31st minute goal was a flat-out gorgeous take. Incredible how he snapped Becker's service into the back of the net with that pinpoint header. Our subject here proved virtually unbeatable in the air all afternoon long. More fabulous wins are on display in the 10th, 11th, 18th, 21st, 33rd, 41st, 45th, 46th, and 47th.
The newest addition to our column also showcased some sublime first touches with his chest, shoulders, and feet. So very many examples of ultra-sharp lay-offs, flicks-on, and subtle deft reads. There's a long list of those too. Filling up the columnist's notebook, we've cases in the 17th, 22nd, 29th, 48th, 54th, and 59th.
Siebatcheu bagged his all-important first Bundesliga goal and honestly should have recorded an assist as well for a wonderful set-up of Julian Ryerson in the 38th. The American's strongest phase of the game ran from his goal just after the half-hour mark all the way up to a tire out just about the hour. There were some unfocused challenges (67th, 68th) and questionable touches/efforts (60th, 72nd, 73rd).
We won't accord perfect marks to the debutant here, but he did happen to come very close to doing everything right. The writer personally finds it silly that some feel that Siebatcheu will have difficulty filling Awoniyi's boots. Visual evidence strongly suggests otherwise. This American might even count as an upgrade.
---
Joe Scally, Borussia Mönchengladbach
---
Minutes played = 84/90, Positions played = RB
Grade = B+
The CFG New Yorker returns the to BMG starting XI under the new Gladbach coaching regime. Daniel Farke has the Long Island native operating on his more natural right-hand-side; a most encouraging sign for the season ahead. As touched upon in the most recent tactics column, the foals as a team left something to be desired in their opening day 3-1 victory over TSG 1899 Hoffenheim.
The shorthanded Sinsheimers didn't have much difficulty remaining compact against a very tightly conceived BMG 4-2-3-1. The NRW hosts had to work very hard to ultimately manufacture the requisite goals to take the match. With the notable exception of Manu Kouadio Koné, there was little movement among the actors in this static construct.
Lineup—Gladbach—Match One (4-2-3-1)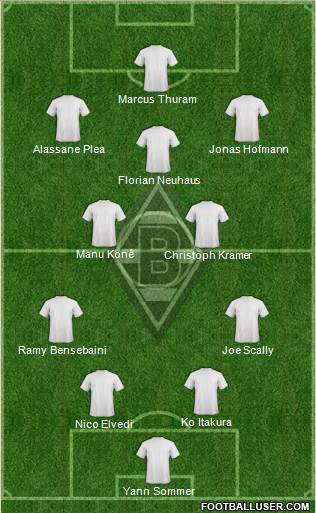 Scally remained on the right for the entire match. At times he pressed higher than Jonas Hofmann. The American and the German worked plenty of designed (if not somewhat unimaginative) overlap approaches. Scally's work in the first half proved inherently frustrating. Time and again (2nd, 7th, 8th, 9th, 21st, 27th, 33rd, 38th) he either strolled around ball-watching, sent passes stray on broken triangulations, or just couldn't confidently go after loose balls.
This American's 13th minute booking counted as a bad call. There were nevertheless numerous defensive errors (6th, 8th, 14th, 27th), not to mention the slack marking on Robert Skov's opening goal in the 25th. One could have really done without that poor lob cross in the 40th and his totally off-kilter finish over the bar in the 35th. Luckily, the teenager shook off his sluggish start and began to come on stronger near the end of the half.
Some truly top-notch defensive work against Georginio Ruttter (three instances between the 37th and 39th) and a couple of intelligent attacking runs in first-half injury time implied that he would have a much better second half. He did. A fine effort at the end of a scorching overlap run in the 49th hit the crossbar. Scally came within millimeters of following up his tally in the Pokal round with the second Bundesliga goal of his young career.
Much better switches, diagonals and moves on the ball (50th, 51st, 52nd, 54th, 55th, 63rd, 66th) can be found in his strongest phase of the match. Scally, obviously a little low on energy, ended up hanging much further back for the final 18 minutes of his shift. He did dip late on with some strays, heavy touches, and a lack of forward momentum in the 69th, 71st, and 74th. One last bright pass initiation out of the back came in the 78th.
Overall, the columnist recorded 68 touches amid an active day for Scally on the right flank. A lot of the less inspiring play can be chalked up to the BMG formation and the ultra low block Hoffenheim settled into after Stefan Posch's red. A "B+" grade seems in order for what was largely a strong debut. Scally enthusiasts can be pleased to note that he's off the mark well and should play a regular role in this time.
---
Pellegrino Matarazzo, VfB Stuttgart (Trainer)
---
Matches = 1, Result = D
Grade = B
It came as a nice surprise to see the Swabians largely hold their own against heavily favored Leipzig on Sunday afternoon at the Mercedes Benz Arena. For large stretches of the match, the BaWü hosts were actually the much better team. No real tactical surprises from the league's American trainer in this one. Matarazzo went with the same formation from the Pokal round.
Lineup—VfB Stuttgart—Match One (3-5-2)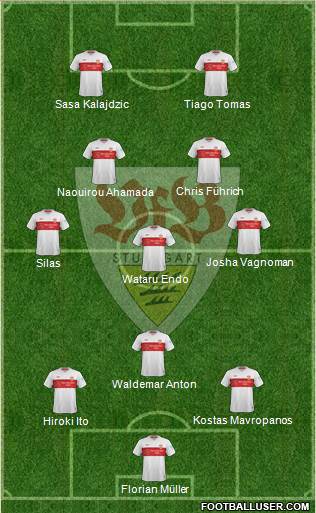 Everyone appeared well-drilled in this, coping well with their defensive assignments after Leipzig's initial blitz start calmed down. No one performed poorly, although second axis players Naoirou Ahamada and Chris Führich were the only actors consistently above average. One did wish at times that Matarazzo's XI could have been more lethal with the large swathes of space Tedesco's RB constellation accorded them.
To seriously dock either the team or its trainer for not being able to fully punish their superior opponents would still be most unfair. Matarazzo's men did what they needed to do in order to get their campaign off to a serviceable start. Some nice flashes of brilliance from roving center back Kostas Mavropanos, the newly acquired Joshua Vagnoman, and returning talisman "Silas" supply some early indications that they might be much better this season.
---
Giovanni Reyna, Borussia Dortmund
---
The latest on Gio's comeback from an awful, injury-riddled, and (from everyone who calls themselves a fan of the young U.S. teenage phenom) heart-breaking 2021/22 season is that the coaching staff plans on reintegrating the youngster "slowly and cautiously". This is the absolute correct approach. Those of us in awe of his raw talent simply cannot stand to see the young lad exit the pitch in tears again. We require a break too.
It remains woefully unfair how much personal and professional adversity Gio has had heaped onto him at the very beginning of his career. All one can do is hope that his young mind possesses the capacity to overcome it. Just about every German hopes that this proves so. One really looks forward to discussing his performances on the pitch again. That's about all one can say. Reyna shall be ready for the limelight again when he's ready.
---
Ricardo Pepi, FC Augsburg
---
The El Paso native made a short relief appearance during Augsburg's opening round home loss against Freiburg. At present, it's doesn't appear as if FCA trainer Enrico Maaßen has a starting role envisioned for the 19-year-old. Presumably, Florian Niederlechner, Ruben Vargas, Andre Hahn and the newly-acquired Ermedin Demirovic all lie above Pepi on the depth chart. This could change rapidly as few league watchers fell as if Maaßen has much of a coherent plan in place at all.
Pepi received his fair share of graded sections in last year's "Rück-runde" and we should see the Texan in action plenty of times this season. There are no indications that the Fuggerstädter intend to loan the young talent out. He has his roster spot secured and it's probable that we'll be discussing his first Bundesliga goal before the World Cup break hits. In all likelihood, the tally will come of the bench. The teenager talent has a ways to go the starting XI based on his camp.
---
Maurice Malone, FC Augsburg
---
Pepi's American heritage teammate appeared slated for another loan-out before August concludes. In recent comments during training camp, however, Maaßen did declare himself impressed with the 21-year-old and went so far as to publicly express the desire that he stay. There honestly appears to be no room on the roster for the 14-times-capped German youth international, but the FCA will at least want to take a look at their homegrown native after solid loan spells at SV Wehen Wiesbaden and 1. FC Heidenheim.
---
Justin Che, TSG 1899 Hoffenheim
---
The 18-year-old FC Dallas man received one graded section last year for his work on the final matchday of the season. Che, a highly intriguing prospect with experience on the FC Bayern campus as well, did not feature in André Breitenreiter's first matchday squad away at Gladbach. Some departures this offseason might have given him a chance at cracking the XI, yet some acquisitions by the TSG on the transfer market at his position seem to suggest he remains lower in the pecking order.
---
Kevin Paredes, VfL Wolfsburg
---
The young Virginia native still awaits his first graded section after making nothing other than short relief appearances under Florian Kohfeldt last spring. Paredes also didn't make his head-coach's bench squad on opening weekend. Whether or not VfL trainer Niko Kovac even knows that he exists amongst his totally bloated roster remains questionable. Doubtful we'll see the teenager active for Germany's green company team this season. A loan-out would be a good solution for both sides.
---
Timothy Chandler, Eintracht Frankfurt
---
Yes, we shall continue to keep tabs on the USMNT emeritus player this season. The Frankfurt native remains a German fan favorite and, as we've discussed many times, there are important reasons for supporting the G.I. sires in German football. The 32-year-old Chandler still plans on playing for at least two more seasons and it's possible that Oliver Glasner shall call upon him on some important occasions.
---
Caden Clark, RasenBallSport Leipzig
---
After the latest deferral, the 19-year-old is ostensibly due back in Saxony at the turn of the calendar year. The state of the Leipzig midfield being impossible to predict at this point, we don't even know if the German Red Bulls will want the Minnesotan around at that point. They could always defer yet again. Clark has barely even trained with the German club that retains his rights. We'll just have to keep waiting.
Thanks so much for reading! You can occasionally catch Peter goofing off while watching non-Bundesliga football on twitter, @ViceytheSS.
Twitter DMs are open for football conversations, corrections, and (if you truly insist) general abuse. 
All columns debut on Bulinews before appearing on Peter's website later in the week.