This year's "Americans in the Bundesliga" column has wrapped, replete with thoughts on how the 2021/22 campaign unequivocally felt like a letdown for us devoted scouters of US talent. Over here on the profile website, there's plenty of full-color re-posts to catch up on as we catch up with all the weekly columns on Bulinews. Three such re-posts on the site today. There were indeed more than a few bright spots this season.
Lots to report upon from the Bundesliga's 30th matchday. Not all the news was good, however, as only one of ten actors came in above "C-Level" with their graded sections. At least we got one of the season'/s longer columns. There were far too many short installments during this season. At not point through the rest of the campaign did the pages pile up as they did here.
A full ten graded sections this week after what was a very busy weekend for American actors in Germany's top footballing flight. That's the good news. The bad news concerns the fact that we might be dealing with the lowest set of grades ever in the three-year-history of this column. Only Chris Richards came in above "C-Level", and the defender might have suffered a season-ending injury.
Simply put, nearly everyone just had a lousy week. Every weekend counting as a chance at redemption means that there's already much more favorable marks to look forward to in a few short days. No real absences to discuss this week apart from the long-termed injured Giovanni Reyna. Kevin Paredes did not make the VfL Wolfsburg bench squad.
---
Chris Richards, TSG 1899 Hoffenheim
---
Minutes played = 45/90, Positions played = CB
Grade = B
In what may be his last appearance of the season, the USMNT's rising star certainly racked up the touches before a thigh injury forced him off at the half. TSG trainer Sebastian Hoeneß put together a constellation that looked pretty menacing on paper this past round. Everything fell apart in practice, however, as the Kraichgauer produced a drab 0-0 draw against lowly Greuther Fürth.
Lineup—TSG Hoffenheim—Match 30 (5-1-4)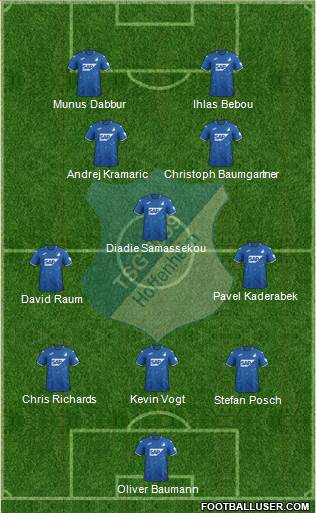 As we discussed a bit in the tactics column, this could have conceivably worked much better were it not for David Raum experiencing an "off-day". Richards can't really be faulted for the disappointing result. He most assuredly didn't endure an "off day". This American turned in overall strong play, with a few notable errors.
Richards did his part to get the offense going with nice snap verticals in the 3rd, 10th, 11th, and 32nd. He unleashed a very sharp diagonal in the 40th. Solid defending is on display in the 23rd, 35th, and 40th. He continued his track to make a monster recover tackle in the 18th. A massive aerial win came in the 41st.
Many of his cycle touches (2nd, 4th, 5th, 33rd) were too tentative. Bad wayward passes can be found in the 6th, 12th, and 21st. Some minor marking errors occurred in the 19th, 31st, and 43rd (on an aerial loss). Richards doesn't get docked too much for these issues as he was undoubtedly one of the sharper and more consistent TSG players on the pitch.
---
Julian Green, SpVgg Greuther Fürth
---
Minutes played = 90/90, Positions played = LM
Grade = C+
Another start for the former USMNT phenom. Green got another chance to work alongside fellow German-American Timothy Tillman. SpVgg head-coach Stefan Leitl deserves credit for holding off a much stronger Hoffenheim lineup with an innovative set of tactics. Germany U21 striker Jamie Leweling settled into the right wingback role in a most unexpected constellation.
Lineup—Greuther Fürth—Match 30 (4-2-4)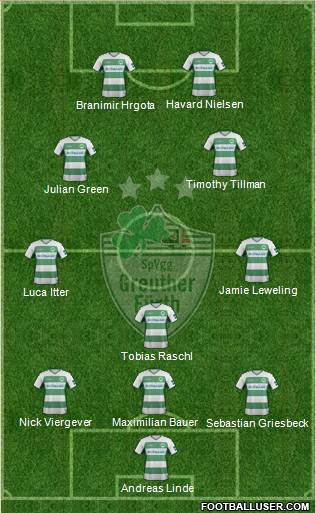 It was very clever. Lending a little extra impetus out of the back gave the Kleeblätter attack some thrust. Green was involved positively on the charge in the 12th, 26th, 55th, 70th, 72nd, 79th, and 85th. The Bavarian-Floridian even got four shots on target during the match. One (62nd) proved spectacularly gorgeous. The rest, however, (45+1, 57th, 66th) were horribly off the mark.
One generally witnessed stellar work from this American in both passing and duels. He even hustled back (6th, 10th, 13th, 22nd, 34th, 61st, 67th, 78th) to put in some good defensive work. Though there were a lot of lapses on challenges (5th, 17th, 28th, 29th, 32nd, 39th (booked), 69th, 90+2) and some wince-inducing ball losses (27th, 33rd, 82nd), he didn't outright lose many duels.
Green could have done significantly better on some forward charges in the 20th, 45th, 52nd, 66th, 76th, and 80th. In all cases, he looked a tad slow and hesitant. Branimir Hrgota handled most of the set-piece deliveries on the day. Green unfortunately provided several poor feigns. His own takes (66th and 89th) were poor.
Putting it all together, one places him directly at the slightly above average level. In all likelihood, Leitl will allow him to keep his starting XI place for the duration of the season. Green returns to a form useful enough for the last four matches of the doomed season. Top flight observers at least get a chance to see him conclude the campaign with the role he had at the beginning.
---
Ricardo Pepi, FC Augsburg
---
Minutes played = 34/90, Positions played = LS
Grade = C-
The El Paso native receives a graded section despite the fact that he got in only seven touches during his relief shift on Saturday. Pepi got plugged in on a like-for-like in Markus Weinzierl's 4-4-2 during the weekend loss to Hertha BSC. We've a draw up, along with a detailed chronicle of this American's every move, available in the tactics bulletin. The Texan took Alfred Finnbogason's place. Michael Gregortisch moved over to the left-hand side in the graphic so that Pepi could work a right-slant.
We'll accord this American credit for consistently trying to make things happen during his time on the pitch. A lack of precision on the follow-through continues to plague him. Watching Pepi has ended up being quite the exercise in frustration this season. The vital play sure to raise his confidence continues to elude him. Still not directly involved in a league tally, the youngster hasn't found his feet at all yet for his new club. The effort remains duly noted. The slip-ups are as well.
---
Tyler Adams, RasenBallSport Leipzig
---
Matches played = 1/2, Matches started = 1/2
Minutes played = 83/180, Positions played = CM, ADM 
Grade = D+
As part of heavy squad rotations between the crucial Europa League second leg last Thursday and this Wednesday's DFB-Pokal semi-final tie, the USMNT captain got a start over the weekend. RB trainer Domenico Tedesco–it has since been stated by opposing coach Gerardo Seoane–caught Leverkusen by surprise with an unusual set of tactics.
Lineup—RB Leipzig—Match 30 (3-5-2)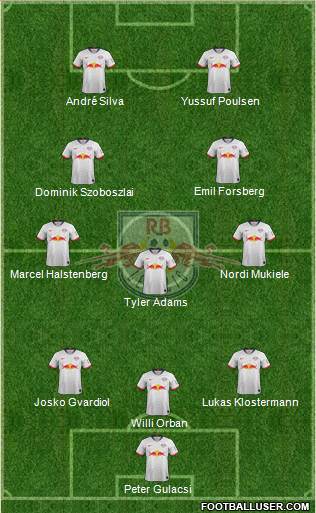 A lot of responsibility for Adams here. Even during a limp first-half characterized by the inability of the German Red Bulls to get the attack started, there were plenty of cases in which the American handled it well. Sharp forward passes and intelligent cycle runs can be found in the 4th, 5th, 14th, 18th, 23rd, and 45+1.
With Christopher Nkunku in the mix to start the second 45, the overall play of the team improved considerably. Adams had his issues, but did ultimately initiate the play leading up to Dominik Szoboszlai's opening goal in the 69th. Statistically speaking, this American got in a good day. Seventy-four recorded touches as he remained active. Only three strays in his 92 percent passing average.
We've nonetheless many mistakes to discuss. Defensive tracking errors came in the 21st, 28th, 55th, 64th, 77th, 79th, 81st, and 82nd. Many of them occurred near the end of his shift, a point in time during which Adams appeared totally gassed. Fitness seems to be an issue for him after so many weeks out of the starting XI.
Botch cycle-runs took place in the 2nd, 6th, 7th, 20th, 24th, 26th, 39th, 41st, 43rd, 45th, 56th, 60th, 66th and 67th. Yowza. Far too often, one observed that Adams wasn't fully aware of how the play was developing. He lacked ideas practically all evening. Challenges for the ball were also subpar. Losses or lax presses came in the 10th, 13th, 15th, 16th, 24th, 38th, 52nd, and 81st.
Given his involvement in the game's lone goal and some respectable duel wins (11th, 19th, 65th) one wishes one could keep him off "D-Level". There was certainly enough in the performance to pull Adams closer to average. In the final analysis, the long litany of blunders simply can't be ignored. Bad fouls (8th, 34th, 38th) play their own role in pulling him down. Just too many mistakes here.
---
Timothy Chandler, Eintracht Frankfurt
---
Minutes played = 59/90, Positions played = RW
Grade = D+
Always a pleasure to see the USMNT emeritus player get a rare start in near the twilight of his career. The old "Kindergarten Cop" remains much respected in German footballing circles. His contributions to both his home country and the one we all like to root for won't soon be forgotten. As touched upon in the tactics column, the team that took the field on Sunday against Union Berlin was SGE trainer Oliver Glasner's post-Barcelona "hangover squad".
Same basic tactics with plenty of new faces.
Lineup—Eintracht Frankfurt—Match 30 (3-6-1)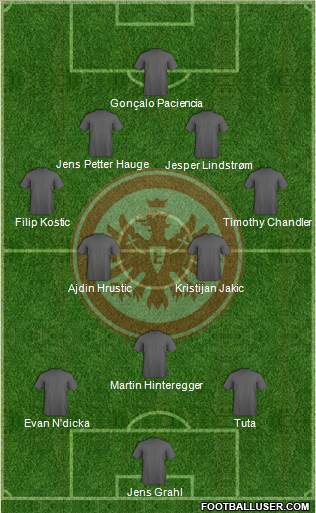 We got a chance to see Timmy win some quality balls with strong challenges in the 2nd, 6th, and 23rd. Early on, the German Eagles actually didn't look sluggish and out of ideas. It was only after the two quick fire Union goals that things began to fall apart. Chandler proved no exception. One can still watch him execute a gorgeous improvised switch in the 20th before things got out of hand.
Ruffled along with the rest of the crew, he had problems shoring up his side in the 24th, 27th, 31st, 32nd. A very poor frustration challenge against Timo Baumgartl came in the 40th. One notes the many ball losses (11th, 15th, 29th, 51st) with regret. A first-time shot at the half-hour mark was nowhere near anything.
Passing on fair-to-middling quality can be found in the 5th, 33rd, 25th, and 42nd. He showed his age on most of the examples of cycle work (4th, 7th, 48th, 57th) on his side. Good ol' Timmy. It's very nearly time to make that move to the coaching staff. We all look forward to the next phase of his career.
---
George Bello, Arminia Bielefeld
---
Minutes played = 51/90, Positions played = LB
Grade = D
A surprise deployment for the Georgian on Sunday against Bayern. Starting left-back Jacob Barrrett Laursen succumbed to a hamstring injury late in the first half. A little later, the DSC had to deal with their third consecutive major head injury in as many weeks. After Fabian Klos and then Cedric Brunner needed to be stretchered off the pitch in the last two respective matches, Fabian Kunze got his turn following a flagrant elbow from Tanguy Nianzou.
Say what one will about all the overly-complicated tactics employed by Bielefeld trainer Frank Kramer on what proved his final weeks on the job, the hard luck injuries on the squad have definitely affected the ability of the team to execute their match-plan in the last four rounds. Kramer's use of a 4-4-2 with Patrick Wimmer working the service striker role wasn't a terrible idea at all.
Lineup—Arminia Bielefeld—40th minute (4-4-2)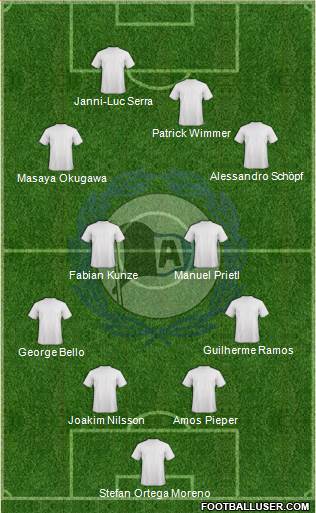 It might have worked against the German giants. It nearly did. Had Masaya Okugawa not been a fraction offside on the equalizer obtained in first half injury time, the East Westphalians would have been right back in the match. As it stands, we're discussing a terminated trainer and an shaky match from our American subject here.
Bello turned the ball over (42nd, 47th, 60th, 77th) on far too many occasions. His defensive marking (48th, 72nd, 82nd, 89th, 90th) often made one wince. The American was responsible for keeping tabs on both Serge Gnabry and Jamal Musiala on their respective goals. In both cases, he appeared unfocused and aloof.
Bad clearances and aerial losses came in the 40th, 53rd, 58th, and 81st. There were nevertheless displays of better defending in the 50th, 55th, 68th, 75th, 76th, and 86th. Bello unintentionally (and comically) got a good block in with his face in the 78th. On the defensive side of the ball, the writer still recorded only a 33 percent duel win rate.
Bello fans looking for his ability to affect the play moving forward won't find too much to relish in this week. There's a decent takedown and run just after he was subbed on in the 41st. A nice ball hold-up and charge forward in the 57th regrettably ended in an unnecessary stray pass. An attempt to advance past Goertzka in the 70th proved rather sad.
The pacey and diminutive fullback might earn another start under the DSC's interim trainer now that Barrett Laursen has been ruled out for the weekend. Safer money remains on Andreas Andrade getting the go over him. Not an easy assignment for Bello on this day. It unfortunately wasn't a very good performance either.
---
Timothy Tillman, SpVgg Greuther Fürth
---
Minutes played = 90/90, Positions played = RM
Grade = D
Tillman didn't perform as well as German American counterpart Julian Green on Sunday. This despite the fact that he got off to a good start and showcased some nice moves. The Elder Tillman brother was pretty slick on the ball in the 6th, 7th, 12th, 21st, 39th, 60th, 62nd, 76th, 65th, 90+3, and 90+5. He also won some nice duels in the 10th, 14th, 23rd, 38th, 44th and 90+3.
A lot nevertheless didn't really work for him on this day. Whereas Green got four shots off, Tillman neither produced his own nor assisted on anyone else's effort over the entire course of the afternoon. Our subject here often looked lost in the initial tactical set-up. He couldn't get on the same page as his colleagues during cycle outs in the 13th, 28th, 29th, 52nd, 54th, 79th, and 83rd.
Ball losses, mistimed challenges, and botched clearances can all be found in the 16th, 18th, 26th, 33rd, 34th, 45+1, 51st, 53rd, 58th, 74th, 78th, 84th, 85th, and at 90+2. Leitl did switch his tactics at the half, but Tillman doesn't really earn any sympathy for frequently looking so confused. Both he and Green occupied the same axis.
Lineup—Greuther Fürth—46th minute (5-2-3)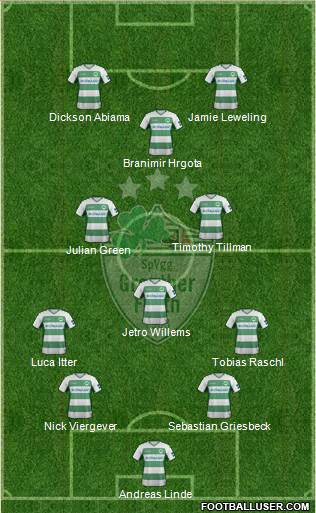 Tillman appeared very insecure and lost in this, unsure of which patch of grass he needed to occupy. All the perambulating about grated and there were large swathes of time during which our subject here strolled about at half-speed. Perhaps the fact that he never got his scheduled rest cure in has something to do with this form dip.
Leitl might be well advised to give him a break.
---
Joe Scally, Borussia Mönchengladbach
---
Minutes played = 52/90, Positions played = CB, RW
Grade = D-
Amid his team's brutally disappointing loss in the Rheinland derby, the CFG New Yorker worked some highly interesting tactical assignments. Scally first entered the match in the 38th. The injured Matthias Ginter earned a hail of boos and whistles for the passing errors that enabled Köln to rush out to an early lead.
Scally replaced Ginter, initially serving as a makeshift center back.
Lineup—Gladbach—39th minute (5-2-3)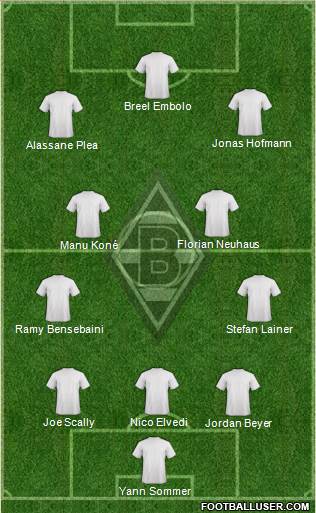 Looking noticeably out of place, our subject here failed to advance on runs from his deep position in the 40th and 42nd. He did win a tough ground challenge in the 42nd and also executed a nice takedown at 45+2. A shot on target–which may have well been an intended cross–went well over the bar in the 43rd.
BMG head-coach Adi Hütter went for a double substitution at the half. Christoph Kramer and Luca Netz took over for Florian Neuhaus and Stefan Lainer. Down 0-3 in a match essentially already lost, Hütter opted to try out something new. After some early confusion, Scally settled in on the attacking wing.
Lineup—Gladbach—46th minute (4-2-3-1)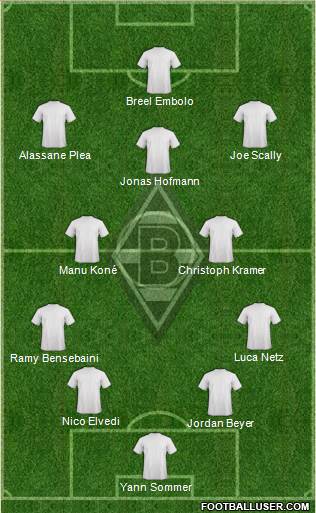 Operating in a totally novel space, the Long Island native produced a few moments moments. He whipped in some solid crosses in the 50th and 79th. He also kept the play alive by shielding the ball well in the 74th and 76th. Sadly, that's about the extent of it. For the most part, the experiment didn't go so well.
Seven stray passes from Scally in his assignment on the flanks. One could really tell that the positioning affected him in the 52nd, 59th, 72nd and 81st. When teammates ran the rush, our subject here couldn't work out where he was supposed to be. Examples can be found in the 60th, 71st, and 76th.
Challenges in the 53rd, 63rd, 78th, and 84th were particularly poor. Scally fouled Hector in a most reckless way in the 88th. Ball losses came in the 64th, 90+1, and 90+3. Another weak effort on target–a hapless ground shot easily blocked–came in the 90th. Another bad day for this subject.
Like in rounds past, we can place some blame on Hütter's tactics.
---
Pellegrino Matarazzo, VfB Stuttgart (Trainer)
---
Matches = 1, Result = D
Grade = D-
No sense in passing around the sympathy cup anymore for the increasingly likely to be relegated American trainer. There were naturally personnel issues again. Two returnees in the form of Sasa Kalajdzic (COVID infection) and Waldemar Anton (back from accumulated yellow suspension). Two more absences in the form of captain Wataru Endo (COVID) and Atakan Karazor (serving accumulated yellow suspension).
Lineup—VfB Stuttgart—Match 30 (4-1-4-1)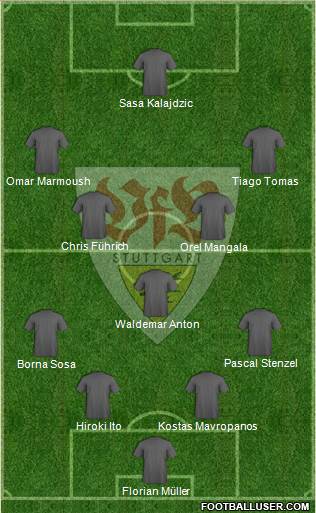 Different, yet still nowhere near workable. Just as we were discussing last week, this shape is too wide for the young and unpolished crew. Too much pressure gets placed on a group of inexperienced players to locate not only the ideas, but also inch-perfect accuracy. A finish in the relegation playoff place likely spells doom for the Swabians. An incredibly strong 2. Bundesliga field can chew this side up.
Sigh. Memories of the 2018/19 relegation anyone? Were it not for weaklings like Bielefeld and Fürth, this team would sink to the automatic slot just like in 2015/16 campaign. Despite the fact that he didn't have the greatest week, Tim Walter probably gets a slight Schadenfreude kick out of how badly this team's administrative apparatus fouled up the latest stay in the top flight.
---
John Anthony Brooks, VfL Wolfsburg
---
Minutes played = 90/90, Positions played = CB
Grade = F
An absolutely rotten day for the player who's evolved into this column's darling. Failing marks it must be for the Berliner after the 6-1 Dortmund dousing. One might as well fail his line mates Sebastiaan Bornauw and Maxence Lacroix as well. Some hope existed that Brooks wouldn't be directly at fault for almost all the goals conceded at the trip to Signal Iduna.
Hope was lost pretty quick. After a nice aerial win in the 2nd and an effective clearance in the 3rd, the USMNT outcast set the tone for the day with atrocious ball losses in the 5th, 10th, and 11th. Emré Can ate this American's lunch in the 12th. Brooks was buckling and swaying long before Tom Rothe scored the opening goal. No clue what caused him not to show up in this one.
Reus nutmegged him in the 21st. Though he wasn't charged with marking Rothe on the first goal, he totally fell asleep on Axel Witsel's second. He failed along with everyone else in a textbook case of napping on a set-piece defending during Manuel Akanji's third in the 28th. Not much he could do on Can's fourth in the 38th. He needed to be much more alert on both Haaland tallies later on.
When Kohfeldt reorganized his ranks from a 3-4-3 into a 4-4-2, Brooks benefited from some extra help back defending. There were better pieces of defending and a few convincing aerial wins in the new set-up. The Berliner also did a significantly more effective job of clearing balls in this:
Lineup—VfL Wolfsburg—46th minute (4-4-2)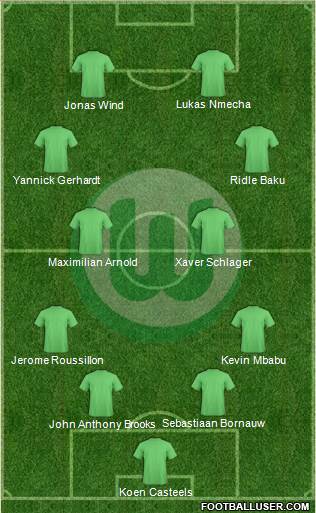 Unfortunately, none of it matters. When a player gets murdered as Brooks did in the first half, just about every positive action in the half-speed aftermath has zero relevance. Maybe Kohfeldt's crew can learn how to run better in a set-up like this. Brooks gets an early crack at redemption against Mainz in the Friday night kickoff.
Thanks so much for reading!
You can occasionally catch Peter on twitter, @ViceytheSS.
Twitter DMs are open for football conversations, corrections, and (if you truly insist) general abuse. 
All columns debut on Bulinews before appearing on Peter's website later in the week.