As we continue to take a full-color look back at this year's "Americans in the Bundesliga" deep-scout column over on Bulinews, we now arrive at the penultimate report. The second-to-last installment of the column–after another matchday during which few US actors saw action–stretched things out a bit to take a look at the tactics during some brief relief stints. We thus delivered four graded and two conceptually-driven sections.
Heading into the 2021/22 German Bundesliga's final matchday, we've got a little something different in store for our readers this time. Six sections are presented this time, but only four are graded. At the bottom of the column, the tactical set-ups within which Tyler Adams and Ricardo Pepi worked in after the "match of the week" was decided are assessed.
While the performances of those players may not have been relevant, the late constellations of their teams might be as we prepare for the last round of the season. On the topic of the campaign's conclusion, all American football fans are encouraged to check out the Bundesliga's 15:30 kickoffs this coming Saturday.
Players such as Malik Tillman (Bayern), Justin Che (Hoffenheim), and Kevin Paredes (Wolfsburg) might pop up in matchups amounting to experimental ones for their clubs. The same applies to Joe Scally in Gladbach. After his unfortunate own-goal in the penultimate round's curtain raiser, it's doubtful that George Bello will make the XI for Bielefeld.
---
Pellegrino Matarazzo, VfB Stuttgart (Trainer)
---
Matches = 1, Result = D
Grade = A
Having spent literally the entire season griping about the American trainer's tactics, the columnist is at long last prepared to give Matarazzo some credit for a well-thought-out match plan. The Swabians held their own against a determined Bayern side Sunday at the Allianz. Much of this had to do with innovative tactical set-yups furnished by the team's head coach.
Matarazzo pinned captain Wataru Endo back in a horizontal chain, keeping options on the flank open with double-buttress sets featuring Chris Führich, Borna Sosa, Tiago Tomas and Omar Marmoush. The BaWü guests were able to shock Bayern with an early tally in the following constellation:
Lineup—VfB Stuttgart—Match 33 (5-4-1)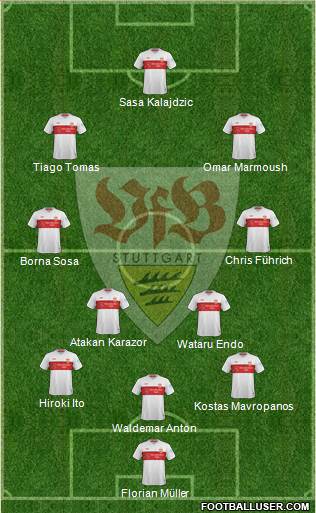 Excellent creative potential here on more methodical builds. The opening tally came on a quick counter during which Marmoush folded back in to take early advantage of the marking on Sosa. From the point of the opening 1-0 very nearly all the way up to Serge Gnabry's 35th minute equalizer off Kostas Mavropanos' deflection, every last Stuttgart counter looked dangerous. Sosa, Marmoush, and Sasa Kalajdzic all turned in solid rushes.
Marmoush's injury at the half–combined with Thomas Müller's heart-sinking goal just before the break–could have done the team in. Matarazzo instead responded with a very nifty tactical reformat. The American trainer dropped Atakan Karazor back into the pin-lock position, unleashed Endo into the midfield, and reorganized the attack into an effective support arch behind Kalajdzic.
The old Sosa-Kalajdzic combo eventually worked in this:
Lineup—VfB Stuttgart—46th minute (4-5-1)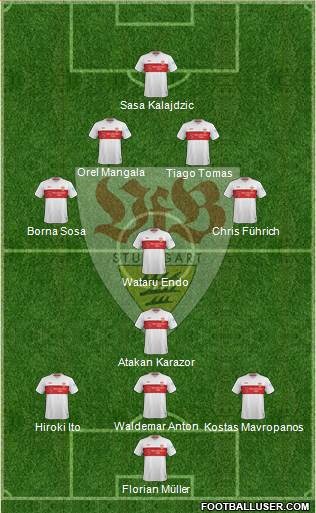 Highly clever. By surreptitiously ceding some space to the FCB 4-2-3-1, Matarazzo's men managed to catch Benjamin Pavard and Tanguy Nianzou out of position on several occasions. The Württembergers generated their fair share of offensive chances, equalizing just seven minutes after the restart and keeping counter lanes open for the duration of the match.
Philipp Förster for Tomas on a 75th minute like-for-like worked very well. Even taking off Kalajdzic for Erik Thommy in the 79th (somehow) lent the squad extra impetus. Matarazzo forfeited a target man in the final ten minutes. The motivated and energetic performance of the veteran journeyman suggested that the VfB gaffer knew just which player to turn to.
Matarazzo had probably worked out the deployment with Thommy throughout the week in training. In general, it seemed like the American head-coach had invested a good deal of time with several individual players ahead of this one. The prep work manifested itself on the pitch many times in this encounter. For the first time in a great while, the team appeared properly drilled.
Whether or not this shall translate into a "great escape" for Stuttgart remains to be seen. The writer does admit that last weekend's high-level functionality does have him thinking twice. Far from being destined for the relegation playoffs, the Swabians could actually catch Hertha after their disappointing draw against Mainz in the previous round's "Top Spiel".
Three points for the VfB at home against Köln and a Hertha loss away at Dortmund life Stuttgart above the Berliners on goal-differential. The fact that Köln themselves are cooling off renders this outcome possible. For the record, the columnist still doesn't think it will happen. Some finely-tuned tactical calculations by the Jersey mathematician nevertheless sow a few seeds of doubt.
---
John Anthony Brooks, VfL Wolfsburg
---
Minutes played = 90/90, Positions played = CB
Grade = B
Some discussion of how VfL trainer Florian Kohfeldt got his tactics right (for once) can be found in the weekend recap column. Brooks saw less of the ball (56 recorded touches) than one is accustomed to from him. Much of this had to do with the fact that Mickey van de Ven was working to the Berliner's left. Kohfeldt might have instructed our subject to lay off a bit in order to allow the Dutch debutant a chance to operate. Van de Ven may even have been directly auditioning as Brooks' replacement.
In the case of our subject here, this led too frequent uncharacteristic instances of ball-watching. There were more than a few occasions (3rd, 6th, 10th, 53rd, 59th, 64th, 65th, 69th, 76th, 90+1, and 90+5) during which the towering center back stood frozen and allowed Köln attackers to skirt right past him. Brooks had persistent difficulty getting his mark slants right. Bad direct duel losses came in the 16th, 31st, 32nd, 71st, 74th, 78th, and at 90+2. He looked a little anxious carrying out of the back in the 24th, 33rd, and 66th.
Still plenty of positives to report on. Examples of excellent defensive work abound in the 21st, 28th, 48th, 51st, 52nd, 55th and 87th. There were also tons of spot-on clearances. They can be found in the 2nd, 14th, 30th, 34th, 72nd, and at 90+4. Not a lot of aerial duels for Brooks on the day, but there is a nice header in the 26th. Very good ground passing from this American in this match. Sharp deliveries in the 7th, 15th, 20th, 38th, 41st, 45+1, 54th, 58th, 68th, 79th, and 82nd. Also some marvelous switches in the 1st, 22nd and 23rd.
All told, another sold self-advertisement for the free-agent.
---
Timothy Chandler, Eintracht Frankfurt
---
Minutes played = 90/90, Positions played = LW, LWB, RB
Grade = C-
Another "dead rubber" match for Oliver Glasner and the Europa League Finalists. The SGE trainer rotated in eight new players for Sunday's home encounter with Gladbach. The actors clearly had little practice together. Moreover, with some reports suggesting that Thursday's team celebrations carried on well past 4 a.m. on Friday, even the purported "fresh legs" were obviously not so fresh.
Just like last week, Timmy had some ground to cover in versatile and demanding tactical assignments. We absolutely couldn't resist drawing up the somewhat comical first-half constellation put forth by Glasner in our tactics bulletin. After spending the first half deputizing for Filip Kostic on the left, our USMNT emeritus actor moved over to right-back when Kostic was introduced at the restart.
Lineup—Eintracht Frankfurt—46th minute (4-3-3)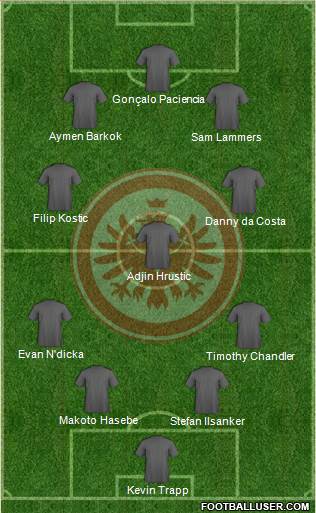 A tale of two halves for both Chandler and the team. After a tired Summer park kick about through much of the opening 45, the German Eagles got their act together in from off the sold out home crowd. Timmy put in some excellent work late-on. Very nice attacking runs in the 58th, 61st, 78th, and 84th. Some earlier exemplary work on the left came in the 11th, 12th, 23rd, 38th, and 45+1.
Of course, those instances don't exactly make up for a match characterized by sloppy and loose play. There were some cringe-worthy passes and turnovers in the 5th, 21st, 34th, 36th, 56th, and 73rd. He gotten beaten badly on Gladbach's opening goal in the 4th. Other defensive lapses came in the 24th, 26th, 49th, 51st, 53rd, and 74th.
To his credit, Timmy tried to make a few things happen offensively. He got off three shots at goal (all blocked) with first-time hits out of the air in the 9th, 20th, and 88th. Some of his early on-the-ball work in the 7th, 11th, 13th, 15th, 30th, and 40th was creative and playful. He did okay on direct duels, with some good wins coming in the 6th, 8th, 20th, 64th, and 70th.
Not a terrible performance from Chandler by any stretch of the imagination. In point of fact, the team pulled together in the final stages to exceed our (admittedly low) expectations. We won't mark Timmy as average on this day, but he wasn't necessarily very far off. The Eintracht "old hands" did their thing and it wasn't the worst.
---
Timothy Tillman, SpVgg Greuther Fürth
---
Minutes played = 78/90, Positions played = LM, RM
Grade = D
Some moments of dazzle from the younger Tillman brother in Fürth's big "farewell game" at the Ronhof. SpVgg head-coach Stefan Leitl copped to having other things on his mind during what would prove to be his last match on the sidelines, yet still out forth what one could call a serviceable set of tactics. Lots of slant switching from Tillman with Tobias Raschl in this one.
Lineup—Greuther Fürth—Match 33 (4-4-2)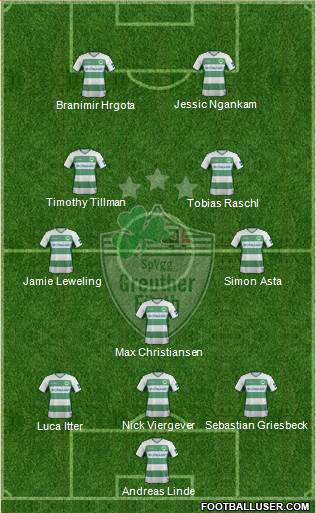 Good pickups of loose balls from the German-American in the 4th, 18th, 19th, 39th, 44th, 59th, 64th, 66th, 67th, and 75th. One can watch him execute a super slick back-heel after a pick up in the 49th. Amidst a very strong spell between the 55th and 58th, he ran three consecutive charges from a deep position. He won challenges and attacked from both sides in those three minutes.
Tillman parlayed that form surge into some nice plays in the 60th and 61st. Leitl yanked him surprisingly early. One assumes that the decision to re-format into a 5-3-2 (a change that ultimately ended up handing Dortmund the match) was already made. The choice to take Tillman off likely resulted from our subject's booking in the 51st.
Horrible tactical foul from Tillman on Haaland in this match. He should have been given a straight red. That cynical challenge docks his grade significantly. Better moments, like good ball hold-ups (6th, 33rd, 54th) and sharp passes/crosses (40th, 49th, 50th) get washed away by that tackle alone. Missed challenges and pick-ups (11th, 14th, 24th, 28th, 29th, 32nd, 43rd) in the first half drag him down further.
We also got very poor touches in the 9th, 22nd (twice), 35th, 42nd, 48th, and 53rd. Another substandard day for Tillman on the corner services. Examples in the 37th and 42nd made it look like he hadn't practiced this week at all. His one effort on target (7th) was very lame. The only piece of useful defending on the day came courtesy of an inadvertent block of a ball with his face in the 3rd.
There's more than enough in this day at the office to keep the Nürnberg native above failing. He nevertheless rounds out the pack this week with a error-strewn performance that he'd surely like to forget. One expects to see him rested in the final match of Fürth's second Bundesliga campaign. The top flight career should be over for now.
---
Ricardo Pepi, FC Augsburg
---
Minutes played = 33/90, Positions played = LS
Grade = N/A
One wanted to give Pepi a grade after over a half-hour of relief against Leipzig on Sunday. He remained close to the action, doing well in individual duels and drop-back holdups late on in Markus Weinzierl's reformatted 4-4-2. Unfortunately, the game having already been decided prior to the El Paso native's introduction means that nothing Pepi did was truly relevant.
If there were a grade assigned, it probably wouldn't have been a favorable one anyway. Pepi frequently had problems catching up with the attack. He got his positioning wrong on several occasions and failed to make an impact offensively. One expected more from him amidst the RB's loose "cruise control" defending. The late Fuggerstädter tactics may still be relevant. We could see this American start the final meaningless match of the season.
Lineup—FC Augsburg—58th minute (4-4-2)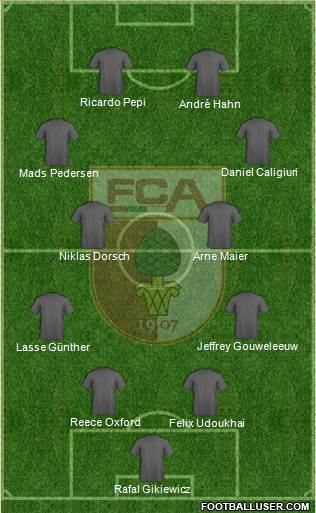 Something like this against Fürth perhaps? Safety secured, Weinzierl has no real task against the dead-last Kleeblätter on Saturday other than to give the home-town fans something significantly better than last time in their final home fixture of the season. Getting Pepi off the mark also constitutes a big responsibility.
The FCA trainer will want to do his utmost to get the youngster his first Bundesliga goal before the campaign closes. It will thus come as a surprise not to see this American in the starting XI. What for German footballing enthusiasts is a match without any merit should be worth checking out for American football fans.
Keep an eye out here.
---
Tyler Adams, RasenBallSport Leipzig
---
Minutes played = 29/90, Positions played = DM
Grade = N/A
If we're going to cover Ricardo Pepi, we might as well check in on the USMNT captain. The RB New Yorker actually racked up 16 touches during his late shift during Sunday's "lidded match". Adams worked in a straight defensive midfield assignment as part of Domenico Tedesco's holding pattern. He ran hard and tracked well in the modified 3-4-3.
Lineup—RB Leipzig—72nd minute (3-4-3)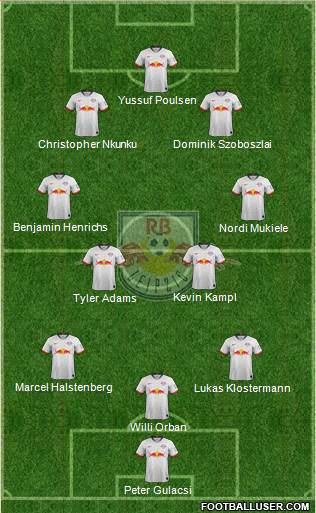 Though Adams hasn't been starting as of late, it's important to note that his overall form hasn't been bad. Don't forget that he played exceptionally well in the first-leg tie of Leipzig's Europa League semi against Rangers. With Tedesco preparing to adjust to life without Konrad Laimer we might see this American get the go on Saturday against Bielefeld.
There remains much at stake for the Saxons on the final matchday. Recall that they still must snatch a victory over in the Teutoburg Forest in order to cement their Champions' League qualification on which so much is riding. One places Adams' starting odds at 50-50. Laimer and Kevin Kampl are probably the preferred duo.
The USMNT captain would still make a good candidate for the sweeper role or might even fill in at right-back. Even if he doesn't make the XI, expect to see him as part of the holding-pattern set-up should Leipzig jump out to an early lead. Tedesco will immediately throw him in should the outcome be decided early.
Thanks so much for reading!
You can occasionally catch Peter on twitter, @ViceytheSS.
Twitter DMs are open for football conversations, corrections, and (if you truly insist) general abuse. 
All columns debut on Bulinews before appearing on Peter's website later in the week.