From three sections in week two all the way up to six in week three, the third 2022/23 installment of the "Americans" deep-scout had a great deal more to discuss.  Joe Scally, Jordan Siebatcheu, and VfB Stuttgart trainer Pellegrino Matarazzo remained the three actors receiving graded sections, but Gio Reyna fans (inclusive this one) got a chance to talk about something exiting.
The latest installment of our "Americans in the Bundesliga" column contains graded sections for the same three actors as last week. The field of individuals we're tracking this year remains comparatively small after a large set of departures this offseason. That being said, we had some interesting stirrings off the bench in the most recent round. Gio Reyna, Ricardo Pepi, and Kevin Paredes all appeared in relief.
The only active U.S. international for whom there is no new real news to report on is TSG 1899 Hoffenheim's Justin Che. The 18-year-old defender still hasn't made one of Kraichgauer trainer André Breitenreiter's bench squads through four competitive matches this campaign. One assumes the club must, at the very least, be considering moving him in the final days of the transfer window.
---
Jordan Siebatcheu, 1. FC Union Berlin
---
Minutes played = 62/90, Positions played = CF
Grade = A
A flat out spectacular day for one of German football's newest and brightest stars. Ideally, everyone's had a chance to check out his fine finish in Union's 2-1 defeat of Leipzig on Saturday evening. The 26-year-old demonstrated remarkable in taking a calm first-touch and rolling in a deft, delicate, and cushioned finish on his second league tally of his young Bundesliga career. We should continue to hear much more from this subject, already well settled in to Urs' Fischer's never altered 3-5-2 "double stack".
Siebatcheu did much more than simply score a cracking goal in the most recent fixture. One can also watch him win some commanding aerial duels in the 3rd, 15th, 17th, 46th, 52nd, 53rd, 61st. He turned in some very nifty defensive work back helping in the 9th, 30th, 38th, and 47th. A major win from the D.C. native kicked off the counter sequence that saw Sheraldo Becker add the second goal in the 38th. There were more great touches forward in the 31st, 43rd, and 58th, along with a brilliant effort just wide in the 59th.
Hard to believe that there were also negatives on this day. When tallying up the duel stats, the columnist was shocked to discover that Siebatcheu actually only won less than half of his direct challenges. This owed much to forgettable (mostly) aerial losses in the 2nd, 8th (twice), 21st, 28th, 41st, 48th, and 52nd. Honestly, none of these truly stuck in the mind. They dragged the stats down, but didn't end up hurting the American's team in any major way.
Some German press sources have Siebatcheu ranked lower, ostensibly because of the stats. This author doesn't really feel as if he has a choice when it comes to the mark-tier. Anything below "A-Level" would seem grossly unfair. A final bit of news concerning our subject here involves his early substitution off after sustaining a knock that kept him out of training for a couple of days. The latest news holds that this wasn't serious. He's back in training and should be back in the XI this weekend.
---
Joe Scally, Borussia Mönchengladbach
---
Minutes played = 90/90, Positions played = RB
Grade = C
In contrast to some of his previous outings, the Long Island native spent far less time forward against Hertha last Friday night. Scally racked up (in the author's count) 78 touches; a season record for him. There were nevertheless no shots, or even assisted shots, as the teenager had his hands full dealing with the left-side of Sandro Schwarz's 4-1-4-1. Chidera Ejuke, in particular, caused this American more than a few problems. Scally came out on top in a few duels, but only won slightly more than one-third of his challenges on the day.
Nothing new to report upon insofar as Daniel Farke's Gladbach tactics are concerned. The BMG trainer hasn't changed anything major since round one. Along with all of his other teammates, Scally takes part in plenty of improvised positional rotations and oftentimes pops up on different parts of the pitch. On this particular day, however, he seemed a bit hamstrung by the demands of his defensive assignments. Instances in which he actually got caught flat-footed against Ejuke can be found in the 6th, 24th, 50th (twice), and 51st.
Unfortunately, our subject here had his fair share of bad ball losses (3rd, 21st, 23rd, 79th), poor stray passes (10th, 26th, 55th) and poor challenges/touches (4th, 7th, 47th, 54th) on the night. There were also several cases during which one frustratingly observed that he needed to break faster either on loose balls in the box or on timed runs forward. These occurred in the 5th, 22nd, 37th, 52nd, and 78th. Some long stretches of anonymity from this American in the final ten minutes of the first-half and the first 15 minutes after the hour-mark.
Scally's performance, though not the most influential, still remained far from poor. There's lots of positives to cover. He did win some one-vs-one duels (5th, 9th, 13th, 60th, 85th) that left one thoroughly impressed. Forward runs and touches in the 11th, 16th, 18th, 73rd, and 75th proved that he's not experiencing any kind of real form dip. The CFG New Yorker's final ten minutes were very strong, with solid offensive actions in the 79th, 81st, 82nd, and 88th. We'll accord him a straight average grade here. Nothing to trouble his starting XI place.
---
Pellegrino Matarazzo, VfB Stuttgart (Trainer)
---
Matches = 1, Result = L
Grade = C-
As is sometimes the case when giving a previously pilloried match a second, closer look, VfB Stuttgart didn't look nearly as bad as initially judged to be on the first viewing. At the very least one could say that about the team's first-half performance in the weekend loss to Freiburg. Lining up effectively where Matarazzo had left them near the end of last week's draw, the Swabians had some decent ideas during the opening 45 at the Mercedes Benz Arena.
Chris Führich and Naouurou Ahamada got the attack forward after settling into their horizontal stagger. While squad captain Wataru Endo quickly got cancelled out by countryman Ritsu Doan, Hiroki Ito, Josha Vagnoman, and Silas compensated with some creative play forward. The team as a whole took some time to recover from their multiple-actor defensive breakdown, yet still finished the first half strongly.
We'll still regrettably have to dock Matarazzo for not shaking things up sooner once torpor settled in after the restart. The American trainer waited until the 71st minute to begin introducing subs. Our subject then took forever to get his side realigned into a 4-3-3. Matarazzo clearly wanted to get the tanker turned around in this direction as soon as he brought on Lilian Egloff and Luca Pfeiffer for Sosa and Führich.
This came too late:
Lineup—VfB Stuttgart—87th minute (4-3-3)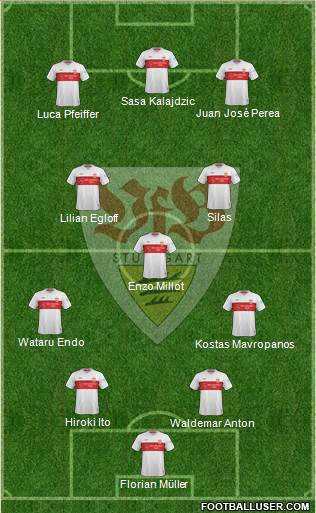 Not only did this have zero impact, the decision to utilize Endo and Konstantinos Mavropanos as fullbacks totally failed. The fact that neither appeared drilled at the position remained fully apparent. Here we have a case of a coach leading his team astray into uncharted territory. Creative, yet not practiced. Matarazzo gets an emphatic thumbs down this week, though we'll keep the dock light thanks to the interesting novelty of the idea.
---
Giovanni Reyna, Borussia Dortmund
---
Minutes played = 28/90, Positions played = RW
Grade = N/A
Gio is back! Given that Dortmund earned the "focus section" in our most recent tactical column, every move of the U.S. phenom is already documented in the weekend recap piece. As it turned out, pretty much all such moves were slick ones. Reyna's twelve catalogued touches included two dazzling runs forward, a very nice set of dekes on a build out of the back, and an assisted shot on a Jude Bellingham effort. Little to see and assess, but the teenage talent still looked confident.
For all the talk of Dortmund taking it slowly with Reyna after his injury riddled season, it would not come as a surprise at all to see him featured in Terzic's starting XI this coming weekend against Hertha. Fully ready or not, the BVB needs some kind of creative spark on the wings after two straight offensively limp matches. If Gio doesn't start, expect to see him introduced with time to spare in the next encounter. One has the sense that a graded section isn't far behind.
---
Ricardo Pepi, FC Augsburg
---
Minutes played = 22/90, Positions played = LS
Grade = N/A
The El Paso native worked alongside colleague André Hahn in a 3-5-2 after Augsburg trainer Enrico Maaßen freshened up his double-striker set late in Saturday's loss to Mainz. Naturally, not a lot in Pepi's short relief appearances; certainly not enough for a grade. Pepi did manage to record an assisted shot (Hahn) amongst his ten recorded touches. This American has now come off the bench in all four of the FCA's competitive fixtures.
Pepi's path into the starting XI may have gotten a bit easier now that Fredrik Jensen is experiencing a bit of a form dip. It's not likely that he'll be lining up against Hoffenheim this weekend, but we might see him called upon early enough. Note that the Texan was introduced earlier last week than in any of the other cases. Maaßen obviously wants to keep giving him match practice until he sees what he needs.
---
Kevin Paredes, VfL Wolfsburg
---
Minutes played = 14/90, Positions played = LW
Grade = N/A
The flexible left-footer found his way into Niko Kovac's highly experimental extension of training camp during this weekend's 0-0 draw with Schalke. This in itself may mean nothing as the new VfL trainer continues to test-drive nearly everyone and everything in his desperate search for some sort of foundational tactical set-up. We'll nevertheless note his usage on the first time he was included in the bench squad this weekend. Six touches and five clean connected passes for the former D.C. United man.
Thanks so much for reading! You can occasionally catch Peter goofing off while watching non-Bundesliga football on twitter, @ViceytheSS.
Twitter DMs are open for football conversations, corrections, and (if you truly insist) general abuse. 
All columns debut on Bulinews before appearing on Peter's website later in the week.