The week four edition of the "Americans in the Bundesliga" deep-scout featured both a player and a trainer who would soon be departing German football. A couple of USMNT actors who, sadly enough, would be headed for some pronounced form dips in the near future. There were certainly brighter days for one particular U.S. talent. Perhaps more shall come in the new calendar year. No need to count out "Jordan" completely just yet.
We've four graded sections on offer this week in the latest installment of our "Americans in the Bundesliga" column. Joe Scally and Jordan Siebatcheu once again started for their respective clubs. As always, the work of the Bundesliga's American trainer is also assessed. Joining the familiar trio this time around we have Augsburg's Ricardo Pepi, who received a showcase start ahead of his rumored loan-out to the Erdevisie.
In other news concerning American actors in Germany's top footballing flight, VfL Wolfsburg's Kevin Paredes received some accolades in German footballing circles for his brief relief stint last week. Unfortunately, the 19-year-old was unavailable for the matchday squad this weekend with reported knee problems. Justin Che of TSG 1889 Hoffenheim also still hasn't made a bench squad yet this season. Timothy Chandler put in some late relief work for Frankfurt, but his involvement was too minimal to merit a graded section.
---
Joe Scally, Borussia Mönchengladbach
---
Minutes played = 90/90, Positions played = RB
Grade = A
The Long Island native definitely received cursory treatment in the German press. Scally's grade stood below average in every one of the Monday morning papers. This was due to the fact that his touch count (39 in the columnist's record) was the lowest of the season and that he had several stretches during Saturday night's 1-1 draw with Bayern München during which he had difficulty making Alphonso Davies. Imagine that.
Few in the German press will have tracked Scally as closely as we did in the "tactical focus" section of this week's weekend recap column. Essentially every move of this American is chronicled in full detail in this piece. Should anyone wish to peruse the evidence, one will find that (after a shaky opening few minutes) Scally actually made several crucial defensive stops against Davies; without which his team would have never stood a chance of remaining in the game at all.
A deep-scout look at the CFG New Yorker yields the conclusion that he truly turned in a marvelous match. Scally made his presence felt in a manner not seen since some of his best games early last season. We've got it all catalogued. Statistically speaking, his numbers remain fairly strong as well. The writer only counted six stray passes and four direct duel losses. Obviously there wasn't much time for our subject to involve himself in the attack here as he had his hands full with the FCB press at the back.
Scally receives no docking for doing a great job there.
---
Jordan Siebatcheu, 1. FC Union Berlin
---
Minutes played = 71/90, Positions played = CF
Grade = A-
As discussed at the beginning of the season, Union head-coach Urs Fischer simply doesn't alter his tactics. The Swiss trainer sticks with his "3-5-2 double stack" for better or worse. They have been no significant alterations since round one apart from some organic shifts in the back-three-pivot, Rani Khedira's forward press and a slight shift of our subject here to a rightward attacking slant. All of these subtleties don't really have the fingerprints of the trainer on them.
Some of Fischer's recent personnel rotations are of some interest in that the FCU gaffer begins to show us some of the tricks he'll be employing ahead of the demanding schedule ahead. New acquisitions Morten Thorsby and Danilho Does made their starting XI debuts in Saturday's (somewhat misleading) 6-1 rout of Schalke. Niko Gießelmann also deputized for captain Christopher Trimmel at right wing-back. This may not have had the largest influence on our subject here, but an Union draw-up is overdue.
Lineup—FC Union Berlin—Match Four (3-5-2)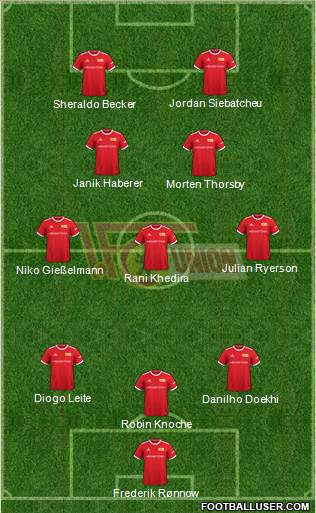 Another excellent performance from Siebatcheu in this set-up. The D.C. native recorded an assist on Sheraldo Becker's first goal and assisted on three further shots over the course of the day. His lone shot on towards goal (in the 38th) went wide of the mark, yet that hardly matters given his direct involvement in Becker's second as well. Our subject here once again proved a crucial actor in his side's important victory.
Siebatcheu won a commanding aerial duel in the 36th before deftly touching back for Becker on Union's 2-1. Shortly after the restart, he punched inside the box central and drew double coverage with a sublime ball-hold up. This enabled Becker to score his second and seal the game with the 4-1. The American regrettably wasn't credited with an assist as Becker simply picked up the ball he ultimately lost.
Other cases of high quality touches forward can be found in the 5th, 6th, 13th, 44th, 45+2, and 69th. The final instance, shortly before he was subbed off, featured an excellent deke, cross, aerial win, and tenacious effort to keep a Thorsby rebound alive all over the course of a few seconds in the box. Impressive aerial wins came in the 1st, 28th, 54th, and 60th.
There was a particularly weak phase between the 10th and 27th during which Siebatcheu lost four aerial duels, made a couple of feeble touches rearwards, didn't press off the ball in a convincing manner, and had a little difficulty timing his forward runs. Additionally, the team collectively took their foot off the gas for about a quarter-of-an hour after Becker's second.
Siebatcheu sometimes didn't contest aerial duels at all during the latter weak phase that ran between the 46th and 62nd. Pressing was also a little lax, with some notable exceptions in the 50th and 52nd. One can hardly fault either the American or the team for dialing down the intensity a bit after the match was decided.
Likely knowing that his number would be up soon, Siebatcheu nevertheless finished strongly. One can watch him move very intelligently inside the box in the 62nd, execute a top-notch hold-up and dish back to Thorsby in the 67th, and the above-mentioned sequence in the 69th; a perfect curtain call before making his exit in the 71st.
Siebatcheu shows no signs of slowing down form-wise and should remain on the same page with Becker in the weeks to come. Only injury (heaven forbid) could derail the 26-year-old's rollicking start in Germany's top footballing flight. One genuinely looks forward to watching him play twice a week in the Bundesliga and UEL. This is honestly a performer everyone should be checking out.
---
Ricardo Pepi, FC Augsburg
---
Minutes played = 56/90, Positions played = LS
Grade = C-
While this week's column – released in the middle of the chaotic final days of the transfer market – wasn't fully prepared to predict that Ricardo Pepi might be on the move, the fact that he appears headed for a loan-out doesn't really surprise. The manner in which the El Paso native played against Hoffenheim on Saturday strongly suggested that he needs playing time elsewhere to polish his game.
Note that there were many positives to take from the latest encounter and that the grade accorded here is much higher than what Pepi received in the German press. FAC trainer Enrico Maaßen – dealing with injuries in several key areas – had to employ some creative solutions. It's no exaggeration to say that the young gaffer mostly got it wrong.
Lineup—FC Augsburg—Match Four (3-3-3-2)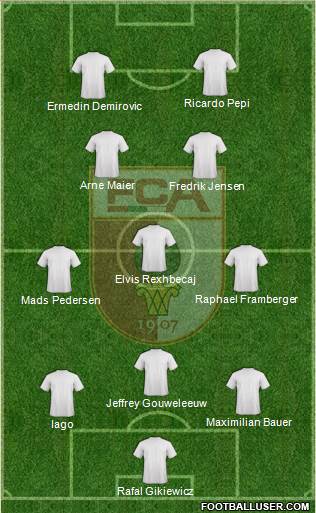 A 4-3-3- with Fredrik Jensen in the middle (possibly in a false-nine-role) likely would have worked much better. The right-footed  Pepi seemed quite capable of fishing out balls on his right-sided flank slant all afternoon. Had he not been functioning as part of a dual lead-striker set with Ermedin Demirovic, he might have had a target to hit. As it turned out, some really great ball hold-ups and dribbles were wasted.
Pepi did an excellent job touching balls back to his teammates on the charge, as evidenced by cases in the 11th, 16th, 17th, and 41st. Good ball hold-ups came in the 5th, 29th, and 45+1. Solid ground/aerial wins and forward touches can also be found in the 4th, 9th, 18th, 34th, 37th, and 45+2. There were a couple of instances (19th, 52nd) in which exquisite dribbles sadly ended in ball losses.
Giveaways under pressure (26th, 45th, 49th) along with some schizo pressing marks (2nd, 7th, 29th, 46th) drag his grade down significantly. The last 11 minutes of his shift featured all manner of mistakes. Maaßen was correct to get him off the field quickly. That notwithstanding, it is possible to value Pepi's positive involvement offensively and view this performance as somewhat marred by the FCA strategy.
German sources mostly have the Texan just above failing in what might be his final Bundesliga match for a while. This columnist certainly sees him as below average, but not quite on "D-Level". Something of a shame that we won't be tracking Pepi's further development in this column as he didn't really appear that far off the Bundesliga level. Alas, our subject here heads off for different pastures to ply his trade.
---
Pellegrino Matarazzo, VfB Stuttgart (Trainer)
---
Matches = 1, Result = D
Grade = D+
Matarazzo, missing Sasa Kalajdzic ahead of a transfer, rolled out the same 3-3-2-2 he's been using since round two against Köln on Sunday. A couple tweaks to it see Silas now function as one of the lead strikers and the Naouirou Ahamada-Chris Führich split-stagger even out a bit. The American trainer plugged Luca Pfeiffer in Kalajdzic's role on a straight swap.
Results weren't too bad. Silas again had bad finishing luck in front of goal for the second consecutive week. The VfB build-up play had some coherence to it, though later on in the first half it degenerated into a lot of half-baked ideas. The team didn't appear particularly well drilled and the set-piece designs appeared fairly uninspired.
The Stuttgart-Köln fixture descended into chaos shortly into the second 45. Pfeiffer ended up seeing red and Matarazzo had to shell his team up in full damage control mode before he would later be sent off himself. The American gaffer may have been tossed from proceedings five minutes before his final sub came on, but it's safe to assumer that his late-match-plan had been in place prior to his dismissal.
Lineup—VfB Stuttgart—77th minute (3-3-2-1)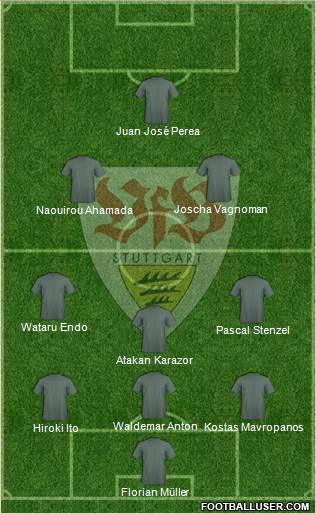 For a team that still hasn't won a league match, one can judge this as overly cautious. With Köln having their own organization problems following two in-game injuries, there might have still been an opportunity to capitalize here. Furthermore, Steffen Baumgart's Geißböcke are notoriously subpar even with the man-advantage. Full-fledged surrender seemed unnecessary.
One has the sinking feeling that this squad is headed straight back for the relegation race this year. Obviously, this has more to do with the big name personnel departures than the tactics Matarazzo is currently running. Given what we have been forced to watch from the trainer since the team began tanking in the 2020/21 "Rück-runde", however, doesn't leave one with much confidence that he has the answers.
One also has the sinking feeling that more scathing reviews are on the way.
Thanks so much for reading! You can occasionally catch Peter goofing off while watching non-Bundesliga football on twitter, @ViceytheSS.
Twitter DMs are open for football conversations, corrections, and (if you truly insist) general abuse. 
All columns debut on Bulinews before appearing on Peter's website as the season progresses.