Three US internationals rode the bench in the latest round of Bundesliga action. As a result, we only had the two players to grade in the latest edition of the "Americans in the Bundesliga" column. The news is nevertheless largely good for American enthusiasts following Germany's top football flight.
The fifth round of the 2021/22 German Bundesliga leaves us with one of, if not the, shortest columns in the three year history of this particular project. Only two American actors made the starting XI in Germany's top football flight this weekend. We've four graded sections this week, courtesy of the fact that we also grade the men who put the starting XIs together.
Joe Scally and Chris Richards started for their respective clubs while, somewhat surprisingly, John Anthony Brooks and Tyler Adams rode the bench. Giovanni Reyna remains injured and, somewhat less surprisingly, Julian Green lost his place in Stefan Leitl's plans. There doesn't appear to be any reasoning behind Adams' exclusion. The RB New Yorker likely just earned some rest in the eyes of his coach and did play five minutes as a late sub.
With regard to Brooks, it is somewhat curious as his sending off in the Champions' League had no bearing on his eligibility for domestic competitions. A rest may be related to some of his ongoing contract negotiations with the club. As of Tuesday, there is no new news to report on that particular front. One assumes that no news is good in a case like this.
---
Chris Richards, TSG 1899 Hoffenheim
---
Minutes played = 90/90, Positions played = CB
Grade = A-
Stationed behind a more experienced set of midfielders, the Alabama native found himself with significantly less to do this week. The writer recorded only 72 touches this week, down significantly from his 102 handles last week. What action Richards did see in his second start back in an SAP jersey seemed on the level. Many German publications rank the 21-year-old lower based on limited action and the collective team defensive meltdowns in the early going against Bielefeld.
Lineup—TSG Hoffenheim—Match Five (4-2-3-1)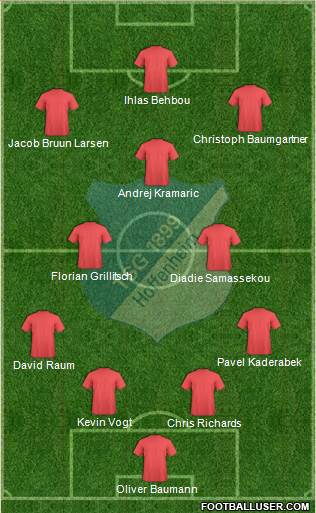 Juxtaposing this with what we saw last week, there's a pair of points to bring up. The more on-the-ball veteran six duo of Diadie Samassekou and Florian Grillitsch obviously shifted Richards' role to that of a less mobile centre halve. It also appeared, though it wasn't entirely clear, that Sebastian Hoeneß opted to move Richards over to the right side of central defense.
The American and Kevin Vogt swapped their basic point position often, making a pinpoint placement very difficult. The columnist settles on the right, where Richards was definitely more involved. Our subject here might have been the only Hoffenheim defender who kept a focused position during some of the early DSC charges. He sparked a nice counter on the right in the 3rd.
After cioning forward a few more times–4th, 7th, 13th, and 15th–Richards hung back for a extended spell, possibly at the urging of his sixes. A 15th minute play-out (direction right) by the American is worth a look. He reappeared again with some nice work on offensive sequences in the 29th and 31st. The shot on target (soft-header, 32nd) can be skipped.
Two fine examples of defensive work before the half was out came in the 41st and 42nd. The American really did a fantastic job bailing out colleague Christoph Baumgartner on the former play and reversed the possession flow deftly behind Grillitsch on the latter. More great kick-outs to the right came  after the restart (46th, 47th, 56th, 58th).
Again, Richards retreated back to a more static defensive position as the second 45 wore on. The Sinsheimer forward pulse operated largely without him from the 64th to 80th. One can watch him get a bit more involved down the stretch. Those looking for more examples of solid defensive pieces should watch his work between the 62nd-64th and 86th-92nd.
It remains something of a mystery why this American didn't earn higher grades in the domestic press this week. It reminds one a bit of that "overlooked performance" of his from round 26 of the previous campaign. Sometimes German football writers equate lack of activity with a performance dip. Naturally, there's also the matter of covering the most subjective sport on the planet.
This appraiser saw solid forward ideas, a good presence on duels, and at least one instance (41st) in which our American here saved his team a goal. That's more than enough for an "A level" ranking.
---
Joe Scally, Borussia Mönchengladbach
---
Minutes played = 90/90, Positions played = LB
Grade = B
It's once more back to the the left-fullback position for the young CFG New Yorker. With Rami Bensebaini again unavailable, our promising American teenager received yet another positional shift. At least BMG trainer Adi Hütter, as opposed to last week, didn't draw up something straight out of hell's kitchen.
Lineup—Borussia Mönchengladbach—Match Five (4-2-3-1)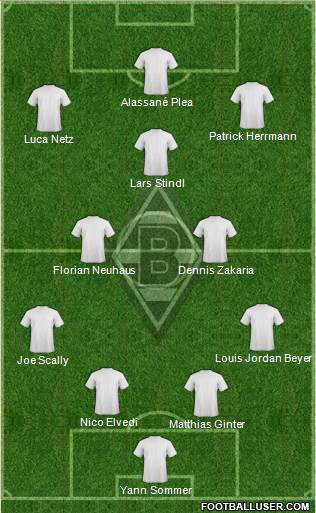 Very strong tackles on display from the 18-year-old early on. One can find several during sustained Augsburg flank attacks between the 6th-8th as well as between the 25th-18th. There's also a fine vertical precision ball for colleague Luca Netz in the 11th and an alert deflection that likely saved a tally in the 27th.
Scally successfully frustrated the FCA right for most of the opening half-hour. André Hahn got sufficiently miffed to the point that he took the American teenager out with a nasty late challenge in the 31st. To his credit, our subject here didn't let the sunk in studs rattle him much beyond a couple of passing miscues before the half was out.
He didn't look so hot on the crossover that led to Daniel Caligiuri's hit on the side-netting in the 43rd. In all honestly, neither did anyone else in the Gladbach white. The whole set-up of the Fohlenelf really tanked in the final 15 minutes of the opening 45. For reasons unknown, the entire XI collectively resembled a cat after stepping in bubble-gum.
Some disappearing acts from the CFC New Yorker in the second-half. Like Richards, Scally's touch count dropped from over 100 to the low 70s week-on-week. There were nevertheless solid tackles in the 48th, 51st, and 58th. Two highlights are definitely worth looking up for those with access to the tape.
An expertly executed pressure on Niklas Dorsch the 56th and a stonewall of Andi Zeqiri in the 64th demonstrate what a skilled practitioner the youngster is. Scally ran himself ragged once more and had some difficulty keeping up after the 81st. Nothing really wrong with that in principle. It's endearing how he pushes himself to the limit.
One could just as easily have accorded Scally "A-level" marks this week as he didn't truly commit anything close to an egregious error. The fact that he wasn't very impactful can even be considered a positive considering he was working out of position. On balance, it doesn't seem fair to elevate any player on Gladbach up to "A level" as this was a pretty poor footballing display from the whole team.
An okay day at the office for the CFC New Yorker. When a team as a whole can't come up with any ideas, however, everyone must shoulder some of the blame.
---
Jesse Marsch, RasenBallSport Leipzig (Trainer)
---
Matches = 1, Result = D
Grade = B
The man that everyone now (cruelly) likens to a Jason Sudekis caricature will be just fine. Seriously. We'll emphasize this for what feels like the 2,345th time. Expectations continue to lower. In all honesty, there wasn't all that much pressure on him to begin with. As steady as the RB fan-base continues to grow, most Germans haven't truly met an impatient Leipzig supporter. A great amount of money has effectively been dumped in their town's lap.
The Bundesliga's second American trainer would have to actively work hard to make an organizational hash out of the talents at his disposal. As it so happens, he's not doing so. His team produced some pulsating offensive pop in the midweek UCL fixture against Man City. In this weekend's visit to the cathedral city, a menacing 4-2-4 would have snatched all three points were it not for VAR stoppages and heroic goalkeeping from Timo Horn.
Lineup—RB Leipzig—Match Five (4-2-4)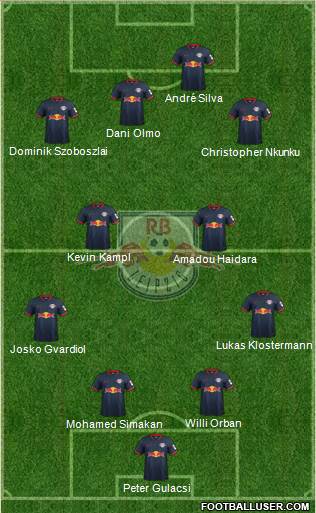 Using Dani Olmo as a clear short-striker was inspired. Granted, the mega-talented Spaniard can make just about any coach look like a genius no matter where he's placed. Even though it ultimately appeared as if Kevin Kampl and Amadou Haidara had axial obligations by the end, the latter worked a much more advanced stagger.
This was effectively a momentum parlay from the team's operational structure in the Champions' League match. Tyler Adams fans may not be happy about Marsch's choice to sit him here, but the USMNT starter again wasn't terribly great in his first match back last Wednesday. It remains the opinion of this writer that the RB New Yorker doesn't jive terribly well with any of the other midfielders on this team.
Adams enthusiasts–of which this writer remains one–may take solace in the fact that an almost tailor made partner for Adams is on the way. By the time Caden Clark arrives in December, it's entirely possible that the German Red Bulls will be up and running just fine. Some may not even remember that there was a time when Marsch found himself questioned amid a slow start.
The Wisconsin native will be just fine. League form will improve. Group-stage elimination from the Champions' League "Group of Death" won't trouble anyone.
---
Pellegrino Matarazzo, VfB Stuttgart (Trainer)
---
Matches = 1, Result = L 
Grade = D-
Speaking of trainers who are in no danger of losing their job, the chronicler officially finds an excuse to get grumpy now. While someone admittedly fond of overly bombastic rhetorics does appreciate the art of making matters entirely more complicated than necessary, Pellegrino "the Mathematician" Matarazzo has simply gone too far with the split staggers. The awful performance against Leverkusen on Sunday came courtesy of an overly tricked-out formation.
Pulling apart Borna Sosa and whoever works the right flank is fine. Stationing captain Wataru Endo ahead of a defensively-minded anchor like Atakan Karazor makes sense. Having the second axis players stand operate on separate planes as well? Two spit-staggers are enough. What we witnessed this week against Leverkusen was…well…it was this:
Lineup—VfB Stuttgart—Match Five (3-4-3)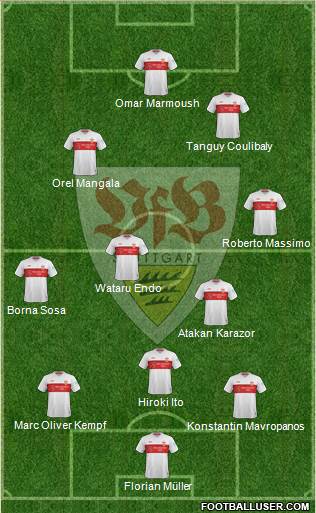 Does this even qualify as football any more or are we playing "Kriegspiel"?
This team's attack never really recovered loss of the player we now refer to simply as "Silas" to that brutal injury last spring. Augmenting the right by placing the newly fit Tanguy Coulibaly ahead of Roberto Massimo is fine. The problem here lay in the fact that (counting the slight pivot position for Waldemar Anton's replacement Hiroki Ito), we've four broken planes here.
An opponent can easily read the link-up play when positions settle like this. Endo remains the only real unpredictable actor. Everyone else can be marked from a comfortable distance. The visiting Werkself had no problems shredding it and would have been on their way to a massive rout were it not for Robert Andrich's red card.
One can't in good conscience give Matarazzo failing marks because it is sort neat and creative how he tries things like this out. In the final analysis, it won't come back to haunt him either. The Italian American trainer has the backing of this club's administrative arm for the long-term. It doesn't really matter if the Swabians only slightly improve this year. The board will be content with making a true push for Europe next season.
In the meantime, some of us will have the misfortune of watching a few more experiments that produce genuinely ugly and disjointed football. Many will fall flat. Some will connect. Stuttgart gradually becomes a more interesting team after another year of trial-and-error. Yawn.
Thanks so much for reading! You can occasionally catch Peter goofing off while watching the lower German football divisions on twitter, @ViceytheSS.
Twitter DMs are open for football conversations, corrections, and (if you truly insist) general abuse. 
All columns debut on Bulinews before appearing on Peter's website later in the week.