More catch up work to do with the hot-sheets from Bulinews. Our second re-post of this Friday covers round ten of the league. As confidently predicted, Joe Scally is now officially a UMSNT call-up. Tyler Adams and Chris Richards will join the CFG New Yorker in heading back across the pond.
The same doesn't apply to one of the above-average performers from this round. John Anthony Brooks will remain in the Bundesrepublik this time. That's likely unrelated to the Berliner's recent form. Gregg Berhalter likely just doesn't want to test his recent injury problems this time.
Our weekly check-in with the US internationals working in Germany's top footballing flight features fewer graded sections this week. Recent USMNT call-ups Tyler Adams and Chris Richards both received a rest-cure from their trainers during the latest round of Bundesliga action. Jesse Marsch opted to save Adams for the Champions' League whilst Sebastian Hoeneß gave Richards a much-needed break following 180-minute double-duty in Pokal Week.
That still leaves us with five graded sections this week as we assess the work of three players active in the 2021/22 league's fourth round. We also continue to track the work of the first two head-coaches ever to work in the German first division. One cannot say that it was a particularly rosy week for either Marsch or Pellegrino Matarazzo. The grades they receive are nevertheless different.
---
Joe Scally, Borussia Mönchengladbach
---
Minutes played = 90/90, Positions played = RB
Grade = B
In contrast to his usual late-match shifting around, Scally remained firmly on the right side during Gladbach's 2-1 win over VfL Bochum on Sunday evening. BMG trainer Adi Hütter clearly had no desire to tinker much with what was already a complex and demanding system for his players. We referenced the 4-2-3-1 "double-stagger" in the tactics column. Here's how such a constellation can be visualized:
Lineup—Borussia Mönchengladbach—Match 10 (4-2-3-1)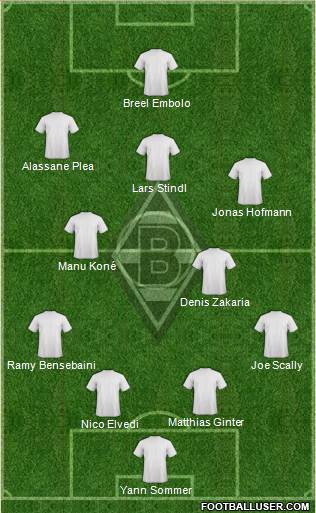 With Ramy Bensebaini capable of going the full 90 minutes and some late match action also reserved for the returning Marcus Thuram, there would be no Patrick Herrmann substitution this time. As usual, The CFG New Yorker was never far away from the action amidst 94 recorded touches. By the second minute, Scally has created a scoring chance by bombing up the right flank and servicing Manu Kouadio Koné with a brilliant cutback.
Three minutes later, the American bravely drew coverage before hitting Jonas Hofmann on what would develop into another opportunity. Strong play continued as all of the Gladbach attacking action ran through Scally's side. Alassane Plea's opening goal in the 12th saw him earn an assist. Scally's driven cross counted as absolute technical marvel. He directed a sparkling give-and-go himself before drilling in a radiant ball full of top-spin.
Bochum unsurprisingly attempted to redefine the tenor of proceedings by getting the ball away from him and, as a result, the next 15 minutes were quiet. A few duel losses (26th, 34th, 36th) and a couple of wayward passes (24th, 38th) were inevitable as the rainy and slick conditions left everyone error prone. After the NRW hosts doubled their advantage in the 40th, both teams were pleased to focus on non meaningful actions before breaking.
Overall defensive coordination from all members of the back-four could have been much better in the ten minutes after the restart. Scally looked a little lost on some VfL charges in the 47th, 48th, and 52nd. The American overcommitted forward a few times in spite of the fact that his team were having noticeable difficulty keeping up centrally, as was the case in the 49th, and 54th. A challenge on Anthony Losilla in the 56th was very clumsy.
General play on the right got a bit sloppy. One noticeable outlier from Scally came via another killer cross into the box in the 59th. Apart from that, seven of the CFG New Yorker's 14 recorded stray passes on the day came in the first 15 minutes of the second half. Marking lapses then came in the 61st, 64th, and 67th. Everyone seemed out of whack on zonal-marking lapses in the 70th and 71st.
It proved a most novel occurrence to observe Scally suddenly looking human again down the stretch. The visiting 1848ers nearly turned the tables in the match, denied a way back into the game only by their own incompetence once the goal got in sight. Our American subject here still got beat or out-muscled in duels in the 81st, 83rd, 87th, and 90+2. Everyone in white fell asleep on the poorly defended corner that allowed Bochum in the 86th.
Stagnant weather conditions obviously didn't help either, but there was a great deal of scrambling from Scally (and everyone else) all the way through the tense Bochum pushes that ran all the way up to the full-time whistle at 90+6. While his performance was still well above average, note that this constitutes the first time we've scored this American below "A-level" since round five.
Indeed, the 18-year-old has been just that good. 
There realistically exists no reason why he won't be in USMNT colors next week.
---
John Anthony Brooks, VfL Wolfsburg
---
Minutes played = 90/90, Positions played = CB
Grade = B-
The Berliner experienced a fairly crazy day. This writer found himself quite surprised to tally up a paltry total of 34 touches for Brooks against Leverkusen. It certainly felt as if the American was more involved. Naturally, this false impression came from Brooks' involvement in a mid-match melee. Match official Deniz Aytekin deemed Brooks and Leverkusen's Jonathan Tah responsible for the scuffle. As a result, both were booked. It was such that this American actually got plenty of touches in on Saturday. Most of them were simply away from the ball.
This incident notwithstanding, Brooks actually played a rather strong match. He did an excellent job responding to new head-coach Florian Kohfeldt's shifting tactics. The 29-year-old worked well as a forward-minded left center back  the back-three during the first half (as he always does) and adjusted reasonably well to the back-four used in the second-half. The writer didn't observe him outright lose a duel in the air all afternoon. The best wins came in the 5th, 17th, 34th, 73rd, and 88th.
Many of the ground challenges won deep in Leverkusen's own half (12th, 14th, 18th, 49th, 51st, and 66th) were particularly impressive. The performance was naturally not flawless. Brooks could have done better with a header over in the 54th. Some of his poor clearances (40th, 44th, 50th) were most unbecoming of him. The win in the 49th actually served as a recovery tackle after he had been beaten. There were a couple of other mark misses during the first ten minutes after the restart, doubtlessly related to the tactical change.
On balance, however, it doesn't seem fair at all to place Brooks on "C-Level" following this performance. While the columnist didm't give his Champions' League performance on Tuesday the same scrutiny, the Berlin native's form looked generally strong. Germany's green company team will be relying on the USMNT starter heavily in the coming weeks with Sebastiaan Bornauw having injury problems and Maxence Lacroix suspended. He looks to be up to the task.
---
Jesse Marsch, RasenBallSport Leipzig (Trainer)
---
Matches = 1, Result = D
Grade = B-
Some may surprised to see the Wisconsin native up even this high given the filleting he got in this week's tactical bulletin. The writer doesn't consider it a contradiction in terms as a great deal of emphasis was placed on how well Marsch prepared the team for dead-ball situations. Leipzig stood superior to Frankfurt in virtually every respect that a head-coach could reasonably be held responsible for. The lineup, basic tactics, and prep package were all fine.
Naturally, Marsch didn't make adjustments with the sense of urgency that the match called for. One can even understand this. It's obvious that the American trainer wanted his team needed to own the close-out victory, or, as it turned out, feel the full brunt of not taking control of a situation that remained in their hands. One can make the case that Marsch did well to stay his hand.
For the subject covered here, the road ahead is nevertheless dire. The kindler, gentler and gentler gaffer has to ignite some sort of spark in this team. Although, Marsch hasn't exactly been allowing his actors to act on auto-pilot, clearer directives need to be vocalized. Some of the 49-year-old's recent statements count as a good start. Naturally, what transpires behind closed doors remains far more important.
A nice moral victory in the Champions' League midweek unfortunately doesn't count for much at all. Dortmund are next in an absolutely massive match heading into the international break. A win isn't absolutely necessary, but something of the coach's identity must be inherent in the squad's play.
---
Julian Green, SpVgg Greuther Fürth
---
Minutes played = 76/90, Positions played = AM, LM
Grade = C-
More chaos for the top-tier's Frankish club. A COVID outbreak in the Kleeblatt camp forced trainer Stefan Leitl to field a bench squad of only five reserve outfielders against Freiburg this weekend. Neither American playing on this team was afflicted. Julian Green started his first fixture since round six while Timothy Tillman still suited up in reserve.
Lineup—Greuther Fürth—Match 10 (5-4-1)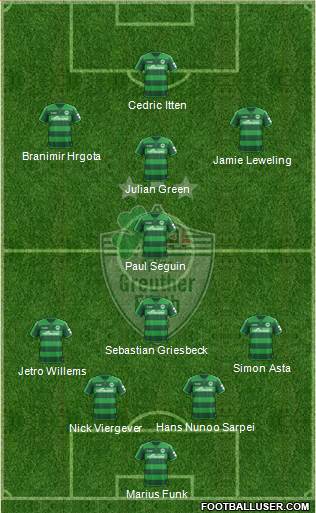 This constituted a big opportunity for the former USMNT prodigy. To this writer's eyes, it definitely looked as if Leitl entrusted Green with the ten-role. The 26-year-old also reprised his role as the squad's primary set-piece taker. Our very worthy subject here got off to a good start with solid services in the 3rd, 4th, and 8th. There were also decent stops in the 9th, 13th, and 17th.
The entire team experienced a collective deflation after Simon Asta's own-goal in the 20th. They had been pulling back a bit prior to the opening tally, but the fully mutual limbic-brain retreat between the 20th and 40th was truly something to behold. Green put together a pair of strong actions amid this spell. A nice header forward in the 28th and an aerial recovery in the 31st nevertheless didn't really buck the overall trend.
Touches in the 24th, 29th, and 33rd showed no awareness of teammate momentum around him. Marking in the 27th, 34th, and 37th was beyond timid. A very clumsy challenge in the 35th was followed up by a even dumber lunge behind Kevin Schade in the 41st. Green was rightly booked for the insipidly inept tackle.
Sebastian Griesbeck's injury late in the first half forced Leitl to junk what was already a sketchy game-plan. The Bavarian-American received no further opportunity to operate as the ten when Max Christiansen entered and the whole midfield shifted around. From that point forward, Fürth operated in the following constellation:
Lineup—Greuther Fürth—42nd minute (5-4-1)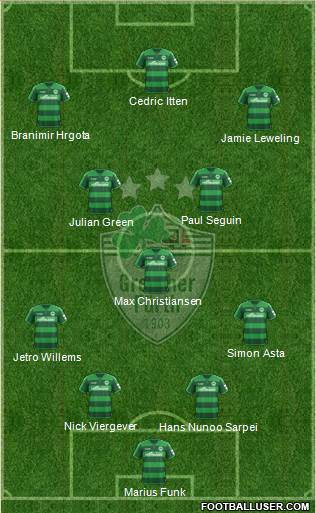 Green played much better in the initial stages of the second half. He punched through on goal four minutes after the restart. He would also get two shots on goal before being subbed off. The effort right on the hour mark didn't trouble Freiburg keeper Mark Flekken much, but was still a nice centralized snipe.
Passing proved much crisper during the second 45, aided in large part by the fact that the Breisgauer backed off significantly. Green only recorded three strays on the day, none of which came after the restart. The American worked some nice triangles together with Seguin and Christiansen. It ended up being an American-for-American sub in the 76th when Tillman relieved him.
For those interested, Tillman also made a solid effort to influence play. Thirteen touches were all sharp. All six passes connected. We'll likely see Tillman return to the starting XI this weekend against Frankfurt. Given the current state of the SGE, it's entirely possible that he'll be able to make an impact. Green's starting chances appear more borderline after this mixed performance.
---
Pellegrino Matarazzo, VfB Stuttgart
---
Matches = 1, Result = L
Grade = D-
The "Mathe-magician" found himself perhaps too creatively exhausted to make in-game adjustments in the 1-4 debacle against Augsburg. Understandably enough, the notion of taxing his players too much after all the stress of losing four more actors to injury wouldn't have been wise anyway. What a horrible example of everything possible going wrong at once.
Germany's first-ever top flight American trainer earns some sympathy points for losing Konstantinos Mavropanos, Chris Führich, Marc Oliver Kempf, and Daniel Didavi all in the space of one match. All the set-piece failures in this one were also more directly related to positional errors on behalf of back-up keeper Fabian Bredlow.
Sympathy runs into a bit of a wall when one considers that Matarazzo and staff certainly had time to run Bredlow through the right drills. Moreover, one's patience wears thin looking at the "place-holder shapes" the New Jersey native keeps rolling out week after week.
Lineup—VfB Stuttgart—Match 10 (5-4-1)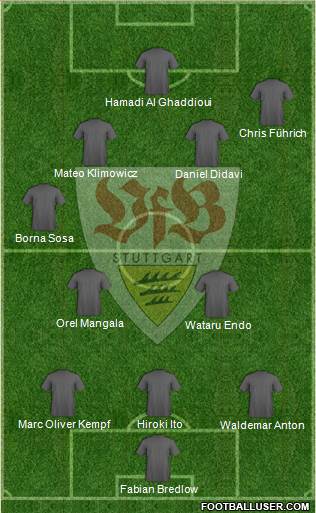 Here we are again with this "split-stagger" built to keep the team fully prepared for the return of "Silas". The trouble is that this hasn't been working at all, even when pacier wingers like Tanguy Coulibaly mimic the role of the Congolese attacker on the right flank. A protracted stint on the sidelines for the team's star player was also never really in doubt. Looking back, one wonders why Matarazzo stuck with this system through much of the autumn.
There are some more questionable decisions here. Waldemar Anton could have easily run pivot, freeing up captain Wataru Endo to work more productively further afield. The eventual crumbling of the shape when the Japanese international went rouge and left axial partner Orel Mangala behind was entirely predictable.
Augsburg worked around the mess in the midfield, which was never boxed out properly on the second and fourth axes to begin with, all too easily once their own 4-4-2 discovered how wide the attacking lanes were. We truly need to see something radically different against Bielefeld this weekend. Matarazzo might so well to go bold and give Wahid Faghir the start.
Another loss surely puts even Sven Mislintat's employment guarantee for Matarazzo in jeopardy.
Thanks so much for reading! You can occasionally catch Peter goofing off while watching the lower German football divisions on twitter, @ViceytheSS.
Twitter DMs are open for football conversations, corrections, and (if you truly insist) general abuse. 
All columns debut on Bulinews before appearing on Peter's website later in the week.