Well. Perhaps the World Cup Berth has to wait a bit longer. A writer confesses he actually totally forgot how the new CONCACAF third qualifying round works. Oops. Totally my bad. One thing that absolutely isn't forgotten is how well American actors happen to be performing in the Bundesrepublik. In the event you missed the latest hot sheet over on Bulinews, there's loads of good news to catch up on here.
We've once again eight graded sections this time after another busy weekend for U.S. internationals in Germany's top footballing flight. Julian Green of SpVgg Greuther Fürth unfortunately found himself benched for the most recent fixture of das Kleeblatt. In his place, however, Tyler Adams returned to the Leipzig starting XI and (in the opinion of this column at last) put in a genuinely good performance.
Three players and one trainer make the top grade level in our latest installment. The league's two active American center backs, one of which will sadly not be making the trip to the USA for the World Cup Qualifiers, aren't far behind on the "B-level". A big win for Pellegrino Matarazzo and VfB Stuttgart still didn't yield the most conclusive results. Hence, the league's other American trainer is on "C-level".
It turned out not to be a week for effuse praise for one of the column's favorites, Timothy Chandler. Bayern remains a very tough opponent for an aging veteran. We've nonetheless full coverage of another start for one of the Bundesrepublik's most beloved footballers. We even throw in some brief analysis of how Eintracht were able to ultimately pull off the round's big upset.
---
Joe Scally, Borussia Mönchengladbach
---
Minutes played = 90/90, Positions played = RWB, RW, LWB
Grade = A+
What a goal (and indeed what a game!) from the young CFC New Yorker. Scally only just missed out on team-of-the-week honors in many German press sources by virtue of the fact that there were too many quality performances from forward players this weekend. That being said, the writer is a bit disappointed that German footballing magazine Kicker didn't include Scally in their back-three. The American's teammate Louis Jordan Beyer was among three defenders selected even though Scally had by far the better match.
We've the full breakdown of Scally's day in this week's tactical focus. Naturally, it wasn't perfect. Some of the mistakes glossed over include marking fails in the 45th and 62nd. There might have also been a few too many rearward passes for the taste of some appraisers. After his late positional shift, the American actually sent six wayward. He finished with 14 stray passes on the day. None of them were necessarily consequential, however. The writer also records 42 attempts. There were bound to be some that didn't hit the mark.
We've said it a thousand times in this column. A perfect match does not exist. Despite the fact that there's always room for improvement, perfect marks can be awarded. Things are really looking up for this young talent, who had the good fortune to traverse both the good and the bad early on in his Bundesliga career. Some of the less stellar outings–compared with the confidence boost he's received from Adi Hütter sticking with him–have clearly shaped his game in constructive ways. A bit of a logjam at the fullback position might be preventing his first senior USMNT call-up. It nevertheless shouldn't be long in coming.
---
Jesse Marsch, RB Leipzig (Trainer)
---
Matches = 1, Result = W
Grade = A
The Bundesliga's second-ever American trainer earns top-level marks for the second consecutive week after another big win. As alluded to in the tactics column, Marsch remained bold to keep certain slumping actors out of his XI. Moreover, the Wisconsin native set his team up to live dangerously with his tactics. Just how much risk he leveraged proved even more endearing on the re-watch.
Lineup—RB Leipzig—Match Seven (3-4-3)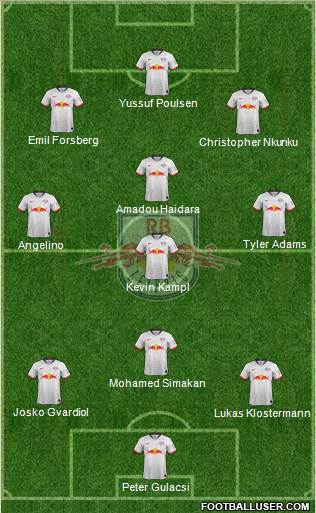 The amount of space ceded by the pivoted back-three and the stretched midfield diamond left the Saxons quite vulnerable to a coordinated press. True, they were hosting Bochum. That actually did prove risky considering the combined experience that Robert Tesche and Anthony Losiila possess. This was by no means an easy victory. The team had to deal with a great deal of tension and pressure before hitting their stride.
Also noted in the tactics column, Marsch switched his shape thrice over the course of the match. The re-watch confirms this. We'll get to the other two shifts immediately below as we explore the role Tyler Adams played in the 3-0 win. The next section constitutes a real treat for this Tyler Adams fan. Some of the 22-year-old's recent form issues might have been related to muscular problems. Now, he finally appears fit.
---
Tyler Adams, RasenBallSport Leipzig
---
Minutes played = 90/90, Positions played = RM, RWB, RB
Grade = A
First, we'll have to quickly address the discrepancy between the grade assigned here and what one might see in other sources. The RB New Yorker didn't get marked particularly well in the German media. A columnist can tell you why too. There were numerous mistakes in a pretty shaky first half and a few more in the second 45. We won't ignore them.
Adams slipped on the pitch in the 10th and lost his footing again in the 59th. Some bad passing decisions followed attempts to get a little too fancy in the 7th, 14th, 15th, 16th, 22nd, 31st. 44th, and 45th. Defensively, he needed to better in the 14th, 38th and 65th. A moment that (unfairly) sticks out concerns a rough touch on an offensive chance in the 55th. In Adams' defensive, it was a tough ball. He had time his jump perfectly to pull it out of midair.
Having covered those, the rest of his performance was actually rather impressive. We've covered all eight stray passes. There were 47 others that connected. Many of them came during some great spells between the 50th and 52nd and a beastly final fifteen minutes after he gained some confidence as part of the set-up in Leipzig's second goal.
Several great duel wins for this American on this day. One can find them in the 10th, 22nd, 23rd, 32nd, 33rd, 50th, 57th and in the above mentioned strong finish. The manner in which Adams finished the match happens to be very important. Marsch gave him some very hard tactical assignments. Instead of exhibiting signs of exhaustion, he actually got stronger as the game progressed.
Lineup—RB Leipzig—62nd minute (4-3-3)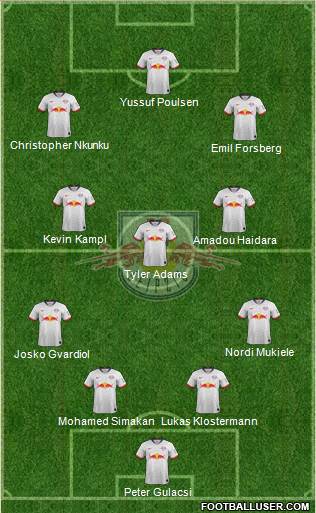 When Nordi Mukiele came on for Angelino in the 61st, Adams moved into a centralized distribution role. It took some time to figure this out as he was covering a lot of ground. At times, it looked like Marsch wanted him to play sweeper or even center back. The real "a-ha" moment came shortly before the American called for the ball in the 72nd and got his team upfield for their second tally.
Marsch gave him the most flexible positioning possible and basically told him to roam around as he pleased. So he did, scorching up and down the pitch with boundless energy. It was incredible. One certainly wouldn't have guessed that this was a player who had made countless directional shifts over sixty grueling minutes.
Lineup—RB Leipzig—75th minute (4-2-3-1)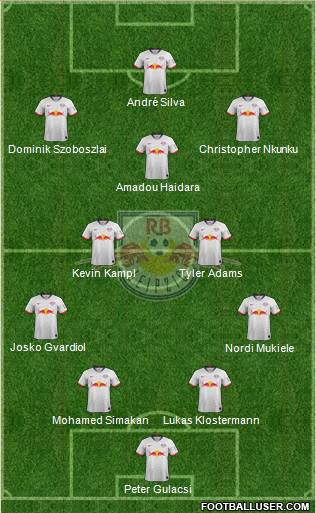 A fold-back plan too seal the win didn't slow Adams down. He continued to covering seemingly every blade of grass while making noteworthy touches right up until the final whistle. That's what a bit of confidence can do for a player in this game. The last quarter of an hour was simply wonderful. USMNT fans can look forward to the midfielder carrying some of this gusto across the pond.
Some other strong moments that influence the grade, yet don't exactly fit into the chronological narrative, can be found in the 27th and 58th. U.S. fans may also want to check out a cool occurrence in the 26th. Marsch himself ran over to grab a ball that went out into touch and handed it to Adams for the throw-in, giving him an earful of encouragement in the process.
Player and coach both get top level marks this time for good reason. The way in which Adams responded to the multiple positional shifts–not mention Marsch's skillful manipulation of side switches for Christopher Nkunku–were both very sharp.
---
Timothy Tillman, SpVgg Greuther Fürth
---
Minutes played = 63/90, Positions played = RM, RW
Grade = A-
Current Kleeblatt trainer Stefan Leitl always seems invariably four steps behind on the tactical adjustments most of feel he should be making. Furthermore, this team really cloys with their collective play sometimes. During the round seven fixture against Köln this past weekend, the Franconians had their opponents right where they wanted them deep into the first half.
Suddenly and inexplicably, everyone backed off the Kölner ranks shortly after the half-hour mark. Steffen Baumgart's Geißböcke were allowed to leisurely circulate the ball without pressure. As a result, one could easily see that they were playing themselves into the game. Fürth entered the locker room up 1-0 (1.12 to 0.39 in xG), but it seemed impossible to conceive of them winning the match.
None of this was the fault of the elder Tillman brother, who really played well. The 22-year-old notched his first-ever Bundesliga assist with a positively gorgeous pass. He might have gotten his second almost immediately had Timo Horn not made an amazing save. Tillman and Fürth also had a bit of bad luck in the opening 45. Jeremy Dudziak hit the post twice.
Here are Leitl's tactics:
Lineup—Greuther Fürth—Match Seven (5-3-2)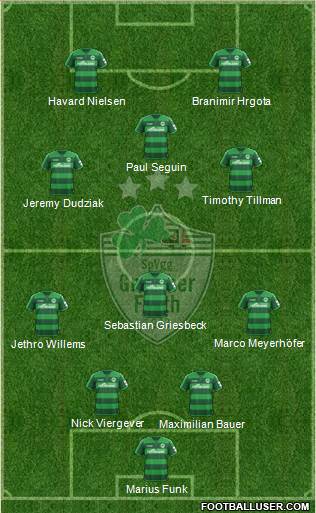 Not a bad idea at all, though (to emphasize) something like this should have probably been tried a few rounds ago. A columnist covering Americans also yearns to know how Tillman and Julian Green would fair as wide axial partners, but that's obviously totally biased curiosity talking. Maybe Rachid Azzouzi might hire the top-tier's third-ever American trainer at some point to coach his U.S. lads.
In any event, Tillman played very well. The assist came on Marco Meyerhöfer's opening goal in the 7th. The minutes preceding that excellently picked out pass remain worth watching as well. Tillman asserted himself on the ball (2nd) and off it (3rd) during his strong start. There's more great stuff before the team dipped: a nice control shield in the 12th, a great clearance in the 13th, and two brave aerial wins in the 18th/19th.
This American had his own go at goal in the 21st. He arguably went for too much curve. It was still a nice touch. Tillman really should have had another scoring opportunity in the 23rd. Regrettably, Paul Seguin supplied him with too lousy a service. The attack on a loose ball in the 26th and subsequent layoff was the play on which Tillman should have registered his second Oberhaus assist; the one on which he was denied by Horn.
For both Tillman and his team, things were mostly downhill after that. He needed to sprint a bit harder for a loose collect in the 32nd. Duel losses came in the 27th and 32nd. After a better piece of defending in the 38th, he and everyone else just stopped pressing. The last seven minutes of the half were awful, punctuated by a bad foul at 45+1.
Tillman remained one of the brighter spots for the SpVgg during their disastrous second half. There's a nice full lateral switch in the 48th, a nice run on the overlap (that needed a better cross) in the 53rd, and good defensive wins in the 54th and 61st. Another fine switch came in the 58th. Leitl pulled him, along with Branimir Hrgota, in the 63rd. It didn't make a great deal of sense. Not much does when it comes to how this team is coached.
Ideally, we'll see some more of Tillman soon. Having not gotten a call-up at German youth level since 2018, this American counts as one of those cases that can be persuaded to switch allegiances if rising form opens up an opportunity. For those interested, younger brother Malik–the recent recipient of a professional contract with Bayern–is off to the German U21s this international break.
---
John Anthony Brooks, VfL Wolfsburg
---
Minutes played = 45/90, Positions played = CB
Grade = B+
A tough assignment for the Berliner on Saturday. Brooks had to come in for Sebastiaan Bornauw–who we've now learned took a knock–at the half. Following that, he had to play all the way up top as an emergency striker during the WOB's desperate attempt to equalize late whilst being down a man. We've some more details on the 28-year-old's day available in the focus section of this week's tactics column. A couple of things we didn't cover include some weak headers (51st, 83rd) and some of his offensive mis-fires in the last ten minutes.
Brooks got the cursory treatment in most German press sources. He did an excellent job getting his team to stabilize both defensively and in possession, yet got some ground switches wrong, made questionable decisions in clearance situations, and (as noted above) didn't make the most of some of his offensive chances. Overall, he did make a very positive impact on the match. This columnist never thought about putting him anywhere below "B-Level".
Sadly, Brooks had to call-off his most recent call-up to remain in Germany and rehab some back problems. This really is a shame as many were looking forward to seeing if Berhalter would pair him with the recalled Chris Richards again in central defense. Unfortunate. A piece of good news concerns the fact that van Bommel really shouldn't be debating whether Bornuaw mounts a serious challenge for Brooks' starting spot at this point. The American is clearly in better form.
---
Chris Richards, TSG 1899 Hoffenheim
---
Minutes played = 90/90, Positions played = CB
Grade = B-
Not a terrible day at all for this American in terms of stats. The Alabama native racked up a respectable 91 touches and only failed to connect on seven passes. As usual, Richards looked calm on the ball and strong in duels. He absolutely wasn't at fault on any of the three Stuttgart goals. Our American subject here also ran hard from start to finish.
Stuttgart-Hoffenheim happened to be a match that was tactically very weird. In addition to Pellegrino Matarazzo's bizarre constructive attempts to coax something out of his attacks–which we'll get to in a moment–Sebastian Hoeneß had to deal with the late withdraw of Christoph Baumgartner. This served to deprive Richards of what has been his best asset in recent weeks.
Lineup—TSG Hoffenheim—Match Seven (3-4-3)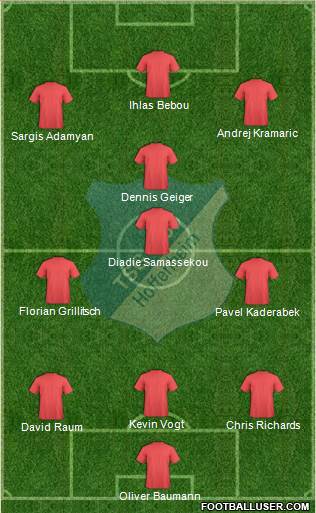 Hoeneß pushed Richards, Kevin Vogt, and David Raum into a flat back-three. Pavel Kaderabek moved up into the midfield and the Florian Grillitsch-Diadie Samassekou partnership was broken up. Richards has really been effective in the last two rounds in large part because his move over to the right halve of central defense in the back-four allowed him to positively affect attacks with quick kick-outs.
Here, there wasn't much he could do to impact the play other than launch long over-the-top verticals. He still managed to help out on short-triangulations in the 5th, 17th, 26th, 38th, 59th and 77th. Again, it should be emphasized that he didn't lose any major duels; at least not any that the columnist caught.
So much of Richards' involvement nevertheless turned out to be pretty meaningless. It felt as if half or more of his touches were simple taps back to Vogt or Raum. The only really memorable play came when he inadvertently smacked teammate Samassekou in the face with a blind launch in the 55th. There was some frustration inherent in that hit.
USMNT enthusiasts shouldn't have anything to be concerned about as this American heads back across the pond to rejoin Gregg Berhalter's squad. After an initial wobble during his first match back in Sinsheim, the 21-year-old is unquestionably back in the groove. He merely got shaken out of it a bit here by a late assignment switch.
---
Pellegrino Matarazzo, VfB Stuttgart (Trainer)
---
Matches = 1, Result = W
Grade = C+
A win remains a win, of course. One could definitely label it a deserved one as well. The Swabians proved very compelling and properly motivated in the first twenty minutes of the second half. The man this writer now likes to dub "The Mathe-magician" is working with bare bones down in the capital of Baden-Württemberg. Given the squad's slew of injuries, it's amazing that he's able to cobble something together every weekend.
When it comes to what we–for lack of a more eloquent term–might label "FUBAR" tactics, however, we're always dealing with something that at best has a 50-50 chance of success. Somehow, what we saw on Saturday worked. There was probably an equal chance that it wouldn't.
Lineup—VfB Stuttgart—Match Seven (4-4-2)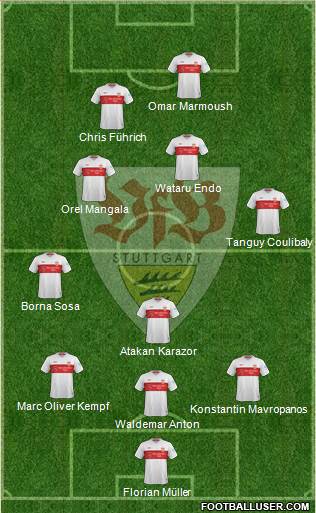 Okay. Insofar as the scouter could tell on the overhead, it was supposed to be a back-four diamond. Borna Sosa and Tanguy Coulibaly clearly worked a split. Chris Führich had the short-striker role planned out for him. Apart from those deductions, we're guessing a bit. Full confession: After much straining and searching, Orel Mangala almost seemed to disappear from the pitch altogether at times. No clue where he was supposed to be.
Some intent Wataru Endo watching (always a fun hobby) places the Japanese captain slightly behind the two attackers as a sort of alternate short-striker. A good idea that did unfortunately lead to some broken centralized attacks during which nobody appeared to sense where everyone else was. Note that everyone's muscle memory improved during that very good second half stretch.
It worked. It might not have, but it did. There doesn't appear much sense in crowning the Columbia university man with the laurel wreath of brilliance yet as one honestly can't say with any confidence that this team is headed in the right direction at this point. Give a reviewer just a little more time to figure out exactly what's going on.
---
Timothy Chandler, Eintracht Frankfurt
---
Minutes played = 63/90, Positions played = LWB
Grade = D+
Certainly a less eventful day for "Timmy" against Bayern when compared to last week against Köln. This observer only recorded 27 touches on the day. Those who didn't catch the big upset of the weekend should know that SGE keeper Kevin Trapp kept his team in the match until the underdog's scored the match-winner on one of very few counters. Bayern genuinely dominated the game.
The closest thing to a clear-cut reason why the Bavarians lost concerns a slight tactical miscalculation from Julian Nagelsmann. Just as a point of interest, we'll touch on that a bit below. Oliver Glasner's 4-5-1 "shell" comes first.
Lineup—Eintracht Frankfurt—Match Seven (5-4-1)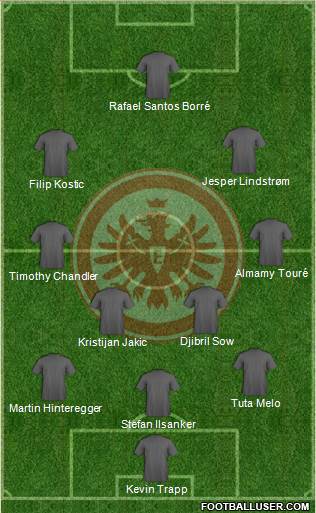 Our American subject here had a lot to do in support of the three-man final-axis chain. When Chandler did make promising forward runs– 6th, 17th, 26th, 60th, 70th–his colleagues either weren't looking for him at all or didn't notice him until it became very hard to deliver a good ball. The much-loved Timmy had problems on direct duels–4th, 14th, 25th, 33rd, 43rd, 44th, 63rd, 73rd, 75th–all evening long.
The writer noted some wins in the in 24th, 36th, and 85th. There were also good touches forward in the 18th, 19th, 34th and 45+1. Chandler mostly looked completely gassed in the second half. This is perfectly understandable given that he had to mark Leroy Sané, Serge Gnabry, and Alphonso Davies on lightning quick rotations. All the directional shifts associated with his midfield deployment were exhausting just to watch.
Not really having any options to replace him on the bench, Glasner at least got him back in a more straightforward defensive assignment after his double substitution in the 61st. Danny da Costa–on for Almamy Touré–could afford to be the predictable roving fullback in a more protective 5-4-1.
Lineup—Eintracht Frankfurt—62nd minute (5-4-1)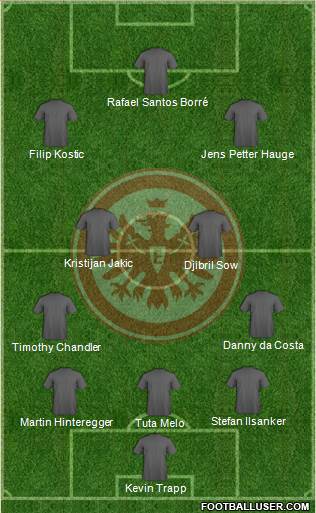 This helped Chandler out somewhat. One can see him still have trouble catching up to the play during clear instances in the 69th, 78th, and 88th. Keeping close tabs on Timmy, it looks rather likely that Glasner will probably opt for younger legs once some injuries clear up. Not at all a pleasurable sentence to write.
It's really a small miracle that Frankfurt won this match. In some ways, the final ten minutes felt like the inverse of the SGE's fixture against Stuttgart a few rounds back. One can pin a little bit of blame for the loss on Nagelsmann. As presaged above, we'll take a small peek at what the young FCB trainer tried out in going for the win.
Lineup—Bayern München—76th minute (3-3-3-1)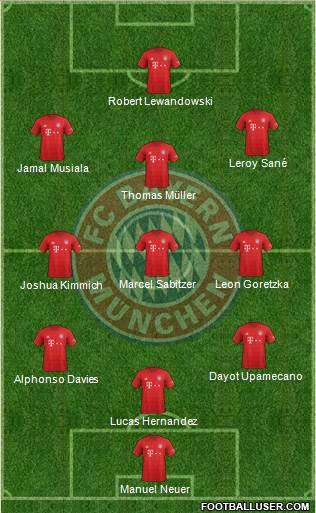 It's pretty "all-in" stuff. Eric Maxim Choupo-Moting even came in for Sané in the 81st to put more big bodies ahead. The lapse in thinking concerns the fact the Dayot Upemecano had been having problems with Filip Kostic all night. To throw Choupo on that side too left a whole flank vulnerable. Eintracht took advantage.
Thanks so much for reading! You can occasionally catch Peter goofing off while watching the lower German football divisions on twitter, @ViceytheSS.
Twitter DMs are open for football conversations, corrections, and (if you truly insist) general abuse. 
All columns debut on Bulinews before appearing on Peter's website later in the week.