Good morning! Who's in the mood to discuss America? What's that? Had enough America for one week? Understood. Well, for those who couldn't bring themselves to see how US Internationals handled themselves in Germany's top flight last weekend, we'll re-post here.
A much shorter column this week after two notable Americans missed out on the weekend's activities. Leipzig trainer Julian Nagelsmann opted not to chance it with an injured Tyler Adams. The 21-year-old New Yorker did not appear in his club's 0-1 defeat to Borussia Mönchengladbach, not even on th bench squad.
Dortmund head-coach Lucien Favre also decided to rest young Giovanni Reyna ahead of the team's midweek UEFA Champions' League encounter. The 17-year-old did come on for the final 15 minutes to get ten or so touches of the ball in. His involvement nevertheless remained too minimal for a grade.
Bayern's Chris Richards appeared back on the Bayern bench for the first time since matchday three, yet didn't see any action yet. All of that leaves us with two players and one coach to discuss.
---
Josh Sargent, SV Werder Bremen
---
Minutes played =  90/90, Positions played = LS, CF
Grade = B
Congratulations are in order for the Missouri marvel. He made the most of the chance accorded him and finished quite superbly in the 51st minute of his side's 1-1 draw with Frankfurt to secure his first Bundesliga tally of the 2020/21 campaign. One can truly take nothing away from that finish. Confident and self-assured in a direct duel with the keeper.
One sincerely hopes that the 20-year-old can carry the form over to subsequent rounds. The total performance on the featured enough wobbles to keep him off top marks.
Lineup—SV Werder Bremen—Match Six (5-2-3)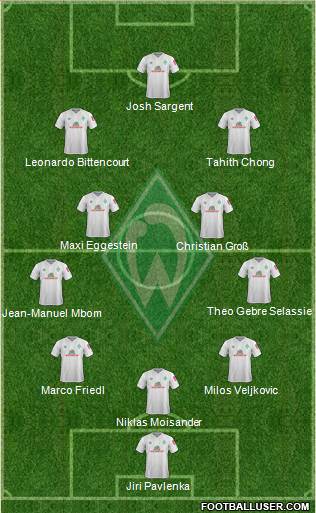 This constituted the first time we saw Sargent deployed alone up top all season. It may not be the last, as Niclas Füllkrug will be out for some time yet and one doesn't see Florian Kohfeldt inserted a cold Davie Selke into proceedings when the American has a chance to build on his momentum.
Without much support from the wingbacks, neither of whom were particularly sharp on the day, Sargent didn't see his first offensive involvement until the 29th. Prior to that he had made some good sprints and even won an impressive aerial duel, albeit in the wrong direction, in the 8th.
With space and options, the American totally botched his possession. He languidly trotted into the box and hesitated far too long before deciding on a poor pass for Tahith Chong. Sargent did better on a solo run one minute later in the 30th, this time stopped adeptly by Makoto Hasebe.
After dropping completely off the radar for about ten minutes, he appeared again getting easily dispossessed in the 39th. Another weak pass in the 44th capped a largely bad first half.
Filled with energy after the goal, he certainly looked more spritely; perhaps a bit too much so. In the 55th one can watch him scamper into the box with all of the adrenaline and none of the touch.
The American nevertheless ran hard and produced what was surely a colorful collage of a heat map. Kohfeldt introduced Milot Rashica in the 62nd and Yuya Osako in the 70th, deploying them both beside Sargent on a triplicate striking top axis.
For whatever it's worth, Sargent was by far the best of the three attackers. He got another effort on target in the 72nd, won a great aerial battle in the 80th, and executed a lovely turn away from Daichi Kamada in the 84th.
---
John Anthony Brooks, VfL Wolfsburg
---
Minutes played =  90/90, Positions played = CB
Grade = B-
A more mercurial day for the Berliner; who missed out on receiving top marks for what would have been a most extraordinary third successive week. Brooks' weekend fixture happened to serve as the focus of this week's tactics column. Consequently, most of his play is already discussed there.
Here it's worth reiterating breathtaking plays, like the critical tackle in the 59th or amazing stop in the 63rd. One must also note the jaw-droopingly bad plays, like the horrible mental lapse on a pass in the 72nd and those very late stomp challenges in the 46th and 49th.
Both Brooks and VfL center-back partner Maxence Lacroix vacillating between the brilliant and the boneheaded on Sunday evening. To the credit of both, they still managed to work together remarkably well, ensuring that neither one had a terrible day.
The (unofficial) writer's stats have him down about 40 touches from last week's masterclass. The duel success rate fell about 15 percent (still quite good) and he finished with 67 percent passing on the night.
---
Pellegrino Mattarazzo, VfB Stuttgart
---
Grade = C-
A tough match to score for the 42-year-old tactician, who arguably could have done better against one of the league's worst sides. One could hardly fault him for logical enough personnel decisions that stood a 50-50 chance of working out. The initial placement of his players feel firmly under the "worth a shot category".
Lineup—VfB Stuttgart—Match Six (3-3-4)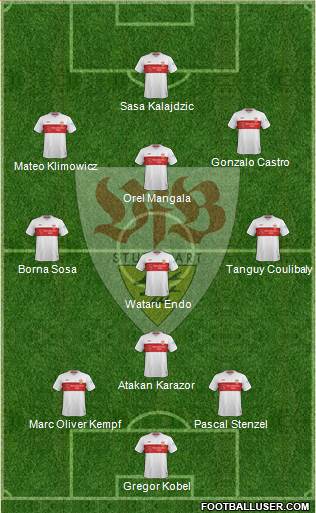 Tanguy Coulibaly shifted over to the right to give Silas Wamangituka a rest from some of his nagging injury issues. Captain Gonzalo Castro moved with him in support with fan-favorite Mateo Klimowicz givn the task of filling his usual role. Castro and Klimowicz worked wider areas that the Stuttgart second axis normally does. Accordingly, Coulibaly and the roatated in Borna Sosa initially worked around the halfway line.
As is noted virtually every week, anyone wishing to understand Matarazzo's Catennacio variant needs to study Wataru Endo closely in the opening stages of each VfB fixture. Where and how the 27-year-old Japanese international operates remains the key to understanding the Stuttgart trainer's tactics on the day. "Endo Examination", to extemporaneously coin a phrase, proves an immensely entertaining exercise, not to mention quite instructive.
Matarazzo's anchor turned in by far his best performance of the season, easily making it into the team-of-the-week with coverage a very wide area and making his presence felt on all of the major sequences. Endo has actually been phenomenal throughout this young campaign. This gem of a match was a sapphire among rubies.
In this one he began slanted right, yet covered his zone well enough to earn a central placement. Exquisite touches amid some fantastic box-to-box work could have led to him being placed a little further up on the draw up. In any event, he definitely served as a forward driven midfielder. The interpretive work of this Mattarazzo constellation thus labels it a 3-3-4; the first in a season that has featured many 3-4-3s.
Sometimes the "worth a shot" category doesn't yield the desired results, however. The Swabians had immediate difficulty coordinating on that right-hand side. Schalke's Maneul Baum re-formatted to his own 3-3-4 early to completely shut the likes of Coulibaly and Castro down. A triple-team fold effectively abrogated Sasa Kalajdzic. Matarazzo's left couldn't whip much into their target even when gifted the time and space to build.
The coach's reaction to this was to sub off his Austrian lead striker at the break and bring on Nicolas Gonzalez. Again, bringing on a center-forward with a different playing style counted as an idea worth trying. Matarazzo also knew that the opposition would have less recent scouting data on a player he had only just begun to work in. Though Gonzalez did level the score on a penalty, the change didn't really improve the team's play.
That would require a more systemic change; something the American didn't attempt there was barely any time left.
Lineup—VfB Stuttgart—81st minute (3-5-2)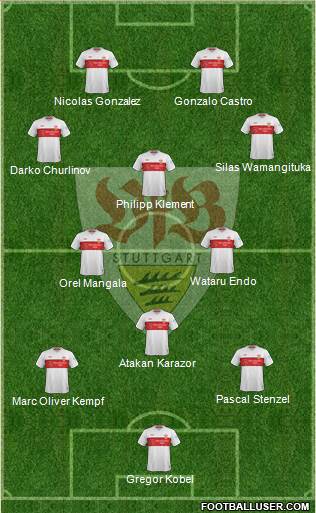 This was the right idea. It simply came too late. The substitutions actually began in the 75th, with Wamangituka and Phillip Klement replacing Sosa and Klimowicz on a double-change. Coulibaly still remained on that right-hand side and might have stayed there for duration had he not been injured in the 79th.
The three center-halves didn't begin to press up until the final ten minutes. The team kept trying to play centrally for a twenty-minute-stretch between the 60th and 80th despite the fact that Schalke had the sections cordoned off. Castro took far too long to move into the striking position and even Endo perambulated about a bit during what should been more forward-minded attacking spells.
Overall, one must say that the American coach just didn't display enough urgency down the stretch this time. All three points should have been procured. The players could have snapped into these positions far earlier against a hobbling opponent such as the Königblauen. Baum's own later tactical adjustments–to a 3-3-2-2–even gift wrapped Matarazzo enough space to kill the game off.
It shall likely prove an academic point that Stuttgart dropped points here, but one still doesn't like to see it.