Four players and one trainer find themselves on the top grade level in the latest deep-scout column appearing on Bulinews. There's tons to discuss after a very eventful week for US internationals working in Germany's top footballing flight. Come along for quite the triumphant week as the lads will certainly up your energy levels this time.
After one of the shortest editions in the history of this column last week, "Americans in the Bundesliga" returns with a considerably broad update featuring eight graded sections. Despite the fact that both Giovanni Reyna and Tyler Adams were still missing due to injury this past weekend, Chris Richards, Joe Scally, Julian Green, Timothy Tillman, Timothy Chandler, and John Anthony Brooks all participated in noteworthy action. There was a significant amount of tape to review.
This week's column finds itself bookended by the Bundesliga's two American trainers. Jesse Marsch scored his first major Bundesliga success in round six with a 6-0 stomping of Hertha BSC. The Wisconsin native leads the pack while New Jersey's Pellegrino Matarazzo–encountering difficulty getting VfB Stuttgart off the ground–brings up the rear. Note that Leipzig's defeat to Club Brugges last night in the Champions' League does not factor into the analysis. Even if it did, another loss in the UCL "Group of Death" hardly counts as a setback in Marsch's continuing quest to get his new club into form.
Grade levels this time around convey quite a bit of good news. None of the six players are assessed to be below "B-Level". Scouts of Richards, Scally, Green, and Tillman yielded some very encouraging signs that all four players find themselves on the uptick. Chandler and Brooks may not have gotten to the top level, but they too looked largely to be in promising form. Without exception, this proved to be a very good round for US actors in the top German flight.
---
Jesse Marsch, RasenBallSport Leipzig (Trainer)
---
Matches = 1, Result = W
Grade = A+
Very much a pleasure to see this head-coach at long last enjoying some respect in the German press. For whatever it's worth, we've been repeatedly insisting that the Wisconsin native would eventually succeed in installing his brand of football. It never appeared to be in much doubt. The German tabloids simply went in search of a sensationalist story. The least believable part cropping up in some of the articles cited unnamed players expressing nostalgia for Julian Naglesmann's more complex systems. No specifics were offered. The very existence of such dissent is doubtful.
While it remains true that Marsch and RB received an exceptionally weak opponent on Saturday, that doesn't necessarily detract from the fact that the American trainer made some bold tactical decisions. Hertha's tactics may have been an absolute mess, but Marsch made some solid calls of his own. One can even say that he's getting a grip on his own unique system. This is neither Nagelsmann football nor the over-reported Ralf Rangnick/Ralph Hassenhüttl retro-fit. Here we behold the beginnings of "Jesse Marsch football".
Lineup—RB Leipzig—Match Six (4-3-3)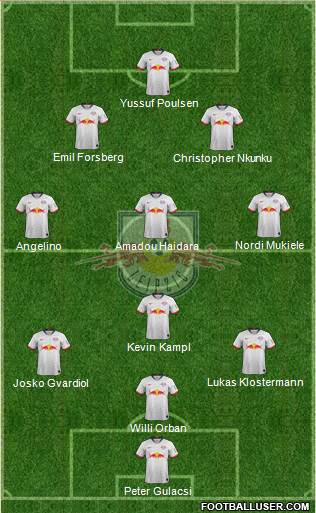 Others might interpret the shape somewhat differently. To these eyes, it looked as if Willi Orban worked an inverted pivot with Kampl sliding back as a sweeper for a diamond-box back-four. Angelino and Nordi Mukiele were unquestionably straight wingers. This counted as a great choice against Hertha's highly unstable 5-4-1; which Pal Dardai essentially broadcast that he'd be using.
It functions well in two ways. First, any hope of building centralized attacks gets snuffed out easily with Kampl and Orban patrolling a vertical hold. In terms of how the Saxons were able to operate with impunity on the attack, yes, a lot comes down to the fact that Christopher Nkunku remains an insanely super footballer. The real architect of most of the goals on Saturday, however, was "Super Dane" Yussuf Poulsen.
The player initially purchased by RB for the third division got the start over the €23 million summer blue-chipper. André Silva's benching doesn't appear to be a mere matter of rotation either. Marsch may very well use Poulsen again in today's Champions' League fixture. These are the brave choices a trainer needs to make in order to shake his team out of an underachieving slump.
Some of the criticism Marsch has endured in the world of German football opinion superficially latches onto a false notion of him as a starstruck "people pleaser." Okay. It also doesn't help that a new season of "Ted Lasso" is on air on a streaming service that most people are too burnt out to subscribe to. The press can't help itself sometimes. Nice guy. Supportive trainer. He must be out of his depth.
Wrong. Marsch is simply kind and humble. It might be the case that he's somewhat in awe of presiding over what is the league's deepest roster. Na, und? He's figuring out what to do with it. As we've remarked what feels like 1,000 times in this column, he'll be just fine.
---
Chris Richards, TSG 1899 Hoffenheim
---
Minutes played = 90/90, Positions = CB
Grade = A+
Team-of-the-week honors were in order for Richards following an excellent performance in the 3-1 win over Wolfsburg. The Alabama native registered his third overall Bundesliga assist (and first of the new season) on Andrej Kramarc's crucial equalizer at 45+2. For the second consecutive week, this American looked very sharp slanted right in Sebastian Hoeneß' central defense. The 22-year-old looked cool and confident on the ball in virtually all of his 72 touches. The clever little flick-on off the corner in first-half injury time served as the cherry atop the cake.
With no clear losses, his best duels came in the 12th, 26th, 41st, 50th, 64th, and 72nd. Just like last week, the American did well on rightward kick-outs during offensive sequences in the 6th, 28th, 36th, 45th, 52nd, 56th, and 73rd. Those in search of glittering highlights won't really find any in the weekend fixture. WOB-TSG was largely a choppy affair in which neither side truly managed to establish especially impressive football. Richards' performance nevertheless shone through as positionally strong and engaging. He deserves top marks this week.
---
Joe Scally, Borussia Mönchengladbach
---
Minutes played = 90/90, Positions = RB, RWB
Grade = A
On the lose topic of weekend matches that weren't exactly optical treats, Dortmund-Gladbach didn't live up to its blockbuster billing. Marco Rose's return to his old BMG stomping ground qualified as a cagey, rough, and uneven footballing waltz; something that might have been anticipated even before it was revealed that Erling Haaland and Marco Reus would not be participating. The tactical cam still disclosed some interesting strategy,
Lineup—Borussia Mönchengladbach—Match Six (3-4-3)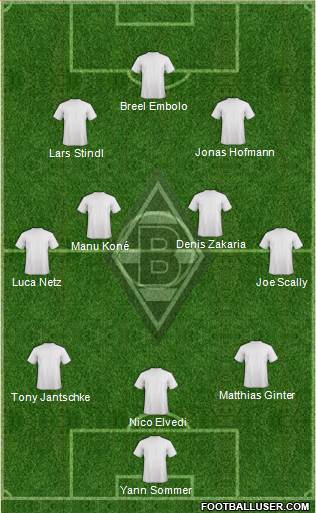 Scally worked as a wingback once again. While involvement in the play (54 recorded touches) was limited, he impressed with his ability to handle the nuance of his role. The American moved in well coordinated concert with Matthias Ginter, Denis Zakaria, and Jonas Hofmann. Whenever Tony Jantschke–making his first start of the season–floated rightward, Scally would drop pocket central and prepare to run up a clear lane.
Examples of when the attack worked precisely as drawn up can be found in the 13th, 18th, 31st, 35th, 53rd, and 81st. Scally was at his best with really great pick-ups and subsequent acceleration in the 20th, 25th, 40th, 55th, and 75th. A couple of bad ball losses (27th and 71st) didn't end up docking his grade too much as fine defensive work in the 2nd, 6th, 12th, 28th, 76th, and 84th proved more than enough to offset.
Likewise, a few suspect ideas passing-wise (18th and 34th) didn't taint his overall performance. Hütter's foals were able to close out the narrow victory against Dortmund in large part because Scally and teammates on the right did such a fantastic job eating up clock with triangular recycles in the final 15 minutes. Our subject here put in some superb work in this regard from the 79th minute onwards.
Scally did his part to stretch out BMG possession in the last ten minutes and even cleared three balls between the 82nd and the full-time whistle. Very good stuff. The CFG New Yorker probably just missed out on team-of-the-week honors because Ginter put in a bit more work behind him. This nevertheless constitutes a fairly significant form upswing and it Scally will definitely be one to watch against Wolfsburg this weekend.
---
Julian Green, SpVgg Greuther Fürth
---
Minutes played = 86/90, Positions = LM
Grade = A-
After taking an enforced break following a troublesome form dip, the Bavarian returned to Stefan Leitl's starting XI. The Fürth trainer himself debuted a new set of tactics, in which the rested Green definitely looked fresher and more effective. It surprised many to see heavy favorites Bayern line-up in a 3-6-1 while the bottom-of-the-table Franconians rolled out in a 4-3-3.
Lineup—Greuther Fürth—Match Six (4-3-3)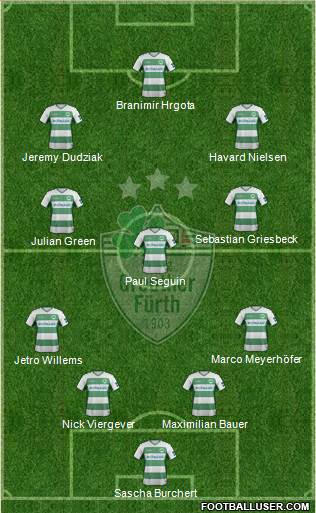 The 26-year-old again didn't get the greatest reviews in the German editorials. This writer happened to think he did fairly well. The all-important first stamp on a first-division scoresheet still eludes him. There are nevertheless signs that it could be just around the corner. Green fearlessly threw himself into the duels against his former club, winning nearly all of them. One can watch him take on some intimidating players and win.
Pumped full of motivation, he executed a great sliding tackle in the 2nd. A truly telling moment came three minutes later when he chased Niklas Süle back into his own half. A nice cut-in and slick touch are on display in the 8th. He executed a neat one-two with Jetro Willems and hit a nice cross into the area one minute later. Unfortunately, there were no takers for well hit crosses in the 9th and 11th.
Our American subject here dipped a bit, along with his team, after Bayern scored the opening goal. Green backed off when he should have led a second charge in the 12th. The FCB ultimately began breaking down his side thereafter, and he played less of a role outside of a nice vertical in the 15th. Three set-piece deliveries during this spell were substandard and his shot-on-goal in the 26th was far too weak.
He got beaten far too easily in the 28th and shrunk back from challenging anyone during the sequence preceding Joshua Kimmich's goal in the 31st. There were actually several instances in which he shied away from a making a play for the ball before the half was out. Green did finish the opening 45 strongly with a hard (blocked) shot and a solid follow up cross at 45+1.
The American scared Benjamin Pavard sufficiently to the point that his Bayern marker took him off his feet with an unfair challenge in the 48th. Another cross in the 51st proved far too easy for Neuer to collect. Green again recovered with a nice win and series of control touches in the 58th and 59th. A free kick in the 70th was much better. He also won three straight duels in the 73rd, 74th, and 75th.
Good positioning meant that fellow German American Timothy Tillman came close to hitting him with a cross in the 78th. After stripping Süle of the ball wonderfully in the 80th, he powered up a shot that–while well wide–was at least a signal of intent. There were three more good runs on the rush before he eventually exited the match in the 85th.
On balance, this appeared a well above average performance. Green covered a lot of ground and turned in good work on his passes, touches, crosses and shots. The direct duel wins remained biggest highlight. In summation, it proved fun and encouraging to watch him last Friday night. Hence, we'll place him on the "A-Level".
---
Timothy Tillman, SpVgg Greuther Fürth
---
Minutes played = 14/90, Positions = RW
Grade = A-
Some football writers decline to grade players at all if they log under 30 minutes. Whilst this writer generally belongs to that school-of-thought, an impactful performance always deserves a mention. During a week in which the younger Tillman brother stole the headlines, it was a pleasant surprise to see Timothy get some action in the Friday night fixture as well.
In his first Bundesliga minutes of the season, "TT" picked up twelve touches and completed seven passes. The sumptuous cross for Cedric Itten on the consolation goal also enabled him to register an assist. Leitl's late-match tactics had some faintly discernible strategy inherent in them.
Lineup—Greuther Fürth—Match Six (3-5-2)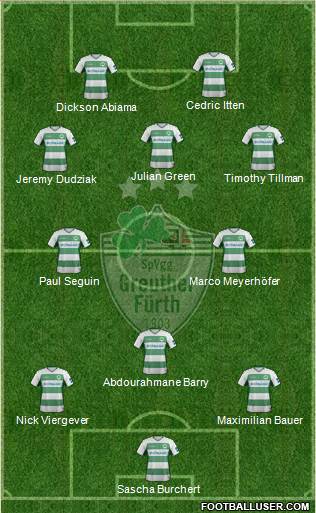 Something very different than when we last saw the two Americans on the pitch together in the opening Pokal round. The pair were stationed next to one another. As noted in Green's section above, this nearly led to a goal. Green has mostly functioned as an eight these past few years, but he's definitely qualified to work as a ten too.
Something could be brewing here. Leitl may not be a trainer many of us league observers have a great deal of confidence in. That could change quickly if the Fürth gaffer opts to build a German-American axis behind immediately behind his attackers. Naturally, it has to work too. We would still love to see Leitl try.
---
Timothy Chandler, Eintracht Frankfurt
---
Minutes played = 90/90, Positions = LB
Grade = B
The massive week for dual heritage players also featured the first starting appearance for yet another "Timothy"; the one Germans fawningly refer to as "Timmy". Newcomers to this column wondering why a player who's USMNT career is almost surely over receives coverage in space can find explanation in both this year's and last year's preview section. Additionally, the bulk of the 31-year-old's day against Köln is already chronicled in this week's tactical bulletin.
Seeing as how Chandler's heroic play-through of the match with a tight turban wrap to stanch the profuse bleeding for his skull has its fair share of attention, we can note a few more highlights in this space. The best clearance came in the 4th, the best aerial win in the 21st, and the best dribble (shortly before his booking) in the 24th. Apropos the yellow card, this was far from a perfect day for the Frankfurt native. He had his issues, especially later in the match.
A poor overall duel and pass rate notwithstanding, Oliver Glasner kept him on for the full 90 partly because this American remained intensely involved in most of the team's forward pushes. Personnel issues also played a role, but so did Chandler's relentless drive. There might not have been much of any forward momentum from the SGE on this day without him. Imperfections aside, one really doesn't have much of a choice but to accord Chandler "B-level" marks for a brave and valiant performance.
---
John Anthony Brooks, VfL Wolfsburg
---
Minutes played = 90/90, Positions = CB
Grade = B
A largely positive performance from the Berliner found itself overshadowed by some costly errors. The USMNT veteran led his team with a total of 95 touches, 79 passes, and a very respectable 72 percent duel rate. The statistical prowess ultimately meant less as he blew his marking on both the first and second Hoffenheim goals. There was also a very weak offensive header in the 87th that cost the squad a chance to pull one back. All three of these plays made the highlight reel. The clumsy slip in the 74th definitely gives one the impression that his day was worse than it was.
As noted in Chris Richards' section, the WOB-TSG fixture was, on the whole, tough on the eyes. Having to watch it intensely as part of the column's assignment, this writer largely felt that the two American center halves at least made it tolerable. Brooks and Richards might have been the two best players on their respective teams. J.A. delivered some good touches in the 17th, 19th, 24th, 34th, 57th, 61st, and 82nd. The best aerial wins came in the 20th and 73rd. Overall, this American should have his starting position nailed down after a strong return to the lineup.
---
Pellegrino Matarazzo, VfB Stuttgart (Trainer)
---
Matches = 1, Result = D
Grade = C+
A tale of two halves for the Bundesliga's other American trainer. After explicitly challenging his team to dig deep and come up with better ideas, one initially had little sympathy for the VfB gaffer when one saw how he initially lined them up. This never looked as if it might work.
Lineup—VfB Stuttgart—Match Six (4-2-3-1)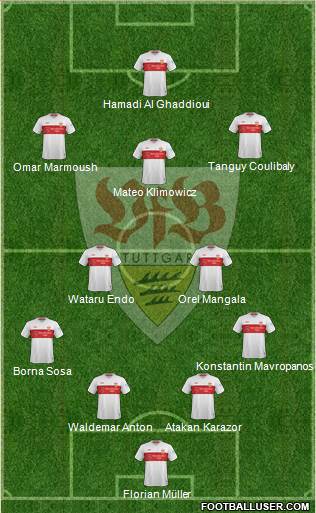 Mato Klimowicz ordinarily does better work slanted right. Perhaps chaining captain Wataru Endo to an axial partner was necessary after all the timing mistakes last week, but it still robbed the XI of its best asset. In the exact same sense, couching Borna Sosa as a more traditional fullback was never really going to work behind a player working the VfB left-wing for the very first time. Sosa and Omar Marmoush stood almost no chance of coordinating on the overlap.
After a first-half during which the Swabians produced absolutely nothing save a soft-header in the 4th, Matarazzo pulled the trigger on a double change at the restart. As touched upon briefly in the tactics column, Germany U21 international Klimowicz had a very poor outing. The Argentine-born youngster got the hook along with lead striker Hamadi Al Ghaddioui. Back from his unfortunate collarbone break in training camp, Chris Führich came on alongside Erik Thommy.
Lineup—VfB Stuttgart—46th minute (4-2-3-1)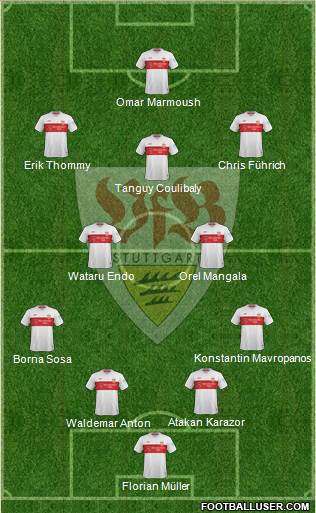 This yielded much better results. Moreover, it underscored the point of what a much better position Matarazzo would find himself in were it not for a slew of unfortunate injuries. The American trainer's grade gets pulled up by virtue of the fact that this counted as a solid adjustment. Quoted after the match as saying he wished to run his team through more stable formational offensive drills over the course of the week, the New Jersey native also earns plaudits for striking the right tone.
Führich did well in his debut and should start from the beginning against Hoffenheim this weekend. It might be prudent to have the new acquisition spearhead the 4-2-3-1, buttressed by Thommy and Tanguy Coulibaly on the flanks. As for how the big issue to get Endo back in gear, one eagerly awaits what sort of solution Matarazzo will devise. It's more than fair to base the coach's marks in the coming weeks on what role he draws up for his captain.
Thanks so much for reading! You can occasionally catch Peter goofing off while watching the lower German football divisions on twitter, @ViceytheSS.
Twitter DMs are open for football conversations, corrections, and (if you truly insist) general abuse. 
All columns debut on Bulinews before appearing on Peter's website later in the week.