With some players rested on return from the international break, the latest edition of "Americans in the Bundesliga" over on Bulinews contained only five graded sections this time. That still leaves us with three players to discuss and the tactical work of two trainers to assess. A die-hard supporter of US actors in Germany's top footballing flight didn't necessarily have the most enjoyable weekend to assess, but there's plenty of interesting material nonetheless.
A significantly shorter "Americans" column this week features only three player and two trainer sections. Both John Anthony Brooks (Wolfsburg) and Tyler Adams (Leipzig) were given the weekend off by their respective trainers after logging maximum minutes for the USMNT over the international break. This constitutes good news for both players, who are valued by their national team trainer and rested ahead of the Champions' League by their club head-coaches.
Brooks did start for the VfL in last night's Champions' League fixture. The American center-halve had something of an unfortunate outing that saw him sent off on double yellows. From a scouting perspective, the less said about that performance, the better. Our Bulinews "Americans" column reserves deep-scouting for league and domestic cup fixtures. In Brooks' case, one finds oneself grateful for this decision.
On the 2021/22 German Bundesliga's fourth matchday, Joe Scally, Chris Richards, and Julian Green earned starts for their club teams. Grades are regrettably low for all actors involved in the latest round of action. Trainers Pellegrino Matarazzo and Jesse Marsch also didn't have especially good days at the office.
---
Joe Scally, Borussia Mönchengladbach
---
Minutes played = 90/90, Positions played = RB, RWB
Grade = C+
The most closely watched American currently playing in the German top flight–one is pleased to report–put together his first stable match since starting at left-back during round one. With 85 recorded touches, he didn't quite dazzle in the same way as in that opening match. All the same, the 18-year-old clearly had his bearings about them in a way not seen since that Friday night fixture against Bayern.
We did touch upon how convoluted Adi Hütter's tactics were in the latest tactics bulletin.  On the re-watch, Scally's rotations with Jonas Hofmann and Lars Stindl seemed a little more improvisational. Nevertheless credit the youngster for doing a fairly decent job of handling his first real right wing-back deployment.
Lineup—Borussia Mönchengladbach—Match Four (3-3-2-2)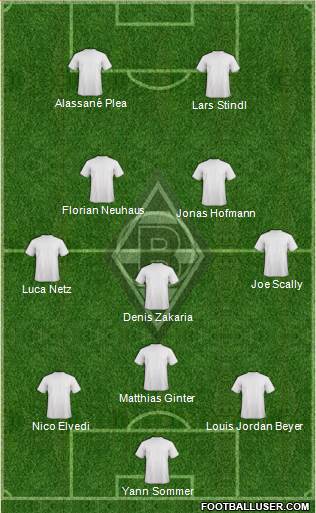 Note that Hütter actually trusted two 18-year-olds with pressing high up their respective flanks. Recent Hertha transfer Luca Netz barely has more Bundesliga experience than the CFG New Yorker. Scally's strongest spell came early; between the 15th and 24th. While there was also a bad giveaway in the 6th and and a pair of defensive mistakes in the 18th, the American did an excellent job working a few crosses in for Lars Stindl during this stretch.
One can easily make the case that Netz wouldn't have found himself in space for his own cross to Stindl in the 35th had Scally not drawn the attention of the Bielefeld sixes. The American even made a impressive fearless tear of his own in the minute preceding the opening goal. One became a bit concerned for the CFC New Yorker in the 42nd when, like in some previous performances, he tried to take on a few too many opposing players at once.
His back three had to bail him out a couple of times, though he wasn't in any way culpable for the DSC equalizer. As noted in the tactics column, Hütter gradually moved him back to a traditional fullback role. This helped him fade out of the action a bit and conserve energy down the stretch. One might have kept him at "B-level", but the 68th-minute booking was deserved and necessary.
A much better match from this American. Unfortunately, not an above average one.
---
Jesse Marsch, RasenBallSport Leipzig (Trainer)
---
Matches = 1, Result = L
Grade = C+
Considerable space is devoted to the latest tactics out of Leipzig in the most recent tactical bulletin. As unsatisfying a result as the final scoreline might have been to the American trainer, there do actually exists from positives for him to build one. Any hope of challenging Bayern for the title isn't one of them. That he might as well concede. There is an embryonic 4-2-3-1 in place that will improve in time.
Moreover, the second-axis press used later on in the fixture can come in handy once it's refined a bit. Marsch has time. Sporting CEO Oliver Mintzlaff gave Marsch a vote of confidence in recent public comments. The front office remains content to remain patient. As well they should. Lost in some of the talk about how Bayern bought out their nearest rivals this summer, the German Red Bulls actually shelled out more money during the window.
Admittedly, it came a surprise to many of us German footballing observers to see the 34,000 strong home crowd at the Red Bull Arena demonstrate some signs of impatience when watching parts up their XI fold up against Bayern early in the second half. We're not accustomed to seeing this barely a decade old fan base be much other than grateful for simply having a team. All the same, the prediction from the transfer column holds.
Only a losing streak of six or more consecutive matches could sink Marsch. In point of fact, let's make it seven.
---
Pellegrino Matarazzo, VfB Stuttgart (Trainer)
---
Matches = 1, Result = D
Grade = D+
Unfortunately, the VfB trainer had the misfortune of losing the substitution game against Oliver Glasner of Frankfurt on Sunday. What the Bundesliga's historic first-ever head-coach can make of his present predicament remains an intriguing subject many tactics-heads should consider looking in on. In the weekend fixture, Matarazzo deployed his most axially static set of tactics in quite some time.
Lineup—VfB Stuttgart—Match Four (5-2-3)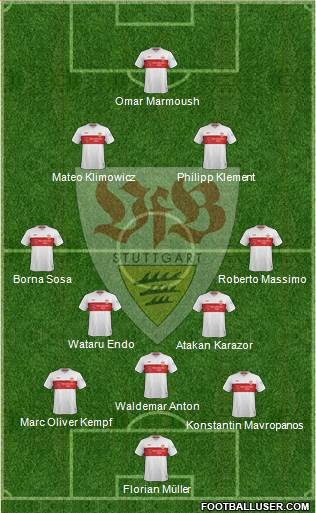 Close tracking of wingbacks Borna Sosa and Roberto Massimo revealed that they were clearly instructed not to employ the usual split-stagger. Moreover, captain Wataru Endo also kept close to his partner in a deep-six-setup. An ultra-conservative defensive strategy aimed to provide the team's struggling back-three with the maximum amount of support.
Pretty much everything about this proved aesthetically poor in execution. Matarazzo's men were highly tentative in terms of possession. The Württembergers only saw 38 percent of the ball in the first-half. Passing (62 percent) and duel rates (43 percent) were very substandard for this level. Newly installed striker Omar Marmoush, for obvious reasons, could not time any of his attacking runs properly.
Frankfurt, also in a wide 4-2-3-1, failed to produce level-appropriate football. The fixture as whole counted as an absolute stinker; saved by all the wild occurrences in the final 15 minutes. With Marmoush full on adrenaline and short on technicality, one has to dock Matarazzo for not employing changes sooner. Philipp Klement offered no ideas going forward in his more offensive role. The back-three barely held against an incompetent SGE.
Both gaffers saved their adjustments for the hour mark. In the American trainer's case, he tried to build a diamond with countrymen Endo and Hiroki Ito on a tight vertical. Fresh wingers were brought on for counterattacking opportunities. Belgian international Orel Mangala made his first appearance after a long injury layoff.
Lineup—VfB Stuttgart—71st minute (3-4-3)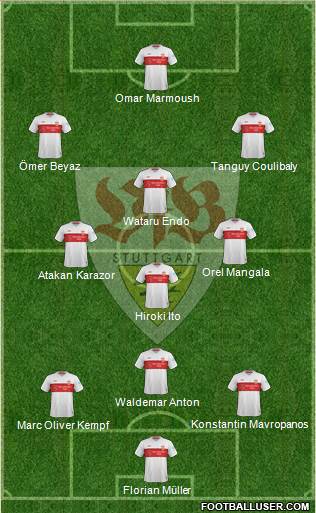 The full litany of what could go wrong with this ended up happening. Mangala lost the ball on the sequence leading up to Filip Kostic's opening goal. Ito, after initially doing a good job shutting down Daichi Kamada, then committed the defensive error that forced Waldemar Anton in the tactical foul that saw him earn a straight red.
Marmoush got more opportunities down the stretch, but was continually hassled by the fact that Endo came forward ahead of schedule. The VfB captain was simply trying to do too much and the Swabians were ruled offside on several promising breaks. The visiting Württembergers were only able to equalize thanks to a double-failed clearance from Martin Hinteregger.
Marmoush was ultimately able to score a goal that counted thanks to Endo being comfortably back behind the line. The blind luck bounce that precluded Frankfurt from retaking the lead enabled Stuttgart to escape with a point. Matarazzo avoids failing marks why virtue of the fact that his game-plan wasn't bad in principle. One nevertheless expects targeted changes next week. This American has lessons to learn from this one.
---
Chris Richards, TSG 1899 Hoffenheim
---
Minutes played = 90/90, Positions played = CB
Grade = D-
Certainly not the debut the Alabama native would have hoped for after obtaining the loan deal he pushed for all summer. The FC Dallas academy product did rack up a hefty 104 touches in the writers book and won just under halve of his duels. One can watch his best defensive stop on Mainz's Karim Onisiow in the 9th. He also did well against Dominik Kohr on some direct ground challenges shortly before and after the half.
TSG trainer Sebastian Hoeneß had harsh words for his team after they failed to register a single shot on goal. This writer had some harsh words for Hoeneß' tactics. Richards got beaten pretty badly in the 12th and 52nd in part because he had no real support ahead of him. Here's the 4-2-3-1  drawn up:
Lineup—TSG Hoffenheim—Match Four (4-2-3-1)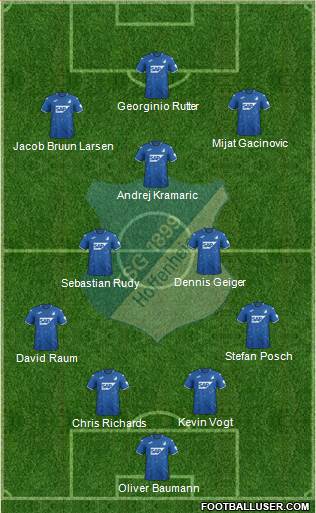 To create more confusion, Honeneß pulled Mijat Gacinovic and Stefan Posch at the interval and tried a rapid step-switch with Christoph Baumgartner on the right wing. Hopefully, Richards starting tole isn't in any danger. It shouldn't be as Hoeneß primarily used him in a back-three last season.
---
Julian Green, SpVgg Greuther Fürth
---
Minutes played = 60/90, Positions played = LM
Grade = F
Failing grades are never disseminated easily. In the case of our American subject here, a straight "F" can no longer be avoided. The lowest possible marks are shared by the team as a whole and their coach Stefan Leitl. One genuinely finds oneself aghast at the level this club turns in during the season's early stages. It's rare to witness football of this caliber in Germany's third division, let alone its first.
Lineup—Greuther Fürth—Match Four (4-1-2-3)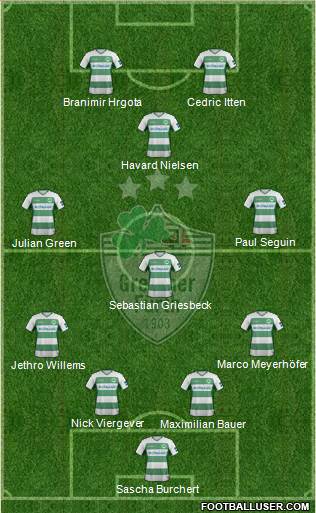 As groused about in the tactics column, the introduction of new additions Sebastian Griesbeck, Jethro Willems and Nick Viergever into the same tactical system as Leitl has been using since the beginning of the campaign actually further depressed the team's play. Willems and Viergever enabled this American to press higher early, but Green found himself incapable of making the most of it.
One can watch Wolfsburg's Joshua Guilavogui dispossess Green in the 3rd, 6th, and 9th. The former Wolfsburg captain did haul the American down with a harsh foul in the 5th. Green still looked far too slow on the play. Following a good ball win and a strong header back in the 8th, the Bavarian proceeded to melt down. He marked loosely on Lukas Nmecha's opening goal and quit on several more sprint marks thereafter.
There exist a myriad of examples of further unfocused play. Imprecise long balls in the 16th, 24th, 37th, 44th, and 48th were outright amateurish. Poor marking and duel losses are on display in the 17th, 25th, 26th, 29th, 30th, 37th, 45+1/2 and 49th. Especially poor touches can be found in the 31st, 38th, 54th, and 56th. As one of the team's primary set-piece takers, Green's delivery on corners was far from good enough.
It came as a relief to see this American subbed off at the hour mark. He lost all but one of his duels on the day and only a pair of his 26 touches had some skill to them. One fears for this, after all talented player, with a set role on what shapes up to be one of the Bundesliga's worst ever doormats. The prospect of some good news in the near-to-medium term appears slim.
Thanks so much for reading! You can occasionally catch Peter goofing off while watching the lower German football divisions on twitter, @ViceytheSS.
Twitter DMs are open for football conversations, corrections, and (if you truly insist) general abuse. 
All columns debut on Bulinews before appearing on Peter's website later in the week.