Three more re-posts today get us all caught up on the "Americans" deep-scout column over on Bulinews. The analysis of Matchday 26 also included a midweek round 25 make-up match from round 25 (Dortmund-Mainz). It was such that we were able to cobble together a composite grade for the returning Giovanni Reyna.
Not a bad set of relief appearances from the returning "American Dream" at all. While he's far from full strength, Gio should be back turning flicks and tricks in no time. Great news for both German and American football. The phenom is back!
We've a full seven graded sections to submit in the latest edition of our deep-scout "Americans in the Bundesliga" column here on Bulinews. The latest installment assess the work of US actors in the 2021/22 German Bundesliga's 26th round, as well as a round 25 make-up match involving Dortmund and Giovanni Reyna this past Wednesday. Gio thus gets graded on his work in two fixtures.
In terms of the absentees this time around, Ricardo Pepi and FC Augsburg were also forced to take the weekend off after the Mainz COVID outbreak forced the Rheinhessen to postpone another league match. USMNT captain Tyler Adams had been feeling ill this week. As a result, the RB New Yorker only played 12 insignificant minutes off of Domenico Tedesco's bench.
TSG 1899 Hoffenheim trainer Sebastian Hoeneß has stated that defender Chris Richards will not be available until after the international break. We still await the Bundesliga debut of Richards' Kraichgauer teammate Justin Che, as we do VfL Wolfsburg's Kevin Paredes. At this point, it looks as if USMNT emeritus player Timothy Chandler has ceded his starting XI position to Ansgar Kanuff in Frankfurt.
---
John Anthony Brooks, VfL Wolfsburg
---
Minutes played = 90/90, Positions played = CB
Grade = B+
A very active day for the Berliner. Brooks racked up 85 total touches of the ball during the five-goal-thriller in Freiburg. The USMNT truly did an excellent job despite another lousy set of tactics from Florian Kohfeldt, a draw up and some discussion of which readers can find in the latest tactical bulletin. For whatever reason, most of the German press again didn't find themselves enamored with Brooks' latest performance. The columnist, not for the first time, stands as an outlier. He still stands by his grade and will gladly tell the readers why.
How about some frankly sensational plays? Brooks is often so expedient when it comes to his football that one could easily mistake him for a professional contortionist. One minute into the second-half, one can watch him chest back to the keeper in manner that barely seems physically possible. A dive header in back to his net-minder in the 74th will leave one similarly spellbound. A final piece of back-work to his keeper at 90+5 should settle the matter. If that isn't enough, there's a preponderance of aerial wins on display in the 1st, 33rd, 53rd, 54th, 65th, 66th, 77th, and 89th.
More fantastic defensive work can be found in the 4th, 13th, 36th, 56th, 63rd, 74th, and 80th. Even if his team remained largely shaky in attack, Brooks mostly delivered good passing/attack initiation play. Examples abound in the 5th, 14th, 15th, 18th, 19th, 26th, 27th, 41st, 48th, 54th, 84th, and at 90+2. A pair of really nice full switches for Kevin Mbabu out wide right came in the 8th and 28th. Likely dragging down his grade in some German football media circles, we had some ground/aerial losses in the 9th, 10th, 23rd, 24th, 29th, 34th, 45+1, 64th, 68th, 72nd, and 82nd.
The writer docks Brooks for these mishaps accordingly. They don't weigh down the Berliner's grade in quite the same way as other sources, however, as the defender wasn't really at fault for any of Freiburg's three goals. Our subject here was essentially there for his team when they needed him. He couldn't exactly be expected to carry them any more than he could be expected to have a mistake-free day. The columnist only felt as if Brooks had one genuinely bad spell between the 50th and 60th. During this interval, a couple of blind clearances and a pair of bad aerial losses knocked him off the top level. Otherwise, it was a very solid day at the office for this player.
---
Joe Scally, Borussia Mönchengladbach
---
Minutes played = 90/90, Positions played = RWB, LWB
Grade = B
A much better day for both Scally and his team than the one appraised last week. Much of this naturally had to do with the fact that the foals were facing off against a very confused Hertha side. Tactically, Gladbach were once again set up in an effectively shape. We beheld a fairly flat constellation.
Lineup—Gladbach—Match 26 (3-4-3)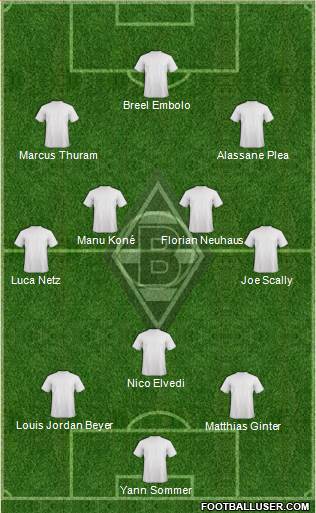 The CFG New Yorker perambulated around a bit lost in all of this space during the opening ten minutes. It actually took Scally seven minutes to get a touch in. He frequently couldn't decide what side of the play he wished to participate in. After finally getting his foot around the ball (immediately to be fouled rather viciously) in the 7th, he made some questionable passing decisions in the 8th and 10th.
Fortunately for this American, he settled in comparatively quickly. An exceptional aerial win in the 12th gave him some confidence. He was soon dribbling past markers with ease in the 13th, 19th, and 21st. Passing work in the opening 45 proved very strong following those initial shaky choices. Examples can be found in the 18th, 29th, 33rd 34th, 36th, 39th, and 42nd.
In the second half, Scally managed two shots on target. A 59th minute snapshot is surely worth a look for those with access to the tape. The effort ended up leading to the corner that enabled the BMG to score their second goal. Three minutes later, the Long Island native didn't miss by much with a header over the bar. There's more highlight-worthy cycle/intervention attack work from Scally on display in the 35th, 37th, 45+1, 50th, 65th, 70th, and 74th.
This was by no means an "A-Level" day for the teenager. One must note some bad ball losses (27th, 56th), direct-duel losses (39th, 49th, 58th, 84th), and some cases of slack marking (52nd, 54th, 77th, and 88th). In two instances (69th and 81st), Scally committed bad fouls. He was rightly shown the yellow card by match official Florian Badstübner in the latter case. he could have been booked in the former as well.
As was often the case earlier in the season, Scally ended up serving on both flanks. When Stefan Lainer came on for Luca Netz in the 78th, the CFG New Yorker switched over to the left. Though he did look a tad leggy at times in his new assignment, our subject here finished the game strong. He recovered from the foul to run a good combo in the 82nd. More good touches came in the 88th, 90th, 90+1, 90+2, and 90+3.
The long phases through which Scally was able to play well last weekend should see him earn his starting place back; at least in the opinion of this column. A few hiccups notwithstanding, this American again proved how reliable he can be in a crucial match. Those looking for some extra evidence should definitely review his play in both first and second half injury time.
---
Pellegrino Matarazzo, VfB Stuttgart (Trainer)
---
Matches = 1, Result = D
Grade = B
The league's American trainer lined him the exact same personnel from his previous league win in a similarly split-staggered XI. He won't be docked for sticking with it for the first hour of the match against FC Union Berlin. The fact that very little football was going on during the intense (and somewhat sloppy) affair didn't leave him with much of a choice.
Matarazzo does ultimately earn credit for employing the proper in-game tactical adjustment. The VfB gaffer did well to abrogate his positional staggers by bringing on Pascal Stenzel and Orel Mangala for Tiago Tomas and Konstantinos Mavropanos as the hour-mark approached.
Lineup—VfB Stuttgart—60th minute (4-2-4)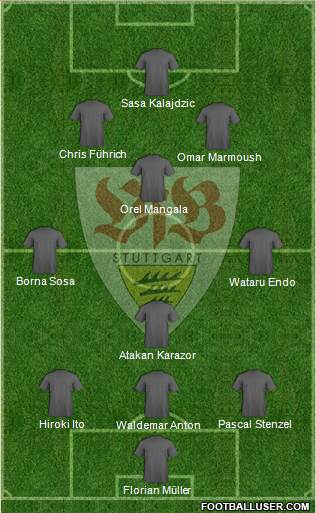 Wataru Endo moved back to pair with Borna Sosa axially. Chris Führich moved up whilst Omar Marmoush switched flanks. Atakan Karazor slid back into the bolt-lock sweeper role. This not only facilitated a quick offensive spurt, but put the Swabians in a much better position to compete in the match.
The initial VfB push fizzled out rather quickly. The squad was nevertheless able to dig out a point with a Sosa-Sasa Kalajdzic co-production in the 90th minute. The very ability of the pair to furnish one of their joint tallies had something to do with the trainer's tactical adjustment.
We obviously don't wish to laud Matarazzo too much as his team regularly had major issues throughout the encounter. Absent some individual brilliance from the pair involved in the equalizer at the last moment, this could have still been a loss. Some slight appreciation for the American trainer is still in order.
---
Giovanni Reyna, Borussia Dortmund
---
Matches played = 2/2, Matches started = 0/2
Minutes played = 49/180 Positions played = LW, RW, AM, CM
Cumulative Grade = B-
After leaving the pitch in tears in early in his side's round 23 fixture, the Bundesliga'a "American Dream" is back in plenty of time to give Dortmund a big boost in the season's final stage. Eased back into action over the last two games by BVB head-coach Marco Rose, Reyna does indeed look pretty good overall. Gio entered alongside Erling Haaland during Sunday's 1-0 win over Bielefeld, our subject here turned in some solid work during 27 minutes of action.
Lineup—Borussia Dortmund—64th minute (4-2-3-1)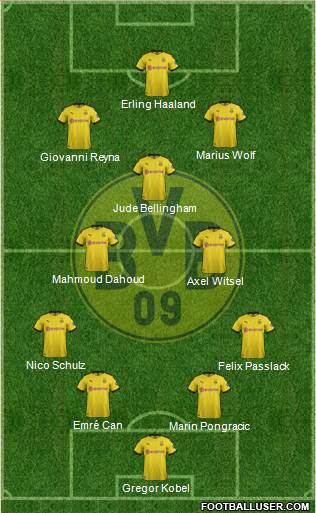 Rose clearly didn't aim for clear wing assignments in this late re-format. Reyna, Bellingham, and Wolf could choose whichever wing they wished based on their own understanding of the approach. Gio mostly worked left at first, putting in some more time on the right once Julian Brandt entered for Wolf in the 70th.
There were surely signs of rust apparent in the opening minutes of his shift. Reyna committed a foul early in the 67th and struggled with to involve himself just outside the box in the 68th and 69th. A sequence in the 71st saw him get plenty of touches in, but seem largely timid and tame on the forward ones. He eventually began to get into gear in the 72nd with a quality offensive ball hold up.
Reyna would earn his side a corner in the 73rd, supplying an adequate service on the ensuing set-piece. He followed up on the play extremely well to give his side another corner with a deflected cross too. A corner taken in the 77th was less than stellar. The American's targeting of Bellingham remained substandard on that particular delivery.
On a very strong attacking drive in the 82nd, Reyna pushed a shot just past the post after Haaland set him up with a slick back heel. It would be the first of the Gio's two close-call efforts in this short shift. The American also sent a header just wide in the 85th. Interestingly enough, fellow American Lennard Maloney (in for his second appearance with the BVB first team) set him up that time.
Genuinely an able showing from our subject here in the weekend fixture. Most of his 28 touches appeared sharp. Reyna sent just one of his 19 passes stray. Apart from one ball loss (79th), he didn't turn the ball over. He contested an aerial challenge very nicely in the 75th, settled in to run the play with some smart survey touches in the 84th, cleared the ball well in the 88th, and helped his team keep possession through five nervy minutes of injury time.
Gio wasn't quite as impressive in his 21-minute relief shift against Mainz on Wednesday. He accrued only 19 touches, sent the ball stray four times, and sometimes strolled a tad without the requisite urgency. Despite all of this, he was about as influential a substitute as one could hope for. It was Reyna who supplied the set-piece service on Axel Witsel's game-winning-goal.
Lineup—Borussia Dortmund—64th minute (4-1-4-1)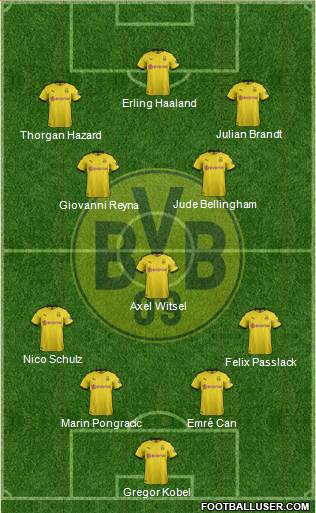 Working significantly deeper this time, Gio encountered instances (72nd, 73rd, 80th, 83rd, 88th, 90th, 90+4) during which his touch failed him. His excellent job in dead ball situations cancels most of that out. In addition to assisting on the winning goal (86th), Reyna took a great corner (70th), hit colleague Brandt with an intelligent quick throw (73rd), and struck an absolutely gorgeous free-kick near the end at 90+6.
Some of the lackadaisical defensive work (74th, 79th, and 90+3) still ticks him down a bit. Were we just scoring one match, Gio would definitely be at "A-Level". Although, Reyna wasn't at his sparkling best (possibly due to fitness issues or general creative fatigue) off the tight turnaround in the second fixture, American football enthusiasts can still be pretty excited about where their young phenom is now.
Reyna is definitely poised to make more of an impact in the matches to come.
---
Julian Green, SpVgg Greuther Fürth
---
Minutes played = 45/90, Positions played = LM, LW
Grade = C
The former USMNT phenom's first start since matchday 12 ended up not lasting particularly long. This is something of a shame as the German-American had his moments in 45 minutes of service. One could make the case that the Kleeblätter were doomed from the start against a far superior RB Leipzig squad on Sunday. The gaffer's tactics on the day didn't help much either.
Lineup—Greuther Fürth—Match 26 (4-1-5)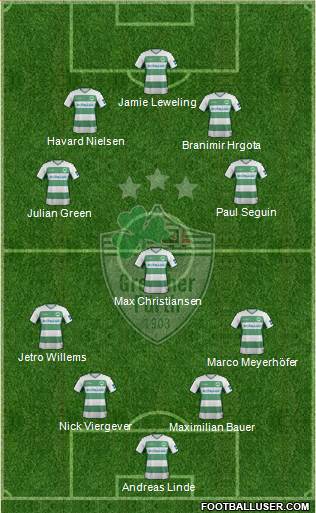 SpVgg head-coach Stefan Leitl evidently felt he could stack in an even more insanely ambitious fashion than he did last week; with tons of novel player positional re-orderings no less. Green, Max Christiansen, and Paul Seguin were tasked with an inordinate amount of responsibility in the middle of the park. Hard as it may be to believe given the final scoreline, they managed okay until things fell apart late in the opening 45.
Green got in some nice defensive stops in the 8th, 11th, 13th, 14th, and 28th. For whatever it's worth, the columnist didn't see him outright lose a duel in his entire shift. Passing and cycle work remained fairly solid, as evidenced in the 6th, 15th, 18th, 25th, 26th, 27th, 30th, and 41st. On several occasions (12th, 21st, and 39th), his carries were strong enough to merit fouls from his markers. At least they were of sound quality.
This American's day went down the tubes when his horrible free-kick service in the 34th sparked a counter that led to Leipzig's third goal. While some of his teammates remained forward-thinking in the immediate aftermath, Green was totally unfocused on the ball. It came as no surprise to see him yanked at half-time after three bad ball losses in the final three minutes of the half.
---
Timothy Tillman, SpVgg Greuther Fürth
---
Minutes played = 45/90, Positions played = LM
Grade = C-
Tillman replaced his fellow German-American at half-time and looked largely tired and unfocused himself. The Nürnberg native almost seemed as if he had been banking on a day off and was disappointed to be called into action in a game that had already been decided. Leitl's tactics in the second half constituted more sensible damage mitigation.
Lineup—Greuther Fürth—46th minute (5-2-3)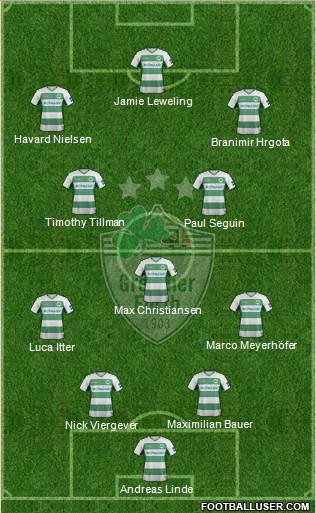 The columnist counted just 18 touches for Tillman in the second 45. One could divine a little bit of creative spark from him during a short SpVgg offensive spell between the 51st and 53rd. Our subject here also got his team rolling a bit with a great possession hold in the 63rd and an even better ground win one minute later. A sharp clearance (62nd), a nice vertical (67th), a decent hold-up (76th), and a deft play in (77th) keep him off "D-Level".
Beyond that, few will be surprised to learn that Tillman completely whiffed on balls in the 47th, 55th, 56th, and 78th. Blown marking assignments came in the 59th, 69th, and 86th. Late offensive trails and poor passing decisions can be found in the 49th, 68th, 82nd, and 86th. There truly isn't much more to say about a broken shift in a game his team will surely wish to forget.
---
George Bello, Arminia Bielefeld
---
Minutes played = 90/90, Positions played = LB
Grade = D+
The Georgian earned his first Bundesliga start on Sunday against Dortmund and his second set of marks here on Bulinews. Facing multiple corona-related absences (including head-coach Frank Kramer) ahead of the game, the coaching staff of the "Teutoburgs" opted to line up in a rather safe and straightforward 4-2-3-1.
Lineup—Arminia Bielefeld—Match 26 (4-2-3-1)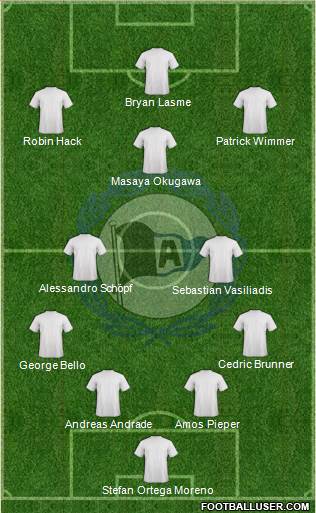 One can certainly find plenty of moments in this one during which the former Atlanta United fullback didn't quite seem ready for prime time. Perhaps most importantly, the 20-year-old missed a crucial defensive header on what proved Marius Wolf's game-winning goal in the 21st. Further defensive lapses came in the 7th, 24th, 28th, 31st 42nd, 44th, 45th, 59th, 68th, 75th, and 90+1.
On more than one occasion (22nd, 26th, 38th, 45+1, 79th, and 80th), Bello made up for his slack marking with monster recovery tackles. Those were very impressive. Unfortunately, it doesn't exactly excuse the fact that the youngster found himself ball-watching in the first place. In general, this wasn't an especially good day for this American defensively. Sometimes (like in the 61st) one wondered where he was on a Dortmund break.
On the press, Bello did a bit better. There were some cases (41st, 43rd, 46th, 51st, 56th, 64th, 72nd, 81st, 83rd, and 87th) during which he furnished quality offensive work. There might have been several more. This American's aggressive work on the trail left him wide open in the 13th, 25th, 33rd, and 83rd. His teammates simply weren't looking for him.
Bello's strongest work on the attack came second-half injury time. He hit substitute Burak Ince with a wonderful vertical at 90+3. He also did a fantastic job in support of Masaya Okugawa on the final charge at the death at 90+4. Other solid endeavors on the rush can be found in the 1st, 71st, and 82nd. He also showed some class in possession by holding off the pressure in the 17th.
One sincerely wishes one could mark this American higher here. In the final analysis, there were just too many cases of ball-watching, the inability to play the offside correctly, and a lot of wasted opportunities even when he did involve himself offensively. After chasing a ball down nicely in the 23rd, he foolishly tried to dribble past both Wolf and Passlack. Heavy touches in the 34th, 64th, and 90th effectively caused him to sabotage his own play.
Bellow wasted a breakout opportunity with a poor pass in the 38th. A series his aerial wins (63rd, 64th, and 69th) were suspect in that he crawled over his opponent's back. Overall, our American subject here didn't look quite with it. This columnist probably wouldn't give him another start straight-away. Obviously, that opinion counts for nothing. The DSC staff–justifiably having seen enough positives–might decide to roll with him again this weekend.
Thanks so much for reading!
You can occasionally catch Peter on twitter, @ViceytheSS.
Twitter DMs are open for football conversations, corrections, and (if you truly insist) general abuse. 
All columns debut on Bulinews before appearing on Peter's website later in the week.