The "international break" catch up work here on the profile site also includes seven full editions of the "Americans" deep-scout column over on Bulinews. Our first full-color repost takes us back to the highly enjoyable occasion of Giovanni Reyna's return back in round 21. The "American Dream" would later bow out with a fresh injury two rounds later. Gio has since made a comeback from that injury as well. The first assessment of his return from an agonizingly long injury layoff is nevertheless assessed here.
Also assessed in the week 21 column, we've the work of John Anthony Brooks, Timothy Chandler, Timothy Tillman, and American trainer Pellegrino Matarazzo. The column was one of the shortest filed all season. Absentees from the largest ever field of US professionals in Germany's top footballing flight are addressed below.
Our column this week has but five graded sections. For those wondering where most of the "Americans in the Bundesliga" field was during the latest round of action, Tyler Adams, Ricardo Pepi, and Chris Richards all returned from international duty carrying injuries. Joe Scally also didn't start for Borussia Mönchengladbach. Stefan Lainer and the returning Ramy Bensebaini filled the two fullback roles that he's been entrusted with.
In terms of the new arrivals, Hoffenheim trainer Sebastian Hoeneß didn't consider Justin Che ready to represent the Sinsheimers. The recently acquired defender did not even make the Kraichgauer bench squad. Wolfsburg's new transfer Kevin Paredes did make the WOB bench squad, but was not one of head-coach Florian Kohfeldt's five substitutions.
George Bello of DSC Arminia Bielefeld both made trainer Frank Kramer's bench squad and played as a substitute. Nineteen minutes of action were nevertheless deemed insufficient to warrant a graded section. The columnist simply couldn't make much of eight touches and five passes. Note that Gio Reyna, despite action deemed too limited by the German press, does get a section below.
---
Giovanni Reyna, Borussia Dortmund
---
Minutes played = 29/90, Positions played = LW, RW
Grade = B
We'll be wanting to talk a little Gio this time, even if the German press deemed his 29 minutes of activity in a match already decided insufficient for a grade. Admittedly, some of the reasoning stems from just how much the German football public remains hopeful for this bright young prospect. "Reyna the younger" enjoys a great deal of respect and good will among German football fans. Virtually everyone wants to see the 19-year-old succeed in spite of all the adversity he's had to face in both his personal and professional life.
At the risk of sounding a tad saccharine, German football fanatics almost tend to view Dortmund's new #7 as a family member. His father Claudio broke new ground for Americans in the top German footballing flight. One hopes that the youngster with father Claudio's creative flair and mother Danielle Egan's pace makes his professional breakthrough in our country. Naturally, he's free to take his more refined and developed talents anywhere he wants once he's off the ground. We simply hope that, feeling at home in the Bundesrepublik, Gio finds our pitches to be a suitable hatchery.
There's no denying that Reyna really struggled to regain his confidence after suffering a hard luck injury last season. Whilst waiting (and waiting) for him to return from an injury sustained in September, there was a lot of concern. Chiefly, what sort of psychological effects do two injury-riddled campaigns have on such a young mind? Hopefully, the long layoff didn't threaten to derail the career of a prodigy with the tools to be one of the all-time footballing greats. It was such that many subjected most every move to scrutiny during his return on Sunday. It definitely wasn't morbid curiosity. He's a great kid and we're rooting for him.
The "Dortmund Autopsy" tacitly promised in the tactics column did indeed reveal that the BVB suffered a slight litany of bad luck in their embarrassing defeat. That isn't to say the writer changed his mind about how woefully unprepared Marco Rose was for Leverkusen's obvious strength on the counter or regrets chiding a lot of Dortmund actors for shamefully giving up. Moreover, the statement about Reyna, Stefan Tigges, and Youssoufa Moukoko showing some much-needed spirit off the bench still stands. We'll even add Julian Brandt and Jude Bellingham to that mix. At least five players were still trying after others threw in the towel.
One can view Reyna's brief performance in one of two ways. Sure, he did a fair amount of leisurely strolling (65th, 69th, 72nd, 81st) and there were some instances (63rd, 73rd, 74th, 86th) in which he showed no aggression on the ball. Who could blame him, honestly? There was no need to risk further injury in this one. There did exist quite a few positives. The writer recorded 20 passes, none of which were sent stray. He connected on every last one. Apart from one instance (66th) in which he couldn't figure out what to do on the ball, a start-stop confused run (73rd), and a trip over his own feet (75th), he did show some confidence.
One can watch Gio pull off some slick touches in the 61st, 64th, 76th, and 80th. He got really strong towards the end with some nifty passes in the 81st, 84th, and 86th. Our subject here also shook his marker off with a nice move on the right in the 83rd and executed another slick deke in the 87th. The best highlight came in the 80th. Great run. Fabulous hold. The returning "American Dream" then produced a nice snapshot on target out of a tame vertical pass. Skilled players can always do that.
Gio definitely needed some of the better plays he managed to deliver in this one. His team desperately needs him and we should see him back in the starting XI against Union on Sunday. Plenty of quick flank rotations from Reyna late in a match that sometimes didn't have a lot in it. Though it's way too early to start drawing conclusions, it does seem that there's a lot more in the lad returning from this injury than the previous one. The writer could absolutely be wrong about this, but there are some signs that he can settle back into the groove more quickly this time.
---
Pellegrino Matarazzo, VfB Stuttgart (Trainer)
---
Matches played = 1, Result = L
Grade = B
A promise of sorts sees itself fulfilled in that the league's lone American trainer finally earns a passable grade. This week's tactics bulletin covers the Frankfurt-Stuttgart match and does reserve some positive words for what Matarazzo was able to make out of the squad available to him. The basic set-up and in-game tactical adjustments remained logical. Even the decision to keep Silas on the pitch well beyond what might have been considered a safe limit  is defensible.
In spite of all of the time squandered, the Württembergers still have enough of the season left to turn it around. One fully expects them to at this point. After all the staid "placeholder" tactics, this team absolutely must perform now that it has some of its key actors back. As likable a person as the New Jersey native is, relegation would be absolutely indefensible. A second relegation in four years would be crippling. Both Matarazzo and Mislintat should resign if it occurs. We shall see.
---
John Anthony Brooks, VfL Wolfsburg
---
Minutes played = 85/90, Positions played = CB
Grade = B-
An awkward transitional day for both the Berliner and Germany's green company team. So very many new faces to adjust to for Florian Kohfeldt and company. For obvious reasons, we couldn't resist giving "new look" Wolfsburg a draw up in the tactical column. In this one, it's very much worth reiterating that the 4-1 scoreline in the VfL victory over Fürth was very misleading. Both the third and fourth Wolfsburg goals came off wicked deflections. Die Wölfe played better than we've been accustomed to seeing them play, but not by all that much.
Brooks racked up well over 80 touches during what was a busy day at the office for him on the left-hand-side of the back-three. The USMNT veteran cracked off some decent verticals in the 2nd, 4th, 12th, 29th, 50th, and 78th. Unfortunately, that was about the extent of his positive passing game. Although he only sent nine strays on the day, most of his forward passes were meaningless out swingers. Wolfsburg in general weren't very imaginative in attack.
Fairly mixed bag for our subject here. He won some nice aerial duels in the 3rd, 5th, 11th, 25th, 38th, 39th, and 77th. One of his best pieces of defending came in the 22nd when he headed away a Timothy Tillman free-kick.  Bad losses both in the air and on the ground came in the 1st, 26th, 61st, and 72nd. A poor turnover (6th), skewed diagonal (20th), shanked clearance (31st), and weak header away (55th) led to direct chances for the opposing team. He completely lost sight of a ball in the air in the first minute after the restart. The team then bailed him out after an awful track back.
Despite all of this. J.A. supplied us with plenty moments working as reminders that he is one of the best center-halves in the Bundesliga. When feeling comfortable on lateral carries, he ran bow-arc builds expertly in the 7th, 33rd, 56th, and 81st. There's some great ground wins on display in the 14th, 15th,  23rd, 57th, 58th, and 69th. A stunning emphatic clearance can be found in the 41st, as can a marvelous stop of Jamie Leweling at 45+2. Our American here made a killer run in and got a shot on target in the 54th.
One always loves it when Brooks presses high late in a match to totally take charge of a situation. One can watch him do so in the 77th, rising up to meet a punt ball in midfield, chesting it down with complete authority, and powering the attack forward. That falls under the classification of a "Classic J.A. Moment". If Brooks' switches had been a bit better on this day, and there had been fewer mistakes, he might have made it up to "A-Level". As it stands, a marginally above average grade seems fair.
---
Timothy Chandler, Eintracht Frankfurt
---
Minutes played = 90/90, Positions played = RWB
Grade = C+
Like Matarazzo, Timmy's weekend workload also finds full appraisal in the tactics column. Timmy only accrued 49 touches on the day, with the bulk of the action running through the surprisingly superb Christopher Lenz on the left-hand-side. While there were plenty of nice touches from Chandler in the encounter, he was rather weak on duels. The columnist only has him down for a 35 percent win rate; rather disappointing considering he did have a more defensive role.
It shall prove interesting to see how Oliver Glasner reacts to Chandler's form in the context of his new arrivals. We've seen plenty of heart from Chandler this season, not to mention very a valuable leadership presence in many, many cases. On the other hand, we frequently see examples of his diminishing skill set laid bare. The question becomes which assets Glasner wants on the pitch in the heat of a tight and tough Champions' League race. For whatever it's worth, the columnist would keep Chandler in the XI for now. That's obviously biased, though.
---
Timothy Tillman, SpVgg Greuther Fürth
---
Minutes played = 85/90, Positions played = LM
Grade = C
A highly pragmatic set of tactics from Fürth trainer Stefan Leitl came close to working against a Wolfsburg side still sorting itself out. A reliably compact 5-4-1 sought to take advantage of the predictably broken WOB builds. Promising centralized counters from the Bavarians–at least in the early going–very nearly led to a very different outcome.
Lineup—Greuther Fürth—Match 21 (5-4-1)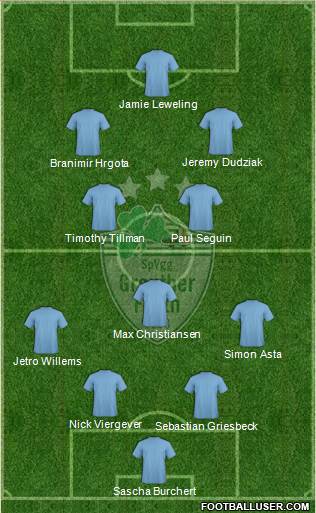 Our German-American subject here didn't get a touch in until the 6th. Tillman did very well play Jamie Leweling into the box on the team's first chance of the game. Aster Vranckx ended up scoring on the VfL rush back the other way, killing off some of the initial momentum carefully constructed by the Kleeblätter.
Tillman spent much of the opening quarter-of-an hour back deep trying to affect the play, winning some great balls in the 9th, 13th, and 15th. He proceeded to peel off some nice dribbles, skirting post a tough marker in Ridle Baku in the 16th and 17th. More positive involvement in attacks came in the 21st, 24th, and 31st. Mostly good work from this subject for the duration of the half, until some of his ideas close to the box (36th, 38th) became a bit stale.
A little disappointing that we didn't get to see more set-piece takes from Tillman on this day. Fürth didn't earn a lot of corners and captain Branimir Hrgota took what few free kicks Leitl's men were awarded. There's nevertheless some gems to be found in the 22nd and 60th. His 62nd minute corner service to Hrgota was by far the best.
Regrettably, the one less than a minute later was very poor. Tillman directly fed Renato Steffen on a breakaway, then summarily failed to catch up with him on. Sebastian Griesbeck had to employ a tactical foul in order to stop Wolfsburg's Swiss speedster. Tillman himself hit Baku–against whom he was pretty average on this day–with a horrible challenge in the 74th. He absolutely should have been booked.
Ball-shielding from Tillman wasn't especially good on the day. He turned the ball over seven times in the writer's count. Six passes stray (on 30 attempts) still wasn't all that bad. The best possession work can be found in the 35th, 51st, 52nd, 55th, 61st, and 84th. The 31st minute case featured a swift collect and turn. In the 61st, one can watch him execute a nifty back-heel flick on.
Plenty of stretches of anonymity from Tillman in a match he surely wished he could have affected more. A recorded 47 touches on the day constitutes far too low a total for someone in his position. Aerial work was also pretty suspect. His timing was completely off in the 30th. He got one decent header off in the 46th.
What else can one say other than that it was a bang-average day for this particular subject of our column? Pretty much everything offsets to place him directly in the middle. Some sympathy for him and his team persists as they might have gotten a better result had a few more things broken their way. Overall, however, the performance simply wasn't all that great.
Thanks so much for reading!
You can occasionally catch Peter on twitter, @ViceytheSS.
Twitter DMs are open for football conversations, corrections, and (if you truly insist) general abuse. 
All columns debut on Bulinews before appearing on Peter's website later in the week.