Even those who can't get enough football may confess that there's been quite the abundance of it recently. Perhaps it just seems so because the surfeit of off-the-pitch activities moves faster than some of the sport's most talented practitioners. In any event, we've all some catching up to do. The latest edition of this column is already up on Bulinews. Here's the repost for those who may have missed last Friday's hot sheet.
Results are fairly mixed on the Bundesliga beat this week. In our graded sections of seven American footballing actors, we have two "A's, two "Cs", and three "D"s. No one proved slightly above average during the busy "Englischer Woche" which our double-fixture column addresses.
Those showing consistent form through rounds 29 and 30 of the 2020/21 German Bundesliga do include Giovanni Reyna of the Schwarzgelben and Chris Richards of the Kraichgauer. As such, one can say that this week's edition most assuredly belongs to the USMNT's young guns.
---
Giovanni Reyna, Borussia Dortmund
---
Matches played 2/2, Matches started = 2/2
Minutes played = 166/180, Positions played = RW, LW
Cumulative grade = A
A very special week for the "American Dream" saw Gio score his first league tally since round 11. It's taken half a season for the teenage phenom to build his form back up again and produce another dream goal against the very same opponent. One musn't forget that the youngster has been dealing with fitness issues after his bout with a non-corona-related illness early in the calendar year. Moreover, someone of his age can lose his muscle memory, and thereby some of his confidence, when removed from regular action.
Ideally, everyone has had a chance to revel in Sunday's goal (not to mention Borussia Dortmund's awesome retro kit that sent many of to the online shop whilst we railed against the commercialization of football this week), by now. Some sublime skill highlights from the round 29 Werder fixture can also be found in the 6th, 38th, 41st, 46th, 53rd, 56th, 59th, 64th, 68th, 84th, 86th, and 89th. Yes, that's quite the list! Gio is really heating up! He got exponentially stronger as the match progressed and there seems no reason to doubt that he can sustain this form.
Reyna's day against Union Berlin is chronicled in greater detail in the round 30 tactical bulletin. One of the key points concerned the amount of flank shifts he makes in a given match under Terzic's current, highly contemporary, system. After studying the tape, this columnist counts 14 in the Bremen match and 9 in the Union fixture. Another strong match is presaged here, just as it was last week. If Gio does ends up lapsing, bear in mind that he has the body-punishing lateral runs working against him. That may not matter as much in an 18-year-old body, but do keep his work this week in mind.
Precluding perfect marks this week, we have a rather disconcerting amount of aerial losses in both matches. This was a bit more prevalent in the midweek encounter, where one can see him judging incoming balls crudely in the 12th, 15th, 43rd and 59th. All told, he won just 33 percent of his challenges and there were the three subpar finishes. It remains hard to dock the lad too as there was still an extended highlight reel. One really has to like the confidence the phenom plays with at the moment.
---
Chris Richards, TSG 1899 Hoffenheim
---
Matches played 2/2, Matches started = 2/2
Minutes played = 180/180, Positions played = CB
Cumulative grade = A
The Alabama native continues to look sound in his new role as a starting XI regular. Rumors that die Kraichgauer look to sign him permanently should be taken seriously. It remains to be seen if the FCB are prepared to let such a positively burgeoning player go, however. A discussion of the 21-year-olds performance over the course of two fixtures begins with the latest development's in trainer Sebastian Hoeneß' recently rejiggered back-four set up.
Here's how it looked last Friday night against Leipzig.
Lineup—TSG Hoffenheim—Match 29 (4-2-3-1)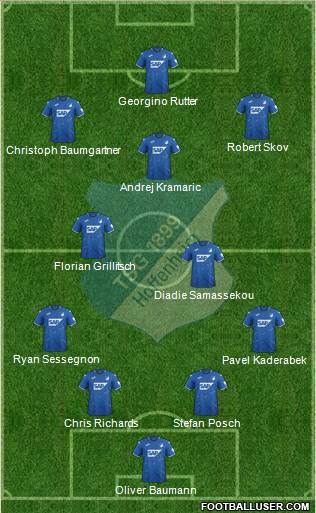 The obvious aim to convert Florian Grillitsch's enthusiasm into a more productive offensive engine. The best way to represent Grillitsch is as a stagger, though know that his role isn't a tethered one in any sense of the word. Hoeneß feels comfortable basically letting the Austrian do whatever he wants. This leads that about as many moments of awe as consternation in every match. One wonders how he does it one moment, then wonder what he thinks he's doing the next.
For whatever it's worth, Richards was undeniably the best Sinsheimer on the pitch in the round 29 encounter. That amounts to little in a 0-0 draw of consistently suspect entertainment value. Leipzig-Hoffenheim gave new meaning to the spiteful "El Plastico" moniker Germans assign to the meeting of these two teams.
Richards ran hard, engineering some really nice verticals amongst his 92 percent pass completion rate, and won crucial challenges in the 27th, 48th, 64th, 67th, 81st, and 90+1. At times, Hoeneß had Richards, Stefan Posch, and Ryan Sessegnon fall into a back-three off the ball. In these instances, the American directed his colleagues expertly from a central pincer position.
We witnessed the exact 4-2-3-1 against Gladbach midweek. Only one personnel change saw Ihlas Bebou replace Georginio Rutter at the lead striker position. Richards mostly carried his top form over. The American got off to an excellent start with 15 touches inside the first seven minutes. He followed up a deft clearance in the 9th with two excellent cutouts in the 10th and 11th.
Action drifted away from for a time, but he reappeared calm and collected on the ball in the 19th, 25th, and 29th. A great forward move nearly set Robert Skov up perfectly in the 22nd. Some exceptionally mature defending for someone of his age allowed him to direct a ball away from Jonas Hofmann in the 41st. Another nice positional cutout came one minute later. The American might have done a better job tracking back on Valentino Lazaro's goal at 45+1.
Richards contributed some excellent defending on BMG-attack sequences in the 46th, 54th, and 56th. Though not directly involved in the first two of Hoffenheim's come back goals, one sincerely doubts that the improbable comeback would have been possible at all without this American's substantial work at the back. One can watch him actually initiate the forward sequence on what would prove the game-winning goal in the 65th.
It's truly impressive how the youngster possessed the intuition to head forward on the ball win that decided the game. The FC Dallas product possesses great field vision and instinct. There were some bad aerial losses and a pair of misplaced passes down the stretch, but that barely makes a dent in this fine footballer's grade for the week. A pair of great games from the Alabama native.
---
John Anthony Brooks, VfL Wolfsburg
---
Matches played 2/2, Matches started = 2/2
Minutes played = 180/180, Positions played = CB
Cumulative grade = C+
A great many of the Berliner's exploits in last Saturday's fixture against Bayern are already detailed in the round 29 tactical focus. One cannot rightly say that this fixture counted as consistently strong day for him. Perhaps best exemplifying his irregular outing, one has the botched shot and defensive lapses shortly before, followed by significantly more attractive play in the first minutes emerging from the tunnel, followed by still another precipitous tank. The USMNT starter did win 65 percent of his direct duels on this day, but costly negligence (51st, 68th, and 74th) kept the grade low.
Wednesday's duel against Stuttgart yielded more blunders. A blind clearance directly into the VfB rush in the 6th, poor communication with new central defensive partner Marin Pongracic in the 73rd, and blown coverage at 90+2 are examples. Better skill remains on display in the 2nd, 27th, 37th, and 76th. By far his best offensive initiation came in the 71st. A beastly challenge on Sasa Kalajdzic in the 9th is worth a look for those interested in seeing what a physical behemoth the 28-year-old can be. A bad offensive foul in the 81st should also be viewed if one wishes to get the complete picture.
Brooks found himself unfairly whistled down for a highly debatable handball penalty in the 25th. This unjust ruling left him a looking a little spaced out and lost at times in the 15 minutes that followed. As a result, this American racked up only 46 touches in the second fixture. A calm defensive presence on the ball didn't truly return until five minutes before the halftime whistle. Given how well he kept sight of the ball in the near half-hour preceding the call, and the generally good adjustment to a different defensive partner, we'll bump him up to the higher fringe of this grade level.
---
Josh Sargent, SV Werder Bremen
---
Matches played 2/2, Matches started = 1/2
Minutes played = 121/180, Positions played = LW, SS
Cumulative grade = C-
Six straight losses pull the Hanseaten back into the relegation race. Those of us who have alternatively expressed frustration with head-coach Florian Kohfedlt's tactics, then admitted that the 38-year-trainer seems a bright fellow capable of doing just enough, presently find that the scowl on our faces returns. Back to where we started. Sigh. Why must this gaffer continue to baffle?
Despite dropping the Sunday fixture 1-4 to Dortmund, Kohfeldt's late-match adjustments packed a real punch. Once again, Kohfeldt proved himself capable of putting together something with a bit of bite to it.
Lineup—Werder Bremen—60th minute (3-5-2)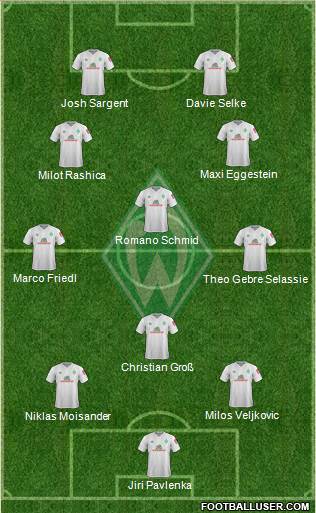 Difficult as it may be to fathom, Sargent got 3 shots off during his 31 minutes of relief. He assisted an additional two efforts and (uncommon for the Missouri marvel) won all of his aerial challenges. Having Milot Rashica behind him allowed him to slide central or even work as a short striker ahead of the play. Christian Groß and Romano Schmid had the central thrust handled, enabling to read the rush easily.
The American set up Maximilian Eggestein for an effort off the post in the 63rd and tapped back skillfully for Rashica in the 66th. Sargent dazzled with a very nice win against Mats Hummels on the second effort in the 69th. His main efforts, in the 73rd, left something to be desired. He might have taken a touch on the first and unfortunately slipped on the second. He still looked pretty sharp on later offensive moves win the 79th, 82nd, and 89th.
All fine and good. It wouldn't be Werder, of course, without some short-term amnesia on Kohfeldt's part. The Missourian had great difficulty making an impact in the next constellation; a flummoxing set of tactics that ignored the late-match successes of the previous encounter and almost seemed tailor made to get absorbed by Bo Svensson's wide formation.
Lineup—Werder Bremen—Match 30 (5-2-3)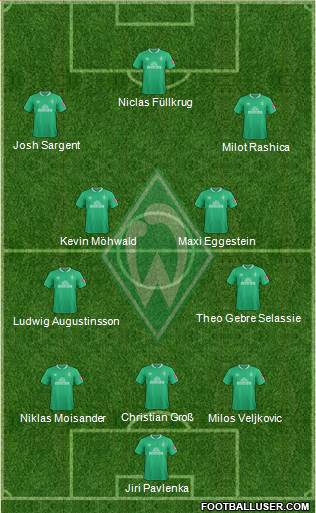 Double sigh. Very tedious going this one. The wingbacks had little hope of advancing, both because of the congestion caused by their own players and Mainz's Dominik Kohr controlled midfield. Sargent got plenty of touches, but found no penetration until he decided to make a blind alley run in the 28th. Prior to that, after a couple of well-intentioned early feeds to Kevin Möhwald, the American gave up on trying to involve himself in the play until the half-hour mark approached.
One could see how he was simply stretched out too far on forward balls in the 32nd and 33rd. Leandro Barreiro cancer him out easily in the 35th. Barreiro would slam the ball off him and into the net four minutes later on that controversial disallowed goal that the rest of Werder's form honestly disqualifies them from having much of a grievance about. Sargent continued to fade over the course of the match, winning a few noteworthy duels at 45+3 and 90+3.
In-between the stoppage time highlights, he committed two frustration fouls in the 63rd and 82nd. A booking came on the former. There were enough bright spots in this dreadful constellation (49th, 56th, 74th, 84th) to keep Sargent from sliding into "D-Level" territory. Unfortunately, wince-inducing dispossessions in the 52nd and 69th keep him on the lower end of this grade class.
---
Tyler Adams, RasenBallSport Leipzig
---
Matches played 2/2, Matches started = 2/2
Minutes played = 151/180, Positions played = RB, RW, ADM, CM
Cumulative grade = D+
Welcome to what feels like Chapter 500 of how difficult it can be to work for Julian Nagelsmann. This week's installment, to the slight chagrin of the writer, must first check in with all the overdone shape-shifting associated with that inane 0-0 draw with Hoffenheim. Nagelsmann's initial set up is already drawn up in the round 29 tactics bulletin. The New Yorker excelled in the first-half, comfortable enough to garner over 60 touches on forward dribbles and give-and-gos with Dayot Upamecano, Nordi Mukiele, Ibrahima Konaté, and Willi Orban.
Highlight-worthy plays in possession occur in the 10th, 12th, 14th, 21st, and 25th. The 3-4-3 stalled badly as the match wore on and Adams was often dancing to nowhere by the half-hour mark. The American maintained a spry sense of determination even as his team engaged in repeated broken passing triangulations. One didn't expect much out of him in the second half as he kept having to chase too many balls back after the Sinsehimers stepped up to interrupt the cycles.
Adams served as a sort of go-to collector on a series of players near the end of the opening 45. He hustled well in the 37th, 43rd, 44th and at 45+1, but it looked a terrible waste of energy. Kevin Kampl and Amadou Haidara replaced Angelino and Mukiele at the half and the American ceded his midfield role to the Kampl-Sabitzer axis.
Lineup—RB Leipzig—46th minute (4-2-3-1)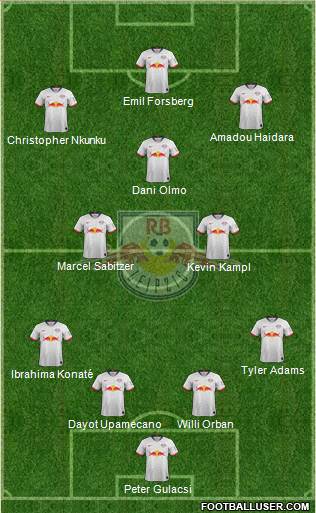 Nagelsmann might not have been entirely satisfied with the manner in which his New Yorker filled this assignment. The 22-year-old seemed disinterred in remaining with the back four, charging to up in unhelpful ways in the 50th, 52nd, and 56th. Emil Forsberg had trouble enough anticipating how diagonals and crosses might reach him without three actors all making straight vertical runs to his right.
Adams squandered perhaps his team's best chance of the night to score when he directly a dipping header wide in the 60th. The effort might have taken a slight deflection off TSG's Sessegnon. It was nevertheless a poor go at an empty net from close range. Adams continued to pour forward. A good layoff for Sabitzer in the 66th nearly proved totally counterproductive as Sessengnon almost hit the overcommitted American back with a well-timed steal and run.
Finally, around the 69th, Adams fell back a bit to assume his defensive tasks. Consecutive solid wins in the 71st and 72nd. Back up the field in the 76th, he got in a more apt looking cross. RB substitutes Yussuf Poulsen and Alexander Sørloth took over up top down the stretch and the visibly exhausted American took advantage of the opportunity to fall back for good.
Back in the XI against Köln on Tuesday, Nagelsmann had another role thought out for him.
Lineup—RB Leipzig—Match 30 (5-2-1-2)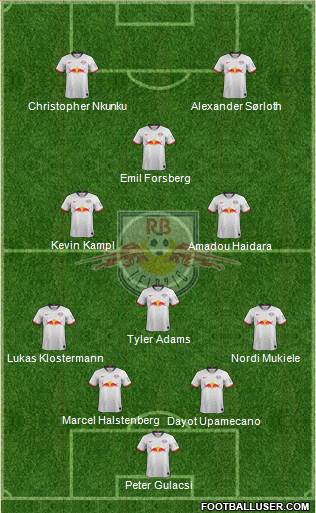 Forsberg worked about as deep as we've seen him all season. Without a close axial trailer, Sørloth and Nkunku had noticeable difficulty sorting out their separation. Behind Forsberg, Adams, Kampl, and Haidara had their own problems. One could see fairly early that no one was sure who was supposed to be directing traffic. The trio often had to signal to each other that it was okay for one of the others to advance past them. This happened in the 2nd, 4th, and 9th.
The American spent some time in a no-man's land of sorts for long stretches of time. When he did get his foot around the ball, he wasn't sure where to look. Such was the case in several instances between the 17th and 27th. This grader didn't even see him attempt a forward pass until the 33rd. From his position at the sweeper base, Adams couldn't find a forward lane until the 40th. It almost seemed as if the bloat off the constellation kept him screened.
Nagelsmann waited entirely too long to junk this ineffective system. There may have been some hubris at play as, in spite of the myriad of problems, the Saxons did cling to a 1-0 lead at the break. Adams somehow got worse in his role in the second 45. Whether it was tacks off the pace in the 48th, improper triangulation in the 50th, or a miscommunicated collect in the 54th, the New Yorker looked increasingly off.
A bad ball loss against Rexhbecaj in the 58th convinced the RB trainer to switch out of this. He began by pulling his sweeper in the 61st. Adams finished with 63 mostly poor touches in this scouter's (unofficial) count. Passing was okay, but overwhelmingly back to his defensive line. A roughly 50 percent duel rate didn't make for a good impression.
---
Timothy Chandler, Eintracht Frankfurt
---
Matches played 2/2, Matches started = 1/2
Minutes played = 113/180, Positions played = RW
Cumulative grade = D-
It gives an enormous Timmy Chandler fan no pleasure at all to assign such a grade. The German Eagles supplied horribly lackluster football over the English week and their native son proved no exception. Adler trainer Adi Hütter appears to have selected a most inopportune time to return to his old 3-5-2; albeit a slightly different variation than the one he used late last calendar year. Amin Younes' bouts with injuries are, obviously, the reasons behind the shift.
Against his future club on Saturday afternoon, Luka Jovic functioned as a short striker on a skewed solo plane just ahead of Daichi Kamada. Attacks suffered from predictable shuffles out to Filip Kostic out on the left wing. The Gladbach back-four had ample time to fall back into cutout positions. The SGE back-three also lumbered around, taking far too long to set up on builds. Eintracht keeper Kevin Trapp, in addition to acknowledging his own mistakes, correctly remarked that his defenders had no forward coordination.
All of that notwithstanding, the team did get some chances in. Stefan Ilsanker hit the bar. Kostic and Erik Durm delivered enough balls into the box to expect more of their attackers. Given that Durm seemed to be playing his way into the match, it came as something of a surprise to see Chandler take over on the right flank in the 65th. The former USMNT team defender turned in an average relief performance. He overrun two Kamada balls before getting on the same page with the Japanese international in the 72nd.
After a mistimed headers in the 75th and 76th, a quality touch in on a sideline cycle in the 82nd and handled a rebound decently in the 86th. He also took one for the team with a necessary tactical foul on Alassane Plea in the 78th. Once Aymen Barkok came on in the 84th, the American dropped deeper to work as a right fullback. This is likely where he should have remained in the next match if Hütter planned to start him. Instead, we saw this:
Lineup—Eintracht Frankfurt—Match 30 (3-5-2)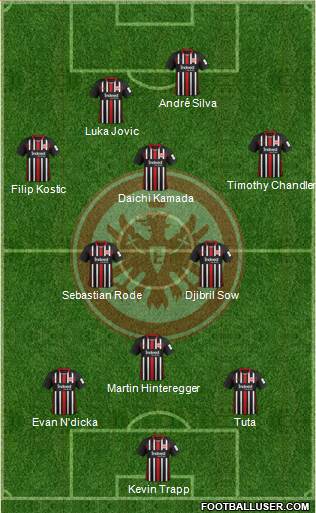 In all honestly, the release of the team sheet engendered some real excitement. There could be no question that Chandler would be working the same area from which he was deadly last season. One tossed any lingering doubts about the American's fitness to the wind. Last season's surge made this all too easy. He had barely been used by Hütter at all when introduced as converted right-wing attacker back then. Hence, one just ignored any possibility that our beloved Timmy wouldn't be able to keep up.
This euphoric feeling lasted precisely eight minutes. One could already see that Chandler was drenched in sweat after making some sprints up the flank. Although he got off a good cross in the 3rd and defended one well two minutes later, the American looked on the precipice of a dip. Problems coping with the second-axis rotations of Augsburg's Laszlo Benes and Marco Richter really seemed to drain him and he looked completely gassed by the 18th. It proved ridiculously easy for the FCA attackers to get behind him.
The 31-year-old couldn't catch up to balls aimed in his direction in the 24th, 27th, and 30th. Hütter really needed to pull him. The most plausible explanation for keeping him on might have been the American's defensive work. There were good clearances in the 37th and 40th. Either that, or no one on the sidelines was watching him. For the second consecutive match, Hütter appeared to have his head somewhere else. Departing SGE sporting CEO Fredi Bobic sat in the stands leisurely smoking a cigarette. Too many remain checked out on this team.
Chandler looked a little refreshed after the break. A strong dribble in the 49th and a noble header onto the top of the net (from a very difficult angle) in the 50th showed that he had some reserves to dig into. Chandler then disappeared, getting only eight touches in during his final 33 minutes on the pitch. As briefly referenced in the midweek tactics column, Kamada came over to effectively take over the American's position. Younes then, in turn, took over for Kamada when Hütter found himself prepared to burn a sub in the 79th.
Timmy certainly put in more than his fair share of running in his first start of the season. Without access to the data, this writer would conjecture 11,00 kilometers or more. He still couldn't adequately involve himself in his side's play anywhere enough. Perhaps five of his 45 touches were decent. Chandler won well under half of his direct duels, hit 11 stray passes, and reached only 14 of his teammates lobs for him. Ugh. Rough, rough day for enthusiasts of this player. The SGE themselves played a pretty lousy match despite the 2-0 scoreline.
---
Pellegrino Matarazzo, VfB Stuttgart
---
Matches = 2, Results = L,L
Cumulative Grade = D-
A trainer who began the season the campaign feeling out his squad's best posture via a series of complex tactical set ups continued to do so through mid-December. Its been a most interesting exercise to chronicle his eventual evolution into a more "hands off" head-coach over the past eight months. His allowance of the Silas Wamangituka-Borna Sosa split-stagger may seem as if it had nothing to do with anything beyond the simple observation of an organic tactical progression. While this is to a large extent true, a trainer should always be credited for keeping his own "tinker tendencies" off the field.
Now that the aforementioned pair both find themselves sidelined, the Bundesliga's American gaffer has come full circle. He must once again invest time drawing up creative plans in order to optimize results from the talent available. A writer may admittedly be permitting feelings of bitterness at having to watch 180 minutes of listless football to get the better of him with this column's grade. After all, Matarazzo can hardly be faulted for experimenting a bit whilst his squad faces no exigent danger.
It nevertheless seems as if the solutions devised in the last two matches didn't constitute quality problem solving. Far be it from a writer to call an individual with a degree in Applied Mathematics from Columbia University out for not applying the right geometrics on the pitch, but when one considers how perfunctory the constellations have been as of late, others may see why such marks are dispensed.
Lineup—VfB Stuttgart—Match 29 (3-3-4)
We begin with the initial set up against FC Union last Saturday. The Stuttgart counter simply couldn't get rolling under this arrangement. Erik Thommy often struggled to find support with the likes of Atakan Karazor and Marcin Kaminski stationed behind him. These generally centralized actors couldn't provide him with  options on the overlap. Daniel Didavi also persistently lurched left, meaning that the former Fortuna man frequently didn't have anyone to square to.
Thus, the ball remained well behind Sasa Kalajdzic most of the time. Tanguy Coulibaly located the Austrian striker on a through near the half-hour mark and that's about it. Union ran amok through the VfB left and Christian Gentner/Grischa Prömel played through the ineffective press with ease. As one can infer from the amount of space visible when everyone occupies their primary position, all it takes is some rouge confusion to render these spaces larger and more exploitable.
Matarazzo turned to a more familiar stack-arrangement at the half in the interests of closing this space down. Mateo Klimowicz and Philipp Förster checked in to refurbish the second axis. Thommy also moved out wide, receiving a new partner to keep him pinned. Roberto Massimo replaced Tanguy Coulibaly. A 3-4-3 manifested itself quickly.
Lineup—VfB Stuttgart—46th minute (3-4-3)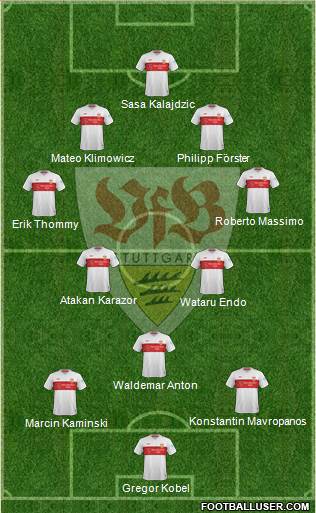 The triple change did lead to the Swabians pulling on back four minutes into the restart. Wataru Endo, suddenly capable of doing a bit more offensively instead of covering for his colleagues, initiated the sequence. Substitute Förster finished it off after a nice layoff from Kalajdzic. This move pulls Matarazzo above failing marks.
It was well-played, though the US-born trainer might have done a bit more when it became apparent that this fine team goal wasn't generating a more coherent team effort. Kaminski and Thommy also got the hook during the second 45. In this instance, one might fault Matarazzo for pulling Coulibaly for Massimo at the half when Darko Churlinov for Thommy seemed the more rational move.
Union overcame this to dominate the final 25 minutes. This perchance may be the reason that Matarazzo engaged in an ill-fated attempt to revive the split-stagger on the flanks against Wolfsburg on Wednesday. Cameramen caught the bespectacled American studying the shape from the dugout on what one presumes was an insta-feed from an overhead tactical cam. He can't have been very pleased with what he saw.
Lineup—VfB Stuttgart—Match 30 (4-3-3)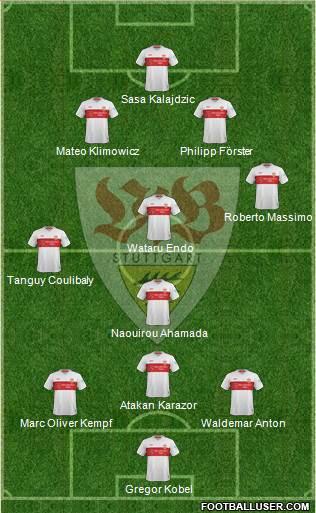 Coulibaly operated in Sosa's old role on the left whilst Massimo mimicked Wamangituka on the right. One can definitely observe what the VfB trainer attempted to accomplish here. It even made sound logical sense to deploy Naouirou Ahamada at sweeper and rely upon an actor of Endo's versatility to bolt down the vertical plane. Having discovered no way to integrate Karazor into midfield, Matarazzo tried moving him back to pivot and moving Waldemar Anton over.
As is often the case with things that look good on a two-dimensional paper draw-up, the constellation according the Swabians an early advantage in possession. Ideas don't spring from such illustrations, however, and the team predictably couldn't find a way to get Kalajdzic the ball after the initial nine minutes.
Ahamada was committing professional fouls by the 20th an Anton (unnaturally slanted right) made a complete hash out of the coverage on Wolfsburg's second goal. Marc Oliver Kempf and Gregor Kobel also had difficulty adjusting to the novel defensive set-up. Instead of pulling the plug on this at the half as he did on Saturday, Matarazzo waited to move the flankers onto an even keel and replenish the second axis with Didavi and Gonzalo Castro.
Thanks to all those who have read some part of this column this season! You can now catch Peter at his new home on twitter. DMs open. @ViceytheSS