Round Three of the German Bundesliga left everyone sailing into the immensely entertaining conclusion of the transfer market and an enthralling international break. The football now gets ready to get rolling once again in the Bundesrepublik. As always, anyone needed to catch up ahead of another exciting weekend can find a re-post of the most recent hot-sheet here.
The predictably frantic close to the summer transfer market may leave some feeling as if the actual football taking place last weekend occurred an eternity ago. Such is the nature of deadline week. Alas, there was plenty football on pitches across Europe a scant few days ago. In the German Bundesrepublik, there was also plenty of relevant action to break down for our weekly scouting column.
As was the case after rounds one and two of the 2021/22 German Bundesliga, seven actors receive graded sections this time. Of the five players evaluated, projected USMNT starters Giovanni Reyna and John Anthony Brooks exhibit "A Level" form. Trainer Pellegrino Matarazzo of VfB Stuttgart finds himself in an interesting (if not headache-inducing) personnel predicament. His contextually strong response earns him a "B+".
We've a crowded section on the "D-Level" this week. Julian Green and RB Leipzig trainer Jesse Marsch had rough outings. Marsch's American starter Tyler Adams continues to have difficulties within the newly installed system. A great deal of time and thought was invested in assessing Joe Scally's latest performance. The teenager improved significantly from last week. While Scally remains on "D-Level", his issues appear rectifiable.
In terms of the "comings and goings" for Bundesliga Americans during the final days of the transfer window, there's one "in" and one "out" to discuss. Sadly, Maurice Malone of FC Augsburg won't get his chance in the top division this season. The promising young attacker belongs to the scouting eyes of a writer's 2. Bundesliga colleagues on loan over at Heidenheim.
The big "in" concerns news out of Germany's Kraichgau district. It's once again time to focus on Hoffenheim after American defender Chris Richards got his requested loan back to the Sinsheimers. One can expect the Alabama native to start every week.
---
Giovanni Reyna, Borussia Dortmund
---
Minutes played = 63/90, Positions played = LW, RW, ATTM
Grade = A+
We'll accord Gio perfect marks despite the fact that–even on the most sublime of days–there remains no such thing as a perfect game. It proved a historic night for Dortmund's "American Dream". Reyna's presence on Marco Rose's team-sheet marked his 50th Bundesliga appearance. At the age of 18 years and 287 days, he became the youngest professional ever to accomplish this feat.
Even Timo Werner, Julian Draxler, Kai Havertz, and previous BVB American phenom Christian Pulisic did not reach this mark at that age. Rose's Schwarzgelben reversed their week two slide with a tremendously important result. Reyna's energy, drive, and general mature class played a significant role in this.
In stark contrast to what we witnessed in the second round, the American's team were able to maintain a more fluidly functional diamond. The return of Thomas Meunier and Raphaël Guerreiro made a huge difference. What had devolved into a 5-3-2 last week snapped back into a tighter 4-4-2.
Lineup—Borussia Dortmund—Match Three (4-4-2)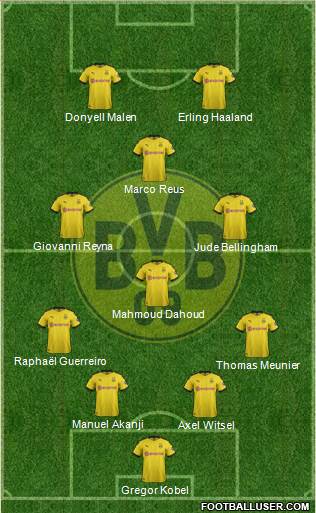 Buttressed by more competent fullbacks, the American exhibited noticeably less desperation in attempting to kick-start the attack. Reyna operated more comfortably here without such a burden upon his shoulders. The entire team found themselves a tad preoccupied with listing towards Axel Witsel's position in the opening there minutes, but were able to withstand some early Hoffenheim chances and get their own charge rolling by the 4th.
Reyna got his first shot-on-goal off on the first BVB counter four minutes in. The final effort wasn't the strongest. The run and shake-off of defensive pressure was nevertheless excellent. Two crisp passes on forward sequences in the 11th and 13th demonstrated that he had the wherewithal to hang back a bit and slide into a provider's role. He and Bellingham executed very fine rotations in the 15th and 16th.
A pair of lost duels in the 14th and 18th mattered little as the two youngsters still deserved plaudits for coordinating the switches. Gio and Jude were doing precisely what they needed to in order to unlock Sebastian Hoeneß' 4-2-3-1. Reyna sprung the trap in the 20th and arguable might have been through if match official Felix Zwayer had played advantage. Layoffs for Donyell Malen in the 21st and 23rd constituted solid ideas.
After having his pocket picked in the 24th, Reyna responded with two sick touches on forward sequences involving Malen and Reus in the 25th and 26th. He supplied the assist on a Reus shot in the 27th. Young Gio really began clicking. This American always invariably proves such a treat to watch when buoyed by the confidence of positive involvement on forward plays.
A second less-than-stellar effort on target (a header well over in the 33rd) didn't in any way diminish some of the well-worked one-touch passes in the 29th, 37th, 42nd, 44th, and 45th. Reus only just missed him on an excellent trail run in the 38th. One maintained the sense that Reyna might make it happen on this day. He did so with a fine tally four minutes after the restart.
Gifted a ball after some good work from Reus and Bellingham in the 49th, Gio steadied with a superb first touch and finished from a central position under plenty of defensive pressure. The American's second league goal of the season served as the catalyst that truly got the match rolling. Brimming with confidence, he won two splendid challenges in the 50th, held the ball up expertly in the 53rd.
Some quality defensive work was on display in the 59th and 61st. Reyna received the pull in the 63rd. Julian Brandt came on to replace him after what one must unequivocally label a job well done. Seventy-three touches. Ninety-percent passing. Three shots and assisted shots. One goal. Gregg Berhalter most definitely inherits a player in form.
---
John Anthony Brooks, VfL Wolfsburg
---
Minutes played = 90/90, Positions played = CB
Grade = A
Sunday's round three capper pitting Leipzig against Wolfsburg hardly qualified as a match that was easy on the eyes. Nether side proved capable of cobbling together too many aesthetically pleasing attacking combinations. Our American subject here experienced another day during which he accrued far fewer touches than an involved center back should. The chronicler recorded only 52 of them. Of the 49 passes played, 31 were rearward. It was simply that type of day for both teams.
None of that should serve to suggest that the Berliner didn't rack of his fair share of highlights. Overall, Brooks definitely stood tall as one of the best Wolfsburg players on the pitch. Expert clearances can be found in the 6th, 7th, 9th, 24th, 32nd, 60th, and 77th. The USMNT starter also threaded in some incisive through balls in the 25th, 28th, 31st, and 54th. He didn't disappoint on either side of the ball, even if there existed longer stretches in which he remained nowhere near it.
The late Xaver Schlager injury disoriented the VfL XI attack-wise and asked quite a bit of both Brooks and defensive partner Maxence Lacroix. One harbored few doubts that they would come up strong in spite of the fatigue associated with such a physical midfield contest. This American responded by taking the onus of defensive clearing on his own shoulders, literally. One can watch some of his gorgeous trademark towering headers away in the 79th, 84th, and at 90+3.
Apart from the noted lack of involvement, this weekend's performance came close to serving as one of the "J.A. Masterclass matches". There were a few instances in one observed that he could have been slightly more aggressive on the ball. Brooks certainly doesn't get docked for the disappointing nature of the affair. In contrast, solid defenders are often the unsung heroes of such encounters. USMNT head-coach Berhalter can be pleased that two of his Bundesliga actors arrive in top form.
---
Pellegrino Matarazzo, VfB Stuttgart (Trainer)
---
Matches = 1, Result = L
Grade = B+
Under extreme pressure, the Columbia University man handles his team relatively well. Those looking for a case study in how a gaffer handles multiple crises need look no farther than the VfB. The trained-mathematician must figure a way of piecing together an XI critically deprived of strikers. In addition to that mess, the American's back-three finds itself in about as dire straights as its ever been. Konstantinos Mavropanos, Waldemar Anton, and Marc Oliver Kempf got completely annihilated against Freiburg on Saturday.
What we behold down in the BaWü capital delights those who can't resist confronting an wonderfully complex multi-faceted problem. In football, solutions come from the eminently satisfying manipulation of space. Matarazzo met this challenge on Saturday after his squad fell behind 0-3 before the half-hour-mark struck. It's rather fun to examine how the American trainer got his Swabians off the ropes.
Lineup—VfB Stuttgart—Match Three (3-4-3)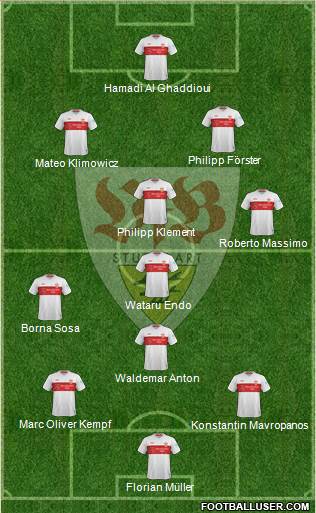 The main tweak from last week was flipping the positions of Philipps Klement and Förster. Though it may have been organic, Borna Sosa and Roberto Massimo pulled miles apart on their split-stagger. It seems reasonable to consider this an intentional to give the shape a sling-shot-like potential on the break. Unfortunately, German Freiburg's Christian Günter took full advantage of this gambit.
The German national team fullback skirted right through that huge pocket of space on the Stuttgart right in the 3rd to serve up the opening goal. The rattled home crew couldn't get their set piece defending straight on the subsequent corner six minutes later that put the Breisgauer up 2-0. Matarazzo allowed the team to remain in this shape until it became clear that Massimo and Sosa's work wasn't going to turn it around.
Lineup—VfB Stuttgart—24th minute (4-4-2)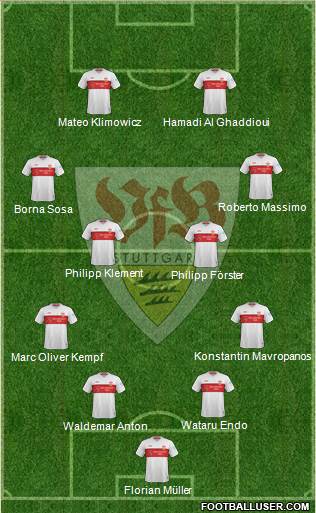 Quite a great deal remains possible when one has a player as flexible as Wataru Endo. We've seen Matarazzo park his flexible Japanese puzzle piece back at the center halve position before. Moving Sosa all the way up to a chained horizontal partnership and actually calling upon Mateo Klimowicz to serve at striker counted as a couple of novel touches.
The Swabians were able to fight back impressively in this new shape. The initial results put them further behind, but once all five actors stationed right got on the same page, the team proved capable of throwing some promising charges on the same side Freiburg exploited early. One one has to commend the courage in stacking the same area where everything went wrong.
Matarazzo's opposite member Christian Streich got a good read on this and ultimately reacted well with his own second-half tactical adjustments. This American trainer could have pushed through to "A Level" with his own counter reformat. On the other hand, one doesn't wish to fault the VfB gaffer for deciding not to place his team under further strain on the day.
In terms of damage mitigation, what Matarazzo put forth worked well. One can hardly wait for the return on league play. His next set of tactics against an Eintracht Frankfurt side grappling with their own systemic issues may have huge ramifications for this club's season. Matarazzo and Oliver Glasner kick off a Bundesliga Sunday triple-header on September 12th.
---
Joe Scally, Borussia Mönchengladbach
---
Minutes played = 90/90, Positions played = RB
Grade = D+
With some measure of relief, it's a pleasure to report that the Bundesliga's newest young American addition turned in a below average performance. This can be considered a small victory in light of last week's carnage. One genuinely feared for the "CFG New Yorker". A calmer outing was very much needed. Scally made plenty of mistakes in Gladbach's loss to Union. They nevertheless fell under the comfortable category of "useful errors".
Now the 18-year-old sees precisely which parts of his game need polishing. Easily identifiable deficiencies remain vastly preferable to a total debacle. For that matter, a subpar performance can be viewed as preferable to adrenaline-fueled overachieving. This was the type of match the developing youngster needed at this particular moment. It's also a pleasure to report that he kept after it even if the results left a lot to be desired.
This American's first start on his natural right side began roughly. He sent in a poor cross in the 2nd and botched a give-and-go one minute later. An aerial duel loss in the 6th and poor understanding of his set-piece positioning in the 9th didn't bode well. There were then three more non-quality passes in the 13th, 14th, and 17th. A bent effort at goal at the end of the last sequence at least demonstrated intent.
Playing almost as a pseudo-wingback ahead of an off-the-ball back-three of Nico Elvedi, Louis Jordan Beyer, and Christoph Kramer, he bungled a few overlaps behind Jonas Hofmann in the 15th and 21st. It's a tough call as to whether he shouldered much responsibility on Niko Gießelmann's opening goal in the 22nd. Beyer was the one truly at fault.
Scally watched the cross sail over in a stunned fashion, but the American simply had too many players to cover. There was some better work with Hofmann in the 29th, yet still more suspect passes in the 31st and 37th. A very impressive switch in the 40th got easily offset by defensive losses in the 39th and 41st. The latter slip up led to Union's second goal.
Play improved after the break with a wonderful strip and tear down the right flank in the 47th. The CFC New Yorker also executed a tremendous through ball in the 55th. One definitely would like to see more of that. Offensive moves on the edge of the are in the 58th, 60th, 62nd, 63rd lacked creatively, but were still commendable.
Drenched in sweat, this American then proceeded to tank toward the finish. He couldn't complete his end of the bargain on a one-two in the 76th, deservedly cursed himself for shooting over in the 79th, could find no power on two crosses in the 80th/81st, and couldn't catch up to the attack after strong verticals in the 84th and 86th.
The effort was certainly there amid 113 recorded touches. Scally ran himself ragged until the full time whistle. The chronicler also watched him win just over half of his aerial duels. This American knows how to use his impressive physical build and doesn't appear intimidated or phased about doing so in his new, much more challenging division.
BMG gaffer Adi Hütter still may wish to sit him, as tacitly advocated last week. Hütter could also stand by Scally as he brute-forces his way into more befitting form. No one would fault the Fohlen trainer for betting on a gritty and determined young man to refine his pacing and timing through high-level match practice.
---
Julian Green, SpVgg Greuther Fürth
---
Minutes played = 60/90, Positions played = LM, LW
Grade = D
The news is not terribly good for anyone involved in "das Kleeblatt". Bundesliga watchers fear that one of the top-tier's all-time worst incarnations develops before their very eyes. About the only positives to report on the Middle Franconians concerns the strong push sporting director Rachid Azzouzi made at the tail end of the transfer window. The club's personnel boss got a lot of important deals over the line on the final day. Perhaps some fresh troops can aid Stefan Leitl in turning things around.
In the exact same tactical construct as last week, our American subject here had a much tougher day at the office. Leitl clearly instructed the Bavarian to keep a tighter axial line with counterpart Paul Seguin. This led to some confusion in the opening ten minutes. Both players looked insufficiently practiced. To add insult to injury, neither one could figure out who's responsibility it was to take a free kick in the 7th.
Something must be seriously awry on the Fürth training ground. Green won a nice ball in the 9th, then immediately allowed himself to be dispossessed. This sequence proved emblematic of his day. He shielded the ball better in the 13th, keeping his touches neat on a clean run before drawing a foul. Five minutes later he completely blew his marking on Silvan Widmer. The result was Adam Szalai's opening 18th minute goal.
Green got beaten again on the rush quite badly in the 24th, recovering slightly with a halfway decent catch up. A solid set-piece delivery in the 26th and a good midfield pickup in the 27th left one hopeful he could get some wind in his sails. A strong run in the 33rd was wasted by his team's disorganization. The pattern of ball win and immediate loss repeatedly itself in the 36th and 37th. Finally, he managed to hold the ball up in the 38th.
There were three more solid trail runs on both sides of the halftime break. These instances–40th, 44th, and 58th–were also wasted as the team's collective eye for the open player continued to be abysmal. Another encouraging ball win (and immediate subsequent loss) came one minute before he was substituted off at the hour mark.
Pretty much all of this American's 31 recorded touches induced a grin immediately followed by a wince. Placing him at failing level remains out of the question, however. He ran hard and had some good ideas going forward. We should witness better days from the one-time USA phenom. The question as to whether there shall be better days for this team isn't a query that endangers much optimism.
---
Jesse Marsch, RB Leipzig (Trainer)
---
Matches = 1, Result = L
Grade = D
It remains far too early to begin seriously questioning the Bundesliga's second-ever American head-coach. An inconsistent, sputtering start truthfully means nothing in the grand scheme of things. Marsch retains all the time in the world–not to mention the league's deepest roster–in his ongoing quest to imbue this team with his particular brand of football. At present, no overwhelmingly damning evidence exists to suggest that the RB will miss out on the top four or suffer embarrassment in the Champions' League.
The 47-year-old made no personnel changes ahead of his Sunday duel with Mark van Bommel and Wolfsburg. Marsch correctly deduced that the VfL trainer would separate sixes Maximilian Arnold and Xaver Schlager. He responded by pulling his own midfield pairing apart in a mirror-version of van Bommels modified 4-2-3-1. Tyler Adams worked the downfield position in a shape best conceptualized thusly:
Lineup—RB Leipzig—Match Three (4-2-3-1)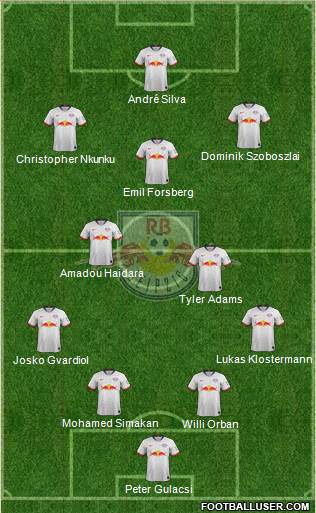 In one specific respect, the separated sixes achieved their intended purpose. The game flattened out in midfield. Arnold and Schlager had difficulty dealing with a back-four so readily capable of converting to a back-five. In terms of establishing the team's own possession game, however, this turned out to be a pretty miserable set up in every last attacking lane.
Marsch arguably should have pulled the plug on this sooner. Tyler Adams, whom we will get to in a moment, struggled to get the rightward cycle-out play working. None of the forward actors seemed capable of cultivating a creative mindset on this day. Once again, the only real impetus forward came from the two center halves. Everyone else simply lacked ideas.
When Marsch did intervene from the sidelines, he perplexingly left Adams on and yanked Amadou Haidara in favor of Konrad Laimer. The American midfielder then took up the more advanced role. This move, which smacked slightly of misplaced favoritism, unsurprisingly yielded absolutely nothing. Marsch waited until the 86th to bring on more fresh-legged actors who could have influenced the contest.
---
Tyler Adams, RB Leipzig
---
Minutes played = 86/90, Positions played = DM, CM
Grade = D-
Our "RB New Yorker" continues to dip. A lightly editorialized look at his performance last time implied that it might be time for Marsch to consider sitting him. With a strong emphasis on the fact that football scouting eyes can be as subjective as anything else, this columnist divined more evidence to call for it again. Adams' couched position meant he would garner fewer touches, but 48 remains far too low for a player on any lower axial place on the pitch. One saw far too little from the 22-year-old again.
A few nice moves (26th, 34th, 47th, 66th) came nowhere near to compensating for the many lost duels and the bad foul that saw him booked in the 34th. Some scouts place more emphasis on body language than others. For the second consecutive week, this writer wishes to note that he finds Adams' on-pitch antics to be particularly annoying. Those curious can watch the sequence in the 34th. This American seems to have picked up a pouty and immature posture.
Under the auspices of Berhalter, one may observe a very different Tyler Adams when he is clad in the USA colors. Part of his visible frustration may stem from dissatisfaction with his midfield role in the club's set-up. Working alongside Weston McKennie in a static double-six or rotating-eight scheme may afford him a chance to enjoy his football more. In any event, those of us following him will enjoy his football more when he knocks it off with the protestation antics.
Thanks so much for reading! You can occasionally catch Peter goofing off while watching the lower German football divisions on twitter, @ViceytheSS.
Twitter DMs are open for football conversations, corrections, and (if you truly insist) general abuse. 
All columns debut on Bulinews before appearing on Peter's website later in the week.