Congrats to all USMNT enthusiasts on a successful–not to mention undefeated–international break! Don't forget that you can catch many of your budding stars every week in Europe's most exciting football league. If your busy schedule doesn't allow for it, you can even catch a detailed review of their performance after the weekend on Bulinews. If you happened to miss out on last round's hot sheet, you might have missed out on some great news concerning Gregg Berhalter's future starting center-back. Feel free to catch up here.
We've much to get to this week as virtually every American eligible to play in the Germany's top footballing flight got their action in this past weekend. Since we also keep weekly tabs on the Bundesliga's historic first-ever American trainer, there are a full eight graded sections this week. There can scarcely be a better way to christen the international break!
This week's analysis accords average or below average grades for most of the American actors active in round 26. One notable exception is Bayern loanee Chris Richards. A highly detailed technical section makes the case that his performance in Hoffenheim's loss to Mainz was very underrated.
---
Timothy Chandler, Eintracht Frankfurt
---
Minutes played = 13/90, Positions played = RW
Grade = A+
Though it's not at all common practice to grade a player who only logged 13 minutes, it would be a shame not to pay tribute to Timmy Chandler with his first graded section since round five. Adi Hütter finally gave the 30-year-old another chance to shine at the same right-wing position where he produced that magnificent burst of power last season. The fact that Chandler scored again when given this assignment is no coincidence. There was much fist-pumping from the Chandler enthusiasts this weekend.
Inherent in that last sentence, we find the inherent bias of a columnist who (it must be said) remains an unabashed fan of this player. All the way back on the very first introductory post written for this website's "Americans" feature, we strived to be intellectually honest about which country Chandler belongs to. His USMNT career almost certainly over, Germans are now not shy about fully claiming the Frankfurt native who once refused call ups to the US national squad.
Of course, part of the German footballing public's enthusiasm for Chandler stems from his partial American heritage. We noted this in the introductory column as well. Footballers sired by American G.I.s get their respect in the Bundesrepublik. It's a transatlantic partnership thing. That's just how it is. Consequently, Chandler will always have a home in this space.
---
Chris Richards, TSG 1899 Hoffenheim
---
Minutes played = 76/90, Positions played = CB
Grade = B
Whew. Sunday's clash with Mainz certainly served as a "welcome to professional level" fixture for the young Alabama native. Anyone rooting for him will have surely experienced plenty of nervy moments this weekend. A nightmarish start followed by unrelenting Mainzer pressure put Richards in a most uncomfortable spot. This American found himself repeatedly tested by a constant assault on his composure. This counted as a huge test of his mettle.
Many other reviewers will likely have Richards rated much lower following a performance full of shaky moments. Having spent 76 intense minutes observing him closely, this column disagrees. The youngster did relatively well under some tough circumstances. Explaining why first necessitates a tactical draw-up. Head-coach Sebastian Hoeneß's strategy did not shift all that significantly from last week, but the personnel surrounding Richards remains relevant.
Lineup—TSG Hoffenheim—Match 26 (5-3-2)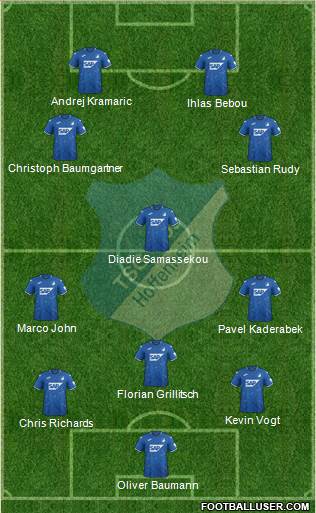 To begin with, we must reiterate that Florian Grillitsch is an emergency center-back. The 25-year-old Austrian international does a decent job running the pivot point position, yet can and does rush forward whenever it suits him. Frequently, Richards and an inconsistent axial partner (either Kevin Vogt, Kasim Adams, or Stefan Posch) struggle to provide adequate coverage on counters.
Most importantly, we have 18-year-old Marco John operating directly in front of the American. The German teenager, arguably called up to the senior side well before he was ready, has by no means been a disappointment. John demonstrated remarkable maturity in plenty of instances. In general, however, he cannot hope to be immune to the types of judgmental errors associated with his age. This happened shortly after kickoff in the Sunday fixture.
By now, virtually all Bundesliga watchers have seen Richards get stripped of the ball by a pressing Robert Glatzel in the 1st minute on the highlight reel. An edited glances makes it look as if the American committed the most embarrassing of defensive blunders. Those with access to the full tape might come to a different conclusion. John essentially put Richards out on a limb with a questionable back pass. This transpired repeatedly all afternoon.
A rattled Richards made loads of unforced errors early. He committed a bad foul in the 2nd and couldn't concentrate at all on marking during a 4th minute corner. While he, and the rest of the team, appeared to be settling into their shape between the 7th and 8th, everything broke down again between the 9th and 17th. Players were all over the map. Mainz took full advantage of the disorder with a furious string of chances.
Grillitsch left Richards exposed again in the 19th. The American overcommitted himself on very poor markings in the 22nd and 27th. In the latter case, he allowed Jonathan Burkhardt to draw him in whilst Daniel Brosinksi all too easily snuck past him into the lane he was supposed to be covering. One genuinely feared for the American as it shaped up to be a positively disastrous day. Richards irresponsibly marched forward a couple of more times before things turned around.
Just when on thought another bad slip up was coming, Bayern's U.S. prospect recovered with two strong headers away during a Rheinhessen attacking sequence in the 33rd. In the 39th, he stepped forward with the ball and belted a gorgeous diagonal to Ihlas Bebou just inside the box. The Sinsheimer striker finished off the opportunity, giving Richards an impressive assist on the scoresheet.
With renewed confidence, the American registered a pair of great slide tackles in the 41st and 45th. One could fault him for not picking up Dominik Kohr on Mainz's second goal, but the onus for that failure really falls on his teammates. No one in Kraichgauer blue looked live on that corner. And so it was that a first half in which Richards permitted one goal and initiated another concluded.
The young Alabamian played a much less erratic second 45. He got off to an excellent start with strong defensive challenges on Burkhardt in the 48th and Jean-Paul Boetius in the 49th. He'd follow that up with fantastic aerial wins in the 50th and 57th, a superbly strong run in the 58th, and a sublime through ball in the 58th. Amid all of this, there was a bad loss in the 50th.
We return to the importance of personnel. Once Hoeneß pulled John and placed Danish international Robert Skov in front of him, Richards benefited considerably. One could see him more assuredly defending his turd in the 69th and working more productive passing triangulation in the 71st. Before being subbed off, he saved his team twice with a perfect header forward in the 74th and a crucial block on Robin Quaison in the 75th.
With perhaps one of the longest graded sections of the season, this column aims to stress that Richards actually responded quite professionally to his gravest challenge since earning a regular starting spot in the Bundesliga. Some may choose to only remember the 1st minute wobble and his shaky play in the immediate aftermath.
A more nuanced analysis of this American's performance nevertheless tells a very different story. This budding young talent definitely deserves some detailed appreciation from someone. Trainer Hoeneß has hopefully gleaned some important lessons about which players can assist Richards in thriving.
---
Tyler Adams, RasenBallSport Leipzig
---
Minutes played = 90/90, Positions played = RB, RM
Grade = C+
Disproportionate records were legion in Leipzig's 1-0 defeat of Arminia Bielefeld. When it comes to what one might term a literal "stats bomb", our New Yorker was no exception. In the writer's (unofficial) count, Adams recorded an absurd 127 touches. The American achieved 93 passing on a (even more ridiculous) 103 attempts. As we all know, however, numbers exist to deceive. Some consideration of both tactical structures is in order.
Lineup—RB Leipzig—Match 26 (3-4-3)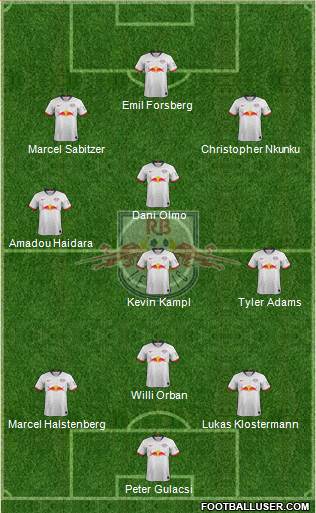 We're not far removed from hefty criticism of just such a Tyler Adams-Amadou Haidara stagger. Unlike round 24 constellation, this one furnished much cleaner and neater possession-based football. To say that the RB Leipzig was aesthetically pleasing, however, would be incorrect. Well over half of Adams passes wear rearward. Over a third of them were back to Lukas Klostermann. Saxon build-up play largely tendered toward the slow and cautious.
The German Red Bulls still dominated the game in spite of this sheepishness. As alluded to in the most recent tactics column, this had everything to do with Frank Kramer's totally capitulatory initial tactic set-up. An illustration is called for in order to clarify precisely what the writer meant in using the phrase "castle storm".
Lineup—Arminia Bielefeld—Match 26 (4-2-2-2)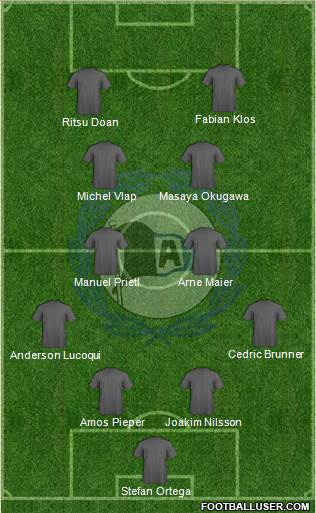 It works as a midfield clog. A complete dearth of any width precludes it from generating much else. Nagelsmann's talented crew painted the corners around this with ease. Adams registered more than his fair share of touches and passes against this thinly-veiled trap, but most of his action remained limited to the immaterial (not to mention horribly boring) act of passing back and forth with his defensive counterpart.
Some more eventual offensive passing initiatives can be found in the 4th, 21st, 36th, 43rd, and 65th. Instances are skewed to the first half as Adams, along with the rest of team, basically checked out mentally over the game's final 20 minutes. The American's best defensive work came in the 17th, 42nd, and 73rd. He got a decent shot on target in the 41st and worked an overlap well in the 81st.
Enough examples of more sloppy play, regrettably, drag his grade on the day down. Very hesitant decision making in the 10th, 29th, 34th, 45th, 50th, 79th, and 85th contributed to the overall lethargic tone of the team. Adams should have also been booked for a nasty late challenge in the 9th. This American definitely got the job done on this particular day. On balance, the level of play wasn't sharp enough to warrant a higher grade.
---
Giovanni Reyna, Borussia Dortmund
---
Minutes played = 66/90, Positions played = RW, LW CM
Grade = C
Much to the profound irritation Bundesliga watchers everywhere, Borussia Dortmund delivered another woefully inconsistent performance during which the team completely switched of for large swathes of the match. Die Schwarzgelben's 2-2 draw against 1. FC Köln yields the familiar words: frustration, annoyance, disgruntlement, and resignation. Erling Haaland wasn't the only one muttering embittered words under his breath on Saturday afternoon.
The main topic after this latest plodding display, however, is not words. Rather, it is the lack thereof.
Lineup—Borussia Dortmund—Match 26 (4-1-4-1)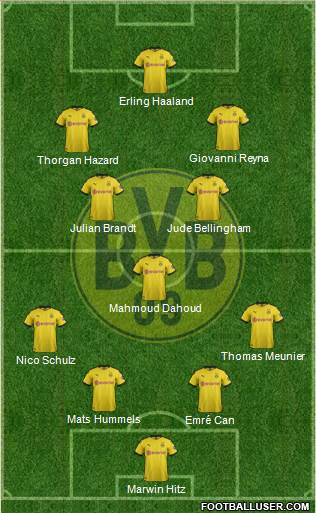 While employing only one personnel change (Reyna in for the injured Marco Reus), trainer Edin Terzic actively tried to address some of the momentum-sapping bloat we saw in last week's fixture. A dynamic quartet drew in closer together behind Haaland; absolutely free to engage in their own creative rotations as a means of generating novel builds on the axes underneath the lead striker.
The initial twenty minutes did indeed accomplish this. After Emré Can's gorgeous long ball for Haaland in the 3rd gave the BVB an early lead, the team put together genuine quality football for a prolonged spell. Reyna was no exception. Played through by Jude Bellingham in the 8th, he improvised a skillful cutback for Thorgan Hazard that eventually resulted in a blocked shot.
The American hustled back to engage in superb defensive box marking in the 11th and 13th. On attacking drives, Reyna read his team's possession well. One can often watch him finding the opposite lane whenever someone else picked a sprint angle. The best example of this came in the 15th. Were it not for a game-saving tackle from Kingsley Ehizibue, Reyna would have been through on goal center-left.
Everything was going swimmingly until about the 20th minute. What happened? The system illustrated above broke down. The chief culprit was lack of communication on the pitch. Shouts and organizational directives were certainly rare before this stage of the match. When one can't hear the players speaking with each other, it's generally because the squad lacks leadership. Scarce transmissions devolved into no transmissions around the 20th.
The team ceased communicating with each other and proceeded to argue with the refs and their opponents. One can watch Reyna impractically contesting a corner call in the 25th. Build-up play completely shut down as silence descended. This American tanked around with the rest of his team. The best the BVB could manage was an inferior carbon copy of the first goal; a hopeful over-the-top ball from Can that relied upon Haaland to employ the magic touch.
Reyna's defensive discipline suffered. The 18-year-old found himself beat badly in the lead-up to Bellingham's handball penalty. Anyone wondering why the American's grade isn't significantly lower should know that he, unlike the rest of the team, did recover slightly toward the end of the first half. A nice kick-out to Nico Schulz in the 39th, along with two determined cases of marking in the 45th and at 45+1 bucked the body language trend of the rest of his team.
Unfortunately, this didn't carry over after the restart. Reyna mostly went M.I.A. Only four of his total 28 touches came in his final 21 minutes on the pitch. The largely owed itself to the fact that Terzic brought on Youssoufa Moukoko for Brandt at the break. As respectably brave as such a choice was, the BVB stood effectively zero chance of keeping a consistent shape with a wild-card inserted. Nothing clear emerged from the chaos.
In final analysis, this American (along with fellow teenager Jude Bellingham) were among the resolute factors on this particular day. That isn't to suggest that either weren't error prone. After decent offensive moves in the 46th, 47th, and 53rd, Reyna lost a crucial aerial duel in the lead up to Köln's second goal. At least one observed him trying during some of the stretches his team collectively surrendered.
---
John Anthony Brooks, VfL Wolfsburg
---
Minutes played = 90/90, Positions played = CB
Grade = C
It ended up being one of those "limited factor" days for the Berliner. Returning centre-halve partner Maxence Lacroix ate up more of the traffic, registering 93 touches to Brooks' 63. Additionally, exceptionally active fullbacks Kevin Mbabu and the (converted) Yannick Gerhardt handled most of the forward press. One barely saw Brooks swing out left at all against Werder Bremen. He functioned more as a classic, stay-at-home defender throughout the match. Noticeable enervation and lack of effort towards the end pushes his grade down.
Solid one-vs-one wins in the first half included a beautifully contested aerial duel against Josh Sargent in the 6th two stunning stop of Milot Rashica; one  in the 7th and another one in the 29th. Regrettably, Kevin Möhwald beat him twice at crucial moments in the 22nd and 45th. Zonal coverage in the box was iffy, though he appeared to mostly have the hang of it by the 41st. The American got a shot off in the 35th, directing a header just over the crossbar.
With the match flow hindered by a long stop/start period in the second half, the American didn't get his first meaningful touch in until the 59th. There are some good examples of intelligent play out of the back between the 61st and 67th, capped by a magnificent run forward to affect play at the tail end. He won another precise aerial duel in the 68th before supplying a poor header in the 73rd
The aforementioned energy dip came between the 75th and 88th. He trotted around far too lackadaisically, apparently not cognizant of the fact that his team needed to be more responsive in order to protect the win. Brooks did partially wake up for injury time with strong defensive headers in the 89th and at 90+1. Suspect marking on the final two plays of the game, however, saw him look a little too disengaged.
---
Pellegrino Matarazzo, VfB Stuttgart
---
Matches = 1 Result = L
Grade = C
Stuttgart's trainer truly wasn't responsible for the total team meltdown that saw his Swabian side concede three goals in the ten-minute span after Bayern went a man down. That being said, his lack of a clear diagnosis during the post-match press conference constituted some cause for concern. Matarazzo stated that "either" his team "felt too much pressure" or "felt too confident" after the match-altering occurrence.
One would expect that a trainer's eye could distinguish between the two. It's possible that the league's American head-coach simply preferred to play it closer to the vest. In any event, since Matarazzo left the question open, we'll go ahead and answer it for those who remain curious.
Lineup—VfB Stuttgart—Match 26 (3-3-4)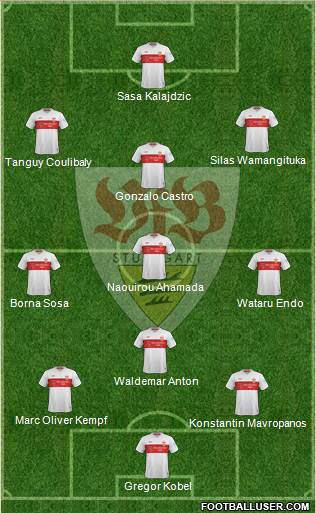 An unsung hero who perhaps too often gets neglected in the weekly analysis of VfB tactics is Orel Mangala. The 23-year-old Belgian international covers a crucial portion of midfield space; often working as a restraining impulse on the tendency of Borna Sosa and Silas Wamangituka to operate so far apart. Mangala's reliable coverage of the center patch also enables Wataru Endo to focus solely on closing down the opponent's functional space on the rush.
The news that Mangala wouldn't be available in this one immediately handed Matarazzo a potentially crippling problem. As one can see above, the solution wasn't one that exactly played to his team's strengths. Sosa and Endo were assigned stationary locksteps that surely felt uncomfortable for them. Wamangituka received an unnecessary axial partner to trip him up. Poor Naouirou Ahamada got a rude interaction to the Bundesliga, tasked with defending the league's most dynamic attack.
A draw-up of Bayern's response to Davies' sending off is available in the tactics column. David Alaba garners the most praise for the Stuttgart's shredding. The FCB's Austrian all-rounder put in some genuinely hard work to compensate for his team's man-disadvantage. Something that Alaba didn't have to work terribly hard at concerns the ease with which Ahamada could be drawn out of position by his box-to-box runs. Forcing a tyro into a feat of fatal ball-watching isn't terribly difficult.
Returning to the question of whether Stuttgart lost their nerve or succumbed to hubris, the answer turns toward the latter. Feeling, understandably, as if the time to pounce had arrived, Sosa overcommitted himself on several occasions in the hopes of supplying Kalajdzic with one of his patented crosses. The pair came close to pulling it off in the 14th. Endo took the Davies red card as an invitation to abandon his post as well. Leroy Sané and Serge Gnabry immediately cut across his side.
Shellshocked Stuttgart never maintained any real hopes of mounting a comeback after these movements led to Bayern's goal explosion. With the matchplan consigned to the scrap heap, the Swabians were only able to reorganize themselves back into Matarazzo's desired shape when the Bavarians eased up and let them have more of the ball around the 35th. Some VfB chances came in the final 10 minutes of the first. Jerome Boateng had to stop Kalajdzic with a tactical foul in the 37th. Sané should have been booked for a rugby tackle in the 41st.
Matarazzo deserves credit for pulling the overwhelmed Ahamada at the half and reformatting into a more familiar 4-5-1. The team played a respectable second 45. Substitutes Philipp Förster and Nicolas Gonzalez did well to help the on-pitch actors salvage some dignity. It remains difficult to believe that the American trainer didn't see the overly-confident lapses for what they were. A plausible explanation for his noncommittal post-match remarks concerns an admirable desire to shield his players. We'll accord him credit for that too, giving him an average grade on a nightmare day.
---
Josh Sargent, SV Werder Bremen
---
Minutes played = 58/90, Positions played = CF, SS
Grade = D-
It proved a pretty bad day for the Missouri marvel. For the nth time, Bremen Florian Kohfeldt's tactics bordered on the incomprehensible. As much as one may wish to draw it up, it's wholly unclear just what the four outfielders ahead of the back-three and two wingbacks were meant to be doing. Sargent and colleagues Milot Rashica, Maximilian Eggestein, Romano Schmid, and Kevin Möhwald formed some sort of centralized forward thrust that didn't appear to be built on any sort of specific positional or rotative instruction instructions.
That familiar rationalization aside, one has to say that Sargent looked off due to some of his own poor choices. Note that his 8th minute own-goal didn't truly fall into the individual howler category. It was silly of the American to defend a set piece with a dipping header in the first place, but the ball wouldn't have reached him at all if not for an unlucky deflection of Maxence Lacroix. Sargent attempted to make amends with a strong forward run two minutes later, stopped only by an outstanding Lacroix tackle.
Following that lone initial spurt, one saw very little of Sargent during another game in which he managed a paltry 21 touches. Kevin Mbabu scooted past him easily more than once and he was dispossessed by the Wolfsburg fullback on a cringe-inducing play in the 22nd. Mbabu would also beat him badly on aerial duel in the 53rd. After a ridiculous leap nowhere near the ball in the 56th and a very bad foul that earned him a fifth yellow and suspension in the 58th, this American was mercifully subbed off. This was most assuredly one to forget. Hopefully, some time off can help Sargent revive some of his promising recent form.
---
Matthew Hoppe, FC Schalke 04
---
Minutes played = 76/90, Positions played = LS
Grade = D-
A humble commentator humbly requests that readers spare a care for us poor sods forced to watch Schalke every week. This team remains inconceivably bad. Few can find parallels to another team that has played in the modern Bundesliga. No team has hemorrhaged confidence so consistently as this year's version of the Königsblauen. Even the 2012/13 SpVgg Greuther Fürth team–the standard against which appallingly bad Bundesliga clubs of the past decade are typically judged–won three more games than this atrocity.
As usual, there's little to discuss when covering a Schalke striker. This writer, watching the whole sordid affair that was the 0-3 loss to Gladbach, recorded 13 instances in which Hoppe touched the ball. That last sentence is written in all seriousness. Thirteen touches. A striker. Unbelievable. The American, together with striking partner Benito Raman, did their utmost to press forward. One can watch them try in the 20th, 48th and 56th. The sole highlight from the American came via a solid challenge in the 52nd.
A few other dimly bright spots prevent the 20-year-old from receiving a failing grade. He showed some skill on a play eventually whistled down for offside in the 10th and got himself into a good position to receive a ball in the 67th and 70th. In both cases, his teammates let him down with third-tier-level control and passing. Hoppe's own touch let him down in the 18th and 41st. Oh man. It seems unlikely that die Knappen will score another goal this season. Accordingly, there's practically no hope left of a positive match for the Californian.