The final deep scout column before the September international break featured an especially enjoyable scout for one USMNT actor. Whenever the 19-year-old gets into a groove, thoughts tend toward a future both long and bright for Long Island's Joe Scally. Some talent he is!
Time for our weekly look into the form of US actors earning their paychecks in Germany's top footballing flight. This column always proves a treat to research and write whenever it's time to head into the international break. For those preparing to look in on the USMNT, we've great news concerning two of the players Gregg Berhalter opted to call up. Gio Reyna and Joe Scally are in fine form.
Scally and Reyna are joined by "Jordan" Siebatcheu (not called up this time) and American trainer Pellegrino Matarazzo in our four graded sections this week. Kevin Paredes, who also didn't make the cut, saw 11 minutes of inconsequential action for VfL Wolfsburg. We're still waiting for Justin Che of TSG 1899 Hoffenheim to make his first matchday squad of the new season.
---
Joe Scally, Borussia Mönchengladbach
---
Minutes played = 90/90, Positions played = RB
Grade = A+
The Long Island native receives perfect marks even if there were some flaws in his game. Scally sent a few too many (11) passes stray and might have done better with a few of his touches. Most of that is immaterial as much of it came after the match had been decided in Saturday evening's 3-0 win over Leipzig. This American talent, along with all of his teammates, were absolutely phenomenal this weekend in a game that has already received some attention (and a tactical draw up) in the recap column.
Scally's energy levels were off the charts. The 19-year-old entered this week's game shot out of a cannon. Pure adrenaline. For those perhaps interested in some semi-comical scenes, one can watch him have just a tad too much electricity running through his veins to handle touches in the 22nd and 42nd. In the latter case, he ended up tripping over his own feet. We also have some early retreats with the ball in the 2nd, 5th, and 6th that probably count as some of the hardest-working withdrawals one will ever see.
Facing off against some of the most talented players in the world, there are many cases in which the CFG New Yorker murdered top-level players in direct duels. He absolutely owned German national team fullback David Raum in the 13th, 18th, and 33rd. Fabulous wins against the likes André Silva, Emil Forsberg, Kevin Kampl and Dominik Szoboszlai came in the 9th, 16th, 28th, 29th, 31st, 43rd, 61st, 72nd, and 84th.
Had Scally not executed a monster last-ditch tackle on Christopher Nkunku less than five yards in front of goal in the 25th (when the score was just 1-0), his team might not have carried on to win so convincingly. Everyone should check out that play as it will leave you scraping your jaw off the floor. Though our subject here did have some trouble with Nkunku in other instances (20th, 32nd, 34th, 38th, 47th, 79th), that play is more than enough to negate some less-than-stellar marks and a foul in the back.
In addition to being vitally instrumental in assisting the squad with defending, Scally was offensively instrumental as well. It was the American who won the ball and sent in the inch-perfect cross on the sequence leading up to Jonas Hofmann's opening goal in the 10th. Other crosses, diagonals, overlap runs, squares, and slip-throughs can be viewed in the 1st, 3rd, 4th, 14th, 19th, 36th, 44th, 71st, 87th, and 88th. There was only really one poor diagonal (77th) all night long.
No other German press source accorded Scally anywhere close to perfect marks and that's understandable. There were plenty of anonymous stretches during which other teammates in the defensive corps (Julian Weigl and Nico Elvedi) were carrying him. What ultimately made Gladbach-Leipzig such a delightful watch, however, was that virtually everyone on the winning side had their turn of shouldered more than their fair share of the burden. Scally was no exception. He carried his teammates at times too.
---
Giovanni Reyna, Borussia Dortmund
---
Minutes played = 52/90, Positions played = CF
Grade = B
In general, a fairly positive day for the young "American Dream". No Gio on the pitch would have meant no Youssoufa Moukoko game-winning-goal, and thereby no derby victory for Dortmund to celebrate. Reyna was the one who unlocked Marius Wolf with a gorgeous diagonal (following some sumptuous touches) before the BVB left-back crossed into Moukoko for the 79th minute 1-0.
It was definitely one of those plays on which one wished we could have double assists in football. As promised in the tactics column, Dortmund-Schalke got a good, hard look on multiple feeds in order to discern just what sort of tactical re-format Edin Terzic hoped to achieve after losing Marco Reus. The conclusion is that there were two over the course of the match.
Lineup—Borussia Dortmund—33rd minute (4-4-2)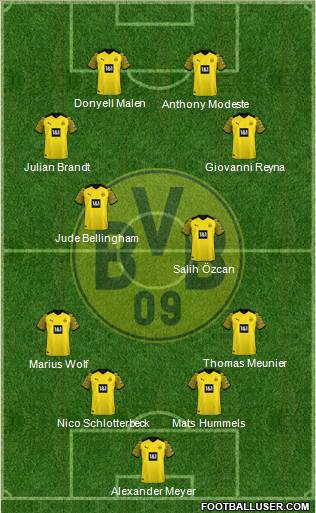 Terzic began the match with a straightforward 4-2-3-1. The BVB trainer made no attempts to directly compensate for the loss of his ten, instead moving Julian Brandt over to the left and (presumably) gave Jude Bellingham permission to push farther ahead as part of a midfield split-stagger. This actually ended up immediately backfiring when Bellingham got in the way of a ball intended for Reyna in the 33rd.
Gio looked both clever and confused in his interpretation of space in this set-up. Some sharp moves and early crosses came in the 38th, 42nd, and 50th. He excited bright cutbacks and slip-throughs in the 44th, 45+1, 52nd (twice), 59th, and 63rd. On other occasions (35th, 37th, 49th) he was hampered by some slow trailing, heavy touches, and curious movements on the cycle. Better give-and-go work came in the 47th and 48th.
Never really known for his strength in the air, one could note that Reyna lost practically all of his aerial challenges (39th, 58th, 61st, 63rd). That hardly matters as he did use his head extremely well on an awesome shot on target at the hour-mark and a magnificent flick-on forward in the 64th. Terzic realigned everyone following a double substitution in the 66th. Reyna and Brandt switched sides.
Lineup—Borussia Dortmund—65th minute (4-4-2)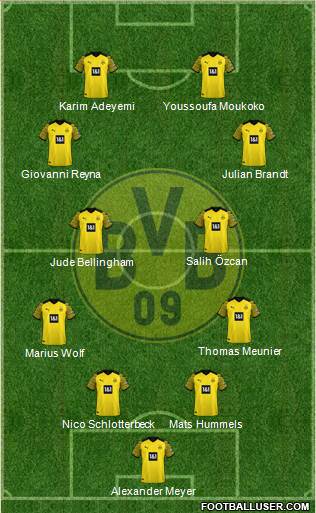 Bellingham may have been trying to keep a more fixed horizontal line with Özcan, but he managed to get in Gio's way again in the 68th. There were mixed results here if one takes the diagonal that set up the goal out of the equation. Touches either too inventive or downright sloppy came in the 67th, 75th, and 78th. He got bumped off the ball too easily in the 69th and whiffed on a challenge in the 71st.
There was still a very nice cross from our subject here in the 78th and he generally moved about with confidence until Terzic took him off in the 84th. Reyna will be kicking himself for not scoring himself three minutes prior to the substitution. A beautiful series of touches and a searing run in the 81st unfortunately ended with the 19-year-old pulling his finish just wide. On the whole, it was definitely a "B-Level" performance from Gio; very good news for both German and American football fans.
---
Jordan Siebatcheu, 1. FC Union Berlin
---
Minutes played = 87/90, Positions played = CF
Grade = C+
A very positive day for 26-year-old American striker insofar as the scoresheet is concerned. The newly self-anointed  "Jordan"  scored his third league goal (and fourth across all competitions) for his new club in the 2-0 defeat of Wolfsburg on Sunday. Some finish it was too. The sequence in the 54th minute is definitely worth a look. The American initiated the scoring chance with a deft touch back an maneuvered himself into the perfect position for the return ball.
He then headed the ball into the net with the cheekiest of flicks. There were some other bits of razzle-dazzle on display. There's a nifty little leave for striking partner Sheraldo Becker in the 6th, a mid-air trickle effort that sailed just wide in the 49th, some great aerial wins, flicks, press-tackle-wins and hold-up touches in the 5th, 9th (twice), 33rd, 59th, 63rd, 65th, 69th, 71st, 72nd, 82nd, 84th, and 85th.
Do note that many of these positive plays came late-on. It came as quite the surprise to the columnist to observe what a poor first-half this American had during the re-watch. "Jordan" actually ended up winning less than one-third of his direct duels on the day. There were some bad losses in the 12th (twice), 31st, and 41st (again, twice). The striker committed three fouls (on Maxence Lacroix in the 15th, Paulo Otavio in the 25th, and Maximilian Arnold in the 38th) for which he could have been booked.
Some poor finishes (28th, 47th, 75th) along with overcooked stray passes and heavy touches (18th, 22nd, 37th, 48th, 66th, 70th) ended up dragging this American's grade down significantly. Again, this came as a big surprise to the author. There have been some inconsistent performances from him this year and this one might have been his weakest since round two. Ostensibly, Gregg Berhalter and the USMNT coaching crew have taken note of them when they opted not to call him up this time.
---
Pellegrino Matarazzo, VfB Stuttgart
---
Matches = 1 Result = L
Grade = C-
The winds of change blow through Württemberg. The days of the Matarazzo/Mislintat regime may be numbered. An end may even come before the World Cup break if the American trainer and his German backer don't begin getting the results they need. Easily the most frustrating aspect of Saturday's 1-3 loss to Frankfurt concerned how the team couldn't implement Matarazzo's tactics.
Lineup—VfB Stuttgart—Match Seven (4-2-2-2)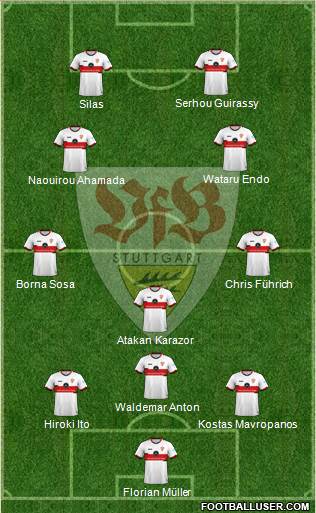 It's clear what the idea was. In contrast to last week, Matarazzo wanted Atakan Karazor to function as a true bolt-lock sweeper. This failed miserably. Eintracht had a field day with all the open half-spaces on either side of Karazor. Moreover, the decision to move Silas up front and have Chris Führich try the right-wingback role proved a total bust.
When reflecting on why the VfB transition game was such a bust, trainer and squad share equal blame. Even if Matarazzo asked a lot of his players with the tactical tweaks, the on-pitch actors should have performed better. The head-coach may have found the right words at the half as the first ten minutes after the restart were much brighter.
It didn't last, however, and Matarazzo had to try something different down the stretch. He moved Silas and captain Wataru Endo back to influence the play more. The late-match tactics appeared sensible and led to a couple of chances half-chances from the new buttressing attackers Lilian Egloff and Enzo Millot.
Lineup—VfB Stuttgart—66th minute (3-5-2)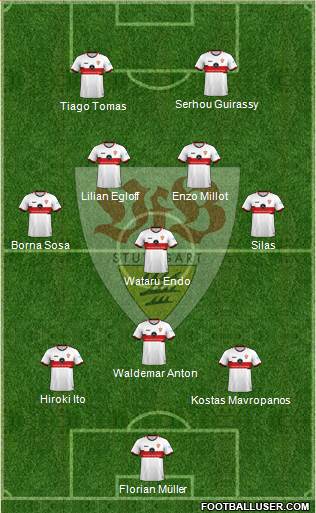 Alas, the tactics had nothing to do with Tiago Tomas' late pull-back goal. The Portuguese striker's effort was actually deflected in by Evan N'dicka. The team continued to have difficulty closing down half spaces until the very end. Set-piece defending on Krsitijan Jakic's 3-1 in the 88th was atrocious.
With so many basic fundamentals out of whack, one wonders how long it will take the recently quite active Alex Wehrle to decide upon a new direction. We won't give Matarazzo terrible marks this week. His ideas were okay. It nevertheless appears as if the team isn't responding well to them, which constitutes a big flashing red light.
Thanks so much for reading! You can occasionally catch Peter goofing off while watching non-Bundesliga football on twitter, @ViceytheSS.
Twitter DMs are open for football conversations, corrections, and (if you truly insist) general abuse. 
All columns debut on Bulinews before appearing on Peter's website later in the week.