The 2020/21 Bundesliga campaign continues. This week's analysis covers more genius from Stuttgart's American manager, a vital uptick for American striker Josh Sargent, and some questionable behavior from phenom Giovanni Reyna.
John Antthony Brooks and Tyler Adams are also thoroughly assessed below in this week's re-post of Tuesday's hot sheet. The exact same four Americans who started for their respective clubs in last week's opening round factored in again on the Bundesliga's second match day. Grades are obviously different this time following a wild weekend of upsets and surprises.
---
Pellegrino Matarazzo, VfB Stuttgart
---
Grade = A
The recently-promoted Badeners turned in their second consecutive strong performance, this time grabbing three points in their 4-1 defeat of FSV Mainz 05. The match counted as another well-worked fixture from the 42-year-old from New Jersey.
The American trainer employed three changes to his starting XI. Sasa Kalajdzic replaced Mateo Klimnowicz in attack while Pascal Stenzel and Borna Sosa took the places of Marcin Kaninski and Roberto Massimo.
The latter two changes hardly qualified as like-for-like swaps, leaving the observer scrambling as divine what Matarazzo's actual plan was.
Lineup—VfB Stuttgart—Match Two (4-5-1)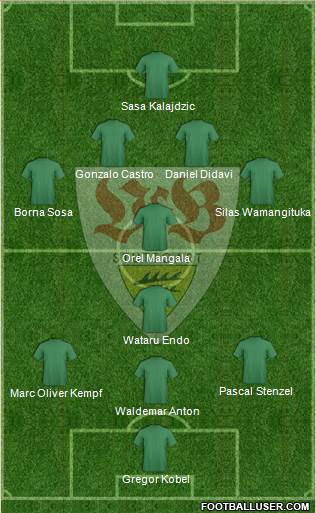 Many will agree that this was one seriously tough code to crack. It took quite some time to figure out what was going on. Matarazzo constructed one of the more attacking-minded 4-5-1s anyone is likely to see. Heading into the match, the biggest mystery remained how the American would tactically utilize flexible Japanese midfielder Wataru Endo. Tracking Endo's movement in the opening minutes whilst keeping an eye the shape proved challenging.
Daniel Didavi, Gonzalo Castro, Silas Wamangituka, and Borna Sosa all joined in on a flurry of early attacks that suggested spontaneity, yet had some coordinative aspects inherent within. Sosa and Wamangituka synchronized their movements asymmetrically. One fell back most anytime the other charged. Castro, Didavi, and Orel Mangala basically worked as rotating eights, though it appeared that Mangala tried to keep horizontal line with Sosa and Didavi's assignment included short-striker responsibilities slanted left of Kalajdzic.
Amidst all of this, Endo showed no signs of being a defender of any sort. He followed nearly every rush of the insane early onset that saw Stuttgart, in all seriousness, earn five corners in the opening nine minutes. This sustained spell of early pressure didn't subside until the 17th. At that point matters began to settle and the basic framework became apparent. Endo would work at the top of the defensive line as a semi-sweeper.
Mainz, having opened the scoring against the run of play in the 13th, successfully stalled the Stuttgart engine. Matarazzo's machine ground to a halt amid many stoppages and poor set-piece play from both sides. The American nevertheless stuck to his strategy. At the stroke of halftime, his demonstrated capacity to construct Xis containing the right balance of veterans and surging youngsters furnished the equalizer. Castro intercepted a midfield ball and, after a scintillating solo run, shuffled forward for Wamangituka. The 20-year-old Congolese international thundered home a powerful first-time finish.
More interruptions hindered the flow of play after the restart. Matarazzo himself was booked for dissenting a foul in the 57th. The American coach deserves immense credit for not altering his strategy in any way even as the outcome of the fixture remained uncertain. No tactical shifts were employed. Stuttgart's first sub wouldn't come until the 74th.
Speaking to reporters after the match, Matarazzo divulged that he felt comfortable with his system and noticed that initial XI were steadily growing in confidence playing within it. Endo, in particular, improved noticeably driving play out of the back. It was Endo who initiated the fine sequence that led to Didavi's goal in the 61st.
The decision to stick with projectile-point-shaped 4-5-1 even after Klimnowicz replaced Castro in the 74th played a very important role in the two final goals. The arrowhead tore a hole through ten-man-Mainz's stretched ranks exactly in the manner one expected it should. Having devised a intricate and nuanced tactical plan for the day, the American gaffer wisely obviated any further tinkering after kick-off. Materazzo behaved precisely as a good footballing leader should.
---
Josh Sargent, SV Werder Bremen
---
Minutes Played = 87/90, Positions Played = LW
Grade = B+
The Missouri marvel picked up an assist and turned in a thoroughly credible performance in what was a crucial bounce-back match for both he and his team. Contrary to what one might have expected after last week, the American put in some solid work on the left wing. Bremen coach Florian Kohfeldt intentionally placed him in that spot in a simple match-plan that revealed itself rather early on against Schalke:

Lineup—SV Werder Bremen—Match Two (4-2-3-1)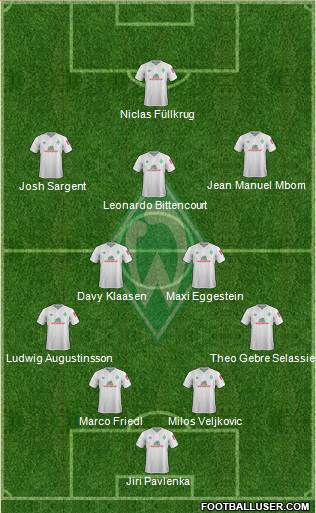 It came as something of a surprise to see this work so well, though the strength of the opponent likely had to more with its success than anything else. Kohfeldt replaced center-back and captain Niklas Moisander, lead striker Davie Selke, midfield anchor Yuya Osako, and the energetic Tahith Chong to shake things up.
The American continued to deputize for the absent Milot Rashica on the left-hand side. One could immediately tell that he worked on his defensive positioning in the week's training sessions. A good clearance out of the danger area in the 3rd and solid marking of Schalke's Sebastian Rudy early on demonstrated improved play from last week.
One nevertheless noted that he could have been slightly more aggressive in challenging Rudy. A sequence in the 15th illustrates this. Sargent also failed to properly utilize his size in a poorly anticipated aerial duel in the 21st. Some of these minor flaws may have resulted in confusion between Sargent and Ludwig Augustinsson on how best to organize their movements on the left.
Aerial duels remain a mark of inconsistency for the 20-year-old. His header off a corner to set-up Niclas Füllkrug's opening goal in the 22nd was nothing short of perfect. Much poorer efforts in the 27th, 34th, 44th show that there remains plenty of room for improvement.
Sargent won nearly all of his ground challenges. Moreover, his center-right rotations with debutant Jean Manuel Mbom were spot on. A wonderful dispossession of Nabil Bentaleb in the 28th serves as a fantastic example of how the Missourian covered his area and then some on the day. In terms of passing, the nice intuitive out swinger for Leonardo Bittencourt in the 57th served as his best highlight.
Returning to his performance in the air, Sargent concluded his day with a frustrating finish in the 78th. He simply had to find the corner when gifted such a lovely service. The American exited proceedings nine minutes later, still having had an overall strong day.
---
John Anthony Brooks, VfL Wolfsburg
---
Minutes Played = 90/90, Positions Played = CB
Grade = C
Oliver Glasner simply cannot keep this American out of his lineup. The latest injury to Maxence Lacroix effectively forced Glasner to pair the Berliner with a new center half partner for the second week in a row. This time Brooks partnered with captain Joshua Guilavogui while Felix Klaus took his turn filling the VfL's vacant right-back position.
Brooks adjusted reasonably well enough to the latest defensive reshuffle. An (unofficial) count has him garnering 69 total touches, including eight good controls in the opening four minutes. This American initiated several quality attacking sequences. Examples may be found in the 13th, 18th, 39th, and 80th. The (unofficial) count still notes 15 wayward passes, the worst of which occurred in the 52nd.
Guilavogui and Brooks didn't exactly make for the most inspiring pair as their contrasting styles led to some defensive breakdowns. One often had to bail out the other, as cases in the 24th, 28th, 40th, and 72nd. This American frequently found himself at the center of controversy throughout the day. From an, admittedly, subjective point of view, most of out seemed unwarranted.
Supposed poor marking of Nils Petersen on Freiburg's 12th minute opening goal likely had nothing to do with him. Wolfsburg's hectic schedule presumably doesn't allow for proper set-piece preparation at the moment. Brooks can have few complaints about the booking he received in the 34th. A 56th minute tussle with Petersen, however, looked like a mutual infringement and a 68th minute collision with Lucas Höler appeared clumsy, yet unintentional.
While this American can be said to have regressed in form marginally from last week, his performance wasn't by any means disastrous.
---
Tyler Adams, RasenBallSport Leipzig
---
Minutes Played = 90/90, Positions Played = RM, CM, SW
Grade = D
Adams' match against Leverkusen is already given a great deal of attention in this week's tactics column. To reiterate the main point raised in that piece, a tactical move undertaken by Leipzig coach Julian Nagelsmann placed the New Yorker in an uncomfortable sweeper role. What little role the largely anonymous American did have in the fixture's second half was rough and slipshod.
The stats tell the story of Adams' woeful afternoon. After managing over 30 touches in the first half, he amassed less than ten in the second 45. Passing and duel rates were far below 50 percent. Three hard tactical fouls could have seen him sent off had the match official been in a slightly different mood.
Two of the dreadful tackles in question occurred in the 39th and 42nd minutes. Two minutes into injury time, Adams received a long overdue booking and showed inexplicable gall in making a protest over it. A noticeably poor start to the season for last year's top American performer might see him sit out a few rounds whist Nagelsmann works out a more appropriate tactical role for him.
---
Giovanni Reyna, Borussia Dortmund
---
Minutes Played = 90/90, Positions Played = SS, CM, LW
Grade = D-
We arrive at a section that may well spark some debate. The young American phenom finds himself only a shade above failing marks following a performance nearly perfectly inverse to what league-watchers observed last week.
In order to be as fair to Reyna as possible, Dortmund trainer Lucien Favre's tactics should be taken into account first:
Lineup—Borussia Dortmund—Match Two (3-3-2-2)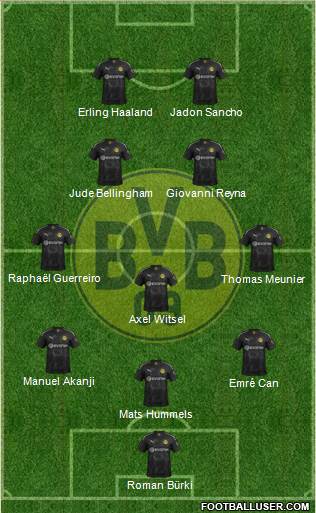 This stood in stark contrast to what one observed last week. In this set-up, Jude Bellingham and Reyna cleared worked together on the same horizontal midfield axis. Furthermore, the return of Raphaël Guerreiro led Favre to move the wingbacks up, position Axel Witsel further back, and pocket his "defensive quarterback" Mats Hummels.
Augsburg's defensive plan remained fairly simple. Favre, and possibly even, will have been quite familiar with it.
Lineup—FC Augsburg—Match Two (4-5-1)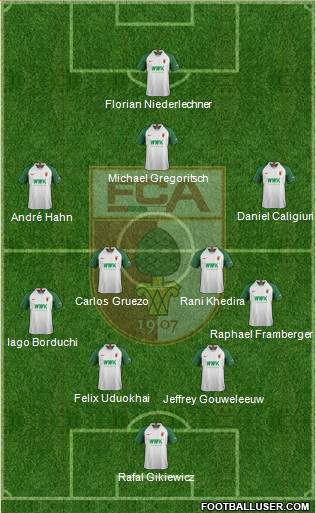 Confining one's vision to the six players stationed behind the halfway line, one can observe what–at least in some American vernaculars–as a "diamond box". It's a midfield-clogging trap in which two defensive midfielders keep a straight vertical pairing with the two center halves. The fullbacks often collapse in to choke out any central offensive impetus.
Whether Favre's tactics or Heiko Herrlich's defensive arrangement were responsible for throwing Reyna off, the American floundered from the start. There seemed to be no way through for the BVB and frustration characterized some of his early play. Following a poor corner in the 6th, he called for the ball on an assault the 7th, only to oddly track back once it was played.
In the 14th and 21st he looked noticeably lost amid the midfield traffic jam. A stray pass in the 25th seemed unbecoming. A ball headed his way in the 35th came at a difficult angle, but he still should have been able to control. A low cross at 45+1 capped a poor half.
Favre employed neither tactical nor personnel changes at the re-start, ostensibly believing that surfeit of talent could erase the 0-1 deficit and carry the day. When Daniel Caligiuri caught Thomas Meunier napping and beat Roman Bürki, who was a tad weak on both goals, the BVB coach took action in the 62nd. Marco Reus and Julian Brandt replaced Bellingham and Guerreiro.
Approximately five minutes after the subs came on, the plan became clear.
Lineup—Borussia Dortmund—67th minute (3-3-4)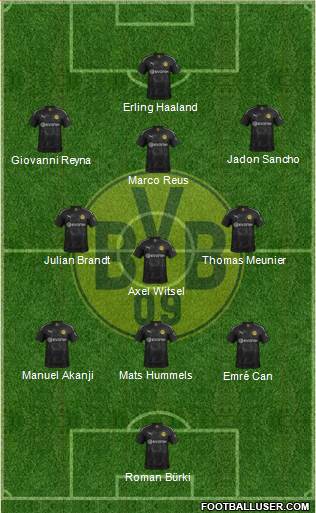 The American moved out wide to the left flank to allow Reus to lead the charges. The back-three flattened out while the midfield tightened up and moved forward a bit. Eighteen-year-old Reiner Jesus Carvalho would eventually replace Meunier to complete the re-organization in the 69th.
The idea itself might have produced better results had Reyna not looked so visibly exhausted. He had difficulty speeding up on virtually every forward charge. One can observe this in the 69th, 71st, 77th, 78th, and 83rd. The American did put together a skillful dribble in the 87th, but screwed the finish well over the goal.
Before concluding this installment, the issue of fouls involving Reyna must be addressed. As noted last week, this topic will, for better or worse, continue to crop up over the course of the season. The American's age will see him deliberately targeted in every fixture. One can see an instance of this transpire in the 18th minute. Augsburg captain Jeffrey Gouweleeuw, in a shot that could have just as easily been directed at Reyna, also attempted to cheaply rattle fellow youngster Erling Haaland in the 27th.
There remains another side to the issue. Namely, does the same age factor that leads to Reyna's targeting also lead him to go to ground too easily, engage in acts of simulation, and lobby too persistently to draw fouls? The evidence from this match tends a bit more to the latter point of view than last week.
There appeared to be nothing in a purported 3rd minute foul. In the 56th he tried to draw a penalty by leaving his feet early and literally jumping into contact. Two minutes later he would run into Felix Uduokhai's shoulder and claim that he was fouled.
Reyna's repeated appeals to the official, easily lip-read as taking place in English, remind one that even carefully groomed players who are exceptionally mature still cannot escape a certain reality at times: One can only operate at the age one is. Reyna remains most assuredly destined for greatness. There will nevertheless invariably be more matches like this on his road to global stardom.