The matchday six "deep-dive" into the work of American actors in Germany's top footballing flight counted as another opportunity to revel in the work of the D.C. native currently operating in Köpenick. With something of a resigned sigh, one might as well remark that this would be the beginning of the end for the USMNT non-call-up.
The weekly installment of our deep-scout "Americans" column once again contains three graded sections. America's high-flying French heritage striker "Jordan" returned to action to 1. FC Union Berlin in the most recent Bundesliga round. Unfortunately, a notable performance in relief last week didn't translate to Kevin Paredes getting more minutes this time for Niko Kovac's Wolfsburg. There's thus no parlay-of-form to discuss.
Some thought was invested into whether to give Giovanni Reyna a section in this edition. The young American phenom did log 31 minutes of time off the bench during Dortmund's 0-3 loss to Leipzig. Some German footballing media sources doled out average grades for Gio based on his action. Given that all of Gio's involvement has already been covered in the "focus" section of our Bulinews Tactics bulletin, we'll also note that the teenager deserves average marks and leave it at that.
---
Jordan Siebatcheu, 1. FC Union Berlin
---
Minutes played = 75/90, Positions played = CF
Grade = A
The player whom has lodged the official request to be referred to as "Jordan" hasn't found this request acceded to in the German press. This will eventually come in time. For now, ideally everyone remains understanding of the fact that reporters aren't very pleased with the five different names the striker has utilized throughout his career. Everyone will get around to getting his name switched on their templates when they get around to it. Patience.
Something else readers should understand is that "Jordan" didn't get much love in the German press this week thanks to his missed penalty in the 10th minute of Sunday's narrow 1-0 victory over 1. FC Köln. It was indeed a very poorly taken spot kick; something unacceptable from a striker of this American's caliber. That miss, combined with some unfocused play as the returning 26-year-old took some time to settle back into his groove during the initial twenty minutes, led the vast majority of sources in the Bundesrepublik to mark him well below average.
This column sees it quite differently. There were certainly weak presses, mistimed challenges, and aerial misses (6th, 8th, 12th, 14th, 19th, 23rd, 26th,  34th, 42nd, 53rd, 55th), but the lion's share of these came during the above-mentioned early spell. Those with access to the tape can actually watch the D.C. native put in an absolute command performance leading die Eisernen line in this one. The list of aerial wins, virtually all them featuring sharp flick-ons for striking partners Sheraldo Becker is ridiculously long.
"Jordan" was nearly undefeated in the air on this day. One can have a look at some spectacular work in the 5th, 22nd, 28th, 30th, 31st, 33rd, 36th, 37th, 46th, 64th, 67th, 70th (twice), and 74th. There were stretches during which our subject here was on fire. "Jordan": also completed a lovely shuffle off to Becker on Union's lone goal in the 3rd, sent in his own emphatic header just wide of the target in the 25th, and set up some scoring chances with great movement in the mix in the 56th and 74th.
The writer considered himself so very privileged to have this American on his beat. He has been and was again a true joy to watch. Some further great takedowns/touches can be found in the 1st, 21st, 50th, 52nd, 60th, and 72nd. There were some cases (27th, 32nd, 59th, 65th, 71st) in which his physical jostling happened to be a little unpolished. "Jordan" was whistled down for fouls on both Timo Hübers and Florian Kainz. Other sources may dock him for that, but this column considers the plays less relevant.
Overall, a splendid return to action for the lead-striker. We've so much to look forward to from this actor this year as he continues to thrive in Urs Fischer's tried-and-true 3-5-2 "double stack". To be perfectly candid, those of us covering the Bundesliga wouldn't mind if he dropped this latest moniker request and allowed us to refer to him as "Siebatcheu" once again. Such a cool player deserves an equally cool name. "Jordan" is simply too pedestrian.
---
Pellegrino Matarazzo, VfB Stuttgart (Trainer)
---
Matches = 1, Result = D
Grade = A-
Matarazzo's Stuttgart received early billing this round in the weekly tactics column. One doesn't have much to add to the analysis already offered apart from stressing that the VfB's defensive performance seemed to stem from equal parts solid drilling from the American trainer and confused attack coordination on behalf of the German giants. Bayern nevertheless remained by far the better team. The draw maintained some fortuitous aspects to it.
Matarazzo definitely belongs at the top level for re-instituting his second axis split-stagger at precisely the right time. This constituted a nifty ploy, not to mention a bold one. Expect more wild swings in the trainer's grade sets over the next few weeks as the squad's current talent level shall likely deliver that which both astounds and confounds. Creative tactical solutions are called for in the upcoming fixtures against Eintracht, Wolfsburg, and Union. The New Jersey native next moves are crucial.
---
Joe Scally, Borussia Mönchengladbach
---
Minutes played = 90/90, Positions played = RB
Grade = C-
After ragging on Gladbach-Freiburg a bit in the tactics column, the writer wishes to walk back some of his words on the 0-0 draw. The goalless affair proved surprisingly entertaining on the re-watch. Occasionally, this happens. A fixture that, at first, didn't produce much that stuck in the mind exhibits a decent ebb-and-flow when one looks at it with fresh eyes. The second-go yielded a much improved assessment of both the teams and our American subject here.
Gladbach's tactics, as we all anticipated, had a fascinating feel to them. Julian Weigl debuted in the BMG midfield in a split-stagger with Manu Kouadio Koné. The defensive-minded German national team midfielder occupied a position designed to help out German 2014 World Cup winner Christoph Kramer in his center-halve deployment. Scally got fewer touches (45) in this approach and the slight alteration that saw the midfield triangle tighten up after Florian Neuhaus' injury.
Lineup—Gladbach—Match Six (4-2-3-1)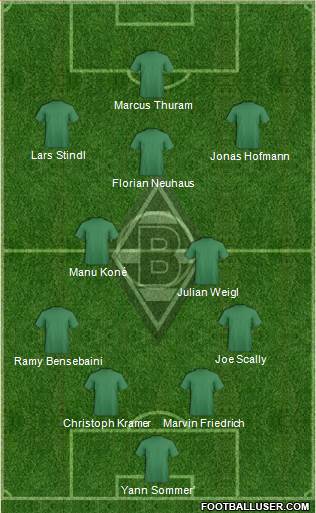 It wasn't Scally's best defensive day. Slack marks can be observed in the 2nd, 16th, 18th, 25th, 26th, 42nd and 61st. Frustratingly enough, the Long Island native fell into ball-watching far too easily. Some direct duel losses on defensive marks in the 12th, 14th, and 37th (against the likes of Vincenzo Grifo and Christian Günther to be fair) could have resulted in goals. Scally remained a bit lucky in this respect.
Offensively speaking, there were meaningless touches and retreats in the 24th, 39th, 46th, 65th, 88th, and 89th. Bad ball losses came at the end of three of those. For the most part, however, Scally's moves forward were pretty solid. He was up front working hard with quality dribbles and particularly stellar runs on the overlap in the 9th, 11th, 20th, 22nd, 28th, 32nd, 45+1, 64th, and 84th.
Scally's best work on the charge came with a slick header over in the 4th. Despite the fact that there were more defensive lapses toward the end (67th, 73rd, 76th), the CFG New Yorker still finished strong with a great defensive header away in the 78th and a monumentally important interception in the box in the 80th. Other strong defensive actions can be found in the 10th and 51st.
Our subject here escaped bookings on a couple of occasions. Scally bread-basketed down a ball in the 48th on a play that match official Tobias Stieler somehow missed. On a play that those who watched the encounter will surely recall, Freiburg skipper Günter totally lost his bearings when he felt the American took a dive in the 54th. Yes, there was regrettably some simulation there.
We'll keep Scally on the "average mean" this week; something that counts as a slight downgrade from the previous round. The New Yorker's little downtick shouldn't affect his starting XI prospects at all. Daniel Farke's starting right fullback maintains his place. Before too long, we'll surely be placing him back on the top level again.
Thanks so much for reading! You can occasionally catch Peter goofing off while watching non-Bundesliga football on twitter, @ViceytheSS.
Twitter DMs are open for football conversations, corrections, and (if you truly insist) general abuse. 
All columns debut on Bulinews before appearing on Peter's website as the season progresses.