A jam-packed Pokal week and the January transfer deadline leave us with plenty to catch up on. The hot sheet came on the heels of an especially long Wednesday. Welcome to the re-post.
Round Three of Germany's domestic cup means we've another column covering multiple matches. Giovanni Reyna's return to the BVB staring XI also translates to a full slate of Americans to discuss. All six regular actors receive a graded section this time.
For those curious as to whether this field may be expanding soon, defender Chris Richard's recent transfer to Hoffenheim renders this a realistic possibility. A group of eight regulars still seems a way off as Gladbach's Joe Scally still hasn't been selected for his first bench squad.
---
John Anthony Brooks, VfL Wolfsburg
---
Matches played = 2/2, Matches started = 2/2
Minutes played = 180/180, Positions played = CB
Cumulative Grade = A
Apart from some predictable fatigue towards the end of the Wednesday Pokal fixture, the Berliner put together another pair of gems. Brooks persists in his strong run of form, abetting greatly by the constantly improving partnership with fellow center-half Maxence Lacroix. In recent matches, the pair have developed an even better understanding of how to work together to drive the offense. This American grows ever more adventurous with his vertical balls forward. It's no exaggeration to say that we're watching a player in the form of his life.
Brooks' second tally of the season came in the 21st minute of the Sunday match against Freiburg. Lacroix and Brooks spaced themselves perfectly on the set-piece. The Frenchmen rose wonderfully to direct the initial header goal-ward, but the American's immaculate lurk enabled him to be in superb position to slam home the rebound. It looked like something the duo had invested some time working out on the training pitch. More great cooperation from them throughout the fixture enabled Brooks to rack up 78 (unofficial) touches and complete 90 percent of his forward passes.
The German Wolves took the early initiative against Schalke and never truly relinquished it. The catalysts of the early forward impetus were once again the center backs. Brooks' vertical passing proved even more precise. Great examples can be found in the 8th 15th, 31st, and 53rd. The American did pick up a needless booking for a trip on countryman Matthew Hoppe and also timed an aerial battle very poorly in the 24th. As noted above, he looked completely out of gas in the final twenty minutes. A few minor demerits shouldn't affect the overall grade.
This American remains one to watch in the coming weeks. The same applies to his red hot team. Though the postulation a couple of weeks back that Germany's green company team can force their way into a contenders' spot may have initially seemed a tad quixotic, the top-to-bottom form of the squad could translate to an undefeated February. Stay tuned.
---
Tyler Adams, RasenBallSport Leipzig
---
Matches played = 2/2, Matches started = 2/2
Minutes played = 180/180, Positions played = RM
Cumulative Grade = B+
Contrary to the predictions of last week's column, RB trainer Julian Nagelsmann evidently does possess some well-thought-out plans for his talented young US international. The New Yorker played every minute of the two fixtures this week. In even more encouraging news, Adams spent none of his time folding back to a right fullback role. Keeping this American in the midfield remains the best way of utilizing his excellent field vision. An additional advantage of such a deployment hands him practice time synchronizing movements with Angelino on the left flank.
We've already noted that the German Bulls were essentially gifted a victory by Peter Bosz's senseless tactical conflagration in the weekend column. Given what utter garbage they were facing, it's fair criticism to dock the entire team for not achieving a more dominant victory. Nagelsmann continues to feel his way through unevenly put together constellations in pursuit of his own effective post-Timo-Werner formulas. Against Leverkusen on Saturday, he moved Kevin Kampl back to sweeper and tried to revive his old 4-2-2-2.
Lineup—RB Leipzig—Match 19 (4-2-2-2)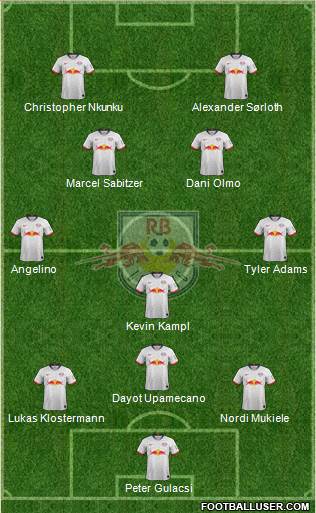 Adams actually got off to a rollicking start in this set-up. He breezed past Daley Sinkgraven and Charles Aranguiz in the 4th, nearly locating his Spanish axial partner on the next charge a minute later. One experienced muscular echoes of the 2019/20 campaign's 4-2-2-2 for the first time this cycle. Following a lively opening 15 minutes, the American broke forward on a couple of nice individual runs.
With blistering pace and four near-perfect touches in the 21st, he only failed to take the shot himself at the end of a brilliant sequence. Edmond Tapsoba broke up his slide-over-service for Angelino. An even better run featuring eight wonderful touches in the 23rd saw him get the last move wrong again. This time he had a go himself and flashed over.
The New Yorker turned on the turbo again with a 27th minute break, forcing Tapsoba to employ a semi-tactical foul just outside the box. Five minutes after earning the set piece, some more splendid legwork was on display from him as he won a throw. One can also watch him engage in a bit of magnificent trench-work on an, unfortunately, broken rightward cycle one minute from the halftime whistle.
The Leverkusen fixture steadily descended into a soggy stalemate. The process began approximately ten minutes before the break. Most of the second half proved an eyesore. The game's lone fluky goal broke the monotony of choppy football on behalf of both sides. Adams got in a mere ten touches in the second 45.
The first-half of Wednesday's Pokal fixture against VfL Bochum proved similarly rough. The American got his touches in, but the bulk of his involvement centered around the ever-annoying tendency of him to earn an endless series of throw-ins on the right. A strong series of midfield ball wins between the 35th and 39th is worth a look.
A 3-3-2-2 largely dependent of Lazar Samardzic's lane cuts not really producing something consistently convincing, Naglesmann made an intelligent tactical switch at half-time. We actually beheld something that might work toward Adams (not to mention the team's) long-term advantage. Here's how Nagelsmann lined up the lads for the 46th minute.
Lineup—RB Leipzig—DFB Pokal (4-3-3)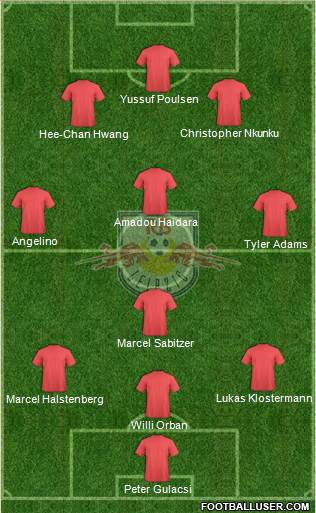 It's about time we saw a 4-3-3 from this team. A full-throated press ensured that die roten Bullen weren't beating around the bush at all. They instead proceeded to savagely beat their second-tier opponents into submission. Adams racked up over 50 (unofficial count) touches in a very fine second-half.
The American's most noteworthy piece of skill came on a 70th minute attack. He flew past three markers all the way to the touchline, ultimately supplying a near perfect cut-back for substitute Hee-Chan Hwang. Adams serviced the Korean well on two other occasions during the half and executed three lovely switches with Angelino.
A very brave challenge for the ball saw him pick up a slight knock in the 81st. Hopefully it's not serious as Adams' use as a more forward-deployed flanker could render him on the verge of a form burst. Note that this assumes Nagelsmann chooses to build upon this promising development. One truly never knows when the 33-year-old will let things evolve or aggressively pull the handbrake.
---
Pellegrino Matarazzo, VfB Stuttgart
---
Matches  = 2 , Matches started = W, L
Grade = B
The Bundesliga's American trainer unequivocally took a step back from tactical interference in these last two fixtures. In an unexpected move, he ran the same formation in both the league and Pokal. One can easily argue for and against such a strategy. It's a highly subjective matter. After admittedly going back and forth on the topic many times, this writer concludes that it's probably for the best.
Stuttgart remain a good team on a poor run of form. While it may be unlikely that all the administrative chaos finds its way into the posture of the players, Matarazzo selected an apt time to let his team decide for themselves what sort of system they wish to fall into. This isn't a period for micro-management. Moreover, a talented team requires an opportunity to sort itself out when the breaks simply aren't coming.
After initially struggling against Mainz's 3-4-3 last Friday night, the Swabians eventually pulled themselves into this:
Lineup—VfB Stuttgart—Match 19 (4-3-3)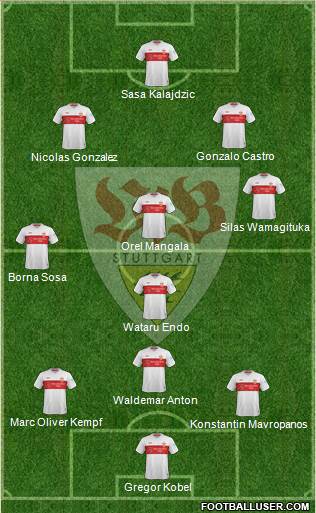 Two organic shifts over the course of the season have seen Wataru Endo settle into a traditional sweeper's role and Silas Wamangituka and Borna Sosa work a more organized stagger. Gonzalo Castro's injury had no effect on this Friday night. Philipp Förster replaced him straight up. The fact that the team really couldn't establish fluid link up play until deep into the match was a bit concerning. They nevertheless played on through all the difficulty until Wamangituka supplied the late magic.
As everyone knows by now, the Congolese winger cemented his entry for the goal-of-the-season with a superb sensational solo run from 80 meters out. Stuttgart's second tally against Mainz had absolutely nothing to do with anything tactical. That was just sublimely slick skill. Wamangituka did it again in the 2nd minute of the Pokal encounter against Borussia Mönchengladbach. This time he covered about the same distance on the opposite side of the fixture.
The exact same arrangement as the one illustrated above–this time with Daniel Didavi filling in for the injured Castro–very nearly held Marco Rose's foals at bay during the late Wednesday night fixture. After Wamangituka's early sparkle, both sides dug in for an intense fight that remained entertaining even if chances were at a premium.
With Gladbach scoring their two goals on each sides of the half, it turned out to be a hard-luck result for Matarazzo's non-intervention. Philipp Klement took over for Didavi at the restart, but no one switched positions. In the final analysis, one can simply excuse the trainer for allowing his actors to play on. The overreach has gone to far at some earlier stage's and the club's basic goal of avoiding the drop has been met.
That being said, one expects this American to make some changes ahead of Leverkusen this weekend.
---
Giovanni Reyna, Borussia Dortmund
---
Matches played = 2/2, Matches started = 1/2
Minutes played = 145/210, Positions played = RW, CM
Cumulative Grade = C
More detailed news emerges regarding the illness that kept this American out of the starting XI over the last three rounds. Apparently, the non-corona-based sickness has been a nasty throat infection. A bronchial related bug, never a pleasant experience, can hamper footballers over the long-term as it precludes basic fitness training. Reyna made his long awaited return to Edin Terzic's lineup on Saturday. He looked far from his best after the layoff.
Lineup—Borussia Dortmund—Match 19 (4-1-4-1)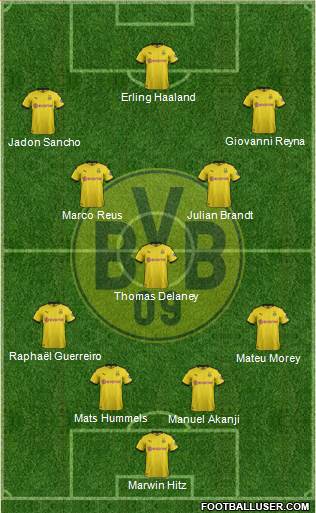 One could see evidence of rust in the first five minutes. The "American Dream" had noticeable difficulty getting around his Augsburg markers and often seemed to be operating at half-stride. Reyna couldn't quite summon up the strength to stay with his own marker on the FCA's opening goal in the 10th minute. In addition to blowing the coverage, he ball watched rather than make a second tackling effort on the broken play. One must hold him responsible for lapsing on the tally that put his team behind.
If Sancho and Reyna switched flanks during the first half, this writer must of missed it. The matchplan seemed to call for a simple plan on the break; one that wouldn't tire the American out with too many directional shifts. Unsurprisingly, the American found it difficult to involve himself in many offensive sequences. Most of the traffic proceeded up from Raphaël Guerreiro towards Sancho. Mateu Morey showed his own inexperience with slow crawls up the overlap.
A nice piece of possession from the American did lead to the handball penalty in the 19th that Erling Haaland ended up missing. After an anonymous ten-minute stretch between the 20th and 30th, Reyna cropped up again in a badly lost footrace with Daniel Caligiuri. The first 45 ended up being one of those familiar cases of Dortmund flipping the switch well and then switching off at random moments. Play after the restart was much improved.
As the BVB progressively put together longer and more creative combinations, Reyna remained one of the weaker links in the chain. Silly fouls in the 53rd and 57th slowed the team's growth into the game unnecessarily. The American missed a wonderful opportunity to score with weak positioning on a far-post aerial duel in the 54th. He moved too slow to nutmeg Caligiuri in the 55th and and arrived precious seconds late on a Sancho switch service in the 71st.
Terzic debuted with a 3-5-2 in the Pokal match against SC Paderborn 07 and might have done better not to stick with it. After Reyna's introduction in the 65th minute, we were still basically looking at this.
Lineup—Borussia Dortmund—DFB Pokal—(3-5-2)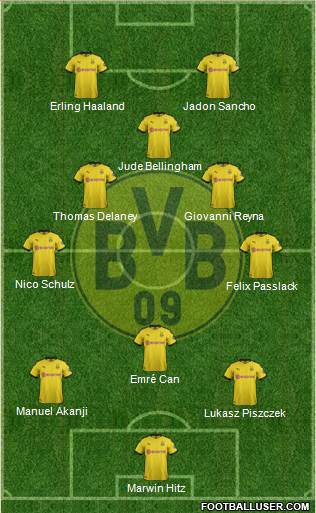 While Reyna's play certainly had a more discernible crispness to it in this one, his use as a third-axis central midfielder never felt right. Sancho was sadly oblivious of the fact that he snuck in on the right during a 68th minute attack. Haaland and Sancho didn't bother to look for him on a combo in the 73rd.
The American proved much stronger defensively in the midweek fixture, losing only one of his ground duels. In point of fact, he remained one of the few actors on the pitch who appeared attentive during the insane Paderborn comeback. Sancho again should have been looking for him when the young Englishmen missed two late chances to put the game to bed.
Terzic eventually got his winger out to the wing near the end of the first period of extra time. One witnessed glimpses of a Reyna closer to recapturing his top level in the last 15 minutes of the match. The American teenager supplied a couple of solid work throughs for Haaland and tracked back hastily to cover his ground on the right. Once more, Sancho and Reyna mostly kept away from rotations. Reyna should be fit enough for them by the weekend.
---
Josh Sargent, SV Werder Bremen
---
Matches played = 2/2, Matches started = 2/2
Minutes played = 151/180, Positions played = LS, CF
Cumulative Grade = D+
Sigh. It would be exceedingly harsh to state the Missouri Marvel falls back to square one. Sargent did pick up a late assist in Tuesday's 2-0 Pokal victory over SpVgg Greuther Fürth. Sadly, a sugary-sweet aftertaste cannot adequately compensate for another sour downturn. The action taken into account in this graded section featured way too many missed opportunities. Here we go (downwards) again. The latest dip unfolded thusly:
Lineup—Werder Bremen—Match 19 (3-3-2-2)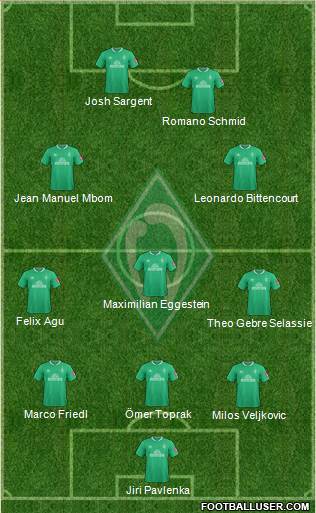 Glibly stated, this was awful. Bremen's first-half performance against Schalke this weekend was nearly their worst 45 minutes of football all year. The notion of Romano Schmid successfully working a short-striker role behind Sargent should have been junked rounds ago. This American couldn't begin to adjust his runs with the support system behind him so erratic. He also muffled four passes before the half-hour mark.
In matters unrelated to the poor tactics, Sargent depressingly allowed himself to be bossed around too easily by the Königsblauen defenders. Matija Nastastic boxed him out with minimal effort in the 29th and 31st. The Missourian began this languid lap by firing in a worthlessly tame shot on target in the 14th and capped it with a total rubbish chip to no one in the 42nd.
A noticeably furious Florian Kohfeldt pulled three of his starters at halftime, leaving Sargent on the filed for the big re-format.
Lineup—Werder Bremen—46th minute (3-3-4)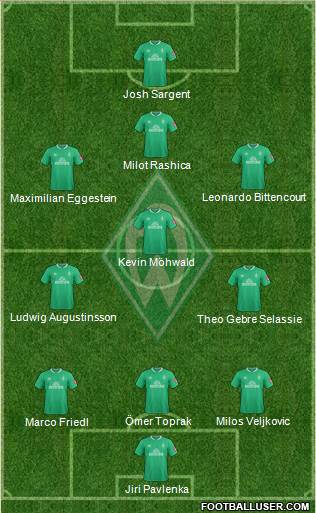 Sargent continued to tank irrespective of the reorganization. Ozan Kabak easily outpaced him on a 48th minute race for a loose ball. The Schalke defender threw in a little petty shoulder check at the end of the play just to make the American striker feel a bit smaller. One could say it worked. A terrible aerial loss in the 53rd was immediately followed up by an even worse attempt at a finish. Two more bad offside runs also came before Kohfeldt mercifully took him off in the 61st.
Perhaps owing to the fact that the constellation eventually allowed Bremen to draw the league fixture, the Hanseaten trainer kept the 3-3-4 in place initially against the Kleeblätter in the Pokal. A more useful foundational apparatus enabled the Werderaner to get a few more solid through balls in for Sargent. He still looked shaky in the opening ten minutes; particularly hesitant when it came to hitting the gaps on early rushes.
Kevin Möhwald converted a 12th-minute Milos Veljkovic corner kick, allowing Kohfeldt to revert to a conservative 5-3-2 capable of protecting the lead. Looser play from Bremen led to more chances for Sargent. One watched with ceaseless frustration as he blew them all. Wide open and onside in the 16th, he screwed his finish well wide. Another sitter was lost in the 21st. Pure hesitation led to another bungled effort in the 62nd.
The American would throttle another effort well-wide in the 67th. His assist of Felix Agu's goal in the 73rd came off a blind cross and a kneed in finish. As much as one hopes it will help Sargent carry some momentum over, it just didn't seem the type of play he'll consider a boost. Double sigh. It genuinely pains a writer to document another downward curve for this US international.
---
Matthew Hoppe, FC Schalke 04
---
Matches played = 2/2, Matches started = 2/2
Minutes played = 170/180, Positions played = LS 
Cumulative Grade = D-
There's not much uplifting to report from Gelsenkirchen, where a spate of sentimental retro signings hasn't yet translated to anything resembling quality football. Trainer Christian Groß thankfully dispensed with his tendency to revert to an ineffectual back-three late in matches. The Swiss head-coach stuck with his 4-2-3-1 for duration of both matches this week. Hoppe continues to spearhead the attack, or at least what passes for an attack on this squad. By this writer's count, he accrued fewer than 20 touches in both fixtures.
The weekend encounter against Bremen got off to a disastrous start, then proceeded to get worse. The Californian couldn't find the touch to steer an effort goalward in the 3rd. Bremen's Ömer Toprak won all but one of his direct duels with Hoppe over the course of the afternoon. This American had to wait until the 40th minute to attain his fourth touch of the match. His last involvement came on a very poorly contested 50-50 behind Marco Friedl in the 76th. The US Boy finished without producing much memorable at all.
Wednesday's Pokal fixture against Wolfsburg saw the whole squad look somnolent offensively for pretty much the entire 90 minutes. The sole useful ball in Hoppe's direction, in the 18th, was tackled away easily by Lacroix before the youngster could get a jump on it. After the team spent most of the rest of the match trying a bunch of useless direct charges involving collapsing wingers Amine Harit and William Furtado, Hoppe skied Schalke's best chance at an equalizer over the bar with a bad first-time hit in the 85th.