The last report on this Bundesliga campaign looked at the penultimate round of the 2020/21 season. As is the custom with most of this author's writings, concluding matches should take place with as many friends and as little note taking as possible. It's truly been a fun season posting these columns over on Bulinews.
We'll keep posting daily articles over there throughout the course of the summer. As the Euros beckon, it's time to move most of the action over to Shadow Scholar Syndicate for the long-delayed 27th chapter of the blog. Here's one last re-post of the "Americans" column for those who missed the hot sheet. 
Our final deep-scout column taking a look at US actors in the German footballing landscape contains six-graded sections. Notable absences include Chris Richards and Tyler Adams, who remain out injured with their club teams. Those curious should know that neither's availability for this summer's July CONCACAF Gold Cup appears in jeopardy.
With best wishes to all the USMNT fans out there for a successful continental championship, we hereby conclude this column. Since its inception in 2019, every last Bundesliga or DFB-Pokal fixture with an American factoring in it has been scouted. Insofar as drawing a conclusion from all long hours of football is even possible, one can rightly say that US enthusiasts deserve to view the future of their national team optimistically.
Thanks so much for joining us. Do enjoy one last look at the American footballers of the Bundesrepublik!
---
Timothy Chandler, Eintracht Frankfurt
---
Minutes played = 90/90, Positions played = RW
Grade = B+

The day of the one-time Jürgen Klinsmann USMNT recruit is already covered in great detail in this week's tactical focus. As is often the case, any American actor featuring the weekly breakdown gets virtually every move chronicled within the match-flow sections. Comparing notes with text, a writer finds that only a sensational aerial win in the 2nd and a couple of strong runs toward the end didn't receive mentions. Note that the grade in this case differs greatly from those appearing in other sources of German journalism sources. An unrelenting sense of visible effort counts for much in this case.
While there's certainly some subjective bias at work, Timmy's on-pitch leadership remains palpable. With head-coach and perhaps as many as five players preparing to leave this team, this American happened to be one of the few SGE outfielders displaying consistent hustle and heart in the failed race for the UCL. Fredi Bobic did extremely well to tether Chandler to his fervent home base. It should prove an absolute pleasure for both Germans and Americans to watch the 31-year-old next season. He's far from finished.
---
Matthew Hoppe, FC Schalke 04
---
Minutes played = 45/90, Positions played = SS, LS
Grade = B+
It definitely touched the heart to see the young Californian enjoy an electrifying comeback match before the team he appears committed to playing for next season slips into the second division. One goal, an assist, and two assisted shots stand as incredible numbers for a player who only totaled 22 recorded touches in 45 minutes of second-half relief. That ration enables one to proudly proclaim that Hoppe maintained the "Midas touch" on this particular day. Just as is the case with the Chandler section above, all of this American's involvement is already catalogued in the in-depth focus feature of this week's tactics column.
Again, handwritten note to published text comparison reveal that nary a detail has been left out. The instance in which an over-exited Hoppe nearly scored an own-goal finds mention, as do several mistimed ground challenges. This American won less than a third of his direct duels this round. General concentration in open play remained poor despite his predominance on the scoresheet. The writer also spotted four stray passes. These are the reasons why Hoppe receives the same goal as Chandler and one reason he's still a few steps away from Gregg Berhalter's USMNT roster.
---
Josh Sargent, SV Werder Bremen
---
Minutes played = 90/90, Positions played = RW, LW
Grade = B
The Missouri marvel had quite possibly his busiest day of this calendar year. Working as a widely-deployed flanker in Florian Kohfeldt's final constellation, Sargent amassed 53 touches and recorded four shots on goal. The Bremen-Augsburg affair supplied football lovers with everything that they could possibly hope for in a relegation six-pointer. In addition to the unbridled intensity on the pitch, the FCA fans cranked up the heat out in the parking lot with a steady cacophony of drums, sirens, and songs.
Our American spent the bulk his 90-minute deployment firmly on the right of a surprise 4-2-3-1. Some rotation to the opposite flank took place whilst Leonardo Bittencourt was on the pitch. After Milot Rashica relieved Davie Selke and Niclas Füllkrug pushed up, Sargent no longer attempted to stray from his opening position. Here's how it initially settled:
Lineup—Werder Bremen—Match 33 (4-2-3-1)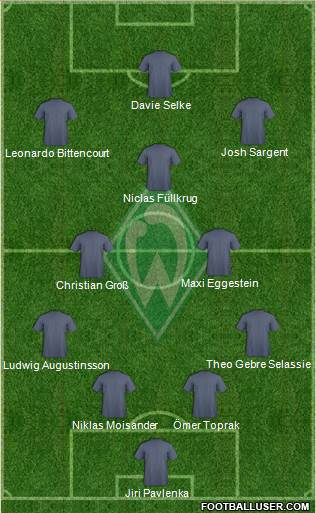 An amazing 62 percent of the SV attacks took place on Sargent's side. He also ran very hard throughout to help defensively out on the track-back. The Missourian found him preoccupied with both in the opening minutes, way back in his own box in the 2nd, 10th, then high up near the offensive touchline in the 5th and 8th. All of the early directional shifts could have easily depleted him.
Fortuitously, the long interruption caused by Ruben Vargas' red card allowed Sargent a chance to catch his breath. The American found himself back up driving the attack with Theodor Gebre Selassie in the 18th. He saw a hard shot blocked in the 21st. This was a shame as the power and precision were there. Selke only narrowly failed to reach him with a header forward off the ensuing corner.
A telling interval to check out just how hard the Missourian worked on both sides of the ball came in the 23rd. A pair of slick touches constituted a nice collect up top. After his next pass got blocked, he tore back with excellent acceleration to win back the lost ball. After some solid defending on a free kick in the 27th, he executed another nice takedown in the 28th, only to see his fine shot blocked bye André Hahn.
Some quality work on the turn at the half-hour mark got wasted when he unwisely tried to thread a square in for Selke. Sargent then got harshly hauled down on a break one minute later. He set up Gebre Selassie nicely in the 36th. In the 44th, he took what was either a bad shot across the face of goal or another ill-advised aim for Selke. This American did quite a lot right in this one, save some of the final decisions.
One observed more of this in the second half, with hard-chase downs in the 47th, 53rd, and 75th ending in either blocked crosses or dispossessions. The entire team struggled to summon up the strength to compete in the twenty minutes following Rani Khedira's opening goal in the 57th. This served as a double-whammy of sorts as Christian Groß' sending off in the 49th cancelled out the Bremen man-advantage.
Following a much quieter second-half, Sargent's fixture ended on the dourest possible note. Enervated beyond the point of being able to keep pace, he got badly beaten in the lead-up to the 89th-minute penalty that would work as the dagger to the Hanseatic hearts. Rashica had to haul down Hahn after the Augsburg attacker swept past Sargent.
This disastrous ending notwithstanding, Sargent's respectable touch-count, passing rate, and duel wins merit above-average marks in this case. On balance, his performance exhibited passion fitting of the stakes involved. The Missouri marvel will surely rue some of the mistakes at the end of his efforts, but brought sufficient enough intensity to keep his chin up.
---
John Anthony Brooks, VfL Wolfsburg
---
Minutes played = 90/90, Positions played = CB
Grade = C-
A unusually inactive day for the Berliner saw him garner only 48 touches in the writer's (unofficial) count. Brooks simply wasn't much of a factor in his side's UCL-clinching 2-2 draw with Leipzig. Defensive counterparts Kevin Mbabu and Maxence Lacroix were far busier dealing with Justin Kluivert, Emil Forsberg, and even an encroaching Willi Orban on the RB left. A writer who regularly extols the virtues of this American finds it somewhat sad that there isn't an example-laden paean of praise to conclude this column on. It looks as if the many other published ones will simply have to do.
Sunday's encounter was not a match to watch Brooks produce one of his trademark towering headers away or furnish one of his awe-inspiring crunch tackles. He did win an aerial duel nicely against Marcel Sabitzer in the 9th. Decent clearances are on display in the 2nd, 19th, and 63rd. The best forward carry came in the 27th. Pretty bowing diagonals came in the 10th and 29th. He crashed inward well with good determination in the 50th, regrettably only managing a harmless shot on target.
Some poor defensive awareness led to Forsberg slipping past him to easily in the 14th. Yussuf Poulsen beat him again in the 18th and 24th. Hesitancy on a counter at the hour-mark led him to trip over his own feet. Poor set-piece takes in the 11th and 72nd left something to be desired. A bad misjudgment on an Angelino cross and continued suspect marking from about the 74th minute onward characterized a hard late tank. After the match, we would learn that he may have been playing hurt after Poulsen studded his foot in the 18th. This explains a lot. At present, it doesn't look like Brooks will play the final match.
---
Giovanni Reyna, Borussia Dortmund
---
Minutes played = 76/90, Positions played = RW
Grade = D
Regrettably for Reyna fans, we won't be sending Gio off with a glowing review this time. After flashing the confidence that preceded his late season form surge, the 18-year-old slowly fell back down to earth with a string of four average league fixtures. Mixed in among these, of course, one has the two first-rate tallies in the Pokal that conjured up pleasant memories of his maiden BVB goal in last year's competition.
Ardent fans of the lad teammate Erling Haaland christened "the American Dream" needn't be concerned about this slight form tip. It by no means constituted a precipitous drop. Moreover, the fact that his club qualified for the Champions' League next season essentially means that the team remains intact. Surrounded by top-talent, another eminently successful lies ahead of Gio.
Lineup—Borussia Dortmund—Match 33 (4-2-4)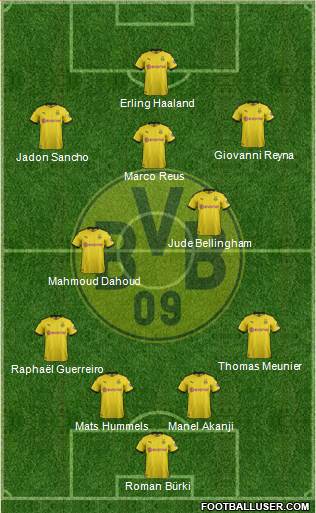 This illustration serves a pair of purposes. First, it takes one all the way back to the beginning of the season; when then head-coach Lucien Favre intrepidly let Jude Bellingham operate off his own individual plane. Terzic's latest directive more closely resembled a pronounced six-stagger. It nevertheless yielded the same sort of deliberate task for Reyna. Namely, laying off for Bellingham whenever possible.
This brings us to the more general point. Reyna has earned a lot of undue criticism for someone his age this year. Part of this, naturally, stems from what could fairly be described as (via parents Claudio Reyna and Danielle Egan) an oversized set of genetic expectations. Bellingham's form this season also contributes. Many wished to see Gio develop along the same lines as an English midfielder one year his junior.
There can be no question that the 17-year-old Bellingham produced a more consistent year than the 18-year-old Reyna. The mere act of juxtaposing those two ages together in a single sentence shows how inherently unfair such a comparison is. Moreover, one should note that the American had more psychological barriers to deal with this year. Injury, illness, and spells on the sidelines plagued him in early 2021.
The act of learning how to transcend self-doubt early in his career might even mean that this future USMNT star had a more developmentally productive campaign than his English counterpart. Such a statement merits a mention in this analysis as we're discussing another specific match during which the youngster looked very much off his game. He lacked creativity and drive on virtually all of his 62 touches.
One can watch him tap Bellingham, then freeze on his own movements in the 1st, 6th, 16th, 40th, and 62nd. He was far too eager to get rid of the ball in the 23rd and 42nd. Chin-chested blind runs with no attempts to survey the field can be found in the 36th and 54th. Bad defensive duel losses to Karim Onisiwo and Daniel Broskinki were legion. The worst came in the 39th.
Major mistakes on goal-scoring opportunities marred the day. To be absolutely fair, axial counterpart Jadon Sancho also exhibited horribly unfocused touches all afternoon. Neither young winger truly had their head in the game; a possible consequence of a long night of partying after the club captured their first trophy in four years on Thursday.
Reyna missed to chance to score in the 19th, when he should have flicked in a Thomas Meunier cross instead of flicking on. Two further shots on target were lame and tame. The overall stats showed that Reyna, while active, passed and fought duels well below his potential. Seventy-five percent passing a 30-percent-win rate pulled him down.
As the graphic above aims to emphasize, Reyna's primary assignment seemed to be servicing Bellingham, then cycling his way into the box. Neither team nor American really got the hang of it despite the deceptive 3-1 scoreline. The 17-year-old English phenom, working as the focal point of the construct, unsurprisingly, did better than everyone else.
---
Pellegrino Matarazzo, VfB Stuttgart
---
Matches = 1, Result = W
Grade = D-
A fixture that once commanded a deep delve into the contemporary tactics of both trainers proved quite the eyesore this time around. Matarazzo and BMG gaffer Marco Rose seemed genuinely invested in an encounter that did retain some European club competition ramifications for their teams. Rose's foals have long since been as checked out as the man helming them.
VfB's American head-coach seems uninterested in potentially attaining the UEFA Europa Conference League slot. Though one could argue that it's somewhat prudent of him to suppress such a pursuit during his team's first year back ion the top flight, one would still like to see better ideas than this:
Lineup—VfB Stuttgart—Match 33 (3-4-3)
Whenever one sees Waldemar Anton and Atakan Karazor on the team sheet together, one can easily anticipate positional problems at the back. Both of these players function better as lone defensive pivot runners in a back three. Similarly, Wataru Endo rarely finds himself at his best with an axial partner.The cancellation of Borna Sosa's split-stagger worked as a third contributing factor to a first-half of football during which the Swabians were downright atrocious.
Opponents Gladbach were just as bad, generating all of one legitimate scoring chance before Lars Stindl buried a dogged Christoph Kramer set-up at the stroke of halftime. Endo, Konstantinos Mavropanos, and Roberto Massimo got a few rightward cycles going, but nothing anywhere close to being penetrative. After Mavropanos had to be subbed off injured again in the 34th, Matarazzo's men couldn't even get the basics of holding the ball up right.
Endo eventually pushed up and leveled the score with a brilliant individual error. The game-winning goal, however, basically owed everything to luck. Sasa Kalajdzic's effort five minutes after Endo's tally took an alrighty deflection on its way to the back of the net. Stuttgart prevailed in a match that hardly deserved one goal, let alone three. Another poor grader for Matarazzo for these tactics as coach and players limp to the finish line.
Thanks to all those who have read some part of this column this season! You can now catch Peter at his new home on twitter. DMs open. @ViceytheSS
With the Euros just weeks away, there's also plenty of irreverent satirical fun in store this summer on the blog for those who care to join in! You can access it directlyor through Peter's website.