Giovanni Reyna's historic first Bundesliga goal serves as a harbinger of sorts. Another eventful season for American footballers in Germany's top flight is now officially underway! A new campaign brings with it another year of extensive weekly analysis.
As is the case with this season's tactics column, one can find an early release of the "Americans" installment over at bulinews.com.  Those who didn't have a chance to catch it earlier in the week can find the polished-up re-post here.
Six Americans logged pitch time in the 2020/21 German Bundesliga's opening round. Of these, four were definite factors in their squads' results. Chris Richards played the sixteen minutes at center back in Bayern's 8-0 thrashing of Schalke while Frankfurt trainer Adi Hütter introduced Timothy Chandler in the 88th minute of the 1-1 draw with Bielefeld.
Richards couldn't possibly hope to factor into a match that had long since been decided, even if his fellow youngster Jamal Musiala came on later and most certainly did. Hütter didn't intend to simply waste time with Chandler, but the "super sub" ploy produced nothing of note.
Taking into account that one must assess American head-coach Pellegrino Matarazzo's historic Bundesliga debut, that leaves five graded sections to cover.
---
Pellegrino Matarazzo, VfB Stuttgart
---
Grade = A
Anyone looking for a solid mid-week re-watch should definitely check out the Baden-Württemberg Derby between VfB Stuttgart and SC Freiburg. Köln-Hoffenheim may have featured the same number of tallies, but the southwest regional clash counted as the true five-goal thriller.
Freiburg head-coach Christian Streich, difficult as it may be to fathom, captured his very first victory in this matchup. It took the Streich nine years at the helm of the Schwarzwaldverein to finally beat his Baden neighbors. This milestone notwithstanding, the American trainer clearly brought the better tactics on this particular day.
Lineup—VfB Stuttgart—Match One (3-4-3)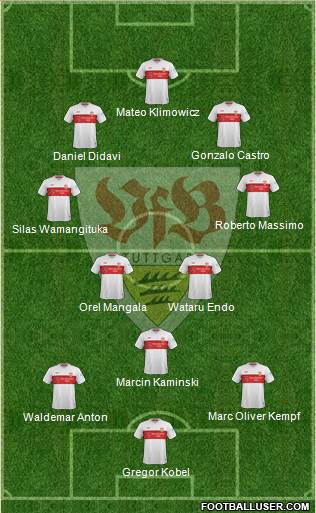 A defensive arrangement that kept a clean sheet in the DFB-Pokal round was kept in place. In a somewhat surprising move, attacking midfielder Mateo Klimowicz replaced Sasa Kalajdzic at lead striker. This pushed Orel Mangala back to pair with hitherto partnerless Waturo Endo and moved Silas Wamangituka and Roberto Massimo into more prominent wing positions.
Facing some media questions after the match, Materazzo conceded that his choice of Klimowicz prompted a rethink of sorts. He nevertheless explained the choice based on the reasonable assumption that a vertical axis pairing with pivot defender Marcin Kaminski would generate quick centralized attacks through a thin Freiburg midfield.
This crew played perhaps one of the better 0-2 initial 45 minutes one is likely to ever see. Die Schwaben maintained over sixty percent possession in the opening half. Midfield touches were a mite too heavy. Freiburg were able to close down passing lanes more easily than any coach would like to see.
With both of Freiburg's goals related to set-piece execution, some minor criticism of Matarazzo's designs remains warranted. On balance, however, one should probably view the two Freiburg tallies as resulting from the brilliant play of both Roland Sallai and Nils Petersen. Two of Streich's players were on fire in this one.
Down 0-3, which could of potentially been 0-5 after Freiburg had two goals disallowed for offside, the American trainer made two effective substitutions and re-arranged his tactics. The beaten Badeners got back on track thusly:
Lineup—VfB Stuttgart—66th minute (3-4-3)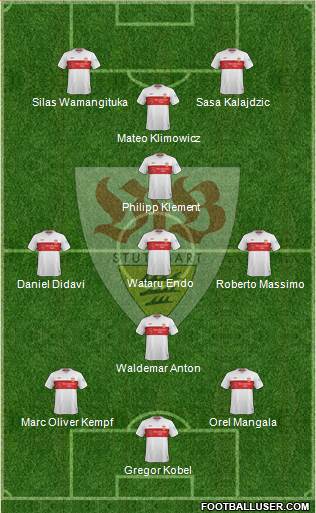 Expertly done. The versatile Phillip Klement came on for Gonzalo Castro in the 60th, with Kalajdzic replacing Kaminski five minutes later. Once the re-shuffling settled, one saw that Wamangituka and Kalajdzic moved up to pocket Klimowicz as a false-9. Orel Mangala dropped back to the defensive ranks so that Klement could drive the attack. Most brilliantly, a flat triplicate midfield axis took advantage of Streich's 4-1-4-1.
This yielded immediate dividends. Now Stuttgart could make something of their possession. A gorgeous long ball from Daniel Didavi set-up Kalajdzic's goal in the 71st. Ten minutes later it was Wamangituka's turn. Endo supplied the incisive pass on the second goal.
Stuttgart dominated proceedings for the duration. Somehow, despite positively radiant play from Klement, they were denied the equalizer. Appeals for a penalty deep into injury time were not without merit. By all accounts, this fixture should of ended 3-3.
As previously emphasized, Materazzo's main discernible strength appears to be the skill with which he devises optimal roles for his veterans whilst also integrating youngsters into the fold. In this match, he did an excellent job bringing the 23-year-old Kalajdzic and 18-year-old Wamangituka forward at the right time.
One looks forward to witnessing what he'll conjure up against Mainz this weekend; a match in which this American should get his first Bundesliga victory.
---
Giovanni Reyna, Borussia Dortmund
---
Minutes Played = 79/90, Positions played = SS, AM
Grade = A-
Dortmund's tactics in their most impressive 3-0 weekend defeat of Gladbach are, as the focus of this week's tactics column, are already chronicled in greater detail. Giovanni Reyna's first Bundesliga goal constitutes a powerful statement in its own right; one that requires no further examination here.
What does stand worthy of some discussion concerns the issue of this youngster's penalty draw. A highly subjective debate on Reyna looks to continue this season. This American simultaneously received both immense accolades and stark criticism when he both scored a wonder goal and appeared to take a dive in last spring's Pokal fixture.
Since then, talk of whether Reyna goes to ground too easily stubbornly refuses to go away. Expect this to continue all season long as the teenager will serve as a target of many hard fouls. Veterans will go after a perceived tyro with strong, sometimes cheap, challenges. This isn't a side of football many of us diehard enthusiasts are necessarily proud of, but it exists nonetheless.
Review of this match provides two examples. Both a tackle in the 20th and the penalty in the 53rd appear to show him taking advantage of minimal contact appear to show him taking advantage of minimal contact to draw the foul. Note that that such observations do not truly affect the grade. Instead, they seek to highlight what will likely be the only blight on an otherwise bright season.
---
John Anthony Brooks, VfL Wolfsburg
---
Minutes Played = 90/90, Positions played = CB
Grade = B
One can be forgiven for not noticing this American at all during Wolfsburg's 0-0 draw with Leverkusen on Sunday. The Berliner quietly got it done whilst others focused on the fascinating battle between his center half partner, Maxine Lacroix, and young Werkself phenom Florian Wirtz. Brooks was by far the less glamorous half of the duo.
The American nevertheless performed his duties well, especially in the first half. Great pieces of defending can be found in the 13th, 16th, 19th, and 35th. This writer's (unofficial) stats have him accumulating 42 touches in the opening 45. Also noteworthy, Brooks' first half passing exceeded 80 percent and he won 67 percent of his duels.
Of course, the offensive header over the bar in the 33rd needed to be converted. Brooks could of and should have done much better at the end of a beautifully designed set-piece play that trainer Oliver Glasner obviously centered around him when working it through on the training pitch.
Overall, the much-discussed center-back partnership performed well enough to earn Glasner's legitimate post-match praise. Unfortunately, Brooks did dip in the second half with some poor switches, unimaginative passes forward, and slow track-backs. He slipped into anonymity, as did virtually of the other outfield players, in a horrendous final quarter of hour that saw both teams play at half-speed.
---
Tyler Adams, RasenBallSport Leipzig
---
Minutes Played = 90/90, Positions played = ADM
Grade = C+
Julian Nagelsmann's lineup selection had many thinking that Tyler Adams would run pivot out of a back-three, just as he did in the Pokal round. Instead, the New Yorker settled in as an anchoring defensive midfielder. Nagelsmann's formation in the 3-1 defeat of FSV Mainz 05 settled into this:
Lineup—RB Leipzig—Match One (4-3-3)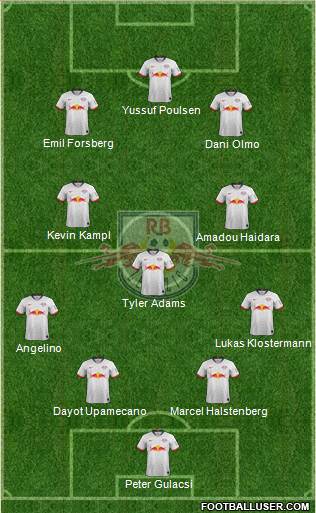 An uncharacteristically simplistic approach from Nagelsmann, who surely plays his cards close to the vest ahead of more meaningful matches to come. After the initial ten minutes, when he played a small role in the attack, Adams fell back to work in defensive midfield for much of the rest of the game.
Touches, 94 by this writer's (unofficial) count were not a problem for this American on this day. Involvement, on the other hand, didn't come easily for him. As is often the case with Adams, he favors a forward run whenever a cycle-possession develops on the right. One can witness him doing so in a semi-logical fashion 18th, 35th, 57th, and 64th.
At the risk of sounding overly critical of player perhaps proscribed too narrow a role, it seemed as if a great deal of Adams' energy was wasted on forward runs not in great sync with the play. Examples include the 20th, 37th, 46th, 60th, and 79th.
Neither Adams nor his team looked especially sharp in the opener. The scoreline, perhaps unfairly compared to the combined 13-0 score by which Leipzig demolished Mainz in two fixtures last season, deceives. The American's very poorly timed pass for Amadou Haidara in the 28th was emblematic of a frequently choppy RB squad that failed to inspire.
Die roten Bullen and their American midfielder should have performed much better against such a weak opponent. Team and player were mediocre.
---
Josh Sargent, SV Werder Bremen
---
Minutes Played = 90/90, Positions played = LW, LS, CM
Grade = D
Eight pre-season victories seemed to herald a new beginning for Florian Kohfeldt and the Hanseaten. Regrettably, the Bremen coach put forth another an easily exploitable tactical debacle that sent his side crashing back down to earth. A 1-4 defeat to Hertha BSC began with this:
Lineup—SV Werder Bremen—Match One (4-2-3-1)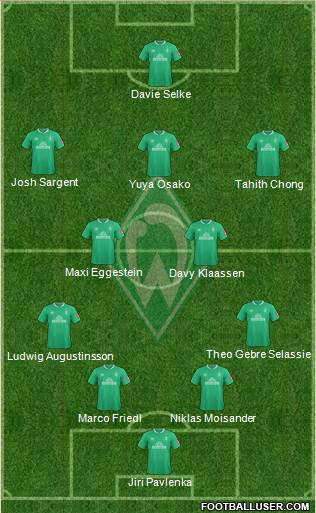 Given that Sargent had shown a propensity to work well behind Davie Selke as a short-striker in the pre-season, this seemed a most curious choice. The bulk of Sargent's poor performances last season also came on the left wing, where he's had difficulty balancing his defensive duties and catching up with the attack. Sargent can work as a trailing flanker. It remains a role he hasn't quite mastered yet.
The young Missourian visibly struggled to get his positioning sorted out in the opening six minutes. He did burst through on the left with some nice trail runs in the 8th and 9th. By the 14th, however, he was looked lost again on a mistimed trail that left him poorly positioned for an aerial duel. He then slipped out of view, garnering only one touch until the half hour mark.
Sargent reappeared to test Hertha keeper Alexander Schwolow with a solid hard shot in the 31st. This was another instance in which his role as a trailing attacker crashing in from the flank appeared to actually work. The disadvantages of using the American in such a role became apparent eleven minutes later.
Sargent failed to mark Peter Pekarik on both the beginning and end of the sequence that led to Hertha's opening goal in the 42nd. Other Bremen players also blew coverage on the play, but Sargent's inability to defend inside the box stood out. To be fair, it asks a lot of strikers to keep up such marking. It asks even more when their instructions for the day include many hard sprints as a trailing attacker.
Fatigue became evident in the 52nd when Sargent once again couldn't catch up with the attack. Kohfeldt had brought on Leonardo Bittencourt at the half, but no real plan or shape could be divined. To his credit, the American continued to work and grind in spite of the fact that his assignment left him enervated.
Kohfeldt must have noticed his attacker was fading, yet still didn't sub him off during a double change in the 63rd.
Lineup—SV Werder Bremen—64th minute (4-2-1-3)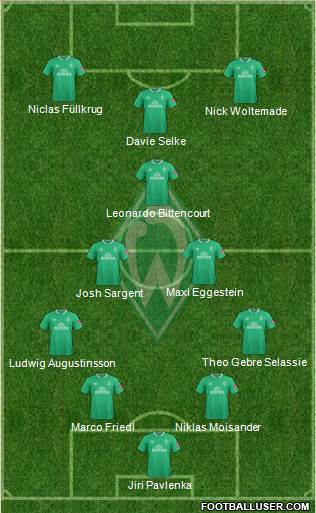 Unable to do much about either one of his flagging strikers, Kohfeldt moved them both back. Sargent worked an entirely novel position as a very deep six. Predictably, this approach yielded very little in terms of improved play. Ludwig Augustinsson and Selke combined to pull one back in the 69th. Werder carried no momentum over from the goal, limping to the finish line.
With tactics like these, Kohfeldt will likely join Schalke's David Wagner on the proverbial coaching hot-seat rather soon. The two trainers square off the Saturday evening fixture of the Bundesliga's second round. Kohfeldt must find a more consistent way to utilize Sargent. The American finished with an (unofficial) count of only thirty touches and looked legitimately exhausted by the role initially assigned to him. The rearward shift didn't work either, with four wayward passes marking the final quarter of an hour.