There was plenty of good news for USMNT enthusiasts once the world's best footballing beat returned. The very first installment of the "Americans" deep-scout column returned with plenty of catch up work to do. A full three Bundesliga rounds had to be assessed, as did the 2022/23 DFB-Pokal Round-of-16. Goals were scored. Statements were made. Love was shared!
Our very first check-in with the Americans active in Germany's top footballing flight contains five (very lengthy) graded sections. There was a great deal of tape to catch up on this time as we assigned cumulative grades across matchday 16, matchday 17, and matchday 18. As in all the years past in this column, performance in Germany's DFB Pokal round also counts.
It is such that Kevin Paredes and "Jordan" Siebatcheu Pefok – courtesy of midweek matches for VfL Wolfsburg and 1. FC Union Berlin – are actually assessed on four possible matches. Bundesliga returnee John Antony Brooks was another U.S. international active midweek in the domestic cup. The Berlin's latest form also finds assessments.
Our grades this time practically run the entire spectrum. Paredes and Giovanni Reyna maintain "A-Level" with excellent play that saw both actors get their name on the scoresheet in multiple matches. Joe Scally tends towards the lower side of average on "C-Level". Brooks and Jordan find themselves on "D-Level" this time.
---
Kevin Paredes, VfL Wolfsburg
---
Matches played = 4/4, Matches started = 0/4
Minutes played = 56/360, Positions played = LW, RW
Cumulative Grade = A
So very much to discuss here. The Virginia-native most definitely counts as a budding talent whose time rapidly approaches. Some truly lovely skill on display from the 19-year-old in four consecutive relief shifts. Paredes may be flying under many a radar for now, but it shouldn't be long before his name becomes more commonly known. Surely aware that his first Bundesliga start left something to be desired, our subject here proceeded to make a huge case for himself in the latest batch of fixtures. He scored his first Bundesliga goal against Bremen on Saturday.
We've nevertheless a pair of other matches to get through first. Wolfsburg's 6-0 shellacking of SC Freiburg was covered in the round 16 tactical bulletin. Since all of the American's work came well after the match received its "lid", however, all of Paredes' exceptional play got short shrift. The Virginian slotted into trainer Niko Kovac's initial 4-1-4-1 as part of a late 4-3-3 re-format. The teenager mostly operated on his natural left-hand side, with a few improvised rotations.
Lineup—VfL Wolfsburg—72nd minute (4-3-3)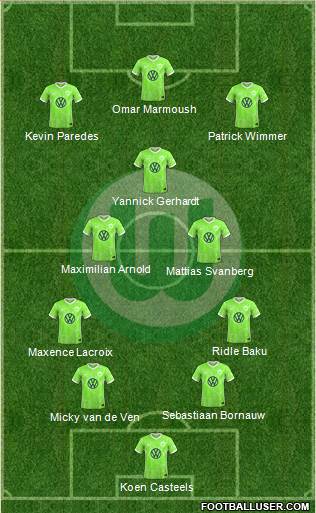 Paredes notched his first-ever Bundesliga assist on Ridle Baku's 5-0 goal in the 81st. The play is definitely worth a look. One can check out the young American executing some superb touches and hit what was a comparatively small pocket of space before sending in a marvelous cross for the German fullback. Barely one minute later, Paredes danced past a totally outclassed Kiliann Sildillia. No small feat there. A shame that the second cross for Baku wasn't nearly as good.
Another instance in which Paredes showcased some skill, yet seemed a little rough around the edges, came five minutes after that. The American de-classed Philipp Lienhart with some more exquisite touches around in the 86th, then lost the ball on his own feet. He failed to return to a receiving position on a leftward cycle in the same minute. Some heavy/missed touches can also be found in the 77th, 87th, and 88th. Defensive marking could have been a little less soft in the 90th and at 90+1.
Minor issues should be quickly forgotten as Paredes played an immensely important role in his team's final goal for the 6-0. It was Paredes who sent the underlapping Micky van de Ven into the box at 90+2 on a play that would ultimately result in Luca Waldschmidt converting from the penalty spot. This American thus recorded one of those invisible "pre-assists" on the day. No surprise to see Kovac send him on again later in Wolfsburg's next walloping victory; a 5-0 dismantling of Hertha BSC in the midweek match.
Lineup—VfL Wolfsburg—71st minute (5-4-1)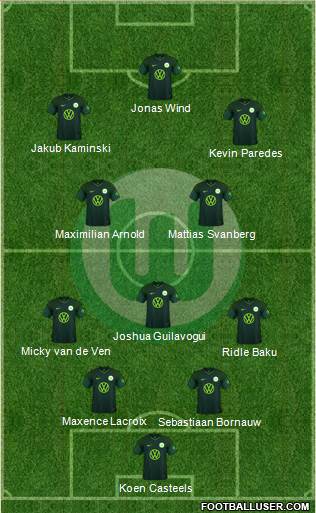 Paredes worked the right-hand-side this time. He was almost immediately involved, although without a touch, on another Ridle Baku goal shortly after being introduced. Those with access to the tape can watch him draw some heavy coverage in the box that helped the 72nd-minute tally happen. There's some nice cutting attacking runs on display in the 78th (with a quality cross at the end of it), 81st (with an earned free-kick), 87th, and 90th.
Paredes did his bit defensively in the second fixture as well. Solid defensive stops and deft midfield ground wins came in the 76th, 80th, and 89th. A couple of nice ball hold-ups (90+1 and 90+2) put a bow on another encouraging performance during added injury time. We move onto this American's debut Bundesliga goal; scored in Kovac's third unique tactical placement of him.
Lineup—VfL Wolfsburg—83rd minute (5-2-3)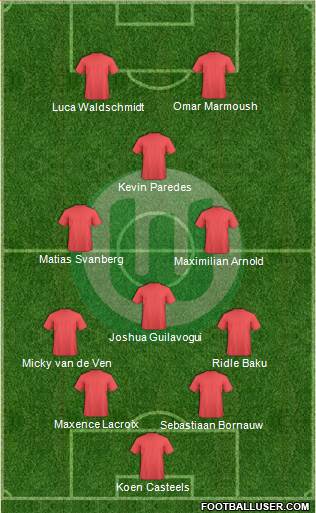 Trailing 0-1 to Bremen at the half, the VfL trainer tried something different against what had been a dominant SV 3-5-2. Omar Marmoush and Joshua Guilavogui entered at the restart for an exploitative attempt to hit the Hanseaten hard with a re-format. This constellation (ultimately unsuccessful) held throughout the second 45. Paredes entered in the 82nd to work as the new ten while Matias Svanberg dropped back alongside Maximilian Arnold and Guilavogui settled into the sweeper role.
Paredes announced his presence without much delay. Swinging around to the right side of the area in the 84th, he proceeded to break Amos Pieper's ankles with a jaw-dropping double deke. If nothing else, readers should definitely have a look at the teenager's skills in that case. An almost equally impressive play can be found in the 89th, when he wins an aerial duel in full stride on the left. The goal came off the ensuing corner. Paredes attacked a half-clearance with a gorgeous first-time finish.
There were some less stellar scenes in the Bremen match. The American sent five passes stray. Bad giveaways came in the 86th, 87th, and 88th. Paredes also got booked at 90+6 totally unnecessarily. Micky van de Ven and Bremen's Mitchell Weiser got in a little pissing contest near the sideline late on. While one can argue that it was bold of Paredes to come to the defense of his teammate, the youngster didn't really need to involve himself in a direct confrontation with Weiser. Daniel Siebert rightfully booked him.
Overall, Kovac liked how the new constellation performed and kept it in place for Tuesday's domestic cup tie with 1. FC Union Berlin. Paredes entered in the 84th; once again functioning as a ten with some roaming license. Despite only logging a few minutes of late action, the columnist recorded 11 touches from the Virginian. His best work came in the 86th with some more dazzling movement with the ball up the right. He made some more waves up the same side at 90+2.
Polish lacked at the end of both sequences. His cutback cross in the 86th was too far off target. He did well enough with a pass at 90+2, but lost his footing on a follow up dribble at 90+3. Direct defensive marks in the 87th and at 90+1 were a little loose. A nice centralized run at 90+4 was still somewhat misguided. As we were discussing in the most recent tactics column, Kovac has some personnel decisions to think about as he attempts to snap what has now suddenly becomes a two-match-losing streak.
Paredes for the dipping Jakub Kaminski in the starting XI?
It's possible we might see this against Bayern this weekend.
---
Giovanni Reyna, Borussia Dortmund
---
Matches played = 2/3, Matches started = 0/3
Minutes played = 48/270, Positions played = LW, RW, AM
Cumulative Grade = A
Our very first Gio Section since the infamous USMNT fall-out contains almost exclusively good news. The young talent mustered up an exceptional response to all the ugly controversy surrounding him, twice scoring the game-winning goal for his club off the bench. One can easily forgive him for engaging in some flagrant "ear-cup" celebrations taunting his critics. The 20-year-old absolutely deserved to blow off some steam after what he's been through.
After capping off the insane seven-goal fixture against Augsburg with an 78th-minute-winner and sealing a 2-1 win over Mainz with a 90+3 stunner, Reyna surprisingly went unused in Dortmund's latest win over Leverkusen on Sunday. BVB trainer Edin Terzic perhaps felt as if his XI on the pitch had matters well at hand and that there was no reason to risk tampering with Gio's hot streak. Fair enough. There's still those of us who feel as if both the young American and his English counterpart should be starting at this point.
Gio mostly operated on the right against the FCA.
Lineup—Borussia Dortmund—71st minute (4-1-4-1)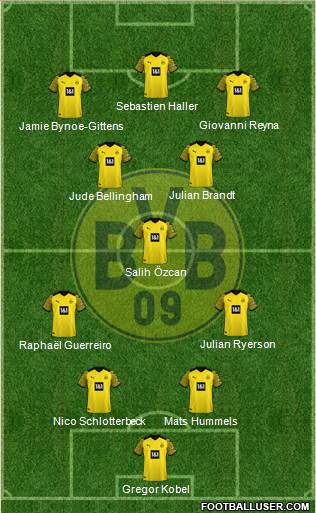 Terzic's initial 4-1-4-1 held with Julian Brandt and Jude Bellingham flipping slants to shake things up a bit. The goal – featuring a sublime touch-down and beautiful first-time drop-kick finish – came just seven minutes into his shift. Prior to that, one can watch him execute a couple of slick touches on a give-and-go with Brandt in the 72nd. Reyna did look a bit jittery on off-the-ball tracks in the 73rd, 74th, and 76th. He was one of the BVB looking loose on Augsburg's 76th-minute equalizer.
Obviously full of confidence following his tally, he attacked the ball ravenously on tracks all over the pitch. One can find him really hustling after the play in the 80th, 81st, and 88th. There would be much more offensive involvement too. Reyna unfortunately had all the space and time to complete a brace in the 84th. He simply took too long with a couple of hesitant touches in box after surging forward on the outside right. Second (87th) and third (90th) efforts on target were deflected out for corners.
Most of Gio's 26-recorded-touches were confident ones. The columnist only saw him send two of his 15 passes (85th and 89th) stray. One slip on a defensive mark – in the 87th – showed that the adrenaline might have been pumping a tad too hard. Nothing really egregious to criticize, however. The same applies to the 27-minute relief-shift against the Rheinhessen in the midweek round 17 encounter. It took Reyna a little longer to get going in this one as he fulfilling a very different tactical role.
Lineup—Borussia Dortmund—63rd minute (4-2-4)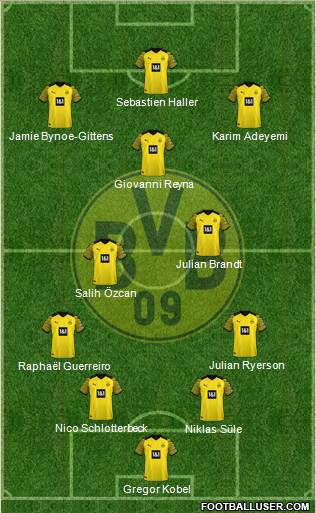 Gio debuted as a straight ten, though he moved slightly to the right after Marius Wolf came on for Karim Adeyemi in the 77th. Terzic clearly wished to stack up on that side. A lot of ball-watching (not to mention some complaining with match official Sascha Stegemann) came to an end in the 65th when he managed a free-kick service very well. Reyna officially got himself into the match with a great ground win in the 66th. A follow-up attacking lane cut might have been better. The same scene repeated in the 67th.
Our subject here was just out-of-sync (albeit not by much) on subsequent charges in the 68th and 72nd. He more than made up for that with fabulous off-the-ball tracks in the 80th, 81st, and 83rd. One could see that he was becoming comfortable on the rush with some sharp forward work in the 85th, 87th, 88th, at 90+1, and at 90+2. Sebastian Haller took care of most of the hard work on the 90+3 goal, but "The American Dream" did extremely well to keep his concentration on the finish. Gio also put in some fine defensive work at 90+6.
One reason Terzic may have kept him out of the next league fixture concerns some problems with passes and ground duels. Turnovers from the American occurred in the 73rd, 76th, 78th, 86th, and 90th. Four stray passes and a forty-percent duel rate don't constitute the best numbers for a relief shift. In the final analysis, it might have proven wise to give Gio a little break from the pitch in order to preserve the confidence he recently built up. There should nevertheless be a lot to look forward to from a lad who has the second phase of his season up-and-running.
---
Joe Scally, Borussia Mönchengladbach
---
Matches played = 2/3, Matches started = 1/3
Minutes played = 123/360, Positions played = RB
Cumulative Grade = C-
A sad sight to see Stefan Lainer replace Scally in Daniel Farke's starting XI in the first two matches back from the break. We received some advanced warning that this might be coming. Scally fans – this one included – had to fight back some harsh flashbacks from last season; in which Scally found himself supplanted entirely by Lainer during Gladbach's woeful second half to the campaign. Here's hoping that the Long Island native continues to get his chances!
There should be no reason why he won't. As we've been talking about in the tactics column, the foals are off to a terrible start in the new calendar year. Even a 4-1 win against Hoffenheim in the most recent league round came with its fair share of worrying deficiencies. Our subject here, after working off the bench against Leverkusen and remaining on the bench against Augsburg, earned his first start of 2023 in Sinsheim. First, we'll discuss his relief shift.
Lineup—Gladbach—57th minute (4-2-3-1)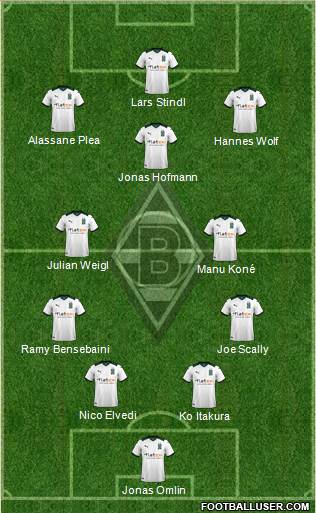 Not too terribly much going on in this set-up. Captain Lars Stindl eventually packed in a couple of goals in the final eight minutes to give the Leverkusen affair a flattering 2-3 scoreline. Scally wasn't involved in either one of Stindl's goals. With a recorded total of 33 touches, he was involved somewhat. The best forward work (duel wins and passes) came in the 63rd, 65th, 73rd, 75th, 77th, and 80th. He sent a good cross into the box in the 79th and got in a nice flick inside the area in the 86th.
A lot of Scally's defensive work remained suspect. It should be noted that the columnist actually didn't see him lose any direct aerial or ground duels. In point of fact, a vital defensive intervention at 90+1 spared his team blushes. Far too many of the marks (59th, 60th, 67th – on a goal -, 83rd, 85th, 89th) were slack and unfocused. The CFG New Yorker also couldn't get his timing right on some attacking chances in the 88th and at 90+6. An average "C-Level" grade for Scally in the first deployment.
Lineup—Gladbach—Match 18 (4-2-3-1)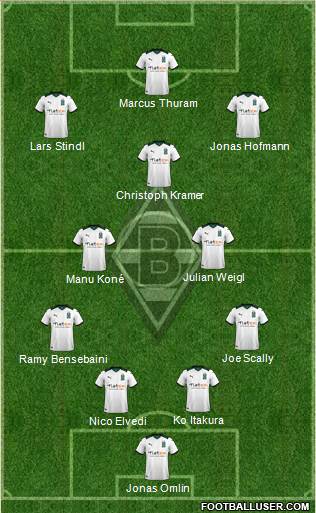 Only 12 more touches from Scally in the Starting XI over a full 90-plus minutes of work. Our subject here went missing for long stretches against the Kraichgauer, though it is true that they rarely attacked down his side. There wasn't really any stand-out defensive achievements from Scally – apart from a good header back in the 1st – on this day. He committed more than his fair share of mark errors in the 11th, 12th, 13th, 22nd, 43rd, 44th, 73rd, and 80th (on a goal).
Straight-up missed challenges and turnovers came in the 28th, 29th, 57th, 62nd, 63rd, and 90th. He ended up looking particularly bad in possession and on some throw-ins in the 3rd, 4th, 50th, 51st, 67th, 74th, and at 90+1. Enough solid passing/duel wins/overlap execution (6th, 7th, 15th, 23rd, 27th, 30th, 31st, 34th, 40th, 52nd, 79th) exists to offset this. Scally's passing – a respectable 82 percent on the day – led to him being involved in one of Gladbach's four goals; Stindl's 3-1 in the 83rd.
Taken together, Scally's cumulative grade lands at slightly below average. It remains very much unclear as to what this means for his battle with Lainer for a starting place. Call it a toss-up. Neither one of Farke's right-backs have been especially compelling in the three matches back. Scally may maintain a slight edge in light of the fact that – as chronicled many times in this column – he can sometimes impact play by switching over to the left late in matches. The younger and more versatile fullback could conceivably have his regular spot back.
---
Jordan Siebatcheu, 1. FC Union Berlin
---
Matches played = 4/4, Matches started = 2/4
Minutes played = 164/360, Positions played = LS
Cumulative Grade = D
Not at all expected to see Jordan garner starts in two of Union's four fixtures. The packed schedule certainly had something to do with the fact that the D.C. native got the nod twice from FCU trainer Urs Fischer. A lot of what has been going on with Union tactically has actually proved unexpected. Through all of these matches thus far, we've only seen the 4-4-2/4-2-2-2 Fischer famously teased us with in January training camp one time. The Union gaffer might have been toying with all the scouts. His usual 3-5-2 "double stack" remains the order of the day.
Jordan sat in the starting blocks for the opening match against Hoffenheim. Regrettably, the struggling striker missed out on a golden opportunity to end his long league-goal-scoring-drought that dates back to September. He missed from the spot in the 25th with a weak and inaccurate ground effort. Cameras even caught some of his teammates rolling their eyes afterwards. Not good news. The surging Kevin Behrens likely has Jordan's starting spot for good now.
Lineup—Union Berlin—Match 16 (3-5-2)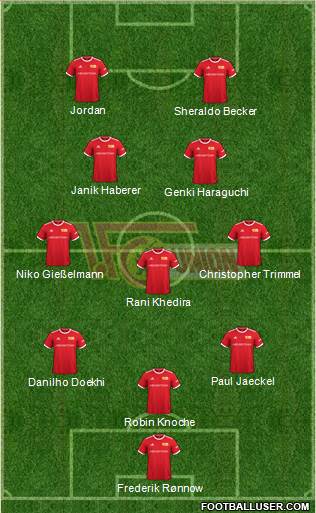 Some positives from our subject here in the Hoffenheim match. There were a handful of good hold-ups/chest downs in the 9th, 15th, 37th, 45+5, and 50th. Aerial wins and useful touches in the box proved scarce, but nonetheless did come in the 11th, 19th, 23rd, 41st, and 51st. There's also a nifty little piece of defensive foraging on display in the 34th. Sadly, that's where the positives end.
En route to a 33% duel rate, Jordan suffered some really bad losses both in the air and on the ground in the 2nd, 10th, 12th, 22nd, 23rd, 27th, 43rd (on a play that would lead to a TSG goal), 53rd, and 59th. Way too many useless touches (1st, 7th, 20th, 26th, 29th, 32nd, 39th) and a host of positional errors (4th, 5th, 30th, 45+1, 45+3, 47th, 48th, and 56th) left one relieved when he was subbed off in the 63rd.
Matters improved somewhat during his relief shift in the midweek win over Bremen. Jordan showed some strength holding off aggressive defenders during duel wins in the 75th, 90+1, 90+4, and 90+5. The second injury-time case featured a spry ball shield. He also had some decent ball hold ups in the 83rd ands at 90+3. Our subject here only lost once in the air, in the 76th.
Jordan played even better off the bench against Hertha in the weekend "Stadtderby". In a full 21 minutes of relief work, the 26-year-old furnished enough encouraging play for Fischer to give him the start in the Pokal. A miscued snapshot in the 76th was still very artistic. Impressive pressure on the ball (75th, 80th, 87th, and 88th) ultimately yielded an impressive assisted shot too.
Jordan can be observed beating Hertha keeper Oliver Christensen on the rush in the 90th, taking the ball away from the net-minder and executing a sharp cutback for Genki Haraguchi. He also had some nice aerial wins and upfield controls in the 72nd, 78th, 85th, 90+1, 90+2, and 90+3. Some minor losses (81st, 82nd, 84th) meant nothing against his exceptionally strong finish.
In the Pokal, the trend lamentably went back straight down again. Our subject here won just 15% percent of his duels in 63 minutes of work against Wolfsburg. Losses, often coupled with offensive fouls, came in the 3rd, 15th, 25th, 28th, 39th, 45+1, 50th, 56th, and 59th. More positional errors occurred in the 11th, 18th (twice), 19th, 22nd, 34th, 41st, 42nd, and 62nd.
Amid all of the perambulating about lost, weak pressing, and sometimes forehead-smacking (from the observer's point of view) failure to catch up to the attack, Jordan managed a few bright spots with some nice aerial wins (4th, 9th, 45th, 45+2) and solid enough positional work (5th, 23rd, 52nd) on the ground. He recorded one shot on target.
An effort off the frame of the goal in the 27th could have rally helped Jordan's overall grade and future starting prospects. Alas, the drought continues. This American simply can't relocate his shooting boots. The most recent audition for even a light rotation starting role surely leaves him behind both Behrens and the returning Sven Michel at this point.
Even Jamie Leweling could eclipse him if this keeps up.
---
John Anthony Brooks, TSG 1899 Hoffenheim
---
Matches played = 2/4, Matches started = 2/4
Minutes played = 180/360, Positions played = CB
Cumulative Grade = D
Well, well, well. Guess who's back? It's none other than the columnist's favorite American actor in German football over the past five years. No subject of this column has earned anywhere near as consistent high praise as "Jay". The Berliner typifies all that one could possibly want in a center-back. His exit from German football left this writer pleading his case for a renewed call up to the USMNT. Unfortunately, his reentry left the writer wishing he had remained in Portugal. Ugh. Tough start for this German fan-favorite.
To be fair to Brooks, TSG trainer André Breitenreiter (whom really should be in line for the axe at this point) asks quite a lot of this returning actor right away. Barely 48 hours after his transfer was confirmed, Brooks had to anchor a back-three that has been failing since the Sebastian Hoeneß days. J.A. racked up a highly significant 92 touches in his TSG debut. The towering central defender isn't merely expected to solidify this line, but quarterback the attack initiation of the offense as well.
A disastrous debut against Gladbach.
Lineup—TSG Hoffenheim—Match 18 (3-3-2-2)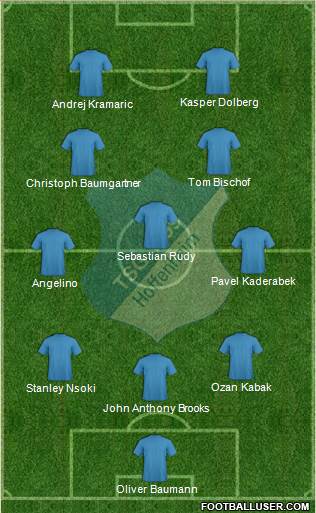 Brooks was culpable on both of Jonas Hofmann's first-half goals. His marking in the 12th was atrocious. He got a strong tackle in during the odd sequence that led to Hofmann's second in the 37th, but that didn't make up for the fact that he was way off on the mark to began with. Jay also got booked in the 22nd for egregiously going over-the-back on an aerial duel with Marcus Thuram.
On the occasion of his 30th birthday, Brooks ended up having a very "dirty thirty" indeed. He failed to clear the ball away in the 1st, 8th, 17th, 45+1, 45+2, 55th, 61st, 72nd, and 90th. He outright missed challenges in the 2nd, 10th, 18th, 19th, 41st, 54th, 83rd, 90+2 (on a goal), and at 90+5. Whew! He also got badly toasted in the 66th and 76th.
It wasn't all doom-and-gloom of course. Given the amount of responsibility placed on his shoulders, there would inevitably be times that he showed flashes of what he's truly capable of, even in a "cold start". There's some nice clearances, wins, and trademark headers away on display in the 4th, 11th, 21st, 25th, 27th, 32nd, 34th, 43rd, 52nd (twice), 57th, 75th, 77th, 83rd, and 89th.
For the most part, Brooks couldn't manage to get the attack rolling in the manner intended. Verticals, diagonals, and switches in the 8th, 33rd, 56th, 59th, 60th, 67th, and at 90+6 all failed. One still needs to give him props for successful rope launches in the 34th, 35th, 47th (twice), 63rd, and 87th. Two strong and brave forward carries can be found in the 9th and 86th.
There wasn't any sense in failing Brooks for the mistake-strewn performance as he did do about as well as one can reasonably expect on such short notice. We'll basically extend him the same courtesy in last night's DFB Pokal loss away at Leipzig. A pretty horrible match all around from any observer's perspective. Any version of "El Plastico" proves far too quiet.
The fact that a medical emergency meant a fan had to be resuscitated and carried out before kickoff killed what little atmosphere on could expect from this encounter. The fans withheld from cheering or chanting during the first-half. One could literally hear a pin drop. The "normal" Leipzig fan support resumed in the second 45. One could still hear a pin drop.
Lineup—TSG Hoffenheim—DFB Pokal (3-4-3)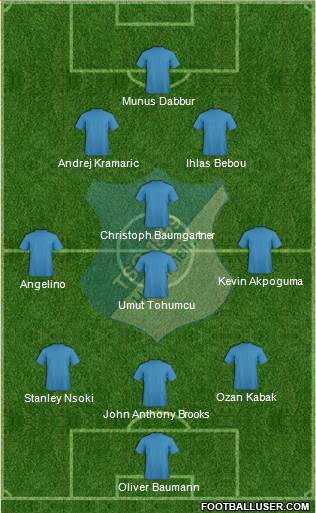 Some new tactics from Breitenreiter. Results didn't improve. The TSG trainer tried out two other novel shifts to his shape after the restart. None of them truly affected Brooks, however. The American international was still expected to serve as the driver/defender from an inverted pivot position. Far fewer (56) recorded touches from Brooks in this one. As anticipated, play improved.
Brooks wasn't at fault for Leipzig's first two goals. He might have done better on Timo Werner's 3-1 sealer, but overall did an exceptional job keeping Werner offside most of the night. Important blocks and strong aways came in the 2nd, 4th, 23rd, 55th, 62nd, 65th, 81st, and 88th. Jay showed how important he can be to a defensive line with calm and tidy touches back in the 22nd, 25th, 31st, and 69th.
More becoming attack initiations, not to mention some fine counter initiations and good offensive positioning on set pieces, were observable in the 8th, 10th, 11th, 12th, 16th, 18th, 40th, 67th, 84th, 77th, 88th, and 89th. A point of interest for American enthusiasts concerns a late subbing-on for one of Breitenreiter's new promotions Justin Che in the 79th. Brooks' fellow international played slightly ahead of him and the two combined well.
Jay remains on "D-Level" as there were still far too many mistakes. He committed bad turnovers and failed to adequately clear in the ball in the 30th, 36th, 44th, 45th, 47th, 51st and 55th. Bad duel losses and clumsy challenges came in the 19th, 23rd, 49th, 50th, 67th, 71st, and 74th. He got badly beaten in the 83rd, 38th, and on the above-mentioned goal.
As one watched Brooks throw a lot of blind switches and verticals forward, one at least got the sense of how important he will prove to this team once they make their invariable rebound. Not to disappoint German football fans too much, but it's not really conceivable that the Sinsheimers will factor in the relegation race this year or any year.
At least we'll get to watch Brooks perform better when he gets his form sorted out.
Thanks so much for reading! You can catch the the release of all Peter's columns on twitter, @PeterVicey
Twitter DMs are open for football conversations, corrections, and (if you truly insist) general abuse. 
All columns debut on Bulinews before appearing on Peter's website as the season progresses.