When football returned to the frigid Bundesrepublik, it proved a very cold restart for US watchers. An exceptionally busy weekend didn't necessarily mean a very positive. Miss out on the initial publication? No worries. We've got your re-post here.
Our ongoing study of Americans earning their paycheck in Germany's top flight yields the lowest sets of grades this season. Neither the five players to be discussed nor frequently heralded trainer Pellegrino Matarazzo produced anything above a "C-Level". Those fearing that an inauspicious start to a new calendar year might imply something may rest assured that a cold re-start after a short holiday break means absolutely nothing. Quality football will surely return soon.
Before getting to the detailed look at the preceding round's action, we'll take a moment to discuss the current state of the American football class in the Bundesrepublik. The very state of the class itself remains in flux during transfer season. This weekend, Schalke decided to give up on attacking midfielder Nick Taitague, reducing the total number of US internationals in our analysis pool by one. Offsetting this, Joe Scally is now finally eligible for selection at Borussia Mönchengladbach. We may even see him against Bayern on Friday.
Amidst all the noise emanating from the transfer rumor mills, news of two more imminent additions should be taken seriously. RB Leipzig may very well complete their recruitment effort of NY Red Bulls prospect Caden Clark during this window. Over at Bayern, FC Dallas midfielder Tanner Tessman prepares to come over for a workout audition in a couple of weeks. The German giants retain interest in signing the former teammate of Weston McKennie and Chris Richards.
---
Giovanni Reyna, Borussia Dortmund
---
Minutes played = 89/90, Positions played = LW, RW
Grade = C+
The best word one can use to describe the BVB's 2-0 win over Wolfsburg would be "laborious". This isn't necessarily meant to demean. The team did an admirable job sustaining their effort level against a formidable opponent until the time came to capitalize on a couple of deserved breaks. The word nevertheless does carry with it the connotation that the win hardly could be described as pretty or especially entertaining. Edin Terzic & Co. got it done in an expedient, if not unattractive, fashion.
Of tactical interest, one could see that Terzic lined his players up in a basic 4-2-3-1. The rest of the match-plan was left up to the actors on the pitch. After the VfL opened up the match with a significant advantage in terms of offensive opportunities, the NRW-XI reorganized themselves into this:
Lineup—Borussia Dortmund—13th minute (4-5-1)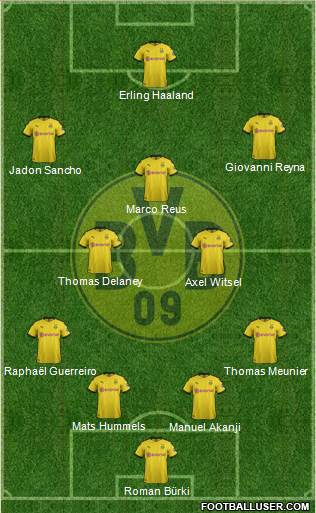 Our American had a bit of early difficulty dealing with Renato Steffen on his team's left. Thus, he switched over to the other flank and Jadon Sancho followed suit. The duo did switch back in several instances, but Reyna spent far too much time on the right to be placed anywhere else on the composite board. Marco Reus dropped back considerably from his starting position after the first ten minutes as the squad intuitively fell into spaces far behind their returning talisman Erling Haaland.
One can see Reyna execute some nice plays on the right in the form of a solid give-and-go with Thomas Meunier in the 17th as well as a nice spontaneous passing sequence with Raphaël Guerreiro in the 44th. Apart from these two cases, the American wasn't directly involved in most of the first-half action. The positional switch also adversely affected some of his ground battles. He won just less than half in this writer's count.
Even if a smart shift didn't directly lead to gloriously brilliant play, one should still credit youngsters Sancho and Reyna for demonstrating this type of on-pitch leadership. The pair coordinated their movements well and got a few things going with their improvisation. Reyna's lone shot on target (in the 64th) was fairly desperate. It did, however, lead to the corner on which the opening goal was scored seconds later.
All of this might have worked better had Haaland not exhibited such rust in his first game back. The Norwegian superstar proved the weakest link in the frontward trio. He had some difficulty sorting the timing out on frontal breaks. Reyna nearly punched through in the 32nd, 51st and 67th, with Haaland just missing the right cutting ball onto his feet by mere milliseconds.
The whole Terzic-era remains an experiment in self-coaching. Resultantly, Reyna's marks in the coming weeks may reflect his response to matchdays during which he'll receive notably less instruction. Though that may seem a tall order for an average 18-year-old, the phenom we discuss here can't be accused of being anywhere close to average. We shall learn much about his character in the next few rounds.
---
Matthew Hoppe, FC Schalke 04
---
Minutes played = 81/90, Positions played = LS
Grade = C
A striker called up by Manuel Baum well before his time got another crack at the starting XI under Schalke's fourth coaching regime of the season. A detailed account of his performance can be found in this week's tactical bulletin. To pull out the most relevant piece of material for those interested in a quick glimpse of the youngster's potential, he produced some bright play in the 21st, 35th, and 57th. The 19-year-old looked markedly better than he did in his last significant spell on the pitch, though that certainly isn't saying much.
The question as to whether Christian Groß has any long-term use for him isn't an easy one to answer. Schalke's latest debacle places their hopes for survival this year in even greater peril. That notwithstanding, we must take a step back and consider how far along we truly are in this campaign. A full twenty fixtures remain. As fixated as we all are on the Tasmania Berlin record, it's worth noting that the 1965/66 capital city side–an amateur team thrust into the professional ranks unexpectedly–went winless over the course of one single season.
The Gelsenkircheners still have plenty of time to turn it around. To reiterate a prognostication made way back at the beginning of the campaign, just about anything remains possible for Schalke this year. Difficult as it may be to even concede, this includes survival on the backs of an overachieving youth prospect or two. Does this writer think Hoppe qualifies as an unlikely hero? No, not at all. Could he be completely wrong about this? Sure.
Even if die Königsblauen manage to procure a new center-forward, we could still be looking at 10-15 starts for the youngster as a support striker. This American's opportunities aren't finished by a long shot. Some signs that he plans to make use of these one-in-a-lifetime chances were evident this weekend. The possibility of a breakout always exist when there's so much football left to be played.
---
John Anthony Brooks, VfL Wolfsburg
---
Minutes played = 90/90, Positions played = CB
Grade = C-
A much more average day for the autumn's best overall performer. After missing out on a start in the previous round and sitting out the Pokal fixture with back problems, the Berliner appeared a bit tentative in some of his challenges. The layoff, combined with a difficult Jadon Sancho triple-team assignment, seemed to throw him off a bit. Most of these manifestations came on either side of the half. He lapsed twice in his marking coverage in first-half injury time and lost three times in the air between the 49th and 58th.
Brooks worked with two center-half partners on this day. Marin Pongracic took over at his side in the starting XI, with the recovering Macence Lacroix entering to work with him in the 78th. The American clearly had a bit more work to do carrying the partnership alongside the Croatian. It took some extra ground coverage to get a tackle in on Jadon Sancho in the 10th and he was left all alone to handle Erling Haaland by himself in the 34th. Marco Reus, who by no means had a particularly good match, was able to split the pair on several occasions.
This American's most outstanding play of the fixture came on one of his beautiful headers away in 11th. Another fantastic clearance came in-between the blown markings at 45+1. Unfortunately, Brooks was culpable on both Dortmund goals. The set-piece zonal marking on Manuel Akanji's converted corner in the 66th may not have been his fault, but he still appeared switched off. He really needed to do a better job getting underneath the ball on a VfL corner at 90+1. His halfhearted effort at a challenge gifted Sancho the chance to race down the pitch for the 2-0.
---
Tyler Adams, RasenBallSport Leipzig
---
Minutes played = 81/90, Positions played = RB, DM
Grade = C-
The New Yorker had something of a forgettable day stashed back into the right-back position. Julian Naglesmann essentially fought his old Hoffenheim colleague Pellegrino Matarazzo to a stalemate at the Mercedes-Benz-Arena in Stuttgart. There remains enough of tactical relevance in the match to merit the insertion of a diagram.
Lineup—RB Leipzig—Match 14 (4-2-3-1)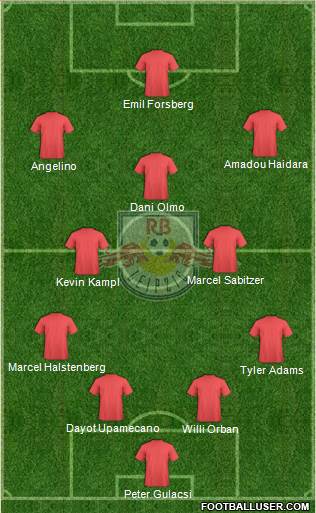 Note that we again have Emil Forsberg spearheading the attack; and not as a false-nine either. Nagelsmann declines to use more natural center-forwards such as Yussuf Poulsen, Alexander Sørloth, Hee-Chan Hwang, or even Dennis Borkowski. Taking Poulsen out of the equation, this can be explained via the factors of form, illness, and experience respectively. One shouldn't forget that this weekend's upcoming fixture against Dortmund also serves as a major reason. The young trainer rotates as if he is preparing for a UCL match.
Angelino continues to thrive in his new advanced role as a genuine attacker. With most of the early action taking place on the left-hand-side, it should surprise no one that the American didn't find himself greatly involved on the right. Adams first real initiation into the game came on a defensive clearance in the 14th minute. He didn't truly pop up again until Borna Sosa picked his pocket in the 34th. A laudable second effort on a ball-win assisted an RB charge in the 40th.
The American mostly held his position throughout the second 45, moving into defensive midfield on occasion to put in some excellent protective work in the 62nd, 75th, and 79th. He made visible errors in the 60th and 63rd. Adams' best work came on a one-two in the 54th. Breaks on the overlap can summarily be described as adequate. He made the right moves. As noted above, however, the presence of Angelino persistently left his side neglected and his work ultimately irrelevant.
We'll keep this American's marks above a level that might denote failure or a troublesome trend. He did well enough in his bridge-placeholder role to ensure that the team nicked three points from their opponent to keep their title hopes on track. It's highly doubtful that Adams (or Forsberg) will start in the coming fixture. Nagelsmann presumably plans to reunite the fullback pairing of Marcel Halstenberg and Lukas Klostermann, keep his best mid-field six-tandem, and start Poulsen in the monster match against the BVB.
---
Pellegrino Matarazzo, VfB Stuttgart
---
Grade = D-
Most unfortunate news arises in the capital of Baden-Württemberg. A team universally celebrated in German footballing circles suddenly finds itself beset by problematic distractions. A more in-depth look at the power struggle developing between head-of-sport Thomas Hitzlsperger and club President Claus Vogt remains beyond the scope of this particular column.
It suffices to say that the roots of the issue burrow deep into a uniquely intractable German complication. The whole conflict revolves around the club's purported breach of privacy norms in a data sale directly related to its fans. For citizens of the Bundesrepublik, this counts as quite the violation. In other words, this topic isn't going away anytime soon.
Initial broadcast shots of the Mercedes-Benz-Arena revealed the pitch to be in deplorable condition. While talking about grass may seem about as exciting as watching it grow, something like that still shouldn't happen at this level. One hates to be persnickety, but a team reserves the right to expect a decent playing surface. COVID-times are no excuse. Legions of fan volunteers surely await the call to fix it before the next home match.
Lineup—VfB Stuttgart—Match 14 (5-4-1)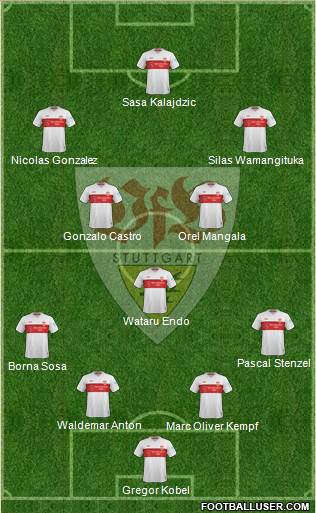 Moving on to the 90 minutes of football played on Saturday, we haven't seen something this tone-deaf from the American trainer all season. The Swabians reacted very poorly to this static formation in their clash with Leipzig. Wataru Endo had his hands full coping with Kevin Kampl and Marcel Sabitzer. Accordingly, he turned in an uncharacteristically low-grade performance.
Silas Wamangituka, given no real support on his wing, found it too difficult to mark Angelino individually. Both he and Sasa Kalajdzic barely attempted to put any defensive work in. The Spanish winger ran rampant all afternoon while two of the VfB's most potent offensive weapons casually and passively waited for their teammates to place the ball at their feet.
The behavior of that duo screamed out for halftime substitutions. Matarazzo possesses more than enough solutions on his bench. He instead opted to leave everything in place at the restart. His team paid a horrible price, getting out-shot 0-5 by their opponents between the 46th and 58th. When the American head-coach did at least bring on Tanguy Coulibaly for Kalajdzic near the hour mark, it proved far too late for his unbalanced team.
It never became clear just what the VfB attack-plan on the day was. Nothing coherent emerged going forward. Team passing on the day came in well below 75 percent and the cumulative xG certainly didn't approach 1.0. A late flurry in pursuit of their first home win didn't really qualify as a legitimate spark. To return us to the (priggish if one insists) subject of the pitch, it did seem as if the risk of injury caused a few actors to react reticently on the ball. Sad stuff.
---
Josh Sargent, SV Werder Bremen
---
Minutes played = 90/90, Positions played = LS, SS, CF
Grade = F
Watching Werder week-in-and-week-out increasingly feels like a form of cruel torture. This team plays unspeakably bad football. The 0-2 loss to Union Berlin this weekend easily constituted the worst performance of the round. Florian Kohfeldt maintains every right to excoriate his players for producing a heaping pile of dung. As concerns the American in the mix, the Missouri marvel once again failed to carry any confidence over from his tally in the Pokal round.
Kohfeldt's tactics do deserve some criticism, but at least the coach tried a few things. His players took far too few risks, even when their trainer issued an invitation for them to do so. The Bremen constellation, cleaved up into two distinct strategies for each half, illustrate how the onus falls on the players to take some initiative.
Lineup—SV Werder Bremen—Match 14 (4-2-3-1)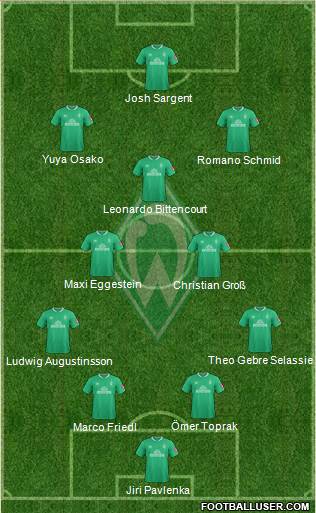 This serves as something of a best guess as how it was supposed to work. Maximilian Eggestein and Christian Groß were, at times, capable of exerting a combined presence in midfield. Leonardo Bittencourt managed to put himself in a distributive position on a few occasions, though it remained anything but clear if his true assignment was on the wings. Romano Schmid's usual gusto often saw him through on the right-hand attacking channel. Yuya Osako mostly couldn't be found.
Sargent's day got off to an inauspicious enough start with a very poor drive miles off target in the 5th. One could tell by his body language that the baseline confidence simply wasn't there. He stood still and frozen a long way off the ball on the Berlin counteract leading up to the 12th minute goal. In the eight-minute-span that followed, he could only trot and ball watch as the visiting opposition exerted complete dominance. The American's next involvement would come in a very poorly contested aerial duel in the 21st.
Another air battle one minute later saw him booked for a shoulder check. Ironically enough, this might have been the most praiseworthy play of this American's match. At least he showed some courage leaping up high and leaning in directly for the ball. It was his best challenge in the air all afternoon. He wouldn't even come close to winning another one. In the 26th, he had a chance to break right on attack and engage Marvin Friedrich one-on-one. He shied away to cut inside instead; another telltale sign of a player very low on confidence.
Had Grischa Prömmel not stopped Sargent with a tactical foul just outside the box at the stroke of halftime, he might have been through for a chance. One still senses that a forward operating with as little self-belief as the youngster wouldn't have made much out of it. Kohfeldt opted not to yank the American as part of his two half-time changes. The preferred option was to take off Osako and Bittencourt in favor of Davie Selke and Jean Manuel Mbom.
Lineup—SV Werder Bremen—46th minute (3-3-4)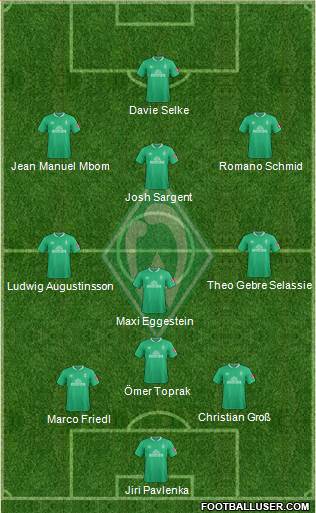 Union coach Urs Fischer found first-half success running what looked to be a 3-3-2-2. It's likely that Kohfeldt aimed to mimic it, relying on his wingbacks to match and ultimately best Christopher Trimmel and Christoph Lenz. If the writer has this read correctly (and he may very well not), Sargent's full would have been to push up rightward left and work as a servicing short-striker just behind Selke.
This did not occur. By the writer's count, the American only got eight touches in over the remaining 45. In point of fact, no one worked the pocket of space behind Selke, leaving the substitute completely stranded on the few charges the hosts managed. This may have been one reason why their trainer was so incensed at the post-match press conference. Kohfeldt gave them something reasonable enough to execute.
Sargent's final (unofficial) stats make for sincerely depressing reading. He won one ground challenge in the first half, losing all of his other duels. Thirty-eight touches, seven stray passes, and zero assisted shots are awful totals for an attacker in any capacity. As much verbal support as his trainer has offered him throughout the course of the season, it would be foolish of Kohfeldt not to bench him at this point.
Perhaps the best way for Sargent to gain some confidence would be settling into a late role off the bench for now.