The "international break" catch up work here on the profile site also includes seven full editions of the "Americans" deep-scout column over on Bulinews. Week 23 also featured less action for US internationals than one might have hoped for. The weekly column still swelled a bit with an in-depth Stuttgart tactical review and a joint section of sorts for Timothy Tillman and Julian Green of SpVgg Greuther Fürth.
A bright start for Green and Tillman's "Kleeblätter" didn't translate into a bright day against Bayern. That's to be expected. In addition to the Middle Franconian pair, J.A. Brooks, Timothy Chandler, and American trainer Pellegrino Matarazzo received graded sections this time.
Our weekly check up with American actors in Germany's top footballing flight ends up being a shorter column yet again. Injuries carried over from the international break continue to plague both Tyler Adams and Chris Richards. The former continues to be eased back in late in matches by RB Leipzig head-coach Domenico Tedesco while the latter hasn't yet appeared on Hoffenheim trainer Sebastian Hoeneß' bench squad.
One player who did happen to make the Hoffenheim team last week was the newly acquired defender Justin Che. The 18-year-old FC Dallas product did make his first matchday squad, yet unused. Che remained on the bench, as did Kevin Paredes on the team the TSG were facing, VfL Wolfsburg. Both players are still awaiting their first Bundesliga minutes.
Appearing in relief last weekend, Ricardo Pepi played the final ten minutes of Augsburg's 1-2 loss to Freiburg. Joe Scally also came on for the last 23 of Gladbach's 0-6 defeat to Dortmund. Neither player was much of factor in the respective results. To the surprise of this chronicler, George Bello didn't get another relief shift this week for Bielefeld this week. Reasons for this are unclear.
---
John Anthony Brooks, VfL Wolfsburg
---
Minutes played = 90/90, Positions played = CB
Grade = A
A very active and mostly positive day for the Berliner. Under the exact same tactical system as last week, Florian Kohfeldt's Wölfe tried their hand at thriving. It didn't last the full 90 minutes, of course. Opponents TSG 1899 Hoffenheim came back to erase the 1-0 goal lead and take all three points. Neither of the Sinsheimer late goals were the fault of this center back. Brooks wasn't even in the vicinity of Jacob Bruun Larsen's bicycle kick or Andrej Kramaric's go-ahead tally. He wouldn't have had much hope of defending them even if he had been.
Some truly marvelous work from Brooks on this day. One can watch him execute some incredible monster tackles/clearances in the 15th, 44th, 45th 45+2, 59th, 61st, 63rd, 73rd, and 85th. It's important to note that part of the Berliner's defensive assignment involved keeping tabs on the energetic Georginio Rutter. He did a phenomenal job in this regard. The best piece of work came in the 72nd. One minute after losing a duel to the Frenchman, Brooks pulled off two focused recovery wins in the same minute.
Offensively, Brooks really had the attack rolling early with some brave forward initiations. Examples can be found in the 4th, 7th, 9th, 13th, 25th, 27th, 31st, 34th, 48th, 52nd, 84th, and 89th. Whether it was hitting Ridle Baku with precise switches, forwarding amazing air verticals for left-flank partner Jerome Roussillon, or simply taking charge himself with fearless dribble carries (14th, 17th, 19th, 33rd, 55th), our subject here generally proved just what his team needed in terms of active CB.
There were a few aerial tracking mistakes (5th, 43rd, 49th, 71st, 81st), but these were easily offset by some of the brilliant work Brooks accomplished in the air (20th, 22nd, 37th, 90+1, 90+3) over the course of the afternoon. In recent weeks we've been discussing what rapidly becomes J.A.'s late-match calling card. He keeps dropping it on the pitch every round. At some point late in every fixture, Brooks totally takes charge with a midfield run-up to head forward emphatically. This week's instance (one of the best ones on display) came in the 67th.
The writer counted 102 touches from Brooks in the weekend fixture. He played an extraordinary 84 passes, sending only nine wayward. If there was an outright duel loss, the columnist didn't catch it. For the most part, the USMNT veteran was on point with his rearward touches, cycle positions, and box-out defending. The WOB attack unequivocally grind to a complete halt as the hour mark neared. There were unquestionably some builds in which Brooks and the rest of the back line lacked in ideas and energy.
One can hardly fault the subject for that. The team tired out collectively. After Hoffenheim's two late tallies (struck in quick succession), the Lower Saxons were understandably demoralized. Brooks even bounced back to play with noticeable gusto in the final ten minutes. This American ultimately fell short of perfect marks last weekend. To that one should add that he truly wasn't far off the highest grade available.
---
Timothy Chandler, Eintracht Frankfurt
---
Minutes played = 82/90, Positions played = RW
Grade = C-
Eintracht trainer Oliver Glaser continues to experiment with options on his right attacking flank. Our USMNT emeritus subject returned to the starting XI against Köln last weekend, though in a slightly different tactical role. We've a draw up available in the tactics bulletin. The new SGE two striker set limited Timmy's involvement significantly. Watching the match, one could see that Jesper Lindstrøm and Rafael Santos Borré essentially took turns acting as the de-facto right-winger ahead of Chandler.
It was such that Timmy only recorded 41 touches on the day in the writer's count. Often times, our subject here looked a little lost amid his loosely defined role. That doesn't necessarily mean he did the worst of jobs. Defensively, there were two excellent clearances in the 3rd and 41st. Later on in the second half, Chandler executed two solid defensive headers away in the 56th and 73rd. An impressive tackle away can be found in the 67th. Examples of high-level offensive/passing work came in the 5th, 30th, 38th, 47th (on a dubious offside), 54th, 57th, 58th, 59th, 71st, 73rd, and 75th.
Like the rest of his team on this day, however, there were far too many concentration lapses from this particular American. Stray passes (4th, 20th, 29th, 40th, 45th, 60th, 77th) repeatedly wasted what had been some nice hustle just prior. Late run starts/heavy touches (9th, 18th 21st, 23rd, 42nd, 79th) also occurred regularly. The SGE attack never really got going on Chandler's side and it's fair to say that this American was complicit. One hates to factor throw-ins into a player's grade, but there were especially bad ones.
One can watch Timmy take some nice quick throws in the 33rd, 38th, and 81st. Near the beginning of the match, there was also some notably good instances of off-the-ball pressing. In the 9th, he took a ball down very well and fired off a dangerous shot. Some of the grievances this columnist had with Glasner's tactics on the day excuse Chandler from a few of the questionable decisions he made. Definitely not all. Danny da Costa came on for our American here late on and will probably get another chance against Bayern this weekend.
---
Pellegrino Matarazzo, VfB Stuttgart
---
Matches = 1, Result = D
Grade = C-
Things are getting really dangerous for the Swabians after the latest blow opportunity to gain three points against Bochum. Matarazzo's men have only picked up two points through six rounds of the Rückrunde. Presently three points off the relegation playoff place, it becomes increasingly unclear where they needed ground to make up on will come from.
The last-minute Bochum equalizer proved absolutely gutting. The column naturally being tasked with assessing whether any of it had to do with Matarazzo's late-match tactics, we'll need to see how the American trainer moved his men around over the course of the 90. Our subject here began by lining up his crew in the exact same tactical set-up as last week.
Silas' injury in the 20th forced the Columbia university man to make a slight tactical tweak; one that happened to be pragmatically intelligent.
Lineup—VfB Stuttgart—21st minute (4-1-4-1)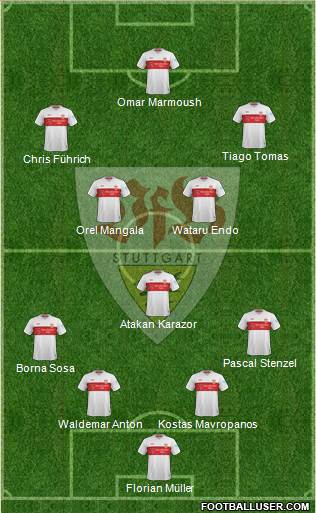 Tiago Tomas shifted over to his more natural right-wing role whilst Omar Marmoush took over at lead striker. This led to several quality chances and generally good football both for the duration of the first half and well into the second. Although the VfB lead came courtesy of an own-goal, it's fair to say that it was deserved. We'll accord the head-coach top marks here.
When it came time to shell up, however, Matarazzo's play was far too conservative. Taking off Marmoush seemed unnecessary. The introduction of Hiroki Ito into a double-defensive midfield set-up didn't really have any reasoning behind it. Moreover, it took away favorable angles on the squad's counter.
Lineup—VfB Stuttgart—74th minute (5-2-3)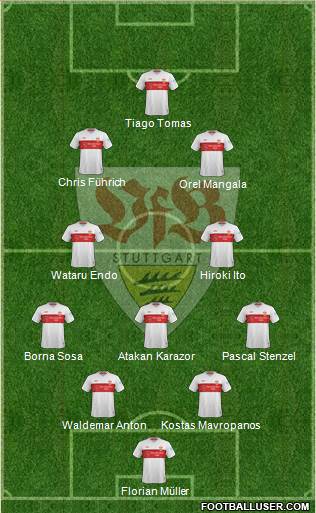 Bochum exploited the space to play over the top on the wings. Counterpunches couldn't help but remain central since the VfB wingbacks were tightly locked with the sweeper. It might be a stretch to say that Bochum's equalizer was deserved, but some fault definitely lies with the trainer for hacking down his own approach play. The moves balance out for an average grade.
---
Timothy Tillman, SpVgg Greuther Fürth
---
Minutes played = 90/90, Positions played = LM, SW, ADM
Grade = D
Not a terribly active day for the Nürnberg native in this most recent round. The writer recorded only 34 touches for the elder Tillman brother. As touched upon in the tactics column, a sensational shock upset from Fürth in their visit to Bayern never felt like a realistic possibility. Despite the fact that the Kleeblätter took a 1-0 halftime lead into the tunnel, the German giants weren't tussled or flustered. Stefan Leitl's men–Tillman included–were barely active.
Tillman's fellow German American Julian Green actually gathered roughly a third as many touches as his teammate in 20 minutes of relief service. This is still obviously way too little to merit a graded passage. We'll nevertheless check in with Green towards the end of the section. Some interesting tactics from Leitl–who has only kept both Tillman and Green on the pitch together a pair of brief times this season–down the stretch in this match.
Lineup—Greuther Fürth—Match 23 (5-2-3)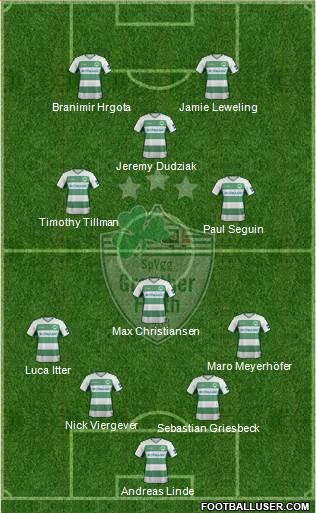 It's almost a carbon copy of the Fürth constellation utilized in the previous match. A significant enough difference sees Tillman and Seguin spread out wider. One had the sense that none of the five actors on the top three axes were meant for defense duties. Leitl effectively invited Bayern to play through the midfield, hoping that the pocket five could catch the Bavarian rivals out on the counter.
Much of Tillman's initial involvement came via direct duels with opposite left-slanted midfielder Marcel Sabitzer. Our subject here didn't get off to the greatest start against his former youth academy club. Sabitzer blew past him in the 1st, 2nd, AND 4th. He finally got the better of the Austrian in the 5th, forcing the former Leipzig captain into a foul. The German American also drew a unfair challenge after a great run in the 17th.
Overall, the first-half featured more positives than negatives. There are two very nice cases of dribbling on display in the 15th. Ground challenge wins came in the 6th, 27th, 39th, 45+1, and 45+3. Tillman also did well on two aerial duels in the 16th and 44th. Passing proved less impressive, with flagrant strays coming in the 13th, 33rd and 38th. Easily the worst wayward came on an overcooked through in the 37th.
No free kicks from Tillman–one of the team's primary set-piece takers–in the opening 45. He also took but one corner (35th); one that happened to swing in far too close to the near post. The compact Fürth shape kept Bayern at bay throughout the opening half, though (to reiterate) it seemed highly unlikely that the Bundesliga's most talented squad wouldn't find a way of stretching it after the restart.
That's basically what happened early and often shortly after proceedings resumed. Tillman looked really lost during sequences in the 46th, 51st, 61st, 65th, 76th, 81st, and on Eric Maxim Choupo-Moting's goal at 90+1. He also got beaten pretty badly in the 78th, 80th, and 83rd in addition to turning the ball over in the 56th and getting all-too-easily dispossessed in the 64th.
Amidst all of this, there existed a sprinkling of pluses. Tillman did very well in possession past two in 48th. He hit an onrushing Marco Meyerhöfer in stride with a crisp pass in the 67th before running his own give-and-go one minute later. No free kicks or corner from Tillman in the second 45, in large part because Julian Green entered the match in the 69th.
Lineup—Greuther Fürth—70th minute (5-2-3)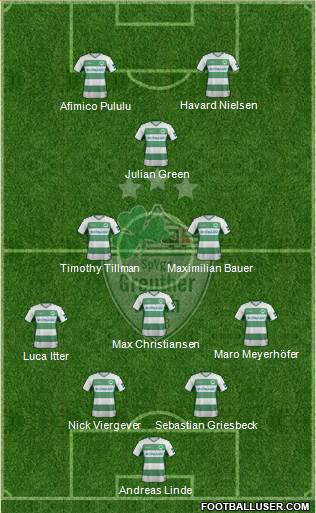 There seemed to be some sort of prearranged rotative set-up at the sweeper position. Tillman, Max Christiansen, and Maximilian Bauer took turns on a counterclockwise watch. Green had quite a bit of space behind him. USMNT enthusiasts may be interested to know that their former phenom had a bite of bite to him in his first bit of significant action since matchday 12.
Green fired off an exemplary cross into the box in the 71st. His service led directly to a scoring chance for his team when Marco Meyerhöfer rattled off the bar. One minute later, Green got his own effort off to earn his team a corner. The 26-year-old would take the corner himself. A cutting service unfortunately got cancelled out by an offensive foul.
Leitl has a bit to think about when building his next XI. Green kept up the good work with a sharp touch forward in the 73rd and another expert free-kick in the same minute. He drew a foul with some nice possession play in the 84th and put some more nice work in on the ball at 90+2. Balls played in the 88th and 89th might have been better, but one still has to like the statement he made.
Thanks so much for reading!
You can occasionally catch Peter on twitter, @ViceytheSS.
Twitter DMs are open for football conversations, corrections, and (if you truly insist) general abuse. 
All columns debut on Bulinews before appearing on Peter's website later in the week.