As we continue to take a full-color look back at this year's "Americans in the Bundesliga" deep-scout column over on Bulinews, a six-section piece from round 31 at least contained some good news for USMNT defenders George Bello and John Anthony Brooks. The rest of the assessed field engendered less enthusiasm. So it went as we limped along to a (in all candor) disappointing finish.
Six graded sections to cover in the latest installment of our "Americans" deep-scout column. We've fewer actors than last week by virtue of the fact that Chris Richards' latest injury is indeed sadly a season-ending one, Joe Scally's time off the Gladbach bench barely featured any touches, and both Timothy Chandler and Ricardo Pepi rode the bench.
While all of that definitely counts as bad news, we've better reports overall to discuss these week. Two "A Level" defenders made the scouting on this beat much more enjoyable. Tyler Adams also uptick a tad from the previous round. Unfortunately, as it is when it comes to all things Fürth, our two German American performers had another bad day at the office.
---
George Bello, Arminia Bielefeld
---
Minutes played = 90/90, Positions played = LB
Grade = A
Very inaccurate low marks for the Georgian in the German press this week. Much of this had to do with the fact that his soon-to-be relegated team's overall play did prove nauseating at times. One should also note that Bello got easily split, then badly beaten on both Köln's first and third goal.
Don't let the poor grades fool you, however. This American actually delivered some stunning play last weekend. DSC interim trainer Marco Kostman kept it simple in a static 4-2-2. Bello was hardly static, bombing up and down his left flank with boundless indefatigable energy.
Lineup—Arminia Bielefeld—Match 31 (4-4-2)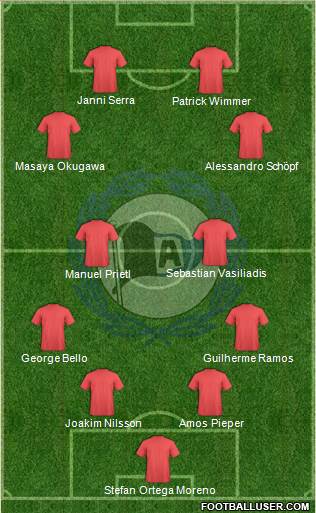 Some really great moments on the break can be found in the 9th, 15th, 31st,  41st, 53rd, 62nd, 69th, 79th, and 82nd. One can watch him touch past Anthony Modeste in the 14th, 25th, and 90th. Intelligent work on attack trails came in the 10th, 27th, and 83rd. He got a sharp snapshot of in the 58th.
Though he was beaten on those aforementioned goals (3rd and 86th) and lost a few more defensive duels (45+3, 49th, 52nd), the bulk of his work at the back was top notch. As we've noted many times before in this column, this young man specializes in sensational recovery runs even when he initially gets beaten.
Examples of sensational track-back work occur in the 23rd, 33rd 37th, 65th, 71st, and 79th. Slide tackles that will leave you in awe are also on display. Be sure to check out Bello's absolute best work in the 35th, 64th, and 77th. There's also great aerial wins and clearances in the 22nd, 45+4, 46th, 51st, 57th,  and 75th.
More sparkling individual play for the former Atlanta United FC man in the 59th (expert shielding and ball control while pinned back in his own corner) and 63rd (a fearless win and clearance against Ellyes Skhiri right in front of the net). Four stray passes on the day barely count against him when he furnished such fine verticals/cycle work in the 20th, 39th, 50th, 54th, and at 90+1.
There were a few instances at the beginning, near the end, and during a dip between the 47th and 57th during which he had some hesitation about which way to break. The only real negative things resulting from this left some switches out of his reach in the 11th and 18th. If the German press sees fit to dock him for that, so be it. This column won't.
---
John Anthony Brooks, VfL Wolfsburg
---
Minutes played = 90/90, Positions played = CB
Grade = A
Feast or famine for both the Berliner and his team. One week after receiving failing marks, Jay is right back up top on "A-Level". Some six days after having their posteriors handed to them by Dortmund, Germany's green company team turned it around unleashed the fury on Mainz with a five-goal first half. We discuss the tactical reasons behind this via a draw up and discussion  available in the weekend recap column.
Wolfsburg-Mainz being a match that wasn't anywhere near a competitive affair for the full 90 minutes means that the majority of Brooks' 132 recorded touches came on meaningless leisurely bow-arcs in the back-four. Much of the second 45 revolved around professionally killing the game off with as little risk as possible. Something of a slight shame to the VfL do this after they were thoroughly chastised for low mileage last week.
Brooks experienced his dips in the second half, predictably encountering difficulty switching back on between the 72nd and 77th. The columnist still didn't see him outright lose a duel all evening. The less relevant half also featured some really nice snap verticals for Jonas Wind in the 54th and 63rd. Focused duel wins can be found in the 51st, 58th, 67th, 71st, 77th, and 78th.
Naturally, we'll wish to discuss the half that truly mattered. In the opening 45, one can watch Brooks initiative some excellent attacks with verticals to Wind/Lukas Nmecha in the 5th, 7th and 12th. He strode forward himself to carry out the charge in the 26th and 31st, punching through all the way to the outside of the 18 to have a go himself in the 41st.
A gorgeous switch for Ridle Baku set up Wolfsburg's fourth goal in the 42nd. Brooks nearly engineered another tally with another incredible switch for Xaver Schlager two minutes later. He succeeded in setting up a goal again at 45+2. Max Kruse's hat trick began with one more incisive vertical for Wind from this American.
As is always the case with this future free-agent, monster wins both in the air and on the ground lie scattered about the performance. One can find the best examples in the 2nd, 5th, 8th, 15th, 16th, 33rd, 45th, and all the second-half instances listed above. Twelve stray passes matter little given that the columnist observered him attempted no fewer than 100.
Brooks returns to the top-level.
---
Tyler Adams, RasenBallSport Leipzig
---
Minutes played = 90/90, Positions played = LM, CM
Grade = C-
A little fatigued and unfocused in their second meeting with 1. FC Union Berlin in four days, the German Red Bulls delivered one of the worst first halves seen by any Bundesliga team this season on Saturday. Domenico Tedesco's crew couldn't supply us with a single decimal point of xG. A relatively flat 3-4-3 struggled mightily against die Eisernen.
Lineup—RB Leipzig—Match 31 (3-4-3)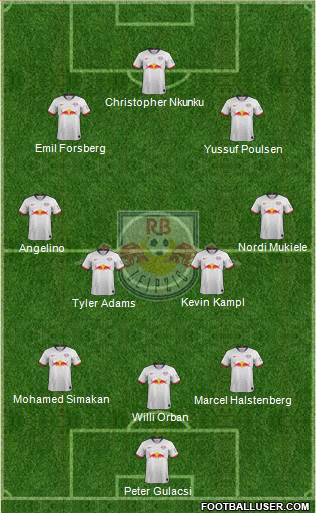 Tedesco mostly stuck with this, thought there were some slight alterations late on. Our American subject had great difficulty involving himself in the match throughout. He registered only 52 touches in 90 minutes of action. That's not to suggest that the USMNT captain wasn't working his socks off. Adams certainly covered his fair share of ground.
Solid tracking led to quality pick-ups in the 14th, 16th, 40th, 44th, 51st, 65th, and 90+4. In general, Adams was pretty good about pouncing on loose balls. His touch seemed above average on forward sequences in the 6th, 8th, 9th, 11th, 13th, 19th, 29th, 53rd, 70th, 80th, and at 90+3. There's also some great ball shields on display in the 3rd, 23rd, 50th, 58th, and 69th.
No shortage of excellent defensive work (7th, 33rd, 66th, 82nd) and impressive aerial wins (15th, 42nd, 84th, and 85th) from the RB New Yorker. Adams also deserves some credit for Yussuf Poulsen's opening goal. The USMNT skipper started off a wonderful break to begin the second half and drew coverage expertly in the 46th.
Unfortunately, one simply can't declare that Adams has broken out of his form slump just yet. The 23-year-old earned a booking for a frustration-fueled irresponsible tackle on Julian Ryerson at 90+6. In all candor, match official Daniel Schlager could have shown him yellow twice over for poor challenges in the 5th and 55th.
Adams blew his mark assignments on both of Union's late goals. Lost duels, heavy touches, and turnovers came in the 17th, 37th, 38th, 41st, 45th, 54th, 59th, and 81st. During a long stretch dip from the hour-mark all the way through the 85th, he looked totally lost. Overall, this performance counts as an uptick from last week. Not by much, sadly.
Anyone who genuinely enjoys watching this player on his best days begins to hope for transfer in the coming offseason. It doesn't appear as if Tedesco knows how to bring the best out in Adams. This despite the fact that there do exist tactical constructs in which he can thrive. One can only shake one's head and hope that Gregg Berhalter's anointed captain can find a more amenable home before November's World Cup.
---
Pellegrino Matarazzo, VfB Suttgart (Trainer)
---
Matches = 1, Result = L
Grade = C-
The immediate reaction to Stuttgart's listless loss to relegation rivals Hertha BSC on Sunday evening at the Olympiastadion involved blasting Matarazzo for supplying another set of tactics totally un-conducive to his group of young players. Upon closer inspection, the initial 4-1-4-1 contained some sensible ideas.
Lineup—VfB Stuttgart—Match 31 (4-1-4-1)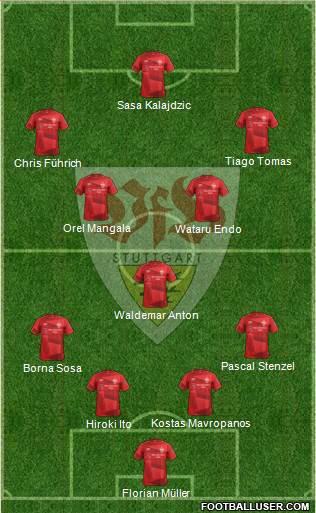 Waldemar Anton–whom it had appeared totally failed in his assignment as a sweeper–actually wasn't supposed to function in this role. The veteran defender's actual commission revolved around engaging Kevin-Prince Boateng in duels from the solo-six slot. Hertha BSC trainer Felix Magath's match- plan proved cleverer.
Boateng and the rest weren't much interested in building charges themselves, but rather hassling the VfB builds themselves. Pascal Stenzel's early injury forced Matarazzo's to make a major tactical change before the half-hour-mark. In principle, it could have worked.
Lineup—VfB Stuttgart—25th (3-4-3)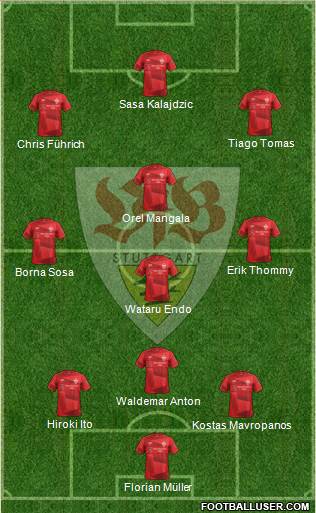 Dropping Endo back and having Anton run pivot constituted a solid idea. Moving Chris Führich back into the center and pushing Borna Sosa forward on a split-stagger might have worked better, yet was too risky given that early sub-on Erik Thommy worked his unnatural side.
A lot of the failure here falls on the players. They shrunk back after an initial flurry lasting some ten minutes into the second 45. No real courageous play forward from the Swabians in this one. They found themselves deservedly whistled down by the traveling support block afterwards.
Matarazzo most assuredly got out maneuvered by Magath on this day. The two main constellations witnessed nevertheless contained plans that could have yielded better results if properly executed. The American trainer thus receives less blame this time.
---
Timothy Tillman, SpVgg Greuther Fürth
---
Minutes played = 83/90, Positions played = RM
Grade = D+
No real good news concerning Fürth, apart from the fact that this disastrous season mercifully draws to a close. This writer personally regrets ever suggesting to SpVgg head-coach Stefan Leitl that the two American heritage players Tillman and Julian Green should start together. The results have been putrid. Saturday proved no exception.
Lineup—Greuther Fürth—Match 31 (5-1-4)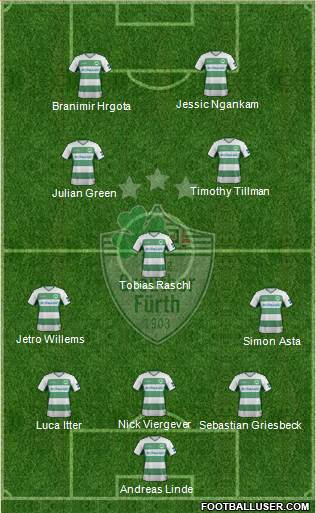 Just how this was supposed to work shall forever remain a mystery. Both Tillman and Green got off to a good start. Tillman held the ball up well in the 2nd, read the play well on an interception in the 3rd, and exhibited some sharp touches in the 4th and 6th. Note that the Kleeblätter actually grabbed an early lead in this one.
After everyone fell asleep on Patrik Schick's 8th minute equalizer, however, everything quickly fell to pieces. Bad ball losses, stray passes, and defensive skip-bys from Tillman (10th, 12th, 20th, 21st, 23rd, 34th, 36th, 38th, 42nd, 50th, 65th, 69th, 74th, 76th, and 80th) all throughout this match. To be fair, when keeper Andreas Linde fouled up on the second Leverkusen goal, everyone was completely defeated.
Tillman at least found his offensive stride late in the match and got some fine slip passes through in the 60th, 62nd, 68th, and 82nd. His direct duel rate wasn't bad, with some decent wins coming in the 18th, 49th, and 55th. There were a few nice runs (11th, 13th, 33rd, 68th), a very good clearance (15th), and a shot dragged wide after a nice win (16th).
Watching him stand there like a statute not even attempting to mark during Leverkusen's third goal (58th) more or less confirmed that he couldn't bring himself to consistently remain in the game. Practically no one on this team can anymore. Let it be over!
---
Julian Green, SpVgg Greuther Fürth
---
Minutes played = 90/90, Positions played = LM
Grade = F
The former USMNT phenom likely can't wait to get back to the lower division either. Leitl even took some of Green's set-pieces privileges away in this one, giving them instead to Jetro Willems. When one saw a couple of this American's takes (47th, 52nd, 63rd), one could see why. Not much positive to report here. After from a few nice passes (11th, 14th) and an actually well-taken corner (15th) this German American fell apart like the rest of the team.
Pretty much every time Green was even near the ball, he messed up. Horrible touches on attack balls meant to run through him came in the 3rd, 25th, 28th, 30th, 32nd, 33rd, 35th, 37th, 40th, 42nd, 69th, 73rd, 82nd, 84th, 88th, and 90th. Embarrassingly bad ball losses came in the 4th, 20th, 31st, 49th, 54th, and 76th. Leitl left him in only by virtue of the fact that he clearly had other things on his mind.
So painful to watch. Green almost appeared as if he was dry-heaving on botched defensive work in the 24th, 26th, 47th, and 54th. One found oneself giving him some mock applause for an okay break in the 52nd, a halfway decent whip-in of a cross in the 57th, and a sound square ground pass in the 62nd. Obviously, that's nowhere near good enough to spare this subject his second set of failing marks this season.
Ugh. Let it be over.
Thanks so much for reading!
You can occasionally catch Peter on twitter, @ViceytheSS.
Twitter DMs are open for football conversations, corrections, and (if you truly insist) general abuse. 
All columns debut on Bulinews before appearing on Peter's website later in the week.