Three more re-posts today get us all caught up on the "Americans" deep-scout column over on Bulinews. The final round before the international break saw a pair of USMNT actors come in a bit below their ability level. Thankfully, none of this had any negative bearing on the the US's successful World Cup Qualifying Campaign.
A certain player continues to intrigue, even if his overall marks remain fairly low. Hopefully, the Bundesliga's newest American fullback will find his feet soon. There are certainly no shortage of Germans rooting for him.
Two of the players in our five graded sections this week prepare to assist the USMNT in completing their clinch of a 2022 World Cup berth. George Bello and Giovanni Reyna both played 90 minutes for their respective clubs last weekend. Reyna and Bello didn't exactly sparkle in their most recent Bundesliga appearances, but were both definitely looking fit ahead of the final CONCACAF qualifying push.
Absentees this week include Joe Scally of Borussia Mönchengladbach and Tyler Adams of RB Leipzig, for whom it came as a surprise not to see in action. Scally returned to the bench in Gladbach's abandoned Friday night game against Bochum. The CFG New Yorker was not used off the bench in the 71-minute-match. Adams also went un-utilized in his side's 0-0 draw with Eintracht Frankfurt.
Ricardo Pepi stai unused on the FC Augsburg bench squad. Kevin Paredes did not make Wolfsburg's matchday squad selection. Eighteen-year-old defender Justin Che made his Bundesliga debut with 13 minutes of relief action in Hoffenheim's loss to Hertha BSC. Neither he nor Julian Green (19 minutes against Freiburg) saw enough playing time to merit a graded section.
---
Pellegrino Matarazzo, VfB Stuttgart (Trainer)
---
Matches = 1, Result = W
Grade = A+
We've lent the American gaffer's tactical masterclass some extra class in this week's tactical bulletin. Stuttgart-Augsburg ended up being one of the most thrilling matches of the entire "Rück-runde". Matarazzo deserves immense credit for ensuring that his team were well prepared to square off against their regional/relegation rivals. Everything was pretty much spot on, including a well-designed set-piece playbook. Like in many matches we've been covering in recent weeks, the amount of chances generated by the VfB offensive engine meant that this one have been much more conclusive.
It finally begins to come together for the BaWü Swabians. This writer, for one, finds himself immensely relieved that he no longer has to issue this trainer failing marks. The Colombia university man certainly isn't a bad coach. He's unquestionably often had very little to work with this season. All of the injuries left him with a very green squad. Sometimes the trained mathematician succumbed to overthinking, asking far too much of his young talent.
There remain times (and there were several instances in the weekend win) during which the squad looks unsorted and unfocused, particularly in the recent defensive realignment. We'll let that pass for know and congratulate the coach for keeping them ambitious in a very tough relegation six-pointer against the Bavarian Swabians. In point of fact, congratulations to both Swabian sides on furnishing quality football. Very un-"Swabian" to furnish a five goal-thriller.
---
Timothy Tillman, SpVgg Greuther Fürth
---
Minutes played = 71/90, Positions played = LM, RM, LW, RW, AM
Grade = C
One of our American heritage players returned to Stefan Leitl's XI after having been given a brief rest cure from starting duties last week. Hosting Greuther Fürth held visiting Freiburg to a 0-0 draw on Saturday afternoon. Coming off the humiliation suffered at the hands of Leipzig in round 26, Leitl's tactics surprisingly proved quite ambitious.
Lineup—Greuther Fürth—Match 27 (3-4-3)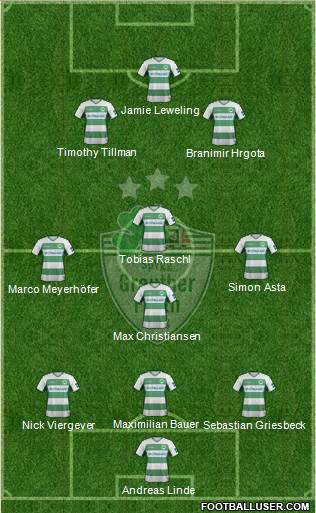 To see Fürth line up in a back-three certainly threw one for a loop. This American's placement also wasn't easy to figure out. Tillman covered an awful lot of ground apparently unrelated to any wholesale tactical shifts. A lot noteworthy attacking work from his more advanced position. One can watch the Nürnberg native shake off multiple markers with fine dribbles in the 2nd, 17th, 18th, 28th (probably the best) and 48th.
Marks proved hard to assign this week with Tillman literally all over the map. He chased down loose balls in his opponent's half tenaciously in the 19th, 32nd, 39th, 52nd, and 61st. One can also spot him all the way back putting in first-rate defensive work in the 41st, 49th, 54th, 64th, and 66th. In a couple of cases (24th and 35th), one felt he got the wrong subjective call on his defending. Tobias Reichel saw fouls. This columnist saw otherwise.
Though a free-kick service in the 55th was genuinely awful, one had to be impressed with a nicely roped in dead-ball service in the 16th. It wan't merely Tillman's positioning that was all over the place on this day. Sometimes his possession work (5th, 8th, 10th, 11th, 16th, 31st, 68th) and basic defending (27th, 51st, 57th, and 66th) left a lot to be desired.
A heavy touch in the 9th cost his team a near-perfect breakout opportunity. Ten stray passes (the most egregious of which came in the 14th) sometimes led to Freiburg chances. Then we have the aerial duels. Tsk. Tsk. Tillman managed to win one shortly before being subbed off in the 71st. Apart from that (4th, 29th, 38th, 44th, 56th) he lost them all. Confronted with all of this, the writer settles on an average grade.
---
Giovanni Reyna, Borussia Dortmund
---
Minutes played = 90/90, Positions played = LM, RM
Grade = C-
Three assisted shots, one huge blown opportunity, and a bit of unfortunate hot-headedness at the end for Gio in his return to the starting XI for the first time since suffering that hard-luck injury back in round 23. As that brief appearance was obviously far too influential to merit a grade, this actually constitutes the first time we're grading the American legacy phenom on a full 90 minutes all season.
The closest Gio came to playing all the way through came in an 87-minute-shift in round one. Although Reyna scored in that opening match, his grade unfortunately got weighted down a bit after a less than stellar performance in the DFL Super Cup. We'll hopefully get some more "A+" days from the youngster before the season is out.
Sunday against Köln wasn't one of them.
Lineup—Borussia Dortmund—Match 27 (4-1-4-1)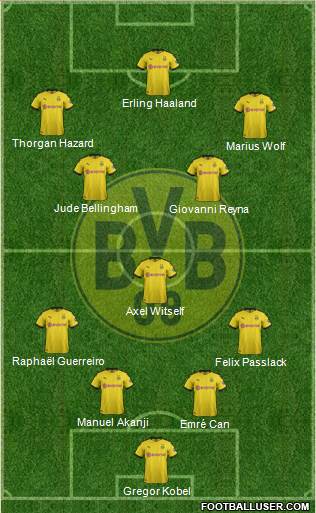 Basically the same positioning as the midweek fixture, with Bellingham and Reyna trading slant lanes. Our subject here took a little while to get going in this one. Touches were scarce prior to the half hour mark. A couple of early mistakes (ball loss at the edge of the area in the 6th and a mistimed challenge in the 15th) too. He got rid of the ball way too quickly in the 7th; an error quickly forgotten once Bellingham set up Marius Wolf for the opening goal at the end of the sequence.
Köln were clearly the better team in the opening 45. Reyna contributed to this with some dubious positioning choices (21st, 22nd, 24th, 27th, 30th, and 34th) and a poor corner service in the 40th. That isn't to suggest that he wasn't aggressive enough on the ball when he had it within his sights. He hunted down long balls well enough and put in some strong cycle work in the 3rd, 10th, 19th, 29th, and 37th. He located a more confident touch late-on, as evidenced in the 39th and 42nd.
Well over half of Gio's 62 recorded touches and all three of his assisted shots came in the second 45. The two teams played on a much more even keel once Marco Rose switched to a three-man-backline at the restart. This may not necessarily have been good enough to bag the points and keep the title race alive, but at least the BVB did a much better job defensively.
Lineup—Borussia Dortmund—46th minute (3-6-1)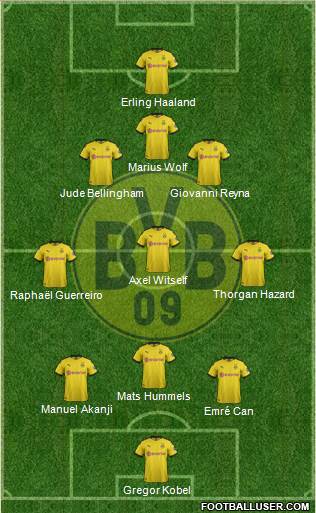 With Thorgan Hazard sliding back to a wingback role, Reyna had more offensive responsibilities on his shoulders. The first assisted shot came in the first minute of play. Gio did well, after some sharp touches, to locate Bellingham in a pocket of space. The second assist came via a sublime first-time flick on for Erling Haaland in the 56th. A third came on an excellent free-kick service in the 68th. Hummels headed just wide.
The big "blown chance" referred to above can be found in the 74th. Our "American dream" toasted Luca Kilian on a breakaway chance. Gio actually made a hash out of two good options. He could of either shoot himself or cut back for Julian Brandt. Instead, he opted to square and saw his pass easily blocked. A shame.
Despite doing a good job frustrating Köln, Dortmund largely appeared to fall victims to their own frustration during the goalless second half. When Reyna was interrupted trying to take a quick free-kick in the 51st, Haaland answered by needless shoving Ondrej Duda. We also had the whole "Bellingham boot incident" three minutes later, with the Englishman delaying the game far too long.
Our American himself lost it at 90+2, knocking over Timo Hüber's with an ice-hockey-style body-check. After a strong start to the second half, Gio's play settled into a mediocre level or below. He got shown up by Salih Özcan on a 59th minute ball dispossession. A large amount of meaningless touches during sequences in the 67th, 81st, 86th, and 87th demonstrated that he was running short of attacking ideas.
A couple of offside runs, a so-so free-kick service, and three stray passes between the 74th and 80th (after his miscarried attacking chance) bog him down a bit during a late tank. Gio tried to recover with a defeat hold-up and pass in the 88th. Even that ended up leading to a turnover, however. Enough positives to keep Reyna off "D-Level" this week. Only just.
---
John Anthony Brooks, VfL Wolfsburg
---
Minutes played = 88/90, Positions played = CB
Grade = D+
Much better tactics from Florian Kohfeldt this time, in stark contrast to the junk we saw in the previous round. Germany's green company remained in a 3-4-3 throughout during the Sunday encounter with Leverkusen. The shape held even after the VfL trainer pulled the trigger on a triple change in the 74th.
Lineup—VfL Wolfsburg—Match 27 (3-4-3)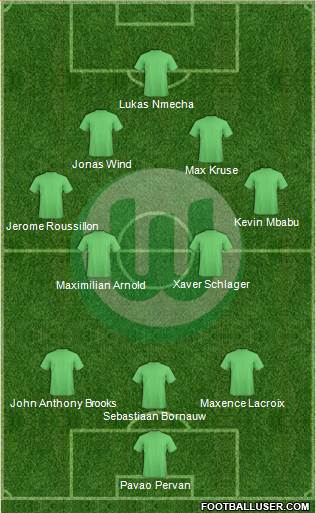 Sebastiaan Bornauw worked a slight divot, presumably so that Brooks could concentrate on containing speedster Moussa Diaby. This ended up being rather problematic when Diaby unexpectedly settled into the ten slot, and Diaby got past the Berliner with ease in the 5th, 12th, 29th, 57th, and 58th. Other B04 actors swept past him in the 15th, 33rd, 60th, and 70th.
With decent tracking and some well-executed ball shields, Brooks showcased good defensive work in the 2nd, 4th, 36th, 41st, 68th (on a much-needed recovery), 69th, and 73rd. His best aerial can came at 45+1, the most imposing header away in the 76th. Quality on attack initiations can be located in the 8th, 20th, 26th, 28th, 38th, 48th, 72nd, and 77th.
Duels and passing still weren't nearly as crisp as last week. No grand switches this time. One in the 24th was actually rather pitiful. Further suspect passing decisions were noted in the 32nd, 42nd, and 61st. Poor clearances/headers in the 33rd, 50th, and 51st dock him down a bit. Some bad duel losses (73rd, 79th, and 80th) presaged the disastrous finish.
Shortly after the 82nd minute scuffle (in which Brooks was not involved), our American subject here badly botched his marking in the lead up to Paulinho's 86th minute goal. For the record, this chronicler doesn't agree with Max Kruse in his statement that the "whole team is defending like s**t". Brooks nevertheless made it look so on that play. Yikes. The Berliner earns a big dock for that one!
---
George Bello, Arminia Bielefeld
---
Minutes played = 90/90, Positions played = LB
Grade = D-
There's some discussion of when (and how) it all went awry for Frank Kramer's Arminnen in the tactics column. What's left to discuss in terms of the team's shape concerns the way the XI lined up initially. The DSC trainer lined up the 4-2-3-1 in the precise manner that he did last week, replacing Cedric Brunner with Nathan de Medina at right back.
Before the big tactical snafu, the Georgian did show some improvement in areas noted last week. One can watch him making a deliberate effort to mark more consistently in the 7th, 22nd, 25th and 31st. There's a monster defensive tackle on display in the 40th. Riding that bit of confidence, Bello finished the first half strongly. There's more great work available for viewing in the five minutes of first-half injury time.
One truly hates to dock Bello for defensive lapses when it's clear that Kramer has a more attacking role in mind for him. Time and again it was apparent during Saturday afternoon's match that DSC center-halve Andreas Andrade (whom Bello may meet when the USMNT squares off against Panama on Sunday) was meant to shadow the American as a means of picking up some of the defensive duties, particularly the aerial duels.
The long list of instances during which Bello seemed overcommitted beyond his role (13th, 15th, 26th, 28th, 49th, 66th, 69th, and 86th) is nevertheless too extensive to ignore. Bello already allowed himself to be pulled off on the sequence leading to Jonathan Burkardt's opening 1st minute goal. He also got bumped off the ball far too easily on the sequence leading up to the 64th minute penalty. It's a physical league. One must adapt.
A few bright spots keep the Bundesliga's new addition off failing level. There's a great strip of the ball in the 3rd, nice passing work in the 6th, and some quality runs forward in the 13th, 23rd, 39th, 54th, 70th, and 84th. Those instances still bore some flaws. In some cases he ended up getting dispossessed or waited too long to accelerate. The Mainz on-pitch streaker in the 84th looked more confident than him when it came to quickening up.
Only five stray passes from Bello on the day. That's positive. Regrettably, the ones that he did send straight into traffic (9th, 19th, 27th, 32nd, 81st) were memorably bad. The overlap work (30th, 33rd, 62nd) wasn't as good as last week. Only one time (56th) could one fairly say that his teammates let him down. At least our subject here made up for blown marks with more solid recoveries in the 21st, 34th, 45+5, and 63rd.
Bello remains a fun player to track even if a lot of his game isn't quite there yet. There were some hesitant touches and a few iffy dribbles as it appeared as if (after last week) the youngster wasn't quite certain whether his own pace counted as an asset or a hindrance. Surely he'll get it figured out with some more adjustment time. His teammates also need time to adjust to his style of play. There will be better reviews.
Thanks so much for reading!
You can occasionally catch Peter on twitter, @ViceytheSS.
Twitter DMs are open for football conversations, corrections, and (if you truly insist) general abuse. 
All columns debut on Bulinews before appearing on Peter's website later in the week.