This year's "Americans in the Bundesliga" column has wrapped, replete with thoughts on how the 2021/22 campaign unequivocally felt like a letdown for us devoted scouters of US talent. Over here on the profile website, there's plenty of full-color re-posts to catch up on as we catch up with all the weekly columns on Bulinews. Three such re-posts on the site today. There were indeed more than a few bright spots this season.
The 29th round of the recently completed campaign brought with it more tears for Gio Reyna as the Dortmund phenom had to exit his side's match against Stuttgart after less than two minutes in. We still had plenty of interesting news to report on with seven players, and American trainer Pellegrino Matarazzo active on this particular matchday.
A very busy weekend for American professionals in Germany's top footballing flight leaves us with eight full graded sections in one of our longer columns of the season. The work of starters John Anthony Brooks, Joe Scally, Chris Richards, Timothy Tillman, and Julian Green finds assessment below. Tyler Adams and Ricardo Pepi came of the bench to make gradable appearances. As always, VfB Stuttgart trainer Pellegrino Matarazzo also gets a section.
As for the missing actors, Bielefeld fullback George Bello sat out his second consecutive match. Timothy Chandler remains out of the Eintracht Frankfurt XI. Kevin Paredes of VfL Wolfsburg made his long-awaited Bundesliga debut as a last-minute sub in his side's win. The young American obviously contributed little. A attempt on goal sailed well wide of the mark. Giovanni Reyna also saw his season end with one ill-fated touch in the first minute of his match.
---
John Anthony Brooks, VfL Wolfsburg
---
Minutes played = 90/90, Positions played = CB
Grade = A
One runs out of ways to label the Berliner grossly underrated. Even with his team achieving a monumentally important victory this week, Brooks still doesn't get the respect he deserves. We'll want to talk a bit about Wolfsburg's win in this edition of the column, especially after giving Florian Kohfeldt short shrift in the latest installment of "Tactics Talk."
No major tactical changes from the VfL trainer in recent weeks. We'll nevertheless throw up a graphic as it's been far too long since readers have had a chance to visualize the WOB 3-4-3. A few organic changes to talk about. Mostly, however, it's worth drawing attention to Kohfeldt's recent personnel moves.
Lineup—VfL Wolfsburg—Match 29 (3-4-3)
It's simple. Maybe it could catch some flak for being too flat under different circumstances. Perhaps it still will before the season is out. In any event, Kohfeldt earns major plaudits for freshening up the wings with Yannick Gerhardt and Ridle Baku. Those two actors turned in mammoth respective performances.
Brooks did his own exceptional job on attack initiations. Involvement in a 10th minute charge should have produced a goal. A cutting vertical in the 11th ended up doing so. One can watch the Berliner launch the sequence leading to Lukas Nmecha's opener with a cutting vertical. Two magnificent aerial wins in the 17th preceded Jonas Wind's strike off the post.
Brooks also kick-started the passing string ahead of Xaver Schalger's disallowed goal in the 18th. More valuable starts with sharp play out of the back came in the 19th, 23rd, 36th, 41st,  49th, 77th, and 81st. The best aerial wins can be found in the 7th, 15th, 37th, 62nd, and 63rd. This American actually didn't have one of his best days on the ground, however, losing out in the 37th, 42nd, 45+2, 54th, and 78th.
Wolfsburg-Bielefeld proved a strange match in many respects. The second serious head injury in as many weeks involving a DSC player took a lot out of both teams between the 27th and 37th. Brooks looked shaky–along with many others–during this interval. He shouldn't really be docked too hard for that. One also shouldn't give Brooks too much credit for turning tricks and taking some ambitious shots in the final 15 minutes.
Germany's green company team put the match to bed relatively early. Max Kruse's headed sealed the 4-0 deal already in the 53rd. In something of an ill-fated occurrence later on, Bielefeld saw themselves reduced to ten men for the final quarter-of-hour. Florian Krüger couldn't continue, but also couldn't be replaced after DSC trainer Frank Kramer exhausted all of his subs. Brooks opted to essentially try his hand at being an attacker during this spell.
Much of that gets scratched from the grade. All the same, enough transpired before that to keep our subject here on "A-Level". Whoever snatches him up next season shall get a great impact player. One already misses those glittering switches Brooks gets off (22nd, 26th, 78th) whenever Ridle Baku plays opposite him. This team shall miss his contributions on both sides of the ball next year.
---
Tyler Adams, RasenBallSport Leipzig
---
Minutes played = 45/90, Positions played = CM, AM
Grade = B+
Leipzig's win over Hoffenheim had already been sealed by the time Domenico Tedesco sent the USMNT captain onto the pitch for Konrad Laimer on Sunday. The RB New Yorker still managed to make his presence felt. Adams' first graded section since round 24 sees him receive above average marks. Clearly stationed above midfield partner Kevin Kampl, our subject here covered a lot of ground.
Lineup—RB Leipzig—Match 29 (3-4-3)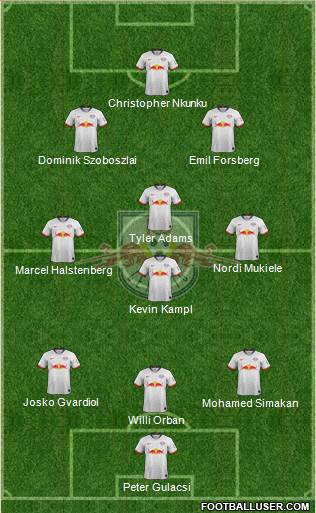 Noteworthy duel wins came in the 55th, 58th, 61st, 71st, 76th, and 88th. The columnist only saw him lose one challenge in the 79th. There were no major blown marking assignments. Positive offensive involvement can be found in the 51st and 53rd. Adams executed a splendid takedown on the former play and broke into the box tenaciously (where he arguably should have been awarded a penalty) on the latter.
Sharp passing from Adams on the press in the 61st, 83rd, and 85th. It remains true that there were touches, passes, and presses during which our subject showed too much hesitancy (46th, 47th, 52nd), but that's to be expected after a long layoff. Some tracks (48th, 58th, 62nd, 66th) were "typical Tyler Adams" in that he needly overcommitted himself with unfocused ball chases.
Such slight imperfections wouldn't keep him out of the XI on virtually any other team. They're noted here–along with a "B-Level" grade–to shine a bit of light on why Tedesco saw fit to use him less despite some very good performances this year. As readers parse through the many "How Leipzig turned it around" pieces cropping up in journals these days, this writer wishes to emphasize that Adams wasn't in any way part of the problem under previous trainer Jesse Marsch.
---
Joe Scally, Borussia Mönchengladbach
---
Minutes played = 90/90, Positions played = LWB, RWB
Grade = B
Definitely an above-average day for the Long Island native in his first start since round 26. A recorded total of 46 touches remains a little low for a wingback, but it's hardly Scally's fault that he went missing for long stretches of time. As touched upon in the tactics bulletin, the whole team went missing at times. At this stage of the season, with everything else going on, Gladbach simply pack it in after a lead has been attained.
Lineup—Gladbach—Match 29 (3-4-3)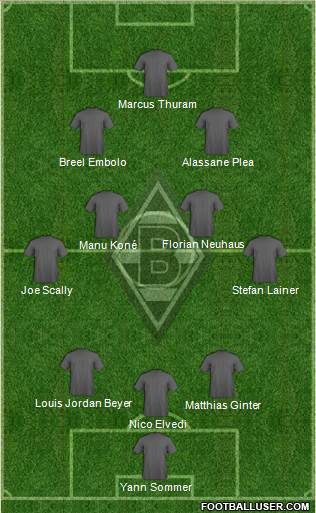 A very late shift over to the right from Scally this time. Hütter only swung him out to Lainer's position with a couple minutes left in the match. Our subject here did engage in some spontaneous rotations with his axial partner over the course of the encounter. Some of his best work (32nd, 33rd, 45+1, 60th, 90+2) came from his more natural side.
Scally got off to a bit of a shaky start, whiffing on a shot he needed to connect on off a corner in the 2nd. He also lost his first two direct duels (6th and 18th), sent a bad pass wayward (9th), and hit a very poor rusty cross in the box 17th. After disappearing from the play for most of the first half, he recovered to deliver a pair of refined defensive interventions in the 34th and very good track-back marks in the 35th, 39th, and 41st.
BMG cycle-work on the left never really got established on this day. It was thus not Scally's strongest performance offensively. Defensively, Nico Elvedi hogged most of the glory. The CFG New Yorker can still be seen winning some fine duels in the 49th, 52nd, 62nd, 67th, and 82nd. More lax marking came during a rough spell between the 70th and 80th. Apart from that, he was pretty strong.
Neither Scally's off target effort nor a pair of assisted shots merit much of a mention as they came later well after the match was decided. One saw enough of an attempt to insert himself in the play to keep him comfortably on "B-Level" this time. Scally was certainly trying harder than his teammates in many instances.
---
Julian Green, SpVgg Greuther Fürth
---
Minutes played = 78/90, Positions played = LM, CM
Grade = C
It may not be worth terribly much, but the one-time USMNT phenom was one of the best Fürth players on the pitch against Gladbach on Saturday. SpVgg trainer Stefan Leitl opted to grace his rare starter with an ambitious offensive assignment in the most recent round.
Lineup—Greuther Fürth—Match 29 (5-2-3)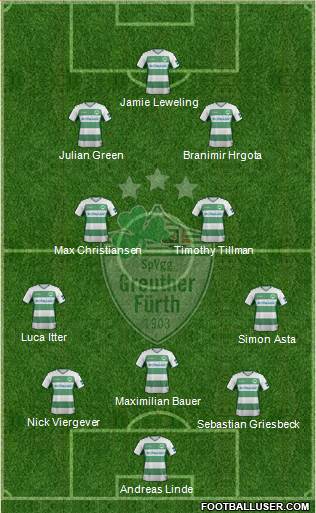 Serving almost as a pseudo-nine, Green held the ball up exceptionally well in the 3rd, 21st, 62nd, 65th, and 69th. Quality touches on the charge came in the 7th, 9th, 31st, 39th, 46th, and 56th. Several concrete examples of exceptionally good offensive work include a shake off of two defenders in the 4th, a slip through of fellow German-American Timothy Tillman in the 30th, two sharp whip-in crosses in the box in the 51st, another slip-pass in the 61st, and a lovely flick-on in the 7th.
Green recorded four assisted shots on the day. He had a go himself thrice. Unfortunately, all three of his efforts at goal (19th, 43rd, and 53rd) were well wide of the mark. The first two were downright horrible. The third constituted a poor free-kick effort. A shame as his corner services actually appeared above average. In the columnist's count, the Floridian won just over half of his duels. He looked great on the ball in the 13th, 16th, 45+1, 52nd, and 71st. Losses in the 5th, 37th, 42nd, 47th, 63rd, and 72nd cancel most of it out.
This American won't be returning to the starting XI anytime soon if one wishes to use this performance as a yardstick. Green seemed to havre some git about him. Overall, however, he looked more like a second-tier player more often than not over the course of the afternoon. His club re-upped with him for precisely this purpose. Who knows if we'll ever see him get another USMNT call-up at this rate. Perhaps another strong season in the 2. Bundesliga will help him rediscover his game.
---
Chris Richards, TSG 1899 Hoffenheim
---
Minutes played = 90/90, Positions played = CB
Grade = C-
A rather rough day for the Alabama native and his Kraichgauer. Facing multiple absences through injury and suspension, TSG trainer Sebastian Hoeneß had to cobble together a makeshift back-line that, while experienced enough on an individual level, didn't have much muscle memory as a unit to fall back on. Departing veteran Havard Nordtveit assumed the responsibility for filling Florian Grillitsch's boots. Results proved so disastrous that Nordtveit issued a public apology for his role in Leipzig's three first half goals. Those interested in a tactical Draw can find one in the latest round review column.
Richards racked up well over 90 touches during this busy day. There remains plenty of good work on display. Fabulous aerial wins came in the 10th, 33rd (twice), 43rd, 50th, and 87th. There's examples of solid ground wins and generally good defensive coverage in the 2nd, 15th, 16th, 63rd, and 72nd. Decent verticals, out-swingers, and attack initiations can be found in the 7th, 22nd, 43rd, 53rd, 57th, 70th, 74th, 86th, 89th, and 90th. Before proceeding any further, it should be noted that this analysis does accord the American a little slack based on how poorly Nordtveit ran the defense.
Nordtveit wasn't entirely to blame when Richards made risky (and occasionally even panicky) passing decisions in the 9th, 19th, 22nd, 24th, 37th, 45th, 47th, 49th, and 68th. Our subject here sent jut nine passes officially stray on the day, but that number could have been much higher. Some responsibility belongs on the American's shoulders for all three first-half RB goals. Richards missed a block on Nkunku's tally in the 5th, turned the ball over with a poor pass in the lead-up to Marcel Halstenberg's second in the 20th, and got beat badly by Mohamed Simakan on Szoboszlai's third in the 44th.
Totally rattled after the third goal, Richards got beat again three times (45+1, 45+3, and 45+4) before it was time to head into the tunnel. His booking for a purported handball (77th) was total nonsense, yet he could on balance have few complaints after reckless challenges in the 12th, and 42nd. A lot of lost defending, ball-watching, and easy splits get discounted in this Americans final grade. Note that this is a pretty subjective call. We'll keep him on "C-Level"  in his first start since round 20. A couple of more grade-boosting moments came in the 14th (nice full lateral switch) and 36th (strong rundown of a loose ball).
---
Timothy Tillman, SpVgg Greuther Fürth
---
Minutes played = 78/90, Positions played = CM
Grade = C-
Tucked in behind fellow German-American teammate Julian Green in the Fürth tactical set-up, the Nürnberg prospect struggled to sort his positioning out and establish himself in the Saturday fixture. Many mistimed challenges (2nd, 8th, 16th, 17th, 41st, 47th, 62nd) from Tillman against Gladbach. None of that is to suggest that our subject here deserved to have a delayed penalty called against him in the 24th. Match official Tobias Stieler made an atrocious call there.
When Tillman could figure out how to involve himself offensively, we did witness some quality. Touches in the 3rd, 6th, 15th, 27th, 26th, 36th, 39th, 46th, 55th, 65th, and 66th weren't half-bad. Serviceable ball wins came in the 28th, 37th, 43rd, 53rd, 54th, and 67th. Bad losses (7th, 13th, 47th, 50th) were less frequent, yet still glaring. Five stray passes on the day also dock him. The most egregious ones came in the 30th, 32nd, and 54th.
Tillman improved considerably down the stretch. It all began when Leitl began re-positioning him for a tactical reformat shortly after the restart. He sparked a nice counter in the 53rd. The eventual shift saw striker Jessic Ngankam enter on behalf of wingback Simon Asta. The team re-ordered itself thusly during Tillman's (and Green's) final ten minutes on the pitch:
Lineup—Greuther Fürth—68th minute (5-2-3)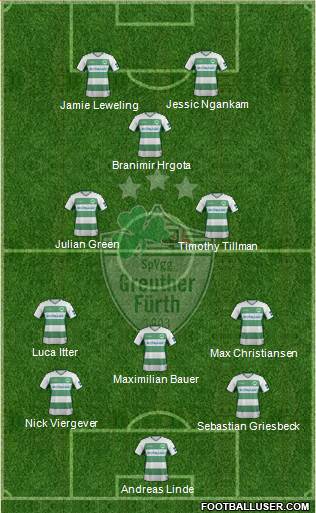 Still operating further back than ordinarily accustomed to, Tillman at least managed to work some rushes strongly in the 70th, 72nd, and 74th. Defensive marking (69th, 71st, 76th) regrettably suffered accordingly. Taking everything into account, the lower end of "C-Level" seems the appropriate placement for this performance. Not enough positives to outweigh.
---
Ricardo Pepi, FC Augsburg
---
Minutes played = 34/90, Positions played = LS
Grade = D+
Another late relief shift from the El Paso native supplies us with enough material for a graded section. Still fighting for a point against FC Bayern München late last weekend, FCA head-coach Markus Weinzierl attempted to replicate the defensive-minded constellation that enabled him to keep the Bavarian rivals at bay in the reverse fixture; albeit with a direct route to Pepi on the counter.
Lineup—FC Augsburg—67th minute (4-4-2)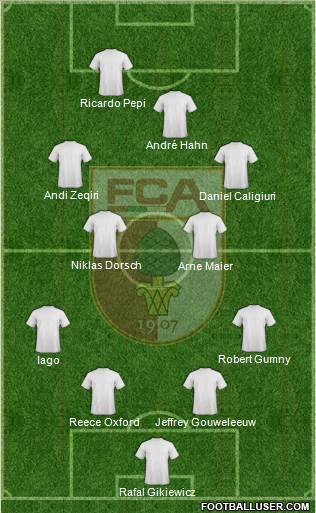 The Texan found some involvement here. Regrettably, most of it fell into the category of early promise followed up by a lack of polish. For example, Pepi won a ball with a nice pressure move in the 60th, yet couldn't follow through with a delicate enough touch to make something out of it. Four minutes later, something similar happened. He picked off a nice ball off an FCB corner and then didn't turn on the jets to catch up with the counter.
More minor missed opportunities came in the 72nd, 75th, and 76th. Clearly not pleased with the way his shape was holding (not to mention bad duel losses from Pepi in the 57th, 65th, 73rd, and 77th, Weinzierl ordered Pepi back following Michael Gregoritsch's introduction in the 78th. This led to further miscues in the 85th, 86th, and 90+2.
There were some bright spots. Pepi put in some some respectable hustle/ball shielding on chase-down of a ball in the left attacking corner in the 58th. The American pounced on a ball marvelously in the 62nd, ultimately recording an assisted shot on the rush. A slick win and whip-in came in the 69th. Absolutely sublime stuff on an attack inside the box seconds later.
One nevertheless still has to dock him for not executing off the turn at the end of the play. Four stray passes. A 20 percent duel rate. Too many individual touch errors. Starting prospects for the Texan suddenly look rather dim again. In a related matter, we actually may not see him score that maiden Bundesliga goal before the conclusion of the campaign.
---
Pellegrino Matarazzo, VfB Stuttgart (Trainer)
---
Matches = 1, Result = L
Grade = D-
When we discuss the current state of Stuttgart, much of the conversation revolves around how the team's fiery young guns can't seem to locate their finishing touch when it counts. The ordinarily wouldn't touch the trainer. Taking a closer look at the VfB's defeat to Dortmund last Friday night nevertheless yielded a curious spacial concept that reflects poorly on Matarazzo.
Lineup—VfB Stuttgart—Match 29 (4-1-4-1)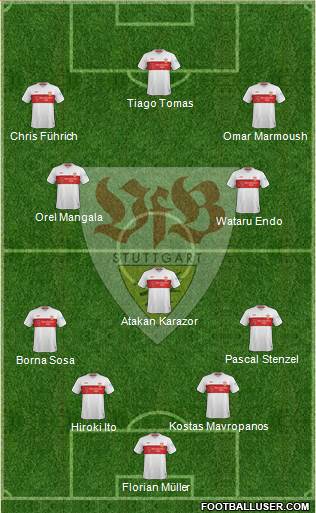 Was it supposed to be this wide? One assumes this constituted a coaching directive. If true, it explains quite a bit about the club's defeat. So many of the VfB attacks involved long lateral switches. Chris Führich, Omar Marmoush, and Tiago Tomas often found themselves one step short of the positioning needed to dust off attempts. Moreover, Dortmund enjoyed much more free-reign than usual to build confidence via their trademark short-passing game.
The Swabians turned in a staid performance against the visiting Westphaian favorites. At no point, however, did it truly feel as if the hosts served as a truly threatening opponent. The Mercedes Benz Arena crowd fell silent and remained silent before this. Coordination seemed a step off in a shape that–once one had a chance to look at it on the tactical cam–looked shockingly wide.
The writer obviously had no desire to uncover this in the second scout. A narrative about an agile and peppy underdog side coming closer to the sensation than originally anticipated retained a better feel about it. Tactical mismanagement reared its ugly head unexpectedly. Something was definitely off in the BaWü Friday night rain. Turns out it had everything to do with how the squad was set up.
Thanks so much for reading!
You can occasionally catch Peter on twitter, @ViceytheSS.
Twitter DMs are open for football conversations, corrections, and (if you truly insist) general abuse. 
All columns debut on Bulinews before appearing on Peter's website later in the week.