Perhaps nearly two years of closely scouting US internationals in the German Bundesliga leaves a writer with an inherently askew biases. Perhaps not. Anyone and everyone remains more than welcome to take a look at the copy as decide for themselves. We undertake our customary deep dive into the goings on inside the Bundesrepublik in the latest edition of a sincerely devoted in-depth column.
Our weekly check up with Americans in Germany's top footballing flight features only four graded sections this time. Dortmund's Giovanni Reyna and Frankfurt's Timothy also logged pitch time as substitutes in their weekend encounter. Neither Reyna's ten minutes nor Chandler's 14 contained substantial enough action to warrant deeper analysis.
There remains plenty of interesting material to cover this week. Tyler Adams, Chris Richards, and trainer Pellegrino Matarazzo earn higher marks this week than may appear in some other sources. As always, detailed reasoning seeks to explain the subjective nature of this round's evaluations.
---
Tyler Adams, RasenBallSport Leipzig
---
Minutes played = 82/90, Positions played = RM, CM
Grade = B+
The New Yorker found himself tasked with a highly demanding day. Three explicit positional shifts, the details of which can be found in this week's tactics column, placed this American under palatable duress over the course of a long afternoon. Statistics (unofficial) kept by this writer convey a largely positive performance. Adams accrued 89 touches, maintaining 88 percent passing, and won 62 percent of his duels. Though his distribution acumen appeared choppy at times, he played his part in keeping his team comfortable in possession.
The centralized nature of Leipzig's attack didn't mesh particularly well with Adams' skill set. That renders some of the ice-veined moves in on the ball (3rd, 13th, 47th, 48th, 50th, 52nd, 77th) all the more impressive. Miscontrols (17th, 33rd, 44th) occurred far less frequently. Overall, the New Yorker's answer to Julian Nagelsmann's charge merits respect. An average day against one of the best football teams in the world justifiably deserves an above average grade. Amid all the intensity, this American kept his focus and field vision.
---
Chris Richards, TSG 1899 Hoffenheim
---
Minutes played = 74/90, Positions played = CB
Grade = B
A writer genuinely wonders if he possesses some sort of inherent bias with respect to the young Alabama native. For the second successive week, the low marks collected by the 21-year-old in all the major journalist sources of record don't jive with the evidence collected by these eyes. As a unit, the Hoffenheim back-three most certainly had a bad collective day. As noted in the tactics column, a great deal of this had to do with the fact that Florian Grillitsch continually struggles to anchor the defensive ranks from an unnatural position.
Individually, this American performed well in most of the key situations one would expect him to. For example, two minutes before Ruben Vargas scored the opening 8th minute goal (on which Richards wasn't at fault) he recorded three solid positional wins in the 4th, 5th, and 6th. He would follow that up with a pair of smart touches preceding a playback to the keeper in the 11th and a fine header away in the 14th. Left stranded by his teammates in the 17th, he executed a vital clearance.
The oft discussed 5-3-2 constellation couldn't really organize clean triangulation around the Augsburg press on back builds, but this was hardly Richards fault. The long ball for Hahn that led to the second goal in the 23rd was an ultimately indefensible bowing arc. The sight of Richards and Grillitsch hopelessly chasing after the FCA initially gives one the impression that the two Kraichgauer defenders weren't marking him on the track back. In truth, the pair were simply split by a very finely threaded launch.
One can find fault with Richards for the very poor challenge in the 20th. He could have easily been booked for that ineptitude. Additionally, dangerously poor headers back in the 22nd, 34th, and 44th went unpunished. For the most part, however, the bulk of his 78 touches were intelligent enough. This chronicler recorded only three wayward passes. It appeared as if the injury which led to him being subbed off in the 74th actually began with a knock that left him limping in the 23rd.
Even with a bit of a faltering step, he managed to cut out his opponents well throughout the second half. Examples can be found in the 56th, 68th, and 70th. Hoeneß' half-time alterations also took some of the pressure off him. One solution to the Sinsheimer woes may be something like this.
Lineup—TSG Hoffenheim—46th minute (3-3-4)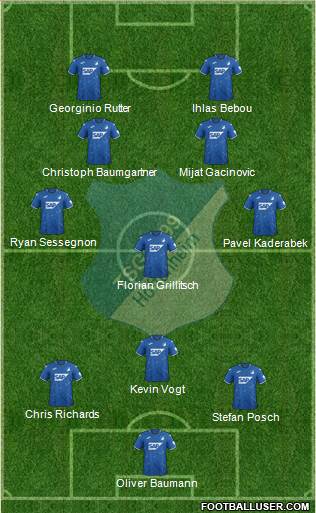 Something like runs the risk of frontal congestion. It nevertheless makes infinitely more sense than so much that we've seen from Hoeneß in recent weeks. As we know from his time at Bremen last season, Kevin Vogt can run a decent pivot. Mijat Gacinovic works better as a solo ten, but he did look comfortable enough sharing space with Christoph Baumgartner. Ryan Sessegnon and Pavel Kaderabek should function further afield and not as wingbacks.
Richards had a much lighter duty second half as his team benefitted from a more stable formation. Only 12 of the Americans touches came during his final half hour on the pitch. A scouter can reiterate enough that he looked alert and secure in his role. Somehow, this American keeps getting marked down along with his ineffective team. One can only report what ones footballing optical judgment sees. Richards looks to be on a good path.
---
Pellegrino Matarazzo, VfB Stuttgart
---
Matches = 1 Results = W
Grade = B-
The Bundesliga's American trainer receives a certain amount of grace. In his first fixture without talisman Silas Wamangituka, all the tactical calls seemed to be on the level. Simple adjustments were warranted in this case. As expected, Matarazzo plugged Tanguy Coulibaly in Wamangituka's wing spot, locked Wataru Endo into a sweeper role, and dropped Gonzalo Castro back to a centralized point around the halfway line.
Lineup—VfB Stuttgart—Match 27 (4-5-1)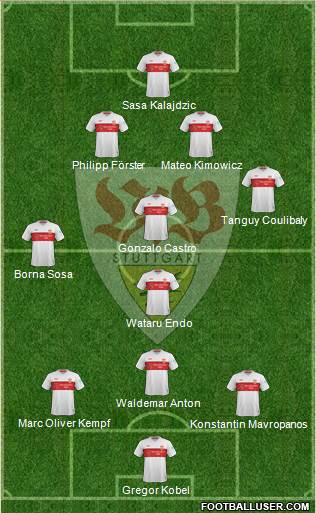 Clearly, Matarazzo allowed the winger customary winger split to continue with the new personnel addition. Coulibaly remained one of the more inventive players on the pitch during a genuinely awful game of football from both Bremen and Stuttgart. The two sides fell under 1.0 cumulative xG over the full ninety minutes. One wishes nothing more than to forget this drab affair.
From the Swabian perspective, most of the problems revolved around endless turnovers on the second offensive axis. Mateo Klimowicz in particular encountered difficulties establishing his rightward slant. Some tactical reviews place him on the left. Borna Sosa and Sasa Kalajdzic nearly linked up on a few occasions. The Croatian winger turned in the strongest match of any of the VfB XI.
Sosa's trademark crosses didn't disappoint on this day. Werder's Ömer Toprak simply kept a tight guard on Kalajdzic, precluding any of the services from evolving into genuine goal-scoring opportunities. The decisive own-goal from Ludwig Augustinsson came off an an absolute beauty from Sosa. Hence, the end-result reflected a certain sense of poetic justice. While far from exciting, the Württembergers definitely deserved the three points.
Looking ahead to the upcoming fixture against Dortmund, this approach certainly isn't likely to yield another 5-1 stomping. The basic constellation should nevertheless prove more effective than in this instance. Two recommend personnel changes see Daniel Didavi and Erik Thommy taking over for Klimowicz and Philipp Förster.
---
John Anthony Brooks, VfL Wolfsburg
---
Minutes played = 90/90, Positions played = CB
Grade = C
In contrast to his younger USMNT colleague, the Berliner did encounter some direct difficulty against Köln over the weekend. Brooks, working wide left on Wolfsburg pushes, often allowed Domstädter Jonas Hector to slip in unmarked on counters. The Geißböcke captain should have fallen under this American's coverage purview. One can see him Brooks allow the opposition to stretch him too easily early on, with the best examples coming in the 15th and 31st.
The American national team starter did do a fairly decent job of closing down second-striker Dominik Drexler, as evidenced by plays in the 14th and 23rd. Moreover, his second half featured many strong sequences. The big highlight of the day came in the 57th, when he followed up a gorgeous in swinger for Yannick Gerhardt with an amazing aerial win against Hector in the space of a single minute. He got whistled down for the latter play in what was a horrible misjudgment match official Robert Hartmann.
More positive snippets came in the 28th (slash away clearance), the 47th (fine vertical through), and 68th (control away). There existed enough errors to pull the grade down to an average one. Examples can be found in the 44th (poor vertical), 51st (aerial loss), and 76th (lapse on incoming ball). Kickouts to  left-back Jerome Rousillion, and later Yannick Gerhardt, were pretty mixed. At times Brooks was able to do his job getting the offense going. In other instances, he lumbered with a bit of lassitude and lacked ideas.